Are you planning a trip to Disneyland Paris, or even Walt Disney World? Then my free Disney Planning Printables will be a big help to you. Use them before and during your trip to ensure everything goes smoothly for an amazing and memorable trip.
You can download my Disney planning printables at the end of this post. But first, let me tell you what is included.
Included in my Disney planner printable file is a cool cover page and no less than eight printable Disney planning sheets which include every aspect you might need for preparing for your big Disney visit. Let's take a look at them in more detail.
And if you need are thinking of visiting Disney Paris and need help planning your trip, check out my Disneyland Paris section of the blog which is full of helpful posts.
Disney Countdown Printable Sheet
My countdown to Disney printable sheet is the perfect way to get the excitement going while you count down to your trip. The 30 days until Disney printable countdown sheet can also be used as part of a reveal to the kids if your trip is a surprise. Stick it onto the fridge door with a magnet so the kids can visually see how many days are left until you head off to Walt Disney World or Disneyland Paris. This works for a month before the big trip.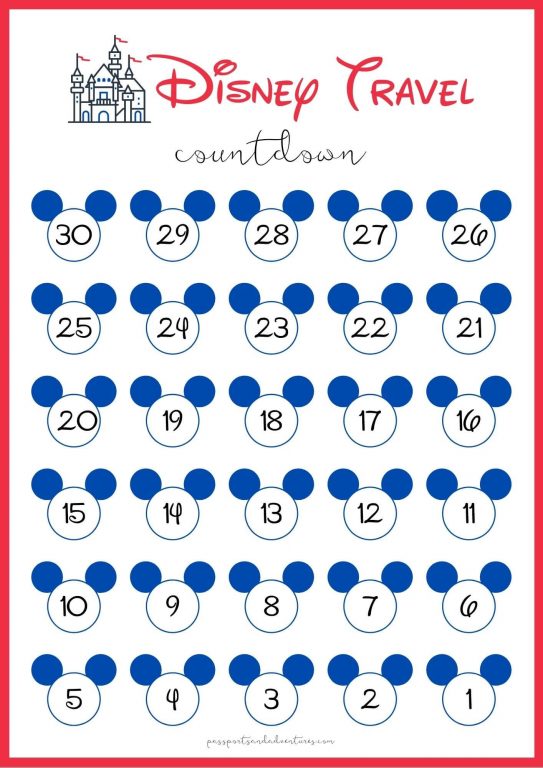 Disney Dining Printable
Included in the download file is a Disney meal planning sheets printable. Anyone who is planning a trip to any Disney resort and is getting a meal plan MUST plan their restaurant visits ahead of their trip to avoid disappointment. Some of the best restaurants book out months ahead, so to avoid hangry kids and sulks if you cannot get into Bistro Chez Remy or Café Mickey, the Disney dining printable sheet will help you plan, book and keep track of all your Disney Meal Plan Dining options and bookings.
Disney Groceries Planning Printable
Some people who visit Walt Disney World elect to stay in a villa or apartment outside of the parks. For Disneyland Paris, there is the option of staying at the Les villages Nature or in an AirBnB close to the parks. Both of these options allow families to have self-catering accommodation which can help keep costs down. If this is your preferred option for your Disney trip, then you will want to use the Disney groceries planning sheet to plan your groceries for your different meals and snacks.
Disney Packing List Printable
In this set of Disney planning printables there is a packing list. If you are looking for a Disney World packing list printable or even need a Disney cruise packing list printable, this is versatile enough to span all types of Disney holidays and vacations. It contains handy sections for all the clothing, toiletries, food, accessories and more that you'll need to pack for your trip.
Heading to Disney Paris? Then check out my Disneyland Paris packing list to see what you will need to remember and put on this sheet.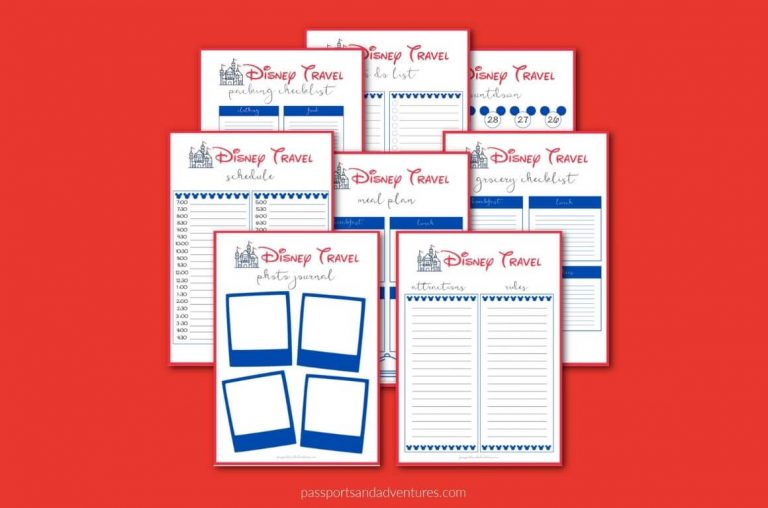 To-do List for Disney Vacation
Getting ready for any Disney trip means lots of things to do and remember before you go. Print tickets, boarding passes and confirmation emails. Remembering to book your Disney meals. Getting money if you are travelling to a Disney that is not in your home country. Booking your pets into their boarding kennels or arranging a sitter. With the to-do list section of this Disney planning printable, you can easily make your to-do list and cross things off as they're done. Pop it on the fridge beside the countdown sheet!
Disney Attractions and Rides Planning Sheet
One thing I did before we went to Disneyland Paris was make a list of all the rides and attractions we wanted to go on or visit. That's not to say we achieved it all but it helped us plan our time better. In this set there is a Disney attractions and rides checklist where you can jot down everything you want to see, do and ride and bring it with you into the parks to cross off as you do them.
I have a great list of Disneyland Paris rides for young kids which will help families with little ones plan which rides to put onto their checklist.
Disney Itinerary Printable
Another great sheet in this set is a Disney vacation planner printable. This itinerary printable for Disney gives you a one day schedule broken down into half-hour intervals. You will need to print multiple copies of this page of the Disney planning printable if you are visiting Disney for more than one day. I found having a complete itinerary for Disneyland Paris made us more productive in the parks and ensured we did most of our bucket list.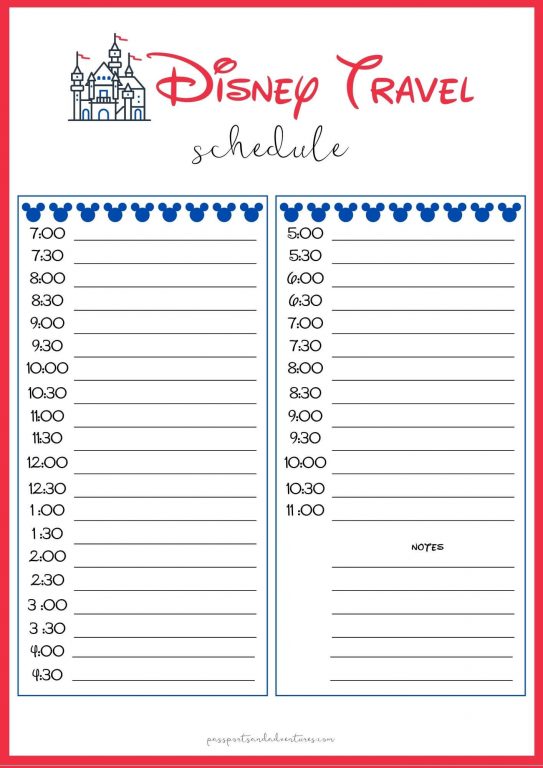 Disney Photo Printable Sheet
And last but not least, there is a Disney Photo sheet at the end of this pack so you can add some pictures to this pack once your trip has ended. Keep all your sheets together as a memento of your family vacation to Disney.
So, whether you use these free Disney planning printables for planning a Walt Disney World trip or a getaway to Disneyland Paris, these printable sheets are sure to be helpful in your planning and for within the parks.
NOTE: This printable is for personal use only. You may not SELL or reproduce the file or the printed version of the file for commercial reasons.
If you find these sheets useful for your trip, remember to come back and tell me!
Cath x

Related Posts