When it came to our visit to Disneyland Paris, I did a lot of research. My regular readers will know I looked into EVERYTHING. And one area I wish I could have gleamed more information was in the form of packing tips for Disneyland. Like what essentials did I need to pack for Euro Disney, as I remember it as? If you are in the same situation and don't know where to start, then let me help you with my Disneyland Paris Packing List.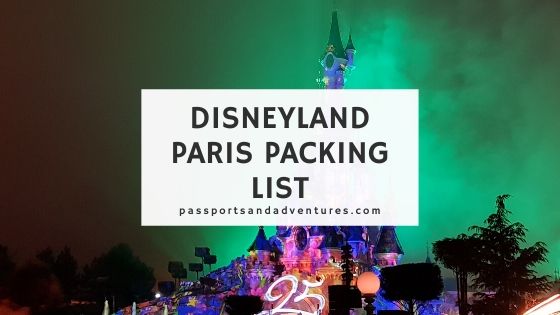 *This post contains affiliate links. To read more about affiliate links, please visit my Disclosure Policy page.
Covid-19: Disneyland Paris phased reopening and important information
A Complete Disneyland Paris Packing List
Now, I will admit that I got some advice from my fellow bloggers about include in our Disneyland backpack for during the day and I also learned a few things from some Facebook groups I am a member of. But nowhere had it all collated in one place. I just wanted one big packing list for Disneyland Paris covering all basis.
Read my post about planning our first family visit to Disneyland Paris and also my last-minute tips for Disneyland Paris in which my fellow bloggers helped out.
As we were packing for Disneyland in December, I need to remember warm clothes and rain jackets, just-in-case. And my fellow bloggers had shared their advice for things to remember when packing for Disneyland Paris which I'm going to share here. As well as the things they advised and other things we took, I will also include some things I wish we had tucked into our suitcases.
Packing for Disneyland Paris with Kids
This Disneyland packing list is designed to help you cover all basis and it will also include ideas for clothes to pack for both summer and winter at Disney Paris. You will also find the type of footwear I suggest you pack and some other useful things to bring to Disneyland with you. You can alter it as you wish and exclude things that might not necessarily be a necessity for your family.
Clothing for Disneyland Paris for Summer
Although we visited in winter, I know that summer can be a brilliant time to visit Disneyland Paris. Later evenings mean you can enjoy the parks for longer, the weather is warmer, and most people will be enjoying their summer holidays. Yes, it does mean the parks can be busier but it's still a great time to visit, nonetheless.
With that in mind, here are some ideas for the clothing you need to pack for a summer visit to Disneyland Paris.
Shorts and t-shirts – These should be a staple for your wardrobe for your summer visit. Cotton t-shirts for the whole family (at least one per day per person) will keep them comfortable. You could opt for zip-off trousers that convert into shorts in case you are visiting at the start or end of summer and mornings/evenings are cooler. Kids will be most comfortable in shorts or leggings for girls. You could also bring jeans or trousers for cooler months such as April/May and September. You can also bring character or Disney-themed tops for the family which might result in more interaction from the Cast Members.
Shop the full Disney range of tops on Amazon by clicking here.
Cardigan or lightweight fleece – If you are planning on staying late in the parks to catch the Illuminations fireworks show, which can be on quite late at night, then a cardigan or lightweight fleece would be ideal to pop on when the cooler evening air takes hold.
Buy your lightweight fleeces on Amazon for Adults by clicking here and for Children by clicking here.
Lightweight Rain Jacket – While you would expect summer to be very pleasant in terms of weather, there is always the chance of some rain. So, a lightweight rain jacket for both adults and children wouldn't go amiss on your Disney packing list.
Buy your Adult rain jacket by clicking here. And to see the range of kids rain jackets on Amazon, click here.
Clothing for Disneyland Paris for Winter
Winter at Disneyland Paris is a whole other ball game. We visited at the start of December and it was bitterly cold. A biting wind added to the chill factor and there was rain on our last afternoon in the parks. So, it is very important to wrap up warmly and at least go prepared for low temperatures, rain and even snow.
Trousers – Jeans or lined trousers are a must. Keeping your legs warm is just as important as any other part of your body. We even went so far as to pack base layers for winter, and we used them. Our son wore thermal base layers, and I wore the thick soft tight leggings from Primark which were suggested in a Facebook group. And they were much appreciated, especially in the evenings when we were standing around waiting for the fireworks to begin.
See the full range of kids base layers on Amazon by clicking here. And click here to find the latest prices for adults base layers.
Fleece jumpers/tops – Bringing layers to add or remove as necessary is advisable for winter and nothing works better than fleece tops. Find adult fleece tops and kids fleece tops on Amazon or any good outdoor shop such as Go Outdoors or Mountain Warehouse.
Waterproofs – As there is always the possibility of rain, raincoats or jackets are advisable. I would also consider bringing an all-in-one rain suit for kids and waterproof over trousers for adults. Why over trousers? If it rains during your visit, the seats on all the outdoor rides will be wet. Without them your bum will get wet and you'll be walking around quite uncomfortable for the rest of the day. Waterproof over trousers will save this from happening. Trust me, you'll thank me later.
Winter coats – It goes without saying that you should be bringing and wearing winter coats while visiting Disneyland Paris in winter. We brought ours and they were never off us.
Hats, gloves, scarves – Another winter staple you should bring. These become especially important waiting for the fireworks to start or if you are waiting in a particularly long queue on a very cold day. If you have a smartphone, or are bringing a tablet into the park, ensure you have touch-screen gloves so your fingers don't get cold.
Buy your touch screen gloves by clicking here.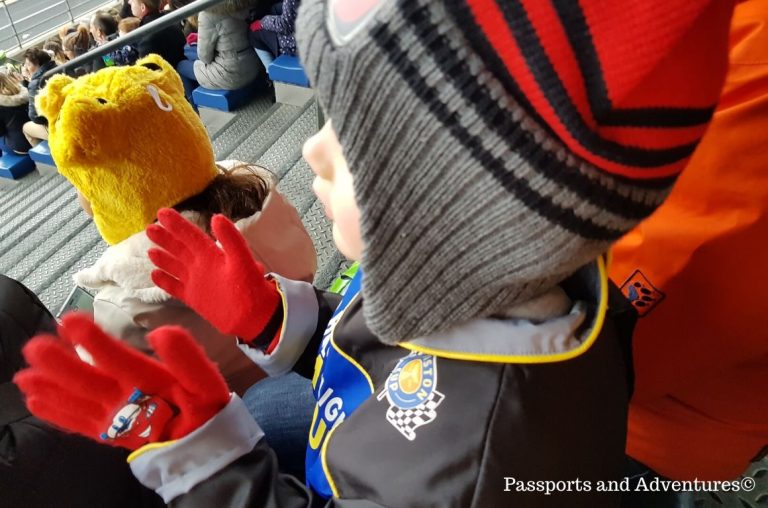 Wool socks – Wool socks are another thing I would advise for winter. They will keep your feet warm and will wick away any moisture. There is nothing that makes me more unhappy than cold feet. Double up your socks if you suffer with the cold, so long as your boots allow it.
Also, remember to pack Disneyland Paris-themed clothing such as Disney t-shirts, jumpers, pyjamas and anything else that gets you in the Disney spirit. We had some Disney-inspired clothing but not as much as some people we saw around the parks.
The Best Footwear for Disneyland Paris for Families
When you come to decide on appropriate footwear for your visit to Disneyland Paris, the one thing you need to bear in mind is the amount of walking you will be doing. Do not underestimate how much of it there is, especially if you are splitting your days between both parks.
Distances between the parks are large and just getting around one will clock up the steps. So, it is imperative that you pack comfortable shoes you can walk in all day. And of course, it goes without saying, choose footwear that matches the weather you are likely to have while there.
Walking sandals – These are the ideal choice for hot summer days at Disney Paris. Make sure they are comfortable and that you are used to walking in them. Do not, under any circumstances, bring new sandals as you will regret it very quickly. I have both TEVA and Sketchers walking sandals that are super comfy. Our son wears closed-toe GEOX sandals and hubby has some TEVA men's sandals.
Trainers – Another comfortable choice for both summer and winter would be trusty trainers. Anything that you can walk in for extended periods of time will suffice. Just be careful with ones made of fabric during winter in case they get wet. You'll need a second pair in this instance.
Waterproof walking shoes – When we were packing for Disneyland Paris in winter, I elected to bring waterproof walking shoes for myself and a pair of comfortable boots for my son. Hubby also wore waterproof walking shoes. These kept our feet dry on the day that we saw rain and also meant we didn't have sore feet at the end of the day.
Shop the full range of adult waterproof walking shoes by clicking here.
Flip Flops – I would not suggest you bring these for your day in the park, but instead recommend you bring a pair if your Disney hotel has a swimming pool and you plan on using it. They're also handy for pottering around your room or hotel in the mornings or evenings.
Other Essentials For Disneyland Paris
In this section I'm going to share a list of other essentials I think you should be packing in your suitcase. Some of these will go into your Disneyland Paris backpack for during the day and others are for your hotel room.
European plug adapters – When you pack for EuroDisney, do not forget to bring your Euro plug adapters, unless you are travelling within the continent to reach Disneyland Paris. Those coming from the UK, Ireland, USA and other non-EU countries will need an adapter. This universal adapter from Amazon is ideal.
Buy your European plug adapter by clicking here.
Extension Lead – Spare plug sockets can be in short supply in some hotel rooms, so an extension lead to charge all your devices at once will come in handy.
First Aid Kit and Medicines – The only place you can buy medicines in France is in a pharmacy. So, if you need anything like paracetamol, ibuprofen, Imodium, make sure to bring enough with you for your visit. And make sure you take a travel first aid kit with you, ideally one you can pop into your Disney day bag.
Camera, spare batteries and memory cards – It goes without saying that you'll be taking a lot of photos. So make sure you've got a good camera and know how to use it. I never travel anywhere without my trusty Canon G7X camera. It's portable yet has all the functions a heavy DSLR does. And don't forget space memory cards too. You could also take a GoPro Hero 8 to capture amazing pictures and videos of your time in the Disney parks.

Buy your Canon G7X by clicking here.
To check the latest prices of the GoPro Hero 8, click here.
Water bottles – There are several water fountains around the parks, many located near toilets. So, bring your reusable water bottles to fill up. Just be aware that during our visit in winter, not all fountains were working.
Get your reusable water bottles by clicking here.
Phone/Tablet chargers – Don't forget your phone charger and tablet chargers.
Portable phone charger – You might have your phone charger for the hotel room, but if you use your phone as much as I do when we are away, you will also need a portable phone charger. We recently upgraded ours to one of these that has several full charges in it.
Tea bags/Coffee – Only some hotel rooms will provide tea, coffee and making facilities. I would advise bringing your own, especially if you prefer decaffeinated like me.
Swimsuits – If your hotel has a swimming pool attached to it, then remember swimming suits for everyone.
The following items should be included in your family's toiletry bag for your visit to Disneyland:
Sun cream and sun hats – It goes without saying to remember sun protection if you are visiting in summer.
Lip balm and hand moisturiser – These are especially important during the cold, drying months of winter. I was so glad I heeded the warnings where the lip balm was concerned.
Wet Wipes – As a family, do I even need to remind you of these? No, thought not!
Get your reusable wipes from Cheeky Wipes by clicking this link. You'll also get 15% off your order over £40.
The following items should be added to your Disney packing list for kids. These are things you really should not leave home without.
Character/Disney costumes – I have spoken about this in my Ultimate Guide to Visiting Disneyland Paris with Kids. Costumes are very expensive to buy in the parks, with a Buzz Lightyear costume priced at almost double what I paid for our sons outside of the park. Buy your kids costumes at home and bring them with you. Dressing them in costumes will get them more interaction from cast members and it may get you bumped up the queue of rides such as Buzz Lightyear's Laser Blast (not guaranteed as it depends on the Cast Member working the lines).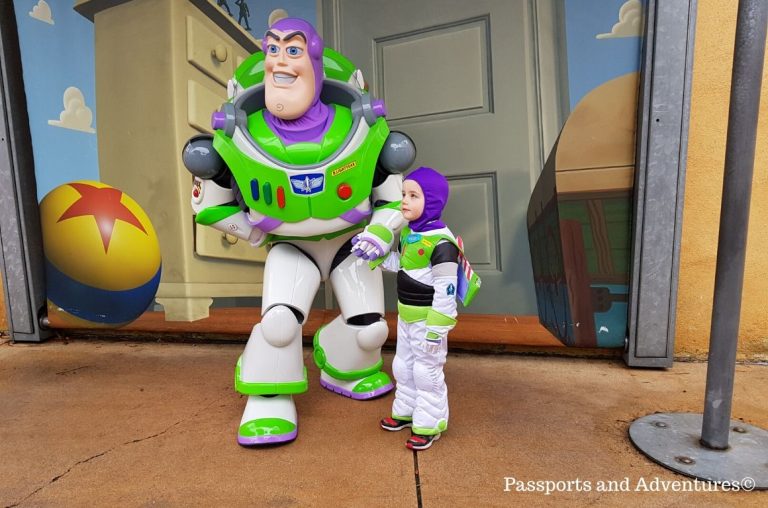 Mouse ears – Again, you are better off buying these at home and bringing them with you, unless there are park exclusive ones you want to get your hands on.
Click here to buy your Disney Mouse Ears before you go.
Snack packs – These may come in very handy for keeping hangry kids at bay in queues in between meals. Pack non-perishable foods, ones that don't need refrigerating such as crisps, raisins, biscuits, cereal bars. I over-packed on these but was glad I brought more than I needed.
Autograph book and pen – Another thing that is cheaper to buy outside of the parks and one you need if you plan on doing any Meet and Greets with characters. Bring chunky pens too as some characters won't have bare hands depending on their suit. Find some ideas for autograph books by clicking here.
Blanket for buggies – While our son was nearly 4 when we visited Disneyland Paris, we still brought his buggy and by lunchtime on the second day, he asked for it. We stashed a small fleece blanket in the basket underneath, and it came in very handy while in queues when the wind picked up. They're also handy for keeping kids warm while waiting to watch the Illuminations show.
Colouring book/sticker book – If queues are very long for rides, kids will become bored very quickly. Bring some small colouring books or sticker books to keep them entertained while you wait.
Travel games – Another idea for keeping kids entertained in queues would be to bring a small travel game. Some ideas for travel games can be found by clicking here.
Check out the great post by Skylar Aria's Adventures for some other ideas of essentials to pack for Disney.

The following items should be included on you Disney packing list for adults. Some might not be necessary but may come in handy.
An umbrella – You may experience rain, especially during winter, so an umbrella may be useful. We never bothered as we all had raincoats with hoods which did the job. It was one less thing to carry all day.
Ponchos – Something I saw a few people wearing on the day it rained during our visit was ponchos. Again, not necessary if you already have the necessary rainproof attire with you.
Ear plugs/eye mask – If you find it hard sleeping in hotel rooms, then these are advisable.
Kindle – For evenings in the hotel room when the kids are asleep or for long queues if the kids are happy.
iPad/Tablet – These can be useful for entertaining the kids in long queues. Load them up with their favourite film or a few episodes of their favourite TV show.
Hair dryer/straighteners – While some hotel rooms may have a hair dryer, it is best to bring your own.
Lanyards – Very handy for keeping meal vouchers, hotel room keys, hotel charge cards, your driving licence (for ID purposes) and credit cards in one place.
Travel kettle – Although you might be lucky to find a kettle in your hotel room, not all of them do and if the hotel has ones to loan/rent they are on a first-come-first-served basis.
Things You Cannot Forget When Packing for Disneyland Paris
While clothing and shoes are a given, there are a few other things that you cannot go to Disney without. They are basic necessities of travelling and include:
Passports
Boarding cards for flights (physical or on smartphone)
Travel confirmations for other forms of transport (eg. transfers)
Booking confirmation for hotel/meals
Money, bank/credit cards
Keys
Children;s Birth Certificates and Letter of Consent from other parent if their surnames differ from yours, you are a single parent or are travelling without their other parent.
EHIC Cards
Travel Insurance
In Summary
I hope I;ve helped made your life a bit easier with this packing list for Disneyland Paris. I know I had questions about what to pack for Disneyland when we were going and a list like this would have been so helpful, instead of having to look in several places online. I haven't included a Disneyland backpack list as that is a separate post which you can read here.
All that is left for me to say is enjoy your time at Disney if you are preparing to go!
If you've been to Disneyland Paris, what would you add to this packing list?
Cath x
For a full guide on visiting Disneyland Paris with kids, click here to see my mammoth guide with useful Disneyland Paris tips and tricks. For a guide on the best rides for toddlers and young kids at Disneyland Paris, read this post. And finally, to see which are the best restaurants at Disneyland Paris, you should read this post.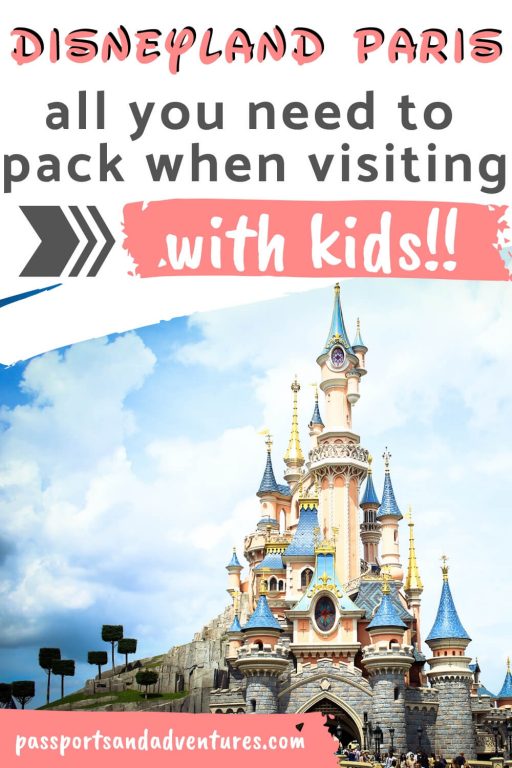 Related Posts