Looking for the best things to do in London with kids so you can prepare for your forthcoming trip? Then look no further than what is easily the best London bucket list for kids. These are the unmissable London things for kids that have to be on your kids bucket list. And once you've read the post, get your hands on my printable London bucket list for kids, so they can tick off the places they visit! Find it at the end of this post.
Ultimate London Bucket List for Kids
London is a big city. A big one. And sometimes those going to visit for the first time wonder what to see in London when they're bringing the kids. There is a huge amount of family-friendly things to see and do in the city but narrowing it down can be difficult. However, with my kids bucket list for London, you'll soon be deciding where to bring them to ensure there are happy smiles all round.
Tower of London
One of the top things to do in London, England is visit the Tower of London. As one of the must visit places in London, the Tower of London is a great place to visit with kids. This historic palace is located on the banks of the River Thames beside Tower Bridge.
It has had many roles including being a prison, armoury, menagerie, treasury and was once the home of the Royal Mint (now located just outside Cardiff, Wales). It does home the Crown Jewels, a visit to which is included in your ticket. And what a sight they are. Gold, diamonds and jewels galore adorn things like crowns, spectres, bowls and more. These are one of the most popular things visited at the Tower of London and at busy times, the queue can be long. Try to arrive early and visit them as soon as you can.
Visitors can also join Yeoman Warder Tours. The Yeoman Warders, often called Beefeaters, are the protectors of the Tower of London and their tours are fun and informative. They are easily spotted with their navy blue and red coats and hats. They are all ex-military and their tours start outside in the Outer Ward at the entrance. If you are lucky enough to join one with a gentleman called Gary, you are in for a treat. I've taken two of his tours (by pure luck) and both times came away smiling with his tales and jokes. Just be aware that some of the tales might not be suitable for very young ears.
After your Yeoman Warder Tour, climb the steps into the White Tower in the centre of the complex and view the armoury of past kings. You might also find a dragon lurking inside somewhere.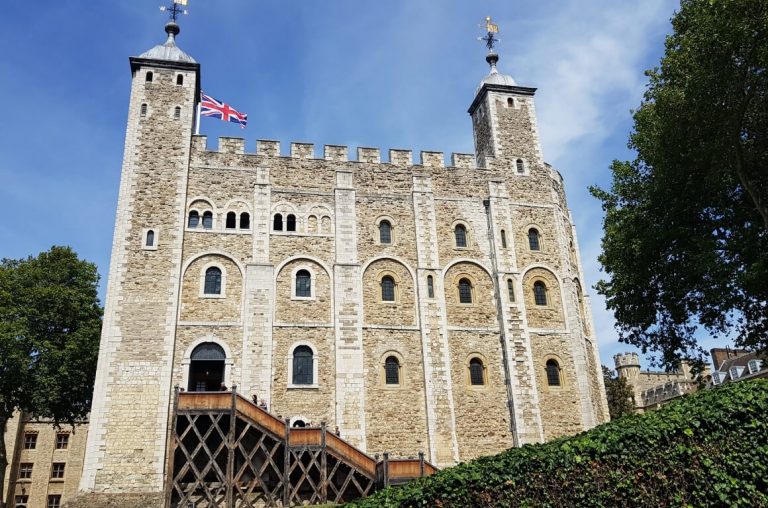 The Tower of London is a large complex with many buildings and areas to explore and you could easily spend half a day there, if not a full day. During summer and other school holiday times, the Tower often put on performances around the complex with costume actors re-enacting scenes that have happened at the Tower. They can be fun, so check your information leaflet as you are entering to see if there are any on and their times and be sure to watch one or two.
No London bucket list would be complete without visiting one of my favourite London attractions, the Tower of London. It is both a fun and educational site to visit.
How to get to the Tower of London: Take the Underground to Tower Hill which is served by both the District and Circle lines. The entrance to the Tower is about a 5-minute walk and is well signed-posted.
Kew Gardens
If you enjoy nature and outdoor spaces and are wondering where to go in London with kids, then one of the best places to go with them is Kew Gardens. Home to the Royal Botanical Gardens, one of the best in the world, Kew is a great place to visit with kids.
This UNESCO World Heritage site has over 27,000 living plants and 40 historically important buildings. It is also an important research centre for botany. There are ornamental buildings and plant houses which are home to plants such as palms, orchids, lilies, ferns and more.
The ornamental buildings include a pagoda, Japanese gateway and minka house and queen Charlotte's Cottage and Kew Palace, both of which are administered by the Historic Royal Palaces.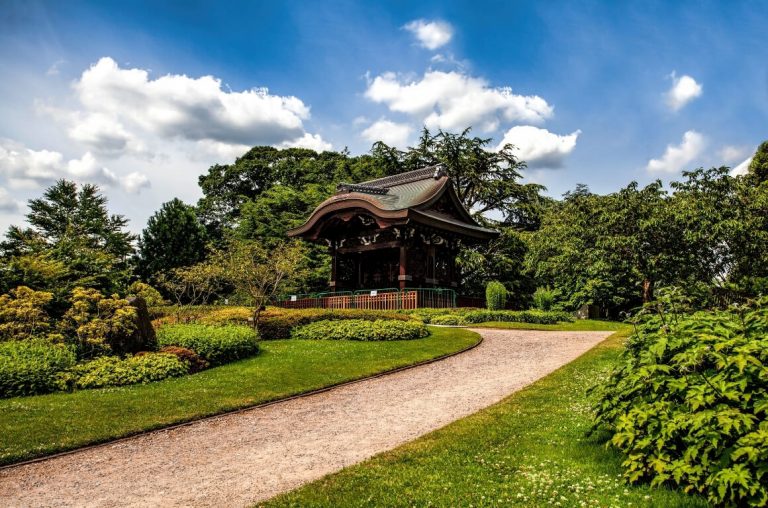 Other things to enjoy at Kew include an arboretum, rock garden and a cool tree-top walkway. There is also a dedicated children's garden with lots of interactive things for them to explore and learn about the things needed for plants to grow.
Kew Gardens is one of the top things to see in London, and kids will love exploring the open spaces, plant houses and the children's garden.
How to get to Kew Gardens: Kew Gardens is located in southwest London and while you can drive, parking is limited. The best way to get there is to take the Underground to Kew Gardens Station which is served by the District Line and London Overground. The entrance is 500m from the station.
Hamleys
One of the top 10 things to do in London with kids and which should be on their London bucket list is a visit to Hamleys. One of the most famous toy stores in the world, Hamleys has been going since 1760 and is spread across seven floors with over 50,000 different types of toys to choose from.
I remember visiting Hamleys as a 10-year-old when we were in London visiting family after a summer spent in Saudi Arabia and it was the most amazing place I'd ever seen in my young life. I came away with a She-Ra doll and treasured it for years to come.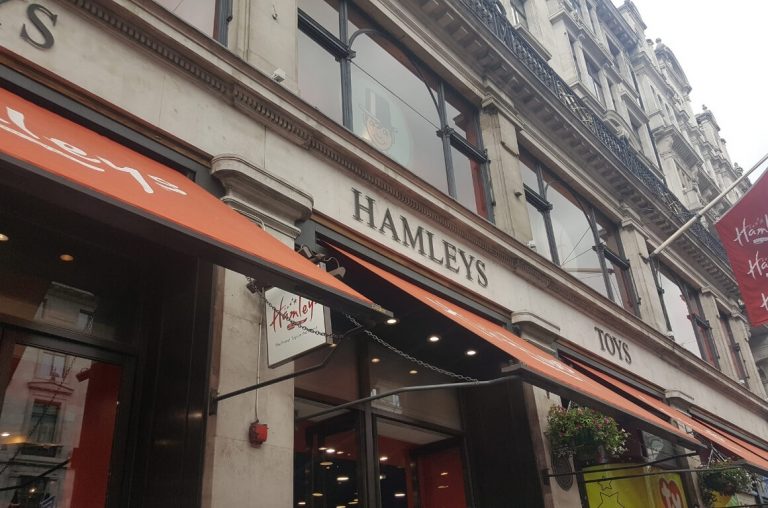 Hamleys staff welcome visitors with a smile and are always on hand to answer questions and often seen playing with toys across different areas of the store. The bottom floor is dedicated to stuff toys and teddies and you'll find different categories of toys on the other floors.
Hamleys is a London must do when visiting the city with kids. Your only problem will be getting them to limit their choice. The decision about what they get will be a difficult one for them. And you will definitely have to put a cash limit on their visit!
How to get to Hamleys: Hamleys is located on Regent Street, which can be accessed easily from Oxford Circus Underground station. This is served by the Bakerloo, Victoria and Central Lines.
London Eye
When it comes to London experiences, there are none more unique than a ride on the London Eye. Taking kids on the London Eye is a real treat, but be warned, it can be an expensive one. This giant Ferris wheel is now an iconic London landmark and is one of the top things to do when in London.
Located on Southbank, the London Eye was opened in 2000 as part of the millennium celebrations and has hosted millions of visitors every year since its opening. It is one of the most popular paid London attractions ever since and will be a huge hit with kids who put it on their bucket list for London.
The Eye has 32 sealed, air-conditioned pods and the rotation takes approximately 30 minutes. From the pod you can get a great bird's eye view of London with things like the Shard, Buckingham Palace, Big Ben, the Houses of Parliament and even Wembley Stadium on a clear day.

The London Eye is a great way to see London from the air while taking a short break from sightseeing on foot. Pre-book your tickets ahead of time to avoid lengthy queues, especially during the summer holidays.
How to get to the London Eye: The nearest Underground stations to the London Eye are Embankment or Waterloo, both about an 8-minute walk to the Eye. Waterloo is served by the Bakerloo, Northern and Jubilee Lines as well as some National Rail services, while embankment is served by the Bakerloo, Northern, District and Circle Lines.
Warner Bros Studio Tour
If you have a Harry Potter fan in the family, then a must to do in London is the Warner Bros Studio Tour. This is located just outside London City but is a must if your kids love all things Harry Potter.
The studio is a permanent exhibit offering fans of the books and films a chance to get behind-the-scenes glimpses into the making of the films. The tour takes place in two hangers at the still working studio grounds and lasts three hours.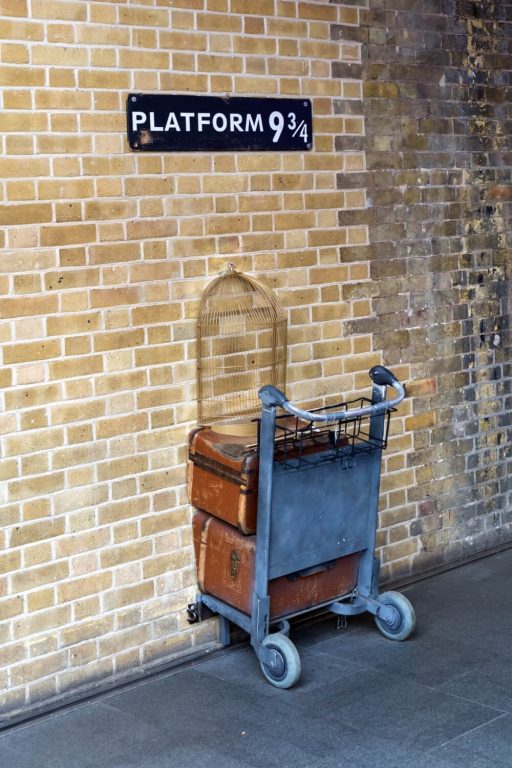 See sets such as the Great Hall, spot your favourite props, get up-close-and-personal with your favourite characters costumes and more. There is a self-guided tour ticket and a slightly more expensive in which you join a digital guided tour and receive a souvenir. Harry Potter fans will simply love visiting the Warner Bros Studio Tour. And don't forget to visit Platform 9¾.
How to get to the Warner Bros Studio Tour: The studio is located 20 miles northwest of London. You can arrive by car and there is free parking. By public transport, you need to take a National Rail train from London Euston to Watford Junction where you can hop on board the Warner Bros Studio shuttle bus. This is payable and you need to have a valid ticket or confirmation of book of a tour to use this shuttle.
Sea Life London
One of the best things to see in London with kids are all the different species of marine life at Sea Life London. Located on Southbank beside the London Eye, Sea Life London is a great place to take the kids. Originally known as the London Aquarium, this London attraction is ideal for visiting with kids.
There are various aquarium zones homing species of all shapes and sizes. There is a Coral Kingdom which is amazing, Ocean Invaders dedicated to jellyfish and a Ray Lagoon. The Ocean Tunnel is a glass walkway under the main tank of the aquarium and kids will love seeing rays, sharks and other fish swimming over the heads and beside them. There is also a penguin exhibition and the best part of the aquarium is the main tank in which there is a replica Easter Island Head.
The Sea Life Aquarium is one of those must dos in London and should definitely be put on a kids' London bucket list.
How to get to the Sea Life London Aquarium: This is located on Southbank and the nearest Underground stations are Embankment and Waterloo. See the London Eye above for more information.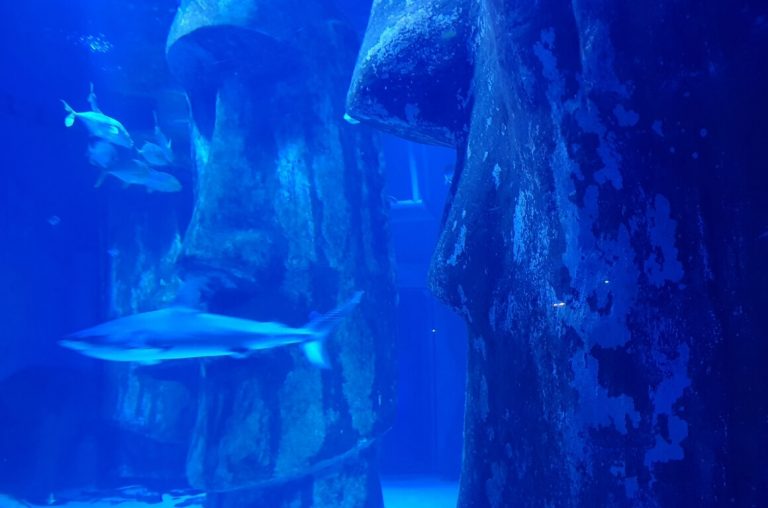 Shreks Adventures
If you are wondering what to do in London with the kids and they are fans of the Shrek movies, then a family visit to Shrek's Adventures is a must. This is a Merlin attraction located on Southbank beside the Sea Life Aquarium and the London Eye.
This family-friendly London must-see attractions is an interactive show with a 4-D movie. Your group joins Princess Fiona and Donkey on a quest to find the ogre himself after an unfortunate event at the start of your journey. It is a fun-filled activity in which you pass through different areas featuring characters from the movies. There are lots of laugh-out-loud moments for kids and adults alike.
At the end of your experience you meet the ogre himself and can get pictures taken with him. There is a Hall of fame with other Dreamworks film characters such as How to Train Your Dragon and Kung Fu Panda and of course, a gift shop that the kids will love. It's a fun place to visit with kids if you are visiting London.
How to get to Shrek's Adventure: As mentioned, this is located on Southbank with the nearest Underground stations being Embankment and Waterloo. Follow the guidance for the London Eye to get here.
London Zoo
One of the London top 10 things to do with kids and that should be on every kids' London bucket list is the London Zoo. Located in Regent's Park, London Zoo is the world's oldest scientific zoo and is home to over 19,000 animals across 673 species.
London Zoo is a large zoo with lots of different areas to explore. Major exhibit areas include the Gorilla Kingdom, Tiger Territory, In with the Lemurs (where you walk through the lemur enclosure) and my son's personal favourite, Meet the monkeys, another walk-in enclosure where you can get up-close-and-personal with some cheeky black-capped squirrel monkeys.

Other things to see are the butterfly house, the komodo dragons, penguin beach and the aquarium, where fans of the film can find Nemo and Dory.
The zoo also has open spaces to enjoy, a playground, food outlets and during the summer you'll find face paint stalls, bouncy castles and more to entertain the kids even more. Paying a visit to the zoo is one of the things you must do in London as a family.
How to get to London Zoo: While there is limited parking in Regent's Park that is payable, the best way to reach the zoo is by using the Underground. The nearest stations are Camden Town (served by the Northern Line and a 15-minute walk) or Regent's Park (served by the Bakerloo line and a 20-minute walk).
Kidzania
If there is one place that should be on your kids' London bucketlist, it's Kidzania. This mini city where the kids are in charge. This scaled city is designed for kids ages 4-14 years
Designed to empower and inspire.
Kids take on role-play jobs and activities to earn Kudos (the currency) which they can save in a bank account or spend in the gift shop afterwards. Each role is a job such as firefighters, paramedic, police, vet, window cleaner and more. They can even train to become a pilot or air steward with British Airways. Mums and ads are completely side-lined as they take on their roles and complete them to earn money.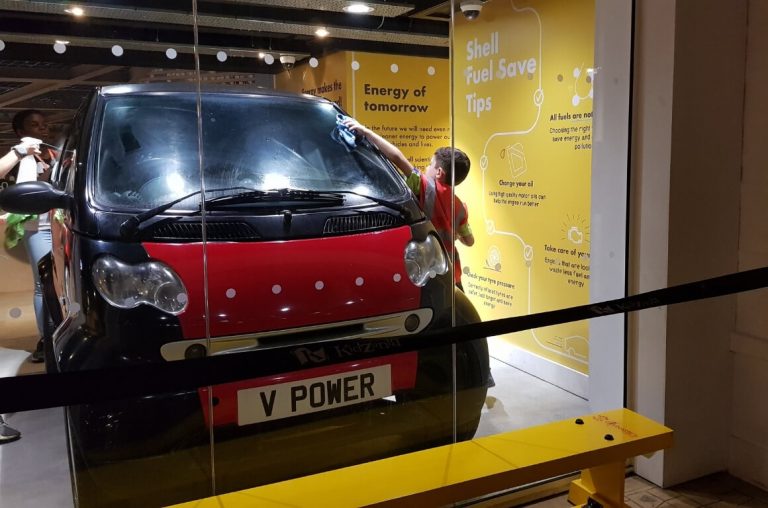 Each role or job has a difficulty level, a lower age limit and specific number of kudos on offer. As kids earn stamps for roles completed, they can gain citizen levels which gives them the opportunity to earn even more. Some roles require kids to spend their 'money' in order to do them and gaining new citizen levels means these roles cost less.
Kidzania is one of the must-do things in London and they also have Kidzania cities in other locations around the world for your kids to enjoy.
How to get to Kidzania London: Kidzania is located at the Westfield shopping centre. You can use the Central Line, alighting at either Shepherd's Bush or White City. And you can also use the Hammersmith & City Line, alighting at Wood Lane or Shepherd's Bush Market.
Richmond Park
If you are looking for some outdoor London adventures, then head to Richmond Park in southwest London. Created in the 17th century by Charles I, it is the largest of the London Royal Parks. Red and fallow deer roam freely in this 2500 acre nature reserve and it is common to see them.
There are also pretty gardens, the Isabella Plantation, with beautiful azaleas, streams and ponds. Other gardens include the terraced gardens and the Petersham Nursery. There are interesting buildings and no less than two playgrounds to entertain kids.

The deer in Richmond Park are one of the top 20 things to see in London, and the park offers lots of wide open spaces for kids to enjoy, explore and run wild. You can also hire bikes there and cycle the park if little legs would prefer that to walking. Either way it is a great place in London to visit with kids.
How to get to Richmond Park: Richmond Park is accessible to cars but is also served by public transport. The nearest Underground station is Richmond served by the District Line. Certain National Rail services also stop at Richmond. It is approximately a 20-minute walk from the station to the nearest entrance.
London Transport Museum
One of the must-see places in London with, or without, kids is the London Transport Museum. Located in a corner of Covent Gardens, the London Transport Museum is a brilliant place to bring the kids.
This great London museum chronicles the development of the transport system across London through permanent exhibitions, interactive displays and even buses, trains and more. Spanning over 200 years, visitors can learn how the inhabitants of London got from place to place throughout the ages and how the Underground developed. There is also a cool video that shows a time-lapse of the creation of a London double decker bus is made.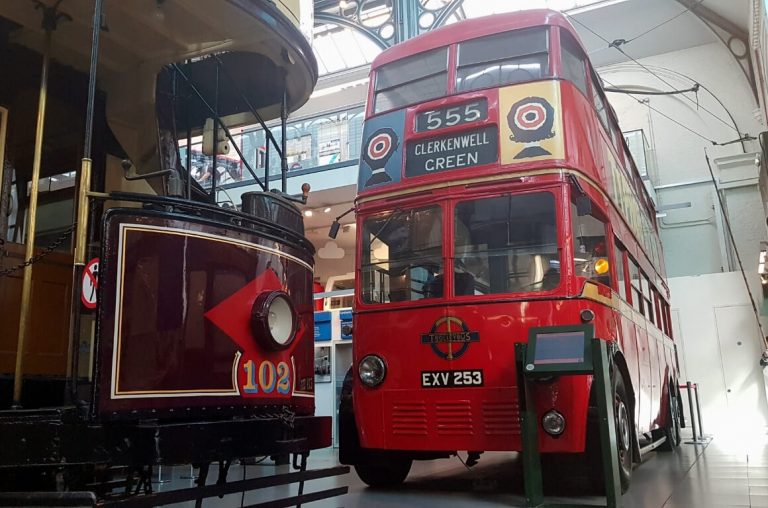 Kids will enjoy climbing into old steam engine carriages, driving a double decker bus and also an Underground train. If you have any train (or Thomas the Tank Engine) fans on your hands then visiting the London Transport Museum is one of the 10 best things to do in London, England with them.
And the best thing about the London Transport Museum? Only adults pay entry, the ticket is valid for a year and kids under 17 are free!
How to get to the London Transport Museum: The best way to the museum is to use the London Underground to arrive at Covent Garden station (using the Piccadilly Line), the nearest one to the museum. From the station it is a short 3-minute walk.
Covent Garden buskers
If you are exploring London, you are bound to end up in Covent Garden at some stage. And if you are there, you will no doubt stumble across a few buskers and performers. Street performers from all manner of disciplines flock to Covent Garden, particularly at weekends and during the summer to delight the crowds that frequent this corner of London.
Performances of dance, music, comedy and mime are just a few types that you may come across at Covent Garden. When my son and I were visiting the London Transport Museum, we stopped in Covent Garden before going to the museum to watch a street performer. And my son was chosen to take a starring role with one!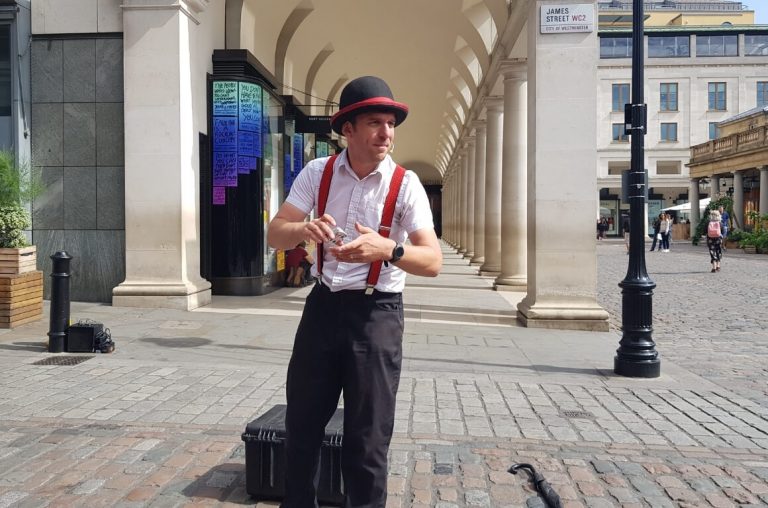 Visiting Covent Garden and seeing a few street performances is one of the London must-do experiences.
How to get to Covent Garden: Covent Garden has its own Underground station which is served by the Piccadilly Line.
Natural History Museum
One of the top ten things to do in London that should be on a bucket list for the city is to visit the Natural History Museum. Located in South Kensington, this is a must-see in London for families. Exhibiting specimens of natural history from across the globe, the Natural History Museum in London is one of the most popular museums to visit with kids.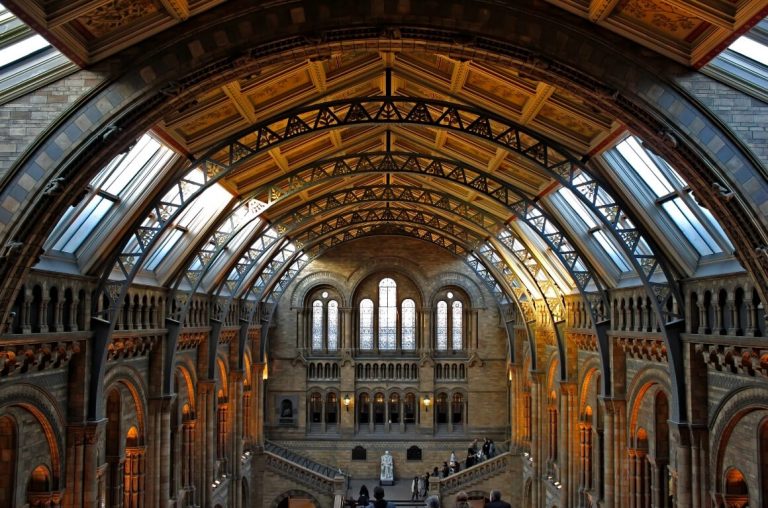 The entrance hall is adorned with the skeleton of a blue whale hanging from the ceiling. Previously it had been a dinosaur. As well as animal specimens there are specimens of rocks, gemstones and minerals in the Earth's Treasures exhibition. There are also exhibitions of birds, amphibians, insects, fossils and more. It is a wonderfully educational place to visit with kids and is a must for their bucket list for the city.
How to get to the Natural History Museum: The nearest London Underground station to the museum is South Kensington, served by the District, Circle and Piccadilly Lines. The museum is a short 4-minute walk from the station and is sign-posted from the station.
HMS Belfast
One of the best London things to do with kids is to visit the impressive HMS Belfast. This former British Navy warship is docked opposite the Tower of London on The Queen's Walk on the south banks of the River Thames.
HMS Belfast is a Town-class light cruiser and was built in the 1930's. The ship's service history includes part of World War II and the Korean War. And visitors can now explore the ship while in London.
There are many decks open to the public including the Captain's bridge and quarters, the communication deck, the engine deck and the living quarters where the sailors lived. The operations room is a great place for kids as there is an interactive game where they try to recover wreckage from a plane crash.
On the top decks you can see the gun turrets and in the lower decks the shells that were fed into them. HMS Belfast has lots of areas to see and explore and is a great place to visit with kids. It is certainly in my top 20 best things to do in London.
How to get to HMS Belfast: HMS Belfast is located, as mentioned, on Queen's Walk. The nearest Underground stations are London Bridge station served by the Northern and Jubilee lines and Tower Hill, served by the Circle and District Lines. From London Bridge it is a 6-minute walk and from Tower Hill a 17-minute walk across the famous Tower Bridge.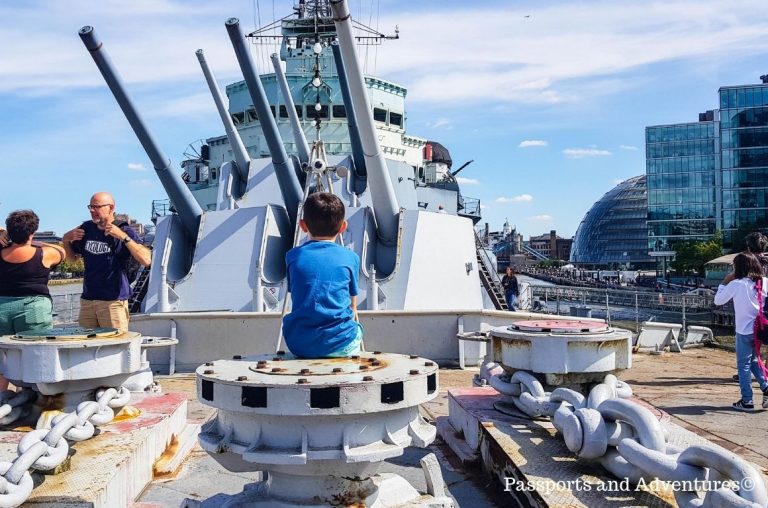 Thames River Cruise
One of the best and unique experiences in London to enjoy with kids is to take a cruise along the River Thames. The London Duck Tours used to tour London both my road and river but their entry point to the river is no longer available. So, instead I suggest booking one of the many other Thames River cruises to enjoy with the kids.
There are many different cruise options you could book including afternoon tea on the River, London sightseeing cruises, and also combined London Eye and Thames River Cruises in which you combine a 40-minute cruise on the river with a visit to the London Eye. During the cruise you can see famous London landmarks such as Big Ben, the Houses of Parliament and Shakespeare's Globe Theatre. If you are looking for some fun adventures in London, consider booking a river cruise.
Madame Tussauds
A family-friendly must-see in London are the wax models at Madame Tussauds. As one of the top attractions to do in London, Madame Tussauds is popular with visitors to the city, who come to spot famous celebrities and royals. There are 11 zones with over 150 lifelike figures to discover including people from music, film and of course, the Royal Family.
There is a Star Wars zone, a Marvel zone and even a Bollywood zone. There are also special experiences where you can join a 4-D interactive event. Madame Tussauds is a great place to take the kids to let them see if they can spot their favourite superhero or film character.
How to get to Madame Tussauds: This London attraction is located on Marylebone Road, close to Regent's Park. The nearest Underground Station is just 2-minutes' walk and is Baker Street station, which is served by the Bakerloo, Circle, Metropolitan, Jubilee and Hammersmith & City Lines.
Science Museum
Founded in 1857, the London Science Museum must be included on a list of things to do in London with kids. Located in South Kensington, it is ideal for combining with a visit to the Natural History Museum.
With no entry fee, it is a free place to visit in London and attracts millions of visitors every year. The museum houses over 300,000 items of historical and scientific importance, including the oldest surviving steam locomotive, the command module of Apollo 10 and the first jet engine.
There are also different halls with both permanent and temporary exhibitions (some temporary exhibitions incur a cost). One of the most popular galleries with families is the Wonderlab, an interactive lab in which staff demonstrate how things work through live experiments and shows. Tickets for this sell out fast, especially during school holidays, so make sure to pre-book well ahead of time. The Science Museum is a bucket list London attraction that is a must.
How to get to the Science Museum: The Science Museum is best visited using the London Underground and the nearest station of South Kensington is just 5-minutes' walk and is served by the District, Circle and Piccadilly Lines.
Landmarks of London
When deciding what to see when in London and what of the must-see sights in London should be on your kids London bucket list, the historic and famous landmarks of the city are a must.
No visit to the city would be complete without seeing the likes of Big Ben, the Houses of Parliament, St Paul's Cathedral and Westminster Abbey. Big Ben in an iconic London landmark as are the Houses of Parliament. Westminster Abbey is a royal church and is where the coronations of the British monarchs takes place, as well as many royal weddings. St Paul's Cathedral has held the funerals of royals and state's men and women, royal celebrations, and also royal weddings such as that of Prince Charles and Lady Diana Spencer. You can also get a great view of the London rooftops from the Dome of the cathedral.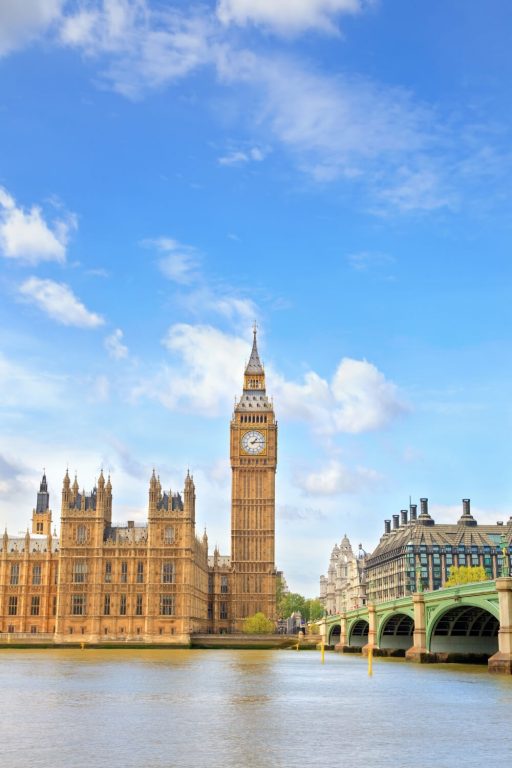 Another famous royal site that cannot be missed is Buckingham Palace, the London residence and administrative headquarters of the British monarchy. In summer time, the State Rooms are open to the public and of course, you have to witness the famous Changing of the Guard ceremony. This traditional ceremony has been taking place since the 1600's and is something you should try to see while in London. The kids will be fascinated by the uniforms, tall bearskin hats and the ceremony itself. Check ahead of your visit for times and days here.
And in central London you cannot miss visiting Trafalgar Square and Piccadilly Circus.
While some of these sites can be viewed from the water on a Thames River Cruise (see above), the easiest way to see the best of London is on a Hop On Hop Off Sightseeing bus tour. The bus will take you past all of these iconic places, some of which you can alight at to grab your pictures before hopping onto another bus to move to the next place.
Afternoon Tea
And if you are creating a London food bucket list with the kids, then you simply have to add a posh afternoon tea to the list. Afternoon tea is one of the top fun things to do in London, England and there are a huge range of places to choose from.
One we have personally done, and thoroughly enjoyed, was the Mary Poppins Afternoon Tea in the Shard. With themed decorations, treats and of course, tea, this was a really special way for us to end a great family trip to London.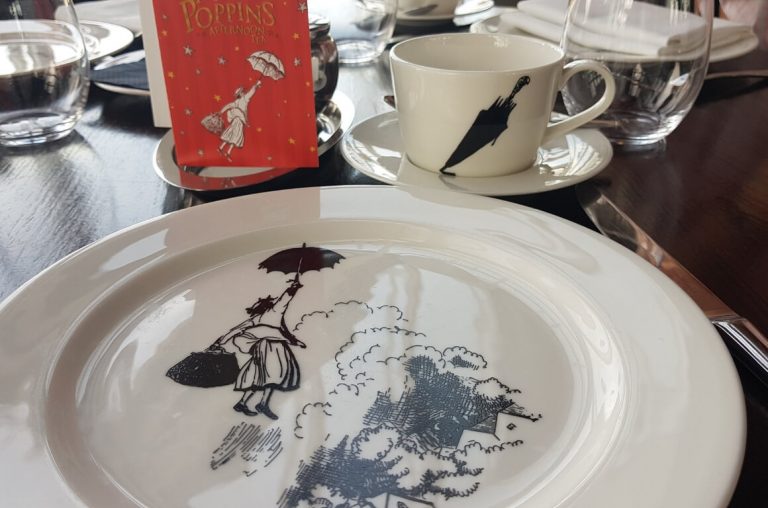 Check out these ideas for the best London afternoon tea to help you decide where to go with the kids.
I hope you've enjoyed my ultimate London bucket list for kids. The ideas include some of the must see and do in London that kids and their families cannot miss if visiting this amazing city in the UK. I hope that if you've been wondering what are the best things to do in London that it has helped narrow down your decisions. Whatever you choose to do with the kids in London I am sure you will have a great time.
And before your trip, make sure to grab my FREE printable for the London bucket list ideas included in this post! There are three different types to choose from and are all easy to print.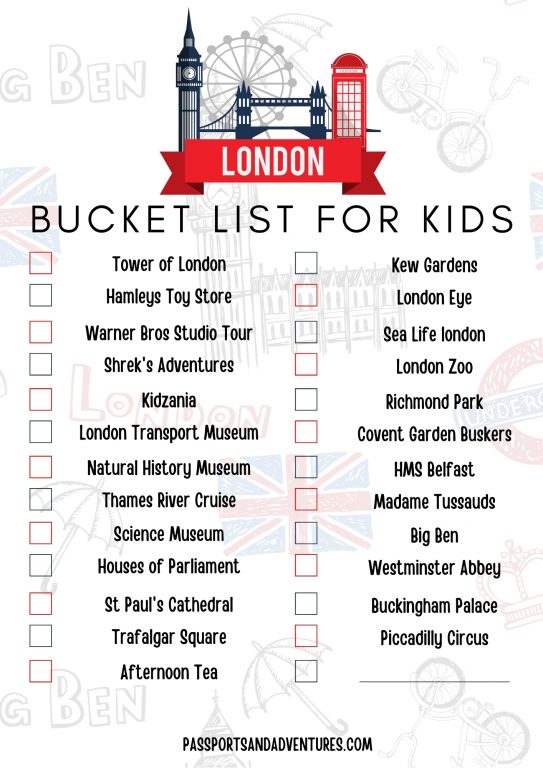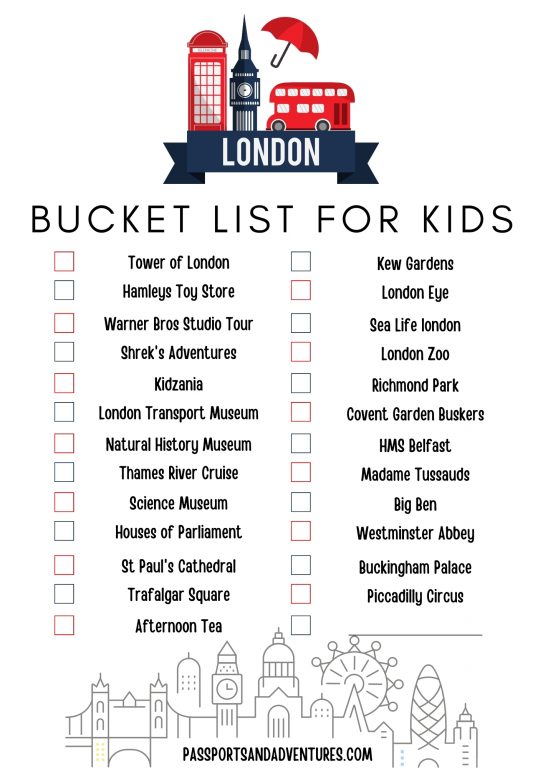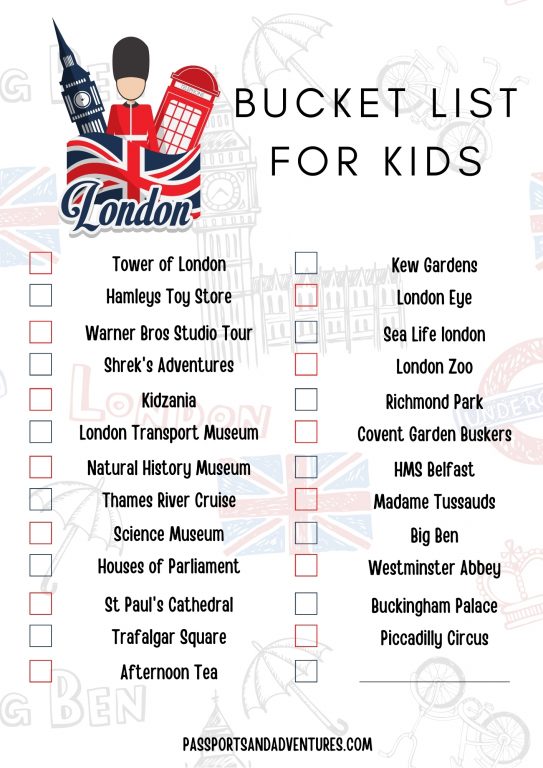 NOTE: These printables are for personal use only. You may not SELL or reproduce the files or the printed version of the files for commercial reasons.
If you visit London and use one of these kids' London bucket list printables, do come back and tell me how many your kids managed to tick off! And check out my Google story for this post here!
Cath x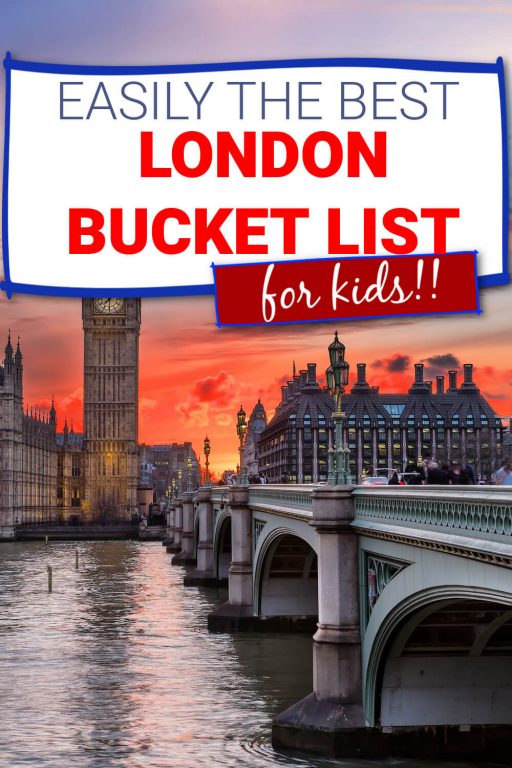 Related Posts