There's only one thing I dread about flying with our son and that is flights that involve more than a couple of hours or an overnight flight. Why you may ask? Because have you ever flown with a child in economy for more than a couple of hours and tried to get them comfortable enough to sleep? Well we have, and it's nigh-on impossible, at least with our child. But that may be about to change thanks to the JetKids BedBox. We were given the chance to receive one and today I want to share with you our JetKids BedBox review, what might just be an ideal plane bed for kids.

*This post contains affiliate links. To read more about affiliate links, please visit my Disclosure Policy page.
*ORIGINALLY PUBLISHED MAY 2018. POST UPDATED JULY 2019
As you all know we are family who cover quite a number of air miles and, as I've said before, our son by the age of 4 has done over 50,000 air miles. Some of those have involved short flights within Europe but he has covered at least two return trips to America involving overnight flights.
Our flights heading to America have been during the day so they haven't been too bad. However, our return trips to Europe have been known as red-eye flights, or overnight flights from America. Those overnight flights can be quite difficult to do with a toddler or preschooler who finds it difficult to get comfortable enough to fall asleep even though he's exhausted with tiredness.
Flying with an exhausted or overtired child is equally exhausting for parent. You know they are tired, you know they need sleep, but you just can't get them comfortable enough to nod off. We've managed to get our son to snooze on these flights.
However, he has never had a proper couple of hours sleep on either sets of flights. This is simply down to the fact he cannot get comfortable. Despite our best efforts to help him, it is been fruitless. He has always come off those planes absolutely exhausted and slept on the way home which doesn't do us any good trying to adjust his body clock back to UK time.
Imagine my delight when I saw a post on Instagram at the start of 2018 showcasing the new BedBox from JetKids, a plane bed for kids. As soon as I saw it I thought this could be the answer to our problems when flying long-haul with our son.
I said to my husband that if we were going to be flying long-haul in the next few years I would be buying one for our son. However, I got in touch with the company to see if they work with bloggers. And to my complete surprise they agreed to send us out one of their BedBoxes to review.
Check prices and availability for the BedBox HERE.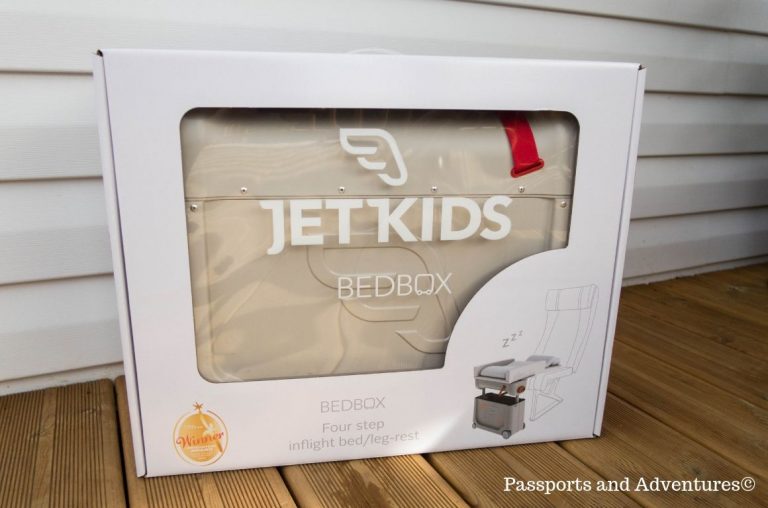 The BedBox from JetKids arrived direct to us in Portugal within a week of it being sent out. We received the red trim BedBox but was also available in blue at the time. The BedBox itself is light grey (the colour of the box has since been updated and there are now three to choose from), and as I've said came available with blue or red trims at the time. It is also available for distribution around the world. Inside the BedBox itself is the mattress which turns the JetKids BedBox kids carry on luggage into a child airplane bed. There are also instructions and a set of stickers for children to decorate or make their BedBox more personal to them.
The JetKids BedBox is also a kids ride along luggage, which parents can also pull along. There are other well-known ride on luggage for toddlers, and this to me is the next generation in kids ride on suitcases. The inside compartment is deceptively big even with the rolled up mattress. While we have had a previous ride-on suitcase for our son, he had long since out grown it, being quite a tall boy. The awesome JetKids BedBox is designed for children up to six or seven years of age depending on their height, so it really does last quite a long time.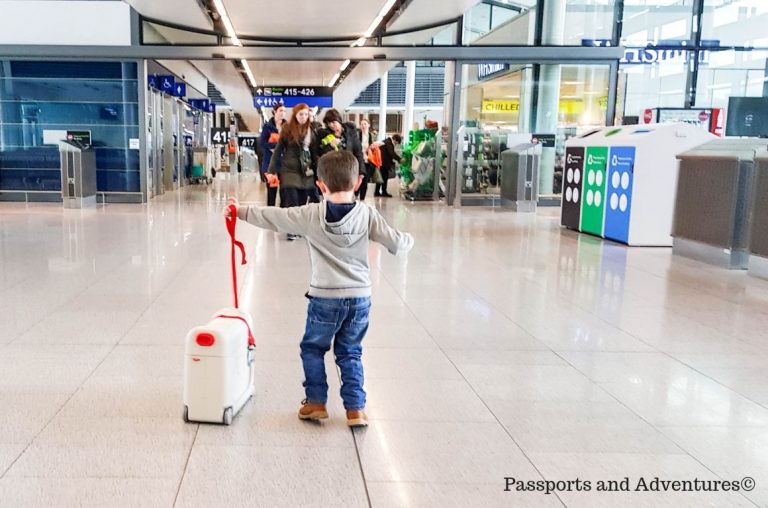 Not only is the JetKids BedBox your childrens luggage and a ride on suitcase, which is always handy for keeping them entertained in airports if you are delayed, but is also a plane bed or a leg rest for them, all contained in one handy box. The fact that the BedBox converts into a flight bed for kids or leg rest makes this stand out amongst all the other kids cabin bags available on the market today.
As soon as this arrived and we took it out of the box with our son, he immediately wanted to start riding it, knowing exactly what it was meant for. He rather enjoyed riding it within the house or outside on our deck. We also tested out the BedBox at home to see how it works. Although it comes with instructions, it's actually tricky the first time to get the top of the BedBox off the suitcase in order to turn it into the child plane bed.
JetKids Bed Box Review: How Does it Work?
To take the top off the BedBox you need to squeeze the two side handles inwards and pull up at the same time. You lift the top off and the inner compartment is revealed where you will find decoration stickers, further instructions and the rolled up mattress.
Before converting the JetKids BedBox into a children's flight bed, you need to secure the box to the rail underneath their seat using the carry strap. You unhook it from one side, feed it through, under and around the bar the bottom of their seats. You then secure it back onto the hook where you've removed it from. Then, to convert the BedBox into a plane bed for kids, you take the top off, remove the rolled-up mattress, reverse the top and place it back on to the guide-rails for the top.
You can adjust the height according to the height of their seat and there is a little tray table that you should move forward to join their seat to the back of the seat in front of them. You unroll the mattress onto their seat and place on to the top of the BedBox. The side guards are then put in place, securing them with the velcro straps that are already sewn into both the side rails and the mattress itself. Remember to leave enough room to feed their seatbelt through and around their body. Hey presto! A plane bed for your child either to simply rest or to sleep.
Watch my demonstration video further down to see how it works.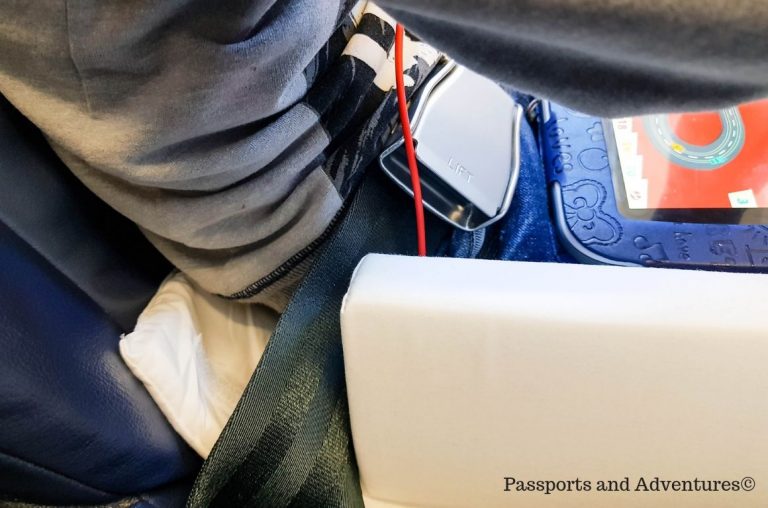 Things to note about using the JetKids BedBox on board
Before you use the BedBox by JetKids on a plane, you first need to check with the airline whether they allow sleeping aids or things like this to be used on board because not all airlines allow the use of the BedBox.
To me, this is just silly as comfortable kids = happy kids = happy parents = happy fellow passengers. However, not all airlines see it that way. JetKids do have a very handy list of airlines who have already pre-approved the use of the BedBox and a list of family-friendly airlines with which there have been either positive reports or no reported issues of using the BedBox on board.
The other thing you must remember is the JetKids BedBox can only be used either at a window seat or in the center seat of double-aisle, larger planes. It should never be used on an aisle seat.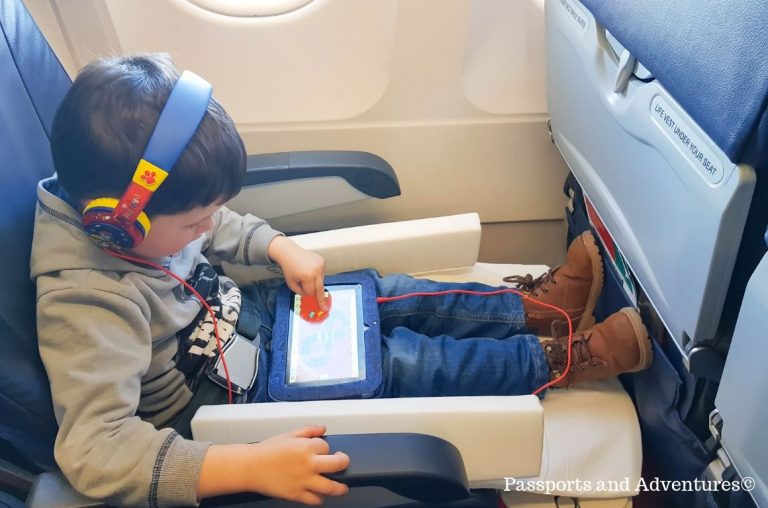 The other thing I noticed while using the JetKids BedBox on board an Air Lingus Flight, on a 737 airplane, was that it only comfortably fit underneath the middle seat of a set of three. It will not fit underneath the window seat itself. So, bear this in mind when you're keeping hand luggage close to you and not in the overhead compartments. You may need to put the BedBox underneath the seat in front of you if you were sitting in the middle seat of a set of three, as it most likely will not fit underneath the window seat in front of your child.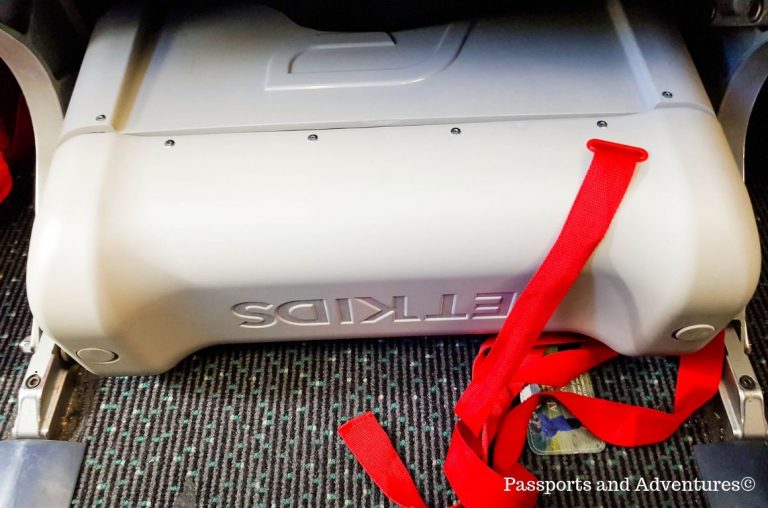 Also be aware that the JetKids BedBox cannot be used during take-off, landing or if there is turbulence. This is for safety reasons and if your child is asleep and turbulence occurs you will have to stow away the BedBox. The JetKids Bed Box is also not allowed to be used in exit rows for obvious reasons so bear this in mind if you are planning to buy or use a BedBox, as you might want to think about not booking your seat in an exit row.
JetKids BedBox Review: Did it work?
We used the JetKids BedBox on a two and a half hour flight from Dublin to Faro in Portugal. Although my son did not sleep, he was extremely comfortable and didn't complain once about his legs or being uncomfortable. We will be flying at the end of this year from Lisbon to Helsinki overnight, and TAP Airways, the Portuguese airline, are one of the airlines listed on the "no policy but no problems using" list of airlines.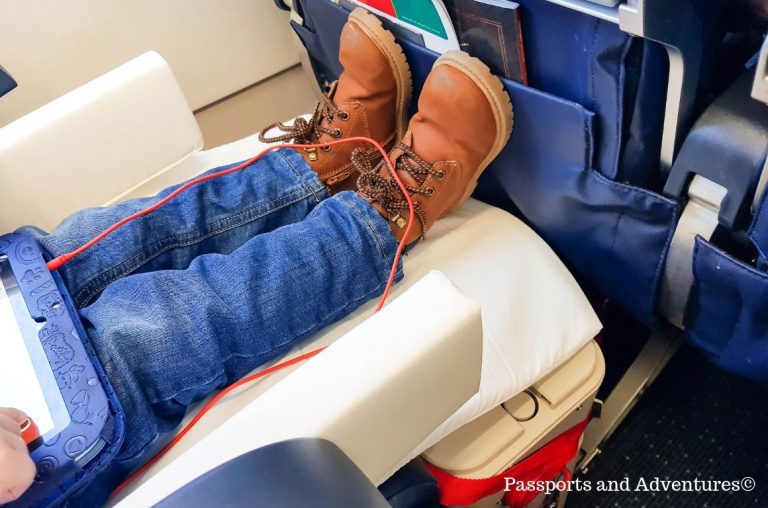 Things we love about the JetKids BedBox
First and foremost the JetKids BedBox is an awesome ride on suitcase for kids. If you just want the ride-on option and not the kid plane bed part of it, JetKids have introduced a JetKids RideBox, which is the same luggage but without the extending tray table and mattress.
The inside compartment is extremely large with a 20 litre volume. It carried both the rolled up mattress, several thin books for our son, a pencil case with colours, a pencil case with cars, and various other cars and toys which he bought in Ireland. I didn't think everything would fit but thankfully it did on the way back from Ireland. Despite being filled with all the toys he had brought, and bought on our trip, it didn't feel too heavy to carry. Without the bed option, there is even more room on the top part of the RideBox.
One thing I haven't seen on any other kids ride on luggage are the 360 degree swivel wheels at the front, which are absolutely amazing, making it very easy to manoeuvre around other passengers in the airport. It also means the JetKids Bed Box ride-on luggage is great for entertaining little ones or makes getting through larger airports easier.
The mattress and side cushions are hand washable which is brilliant in case it gets a little bit grubby.
The pull along strap is quite long which makes it easy to pull your child around on the BedBox in the airport. Our son had great fun riding around Dublin Airport and Faro airport on the BedBox with Mum or his auntie he was travelling with pulling him along.
Together, the BedBox and mattress only weight 3 kilos. However once you start putting toys in there it will start to get heavier. But not uncomfortably so.
Once you get the hang of taking the lid on and off, it's very easy to install as an airplane bed.
The JetKids BedBox mattress and side arms are designed to be used alongside the seat belt.
The BedBox is universal and will fit most standard economy seats.
It is designed for use with kids from about the age of 3 to about 7 depending on their height. This is definitely the next generation of ride on, pull along cabin baggage for children.
Unlike other inflatable sleeping aids for planes, the JetKids BedBox is very quiet and doesn't disturb other passengers when setting it up other than yourself or your partner travelling with you.
It is now available in three colours: blue, green and pink.
What we didn't like about the JetKids BedBox
The fact that not all airlines will allow you to use this is a real problem and a disappointment, and I think the airlines are missing a trick. We all know there is nothing worse than listening to a child during a night flight who obviously needs sleep but can't nod off. The JetKids BedBox, if used in the correct manner and in the correct seat, will make children more comfortable and should allow them to fall asleep in an economy seat with ease. The great thing about the BedBox is it can be used alongside the seat belt so your child will always be securely fastened in their seat.
Buy your JetKids BedBox HERE.
The JetKids BedBox is an awesome travel aid for kids. Not only is it a pull along, ride on suitcase that is cabin approved and can store all their bits they might need for the plane and for their holiday, but is also a bed in a box. It will make their seat more comfortable for their journey, be it a long plane journey or a short one.
After the first few attempts it is easy to put together and I suggest you figure it out at home before trying on a plane. It also can be used in conjunction with their seat belt, ensuring they are strapped safely into their seat, but be aware you must dismantle it for take-off and landing, and also during times of turbulence.
The JetKids BedBox costs 149GBP or 169EUR. While this might seem expensive to some people, you cannot put a price on kids comfort when travelling on planes. In my opinion it's worth every penny, particularly if you are flying with an airline that allows the use of the Bed Box kids luggage. The RideBox from JetKids is priced at 119GBP or 129EUR. However, if you purchase the RideBox you can later convert it to a BedBox via the RideBox Sleeping Kit priced at 39GBP or 49EUR.
Also, be aware that you will most likely only be able to use the BedBox with one child depending on where you are seated on an airplane. If you have more than one child and want to use the BedBox with more children, you will have to split your party and seat them in areas where each child will be able to use it. For guidelines on how to use the JetKids BedBox, you can always visit the JetKids website. Or check out the explanation provided by Singapore Airlines into which seats on an airplane the JetKids BedBox are safe to use with.
We've also recorded a video explaining what the JetKids BedBox is, how it works and there's also a snippet in there of it in use on the Air Lingus flight that we took from Dublin to Faro recently.
I must just reiterate that you should check with the airlines that you are planning to travel with whether or not they allowed the use of BedBoxes. That won't mean you can't bring the BedBox with you. It can still be used as a ride on or pull-along suitcase with the kids, but it will have to be stored either underneath the seat in front of you or in the overhead compartments on the plane.
For airlines that do not have policies, you may have to check with the crew themselves whether or not they are happy for you to use the BedBox as a plane bed, or whether or not they would prefer you to just stow it. So, do check before you travel or as you board the plane with crew as to whether or not you can use it on board.
I think the JetKids BedBox is a brilliant invention. I think it will make travelling with young kids easier. It will make them much more comfortable on a flight, particularly overnight red-eye flights, and therefore in turn will mean parents and fellow passengers are also happier.
I hope you have enjoyed this JetKids Bed Box Review. Have you used a sleeping aid with your kids on flights before?
Cath x
*We received a JetKids BedBox for the purpose of this review. However, as always, these on my honest thoughts and opinions about the product we have received.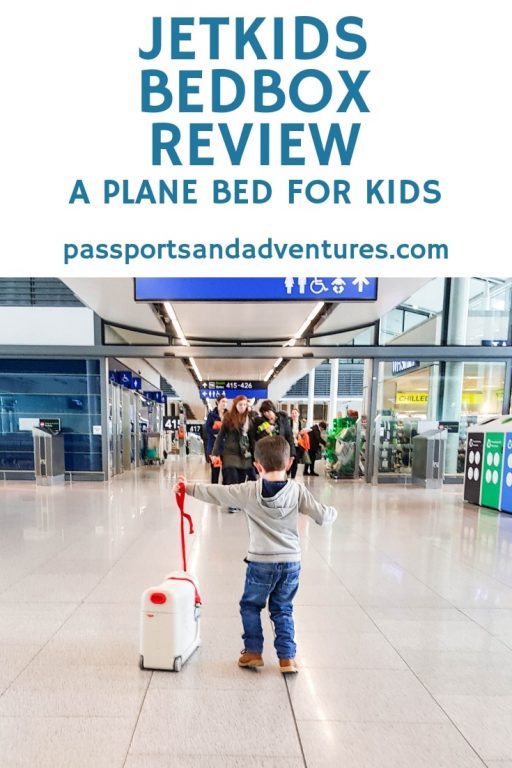 Linking up to these great linkies:


Passports and Adventures is a participant in the Amazon Services LLC Associates Program, an affiliate advertising program designed to provide a means for sites to earn advertising fees by advertising and linking to amazon.com, amazon.co.uk, amazon.ca. Amazon and the Amazon logo are trademarks of Amazon.com, Inc. or its affiliates. To learn more about affiliate links, read my Disclosure Policy here.
Related Posts