When travelling with young kids it's always a good idea to ensure you factor in some fun things for them to enjoy. Whenever we are visiting somewhere new, I always research family-friendly things for us to do together, to ensure our son doesn't get too bored. And one thing we always seek out are zoos. In this post I'm going to share with you some of the best zoos to visit with kids and you'll find some of the top zoos in the world featured below.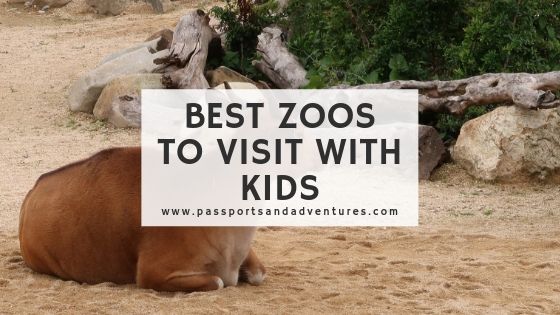 *This post contains affiliate links. To read more about affiliate links, please visit my Disclosure Policy page.
While there are many people who are opposed to the idea of zoos, and yes, I do feel it would be better to visit animals in their natural habitat, for many families, that is not a possibility. Factor in that many animals are on the verge of extinction and are on the endangered list, and you can appreciate why it's not always a possibility to visit animals in their natural habitat. In some cases, it is better that we, as humans, do not disturb and enter the animal's natural habitats.
So, the next best thing is to visit some of the top zoos in the world, concentrating on those who are heavily involved in conservation efforts to protect and preserve the animals of the planet, particularly those that are on the edge of extinction. In doing so, we get the opportunity to see animals we wouldn't normally. And as parents, it gives us the opportunity to educate our children on the dangers facing animals and why protection and preservation in conjunction with conservation is so important.
I've found a great post that addresses whether zoos are ethical or not. Dr Hayley Stainton details points for both sides to help you decide for yourself, with a reminder to research the zoo before you go.
It is for these reasons that we always seek out a kids zoo whenever we are travelling as a fun thing for our son to enjoy. We have been lucky enough to visit some of the top zoos in the UK, as well as one of the top zoos in the US. If you are wondering how many zoos are in the world, according to the America Zoo and Aquarium Assocation, there are over 10,000 zoos worldwide.
For a list of zoos by country, click here.
We as a family have visited a number of zoos during our travels but to provide you with a list of some of the best zoos in the world to visit with kids, I asked my fellow bloggers to recommend their favourites. What follows are their suggestions, which include some of the top 10 zoos in the world, some of the top 10 biggest zoos in the world and many may be considered in the top 10 best zoos in the world for families to visit.
Best Zoos in Asia to Visit with Kids
There are some very popular zoos to be found in Asia with some of them being among the top rated zoos in the world. In this section you will find suggestions for some of the best Asian zoos to visit with kids.
Singapore Zoo
Singapore Zoo is one of the most famous in the world and everyone recommends a visit if you are staying in Singapore. You can get to the zoo via public transport but we decided to go with a Grab as we had to be at the Zoo early for our breakfast. The girls had been given money for Christmas so they could have breakfast with the orangutans. With the breakfast ticket you were able to get entry to the rest of the Zoo after it had finished.
Our girls wandered in amazement with all the animals that were there and the amazing enclosures that they all loved in. The Singapore Zoo is very shady and although the weather in Singapore is very hot we found the walking easy going. There was always something to look at even if there were no animals as the flora was stunning as well.
We spent some time in the reptile enclosure as it was air-conditioned and at that stage the girls were struggling with the heat. Food and drink carts were spotted all over the park so you didn't have t worry about going hungry or thirsty. There were also places you could fill you water bottles as well.
Our early morning meant that we didn't get to see everything at the Zoo but I think you could spend forever there and not see everything.
Bec – Wyld Family Travels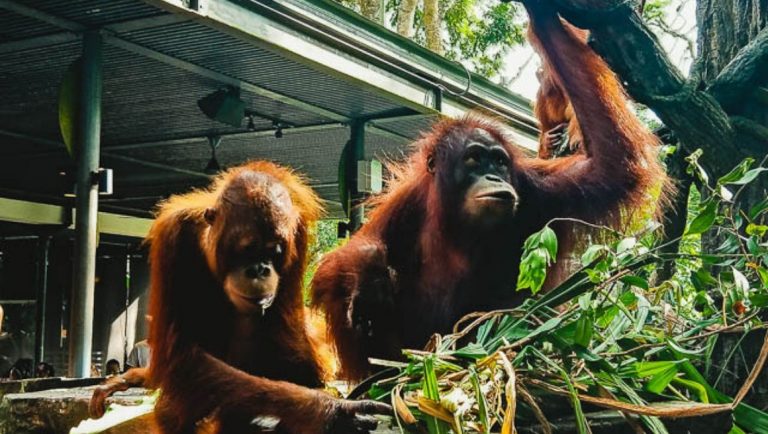 Al Ain Zoo, United Arab Emirates
Al Ain is an inland oasis town in the United Arab Emirates, on the border with Oman. Al Ain is not a town you would go to visit if it weren't for the Zoo, but this one is something extraordinary. Even though it is in the UAE, you will find Al Ain Zoo listed as one of the top things to do in Oman with kids.
Al Ain has everything we look for in a good zoo. A great selection of animals live in big, well-designed enclosures. There are places for kids to play, shaded resting areas, picnic spots and eateries. The grounds are attractive too, with plants and shaded walkways. The gift shop sells good quality souvenirs.
The biggest enclosure is visible from an elevated viewing platform. From here, you can see zebras and giraffes move gracefully to the water, all framed against the impressive backdrop of Jebel Hafeet mountain.
Al Ain Zoo also offers special experiences such as the gourmet "Dinner with Lions" – not quite "with" because there is a glass wall between the big cats and your table! Or take a Safari into the 250-hectare game reserve, either as a family in a 4×4 (the pricer option at 1,000 AED ($270) per person) or join a Truck Safari at 200 AED ($55) per person. Recently they have also added a Night Safari. For all these features you should book in advance.
Tickets to the Zoo itself cost 30 AED ($8) for an adult and 10 AED.($3) for a child. Opening times vary.
Ania – The Travelling Twins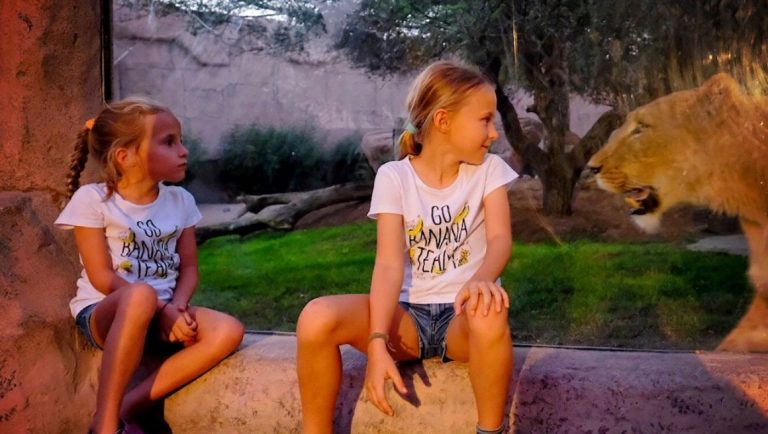 Chiang Mai Night Safari
The Chiang Mai Night Safari is one of the best zoos to visit with kids. The zoo is split up two sections, where you have a good chance of seeing some exotic animals close up.
In the Savannah night safari, you will travel around in an open top tram viewing the animals as a guide points out the various animals with their spotlight. You will see animals like White Rhinos, Giraffes and Zebras some of which can get pretty close to your tram.
In the Predator Prowl zone, you get the chance to see carnivores like tigers, lions, African hunting dogs, wolves and crocodiles. These creatures are all kept at a safe distance!
Every night the zoo hosts a variety of shows that give you the chance to get close to some of the animals or watch dancing performances. There is also a spectacular music and laser show projected over a lake to a huge fountain that is well worth a watch. So, all in all, you get quite a range of experiences for your entrance fee and we think that it is one of the best things to do in Chiang Mai.
If you have young children you might prefer to visit in the daytime when you can visit the walking zone, which has plenty of animals on view and you can also use the great playground. Entrance is only 100 bhat in the day or free for kids under 1 metre tall.
Chris – More Life in Your Days
Taipei Zoo, Taiwan
Taipei is a wonderful city, with a multitude of great family-friendly activities on offer, and one of the best days out in Taipei with kids is a visit to Taipei Zoo.
Covering about 165 hectares (90 hectares of which are developed), the zoo is huge, so it's best to book out the day so you can take your time exploring.
The Zoo is approximately 45 minutes via train from Taipei Main Station at the southern end of the brown line. Right next door is the Maokong Gondola which offers some of the best views of the city and an opportunity to try some of the lovely locally grown tea. If you're going to do this though, make sure you get there at opening time (9am) so you don't miss out on too much at the zoo!
The zoo boasts animals from all over the world, including Africa, Australia, and of course Asia. There are so many animals that it's impossible to list them all, but there are all of the kids' favourites – elephants, lions, tigers, leopards, gorillas and orangutans housed in well manicured and spacious enclosures. Our kids especially loved the amazing "Bird World" aviary and the "Amphibian and Reptile House" where there were a large number of snakes on display.
There are also plenty of food options available, with McDonalds and a 7-11 close to the entrance and other outlets available as you make your way through the zoo offering basic western and Asian food and drinks.
We walked throughout the day, and clocked up just over 20,000 steps, so it's a long way, especially with young kids. However the paths are very good and buggy friendly, and there is also an option to get a train along the main pathway, though the cues can be large.
Taipei Zoo offers a brilliant day out for the family, and with an entrance fee of approximately US$2 for adults and US$1 for under 18's it's also a very cost effective excursion!
Kylie – Our Overseas Adventures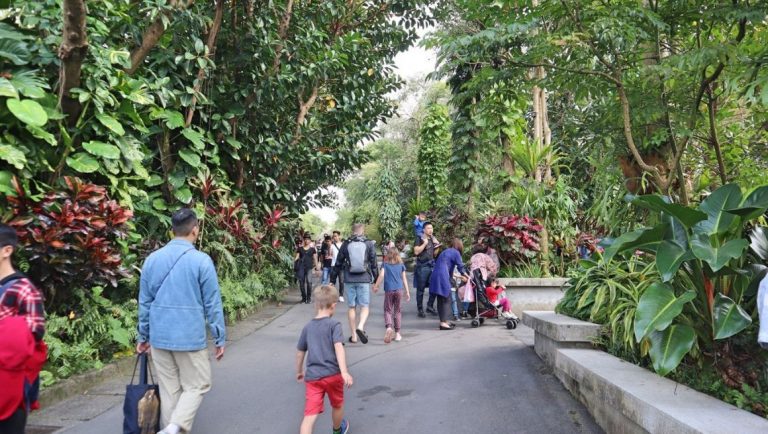 Best Zoos in Europe to Visit with Kids
There is a plethora of top zoos in Europe to take the kids to, including some of the best British zoos, best zoos for conservation and some which make the list of top ten zoos in the world. Featured below are some of the best zoos in England, and there are no less than three zoos which make the top 5 zoos in the world according to TripAdvisor, two of which have been recommended by my fellow travel bloggers below.
Barcelona Zoo, Spain
One of the best things to do in Barcelona with kids is a visit at the beautiful zoo, directly in the city center. The zoo was founded in 1982 and spread over an area of 32 acres – you will certainly not get bored here! Some of the highlights of the zoo include the famous Komodo dragons, which can normally only be found on the remote islands of eastern Indonesia. In the past, the Barcelona zoo was well known as the home of the only known albino gorilla (called Snowflake), which unfortunately past away. Kids also loved the fun dolphin shows taking place in the zoo, but these have now stopped.
What I also enjoyed a lot about the zoo is its central location, directly in the famous "Parc de la Ciutadella", one of the best places to visit in Barcelona. Therefore, your visit at the zoo can easily be combined with a nice and fun walk around the park, which is full of lakes, fountains and monuments. I'd recommend spending half a day here to take advantage of everything the park and the zoo have to offer!
Patrick – German Backpacker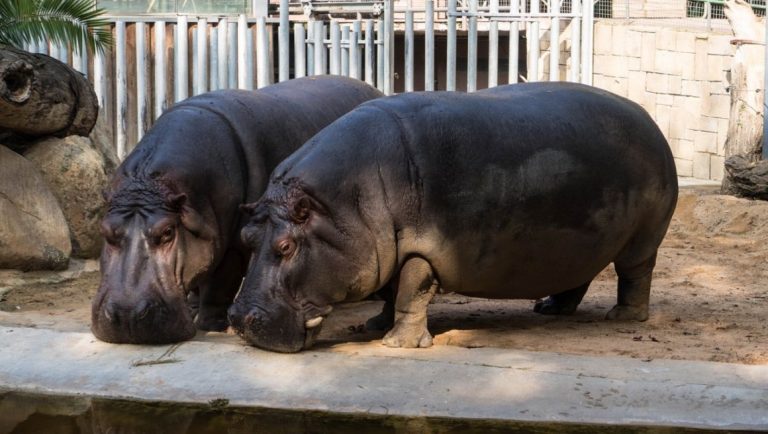 Berlin Zoo, Germany
There is no doubt in my mind that Berlin Zoo is one of the best zoos in the world to visit. It is also one of the top 10 zoos in Europe. Let's start my talking about their huge collection. Around 1300 species and 20000 animals currently live at Berlin Zoo. If you want your child to see as many animals, birds, reptiles etc as possible in one day then you have come to the right place. Berlin Zoo has the largest variety of species in the world so you know there is going to be plenty to see during your visit.
Berlin Zoo is also famous for having Germany's only resident giant pandas and they are just incredible. With giant pandas at real risk of extinction, the couple that live here play a vital part in the European Breeding Programme.
As well as having some wonderful creatures, Berlin Zoo is literally covered in trees, so even on the hottest of summers days there is plenty of shade for kids to enjoy a cooler day out while in the city. You will also find children's play areas, picnic spots and also cafe's during your visit to Berlin Zoo. The other great thing about a going to Berlin Zoo with kids is the price. It's a really affordable place to visit with kids and discounts are available with the Berlin WelcomeCard which are worth taking advantage of.
Zena – Zena's Suitcase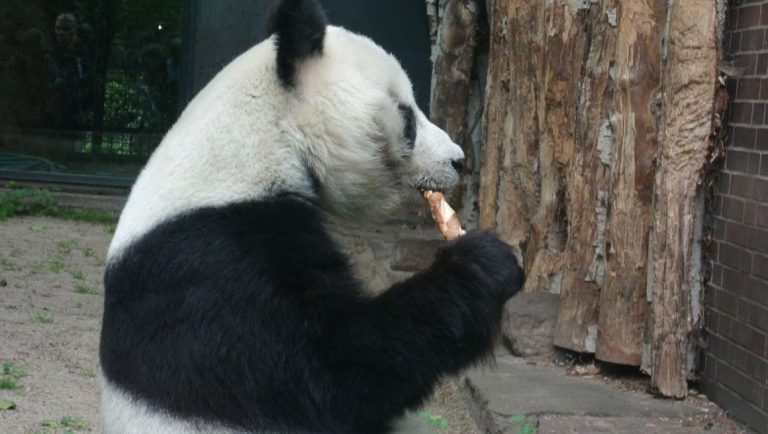 Gdansk Zoo, Poland
Gdansk is the most beautiful city in Poland and number one to visit if you travel with kids. This amazing city is located on the Baltic coast and offers lots of exciting attractions for all kinds of travellers.
The best place to visit in Gdansk if you travel with children is the zoo. It is located in the oldest part of Gdansk – Oliwa district in Tricity Rural Park.
Gdansk zoo is the biggest zoological park in Poland. There are about 200 animal species, some of which come from distant and exotic parts of the world. Several of those animals no longer live in their natural habitat and zoo is the only chance for them to survive. Some of those endangered species include Andean condors, dwarf hippopotamuses and maned wolves. There are also lots of other exotic animals like monkeys, giraffes, kangaroos, lions and camels, many different reptiles, birds and amphibians.
In Gdansk zoo, there is also a small-gauge train which is a nice attraction, not only for kids. There are also horse rides available. Other attractions include mini zoo where children can feed and touch tamed animals and ropes course with a few routes suitable for different age of the visitors.
When your little ones get tired you can take a break in a restaurant – there are three places to eat in Gdansk zoo.
Visit in Gdansk zoo can be not only a fun adventure for kids. It may also be of great educational value for children who would understand how important it is to respect animal lives and get to know the habitat of some species which may no longer be there when your children are grown up.
Joanna – Overhere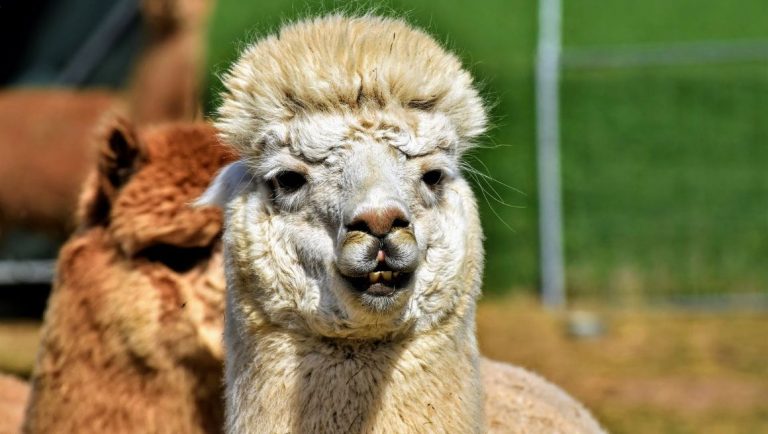 Chester Zoo, United Kingdom
Chester Zoo is the most visited zoo in the UK, making it also one of the most visited zoos in the world. It's in the North of England in the county of Cheshire, and it's well signposted from the M56 motorway. Not only does a visit make a great day out with the family, but its also a great way of contributing to the conservation of animals. Chester zoo also regularly holds the position of number one of top 10 zoos in UK.
Chester zoo is involved in numerous conservation projects around the world and is renowned for its scientific research towards preventing the extinction of individual species. For children, there's plenty to do. With over 27,000 animals they're bound to see one of their favourites.
If your little ones get tired throughout the day, the zoo has pushchairs to hire, or you can take a trip on the Zoo safari monorail. In addition to the animal enclosures, Chester Zoo also has four themed playgrounds, including a treetop challenge course. With your entrance ticket, the kids will get an explorer trail guide book to complete throughout the day. The book is excellent and asked them to answer questions and draw pictures of things as they go.
Parking at the zoo is easy, and there's plenty of space. If you don't want to pay for lunch at one of the cafes, bring a picnic and enjoy it in one of the many picnic areas.
Fiona – Passport and Piano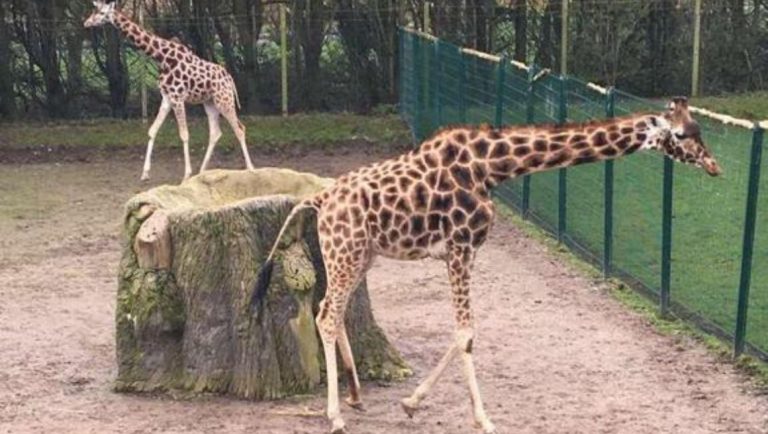 Helsinki Zoo, Finland
One of the best things to do in Helsinki, Finland, is to visit the unique zoo they have there. The Helsinki Zoo is actually located on an island. Talk about Jurassic Park vibes. The most fun way to get to the zoo, which kids will absolutely love, is to take a ferry from the port out to the island. You can also opt to drive to the island by taking the bridge to the zoo as well.
Inside, you'll find animals that adapt to their climate. So you won't find elephants or giraffes, etc. They have animals there that we had never heard of as well. The zoo is not huge, so this could be a great half day activity. They have lots of areas for kids to play around, and even have peacocks running around the zoo as well.
It's definitely a great one to check out if you are in the area, especially because of the unique location. You'll be able to see the water while walking around the park too!
Sara – Our Kind of Crazy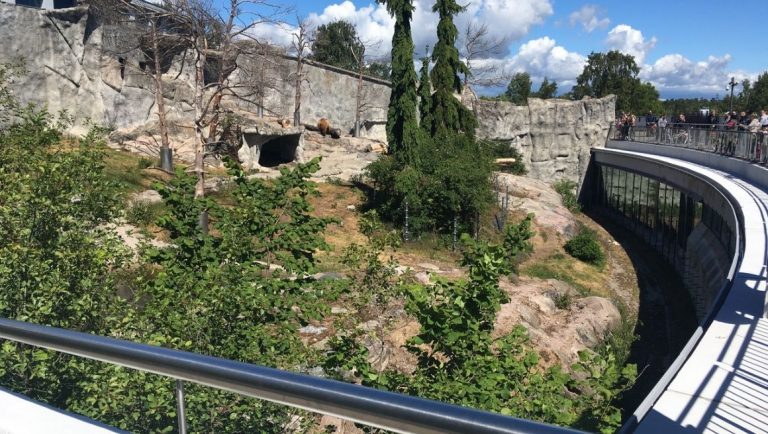 Arctic Wildlife Park and Zoo, Ranua, Finland
The Arctic Zoo in Ranua is a must-see attraction in Finnish Lapland. It's a perfect day trip from Rovaniemi or can be part of a road trip across Finland.
As its name suggests, the zoo has a large collection of arctic species and it is considered the most northern zoo in Europe. You can observe arctic owls, foxes, wolves, brown bears, reindeer, and moose in their natural habitat. The biggest attractions currently are the polar bears and their cute cub.
The zoo features a small shop and coffee where you can warm yourself up during the cold months and a playground which gives extra attraction for your children. During the winter sleds are also available.
The best time of the year to visit the zoo is between December and March when the snowy landscape is guaranteed. During the warm summer months (June-July) the animals hide and its harder to get a glimpse on them, so if you can go in winter.
Katalin – Our Life Our Travel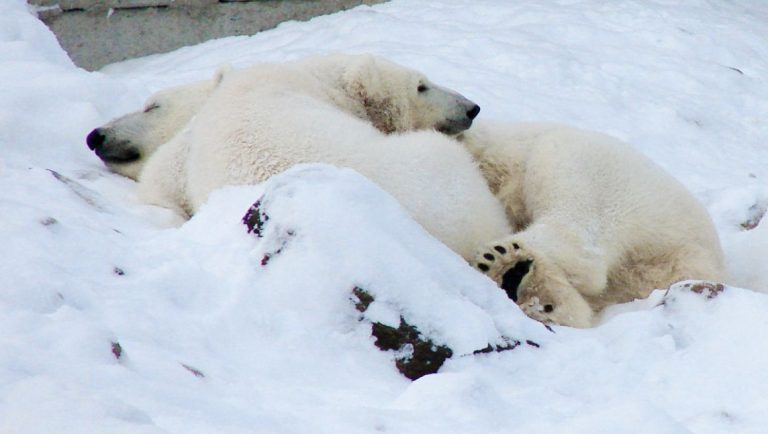 Hagenbeck Tierpark and Tropen Aquarium, Hamburg, Germany
When planning a trip to Hamburg, Germany with kids, finding the perfect zoo experience is very easy once we discovered Hagenbeck Tierpark and Tropen Aquarium. Originally started out in the early 1900s as one man's collection of exotic animals, Hagenbeck Tierpark has turned into one of the oldest family-owned and operated zoos in Germany that believes in housing animals in enclosures more similar to their own natural environments. This is why you won't be looking at many animals through glass cages, and is also one reason why we love going to the Hagenbeck Tierpark.
The unique design of the park also is very intriguing with fascinating enclosures like a dome, Himalayan-style mountain and Japanese garden where you don't just see the animals walking around, but you also get the feeling of being transported to another place in the world. My family loved seeing the bears and the buffalo relaxing in the sunlight, and we loved visiting the walruses, who loved to entertain visitors during their feeding-time show. It was a beautiful and peaceful feeling, knowing how well-cared for the animals were at Hagenbeck Tierpark.
Hagenbeck Tierpark also has a very large, wooden playground that gives children an extra place to have fun or families to have a break from exploring the grounds and have a snack or coffee. My boys could have easily spent the entire day on the playground.
The Tropen Aquarium, located just inside the grounds of the Hagenbeck Tierpark is also designed to give families the feeling of being on a tropical exploration with its stunning waterfalls, island huts, and sunken ship. See many different lizards, snakes, and fish, and be blown away by the massive tank that encompasses its own room where sharks and stingrays swim around many other types of interesting and colorful fish.
Kelly – My New Danish Life

Wilhelma-Stuttgart Botanical Zoo, Germany
A combined botanical garden and zoo, Wilhelma Zoo is a beautiful zoo located in the city of Stuttgart, Germany, home to the famous Mercedes Benz car and a city nestled deep in a valley between green hills. As Europe's only combined zoo and botanical garden, Wilhelma stands out for its beauty and calm among a bustling city.
Wilhelma zoo has more than 30 hectares of land spread across flat and hilly land, with an aquarium, thousands of species of plants and flowers, nearly 12,000 animals and playgrounds for kids found around every corner. There are several primate houses and locations that show a variety of monkeys, apes and gorillas bounding on ropes from tree to tree.
Wilhelma is a kid's paradise, featuring numerous playgrounds for children, which are always a hit with kids. There are many green areas to picnic and the zoo is stroller friendly as well. Zoo staff are known to have various demonstrations especially for kids during the summer months. Kids can ride small push bicycles or scooters in the zoo, as the zoo is very welcoming for kids. It is one of the best zoos to wander in, and is a great thing to do in Stuttgart with kids. There is plenty of shade, fun and things to see and explore year round.
Diana – The Elusive Family
Zoo Antwerpen & Zoo Planckendael, Belgium
When you are visiting Belgium, especially if you are travelling with kids, a trip to one or both of the Antwerp Zoos is not something to be missed. As they are associated, I will discuss both of them, but they are very different in general feeling and in what animals you get to see.
What makes the Zoo of Antwerp so special is that it is situated right in the middle of the center. As it is adjacent to the Central Station, getting there and away should not be a problem at all. It makes for a green lung in the city, but with its 11 ha, the Zoo is not the largest. This means that the animals don't have that much space, which is the biggest downside of the Antwerp Zoo. On the plus side, everything has recently been renovated with extra care for animal well-being and visitor experience in mind.
Zoo Planckendael is located close to the city of Mechelen (about 20 minutes from Antwerp by car, but it can be reached by train and shuttle bus as well) and its 46 ha provides a lot more comfort to the Zoo's inhabitants. It will take you a full day to visit every area at a leisurely pace. Planckendael is known for its role in the international breeding program of the endangered Asian elephant, which resulted in the birth of 3 baby elephants in 2018.
An entry ticket for either park will cost you € 28 and both are open 365 days a year!
Babs – Travel Gear For Kids

Loro Parque, Tenerife, Spain
Loro Parque is one of the most visited attractions in Tenerife and it is designed to receive lots of guests. Children can spend here a whole day without getting bored. You can find restaurants, cafes, toilets with children facilities and roads adapted for strollers or wheelchairs. You can get here by car or as a day trip sold in hotels. The parking has different lots for cars and for coaches.
Located in Tenerife, on the sea side, Loro Parque is open all year long. Its name comes from the numerous species of parrots that are hosted here. But besides parrots, a lot of different animals can be seen: large mammals, monkeys and even penguins in a small center that reproduces the weather conditions they need. For sea lovers, an aquarium with all type of fish displays the underwater life.
A few times a day you can attend animal shows: orcas, sea lions, parrots and dolphins. The shows include animal tricks and learning sessions, so children can find out more about the animals, their environment and why it is important to preserve nature.
A visit here it is a perfect opportunity for learning while having fun.
Corina – Another Milestone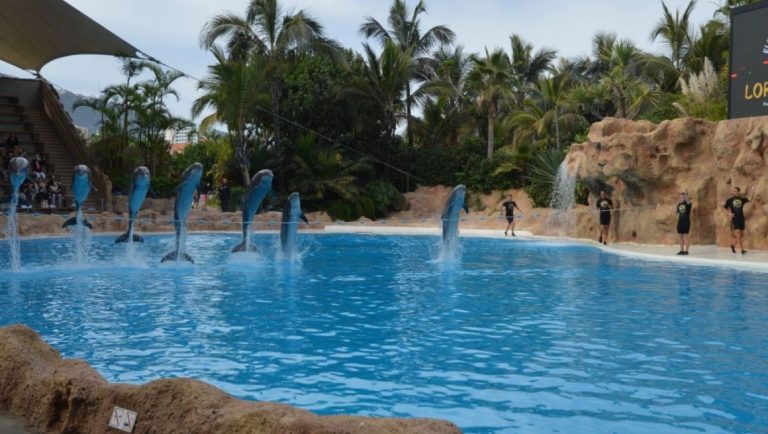 Dublin Zoo, Ireland
Dublin Zoo is located in the beautiful Phoenix Park in Dublin. It is easy to get to by car or by public transport, plus the zoo is a stop on the tourist bus tours available around Dublin. Dublin Zoo was opened in 1831 and is one of the world's oldest zoos but the 28-hectare park has been thoughtfully and creatively developed over the years.
We enjoy visiting this family-friendly zoo with our kids because, despite its age, we find the zoo enclosures are large and sensitively designed. There are over 400 animals from 100 species ranging from giraffes to sea lions to snow leopards, sloths, sea lions and lions. There is even a farm section with more familiar animals! Our favourite part of Dublin Zoo to visit is the Kaziranga Forest trail to see the majestic Asian elephants. There is a covered, wooden amphitheatre where you can sit quietly and observe these wonderful animals. It feels a world away from the busy Dublin city centre!
You can see everything the Zoo has to offer in one long day and there are scheduled talks and feeding sessions daily. After your visit, you could run off excess energy in Phoenix Park and its fantastic playground facilities.
Sinead Camplin – Map Made Memories
Prague Zoo, Czech Republic
Currently ranked as the 5th best Zoo in the world by TripAdvisor, Prague Zoo has for a long time been a popular choice among locals and travellers alike.
The Zoo is located on the outskirts of Prague, in the Trója district. Its position right by the Vltava River made it disastrous during the 2002 floods. Ever since then, the zoo has invested massively in rebuilding and renovation and is now even better than before.
The spacious zoo can be a trip in itself. You can see most of the exhibits during a day, but several visits are recommended. New pavilions, such as the Indonesian jungle one, keep popping up and make watching the animals in their nearly natural habitat ever more interesting.
The Prague Zoo is perhaps most fond of their gorilla family. The gorillas won the hearts of all Czechs when the whole nation observed the upbringing of little Moja, a gorilla girl.
Most of the pens are closed off with glass or wooden barriers, or using natural landscape barriers. So you won't see sad animals being held in cages or peeping through metal bars.
You can get around by walking or by hopping on a little train. Since the zoo is built in a hilly terrain, you can also make use of a small chairlift.
Veronika – Travel Geekery
Attica Zoological Park, Athens, Greece
Staying in Athens, the capital of Greece, with kids can be challenging when you only take them to museums and ancient Greek buildings. That's when it's time to visit the Attica Zoological Park, the biggest zoological garden in Greece with many happy, playful animals and educational activities for children.
Located in Spata, just outside of Athens, the 20 hectares lush green zoo houses about 2000 animals. Originally established as a Bird Park there are about 1100 birds, some of them very rare like the African Penguins and the Rothchild Mynah.
The zoo's animals live either in themed sections like the African Savannah, the Monkey Forest, the World of Reptiles and the Greek Fauna Section, or in separate sections. You will find all animals easily if you pick up a map at the entrance.
As a member of EAZA, the European Association of Zoos and Aquaria, the zoo participates in many breeding programs to support wildlife conservation of endangered animals.
The Somali Wild Ass of which less than 500 are left in the wild, lives in the zoo. It's believed to be the ancestor of the domestic donkey. The White Tiger who hasn't been seen in the wild since 1958, is another of the highly endangered animals living in Athens. Kids will be very impressed by the Komodo Dragon, a three meters long lizard with very toxic saliva. It's the largest lizard in the world!
Be sure to attend the dolphin show in the Dolphinarium and the animal feedings. Especially the feeding of the cute ring-tailed Lemurs is a great experience for kids. The little fury animals will crawl all over you and sit on your arms and shoulders.
With smaller kids the petting farm with rabbits, donkeys, ponies, goats, and even a cow is a true paradise. Next to it is a playground with a picnic area and a kiosk so you can have some rest after hours of strolling through this beautiful zoo in Greece.
Ninah – Strolling Greece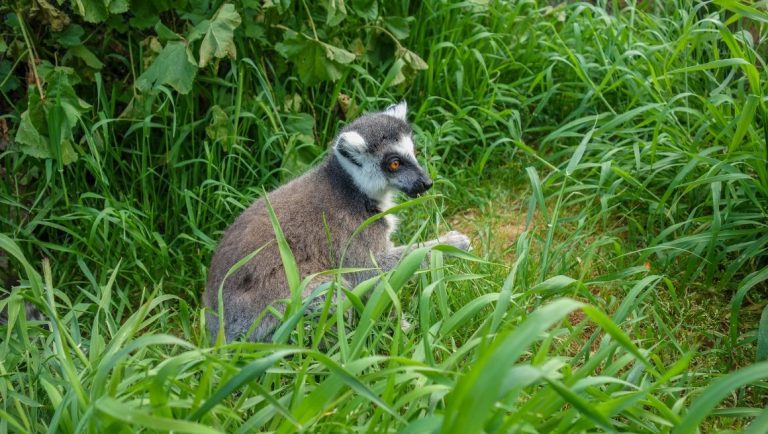 Edinburgh Zoo, Scotland
Built over 100 years ago and set over 82 acres of land, Edinburgh Zoo makes for a wonderful day out with kids if you're visiting the Scottish capital. The zoo is located on a steep hillside (take note if you have little ones!) about 3 miles (or 5 kms) from the city centre and can easily be reached by car (parking costs £4) or by bus (number 26, 12 or 31).
The zoo is heavily involved in species conservation worldwide and you'll find many endangered species and rare animals. We particularly recommend experiencing the famous Penguin Parade (so long as the penguins are in the mood for it!) and catching a glimpse of the only Giant Pandas in the UK. We had a zoo membership for years and our highlights involved watching cheeky monkeys play-fighting, koalas having a cuddle and listening to talks given by knowledgeable keepers.
There are a number of play parks within the zoo as well as restaurants and picnic areas. We also suggest buying your tickets ahead to save money and to avoid having to queue on the day. You can easily spend an entire at the zoo and you're guaranteed a memorable family day out!
Gillian – Scotland Bucket List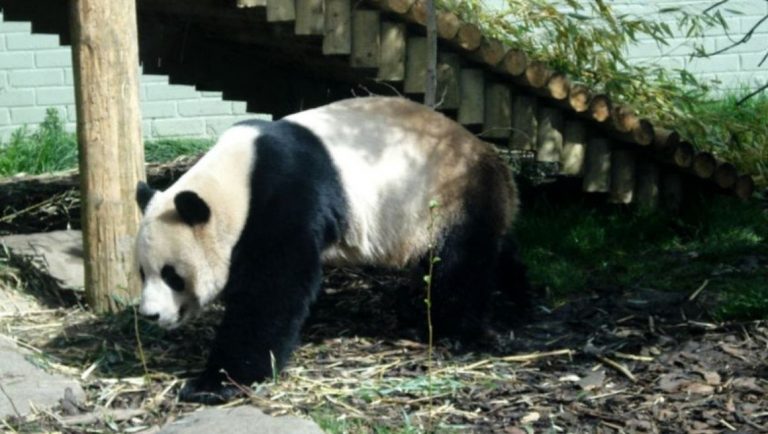 Cotswold Wildlife Park, UK
Cotswold Wildlife Park is one of the best things to do in the Cotswolds. The Wildlife Park is near Burford in Oxfordshire, and it's set in the grounds of a manor house. Probably the most famous sight in the Cotswolds is to watch the rhino grazing, framed by a Victorian manor house – it's definitely a unique scene!
There are more big animals at the Wildlife Park including bactrian camels and giraffes, and smaller, cute critters like lemurs and meerkats. For small children there's a farm where you can pet some of the domestic animals. Everyone will love the miniature train ride around the park! Kids of any age are sure to be enchanted.
There are daily animal feeds and talks so try to plan your visit around these as they give extra insight into life at the park. Older kids can sign up to be a keeper for a day which is a fantastic educational opportunity. You should also take time to look around the wonderful gardens which are beautifully planted for any season.
The Cotswold Wildlife Park is a charitable trust and takes part in several breeding programmes for endangered species. They also promote conservation in the wild. This means you can be sure that you're supporting animals worldwide when you visit.
Emily – Kids and Compass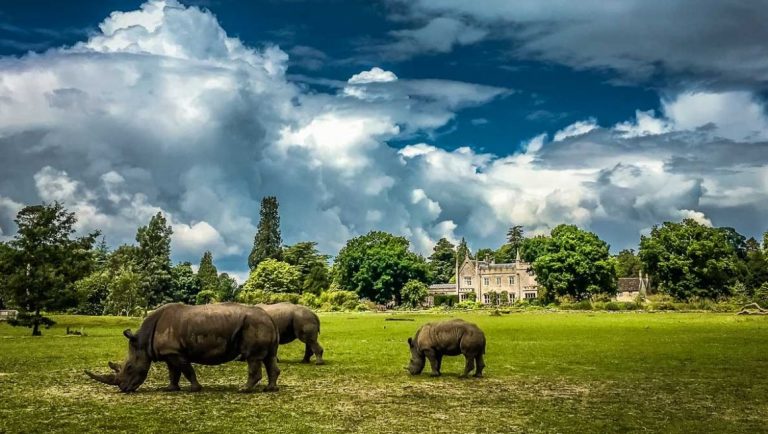 Innsbruck Alpine Zoo, Austria
If you're looking for a zoo with a difference, the Alpine Zoo in Innsbruck, Austria is definitely worth a visit. Not only is it the highest lying zoo in Europe, but it's totally devoted to species which are or have been typical to the Alps.
The 150 species (around 2,000 creatures) aren't the only reason why we think the Innsbruck Alpine Zoo is one of the best zoos to visit with kids in the world. Getting there with the Hungerburg funicular from the centre of Innsbruck is part of the adventure.
Thanks to its elevated position on the slopes of the Nordkette mountain range, the views over Innsbruck, the Inn Valley and surrounding mountains from the Alpine Zoo are amazing. The animal enclosures are large and fit nicely into their natural surroundings. There are no signs of traditional zoo cages here.
Fascinating creatures to look out for in the Alpine Zoo are the lynx, European elk, wolves, Alpine Ibex, and bearded vulture. With one big playground and smaller play areas between the enclosures, there is more than enough distraction to keep smaller kids motivated to walk through the zoo.
The best time to visit the Alpine Zoo to see animals is during summer because many animals hibernate in winter. Even so, the zoo holds a special charm during winter, especially when everything is covered in snow. It's absolutely worth including in your Innsbruck sightseeing itinerary at any time of the year.
Linda – Travel Tyrol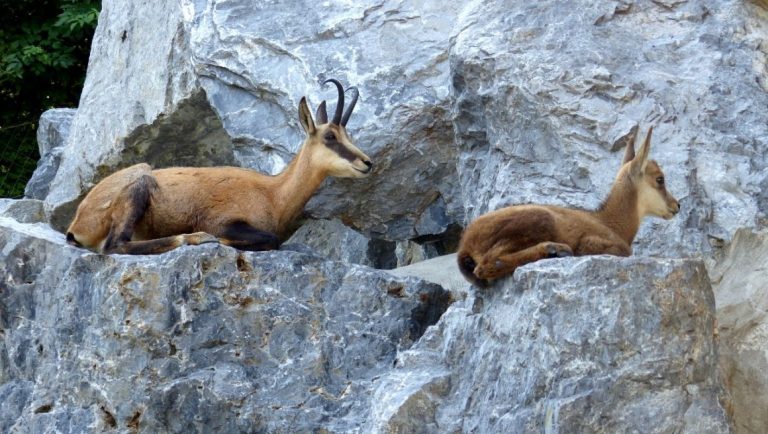 A zoo that wasn't submitted but should have made the list is Rotterdam Zoo. Read all about this Dutch Zoo in this post about a visit to Rotterdam Zoo with Kids by Travel With My Boys.
Best Zoos in North America to Visit with Kids
Three US zoos are among the TripAdvisor best zoos top ten and my fellow bloggers have recommended some of the top zoos in North America to visit with kids. From the best zoos on the East Coast to the West, with some of the best zoos in the Midwest featured, Mexico and even Canada, you won't be short of ideas for the best zoos in North America to visit with kids should you be in that part of the world.
Animal Kingdom, Walt Disney World, Orlando, Florida
It may not be a conventional zoo, but Animal Kingdom at Walt Disney World has some of the most magical animal encounters for you and your family. The thing that sets it apart from other zoos is the interactive nature of the exhibits. Kilimanjaro Safari is the cornerstone of this immersive experience and a must-do experience at Animal Kingdom.
The adventure begins as you board a Safari truck and drive through African savannahs, seeing animals all along the way. The experience is so big, it can fit all of Magic Kingdom (another Disney World park) inside it! From crocodiles to elephants, cheetahs, and even lions, you'll feel like you are really on a Safari as you journey through the exhibits. Some of the animals on the savannah truly are free to roam, even in front of your vehicle sometimes! You may find yourself stalled for a moment while an ostrich bounds across the road.
Another amazing event is the Winged Encounters show in which a variety of macaws gather at the front of the park. In one spectacular moment, they all take flight with you underneath. Finally, you can take a stroll through Gorilla Falls to see the amazing western lowland gorillas or the Maharaja Jungle Trek and see the tigers.
In line with the other interactive exhibits, these self-guided tours even give you a chance to enter an open-air exhibit with bats all around! If you are looking for a zoo experience that lets your kids experience the animals in their natural habitats, Animal Kingdom is a must on your list!
Sarah – Moment Mom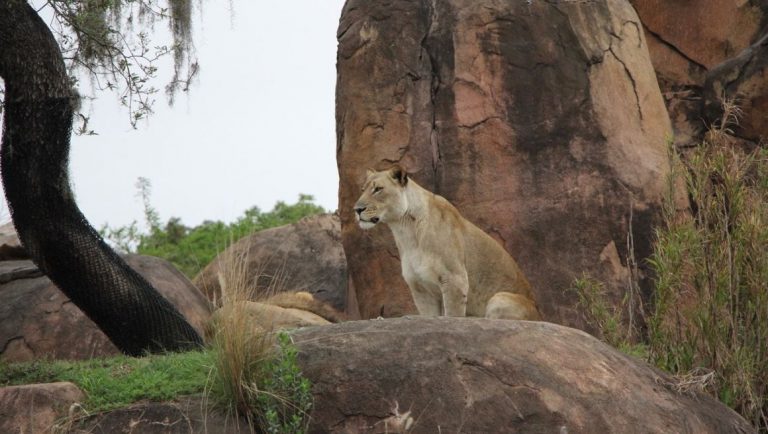 Columbus Zoo, Ohio
Columbus Zoo, located in Columbus, Ohio, is an amazing zoo. It's home to over 800 species and it is one of the biggest zoos in the USA. Additionally, it's involved in a lot of conservation work, devoting $4 million in privately raised funds to around 70 different conservation projects in 30 countries.
The zoo has been a magical place to spend time with my young children. We have ridden the train countless times on the way to see the Polar Bear exhibit. The Heart of Africa is one of our favorite places to visit, to see all the animals in a habitat as similar as possible to where they'd be living if they weren't in a zoo. We have oohed and ahhed over the lions and their cubs. We've been roared at by Tomo the lion, the male protector of the pride. The kids have fed the giraffes (while I've refrained from petting them, because you aren't allowed to do it) and watched cheetahs race around the watering hole.
Between animal exhibit visits, we've played on the playgrounds. There are now three and one is also a splash pad during the summer months. There is also a beautiful carousel to ride, near the Australia and the Islands habitats.
With so much to see and do at the Columbus Zoo, we've never gotten bored of visiting it, even though we've been there at least 50 times (yay for zoo memberships!)
Natalie – Blissmersion
Riverbanks Zoo and Gardens, Columbia, South Carolina
Riverbanks Zoo and Garden in Columbia, SC is my favorite zoo in the US. Home to amazing zoo animals, including animals from Asia, Australia, Africa and North America, it's also one of the most beautiful places I have visited. The Sea Lion Demonstration and Penguin Presentation, among others, encourages families to learn more about the habitat and life of these animals.
Beyond the zoo animals, Riverbanks is also home to Central South Carolina's premier botanical garden which includes a variety of gardens: rose, formal, shade, Asian and even a unique bog garden. Trails through the woodlands provide ample room for young kids to explore.
Waterfall Junction, a whimsical play park within the botanical garden, lets kids explore nature and play in waterfalls during warm summer months. While kids play in the splash zones, help "excavate" a life-size replica of a T-Rex, stretch their imaginations in giant tree houses or crawl in and out of "rabbit holes," they'll never know that they are learning through play! The zoo is one of our "best value" recommendations – as the zoo, botanical garden and children's play areas are all included in one, low admission price!
Karen Dawkins – Family Travels on a Budget
Philadelphia Zoo, Pennsylvania
The Philadelphia Zoo is a great place to visit with kids all year around. First, it has an area that is dedicated to kids called KidZooU. There is a playground with soft surfaces, a petting farm where kids can brush goats, and interactive exhibits that show ways to save energy to save wildlife in your home. You can sometimes even see chicks hatch out of eggs! This education center allows kids to get up-close and personal with unusual animals like chinchillas and help the kids connect with animals. KidZooU also holds live demonstrations to display animals' unique talents, such as the goat agility training demonstration.
The Philadelphia Zoo also has animals that kids love to see, such as the monkeys and apes in the PECO Primate Reserve and lions and tigers at the KeyBank Big Cat Falls. There are kid-friendly activities to do around the zoo, such as a ride on the Amazon Rainforest Carousel, the Swan boats, or the Zooballon (yes it's a hot air balloon ride!). If you are planning a trip to Philadelphia with your kids, you must plan a day trip to the Philadelphia Zoo! Your kids will love it!
Betty – Mombrite
Smithsonian National Zoo, Washington DC
If you're looking for a fantastically varied zoo that is focused on conservation efforts, then the Smithsonian National Zoo in Washington DC is the one for you. The National Zoo is located just a 15 minute walk from Cleveland Park metro station and I highly recommend arriving by public transport as the car park fills up quick and is pretty expensive.
The zoo is home to almost 400 species including elephants, apes, big cats and our very favourite – pandas! If you're visiting on a hot day then try to arrive early as many of the animals will be hiding away in the shade. If you do need to cool down then there are plenty of misting stations dotted around the zoo.
All the enclosures were huge and the animals seemed to have plenty of space to roam around. Most are housed outdoors with lots of viewing ledges or windows, popular exhibits such as the pandas may get a little busy at peak times so head to those as soon as you arrive.
The Smithsonian National Zoo is hugely focused on saving endangered species, there is information all around the zoo on their conservation efforts in the US and abroad. It's a great place to educate kids on the dangers of habitat destruction and climate change.
And finally, if all that didn't convince you, the zoo is absolutely free to visit.
If you'd like to know more about the Smithsonian National Zoo then check out this review from Are We There Yet Kids.
Karen – Are We There Yet Kids

Oakland Zoo, California
Oakland Zoo is one of the 10 best zoos in the world as it has everything a nature lover would like to see at one place, all in an amazingly natural setting. This zoo is in Oakland city of California.
The animals are not enclosed in tiny places but you find them roaming in huge enclosures and the visitors can enjoy viewing them even from the gondola at the zoo. Kids love this gondola ride, so make sure you put it first on your things to do at this zoo.
The diversity of species represented is truly good. Because you need to walk a lot to cover the huge zoo, you will inevitably need to take a break. Luckily, this zoo has vast green spaces, picnic tables and is lovely to have a picnic at. Many kids love celebrating their birthdays here. Around Christmas time, they have Zoo Lights that are simply gorgeous.
Priya – Glorious Sunrise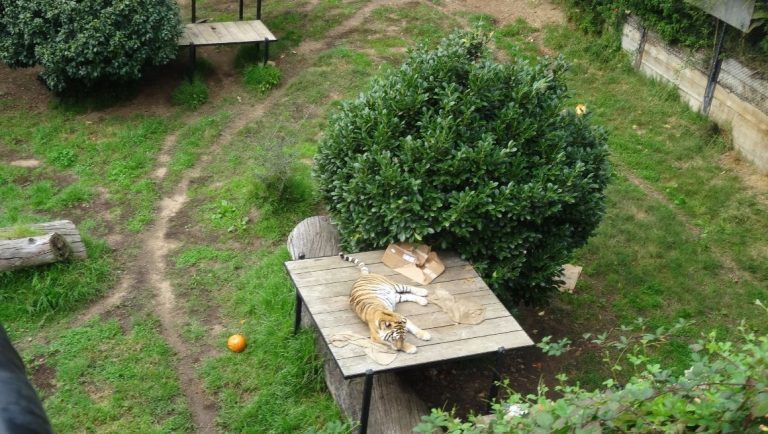 Woodland Park Zoo, Seattle, Washington
The Woodland Park Zoo is located in Seattle Washington, just north of the downtown area of the city. The zoo is easily accessible by car ($6 for parking), or by bus if staying downtown without a vehicle.
The Woodland Park Zoo is just the right size to be able to see all of the animals and exhibits in one day. The walking paths within the Woodland Park Zoo are great for the few warmer days in Seattle too, as there is lots of shade. The zoo has a great variety of animals, and some of our family's favorites are the zebras, rhinos, bears, and the hippos. The zoo also features a butterfly garden, indoor play/learning space, and a carousel.
Another part of the Woodland Park Zoo is that they host fun events throughout the year, including ZooTunes in the summer where a variety of family-friendly concerts are held. The Woodland Park Zoo is a great zoo for all ages, and the fact that it is in Seattle makes it a great summer destination!
Amanda – Patsey Family Travels
Central Park Zoo, New York
Central Park Zoo in New York City is great for kids. It's a small zoo, so it's not overwhelming; a couple of hours is usually enough. The centrepiece is a pool surrounded by rocks where sea lions live. Seeing them sunning, swimming and playing is great fun. There are also snow monkeys, snow leopards, red pandas, grizzly bears and penguins. In addition to these more exotic animals in the main zoo, there is a Children's Zoo just for kids!
There are sheep, goats, ducks, zebu and the only cow in Manhattan. Animal feeding and petting is between 10:00am and 2:00pm and there are lots of opportunities for kids to run around, climb, crawl and pretend to be animals.
After the animals, be sure to catch the Delacorte Clock, just outside the zoo. This has a band of music-playing animals that play one of 44 different tunes every half hour between 6:00am and 8:00pm. Also nearby is also a famous statue of Alice in Wonderland that kids love to climb on, so the Central Park Zoo is definitely different from your typical zoo.
James – Travel Collecting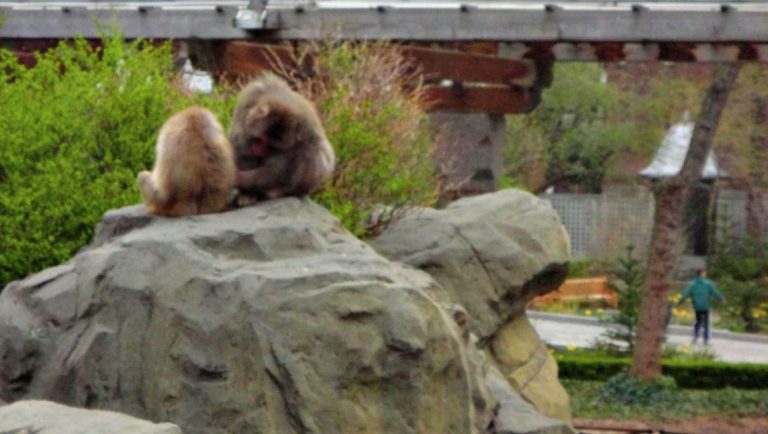 Virginia Zoological Park, Norfolk, Virginia
If you ever take the kids to Norfolk, Virginia, a day at the Virginia Zoological Park is a must. The zoo is small and the paths in and around the exhibits are very walkable, even for little ones. We took 3 kids when we visited – we carried the newborn in a carrier, pushed the baby in his stroller, and let the 3-year-old use her "walking feet." We took it slow, making use of several resting spots with benches to take breaks, and our little walker didn't complain once! That said, if your kid gets tired of walking, the zoo offers strollers to rent.
There's a petting zoo for kids (of all ages!) to have up-close encounters with animals, and a playground featuring animal toys for the kids to play with and expend some energy. But the most kid-friendly feature is the cute train that'll take you around the park – especially good for babes, toddlers, and early walkers. When walking started to become a drag, we all got a kick out of riding it, and it made the day that much more fun for the kiddos.
There's even and a splash park near the zoo entrance that's open seasonally (check the zoo's website for times), with fountains of water that shoot out of the ground. A lot of kids visited the zoo just wearing their bathing suits – not a bad idea! Sure, most zoos are kid-friendly, but the Virginia Zoological Park takes it up a notch!
Mary Beth – MB Sees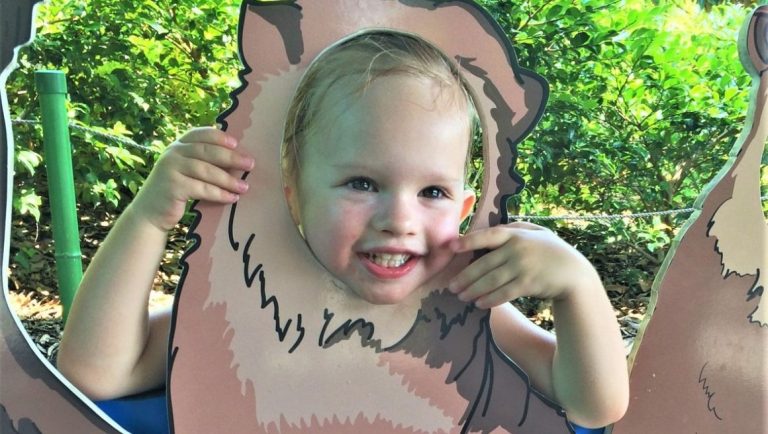 Lowry Park, Tampa, Florida
Visiting the Zoo as a family is always a fun day out in whatever city you are visiting. One of our favorites is Zoo Tampa at Lowry Park located in Tampa, Florida. This zoo features not only animals from around the world, but it also highlights animals from Florida including a manatee exhibit.
We enjoy all of the animal exhibits where you can interact such as feeding stingrays and tropical birds. If that's not enough, be sure to visit the Wallaroo children's area with a water play zone (bring suits and towels), small children's rides, petting zoo, and restaurant.
Finally venture into the African area where you can hop aboard a train for a quick view of your favorite friends the giraffes, elephants, rhinos, and meerkats. Lastly, the zoo features a water ride to help cool you off, as well as a large primate and Asian animals area. This zoo certainly packs a ton of fun and they have tons of great behind the scenes tickets for added adventure for the whole family.
Want to read more about family-friendly fun in Tampa, Florida? Be sure to check out my Top 10 Things to do in Tampa with Kids.
Chelsea – Pack More Into Life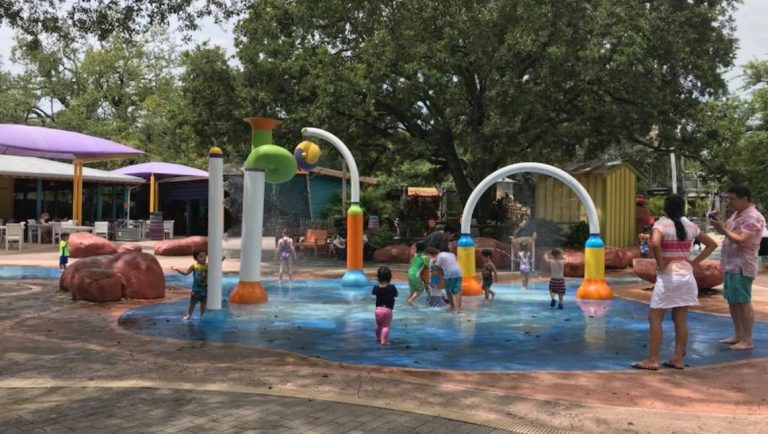 Zoo Atlanta, Georgia
Zoo Atlanta is located in the heart of Atlanta, Georgia. This zoo is not only a great option for families but can also be visited for free when a family checks out the Zoo Atlanta DVD from their local library in Georgia!
As a mother of four I love Zoo Atlanta for many reasons. First, I love the layout of the Zoo. It's an easy-to-follow path that is a complete circle from start to finish and the water play area is located at the end of the circle. Making it easy to see all the animals in the park before your kids start begging to play in the water!
Zoo Atlanta also has a LOT of shade. Even in the heat of summer the shade from all of the beautiful trees helps to provide a lot of cool shade and prevents everyone from becoming overheated while exploring what the zoo has to offer.
The layout was well planned with the main dining restaurant located about mid-way through the walk of the zoo. It allows your family to see half of the animals, break for lunch, and then finish your day!
Zoo Atlanta is a zoo with a rich history, Willie B is an icon in Atlanta. This gorilla is sure to be loved by adults and children alike and the zoo plays a great tribute to his memory.
Zoo Atlanta can easily be enjoyed in one day and is located near several other popular family attractions in the Atlanta area, including Great Wolf Lodge. Be sure to add Zoo Atlanta to your next visit!
Emily – Journey of Parenthood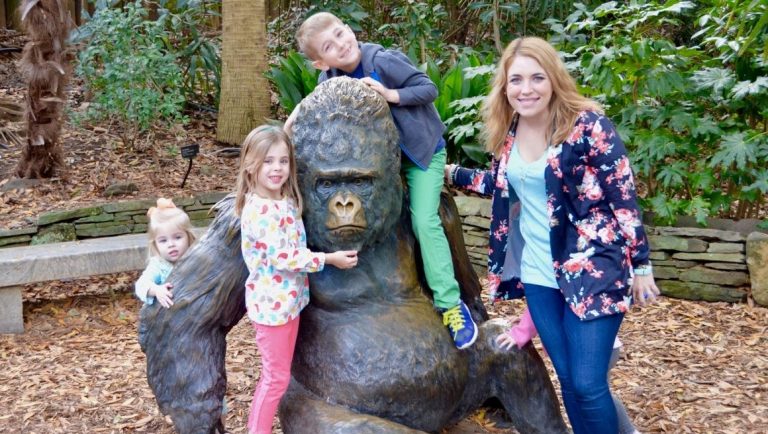 Phoenix Zoo, Arizona
Head east from the centre of Phoenix towards Scottsdale and you'll come across a gem of a zoo, which is geared up well for kids of all ages, with plenty of play areas, in addition to a whole host of beautiful animals.
Over 3000 animals are housed in well thought out displays and areas, and most are in keeping with the Arizona setting. Watch the tigers play in their water pool and see squirrel monkeys free to leap above your head in Monkey Village – currently the only monkey village of its kind in the US! Don't forget to stop by the Savannah and see if you can spot giraffes and zebras roaming around.
One of Adventures in Family Land's favourite areas when they visited was the Discovery Farm and Red Barn. The play area is great for smaller children and is covered to protect from the blazing sun in summer. Nearby, the barn houses several species of farm animals – you'll fall in love with the friendly goats! In addition, don't forget to bring the kids' swimwear, as they will get wet at Leapin' Lagoon and Yakulla Caverns splash areas (open seasonally).
Adventures in Family Land recommend Phoenix Zoo as it is set up really well for children. There's plenty for your children to do, it has different events running year round and it is a great family day out. Time your visit right and you can even have a family night spent at the zoo!
Kerrie – Adventures in Family Land
Toronto Zoo, Canada
The Toronto Zoo is absolutely one of the best Zoos to visit with kids. Located in Toronto, Ontario, this huge zoo is open 365 days in the year and houses over 5000 animals representing more than 450 species. The Toronto Zoo has a large selection of animals from all different parts of the world.
This zoo is divided into sections based on geography including the African Savanna, Canadian Domain, Indo-Malaya, Eurasia, Americas and Tundra Trek. Since we live close to Toronto, we've visited this zoo many times and find a new area to discover each time! Our kid's favorite animals include the giraffes, polar bears, and tigers.
The best times to visit are during the weekday mornings and winter is always a much quieter time of year. In the summer, the Toronto Zoo also has a huge splash pad that is perfect for cooling off with the kids on a hot summer day. For discount tickets to the Toronto Zoo, consider buying a Toronto CityPASS and save big on Toronto's top 5 attractions including the zoo!
Kate – Tear Free Travel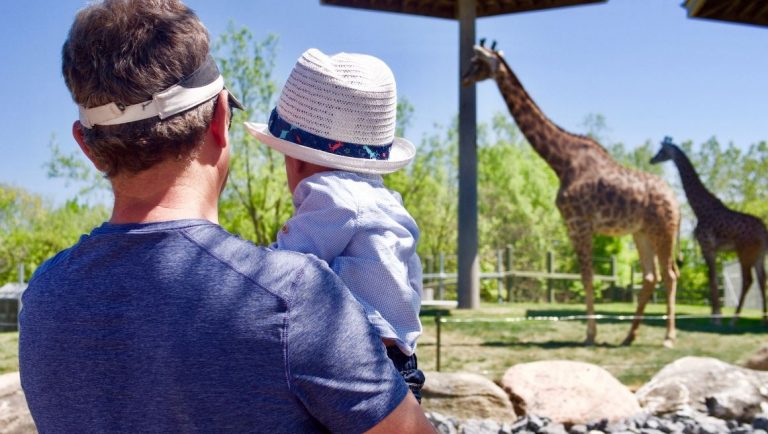 Nashville Zoo, Tennessee
The Nashville Zoo provides a full day's fun for any family that visits Tennessee. It's located just 6 miles south of downtown Nashville, Tennessee and is now the 8th largest Zoo in the USA. It is also one of the top 10 zoos in the US to visit with kids.
Our family spent an entire month looking for kid friendly things to do in Nashville while visiting friends and the Nashville Zoo was one of the highlights. From free or paid animal encounters to a beautiful bamboo forest to walk through, even the parents will appreciate what the Nashville Zoo has to offer.
Our kids loved taking a ride on the carousel and could have played for hours at the huge jungle gym playground. We didn't have a hard time finding something for everyone in the family to enjoy.
Jill – Lets Travel Family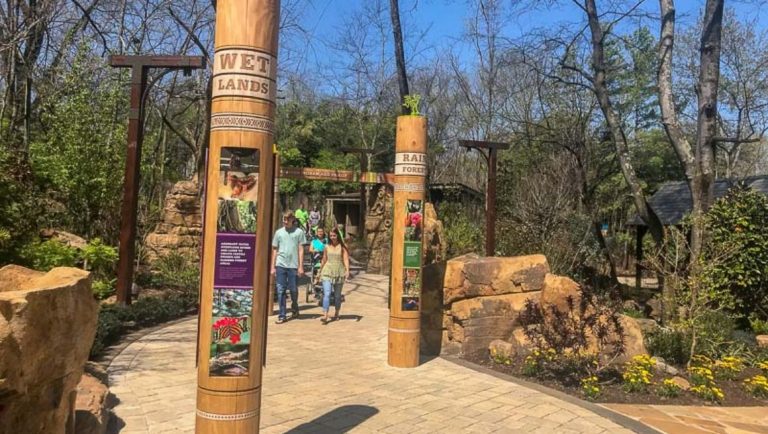 Cheyenne Mountain Zoo, Colorado Springs, Colorado
Dubbed "America's Mountain Zoo," Cheyenne Mountain Zoo sits at 6,714' above sea level with amazing views, especially while riding the Sky Chair. Literally plucked on the side of the mountain just southwest of downtown Colorado Springs, this zoo offers up close and personal animal exhibits.
Boasting the largest giraffe herd, Cheyenne Mountain lets you look at and feed giraffes eyeball to eyeball, hop along with wallabies, play with goats, and spy lions, eagles, and wolves. Our favorite is watching the Bear Necessities: Grizzly Bear Show (currently daily at 2:45 pm – check times when you go). Watch their two grizzlies catch meatballs and swim with trout just feet away, safely behind glass of course!
This zoo is often ranked as a top ten zoo in North America. For example, it is USA Today's #6 People's Choice for 2019, making it one of the best zoos in the US. The new aquatics exhibit, Water's Edge: Africa will open in Fall 2019, where you can waddle among penguins and stand face to face with hippos — or cross a suspension bridge right above them!
Kids love this zoo because of the way you interact with animals, big and small. You can easily spend a half to full day here. Adults love that you can bring a picnic lunch along, or splurge at the zoo's Grizzly Grill that serves up delicious pizzas, salads, sandwiches, and more with gluten free and vegan options.
Just 2 miles from Cheyenne Mountain Zoo is the historic Broadmoor Hotel and lots more fun in Colorado Springs.
Tanya – Rad Family Travel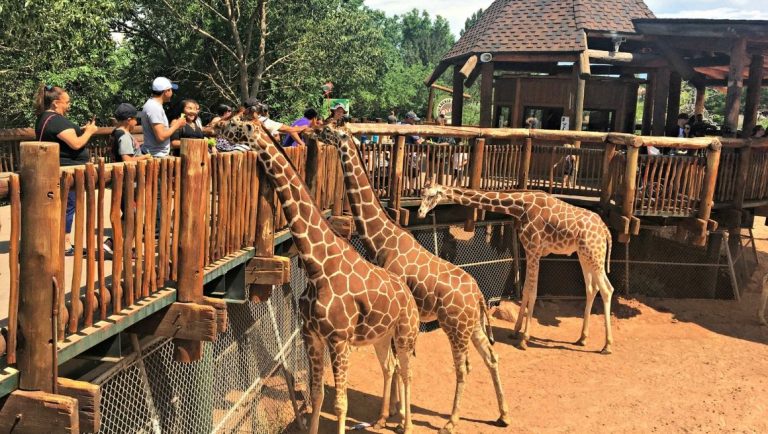 Denver Zoo, Colorado
The Denver Zoo is one of my favorite places to visit in Denver, Colorado with my kids. It's located in City Park just next to the Denver Museum of Nature and Science (another fabulous place to visit!). Whenever the weather's nice, it's a great place to get out, get some exercise, and visit some of our animal friends. It also regularly make the list of
top ten zoos in the US.
The zoo is always updating and improving the animal habitats. In fact, the most recent exhibit, the Harmony Hill Bear Habitat is designed to mimic one of our state or national parks. It's a great improvement on the long-time Bear Mountain for both guests and the grizzly bears themselves!
When you visit be sure to check the show times to view out the sea lion show, the elephant show, and many others. The animals have a reward system, so they are not forced to do anything so beware a show doesn't always happen! If they don't feel like doing a show for their rewards, they don't have to, which I think is a good way to go about it.
The Denver Zoo is fabulous because it's a super family-friendly place for us all to see amazing creatures. There are play areas for kids, interactive learning areas, and even a train ride and carousel. Kids learn about the importance of wild animals, their care, and the conservation efforts to help save wildlife and their natural habitats.
Get your zoo map and make a plan to explore over 80 acres of animal fun and education from all over the world.
Lauren – Explorer Momma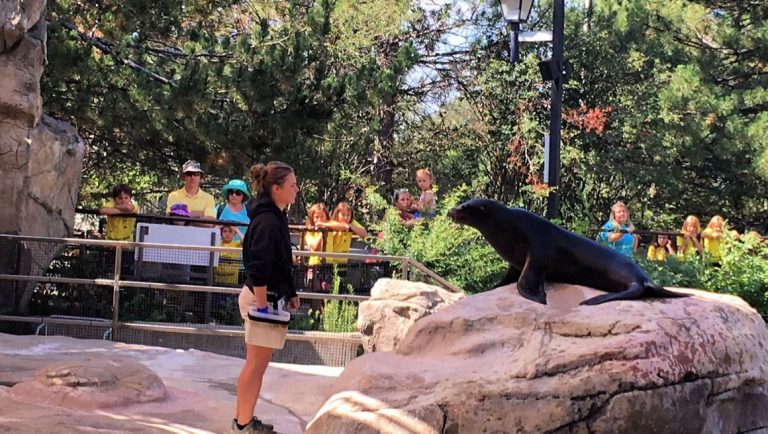 Pittsburgh Zoo & PPG Aquarium, Pennsylvania
The Pittsburgh Zoo & PPG Aquarium is one of the few major zoo/aquarium combinations in the U.S. As a result, it is a great place for kids to learn about both mammals and aquatic life. In addition to the usual lions, tigers and bears found at zoos, kids also have the chance to crawl through stingray tunnels and check out sharks in the Aquarium.
The Zoo also features an extensive Kids' Kingdom that offers interactive opportunities for little ones, including a petting zoo. It's a perfect place to spend the day and explore wildlife. We visited with friends when my boys were aged two and four and absolutely loved zoos. The Zoo is large but walkable and one of the best things to do in Pittsburgh with Kids. As an added bonus, parking is free.
Catherine – We Go With Kids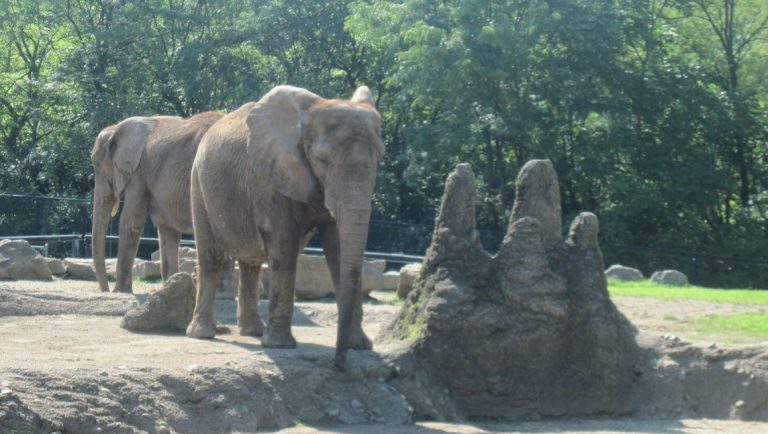 Parque Zoologico del Centanario in the beautiful Merida, Mexico
My family absolutely loves visiting Parque Zoologico del Centanario in the beautiful Merida, Mexico. There are so many things that make this zoo absolutely amazing. First of all, it is absolutely free so everyone has the opportunity to spend time there.
There are three playgrounds that the kids can enjoy and plenty of delicious food to choose from as well. My family and I especially like grabbing a pillow size bag of cotton candy every time we go. We also can't resist all the delicious tacos!
It is small enough to where you don't feel overwhelmed or absolutely exhausted after visiting but large enough to keep everyone in the family entertained.
It is no secret that Merida is super hot so it is nice that the zoo is nicely shaded by trees. The trees keep the animals and people happy and cool.
The little train that goes around the whole zoo really gives the place a nostalgic feel and we are thankful to be able to visit this zoo often.
Amoya – Trippin' Momma
Calgary Zoo, Alberta, Canada
Situated just east of the downtown core, the Calgary Zoo is a must-see attraction that you don't want to miss when visiting Calgary.
I listed this Zoo as one of the Best Zoos in the world for a couple of reasons: Accessibility and Location, Major Attractions, and Activities they offer.
ACCESSIBILITY: The Calgary Zoo is fairly accessible by car, bike or C-train. As mentioned, it is located just east of the downtown core which makes it easy for travelers to stop by for a visit. With a huge parking lot, it still gets full during the day most especially during holidays. The C-train station is also just around the corner making it the easiest way for commuters to hop by and take a tour. Conveniently situated just off the Bow River Pathway, you can ride a bike to get there easily.
ATTACTIONS: The Calgary Zoo showcases a vast majority of wildlife animals such as the hippos, tigers, giraffes, bears, gorillas, penguins and the giant panda. It is a home to nearly 1000 creatures making it a favorite family destination.
During your visit, you will witness and experience a variety of Animal Destinations such as the Canadian Wilds, African Savannah, Destination Africa, Penguin Plunge, Pre-historic Park, Conservatory Garden and Butterflies, Land of Lemurs and the Panda Passage. All of these attractions will surely make your visit worthwhile.
ACTIVITIES AND PROGRAMS: Aside from the major attractions, the Calgary Zoo offers activities and events such as the Daily Panda Breakfasts, Safari Brunch, Special Day events and Zoo Lights during the Winter time. They also showcase daily activities such as Zoo Hacks, Penguin Keeper Chat, Tiger Training, Gorillas on the Line, Zoo Snacks, Grizzly Bear Training and Savannah Social. Not only that, other cool activities include Kids Camps, School Programs and Sleep overs. Last but not the least, they host Birthday Parties for kids who love to have a unique theme for their special day! That's why don't ever miss checking out the Calgary Zoo and place it in your bucket list.
Mitchelle – Mama Buzz
Best Zoos in Australasia to Visit with Kids
Australasia, encompassing Australia and New Zealand, has some amazing zoos and among the list recommended by my fellow bloggers you'll find some of the top zoos in Australia to visit with kids. To view a full list of Zoos in Australia, click here.
Firstly, if you are visiting Sydney and are looking to see some native animals, then this post from Sydney Expert will tell you where the best places in Sydney are for Australian wildlife. But if you are venturing to other areas of Australasia, here are some other ideas.
Melbourne Zoo, Australia
Melbourne Zoo is a favourite in Australia, and one of the best zoos in the country, and has been somewhere I have loved visiting as a child and as an adult with my own family. Located right in the city centre, it is a popular attraction in Melbourne for good reason. The zoo has over 300 species of animals from around the world, with many unique animal encounter opportunities and programs.
One of the things that makes it really special is the strong focus on educational and fun programs aimed at children. Aside from the animal exhibits and encounters they will have at the zoo, there are also dedicated spaces to enhance their learning experience in the way kids know best – through play.
Plus if you want a truly up close and personal zoo experience, they have an overnight stay option – Roar N Snore, which includes dinner, breakfast and camping at the zoo, with an exclusive night time tour. It runs Friday to Sunday from September through May.
Melbourne Zoo is part of the Zoos Victoria collective, each with a strong focus on animal conservation, education and funding. They have several community involvement projects in place to raise funds towards achieving these goals.
Holly – Four Around The World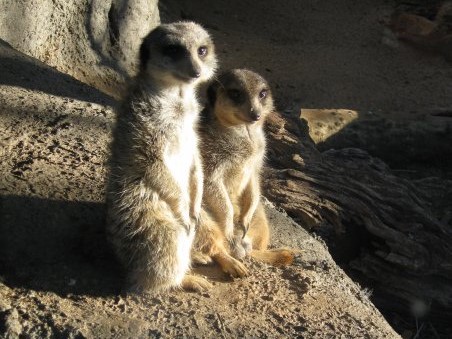 Australia Zoo
We call our toddler our little wildlife warrior because she loves all things animals and nature, so we've visited a lot of zoos and wildlife parks! Our favourite by far has to be Australia Zoo on the Sunshine Coast. We've visited a few times now as she's got older and every time all of us have been thoroughly entertained.
Australia Zoo was founded by the Australian legend Steve Irwin whose whole family, still run the zoo today, in his honour. There is a huge emphasis on conservation and teaching children about caring for wildlife.
There are tons of amazing shows, including the world famous Wildlife Warriors show, as well as opportunities to get up close with animals, feed kangaroos and stroke koalas, which is all included in admission price. There are also a lot of play areas for little kids, including a small water splash area.
Kids under 3 go free and there are great deals on family and annual passes to make it a really affordable day out for all.
We definitely consider Australia zoo to be the best zoo for kids in the world so don't miss out next time you are in the area!
Sophie Marie – Baby Toddler and Kids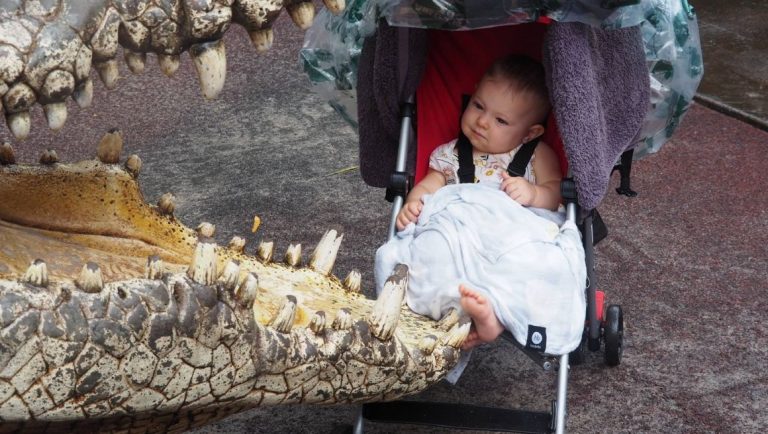 Orana Park, Christchurch, New Zealand
Orana Park is New Zealand's only open-range zoo and is definitely one of the top things to do in Christchurch for kids.
Spread across 80 hectares, this zoo is one of my kids favourite places to visit. Orana Park is located at McLeans Island, less than 20 minutes drive from Christchurch city centre or around 10 minutes from the airport.
Orana Park is an excellent zoo for kids of all ages. The younger ones will love the opportunity to hand-feed a giraffe or have cuddles with rabbits in the farmyard area, while the older kids (and accompanying adult) can take part in the Lion Encounter, where they enter the lion enclosure in a cage on the back of a truck while the keepers feed the lions from front of the truck. It's also home to the only gorillas and orangutans in New Zealand, and conservation is a key focus throughout the park.
Orana Park also has an excellent playground and trampoline area plus picnic tables and plentiful seating. You can bring your own food or purchase in the onsite cafe.
Due to its size, you'll need to wear comfortable walking shoes and bring a hat and plenty of sunscreen.
Emma – Mum's Money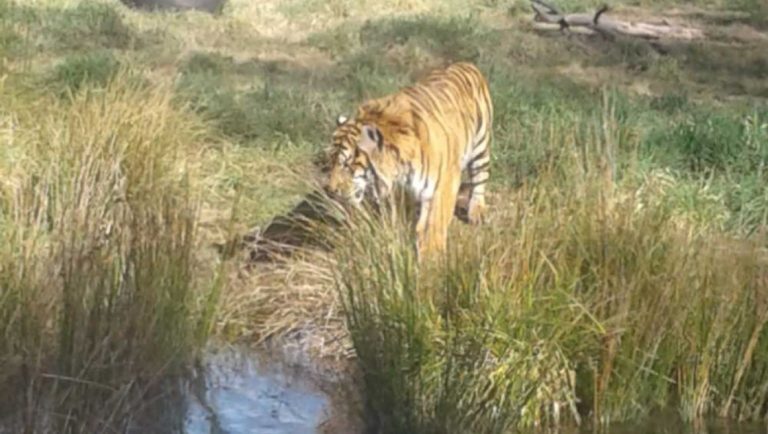 Bonorong Wildlife Sanctuary, Hobart, Tasmania, Australia
The Bonorong Wildlife Sanctuary near Hobart, Tasmania in Australia is a one-of-a-kind institution. They focus on protecting and rehabilitating Australia's indigenous animals – many of whom have been injured – and teaching the public about them. It's one of the few places in the world where you can see wombats and Tassie devils up-close.
You can also meet one of their resident koalas and feed the herd of kangaroos who remain at Bonorong from its previous incarnation as a zoo. We participated in the 45 minute tour that is included with admission and learned so much from our guide as we visited each animal and got an in-depth introduction to its unique physiology and the challenges it faces today. It was one of the most memorable experience on our two month visit to Australia!
Melissa – The Family Voyage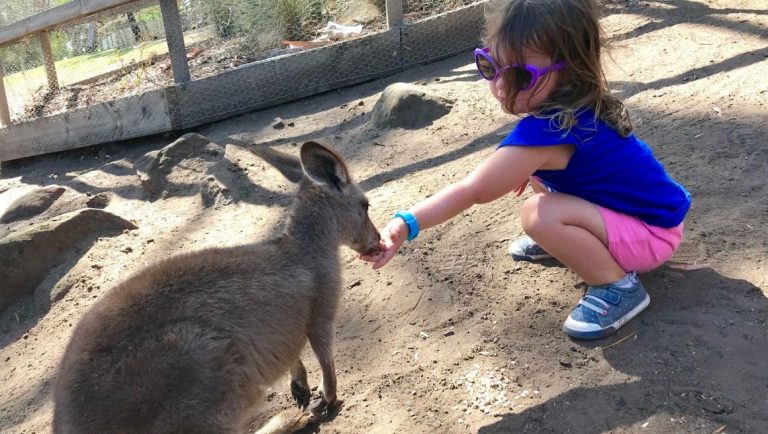 Best Zoos in Central America to Visit with Kids
Central America was not somewhere I imagined having zoos for some reason, but my fellow travel bloggers have proved me wrong. We have a great recommendation for one of the best zoos for families in this category. To find a list of all zoos in Central America, click here.
Belize Zoo
Belize Zoo is unlike any other zoo I've visited before. As it's more like an animal rescue centre than a traditional zoo.
It began life in 1983 with a handful of rescued animals that desperately needed a home. Today the zoo is home to over 48 different animal species, most of which are native to Belize. The animals are not bought or captured but rescued from injury or mistreatment, orphaned or sent from other zoological institutions.
The zoo is fabulous for kids as visitors get to see animals you simply can't see anywhere else. Animals like tapirs, toucans, boa constrictors, the incredible harpy eagle, jaguars and howler monkeys.
Spread out over 29 acres, if you at a leisurely pace you can see all the animals in less than two hours. So, it's big enough that there's lots to see, but not so big it's overwhelming for kids. And it's well laid out, with beautiful wild grounds that are more like a Belize nature park than a zoo.
All the exhibits are set up to be educational in fun ways. With funny and creative signs that cater to school children. Visitors can hire private guides who tell stories of the rescue and rehabilitation work they do.
But kids love the animal encounters best, where they get to feed a tapir or jaguar.
Audrey Chalmers – Gumnuts Abroad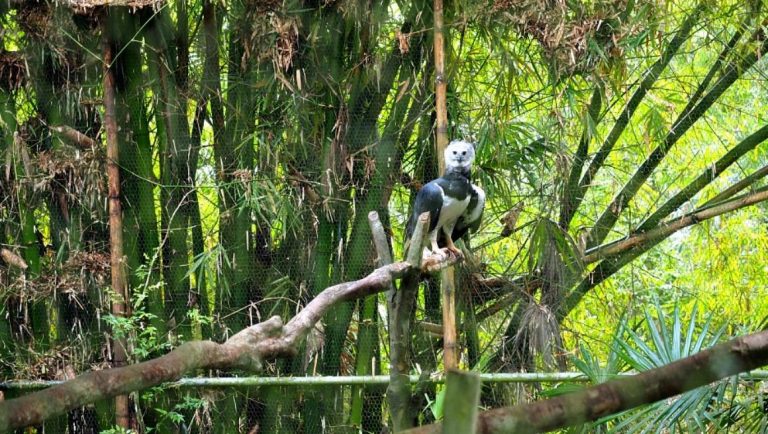 Best Zoos in South America to Visit with Kids
South America is a vast continent and while there are many zoos located in this part of the world, many are concentrated in Brazil according to this list.
The one recommended here is from another country.
Amura Biopark, Cuenca, Ecudaor
The Amaru Biopark in Cuenca, Ecuador, is a fantastic zoo to consider visiting with kids. This zoo stands out not only for its vast variety of rescued wildlife but also its setting on a mountainside in the Andes.
This is not a zoo to visit with a stroller though. Amaru Biopark isn't a typical modern zoo with wide paved thoroughfares and moving walkways. Instead, rugged trails connect the many different exhibits that takes several hours to visit. Kids with a sense of adventure tend to be equally excited with the exploration factor of this zoo as they do with the animal exhibits themselves.
Yet it is the animals at Amaru Biopark that are the stars. Kids tend to gravitate to the local Ecuadorian mammals that range in habitat from the high Andes to the Amazons. Children visiting this zoo can find rare animals not often found in many other zoos, such as Andean bears, tapirs, jaguars, capibaras, and several different playful monkey species. The walk-through aviary further provides a sense of wonderment as children can get up close to so many beautiful birds flying around.
All along the way, kid-friendly and bilingual sign posts provide simple messages of conservation. Hands-on educational stations further impart important messages to youth about protecting the environment.
Between this conservation theme, the unique assortment of animals, and the fun mountainside trails that connect them together, it all adds up to a highly engaging zoo to visit with kids.
John – Roaming Around the World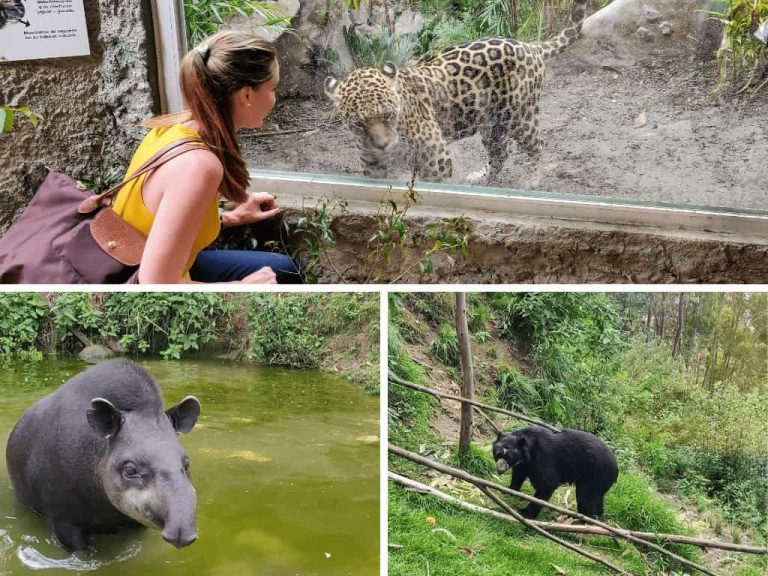 Best Wildlife Parks and Safari Parks to Visit with Kids (non-zoos)
While there are some great zoos to visit with kids in the previous sections, there were also some brilliant non-zoos suggested by my fellow bloggers. These include some wildlife parks and safari parks, so aren't conventional zoos but brilliant to visit all the same if you are in that part of the world.
Emdoneni Cheetah Project, South Africa
When I went to South Africa, I was dead set on seeing everything in the wild. Unfortunately, cheetahs are critically endangered and seeing them in the wild in Kruger National Park is an incredibly rare sighting. I decided to take a different approach and visit the Emdoneni Cheetah Project outside St. Lucia. They take in orphaned or injured cats to rehabilitate and release back into the wild whenever possible. They also have ambassador animals that they use to breed, aiming to help recuperate threatened species like the cheetah. Emdoneni is home to four species of wild cats: Cheetahs, Serval Cats, African Wildcats and Caracal (Lynx).
There are two set visiting times per day. I recommend visiting in the afternoon to see the cats at feeding time. It's exciting to see the cats jump high into the air after their "prey." The cats you're seeing were already too used to humans when Emdoneni took them in or are too injured/disabled to be released back into the wild. Any cats that will be released are kept safely away from humans and understandably, you won't be viewing them. This is a really excellent way to see very rare species of wild cats in an ethical setting. It's family friendly and one of the many unique things to do in St. Lucia, South Africa.
Erin – Sol Salute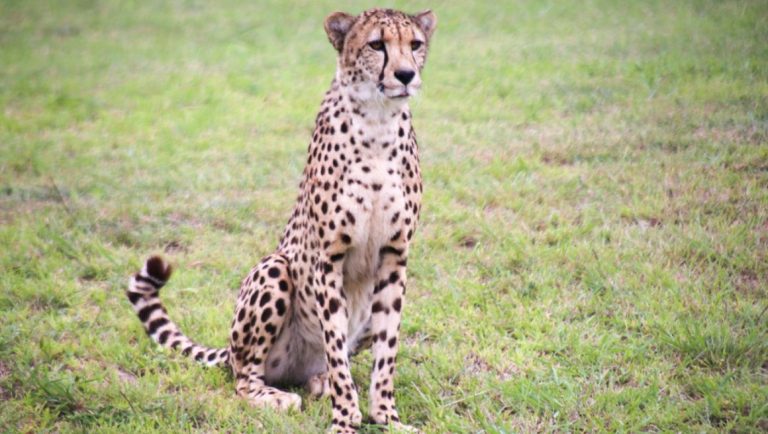 The Garden Route Game Lodge, South Africa
The Garden Route Game Lodge is a convenient family-friendly safari park in South Africa. Located on the famous Garden Route of South Africa, this safari experience is only 3 hours from Cape Town. You can see all of the Big Five animals (lion, buffalo, leopard, rhino and elephant) as well as a whole host of other mammals such as giraffe, antelope, ostriches and zebra. Of course, being a safari means that you only see animals when you chance upon them.
With morning and evening safari rides, you have a pretty good chance of seeing lots of animals. Note that children are not allowed near cheetah because their small stature makes the animals think they are prey. We saw all the animals except for the cheetah and leopards. My children were thrilled with the whole safari experience.
In between safari drives we hung out at the lodge and the children amused themselves between the playground and the pool. Food is included in the cost of the safari experience. It is served buffet style and even my fussy kid found plenty of options to eat. We had a family room which was big enough for all of us. From the lodge on the cliff you could also watch animals gathering at the watering hole below.
We spent three days at the Garden Route Game Lodge and we thought it was a perfect length of time. The early morning drives are brutal if you are not a morning person (or a child that gets up easily). They are a necessary part of a safari experience though because that is when the animals are out and about. We skipped one morning drive just to give the kids (and us) a chance to sleep late!
Shobha – Just Go Places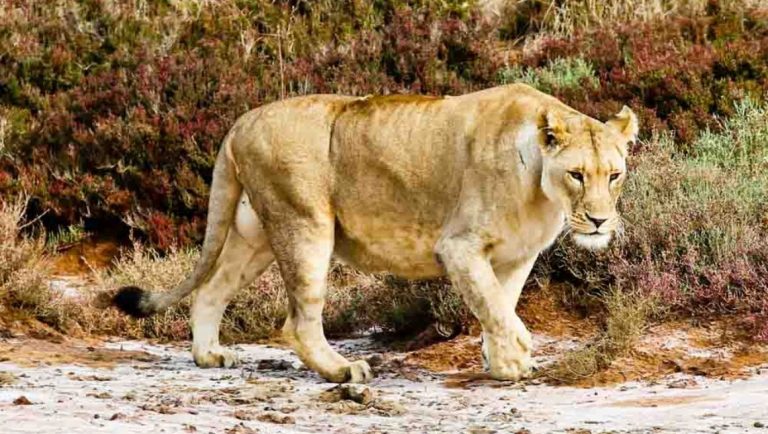 Green Hill Valley Elephant Camp, Myanmar
After a winding mountain road between banana trees, you arrive to the small camp. The first things you see have nothing to do with elephants: they have a beautiful terraced restaurant where they traditional Burmese food (I share the recipes in my blog A Fork on the Road), a small vegetable path to serve you the healthiest and freshest ingredients, and a tiny souvenir shop where they sell paper products that they produce right there, and which kids will absolutely love because… it's paper made with elephant poop! So the laughter is guaranteed.
Also, right next to the open-air paper craft shop there are two real elephant skeletons for children and grown-ups to learn about elephants' anatomy. After learning a bit, you can proceed to the smallest vet office with the biggest needles you've ever seen! And that's because this camp was founded by the nephews of veterinarian Ba, and they rescue retired elephants from the Myanmar Timber Enterprise.
So yes, this is all very interesting, but, where are the animals? Right now, Green Hill Valley Elephant Camp takes care of eight elephants. It is very important to know this is not a zoo: elephants live freely in the jungle nearby, but everyday a group of care-takers go into the jungle and bring half of them to the camp in order to check their state of health, feed them and bathe them in the river. And then is when the kids will absolutely fall in love with this place, since they can help feeding them pumpkin and scrubbing their huge bodies. These elephants are retired, so don't expect to ride them or for them to perform circus tricks of any kind. This is an ethical place, so you're there to do things for the animals, not for the animals to entertain you. A great life lesson for your small ones!
Iris – A Fork in the Road

Casela Safari Park, Mauritius
If you love big cats you will love Casela Safari Park in Mauritius. We went with our 8 year old son, who absolutely loved it. The highlight was you can actually play with the lion cubs. If you are over 15 you can also walk with the lions.
Not only does it have lions there are lots of tigers too. You can do a safari style trip with guards and see the tigers and lions in their habitat. But more than that Casela Safari Park has rides, lots of other animals including gorgeous giraffes that you can feed. It is a great day out for the family.
Clare – Freddie's Mummy UK
The Highland Wildlife Safari, Scotland
One of the most fun and educational zoos. I have had the pleasure of visiting is The highland wildlife park located outside a small village in the Scottish highland called Kincraig. This is owned by its more famous sister Edinburgh Zoo. This has a full safari style opening to the park. You drive around the main reserve seeing bison, camels, deer and snowy owls to name a few of the animals. Which are all roaming free to enjoy their vast area of the park. Just remember to leave your car windows closed.
This park has a huge range of animals from tigers to grey wolfs to snow leopards to wolverines. There are daily feeding you can go and watch and the information keepers will also give you lots of information about who they are feeding. You can really feel the love they have for there animals. There really is something for everyone to learn about. don't worry if the little ones get hungry there is a nice little restaurant serves a variety of child-friendly foods, snack and drinks.
A couple of the stars of the park. The highland wildlife park is famous for its Scottish wild cat breeding program. It has taken the Scottish wild cat back from the brink of extinction. There was a very special event last year at The Park. The resident female polar bear Victoria had the very first polar bear cub to be born in the UK in the last 25 years. Little or not so little Hamish.
Laura – Miss LJ Beauty
In Summary
Wow, what an amazing array of zoos around the world to have recommended to us. From the best zoos in America, to some of the TripAdvisor best zoos, we are not short of ideas for the best family-friendly zoos around the globe. We've had some of the top 10 zoos in the world recommended and featured in this post, our only problem now is picking the best zoo for kids to pay a visit to!
Have you visited any of the zoos on this list? Are there any more you would add to this list of best zoos in the world to visit with kids?
Cath x
For more ideas on destinations for kids, or hints and tips for travelling with kids, head back to the homepage and take a look around. If you like adventure holidays, why not consider visiting Lake Bled in Slovenia or visiting Yellowstone National Park with kids, one of our favourite holidays to date.
*All pictures have been provided by the bloggers contributing to this post and have been used herein with their permission.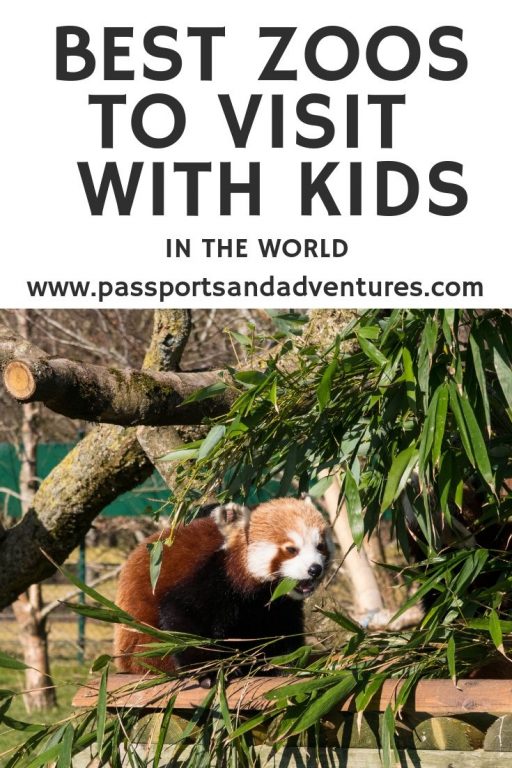 Related Posts