During our Easter road trip in Ireland, my son and I visited quite a few castles. One which was top of my list was Bunratty Castle and Folk Park in County Clare. Why, you may ask? Because Mr Passports and I were Lord and Lady of the Manor once upon a time. But more on that later. In this post I'm going to share with you our time there and tell you how you too can enjoy visiting Bunratty Castle with kids.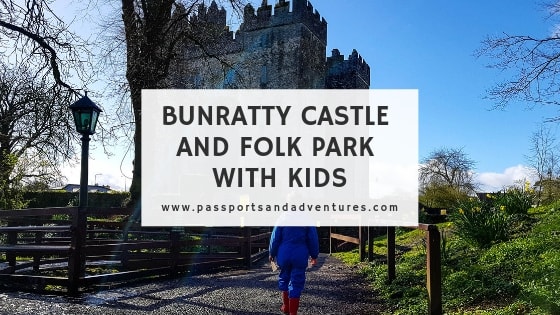 *This post contains affiliate links. To learn more about affiliate links, please read my Disclosure Policy.
What is Bunratty Castle, you might ask? What year was Bunratty Castle built? Bunratty Castle, in the town with which it shares its name, is the most complete and authentic medieval castle in Ireland. The current (and fourth) castle was built in 1425 as a large 15th century tower house beside the banks of the Ratty River, which flows into the River Shannon nearby. The castle stands on the site of a Viking trading camp since 970. And within the castle you'll find 15th and 16th century furnishings, tapestries and works of art.
Bunratty Castle is not just a medieval castle to be marvelled at. There is also a Folk Park located at the castle, through which you must pass to explore the castle. Bunratty Folk Park gives visitors a chance to experience 19th century Ireland, with sights, smells and sounds from Ireland a century ago. The Folk Park is a 'living' village with 30 buildings depicting both village and rural life. There are farmhouses, shops, workshops, a school, pub, grocer, pottery and post office, all recreated and furnished as they would have appeared at the time according to their social standing. It is a chance to get a view into days gone by.
Visiting Bunratty Castle with Kids – Our Visit
Let me give you a bit of background. As mentioned, my hubby and I had visited Bunratty Castle, Ireland, before we had our son. Despite living in the UK, we decided to return to Ireland to get married and elected to have a honeymoon with a difference. After getting married in Dublin, we then took off on my hubby's motorbike for a biking honeymoon in Ireland. We started in Achill Island, somewhere I long to bring our son.
From there we spent a night in my parents second house in Galway (now sold on). Our original plan had been to spend two nights in Galway, to explore some of Connemara on the bike, before making our way to Killarney. But my sister-in-law surprised us after the wedding by telling us we needed to get to Bunratty Castle Hotel in Clare for a one-night stay with a surprise.
So, cutting our time in Galway short we headed to County Clare and found out we were booked into the Medieval Banquet that evening. And as we were on our honeymoon, we became Lord and Lady of the Manor for the evening. It was a great evening and I'll tell you more about the Medieval Banquets shortly.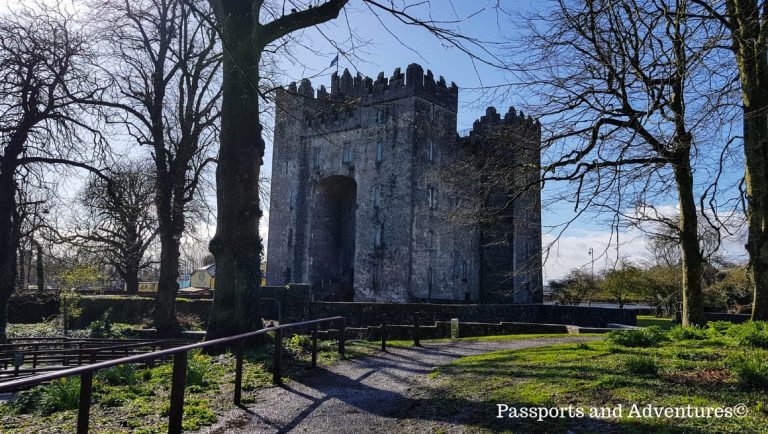 So, I knew when planning our trip to Ireland I wanted to bring our son to Bunratty Castle. I also wanted to visit the Folk Park as Mr Passports and I hadn't had a chance during our brief visit. We were staying just inside Limerick County in an amazing AirBnB and leaving before 9am, we drove the 40 minutes to the castle.
I paid our entry fee for our tickets and we entered the Folk Park, to be met with a heavy downpour of rain. We ran into the toilets and I put our waterproofs on (ever ready for the changeable Irish weather). Finally, we were ready to see what Bunratty Castle and Folk Park had to offer. Thankfully it was a short burst of rain and the sun started to make an appearance.
We decided to head right from the entrance and headed towards an area that houses chickens and pigs. My son was not feeling it in this area for some reason, perhaps tired from the previous days exploring of three Irish castles. But I pushed on and decided we'd head back to where we'd come from and make our way towards the castle.
This did mean we missed a whole section of Bunratty Folk Park including Bunratty House, the Walled Garden and the Fairy Village. But it's an excuse to go back and explore that part of the Folk Park.
That said, we did explore many of the buildings on the way towards the castle. And I was quite surprised by them. It reminded me so much of St Fagans National History Museum in Cardiff.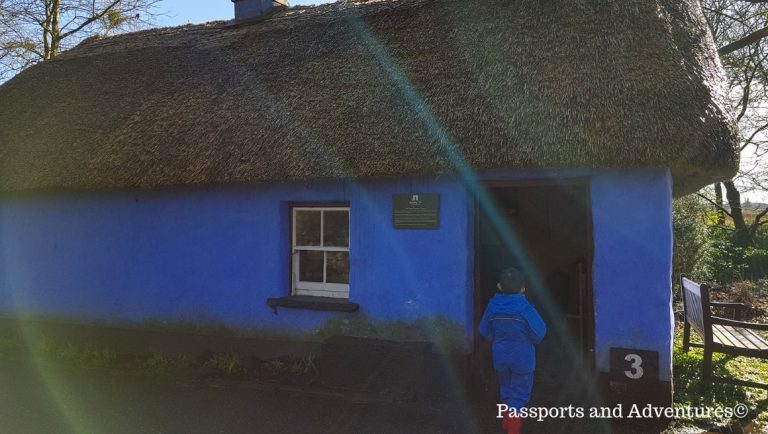 We started by popping our head in the Blacksmith's Forge, or workshop, but someone's attention was being drawn to the alluring blue exterior of the Cashen Fisherman's House nearby. This two-bedroom home of a North Kerry salmon fisherman was amazing. It felt cosy inside and my son was fascinated by the furnishings inside.
From the Fisherman's House our attention was captured by another brightly coloured house, the yellow Mountain Farmhouse. The thatched roofs of both houses were amazing, as were the interiors. As soon as we entered this house, the smell hit me. A peat fire! It brought weekends in my parents' house in Galway in my late teens back to me. There is nothing like the smell of a peat fire and, for me, it's a wonderful smell that brings memories flooding back.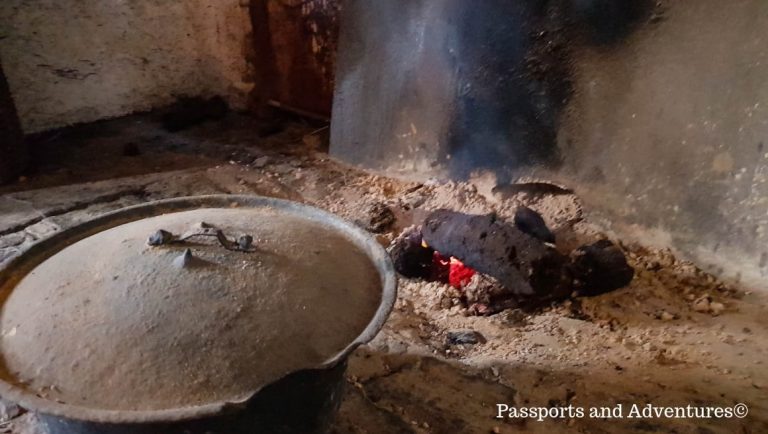 Again, the furnishings intrigued my son and he kept asking where the stairs were. It was a bit of an effort to try and explain to him why there were none in the houses. But I loved the fact that visiting these old houses, even though they didn't mean much to his four-year-old mind, got him asking questions and got him curious.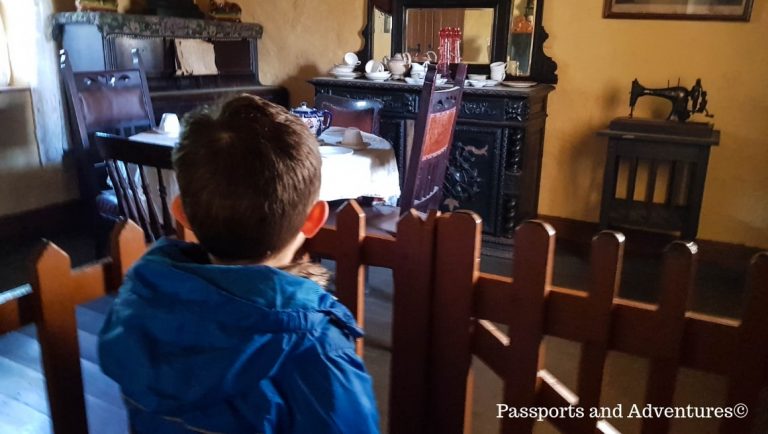 Beside this farmhouse was another colourful building, that of the Weaver's Shed, now a small independent gift shop in the grounds of the Folk Park. We bought a few souvenirs in there before moving on to have a look inside the Shannon Farmhouse, which originally stood on the site of the main runway of Shannon Airport.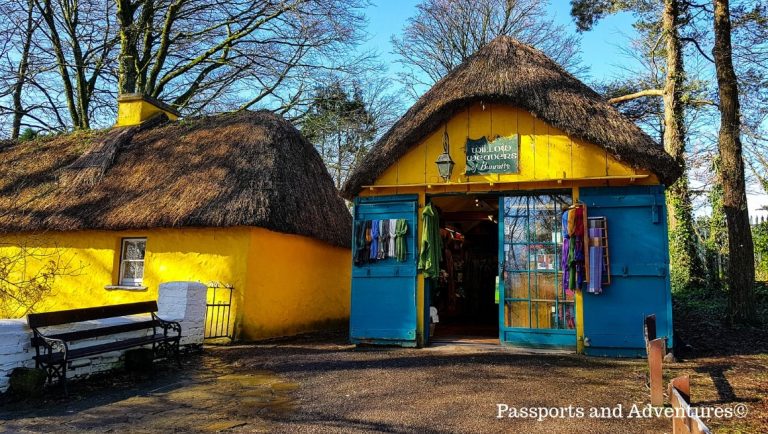 This was a larger building than some of the previous ones we'd explored and again, the smell of the peat fire hit me as soon as we stepped inside. The Shannon Farmhouse had two stories and the upper level was accessed with a ladder. My little man's mind was blown by this. Having seen most of this part of Bunratty Folk Park, we made our way towards the main attraction, Bunratty Castle.
Passing by the cannons proved a little tricky as my son wanted to climb up and shoot me with them, something he'd done at Cahir Castle the day before. Thankfully, I managed to get him walking again with the promise of starting our dragon hunt, and we entered the castle via the outside stairs. We entered the Main Guard room and I was transported back nearly eight years to our honeymoon Medieval Banquet treat. From this room you can visit the basement, but my son didn't want to, so we made our way upstairs instead.
Upstairs you can explore the Great Hall, which is impressive. It was the original banquet hall and has tapestries and furnishings which really give you a feel for 15th and 16th century castle life for the Earl. Off this room you can view the Earls' Kitchen and Bedroom before continuing. It was off this beautiful hall that we found the dragon we were there to hunt. A certain little person was thrilled that we'd finally found it, having searched every nook and cranny until that passageway.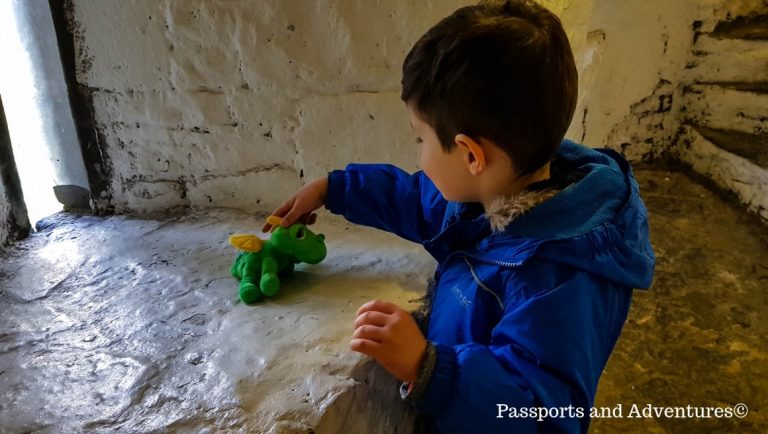 At this stage we'd covered quite a lot of the castle and we had another to visit, so we made our way back downstairs for a few more pictures outside. The sun was shining now and some of the puddles created earlier were too much for a little person to ignore. The result was wet socks, despite having wellies on. But I had dry ones in my bag, so we stopped for an early lunch in the cafe beside the gift shop and filled our bellies before changing said wet socks.
Things to note if visiting Bunratty Castle with Kids
Bunratty Castle and Folk Park is a large site. Allow yourself several hours to cover everything. We were there for nearly 3 and didn't get to see all of it.
Costume characters roam throughout the site, from Mid-April to Mid-September and help represent both village life and traditional jobs such as milling, pottery, baking and farming. Watch out for them if your visit falls during this time of the year.
Admission is all year round, with Bunratty Castle opening hours as follows: 9-5.30pm, with last admission at 4pm. Admission ends then to allow preparation for the Medieval Banquets.
The Bunratty Castle prices (online) are as follows*: Adults 15.25 Euro, Children (4-18) and Seniors 10.50 Euro. Under 3's are free. We didn't pre-book online and paid a little more on the day, but I can't remember how much exactly.
There is a gift shop and cafe in the main entrance building of Bunratty Castle and Folks Park. An independent gift shop can also be found within the Folk Park that sells some lovely gifts and souvenirs.
Bunratty Castle is located just 15km from Limerick City, and 12km from Shannon Airport.
There is a large car park nearby, opposite the main entrance for those arriving by car and it is free.
Dogs are allowed into the Bunratty Castle grounds, provided they are well behaved, on a short lead and owners clean up after them.
Bunratty Castle Folk Park is wheelchair and buggy accessible. There is no lift in the castle and due to the nature of this historical building, it is not accessible to wheelchair users or buggies.
Toilets are located at the main entrance building where you will also find a disabled toilet and baby changing facilities. There are also some toilets located by the playground near the drapery, printworks and shops in the Village Street area of the Folk Park.
If you fancy something to eat during your visit to the Castle and Folk Park, there are a few eateries to choose from. As mentioned there is a cafe attached to the gift shop at the entrance. There is also a tearoom and Mac's pub. Or you could enjoy a taste of medieval Ireland during one of the banquets held every evening in Bunratty Castle itself.
Information on the Bunratty Castle Medieval Banquets
There are two options to choose from, the Irish Evening and the Medieval Banquet. During both, you will dine in the Main Guard Room of Bunratty Castle. Dinner consists typically of a four-course meal with mead, wine and traditional music. Entertainment is also provided alongside the music in the form of dancing.
And if you are lucky enough, like my hubby and I were, you have the chance to act as Lord and Lady of the Manor for the evening. It's a wonderful evening and one you should try to experience. Children are welcome, although only children's portions of the set menu are provided.
If you are wondering what to wear to Bunratty Castle banquets, to be fair, anything goes as long as it's within the realm of smart-casual. We attended in May and most people were in jeans and shirts. I don't recall seeing anyone dressed up very fancily.
The Banquets run twice daily at 5.30pm and 8.45pm and last for approximately two and a half hours. So, the first sitting is probably more suited to those attending with younger children. My hubby and I thoroughly enjoyed our time at the Medieval Banquet and we'll return when our son is older to enjoy a family treat together.
For information, latest prices and to book your Medieval Banquet, CLICK HERE.
Other Questions about Bunratty Castle
Can you stay in Bunratty Castle? No, you cannot stay within Bunratty Castle itself. However, Bunratty Castle Hotel is located across the road, less than a 10-minute walk from the entrance to the castle itself. You can stay in the hotel or in nearby hotels and bed and breakfasts.
Check availability and prices for Bunratty Castle Hotel here.
Or
Check availability and prices for all accommodation and hotels near Bunratty Castle here.
Can you go inside Bunratty Castle? Yes, your entrance fee to Bunratty Castle & Folk Park includes entry to the castle during opening hours. However, be advised that last entry into the castle is at 4pm to allow time for preparation of the Medieval Banquets.
In Summary
My son and I thoroughly enjoyed our time at Bunratty Castle and Folk Park, after a slightly damp and rocky start. We spent nearly three hours there and didn't cover all of the Folk Park. Parking was easy and free, and the food we shared in the cafe was tasty, albeit a little expensive for what we got. We had a slice of pizza, a sandwich, a bottle of water and a cup of tea and I just about got change out of 20 Euro.
The gift shop in the main entrance/exit building is well stocked with a large range of gifts and souvenirs to buy. Prices vary depending on the product and were as expected.
Overall, we really enjoyed our time visiting Bunratty Castle and will be sure to visit again when we do our next Irish road trip, which will cover some of the Wild Atlantic Way. And if you are still questioning is Bunratty Castle worth visiting, the answer is wholeheartedly, yes.
Have you visited Ireland yet? If not, and you're thinking of paying the Emerald Isle a visit, then check out this post to help you plan your own Ireland bucket list!
If you are a fan of castles, then you should read this post about the best castles around the world to visit with kids. And if you are looking for some ideas of places to go or some travel tips with kids, start at my homepage.
Cath x
For further help in planning your trip to Ireland, I recommend the following Lonely Planet books.






*We were not asked to write this review and paid for our tickets.
**Prices are correct at the time of writing this post (May 2019).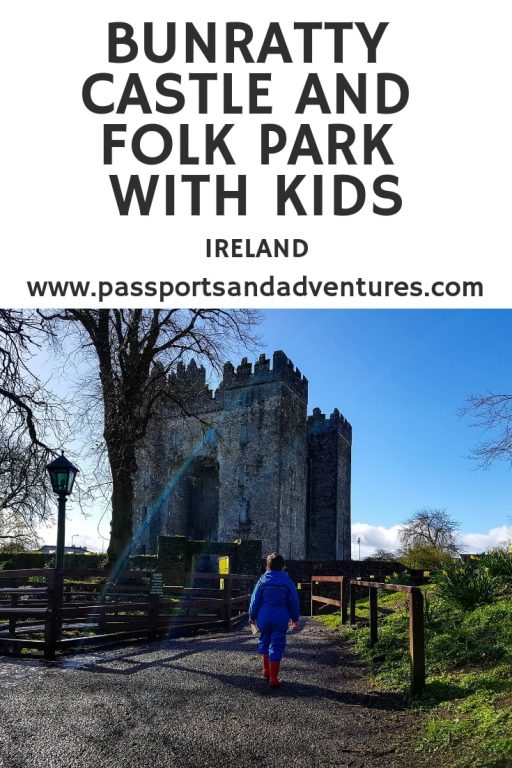 Passports and Adventures is a participant in the Amazon Services LLC Associates Program, an affiliate advertising program designed to provide a means for sites to earn advertising fees by advertising and linking to amazon.com, amazon.co.uk, amazon.ca. Amazon and the Amazon logo are trademarks of Amazon.com, Inc. or its affiliates. To learn more about affiliate links, read my Disclosure Policy here.
Related Posts