What do you do when your husband announces he's attending a concert in Barcelona, a city you've never been to? You hijack his trip of course. And that's exactly what our son and I did when Mr Passports was going to see Guns'N'Roses in concert there. I've always wanted to visit the Spanish city, so this was the perfect opportunity to turn his trip into a family trip to Barcelona. In this post I'm going to share with you some of the awesome things to do in Barcelona with kids and give you a mini guide to Barcelona for families.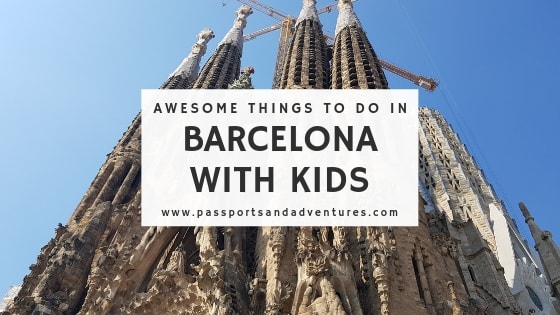 *This post contains affiliate links. To learn more about affiliate links, please read my Disclosure Policy.
For anyone wondering "where is Barcelona?", it is in Spain, on the north eastern coast, less than 2 hours from the French border. It is one of the best places in Spain for kids because it has so much to offer families. Before we went, I did a little bit of research into visiting Barcelona with kids, finding out what there is in Barcelona for kids and came up with a few things I felt we should do.
In this post I'm going to share with you some of the awesome things we did during our holiday in Barcelona with kids, give you some ideas on where to stay in Barcelona with kids, what to do in Barcelona with kids aside from what we did, give you some recommendations for places to eat and also tell you how to get to the city and how to get around.
Awesome Things to Do in Barcelona With Kids
We had a short list of places to visit in Barcelona with kids, but we remained flexible. When travelling with young kids, the reality is you can make all the plans you want but they might not always go according to plan. We wanted to intersperse sightseeing for us adults with fun things to do in Barcelona with kids to break up the days with our son.
As regular readers know there are a few things we always seek out in cities we visit with our son and Barcelona was no exception. And we managed to include three of those things. Without further ado here are our top ten things to do in Barcelona with kids to help you plan your own time in the city.
Montjuic Cable Car
The Montjuic area of Barcelona lies near the Olympic stadium on a hill overlooking the city. We visited the area using one of the sightseeing buses (more on that shortly) and the Montjuic Cable Car had been recommended to us, not only as a means to access the castle that sits atop of the hill, but also for some of the views you get to enjoy during your journey.
While you can walk up the hill to the castle, the cable car, or to give it its proper name, the Teleferic de Montjuic gives a much easier method of getting to the top of the hill and is one of the many things that can also be enjoyed in Barcelona with a toddler. Be sure to enjoy the views from the cable car on the way up or down. They're incredible. See if you can spot other Barcelona attractions.
The Teleferic de Montjuic is generally open from 10am to 6pm, with later opening during summer months. It is also open every day of the year. You can get a one-way trip, part-way trip or return trip as we did. Under 4's are free. There is a stop at the bottom and top of Montjuic hill, as well as one half-way down. Just be warned if you alight at the half-way point, you cannot re-enter the cable car. The cable cars are accessible to wheelchair users but those with buggies are asked to fold them.
Get your return ticket for the Teleferic de Montjuic in advance by clicking HERE.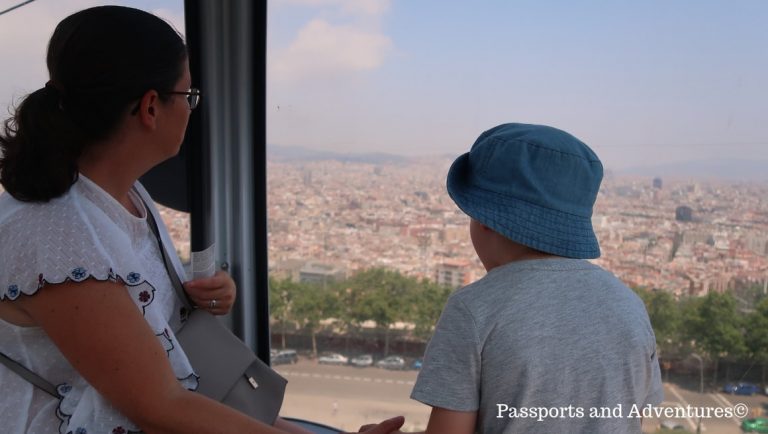 Montjuic Castle
At the top of Montjuic hill sits an old military fortress dating back to the early 1600's. The original fortress was demolished in the 1700's and rebuilt into the current structure. It has been used as a fortress, prison and torture centre, even as recently as the 1930's during the civil war. It is now a museum and is one of the top things to see in Barcelona, even with kids.
We always try to seek out castles in cities we are visiting. We have a love of them from our time in Wales and they provide a great place for a little game with our son, all while us adults enjoy the history of them. Montjuic Castle gave us amazing views across both the city and the port of Barcelona. There were a few rooms open in which there were displays from the Franco era and civil war, which were not really suitable for young kids, but very interesting for us adults. The cannons are pretty formidable looking and the landscaped lawns at the front are beautiful, especially in July when we visited.
The areas around the courtyard are covered but the top section, from which you can view the city and port, have no shade, nor does the open area of the courtyard. Remember sunscreen and hats, especially for the kids! The castle is open daily from 10am to 8pm. Standard admission costs 5 EURO, and on the first Sunday of the month and Sundays after 3pm admission is free. Guided tours are available at set times for an additional fee. Check the Montjuic Castle website for further details.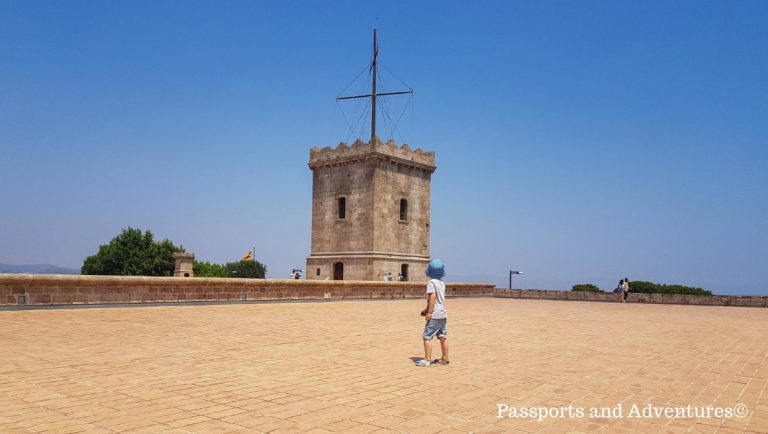 Parc Guell
Parc Guell is a public park system composed of gardens and architectural elements located on Carmel Hill in Barcelona and is one of the top things to do in Barcelona with kids. It is one of the many places in Barcelona designed by the famous Antoni Gaudi, a Catalan architect who lived between the late 19th and early 20th centuries. It was opened in 1926 and declared an UNESCO World Heritage Site under the Works of Gaudi in 1984.
With intricately decorated buildings, beautiful gardens and mosaics as far as the eye can see, Parc Guell is a must-visit place in Barcelona. Despite the crowds, and believe me it gets very busy, it is still a place to find a little peace and quiet in the busy city. You can even visit the Gaudi House Museum, the building in which Gaudi himself, and his family, lived until his death in 1926.
Be warned though, Parc Guell only admits a limited number of people during the day, a maximum of 400 people every half an hour, and it is highly advised you book your tickets ahead of your arrival, particularly during the busy summer months. You get a half hour window in which to enter. We witnessed people being turned away because they were late.
We enjoyed ourselves at Parc Guell, wandering the gardens, enjoying the views of the city and taking refuge from the sun among the columns of the columns of Sala Hipostila. Make sure to look up when you are among them. We can highly recommend a visit to Parc Guell with kids while in Barcelona.
For latest prices and to book your ticket in advance, CLICK HERE.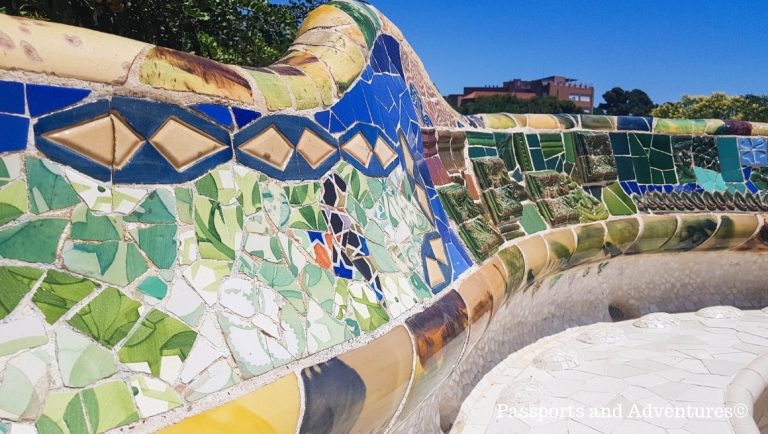 La Sagrada Familia
The one thing that I couldn't wait to see when we visited Barcelona was La Sagrada Familia. It is probably one of the most iconic buildings in Barcelona and also one of the most stunning. And if you are wondering of the Sagrada Familia is for kids, the answer is yes. But with a caveat.
We visited the Sagrada Familia on our Gaudi day before going to Parc Guell and, as recommended, we booked fast track tickets before our visit. However, we nearly missed our slot as I forgot to read the small print about ensuring shoulders and backs are covered. After a quick visit to a nearby shop for a scarf, we went in and were immediately struck by the scale of La Sagrada Familia.
The Temple Expiatori de la Sagrada Familia is a large unfinish Roman Catholic church, designed by Gaudi and now part of the Works of Gaudi UNESCO World Heritage Sites. It is 137 years in the making so far and is anticipated to be completed between 2026 and 2032. With its recognisable spires and amazingly intricate facades, it is one of the most awe-inspiring buildings I've ever seen. And that's just the outside.
Inside the pillars make their way up to ceilings that take your breath away and the light that streams through the astonishing stained-glass windows is like a kaleidoscope of the rainbow. And yes, it can be enjoyed with kids. However, as it is the top tourist attraction in Barcelona, it gets very, very busy, so keep an eye on your children and hold the hands of little ones tight. While we were outside admiring the facades, our son let go of our hand, and although we could see him and knew where he was, he panicked, thinking he was lost. So, be careful and keep children close. Also, you can go up some of the spires/towers, but children need to be over the age of six.
La Sagrada Familia is open from 9am and closes at 6, 7 or 8pm, depending on the time of year. On December 25th, 26th and January 1st and 6th, there is reduced hours, so check the website before visiting. No matter what time of year you visit, you are sure to enjoy one of the top things to do in Barcelona with kids.
To get the best prices and to book your Skip-the-Line tour tickets before you arrive. CLICK HERE.


Barcelona Aquarium
One thing we always seek out without fail in new cities is an aquarium for our son to enjoy in among the sightseeing. After all, there are some amazing aquariums for kids around the world. And when we were checking out what to do with kids in Barcelona, the aquarium was brought to our attention.
L'Aquarium de Barcelona is located in Port Vell, not too far from the Ciutadella park. When thinking about kids activities in Barcelona, the aquarium needs to be on the list. It was the first place we visited during our time in the city and it did not disappoint. The aquarium contains 35 tanks which hold 11,000 animals from 450 species. It has a huge ocean tank through which is a glass shark tunnel. There are daily feeding of the penguins, rays and sharks which you can catch. We managed to see one of the penguins feeding times.
You'll find fish from all corners of the globe, jelly fish, crustaceans, corals and more, including of course, Nemo and Dory. There is an Explora section, based on the inside of a submarine which our son thoroughly enjoyed and there is also a chance to see inside the mouth and belly of a sperm whale. Trying to get our son to leave this was challenging as he loved going in and out of the mouth.
The Barcelona Aquarium is open from 10am daily and closes anywhere from 7.30pm to 9pm, depending on the time of year. To find the times for your planned visit, check the website for details and further information. So, if you are planning on paying the city a visit and are wondering what is one of the best things to do with kids in Barcelona, we can highly recommend visiting the Aquarium.
To get your Skip-the-Line admission ticket for the Barcelona Aquarium, CLICK HERE.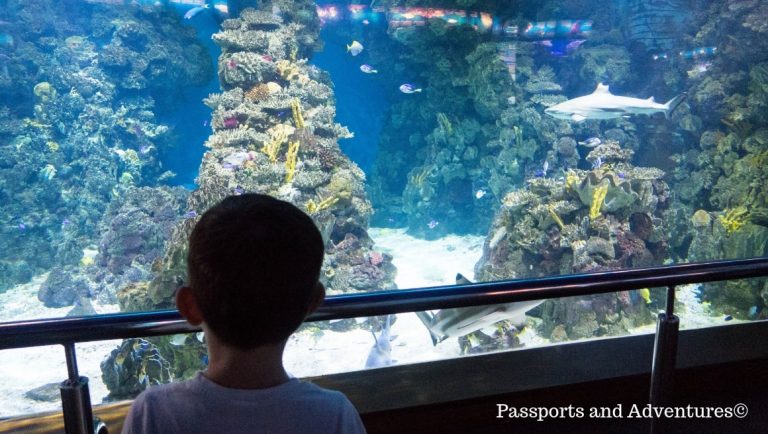 Barcelona Zoo
Another thing that is always a winner with our son when we're exploring new cities is a visit to the zoo, if there is one. I know that some people completely disagree with viewing animals in cages but some of the animals in zoos are almost extinct in the wild. By visiting a zoo, we get the chance to not only see them and learn about them but also help towards the conservation of them through the cost of our tickets. So, for us, we see zoos as a learning experience.
And Barcelona Zoo blew us away. It is by far one of the top 10 things to do in Barcelona with kids. Located in Parc de la Ciutadella, it is probably best known as the home to the only known albino gorilla, Snowflake, who died in 2003. It opened in 1892 and is huge. We spent more than 4 hours at the zoo and covered most of it. There are animals of all shapes and sizes to see. And one of the best things about Barcelona Zoo is that, while they do have dolphins in the zoo, Barcelona Zoo ceased dolphin shows in 2016 and there are plans in place to seek to move the dolphins to a better sanctuary in the future. You can still view the dolphins, but they no longer perform.
The enclosures are large, and the zoo is very clean. And while much of it is open, the tall trees provided us with some much-needed shelter from the hot July sun. Our only disappointment was the food we had for lunch. It wasn't great but filled a hole. We also saw evidence of expansion to some enclosures such as the elephant one which is always a welcome sign at zoos. So, if you're looking for some great Barcelona attractions for kids, look no further than the zoo. For details about opening hours and more, check out the Barcelona Zoo website.
To book your tickets in advance at the best prices, CLICK HERE.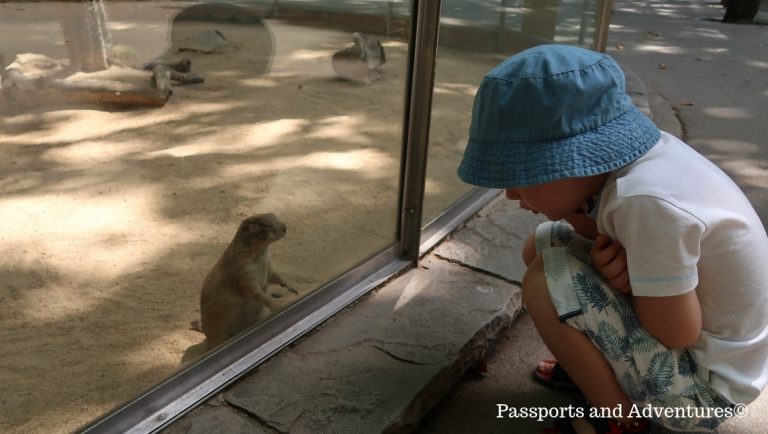 Ciutadella Park and the Arc de Triomf
After you've finished at the zoo, we can highly recommend a walk through the Parc de la Ciutadella. If you have planned ahead of time, you could enjoy a picnic on one of the many grassy areas in the park. We saw many people enjoying the park and the shade under the trees as we strolled through it.
These 70 acres park not only houses the zoo but also has a small lake, museums and a fountain. You will also find the Palau del Parlament de Catalunya, which is the meeting place of the Parliament of Catalonia. If you walk northwest through the park from the zoo, you'll find yourself walking towards the Arc de Trimof, Barcelona's own triumphal arch, built in 1888. It is not as imposing as its French namesake but still worth seeing, nonetheless.

Hop On Hop Off Sightseeing Bus
One of the best things to do with kids in Barcelona is to get on a sightseeing bus for a tour of the city. We also found it one of the best ways to get around the city and to get to all the major places of interest in Barcelona that we wanted to visit. There are a few HOHO Bus tours available, most of them departing from Placa de Catalunya. We chose to get a 2-day ticket with Barcelona Bus Turistic as they have 3 routes servicing all the major Barcelona tourist attractions. And it turned out to be a stroke of genius.
We were staying in El Raval and it was a short 20-minute walk to Placa de Catalunya, from where we could access all the places we wanted to visit. By getting the sightseeing bus, we could enjoy the city from up top with help from the audio guide and it was very convenient to use it to get to where we wanted to go. We used it for visiting Montjuic and the Gaudi spots on our list, and with a regular service we were never waiting more than a few minutes for the next bus. A brilliant way to get around the city and see all the sights in Barcelona.
For more information and for timetables, visit the Barcelona Bus Turistic website.
To find the best prices and to book your one or two-day sightseeing tickets, CLICK HERE.
Take a stroll down Las Ramblas
As we were staying in El Raval and making our way to Placa de Catalunya most mornings we got to visit Las Ramblas many times. This 1.2km long pedestrian street connects Placa de Catalunya in the centre with the Christopher Columbus Monument at Port Vell, near the aquarium. While we didn't stroll the full length, we did get to enjoy the top half of it and admire some of the buildings that line the street.
You'll find a variety of shops along Las Ramblas from larger stores to small vendors selling hand-made crafts and paintings. There is an abundance of places to eat and drink along Las Ramblas as well as some hotels and other accommodation. It is tree lined in parts, giving some welcome shade from the summer sun. It is an extremely popular area of Barcelona, particularly during the peak tourist summer season, so beware of pickpockets. But if you are in Barcelona and get a chance, we do recommend you take even a short wander down Las Ramblas.
Eat Tapas and watch the world go by
No visit to Barcelona would be complete without eating tapas. Unless your kids are very picky, eating tapas is one of the best things for kids to do in Barcelona and can introduce them to new taste sensations.
Now, while our son is pretty good at trying new foods, some tapas were not to his liking. We visited two tapas places during our time in the city and on both occasions, we found something he would enjoy, with one eatery even making a slight change to one dish to suit his taste.
Tapas are one of my favourite things to eat having been introduced to them by one of my sisters who was living in Madrid in the late 1990's. I love the sharing factor to tapas and how a few small dishes can make quite a substantial meal without trying. Kids will love things like the potato and ham croquettes, some might even enjoy the small chorizo sausages, although these were too spicy for our son. We first ate at Nuria, a restaurant at the Placa de Cataunya end of Las Ramblas and the food was simply amazing.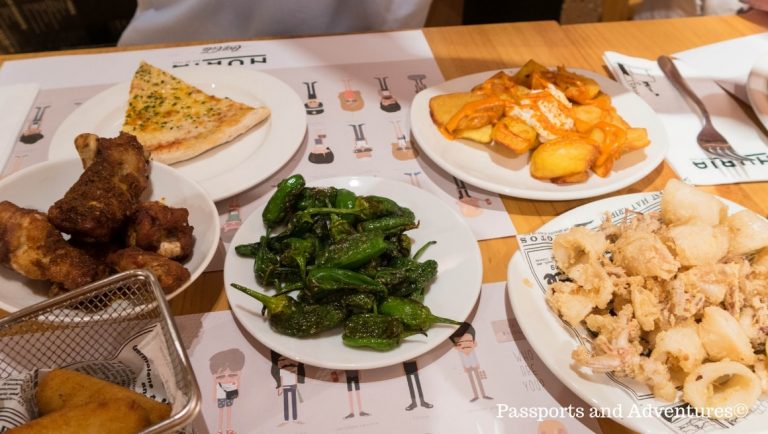 The second place we ate tapas in was called Croq & Roll, and while it appeared like more of a chain-restaurant, they were very accommodating with our son and kept the sauce for the Brava potatoes on the side for him. We highly recommend you eat tapas at least once during your visit to Barcelona.
Other Top Things to Do in Barcelona With Kids
Now that I've shared with you our top ten things to do in Barcelona with Kids that we ourselves did during our time in the city, I thought I would give you a few more ideas for other things for kids in Barcelona. Some of these we plan to do when we return to the city when our son is older.
Camp Nou
For any family with a football fan among them must pay a visit to Camp Nou, or the Nou Camp. Home to Barcelona FC, Camp Nou is the largest football stadium in Europe, with a capacity of 100,000. We passed the Nou Camp on the sightseeing bus and it is a pretty impressive looking stadium, even from the outside. Having visited the Santigao Bernabeu Stadium in Madrid many moons ago, I'd like to visit the Nou Camp as well.
Get your one-day, open-date tour ticket to Camp Nou, CLICK HERE.
Parc d'Atraccions Tibidabo
Tibidabo Amusement Park was recommended to us but unfortunately it was closed during our visit to Barcelona. This quaint and quirky park is over 100 years old and is filled with nostalgic attractions such as carousels, mini trains, a Ferris wheel and more. As well as rides there are shows, parades and a bird's-eye view of Barcelona city.
To find out opening times and more information about Tibidabo, check the website. And to book your tickets in advance, CLICK HERE.
La Barceloneta
If you tire of sightseeing and just want to relax, or you've covered all the Barcelona kids activities, why not take the kids to the beach. La Barceloneta is the seaside neighbourhood of Barcelona where even the locals go to surf and sunbathe.
Alongside the beach you'll find a plethora of seafood restaurants and tapas bar, and also the other cable car in Barcelona, the Port Cable Car which offers panoramic views of the city on its way to Montjuic hill. Let the kids dip their toes in the water, build sandcastles and have fun before enjoying a tapas meal along the front. This is somewhere that is on our to-do list for our next visit as it's one of the best beaches in Barcelona for kids and their families.
La Boqueria Market
Mercat de la Boqueria is one of the best places for kids in Barcelona, especially those who like food. This large public market in the Cuidad Vieja district of the city is a huge tourist landmark and also has an entrance form La Rambla. With stalls selling everything from fresh fruit and vegetables, to candied fruit and seafood, tapas, chocolate and more, it is a place to let your eyes fuel your belly. There are plenty of things to try and you're sure to find something the kids will enjoy, even if it is just churros. Open from 8am to 8.30pm Monday to Saturday, entrance is free.
Why not try a private paella cooking class and market tour. You start with a walking tour of La Boqueria Market where you will buy the ingredients for your dishes before enjoying your cooking class. To find out prices and book this tour, CLICK HERE.
Museu de la Xocolata
The Chocolate Museum in Barcelona is something we missed first time round but won't be when we return to the city. This private museum is owned by the Gremi de Patisseria de Barcelona and was opened in 2000. It has many displays of chocolate sculptures, including the Sagrada Familia. Not only can you visit and see the works of art, kids can take part in various kids activities. Barcelona is not somewhere you would really associate with chocolate, but this museum is worth the visit. There are even workshops for adults. An interesting family-friendly place in Barcelona, we'll be paying it a visit next time.
To find out more about the activities on offer, entry fee and opening hours, check the Museu de la Xocolata website.
While this is not an exhaustive list of family-friendly attractions in Barcelona, I hope it gives you an idea of just some of the things the city has to offer families. There are other museums to visit, more beaches and you could even hunt down a family-friendly flamenco show in Barcelona.
Tips for Visiting Barcelona With Kids
In this section I'm going to share with you some top tips for visiting Barcelona with kids in the form of some ideas for how to get to Barcelona, the best places to stay in Barcelona, and some other helpful tips on how to get around the city once you are there.
How to Get to Barcelona With Kids
First and foremost, unless you are based in Spain, the easiest way and most convenient way of travelling to Spain with kids is by air. There are a huge amount of flights to Barcelona from various places around the world and if you are going to visit Barcelona, the first thing you need to investigate is a flight.
You first port of call should be Skyscanner. This is really the easiest way to find flights from your departure airport for the dates you want to visit the city. Skyscanner will also tell you whether your journey will include a transfer or whether there are direct flights from your local airport.
Click HERE to check routes, prices and availability with Skyscanner.
We were lucky and found direct flights from Faro to Barcelona for the dates we wanted with Vueling. Our flight was less than 2 hours and we cannot fault the airline or the staff on board.
To check routes, prices and availability with Vueling CLICK HERE.
If you are in France or Portugal you could investigate trains to Barcelona but be prepared for a much longer journey. You could alternatively drive there, perhaps as part of a bigger road trip. Again, just factor in your travel time when planning your Barcelona itinerary.


Where to Stay in Barcelona with Kids
When we travel as a family, we generally opt for an AirBnB. We find it gives us more flexibility than hotels, with the option to cook for ourselves to keep costs down and also so we have a separate bedroom so our son can go to bed at his usual time and us adults have somewhere to relax in the evening.
To get money off your first AirBnB stay, CLICK HERE.
When we travelled to Barcelona we booked an AirBnB apartment in the El Raval area, not really knowing much about it or other areas of the city. We had no idea which were the best areas to stay in Barcelona, and since the pictures and reviews at the time of booking looked good, we went ahead. The apartment was ok but the building and area were not really what we would have chosen had we had the chance to check them out beforehand.
El Raval is one of the oldest areas of Barcelona and isn't really the best place to stay in Barcelona. While you'll find supermarkets and plenty of cafes and restaurants, it's quite run down and many of the apartment buildings are old with no lifts/elevators.
So, knowing what I know now, I have investigated better places to stay in Barcelona with kids, and two areas seem to crop up more than others. The Eixample district sits above El Raval and spans from Placa d'Espanya in the southwest to just beyond La Sagrada Familia in the northeast. Within in it you'll also find Placa de Catalunya and some of the main shopping areas.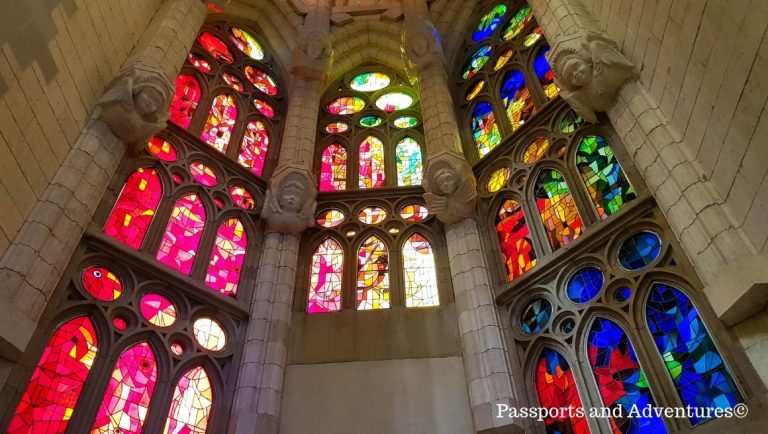 Another area that has been recommended is the El Born district due to its close proximity to Parc de la Ciutadella and the beach front. From here you could walk to the zoo, aquarium and Barceloneta.
Two other areas which get mentioned as being the best place to stay in Barcelona with kids are the Gothic Quarter, between El Raval and El Born, and also the small mini-village of Gracia, near which you'll find Parc Guell. But you'll need to rely on transport to visit other areas of the city.
If you are looking for family accommodation in Barcelona, then one which has come highly recommended since our trip is Casa Consell Apartment. Mark from Travels in Grippsland said
Casa Consell Apartments are located just a few blocks from Placa de Catalunya in Barcelona. Great location for using the airport bus in and out of the city. Casa Consell Apartments have self-contained apartments with cooking and washing facilities, a lounge room with TV and sofa, large bedrooms, bath and shower. Also available were rooms with breakfast supplied. The location near Passeig de Gracia puts you in the heart of Barcelona. Surrounded by restaurants, supermarkets and great public transport, this is the perfect place to stay in Barcelona with kids.

Mark Wyld
Other recommended family hotels, Barcelona: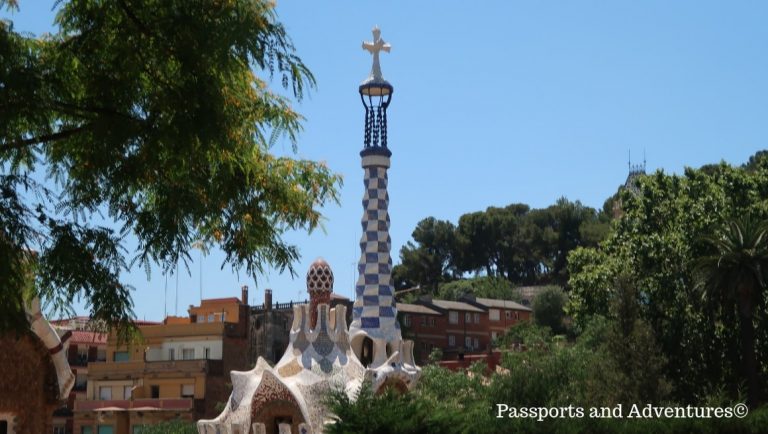 How to Get Around Barcelona with Kids
If you are visiting Barcelona, Spain with kids then you need to consider how to get around the city with them. It's a huge city, spread out across a large area and some of the big tourist attractions are in different areas that in my opinion, are not walkable, especially with little kids or toddlers in tow.
By Car
Unless you are visiting Barcelona as part of a road trip to other areas of Spain, I would not recommend getting around by car. The roads are busy and parking in the city did not seem hugely abundant. So, park the car and use alternative methods.
By Taxi
I'll admit that we used a taxi a couple of times before we used the sightseeing bus. There are taxi ranks around the city and the MyTaxi app work in the city. We used the MyTaxi app to hail taxis in places where there weren't any obvious ranks, and were soon being whisked away in the iconic yellow and black Barcelona taxis. Our son was so fascinated with them that we had to buy him a Barcelona taxi key-ring as a souvenir. A green light on the roof bar indicates the taxi is free and available. Note that Uber no longer operates in Barcelona.
By Bus
Barcelona has a good public bus service which covers all areas of the city. There are integrated fare systems which means travel cards can be used on these as well as metro, trams, FGC and Renfe trains within Zone 1.
There are also a number of sightseeing buses with routes serving all the main tourist attractions. We used the Bus Turistic blue/purple sightseeing bus over two days and found it great value for getting around and having a guided tour in the process. All of them depart from Placa de Catalunya, so if you're staying close by, opt for one of these.
By Metro, Tram and FGC
The quickest and simplest way of getting around during your Barcelona family holiday is using public transport in the form of metro, tram and FGC. You can get different ticket types and travel cards, and some are also valid on the public buses.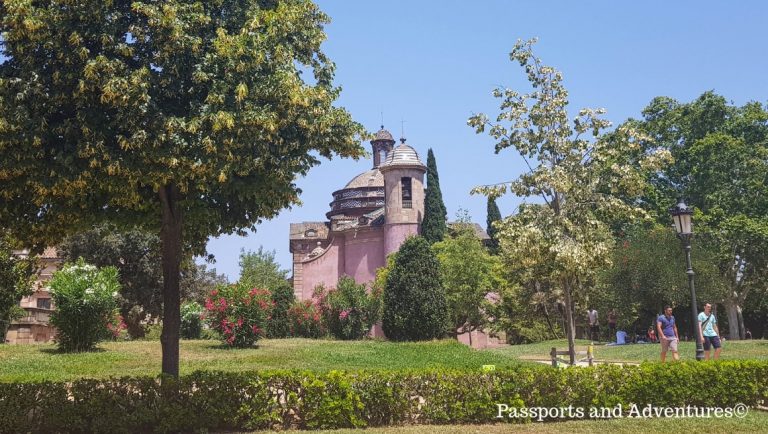 In Summary
I hope this guide will help you plan your trip to Barcelona. If you are going to visit Barcelona with kids, a bit of pre-planning will go a long way. It's a huge city that has so much to offer families that it can feel overwhelming if you haven't done a little bit of research before going. Personally, I wouldn't have known where to start had I not looked into the attractions in Barcelona for kids, so we had some idea of what we wanted to do during our time in this awesome Spanish city.
Having covered how to get to the city, where to stay and how to get around Barcelona, things to do with kids in the city and more, I'm sure you'll soon be enjoying tapas, strolls along Las Ramblas and soaking up the Spanish vibes in Barcelona.
Now to ask Mr Passports when we're going back!
Cath x
For further help in planning your visit to Barcelona, we recommend the Lonely Planet Books below. Click the most relevant one for latest prices and availability.






If you're interested in other European cities, check out my guide to visiting Dublin with Kids, New York with a Toddler and for somewhere a little different why not consider a visit to Bled in Slovenia. And for more ideas on destinations for kids, or hints and tips for travelling with kids, head back to the homepage and take a look around.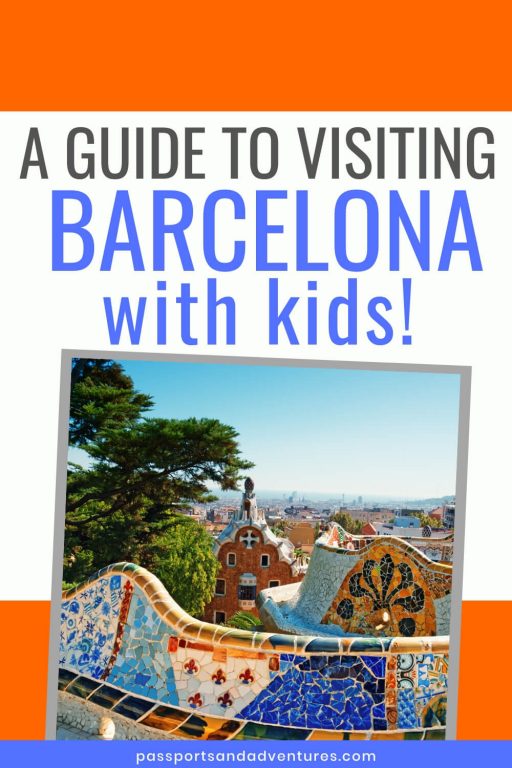 Passports and Adventures is a participant in the Amazon Services LLC Associates Program, an affiliate advertising program designed to provide a means for sites to earn advertising fees by advertising and linking to amazon.com, amazon.co.uk, amazon.ca. Amazon and the Amazon logo are trademarks of Amazon.com, Inc. or its affiliates. To learn more about affiliate links, read my Disclosure Policy here.