Welcome to another Local Family Guide Interviews, the series in which my fellow family travel bloggers share their local knowledge, and give us some hints and tips, to visiting their hometowns, cities they live in or regions they know like the back of their hands. After all, who better to tell us about somewhere than those who live there or who call it home. And I am very excited to welcome Tina from Hangry by Nature who is sharing her knowledge of Melbourne with us.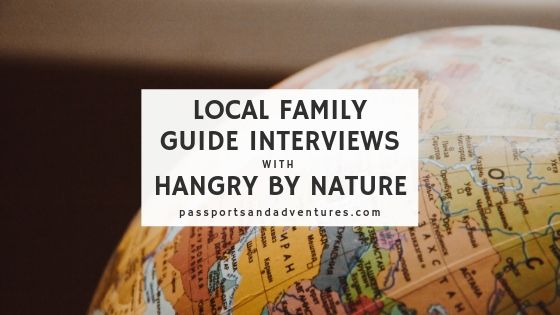 *This post may contain affiliate links. To learn more about affiliate links, please read my Disclosure Policy.
Please introduce yourself, your family and your blog.
I'm Tina, and together with my 3 knuckleheads (husband inclusive), we make up Hangry By Nature – a travel blog aimed at helping families plan their trips, save money and time.
Where are you located/where do you call home?
We're based, predominantly, in Melbourne, Australia. We basically try to escape the unpleasant winters by retreating to South East Asia or Europe for around 4-5 months of the year and return in the summer when Melbourne weather is less PMS'y.
Tell us about your hometown/location?
Melbourne is like the Berlin of Australia. It's not an.. aesthetically pleasing city, but it has its charms and cool quirks. We're constantly competing against Sydney, despite knowing that we're fighting an uphill battle (I guess it's just fun to irritate Sydneysiders?). What the city lacks in aesthetics is made up for in brunch, coffee and food in general. Fun fact? Before Melbourne got its name, it was called Batmania. Yup. Not kidding. Glad that didn't stick.
For more local insight on Melbourne and everything there is to do in Australia's 'hippest' city, take at look at this fun-filled 5-day Melbourne Itinerary.
Share with us your top 5 cool things to do in your city/hometown/region for families.
Hit up the Melbourne Zoo or drive out to Healesville Sanctuary. I'd imagine that the one thing you'd want to cross off your bucket list when in Australia would be to see or even get up close and personal to a furry cute koala or kangaroo.
Botanic Gardens. There's an awesome adventure outdoor playspace with a bamboo forest, water play area and other cool obstacles made from tree trunks and rocks kids love.
Melbourne Museum and Pauline Gandel Children's Gallery. A fun natural history museum with dinosaur bones and an amazing indoor/outdoor educational playground.
Hit up one of the beaches in summer. The closest one to the city is St Kilda Beach. You'll also find a theme park and scenic pier walk in this vibrant neighbourhood.
Explore the vibrant street art that the city has to offer. Melbourne has some seriously cool street art – one place you have to check out when you visit is Hosier Lane, where everything from the floor to the walls are covered in colourful pieces.
It's raining in your city/hometown/region. What rainy day activities can you recommend for families?
Go museum hopping – the Melbourne Museum and Scienceworks both offer educational indoor playspaces. Shopping centres – Melbourne has a HUGE number of 'malls' with free indoor playgrounds, yummy food and shops for everyone. It's a win/win situation, really.
Is there anything families need to know/should be wary of in your city/hometown/region?
Melbourne is a very safe and family-friendly city and most people are always ready to lend a helping hand. The only thing you need to be wary of is money. Nope, not pickpockets, although you'll feel like you're getting robbed when you discover how much it costs to visit popular attractions. Pick and choose the places you want to visit wisely so as not to hurt your budget.
What are your top 3 tips for families visiting your city/hometown/region?
Get the Entertainment Book or iVenture Card to save money on restaurants and attractions for the family.
Venture outside of the city and towards the coast – this is where you'll find the true beauty of the state. The Great Ocean Road and Mornington Peninsula are must-visits if you have the time to make a trip down.
Make use of the free tram in the city. Why walk when you can cruise on a tram?
What type of travelling do you and your family enjoy, and where has been the top family destination that you've visited?
We mostly love adventure and slow travel. When in South East Asia, we like to throw our kids on scooters and motorbikes to go and explore off-the-beaten-path gems. If I could skydive or jump off cliffs with them (one day when they reach the height limit), I probably would do that, too. Our favourite destination has to be, hands down, Japan.
For fun: if money was no object, where would you take your family and why?
In all honesty? Probably Mongolia and the Silk Road. Bora Bora and the Maldives would be nice and all, but.. Mongolia would just be something else. A whooooole other level of adventure and experiences. Yup, that's probably the first place we would hit up, followed by Bora Bora and Maldives.
Thanks so much to Tina for sharing her knowledge of Melbourne with us. You can also follow the Hangry By Nature Squad on Instagram and YouTube She says "I promise we're funny. At least, I like to think so."
If you are thinking of visiting Melbourne with your family, check out Booking.com for hotels and family-friendly accommodation. If you like home comforts like us, why not consider an AirBnB. Click this link to get money off your first booking. And remember to check Skyscanner for the latest flights, prices and availability to Melbourne.
To find out which destinations we've been to, or for tips on travelling with kids, head back to the homepage and have a look around.