Continuing our historic tour of southern Ireland, our next stop was County Limerick and King Johns Castle. Before researching our trip, I'll be honest and say I hadn't come across it before. But from some of the pictures I saw, I knew it had to be added to our itinerary. Here's my post about visiting King Johns Castle with kids and what we thought of it.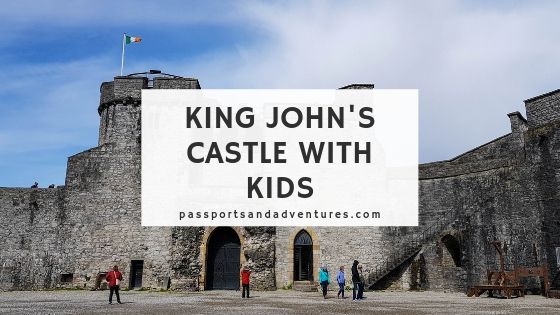 King John's Castle, Limerick City, is a 13th century castle on the banks of the River Shannon. The original site of the castle dates as far back as 922 when it was a Viking settlement. The castle structure was built in the 1200's and is one of the best-preserved Norman castles in Europe. It is a national monument and is run by Shannon Heritage.
We arrived at King Johns Castle after visiting Bunratty Castle in County Clare just 20 minutes' drive from Limerick City. We'd had lunch at Bunratty, so we could get on with the task of visiting this large castle without rumbling tummies.
We parked in the designated King Johns Castle parking and entered via the entrance, past the impressive and modern-looking Visitors Centre. Before entering the main grounds of King John's Castle in Limerick, you pass through an interactive exhibition which transports you from Early Gaelic Society through to sieges of the late 1600's.
In the exhibition hall, there was everything from an interactive model of the castle and grounds, to examples of mining tools, and cannon balls. It is here you can also learn a bit about the King John's Castle history. From the exhibition section, you pass through an excavation site before entering the main ward of the castle.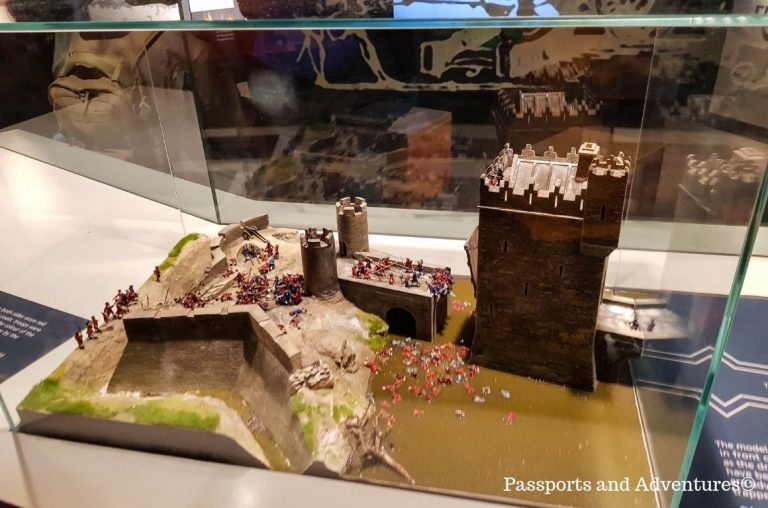 There was an example of a blacksmith workshop and we could see the excavation site of the great hall. My son didn't want to venture down into it, so I admired it from the ground. As my regular readers will know, we always play a little game with our son at castles to make them more interesting for him; a dragon hunting adventure. So, to start our search for the dragon of King Johns Castle, we entered the Mason's Tower where we got a little surprise.
There was an interactive screen which sprang to life when you lifted a coin purse off the table in front of it. The Mason greeted us, and we both jumped out of skins. Thankfully we were the only ones in the Mason Tower at the time, so our embarrassment at being frightened was kept between us. Within the Mason's Tower were examples of his tools and stonework the castle mason might have been working on.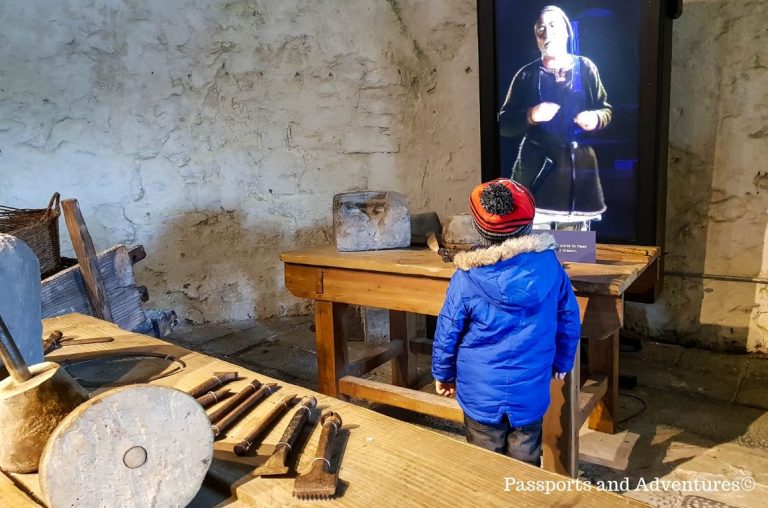 From the Mason Tower we headed towards the twin towered gatehouse, the tallest and most impressive looking part of King Johns Castle. We climbed the stairs to the top, passing through another interactive room before coming out onto the battlements.
Holy moly, the wind was bitterly cold up there. But the views across the River Shannon were worth it. It was out on these cold battlements that we found the dragon of King Johns castle, much to a little 4-year-old's delight. Happy that we'd achieved what we had come to do, we set off back down the stairs to start making our way back to the car. But not before we passed through the gift shop within the visitor's centre on the hunt for a new book for BattleKid. We didn't find one, but I had promised to find a book shop nearby to get one, so he was happy enough.

There was just time to shoot mum with the cannons outside the castle before we found our car and headed off.
Information for visiting King Johns Castle with kids
King Johns Castle has the following opening time: October to March 9.30am to 5pm, and April to September 9.30am to 6pm. Last admission is one hour before closing.
King John's Castle admission costs are €13 per adult, €9.50 for children (4-18 years) and seniors. Under 3's have free entry.
There is free parking near King John's Castle, Limerick, in a designated car park, across the road and a short walk from the main entrance to the castle. It isn't hard to find it if you are using Google maps to get to the castle by car.
There is a cafe and gift shop within the Visitor's Centre as well as toilets.
During peak season, costumed characters can be found roaming the castle grounds including a stonemason, blacksmith and soldiers, all of whom are willing to share their tales with visitors.
Although the main ward of the castle is level, access for wheelchair users, those with limited mobility and baby strollers/buggies is not available within the towers due to the nature of this historic site.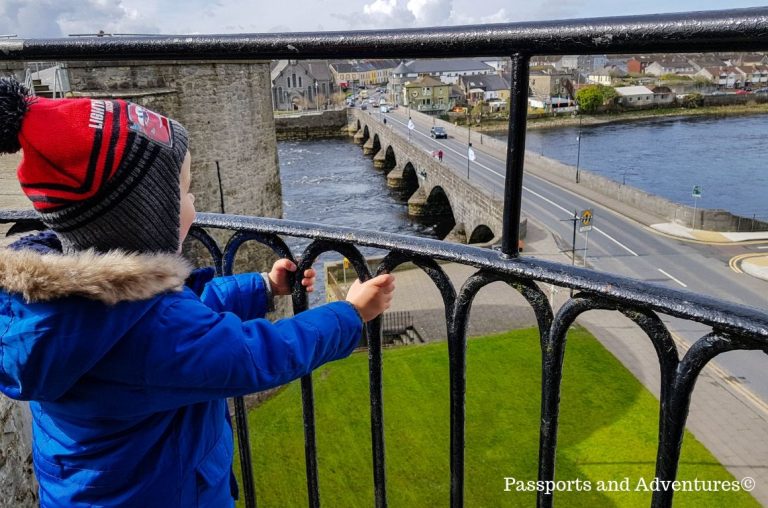 We enjoyed our visit to King John's Castle and highly recommend it if you are in the Limerick or Clare areas of Ireland. It can easily be combined with a visit to Bunratty Castle and Folk Park to make a fun-filled family day out in Ireland.
Cath x
*Prices correct at the time of writing this post.
Learn about some more of the best castles in Ireland to visit with kids here. Or for more destination inspiration, travel tips and more, head back to the homepage and take a look around.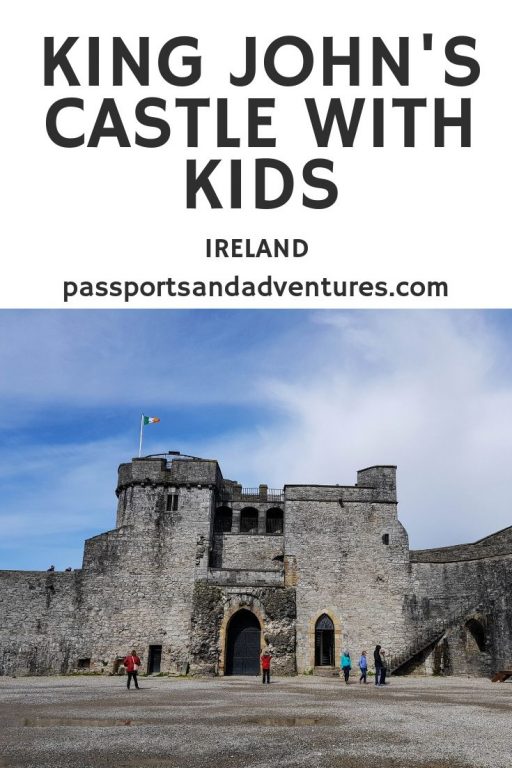 Related Posts