Welcome to another Local Family Guide Interviews, the series in which my fellow family travel bloggers share their local knowledge, and give us some hints and tips, to visiting their hometowns, cities they live in or regions they know like the back of their hands. After all, who better to tell us about somewhere than those who live there or who call it home. And I am very excited to welcome Keri who's main blog is Our Globetrotters. Over to Keri.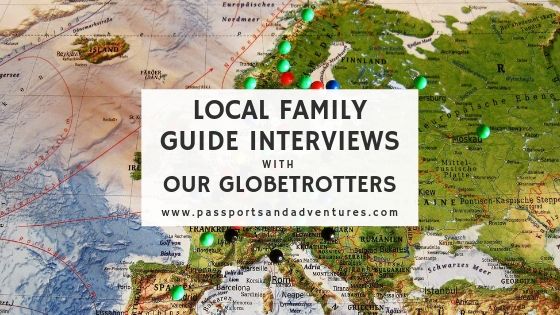 *This post may contain affiliate links. To learn more about affiliate links, please read my Disclosure Policy.
Please introduce yourself, your family and your blog.
Hi I'm Keri, born in New Zealand to British expats. I was raised in Perth, Australia and spent most of my adult life between Melbourne and London before hubby, and inevitably our kids came along!
I left my corporate life as an insolvency accountant behind when a job offer for hubby saw us move to Abu Dhabi in the United Arab Emirates. Another child later, we are now a family of five (our kids are now 9, 7 and 5!) and we've called the Middle East home for seven years.
After I left full time work, I started blogging. Honestly dabbling at first with finance blogs, then travel. After many iterations my main blog (the 4th child!) was born – Our Globetrotters. I run this alongside editing a local travel inspiration website Family Travel Middle East and podcasting at Little City Trips. Between all that, we travel around the world at every chance we get using the amazing airline hubs of the UAE!
Where are you located/where do you call home?
Abu Dhabi has been our physical home for seven years now. It's the only place our kids really know but I feel like I am lucky that I have four towns that I call home. Every time I return all those feelings come flooding back, I love getting to know everywhere I live really well.
Tell us about your hometown/location?
Abu Dhabi is the capital city of the United Arab Emirates. Although it might not be nearly as well-known as it's glitzy neighbour Dubai. The country is still incredibly young, the seven Emirates (like states) of the UAE only unified less than 50 years ago.
Prior to the discovery of oil in the 1950's, what is now Abu Dhabi city wasn't much more than a fishing village. Oil and therefore money have vastly transformed the city over the past six decades, making the UAE now one of the richest countries in the world. Despite the glitz and glamour of Dubai, Abu Dhabi Emirate is by far the largest Emirate and the one with most of the oil – ie money.
It is a city constantly surrounded with construction, but also a beautiful city. Much care is put into creating stunning buildings and landscaping green spaces in amongst the desert sands. The UAE's rulers continue to strive ahead diversifying their economy with tourism, but also becoming a regional hub for the arts and business.
Share with us your top 5 cool things to do in your city/hometown/region for families.
Yas Island and the "big 3" Theme Parks. Home to Yas Waterworld, Ferrari World and now Warner Bros World Abu Dhabi, these are three world-class theme parks that kids will LOVE! Forget the insane queues and strategic planning needed in your Florida theme parks, here if you visit off peak you can enjoy almost queueless rides and front row entertainment with your favourite characters – or try the world's fastest roller coaster. It will be the priciest part of you trip, but look out for discount vouchers and still vastly cheaper than other theme parks around the world!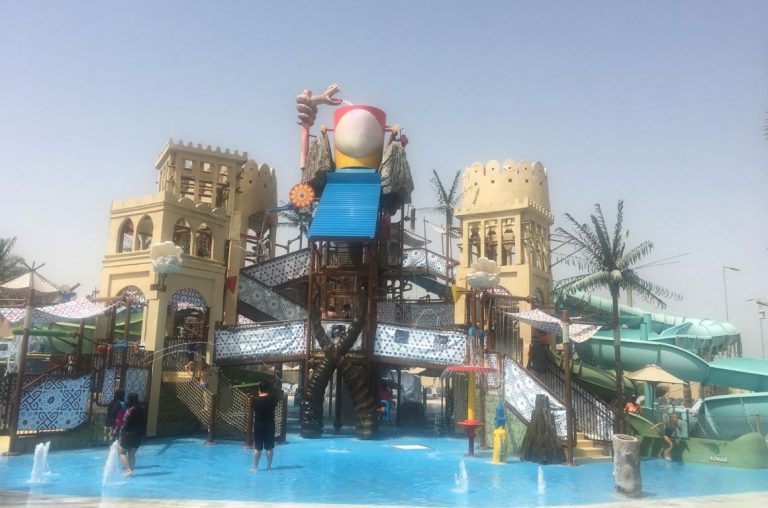 The Sheikh Zayed Grand Mosque. Not immensely family-friendly per se, but almost certainly the top of every visitors list is seeing the Sheikh Zayed Grand Mosque. This stunning house of worship was built in honour of the country's founding father Sheikh Zayed and is one of the most beautiful buildings in the world.
Enjoy a luxury beach resort. The UAE does beach resorts like no other, and not at the insane prices you might expect for the stunning luxury offering you receive. Many include mini waterparks within the grounds, as well as kids clubs and endless sporting and dining options. You can definitely have a resort-only holiday here year-round.
Go on a desert safari. There's a giant playground out there waiting to be explored! From camel rides to dune bashing, quad biking and sand boarding. Visitors can join an evening desert safari with traditional Bedouin style dinner, belly dancing, falconry and henna painting, or even stay overnight at a luxury glamping site. Mums, just embrace the sand!
Enjoy the Gulf waters. A city made up of a series of islands (though you may not realise this as you drive around), there are plenty of ways to enjoy the water. Organised cruise operators can be found at places like Yas Marina, Emirates Palace and behind Abu Dhabi Mall. Or our favourite place is to head to the Eastern Mangroves, a protected National Park in the heart of the city that you can kayak through, or rent and eco-donut boat to explore.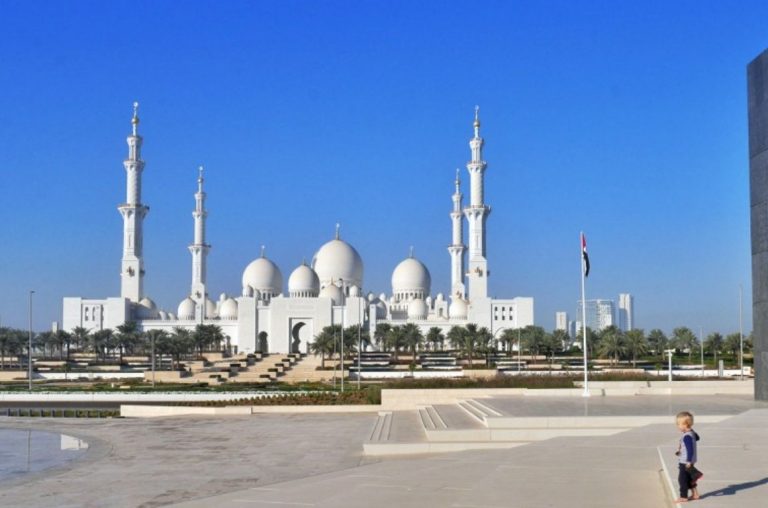 It's raining in your city/hometown/region. What rainy day activities can you recommend for families?
We get very few rainy days (though don't be mistaken it CAN rain in the desert!) but you'll definitely want a few hot day ideas up your sleeve. Mostly this revolves around the cities many shopping malls, or the indoor theme parks.
In Yas Mall you will find not only Ferrari World, but also indoor rock climbing, rope courses and active adventures at Adventure HQ. Marina Mall has the giant Bounce trampoline centre, Al Wadha Mall has Wanasa Land, Orange Wheels play centre and an ice skating ring and Dalma Mall has iceskating, Kidz Factory, Adventure HQ and a Sparkys fun center.
These are just a few – every single mall has some sort of soft play center, indoor sports and luxurious movie theatres so rest assured you can still be kept entertained even indoors in Abu Dhabi.
Is there anything families need to know/should be wary of in your city/hometown/region?
Understanding just how hot it gets! The most ardent of sun worshippers will soon realise that the peak of summer – early June through to late September can be excruciatingly hot (up to 50C/120F). Adults may be ok to sweat it out to an extent, but the heat can really zap kids. Be carefully how much you plan and take on outside if you visit at these peak times.
You also need to be conscious that it is a Muslim country. Although the city has become a lot more liberal over the years as tourism has opened up, you still need to be mindful as a tourist of the culture. Dressing respectfully is the most important thing to be aware of in Abu Dhabi (noting what you wear at a beach resort is not what you should wear in malls and other public places).
Also avoid any undue swearing, drunkness (alcohol can be obtained at licenced venues such as hotels) or insulting a person, the country of the religion. Unlikely I know for most families but just to be warned! Penalties for breaking laws in the UAE can be steep.
What are your top 3 tips for families visiting your city/hometown/region?
Break up sight seeing with relaxation, both are equally enjoyable parts of visiting Abu Dhabi.
Plenty of sunscreen and water to stay hydrated, never underestimate how powerful that sun is even in the milder winters.
Dress and behave appropriately for the Muslim culture.
What type of travelling do you and your family enjoy, and where has been the top family destination that you've visited?
We are the type of family that really likes variety in our travels and spreading about the different types of experiences. We are fairly restricted to travelling during school holidays, but we try to include different experiences each time – one trip may be intensive city and cultural exploring, while the next focused on beach relaxation and free time.
One of our best ever family trips was to Jordan. It's got that perfect mix of outdoor adventures, exploring ancient ruins, relaxing at the beach and Dead Sea and cultural diversity. It's an easy country to road trip over a week to 10 days and is so close to the UAE!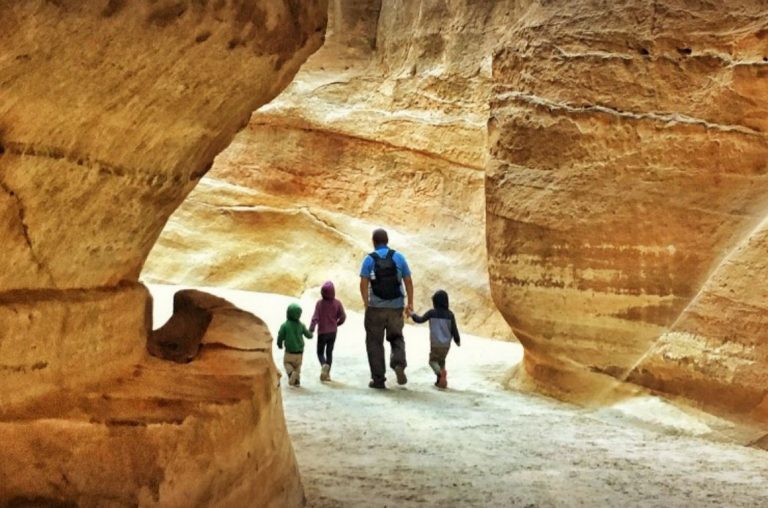 For fun: if money was no object, where would you take your family and why?
I've been longing for one of those luxury overwater Bungalows in the Maldives! Hubby always reminds me how many more beach beers and street meals that money could buy us in south East Asia, but just once I'd love to utterly spoil ourselves to one of the ultra-all inclusive luxury resorts!
The best place to connect with Keri is in one of her Facebook groups. For those interested in learning more about Abu Dhabi and the Middle East, you can join the Family Travel Middle East community, or city travel lovers pop over and join the City Travel with Kids community.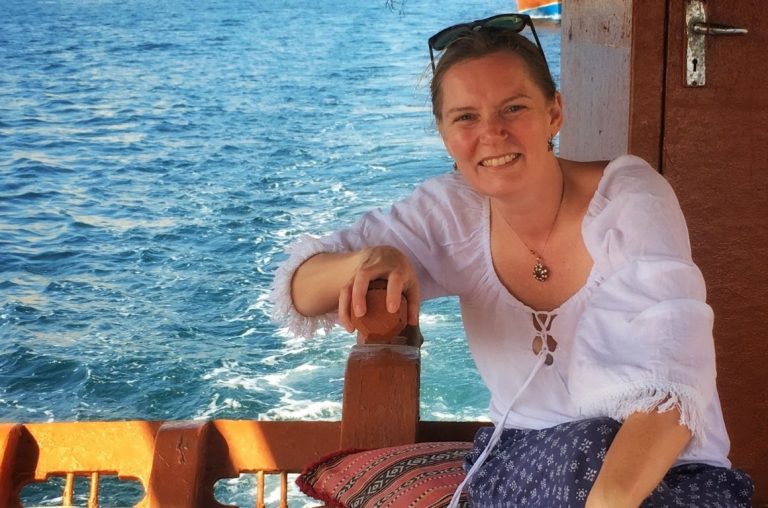 If you are thinking of visiting Abu Dhabi with your family, check out Booking.com for hotels and family-friendly accommodation. If you like home comforts like us, why not consider an AirBnB. Click this link to get money off your first booking. And remember to check Skyscanner for the latest flights, prices and availability to Rome.
To find out which destinations we've been to, or for tips on travelling with kids, head back to the homepage and have a look around.