Going to Lapland with kids is every parent's dream. To visit that magical place on Earth where the Real Santa lives is a trip all families want to make. And some are lucky enough to go, including us. We went to see Santa Claus in Lapland in December. While we were there, we paid the big man a visit and in this post you'll find all you need to know about visiting Santa Claus Village with kids.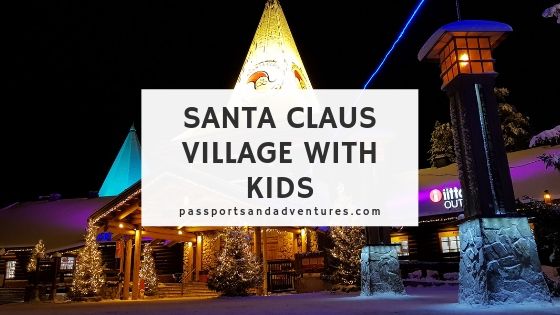 *This post may contain affiliate links. To learn more about affiliate links, please read my Disclosure Policy.
Visiting Santa Claus, for kids of all ages, is a dream come true. To visit Father Christmas in his hometown is something many dream of. And for parents, it's a dream we all hope to make a reality one day for our kids. And we got to do just that for our son in December when we managed to visit Lapland on a budget and meet the real Santa in his hometown of Rovaniemi in Finnish Lapland.
And while there are not one, but two places near Rovaniemi for that special visit, there is no better place, in my opinion, than Santa Claus Village. Father Christmas, or Joulupukki as he is called in Finnish, has a special office there and seeing him at his office in Santa Claus Village with kids is a magical experience you have to make at least once.
But Santa Village, Rovaniemi isn't just about meeting Santa. It's so much more. Filled with all things Christmas, there is more to Santa Village than meets the eye as you'll find out by reading more.
All you need to know about visiting Santa Claus Village with kids
What is Santa Claus Village?
Santa Claus Village is a Christmas village located in Lapland, Finland and comprises a series of privately-run stores, attractions and accommodation set in a Lapland village setting. Opened in 1985, Santa Claus spends all his time here, year-round, to take care of his life's mission:
to enhance the well-being of children and the kindness of grown-ups, as well as spreading the message of love and goodwill and the Christmas Spirit across the globe.

Santa Claus Village
The village is not a theme park but, in my opinion, gives Disney a run for its money when it comes to all things Christmas. At Santa Claus Village you'll find Santa himself, winter activities including snowmobiling, reindeer safaris and huskies. You'll also find other attractions, accommodation, restaurants and souvenir shops selling everything from Christmas decorations to Lappish crafts and more.
While there is no entrance fee to Santa Village, as the activities, shops and restaurants are privately run, there are fees for winter activities, souvenirs and food.
Where is Santa Claus Village?
If you're wondering where is Santa Claus Village located, wonder no more. It is located just 8 miles from the Finnish Lapland capital of Rovaniemi. It sits right on the Arctic Circle at a latitude of 66.33 degrees north of the equator.
The Santa Claus Village address is: Santa Claus Village, Tähtikuja 1, 96930 Napapiiri (Arctic Circle), Finland.
Santa Claus Village is easily spotted from Highway E4 on which is sits, thanks to its towers and grand gateway. It is also located just 3 km from Rovaniemi airport, making is accessible to those doing a day trip to Lapland.
Useful information about Santa Claus Village
Santa Claus Village is open every day of the year, not just around Christmas, and yes you can meet Santa on Christmas Day in the Santa Claus Office. Just give him a little credit if he looks tired, he's been up all night! The Santa Claus Village opening times can be found here.
The individual shops, restaurants and activity centres have their own opening times, so it is best to check their opening hours on the individual websites. You can also get some additional Santa Claus Village info by clicking here.
If you are wondering how to get to Santa Claus Village from either Rovaniemi or the airport, there are two main options. From the airport, the best option is a taxi which can be ordered from http://www.rovaniemenaluetaksi.fi/en. The ride is about 4km. Unfortunately, there are no direct bus connections between the airport and Santa Village.
If you are visiting Santa Claus Village from Rovaniemi, you can catch the number 8 bus from the city centre (timetable can be found here). There are several stops along the way, but it is the cheapest option. You can also catch the Santa Claus Express which goes from the train station, through Rovaniemi City onto the airport via Santa Village before returning via a different route to the train station (timetable can be found here). You can also catch a taxi for the 8km ride, which costs us around €25 in December 2018.
Santa Village is not too big, despite the various activities being spread out. You can find a Santa Claus Village map here to give you an idea of how it is laid out. But everything is close together and no more than a few minutes' walk from one another.
9 Reasons to Visit Santa Claus Village with Kids
Santa Claus Village, Rovaniemi, simply blew me away while we were there. As I've mentioned already, I really felt like it could give Disney a run for its money when it comes to Christmas. While it did get busy during the day while we were there, we stayed late one night and practically had the place to ourselves, albeit outside as everything was shut. The activities in Santa Claus Village which make it a truly unforgettable place to visit with kids are listed below.
Meet the Real Santa Claus
A meeting with Santa, for kids most importantly, is the main reason for visiting Lapland. And as mentioned earlier, there is a special place in Santa Village, Rovaniemi for just that purpose. At the Santa Claus Main Office, you can visit Father Christmas for free. After the entrance you are transported into the world of Santa and the Elves. There you can learn about Santa Claus and how the elves are hard at work throughout the year, making presents for boys and girls who are on the nice list.
As we were there courtesy of Visit Rovanimei, we were met by our own personal Elf, Lthy, who was to show us around the elves workshop and help us find our way to Santa's Office for our special meeting. Now, I should point out that this is the Santa which you can see on the Santa Claus Village live camera (click here for information on the Santa Claus livestream). So, if you know roughly what time you are planning your visit to Santa, make sure to let your friends and family know so they can also share in that special meeting.
Be warned, Santa does not give out presents to those who visit. He is a busy many, and besides, his elves would have no time to make presents for Christmas if they were giving them away throughout the year. If you'd like your children to receive something small, you can bring it with you and pass it to the elves on the door before or as you are about to enter.
Your meeting with Santa is not rushed and takes as long as you and Santa feels is appropriate. He never rushed us, taking time to talk to us and our son, ask questions and even speak Portuguese to us once he found out where in the world we'd travelled from. While you are there, your meeting is recorded and official photographs are taken, but you are not allowed to take your own. You are, however, able to purchase the video and photographs for a fee before you leave the Main Office of Santa Claus (€40 for the video and photos to be downloaded via a code once you get home. A print of your picture starts from €25). Trust me, they are worth it.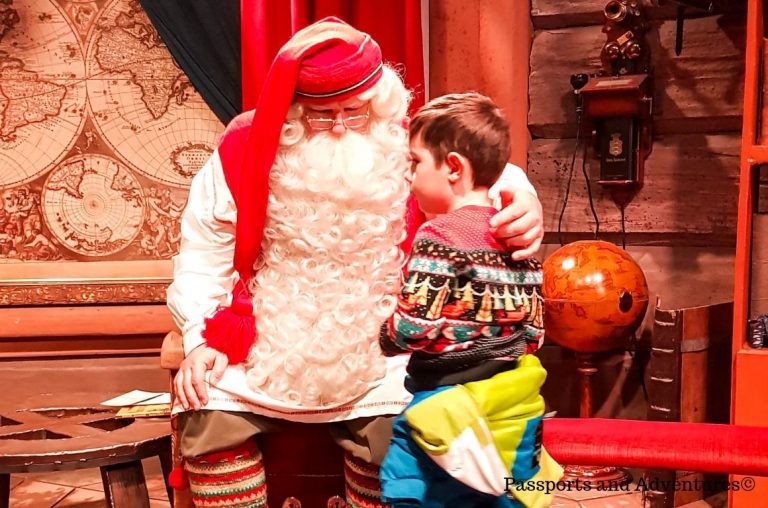 Cross the Arctic Circle
How many people do you know can say they've crossed the Arctic Circle and have a certificate to prove it? Not many, if any at all I'd guess. Well, when you visit Lapland with kids, and in particular Rovaniemi, you can lay claim to just this. In fact, Santa Claus Village is located right on the Arctic Circle and by moving around the village you'll find yourself crossing it many times.
And you'll know because it is clearly marked in the sky by a light. You can also get certificates to show you've crossed the Arctic Circle from the Information Desk located inside the souvenirs/restaurant building opposite the Main Office building. They cost €4.50 each and you can also get your passports stamped at the same time. We could only purchase the certificates as we'd left our passports in a hotel in Helsinki by mistake and didn't have them with us in Lapland.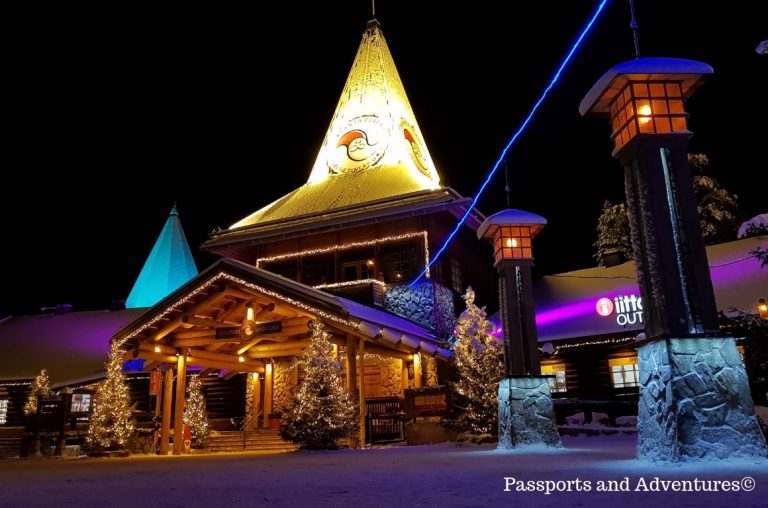 Send Postcards from Santa's Main Post Office
You can also send postcards to loved ones at home from Santa's Main Post Office. It is here you can see an example of just some of the letters and postcards received by Father Christmas throughout the year. There are elves sorting letters, and the board tells an interesting story about the volume of the letters that make their way to Lapland.
You can purchase postcards in the post office and write them out on the desks provided. These get very busy during the day and one of the best times to do your own are towards the end of the day when the tour buses have gone. You'll find more seats available and room to write out those special words to someone back home.
You can also organise a letter from Santa to your own children to arrive at home from Santa's Main Post Office. Just be aware that you may miss the deadline for the year you are visiting if you are there in December. However, you can organise it for the following year as I did for our son and my niece. (We visited between December 9-13th, 2018 and when we visited the post office, we had missed the cut-off date for 2018.)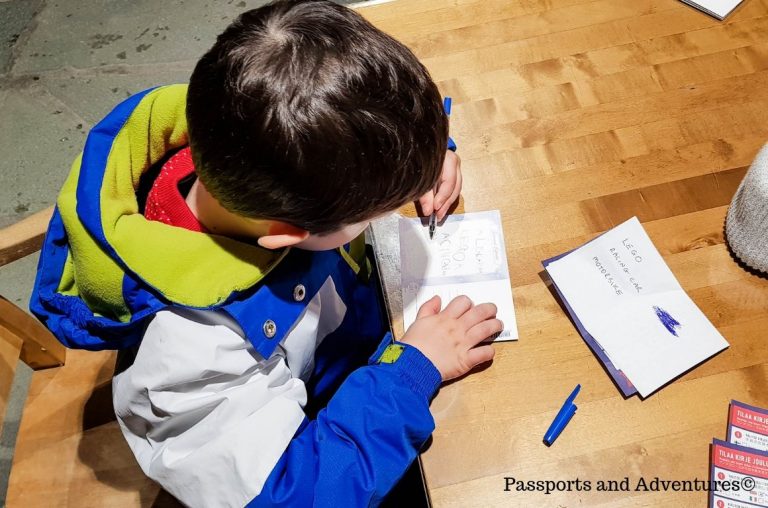 Have Fun Sliding on Sleds and Ice Slides
There is no better fun for kids in the snow than a bit of sledding or sliding down ice slides. And that's exactly what the kids can enjoy around Santa Claus Village. Whether you've bought your own slides or are borrowing one at the village, sledding around the village is not only fun, it's free.
Now, be warned, while there are a few sleds left around the village for kids to use (marked SCV on the side), you will also find others left outside buildings throughout the day. DO NOT be tempted to take these unless it is last thing at night and you are the last people in the village. These most likely belong to other children and you will be the cause of some serious tears from them and leave their parents fuming.
My sister-in-law brought sleds to the village and allowed our son to share with his cousins. He had an absolute ball and his poor uncle was the one dragging a train of 7 children at one stage across the ground in front of Santa Claus' Main Office. It was a sight to see and wonderful to hear the laughter from them all.
Also, the North Pole for kids (well, it's not quite the North Pole, but you know what I mean) can be even more fun with the ice slides around the village. These are created when the snow is moved to the side of roads ad compacted, making the perfect place for a slide. The best one we found was beside Snowman World and many children were enjoying themselves sliding down this hill. Sometimes the simplest of things brings the most joy.
Visit Snowman World
Snowman World is located towards the back of the Santa Claus Village, beside Santa's Reindeer. At the time of our visit it cost €25 per person to visit, although our tickets were complimentary of Visit Rovaniemi. This gives you all day access and under 3's have free entry.
Here you will find an Ice Gallery, restaurant and bar, an Ice Castle (weather permitting) and two different ice slides for snowtubing. There's also a chance to try some ice skating. Use of snow tubes and ice skates are included in the price of your ticket, although food and drink costs extra.
At the time of our visit, the snow castle had not been built due to the unseasonably late arrival of the snow. It arrived with force just a week or so before we arrived, so the building of this igloo-type structure had only just begun out the front of Snowman World.
That said, we still enjoyed our brief time at Snowman World. The ice gallery which includes the bar area was still being completed but those sculptures which were already finished were just amazing. The level of detail in them was astonishing.
Once you exit the ice gallery, you find yourself in the snowtubing area. Here, there are two different slides, depending on your age, and level of courage. We stuck to the gentler slope, each having a turn to go down the slide on the tube with our son. He absolutely loved it and wanted to keep going down. We also had fun swinging the tube around in circles on the ice with him on it. So much fun.
The larger slide is definitely for older children and adults. That said, the smaller slide is still a thrilling ride.
To be completely honest, we did not spend a huge amount of time at Snowman World and, remaining honest, I fail to see how we would have spent an entire day there unless we were planning to eat lunch and had booked a table at the restaurant, particularly as the castle and ice skating were not open during our visit. €25 seems quite expensive, particularly if you have a large family. Other than admiring the ice sculptures and murals in the gallery and having fun on the snowtubes, there isn't a whole lot more to do there.
Plus, this place can get quite busy if the tour groups arrive, so if there was one thing I'd advise you to do, it's really consider the cost of it would your visit to Snowman World. If the snow is late, personally I think the money would be better spent elsewhere. However, if the ice skating and castle are open, then you might get more worth from the cost of your ticket.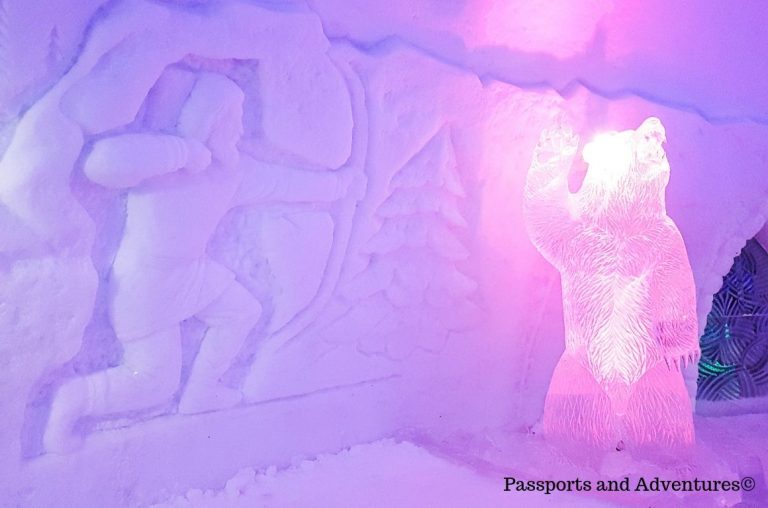 Go Snowmobiling
At Santa Village, Rovaniemi, you'll find the Arctic Circle Snowmobile Park, where your kids can learn to drive a snowmobile themselves. They can even get their snowmobile licence afterwards. Our son was 4, nearly 5, at the time of our visit and he was well able for the snowmobile. His cousin, who had just turned 4, was also well able for it. So, I would say 4 is about the right age for snowmobiling at Santa Village. Any younger and I think they'd struggle with the instructions and controls.
First, after paying the €20 fee for 10 minutes, your kids get kitted out with a helmet and then given their instructions for driving their snowmobile. And then they're off.
During our visit in December, the 10 minutes felt a lot longer than 10 minutes. And our son loved it so much, we brought him back another day for a second ride. The only problem we had was him being overtaken and getting into a huff. The trials and tribulations of an only child. However, we convinced him he had won as he was called into stop first both times, so all was not lost.
The price of the ride is quite reasonable and as I've already mentioned, it felt a lot longer than 10 minutes, both times. Parents can watch from the slide lines and take pictures.
There is the opportunity to take longer snowmobile rides out into the forest from the Arctic Circle Snowmobile Park, but I'd advise checking the website and booking in advance if you want to do this. Also check the minimum age if you want to do this with your kids.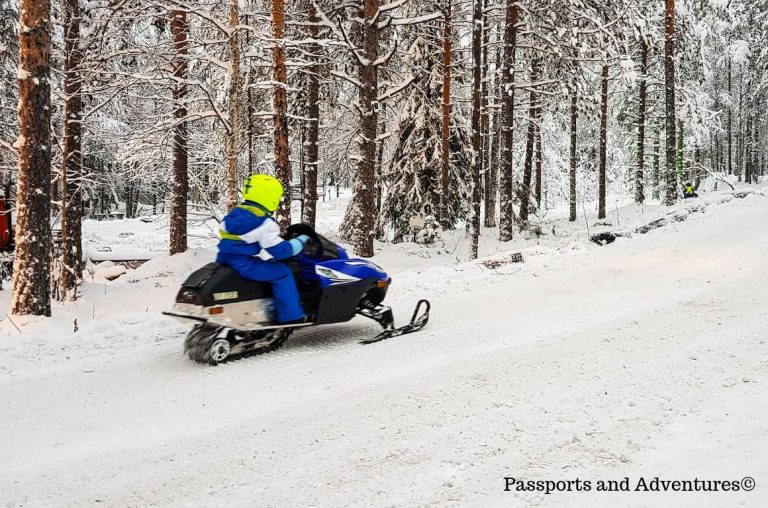 Visit Husky Park
If you'd like to get up-close-and-personal with the dogs of the North Pole, the Husky Park which has been operating at Santa Claus Village for many years is the place to be. You can enter Husky Park for €10 per adult and €5 per child (ages 4-12 years) and a family ticket for 2 adults and up to 3 children costs €20. This gives you entry to the park, a chance to pet the dogs and photograph them.
You can also take both short and long safaris with the huskies. The shorter safaris of 500m and 2km do not need to be pre-booked. Just be aware that Husky Park operate full sleds of 3-5 persons, and you could be sharing with others if you are a smaller family or larger than one sled. You may also be waiting in a queue at busy times. These safaris cost extra and do not include a visit in the park, although you get a chance to meet the team of dogs after your safari. See the Husky Park Arctic Circle Adventure website for details, latest prices and opening hours.
Longer husky safaris need to be pre-booked and are available for 5km and 8km sleigh rides. Note that children under 15 will need to sit in the sled, while children over 15 years may drive the sled themselves.
Shorter safaris are recommended for younger children and you should be wearing warm, winter clothing and outer clothing, particularly those sitting in the sleds. We did not visit this Husky Park as we had already booked a longer safari with another operator.
Play in the Playground
At Santa Claus Village, Christmas happens all year round, for children of all ages. In wintertime, children love playing in the snow, and what better way to have fun than in a snowy playground. There is a small but well-equipped playground, just off to the side of Santa Claus' Main Office.
There you'll find a treehouse-like structure with slides, swing bridges, swings and more. Just be careful if the slides have ice on them. While it might seem harmless on the smaller slide, the larger one has a curve in it and our son hit his head on the side of the slide on the way down when he lifted off the curve and found air. That said, it didn't stop him wanting to carry on playing in this snowy wonderland.
It was a very popular area at the Village and kids of all ages were having fun on the snow, on the swings, down the slides and many were having snowball fights. It's a great place to stretch the legs and let the kids be kids, especially if they've been in a queue, waiting to see Santa himself.
Meet Santa's Reindeers
If you and your children would like to meet the other stars of Christmas, then head over to the Santa Claus Reindeer area, found on the edge of the forest behind Santa's Office. There you can enjoy a sleigh ride with one of Santa's reindeer.
You can enjoy a Santa Claus Village reindeer ride of different lengths depending on your budget. Short rides of 400m take place around the reindeer path, while longer ones take you out into the forest, away from the village. The longer safaris are either 1km over 15 minutes or 5km over 35 minutes.
We were very kindly given a 1km reindeer ride as part of our collaboration with Visit Rovaniemi and in my opinion it was the perfect length, especially on a cold winter's day. You climb into the sleigh, cover yourself with a reindeer hide and enjoy a magical safari through the forest at the back of the village. As I mentioned in my previous post about things to do in Rovaniemi with kids, although the track is just to the back of the village, the peace and quiet in the forest is magical. Apart from crossing paths with one other sleigh, you could have heard a pin drop in the forest.
For information about all the available safaris, opening times and latest prices, visit the Santa Claus Reindeer website.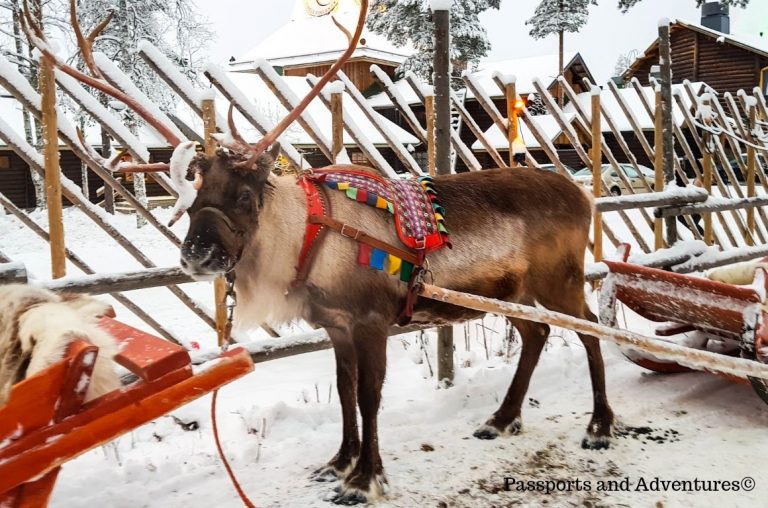 In Summary
The Santa Claus Village is a brilliant place to go in the North Pole for kids. With so much on offer for families, you can easily spend a few days there as part of your Lapland trip with kids. The Santa Claus Village theme park-like atmosphere is welcoming, especially during winter in the run up to Christmas, although it is open all year-round.
Kids will enjoy everything the village has on offer and the Santa Village, for kids, might just be the highlight of their trip, especially after a visit with the special man himself. If you are visiting Lapland with kids and are headed to Rovaniemi, then I can highly recommend a trip to Santa Claus Village.
Have you been to Lapland as a family yet, or are you planning to? I'd love to know.
Cath x
*Where we received complimentary tickets for excursions/activities, this has been highlighted in the post above. We were collaborating with Visit Rovaniemi on this trip and have written all about creating the perfect Lapland bucket list with their help.
To find out how to get to Lapland on a budget, read this post. And if you are wondering what clothes to pack for a trip to Lapland with kids, check out this post. And finally, to find out what other things there are to do in Rovaniemi with kids, read this post.
Or for more travel inspiration and hints and tips about travelling with kids, start from the homepage.
We recommend these Lonely Planet books to help you with your travel planning.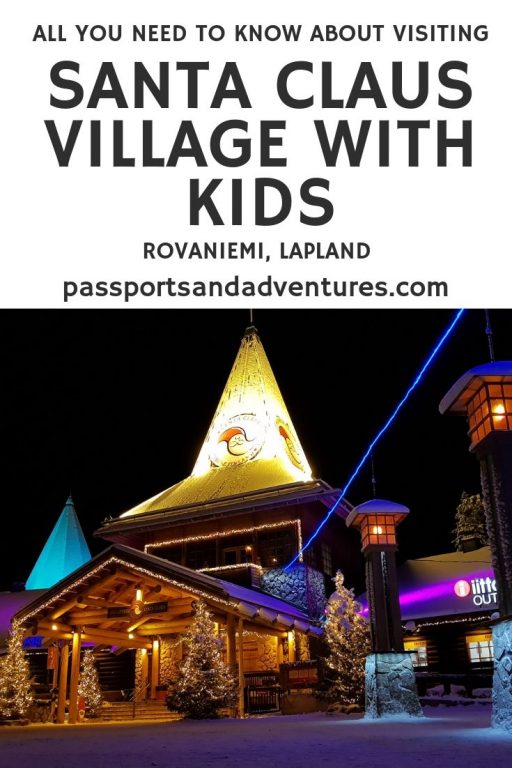 Passports and Adventures is a participant in the Amazon Services LLC Associates Program, an affiliate advertising program designed to provide a means for sites to earn advertising fees by advertising and linking to amazon.com, amazon.co.uk, amazon.ca. Amazon and the Amazon logo are trademarks of Amazon.com, Inc. or its affiliates. To learn more about affiliate links, read my Disclosure Policy here.
Related Posts