When you move to a new country, one of the best ways to get to know it better is to get out exploring. And while we had started to explore the Algarve, the rest of the country had mostly eluded us. We decided to change that and undertook a family holiday in the form of a road trip in Central Portugal at the end of the summer last year. In this post I share with you how to explore Central Portugal with kids from the Algarve. I'm also sharing our 7-day Central Portugal itinerary to help give you some ideas of things to do in Central Portugal with kids, or without.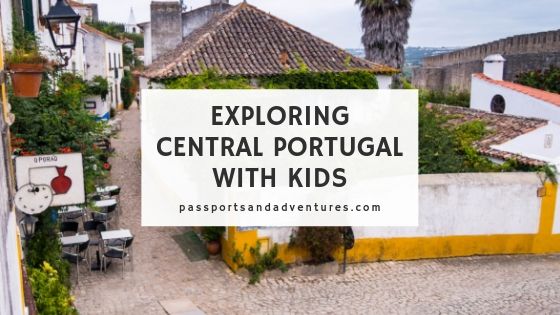 *This post contain affiliate links. To learn more about affiliate links, please read my Disclosure Policy.
Central Portugal spans the region from south of Porto to just north of Lisbon. It includes the towns and regions around Coimbra, Castelo Branco, Leiria, Santarem and Aveiro.
It runs from the border with Spain across to the Atlantic Ocean and has a wide diversity. It is a large region and we decided to concentrate on the region lying just above Lisbon during a week-long road trip from the Algarve. On our itinerary was a return trip to Trialmotor in Lousa, a visit to Nazare, famous for its monstrous waves, and also the capital, Lisbon.
It might not seem like a lot, but we packed a lot into our week. We had visited Trialmotor in Lousa the previous year, but it had been a very quick overnight trip which didn't leave us any time to explore the surrounding areas.
This time we planned out a one-week itinerary for Central Portugal and Lisbon and included all the places we wanted to visit. Although some plans were rearranged at a moment notice, we covered a huge number of things in our week.
Planning a Family Trip To Portugal
How to get to Central Portugal
Portugal has 3 main airports, Faro in the Algarve, the main international airport in Lisbon and also Porto Airport in the North of Portugal. Porto and Lisbon will both leave you closer to the region we explored, while Faro will result you recreating our road trip, with it taking approximately 3 hours to reach the outskirts of Lisbon.
We recommend Skyscanner to check the best prices for flights and availability.
You can also arrive in Portugal from Spain via car, or bus from most of the major cities in Spain, namely Seville in the south.
You can also reach Lisbon from the north and south of Portugal via train or bus. Check EVA-bus.com for bus timetables within Portugal and CP.pt (Comboios de Portugal) for train timetables within Portugal.
How to get around Central Portugal
To really explore Central Portugal, you will need a car. Public transport within Portugal, outside of the cities, is not as reliable or frequent as the rest of the continent. So, to get around and really see the region you need a car.
We drove our car from the Algarve and started our road trip in Lousa before moving onto Nazare and then Lisbon. If you are not resident in Portugal, you're best to hire a car from either Faro, Lisbon or Porto airport, whichever one you fly into. We recommend Rentalcars.com for the best rates.
A word of warning. You can take out full excess insurance with Rentalcars but it may not be recognised by the rental company from which you are getting your car. So, they will either sell you their own cover or you will be made liable for anything above the excess after which you will need to claim it back from the Rentalcars insurance. Personally, I no longer obtain excess via my online booking and, instead, I buy it direct from the rental company my booking has been made with. It usually isn't any more than the online quote and means you aren't caught out twice.
Where to Stay in Central Portugal
We chose to stay in three different locations, moving from one to another during our road trip. As mentioned, we started in Lousa and stayed at the Quintal de Alem do Ribeiro which is the accommodation attached to Trialmotor. We've stayed there before and always had a warm welcome from Filipe and his family. Filipe is the Portuguese Trials Team captain and he and his family run the Quinta when he is not competing.
To find the best prices and availability for the Quintal de Alem do Ribeiro click here.
After visiting Lousa, we travelled onto Nazare where we stayed in an AirBnB not far from the north beach. It was large and comfortable and perfect for the 2 nights we were staying. As a family, AirBnB's give us flexibility and space to relax after a hard day's sightseeing and exploring.
To get a discount off your first booking with AirBnB, click here.
There are also a number of hotels in Nazare that you could stay at. Why not check out the top 5 on TripAdvisor to decide which one to stay in.
And from Nazare we drove south towards Lisbon and stayed in a lovely AirBnB apartment in Cascais. We had heard Cascais was the perfect area to stay in for exploring Lisbon and further afield, not within the city itself but close enough that it didn't take too long to reach the centre of Lisbon.
That said, on our next trip to Lisbon we plan to fly up and stay within the city to make exploring even easier.
To find family-friendly hotels within the city, check their prices and availability, check out booking.com.
When to explore Central Portugal
Central Portugal not only encompasses Lisbon and Nazare on the coast, it also has beautiful mountains around the Coimbra and Lousa areas. In winter time, December and January, you might find snow in the mountains where temperatures can dip towards freezing. Filipe at Trialmotor has been riding in the mountains in snow. So, just bear this in mind if you are thinking of a winter visit. The coast will be slightly warmer, and it is generally during this time when the monstrous waves in Nazare can be witnessed.
That said, summer time is also a great time to visit Central Portugal, although during July and August will be hot, with temperatures generally in and around 30C.
An insider's tip: We visited Central Portugal at the end of August and did not find any area we visited overly crowded. This is because August is the month when the Portuguese are on summer holidays and many travel south to the Algarve for their holidays. So, places like Lisbon and Cascais will be slightly quieter compared to the month before or after. That said, you will still have plenty of other tourists around but fewer locals.
Central Portugal is beautiful no matter what time of year you visit. In winter it is generally cooler than its southern Algarve counterpart, but it will be just as hot in summer. If you don't like it too hot, Autumn and Spring will suit you better. Just bring a raincoat in Spring as February, March and April can be the wettest months of the year in Portugal.
A one-week Central Portugal road trip itinerary: How to explore Central Portugal with kids
There is an abundance of places to visit in Central Portugal, depending on what you like to do. Personally, as a family, we like visiting historical sites and make sure to incorporate family-friendly places that our son will enjoy. With that in mind, let me share with you exactly what we did during our week exploring Central Portugal with young kids.
Day One: We left the Algarve at 10am and headed straight for the A2/IP1 motorway to take us north. Just outside the Setubal area we then took the A13/IC11 towards Lisboa, turning onto the A10, before rejoicing the IP1 on the outskirts of Lisbon to head further north. South of Fatima we turned off onto the A23 which runs westwards to join the A13 towards Coimbra. South of Coimbra we turned onto the N342 for our last leg into Lousa and arrival at Trialmotor 6 and a half hours later. We hit a car accident on the A2 which slowed us down by an hour.
Once we had said hello and checked in with Filipe, we headed to Lousa Castle, in the hills overlooking the town. It is a very small castle which is not open to the public, but which has as lovely walk around it. We had been recommended the river beach at the bottom of the hill which is a great place to cool off during the height of the summer, but we decided to not go down. We enjoyed a walk around the castle before heading into town to visit the Velha Nora restaurant for their tasty pataniscas. However, to our dismay they had run out the night before. After dinner, we returned to the Quintal for an early night, ready for some motorbike lessons the next day.

Day Two: The morning after breakfast was spent with Filipe on the trial's bikes, this time both the boy and Mum having lessons. It had been ten years since I'd ridden a motorbike but discovered that trials bikes are a lot easier and a lot more fun. The boy didn't quite like the competition though. After our lessons were finished, we headed to a nearby river beach that Filipe had recommended, Praia Fluvial da Bogueira. We had lunch at the riverside café and then took a walk along the shore as far as we could. There was plenty of shade and the walk was lovely. We headed back to the Quintal to enjoy ourselves by the pool before having dinner in Lousa again, this time opting for a new restaurant. Another early night was in store before another morning of lessons before we departed Lousa.
Day Three: After breakfast, we met Filipe in the training area and enjoyed another few hours of lessons on the trials bikes before we said our goodbyes and headed off in the direction of Nazare, our next stop on our road trip. We didn't stop along the way as it was less than a two-hour drive to our AirBnB. After we'd checked in to our AirBnB, we made our way to the North beach of Nazare. Before we hit the beach, we passed a small wooded area and came across a small herd of reindeer. We hadn't been expecting that but pulled up to let our son see them. We then enjoyed the views of the beach before heading to a nearby supermarket for supplies.
Day Four: We had been planning to explore Nazare and to also enjoy a ride on the cable car, but we woke to fog, thick fog. With no coats or jackets with us (it was August in Portugal, so we didn't think we needed them), we headed to Leiria to buy something and have a bite to eat. While there we did a quick search to see what else we could do and decided on a visit to the Monastery of Batalha, a short 16-minute drive from Leiria. It was stunning and we decided to pay the entrance fee to visit the inner cloisters. The architecture was beautiful and despite the summer tourists, it was quite a peaceful place.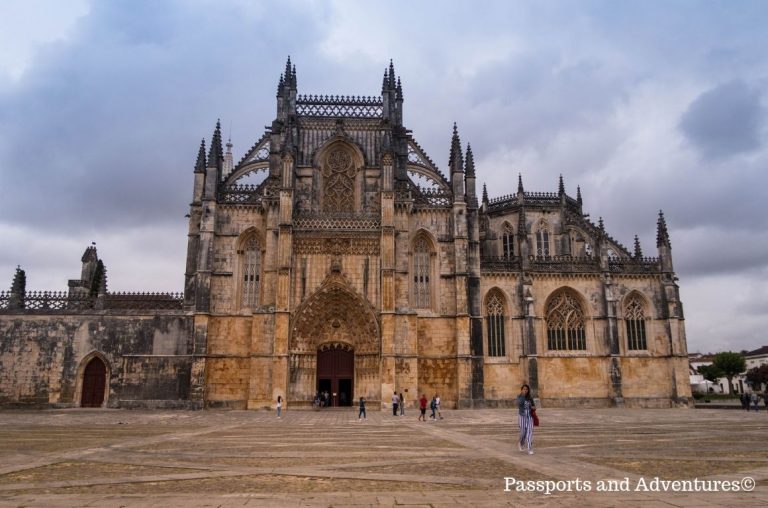 After Batalha, we drove to the Monastery of Alcobaca, just 25 minutes from Batalha. After walking around the main chapel area, we again paid the entrance fee to the inner cloisters, which again were beautiful. There were more areas and rooms to explore here such as the kitchen with its huge chimney stacks and the priest's cloisters. Having not originally planned to visit either monastery, we were really glad of the fog in the end as we may have missed these two UNESCO World Heritage Sites otherwise. After two monasteries a small boy was getting tired, so we headed back to Nazare for a quiet evening before another travel day.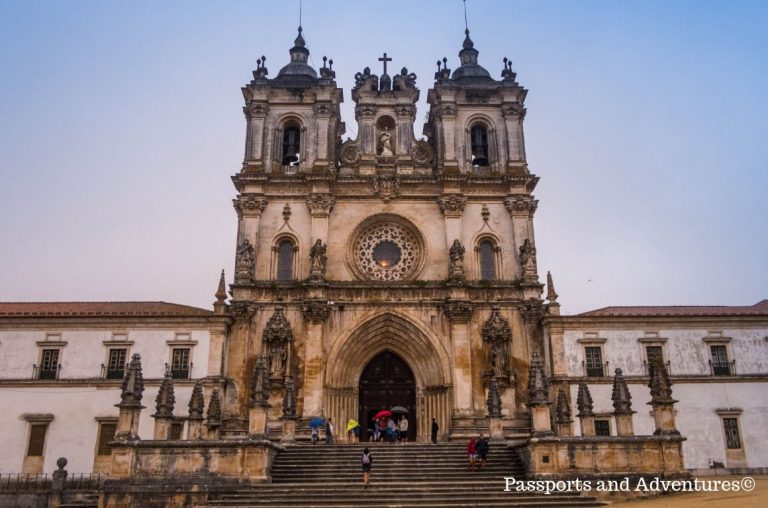 Day Five: After checking out of our AirBnB, we hit the road and started heading south towards Lisbon. Our first stop along the way was Obidos, the beautiful medieval walled town. Despite the cool, cloudy weather, we were glad we made time to visit the town, especially after my parents had spoken so highly of it. We only had an hour or two to explore it and plan to return for at least one night in the future.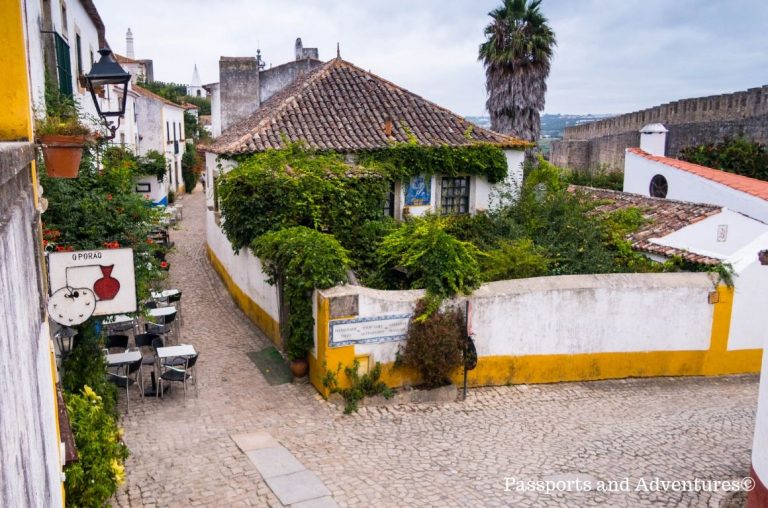 After departing Obidos, we headed for a place called the Buddha Eden Garden, an Asian peace garden that was a lovely surprise. With numerous Buddha statues in the gardens and around the lake, it was a wonderful place to stop to stretch the legs and grab some lunch. While it was a slight detour off the motorway, it was worth it. This is another place we'd love to return to.
Once we were finished there, we rejoined the motorway, this time heading for Sintra and Pena Palace. We were lucky enough to find a parking spot in the last car park before you leave the hillside on which Pena Palace stands. The queue to enter the Palace was extremely long, and as we were on a tight schedule, we didn't have long to explore the Palace. We should have planned this visit a bit better as we needed to leave after only 90 minutes in order to meet our AirBnB lady in Cascais, Lisbon. But, it's an excuse to return in the near future.
We checked into our AirBnB and had dinner in the nearby restaurant area of Casa da Guia, followed by an early night, ready to explore Lisbon.
Day Six: We got the train from Cascais into Lisbon and headed straight to the Oceanario de Lisboa. This aquarium regularly tops the TripAdvisor top 10 and we soon understood why. It was amazing, spanning four floors and it was a feat to get the boy to leave. Not far from the Oceanario is the cable car, and we enjoyed a return trip before getting a taxi to the Hard Rock Café for lunch.
After lunch, we visited the Carmo Convent, a beautiful structure hidden off a square in central Lisbon. It was walking distance from the restaurant and was a lovely place to visit, with it's missing roof and small museum. Once we've finished at the convent, we headed back to Cascais and had dinner in another restaurant in Casa da Guia.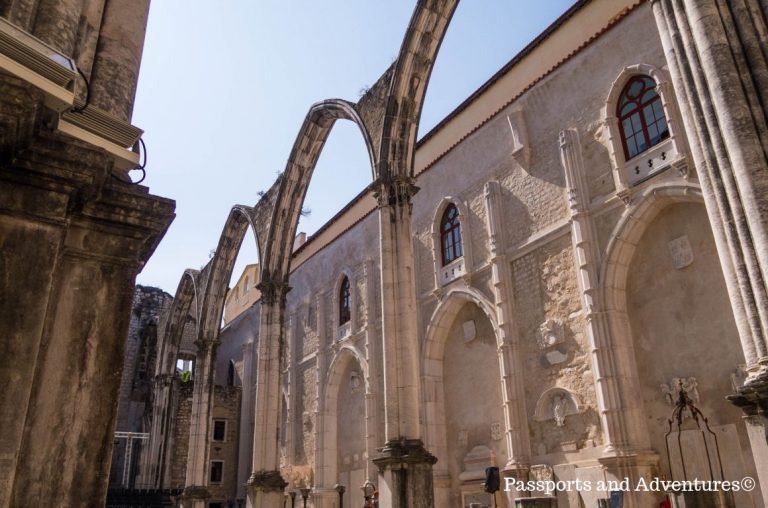 Day Seven: We, again, got the train into Lisbon and headed for Tram 28, boarding at the starting stop of Campo Ourique. I had read that it was best to catch this famous tram from one of the starting points as it gets very busy, very quickly. And this bit of insider knowledge was needed as three or four stops after we boarded, the Tram was full. It was a great experience and we alighted near the Castelo de Sao Jorge, Lisbon's castle.
My regular readers will know that visiting castles and historic sites is a must when we are visiting new cities. And the Castelo de Sao Jorge did not let us down. We had lunch, surrounded by pesky peacocks, then explored the castle. No dragon was found, as a certain someone, me, forgot to pack a dragon. However, the boy still enjoyed the visit.
After finishing, we hopped into a taxi and headed for Belem. The boy fell asleep on the way, so his Dad and I enjoyed ice creams under the shade of some trees after we arrived while we waited for him to wake up. We decided against going into the Tower, instead getting some pictures from outside and letting the boy chase some birds in the grassy areas before heading back to Cascais and a final dinner at Casa de Guia.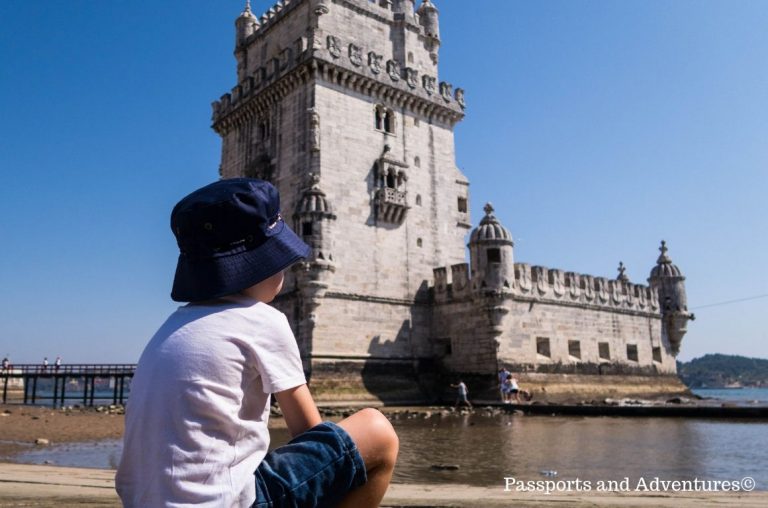 Day Eight: Before leaving Lisbon for the Algarve, we checked out of our AirBnB and headed to Lisbon Zoo. We caught the dolphin show, saw most of the animals and even took a ride on the monorail. While we enjoyed the zoo, it did feel like it was a bit dated and could do with some refurbishment, but we were glad we took the boy as he enjoyed it before our 3-hour journey south. Had we had more time we would have visited the small Children's Museum, located at the entrance to the zoo, but we departed the zoo just as the museum was closing for lunch.
7-day Central Portugal itinerary with kids
Day 1 – Arrive into Lousa and explore the small castle, river beach and town
Day 2 – Enjoy a morning of trials bikes, lunch at Praia Fluvial da Bogueira, then an afternoon at your leisure.
Day 3 – Depart Lousa and head to Nazare, visiting the beach upon arrival.
Day 4 – Visit the Monastery of Alcobaca and Monastery of Batalha. If you have time, also visit the Monastery of Tomar, ticking off 3 UNESCO World Heritage Sites.
Day 5 – Depart Nazare and stop at Obidos, Buddha Eden Garden and Pena Palace, Sintra en-route to Cascais.
Day 6 – Visit the Oceanario de Lisboa, Lisbon Cable Car and Carmo Convent.
Day 7 – Hop on Tram 28 to the Castelo de Sao Jorge, visit Belem Tower and if time allows, the Jeronimos Monastery.
Day 8 – Visit Lisbon Zoo and Lisbon Children's Museum before departing the capital.
In Summary
Our road trip around Central Portugal was a huge success. Despite some of our plans going array, with unexpected fog, and unexpected delights discovered, we had a great time and packed in quite a lot in our week.
Lisbon was a great city to explore with kids, and next time we might fly up so that we can stay in the centre of the city without the need for a car. We visited some beautiful historic sites and the Buddha Eden Garden was a really lovely surprise, as was Obidos. We would have liked more time at Pena Palace but I think next time we'll spend an entire day in Sintra, visiting all the palaces in the locality.
Central Portugal has more to offer families than first meets the eye and is somewhere I would definitely recommend you consider for a Portugal family vacation.
Cath x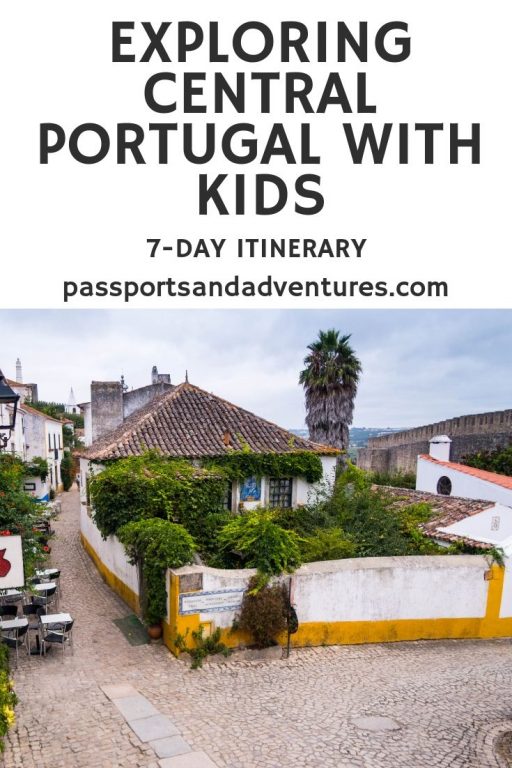 Related Posts