Welcome to another Local Family Guide Interviews, the series in which my fellow family travel bloggers share their local knowledge, and give us some hints and tips, to visiting their hometowns, cities they live in or regions they know like the back of their hands. After all, who better to tell us about somewhere than those who live there or who call it home. And I am very excited to welcome Angela from The Life of Spicers who is telling us all about Dorset.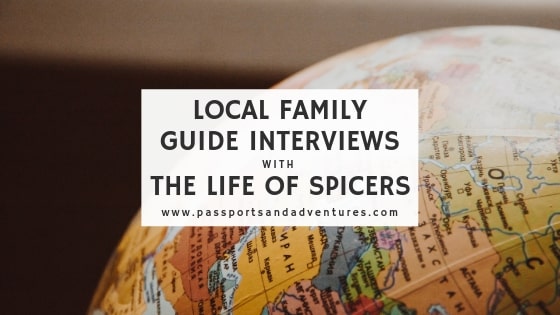 *This post contains affiliate links. This means that if you click on a link and then make a purchase, I receive a small commission at no extra cost to you. To learn more about affiliate links, please read my Disclosure Policy.
Please introduce yourself, your family and your blog.
My name's Angela and I blog at The Life Of Spicers. Myself, husband and tween daughter live on the South Coast of England in a very pretty part of the country. We love exploring our local area with our Labrador, Lola. When we get the chance we love to visit Disney World.
Where are you located/where do you call home?
We live near Bournemouth in Dorset. I have lived in the area all my life and can't imagine living anywhere else at the moment.
Tell us about your hometown/location?
Dorset is famous for the Jurassic Coast, a lovely area we spend lots of time exploring. There are some amazing beaches in Dorset, many dog friendly which is just what we are looking for when getting out and about.
Share with us your top 5 cool things to do in your city/hometown/region for families. 5
There are so many amazing places to visit in Dorset. I have already mentioned the Jurassic Coast, but we have some great National Trust properties to visit as well. Kingston Lacy is one of our favourites.
The Blue Pool in Wareham is a must see for families. The colour of the pool shows many amazing colours when the sun reflects off it.
Kimmeridge Bay is a great place to visit if you like hunting for fossils. There is so many places to explore apart from the beach and the views from the top of the cliff are amazing.
We are lucky to have some great country parks in Dorset. Moors Valley is home to a Go Ape location as well. You can spend hours at the country park and not run out of things to do.
I would never have believed we could be lucky enough to spot dolphins off the Dorset coast, but if you take a trip to Durlston Country Park in Swanage, it's entirely possible.
It's raining in your city/hometown/region. What rainy day activities can you recommend for families?
Bournemouth has a lovely Oceanarium that is a popular choice on a rainy day. Also very close by is a great cinema complex that has some amazing reclining seats.
Is there anything families need to know/should be wary of in your city/hometown/region?
If you're visiting the Jurassic Coast in Dorset, I would say that a lot of the terrain isn't suitable for pushchairs, and some of the hills are quite challenging.
What are your top 3 tips for families visiting your city/hometown/region?
If you're visiting Dorset, you really should stop and see Durdle Door. You can park in the Durdle Door car park at the top of the hill and still see the iconic arch even if you can't make it down the slope to the beach. It's a must see view for anyone visiting the area.
I would also recommend staying for longer if you're able. We have some great affordable holiday parks in Dorset that are also dog friendly if you are bringing a dog. If you get the chance you can hop on a ferry in Poole across to Brownsea Island.
If you're looking to visit on a budget, don't forget your National Trust membership card. A lot of the car parks near the beaches are owned by the National Trust meaning you can park for free and explore the area.
What type of travelling do you and your family enjoy, and where has been the top family destination that you've visited?
We love exploring new places, and are hoping to discover more of the UK this year, perhaps with a road trip. Our most favourite place to visit in the world currently is Disney World, Orlando. It is holding our hearts as our happy place.
For fun: if money was no object, where would you take your family and why?
Aside from a luxurious visit to Disney World, I would love to visit Canada. Everything about the country fascinates me and is high on my list of places to visit in the future.
Thanks so much to Angela for telling us all about Dorset. I would love to spend some time in that part of the UK as it sounds amazing.
If you are thinking of visiting Dorset with your family, check out Booking.com for hotels and family-friendly accommodation. If you like home comforts like us, why not consider an AirBnB. Click this link to get money off your first booking.
To find out which destinations we've been to, or for tips on travelling with kids, head back to the homepage and have a look around.