When I got my smaller blogging camera, my then 2-year-old's interest was piqued. However, as it was quite an expensive piece of kit for what it was, I really didn't want him getting his hands on it. So, to move his interest away from my camera, we bought him his own. As he was still quite young, it needed to be robust and withstand a toddler's handling. In this post you'll hear about the one we chose along with some of the other best cameras for toddlers and pre-schoolers who travel, to help you choose the right one for your little ones.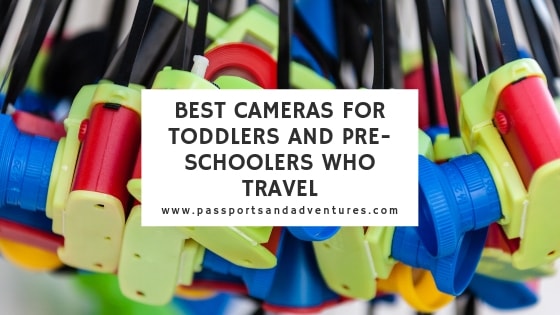 *This post contains affiliate links. To read more about affiliate links, please visit my Disclosure Policy page.
Click here to go straight to the best camera for toddlers and pre-schoolers who travel.
Best Cameras for Toddlers and Pre-schoolers Who Travel Comparison Chart
Name
Megapixels
Video Function
Battery
Extras
Rating
Vtech KidiZoom
Duo Selfie Digital Camera
2MP
Yes
External
AA
Games,
filters, frames,
zoom and flash
4.5/5
Kidizoom
Duo 5.0 Camera
5MP
Yes
External
AA
Games,
filters, frames,
zoom and flash
4.5/5
DIWUER Toddler
Digital Camera
5MP
Yes
Built-in
Frames, filters,
zoom and flash
5/5
Campark Kids
Digital Camera
3MP
Yes
External
AAA
Frames and flash
4.5/5
Prograce Kids
Dual Digital Camera
5MP
Yes
Built-in
Games,
filters, frames,
zoom and flash
4/5
Balee Kids
Digital Camera
5MP
Yes
Built-in
Games,
filters, frames,
zoom and flash
4.5/5
What you need to consider when buying a real camera for toddlers?
There are a few factors you need to consider when thinking about buying your toddler's first camera.
Now, we're not taking about a toddler camera toy or a play camera for toddlers, we're talking about a toddler camera that takes real pictures. Because let's face it, kids these days are growing up in a digital world, and regularly have smart phones, point and shoot or DSLR cameras pointed their way, so it's only natural that they have an interest in the real thing.
And yet, these are often very expensive pieces of kits which we'd rather not give to our toddlers and pre-schoolers. So, the next best thing is to get them a real, toddler-friendly camera so that they can feel part of the gang.
As mentioned, this was my tactic when I bought my Canon G7X Mark ii and below you'll find what I believe is the best digital camera for toddlers, along with some other great ones for you to consider.
So, what do you need to look out for when buying a toddler digital camera?
Robust and Drop-proof
The first thing I looked for when considering a toddler camera for my son was its ability to withstand being dropped. Toddlers are rather clumsy beings and there is no point buying a camera for a toddler if it cannot withstand being bounced on the ground, over and over again.
So, it needs to have a protective sleeve that with give it robustness. Rubber or silicone protection is a must.
Ability to expand the internal memory
The next thing to consider is what size is the internal memory and whether or not it can be expanded via a memory card of some sort. Why is this important? Do you really want to stand somewhere deleting 100 pictures with them watching over you so that they can resume taking pictures? Not me, that's for sure.
So, having the ability to expand the memory is a must in my opinion. However, just be warned there is a flip side to this. They will take 1000's of pictures and you are the one who will need to filter through them, if they ever want to see their masterpieces on a pc or laptop.
Is it chargeable or requires external batteries?
For us, this wasn't something that was high on our list of priorities. However, some people may have a preference. There are some toddler cameras that have an in-built battery which is charged via a USB cable, and there are others requiring external batteries.
We went with one that requires external ones and despite our son using it frequently, we haven't needed to change them as often as I thought we would. To be fair, it's quicker for us to change the batteries than get caught out having not charged it overnight.
Does it have an LCD screen to view photos on?
Kids are pretty clever when it comes to tech these days and as many of them are used to seeing pictures on smart phone screens or point and shoot camera screens, a toddler camera with the same feature is a must. They're not going to be huge but must be big enough for them to be able to see the picture.
Does it have video-filming capabilities?
This wasn't a make-or-break feature for us, but some toddlers and pre-schoolers might like the ability to make little videos of their own. So, consider this when buying a digital camera for a toddler. The ability to expand the memory is an important feature for video as they require much more digital space than pictures do.
Does it have in-built games, filters and frames?
We weren't aware of this feature in toddler digital cameras until we had already bought one for our son and he found them in the menu. He quickly became a dab-hand at the games and thoroughly enjoyed adding filters and frames to the pictures he took. They add an extra dimension to toddler digital photography and can entertain them for hours.
Does it have zooming capabilities and an in-built flash?
These functionalities weren't a huge consideration for us when purchasing our son's kids' digital camera, but again, they are features that "big cameras" have that toddlers might like to enjoy. The flash can help in low light or at night should they ever need it.
Does it have a selfie mode?
How many times, as a parent, have you scrolled through your phone's gallery and found 25 selfie pictures of your toddler's face, usually up-close-and-personal? Yes, even toddlers aren't immune to the odd selfie or two. So, a camera with selfie mode should be a consideration when deciding which camera to buying for your toddler or pre-schooler.
Best Digital Camera for Toddlers Review

The camera we bought for our son was the Vtech KidiZoom Duo Selfie Digital Camera in blue. This was also available as a pink toddler camera at the time we bought it. It was by far one of the best purchases we made for him. We bought it just before he was 3 years old, as mentioned, to get him away from my blogging camera.
Within a few days of having it, he had learned to navigate his way around the menu, finding games, filters and frames for his photos and videos that we weren't aware of when buying it. We bought a 32GB micro USB card for it to expand the memory from the 256MB internal memory, and he was soon saying "mum, say cheese" to his heart's content.
Two and a half years later he still has it and enjoys it. He often takes it out when we're on a day out so he can take pictures along side his blogging mum.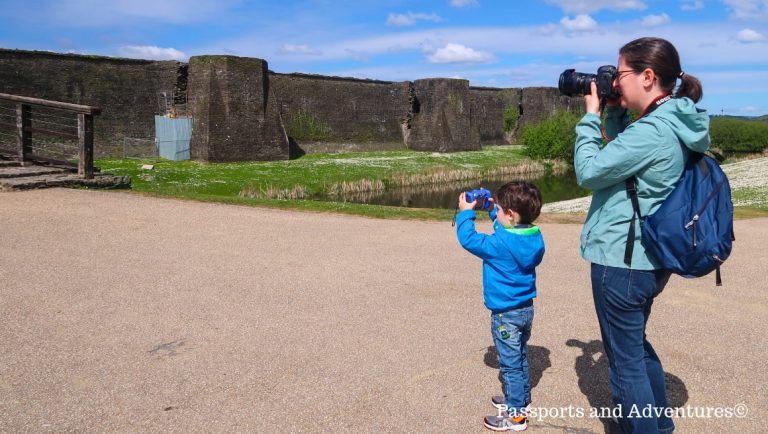 It's quite a chunky camera and has withstood being dropped and bounced more times on the floor than I care to remember. While it doesn't take the best quality pictures with its 2MP (megapixels), that's not what we bought it for, and he doesn't seem to care or notice.
There are 5 games built in, and I have to confess to really enjoying playing some of them. Some can be switched between motion movement or using the navigation button.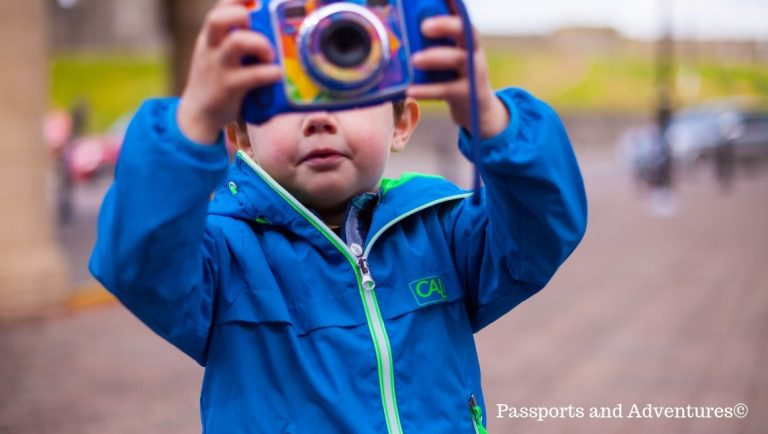 There are frames and filters included, it can record videos and voice and has both an in-built flash and self-timer function. It also has a 4x digital zoom function and comes with a handy arm strap and USB for transferring pictures. And the 2.3″ LCD colour screen is one of the biggest in toddler cameras I've come across.
There are parental controls for putting a timer on games, disabling games all-together, or limiting play to a certain time limit a day.
It is now available in 3 colours and in my opinion is one of the best cameras for toddlers and pre-schoolers. Recommended for ages 3-9 years, we bought this for our son when he was 2 and a half years old and let him use it with parental supervision.
Other Toddler Digital Camera Reviews

This toddler camera is the newer version to the one we own and features all of the great functions and capabilities that its predecessor does. The colour LCD screen is slightly bigger at 2.4″, but the great thing going for this, that makes it one of the best toddler cameras, is it now has a 5MP camera, meaning picture quality is going to be better.
There is also a Deluxe version of this camera available which features a built-in MP3 player and comes with a set of cool headphones, so your kids can listen to their favourite songs on the go.
Check out the Vtech KidiZoom Deluxe 5.0 Camera here for US customers.
Check out the Vtech Kidizoom Deluxe 5.0 Camera here for UK customers.
It has all the cool frames, filters and games that the previous version had. It comes with an in-built memory of 256MB which can be expanded, an in-built flash, selfie mode, 4x digital zoom, USB cable and arm strap, and still has the great drop-prof protective case to save it from those bumps and bounces. Available in 3 great colours and recommended for ages 3 to 9 years, this is certainly a contender for the best toddler camera on the market today.

This robust, green and orange toddler digital camera is one to consider when thinking about buying a camera for your toddler or pre-schooler. With great handle grips and a 5MP camera that can record video at 1080p/30fps, this is a great toddler video camera.
Although this has the smallest colour LCD of the featured toddler cameras here at 1.77″, it comes with a 16GB micro SD card included, a built-in battery, selfie mode, flash and anti-drop protection too. It also comes with 4 funny frames and 7 colour filter effects, a 4x digital zoom and a charging/photo transfer USB cable and neck lanyard are provided.

One of the lightest toddler digital cameras featured here, the Campark kids' digital camera comes with a 2″ colour LCD screen, a 3MP camera, built-in flash and video mode. It also features photo frames and comes with a USB cable, neck lanyard, protective shell and the 3 required external batteries.
It does not come with built-in games, so if you are looking for a camera without them, this is the camera you need. It comes available in pink and blue, or as a pack with a 16GB micro SD card, which is not provided as standard with the camera, but is required before you can use the camera. You've been warned!

This is the lightest toddler digital camera featured here, weighing in at just 163 grams or 5.6 ounces. It has a 5MP digital camera capable of recording video at 1080p resolution, making it another contender for best toddler video camera.
It comes with a rechargeable Lithium-ion battery, USB cable for charging or picture transfer and a great 2″ colour LCD screen.
It has a built-in flash, selfie mode and a 4x digital zoom. It comes with built-in games, 40 photo frames and 7 colour filter effects to create some amazing masterpieces. It comes with a neck lanyard but requires a micro SD card to be inserted before use which is not provided.
Recommended for ages between 3 and 10 years, it is available in 4 colours.

This great toddler camera comes with an 8MP camera capturing pictures at 5MP, video recording capabilities with a resolution of 1080p/30fps and has a great 2″ HD display screen.
It comes with a built-in battery and memory (which can be expanded up to 32GB), a USB cable for charging and transferring pictures and videos, a neck lanyard and stickers to personalise the camera.
It has a selfie mode, flash, 4x digital zoom and also has built-in games and fun effect frames. It is recommended for ages 3 to 8 years and is available in 3 colours. It is a mid-weight camera and would make a great starter camera for a toddler.
Accessories and extras you will need for your toddler's camera
As well as buying your little one the best camera on the market for toddlers and pre-schoolers, you should also consider the extras you might need. Some of the cameras featured come with a micro SD card for extra storage. However, some do not and an SD card is a requirement before you can even use some of the cameras. So, make sure to add a 32GB micro SD card to your basket before clicking BUY on that camera.
If you are opting for the KidiZoom toddler camera, I highly recommend you invest in a carry case for it. It is helpful not only for carrying the camera around, but it also acts as a storage case for the camera. You buy a specific KidiZoom carry case in either BLUE or PINK. However, there are a number of other options on the market.
I recommend the Aenllosi Hard Storage Case. It is available in two colours and is a little less conspicuous than the branded case.

Some of the cameras featured have built-in batteries which are charged via the USB cable provided. For those that don't, external AA or AAA batteries are required. You can either use one-life batteries or buy a rechargeable set and power pack.
I recommend the Energiser Pro Pack as shown below, a rechargeable battery charger which comes with 4 AA batteries. Ensure you get an extra pack of AA batteries if the camera takes them, or two sets of AAA batteries if that is the size required. I say two because while one is in use, you can ensure the other set is charged and ready to replace the used one.

Once you've got the batteries (if the camera requires external ones) and the memory card, your little one is good-to-go.
In Summary
I hope you've found this post helpful and has given you an idea of which camera would be the best purchase for your toddler or pre-schooler. All of these cameras will make great travelling companions for capturing the best of new cities and countries your little wanderlusters visit. My only question now is, which one will you go for?
Cath x
If you are considering booking a city break with kids, why not check out my posts on visiting New York, Lake Bled, Barcelona and Dublin with kids. Or if you are looking for other destination inspiration or some travel tips, head to my homepage and take a look around.
Passports and Adventures is a participant in the Amazon Services LLC Associates Program, an affiliate advertising program designed to provide a means for sites to earn advertising fees by advertising and linking to amazon.com, amazon.co.uk, amazon.ca. Amazon and the Amazon logo are trademarks of Amazon.com, Inc. or its affiliates. To learn more about affiliate links, read my Disclosure Policy here.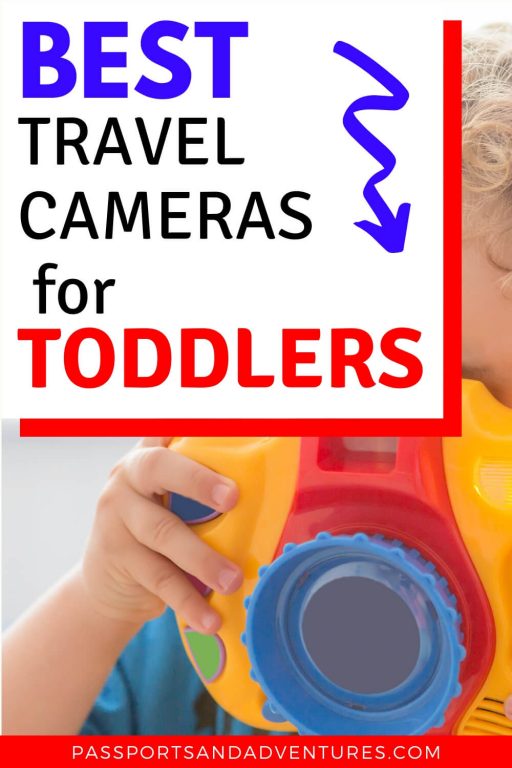 Related Posts