Welcome to another Local Family Guide Interviews, the series in which my fellow family travel bloggers share their local knowledge, and give us some hints and tips, to visiting their hometowns, cities they live in or regions they know like the back of their hands. After all, who better to tell us about somewhere than those who live there or who call it home. And I am very excited to welcome Jen from Travel With A Plan, who is telling us all about Rochester in Minnesota in the United States!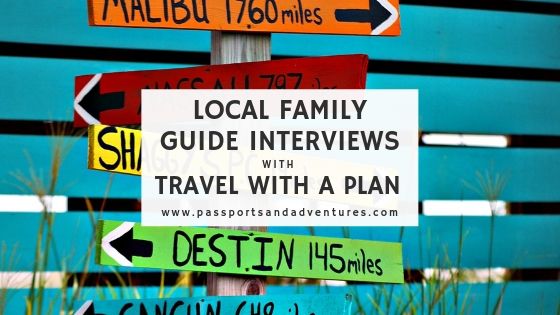 *This post may contain affiliate links. This means that if you click on a link and then make a purchase, I receive a small commission at no extra cost to you. To learn more about affiliate links, please read my Disclosure Policy.
Please introduce yourself, your family and your blog.
Hi everyone! My name is Jen! I am a wife and mom to three boys ages 8, 10, and 12. I am a travel writer and freelance blogger at family travel blog Travel With A Plan. Travel With A Plan is my way of sharing our best family travel tips, reviews, and itineraries to help inspire your next family adventure.
Where are you located/where do you call home?
I was born and raised in a small town in Northern Minnesota and currently live in Rochester, Minnesota. After college, I moved to Rochester to pursue my nursing career at the world-famous Mayo Clinic. Rochester is an amazing community and we love raising our family here.
Tell us about your hometown/location?
Rochester is located in the southern part of the U.S. State of Minnesota, just outside of the Twin Cities of Minneapolis/St. Paul. Rochester has long been rated as one of the best places to live in the United States by multiple publications such as Money Magazine.
On August 21st, 1883, The Great Tornado demolished much of Rochester, and there was no medical facility in the immediate area at the time. Local doctors Will and Charlie Mayo worked together to care for the wounded and pioneered several lifesaving medical techniques.
The Mayo practice grew tremendously and is now one of the largest and most well-respected medical facilities in the world. Many notable people from around the world, including several former U.S. Presidents, have visited Rochester as patients of the Mayo Clinic. International patients include King Hussein of Jordan.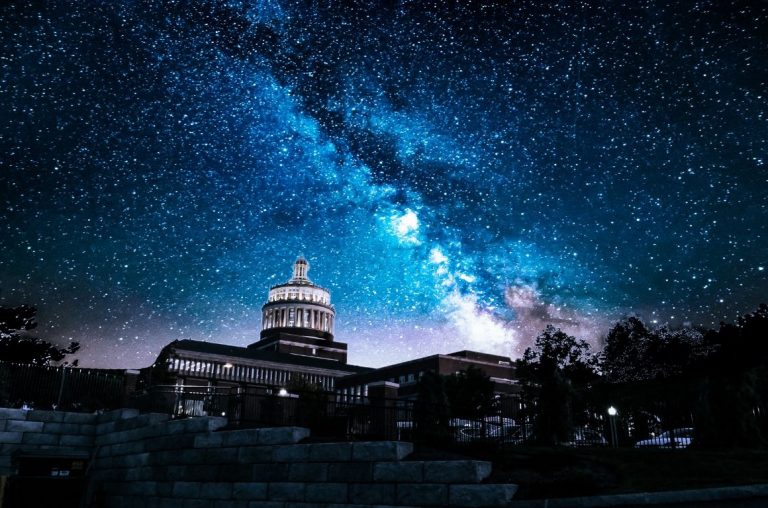 Photo by Yassine Khalfalli on Unsplash
Share with us your top 5 cool things to do in your city/hometown/region for families.
Here is my list of the Top 5 Things to do With Kids in Rochester, MN.
1 – Visit the (free) Oxbox Park and Zollman Zoo. Zollman Zoo has over 30 species of wild animals native to the beautiful state of Minnesota. Many of the animals at the zoo were injured or are unfit for release into the wild, so kids can learn about conservation and the importance of caring for our wildlife.
2 – Silver Lake Boat and Bike Rentals. Silver Lake is located in the center of town and is home to hundreds of wild Canadian Honker geese (that are so fun to watch!). Enjoy a walk around the paved trail that encircles the lake, or better yet, rent a bicycle, canoe, kayak, or deluxe electric paddleboat to see the lake from a birds-eye view.

3 – Soldiers Field Veterans Memorial. Soldiers Field Park is home to the Rochester's top 2 children's playgrounds, a public golf course and swimming pool, paved walking trails, and Soldiers Field Veterans Memorial. This esteemed memorial receives rave reviews as one of the best tributes to veterans in the state of Minnesota.
4 – Quarry Hill Nature Center. Quarry Hill Nature Center is a free educational attraction with an exhibit hall, library and bird observatory. The park offers miles of hiking trails, a fishing pond, and fossil beds. Sandstone caves tours are led by park naturalists.
5 – Mayo Clinic and Mayowood Mansion Tour. With older kids, discover the fascinating history and extraordinary innovations of Mayo Clinic with a self-guided tour of the medical campus. For a glimpse at the lives of the Clinic's brilliant founders, take a tour of their home, the Mayowood Mansion.
It's raining in your city/hometown/region. What rainy day activities can you recommend for families?
Our favorite activity to do when it is raining in Rochester is to go to Air Insanity trampoline park. This massive indoor trampoline park includes a Ninja Warrior Course, extreme dodge ball, slam dunk basketball, and Nerf jousting.
For a whole-day activity, get in the car and head 60 miles north to Nickelodeon Universe, which is located in the world-famous Mall of America.
Nickelodeon Universe is the largest indoor theme park in the United States spanning a humongous 7-acres. This massive attraction is located in the center of retail gem, The Mall of America (locally known as "MOA"). MOA boasts over 500 stores and is the largest shopping mall in the United States. It is home to a vast array of general retail, restaurants, and attractions.
Read my complete review on a Fun Filled Day at Nickelodeon Universe.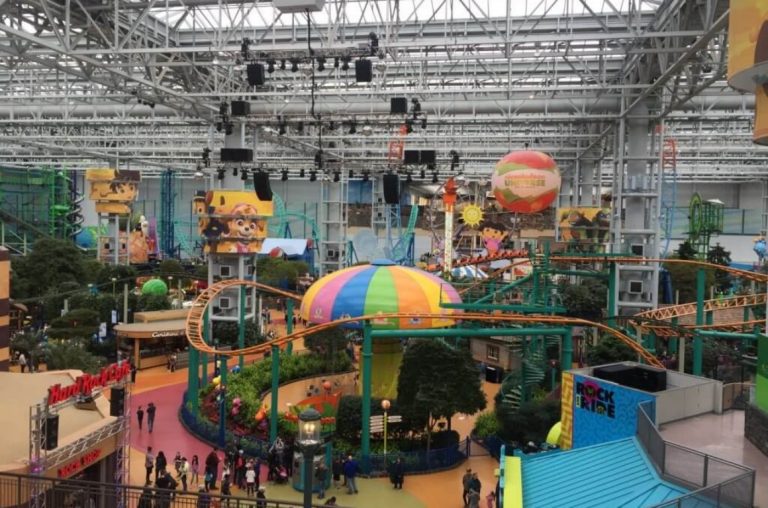 Is there anything families need to know/should be wary of in your city/hometown/region?
Rochester is a wonderful place to grow up and to grow old. Our community is known for its safety, education, kindness, and of course excellent medical care.
What are your top 3 tips for families visiting your city/hometown/region?
My top 3 tips for visiting Rochester, MN are:
1 – Come prepared for the weather. Minnesota has 4 distinct seasons of spring, summer, fall, and winter. Temperatures fluctuate across the seasons and visitors must dress accordingly. The coldest month is January when the average temperature overnight is 4.3°F. In July, the warmest month, the average day time temperature is 83.3°F.
2 – Explore downtown Rochester, MN. Downtown Rochester's hotels, stores, restaurants, and Mayo Clinic are connected via an extensive system of climate-controlled skyways and underground walkways (I'm tellin ya, winters are cold!).
3 – Rain or shine, make time to visit the Mall of America and Nickelodeon Universe, as mentioned above.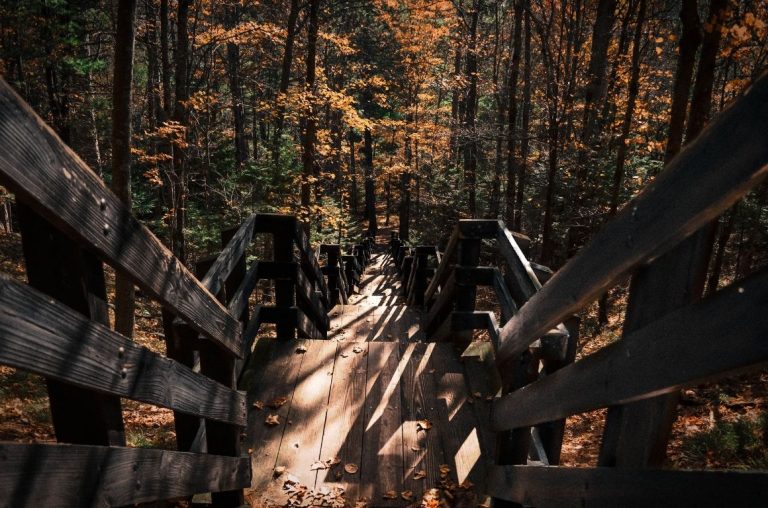 Photo by Atharva Tulsi on Unsplash
What type of travelling do you and your family enjoy, and where has been the top family destination that you've visited?
My family and I have a "Bucket List" that we created that includes all of the places that we want to visit together as a family before the kids graduate high school. We budget for and take 2-3 major vacations a year, and one of them is always from our "Bucket List". You can read our entire U.S. bucket list here and perhaps it will help to inspire your next family vacation!
Everyone agrees, our top family destination so far has been San Diego, California! We loved absolutely everything about our trip to San Diego including the amazing weather, Legoland, Sea World, Coronodo Island, and breathtaking coastal views. You can find our 6-day itinerary here.
For fun: if money was no object, where would you take your family and why?
If money wasn't an object, I would take my family to an all-inclusive tropical vacation to the Island of Tahiti. We would stay in a private overwater bungalow amidst the crystal clear teal-blue ocean. I can picture it now – it would be dreamy!
Happy travels to you and yours! Now, back to planning our next family adventure.
Thanks so much to Jen for introducing us to Rochester and sharing with us the great things it has on offer for families. Jen is an American travel writer. A planner by nature, Jen has spent the last 12 years planning fun, and hassle-free family vacations for her family of 5. She considers travel to be an essential part of their family's health and wellbeing. Her blog Travel With A Plan is a compilation of the planning and execution that has gone into making family vacations efficient, enjoyable, and memorable. She is dedicated and passionate about sharing travel ideas, products, and experiences that are practical, and that work for families. Get connected to Travel With A Plan via Pinterest, Facebook, and Twitter.
If you are thinking of visiting Rochester, Minnesota with your family, check out hotels here. If you like home comforts like us, why not consider an AirBnB. Click this link to get money off your first booking. And remember to check Skyscanner for the latest flights, prices and availability to the United States.
To find out which destinations we've been to, or for tips on travelling with kids, head back to the homepage and have a look around.
And, if you are a blogger and would like to feature your home town/city/region in the Local Family Guide Interviews, please send an email to me, cath@passportsandadventures.com.