Santa Park, or to give it its proper name SantaPark Arctic World, the Home Cavern of Santa Claus, is a Christmas theme-park located just outside Rovaniemi in Finnish Lapland. We were kindly given complimentary tickets as part of our collaboration with Visit Rovaniemi to experience this during our recent trip to Lapland. And in this post I'm going to share some amazing reasons why you should visit SantaPark with Kids and give you some hints and tips for your visit.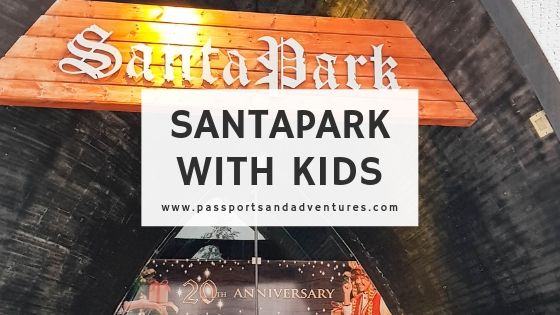 SantaPark, as mentioned, is located just outside Rovaniemi, the Official Hometown of Santa Claus, approximately 8km outside the city centre.
Underneath the Arctic Circle, deep beneath the ground, lies Santa's secret cavern where it's Christmas all year round!
Open all year round, this underground Christmas theme-park is somewhere to enjoy the spirit of Christmas whether it is December or June. Originally an underground air-raid shelter, this huge bunker was transformed in 1998 into what is now SantaPark and they were celebrating their 20-year anniversary during our visit.
We visited SantaPark on our last day in Rovaniemi before getting the Santa Express overnight train back to Helsinki. We checked out of our AirBnB around 11am and after stowing our bags in the lockers at the train station, we made our way to SantaPark, arriving before 12pm.
Although you can see the signs for it, the actual entrance is not visible from the highway, visible only as you drive into it itself. After arriving and exchanging our gift ticket for entrance tickets, we stowed our jackets and our son's snowsuit in the cloak rooms and made our way in to begin enjoying this secret underground world.
We stayed at SantaPark for four hours and didn't cover all of it. Had we been staying additional nights we could have revisited as your ticket is valid for two consecutive days. However, we were more than satisfied with what we did see and do, and here are our reasons why you should visit SantaPark with kids when in Finnish Lapland.
9 Amazing Reasons Why You Should Visit SantaPark With Kids
It's A Cool Underground Bunker
As mentioned, SantaPark is located in an old air-raid shelter underground, hence its name of the Home Cavern of Santa Claus. When you walk through the doors you are met with a low-lit, long corridor that slopes down towards the ticket office and cloakrooms. Then the same low-lit corridor slopes even further down.
It's very inviting with the sound of elves busy at work, giving you a sense that they are preparing lots of Christmas presents ready to be delivered to boys and girls around the world. You then reach the main area which opens up with corridors for the different activity stations and a central restaurant and stage area. More on that in a minute. It's a pretty cool place.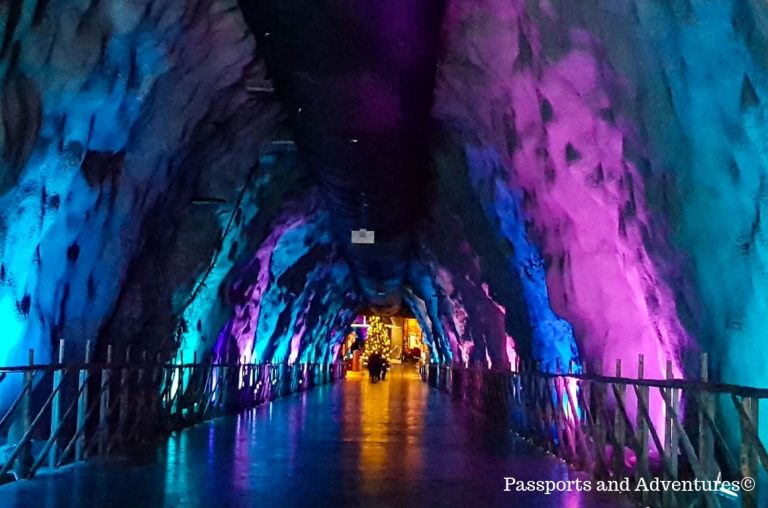 You Can Graduate From Elf School
One of the activities our son enjoyed most was attending Elf School. Run every 20 minutes or so, you are greeted by two Elves who bring you into Elf School and give you a crash course in the things you need to know before you can become an elf. Our son was completely enthralled by the two Elves and listened intently. His shyness didn't show itself and he was fully engaged in the different activities they had the room doing in order for us to graduate as Elves.
I will say that we attended Elf School around 2pm and while it was busy, it wasn't unbearable. I'd heard nightmare stories about the tour groups, and while there were plenty of them around, we didn't feel cramped in Elf School.
The one thing I will say is the timetable seemed to have gone out the window when we attended. We arrived at 1.30pm expecting to start at 1.40. However, for some reason the doors didn't open until 1.55, long after the previous group had left. So, although Elf School is meant to run every 20 minutes from 10am to 4pm, you might find you need to wait longer. But if your children are anything like ours it will be worth the wait. Oh, and everyone in Elf School gets a certificate and Elf hat upon graduating!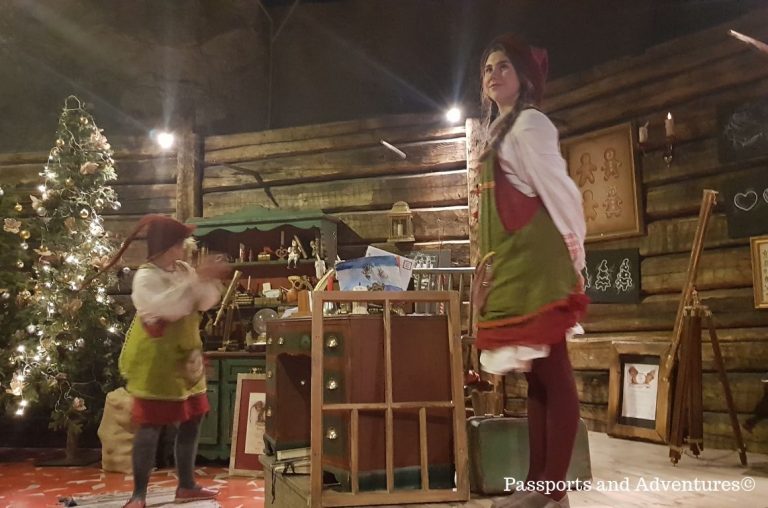 Gingerbread Decorating in Mrs Gingerbread's Kitchen
This is one activity that is a paid-for activity, unless you are part of a tour group where it is included. That said it only costs €2.90 per biscuit and the necessary decorating materials are a plenty. We visited Mrs Gingerbread's Kitchen after Elf School and even Mr Passports got in on the action.
With two gingerbread hearts bought (there were no gingerbread men left at 2.30pm), a coffee for the hubby and a bottle of water for me, the boys got to work decorating their biscuits before munching them down.
Mrs Gingerbread's Kitchen is quite small, and it has two long tables with benches. The decorating supplies of icing and various sprinkles are on the tables, ready and waiting to be used. There is no limit to how much you can use, and they are replenished quite quickly. Our son didn't go mad with decorating, but I witnessed one girl completely cover her biscuit with different coloured icing before adding lots and lots of sprinkles. However, not an eyelid was batted by anyone but her parents, haha.
There isn't a lot of space in Mrs Gingerbread's Kitchen and I chose to stand instead of taking up a space on the benches as I wasn't decorating a biscuit. Bear this in mind when visiting this area. There are some small gifts on sale as well, and the prices of drinks are on par with Lapland. No cheap, put it this way. But then, nothing is cheap in Lapland.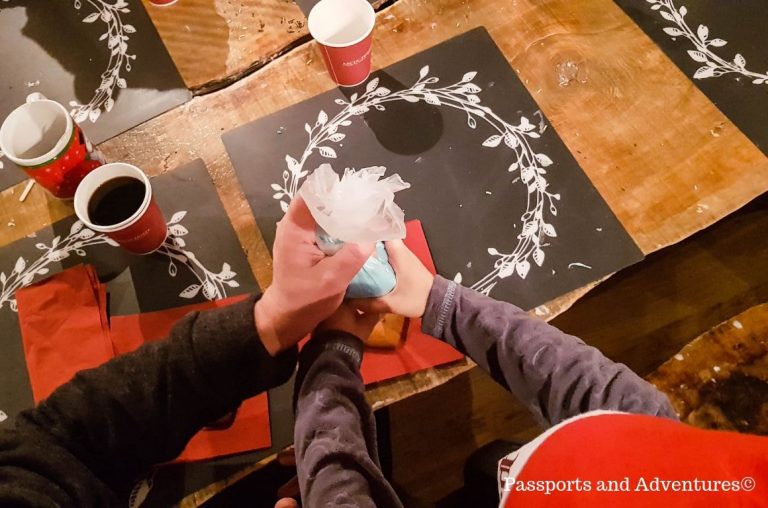 Catch One Of The Elf Shows
Throughout the day, on the main stage beside the restaurant, there are Elf Shows taking place. During our visit there were 5 shows taking place at various time during the day. We caught the 12.30pm show while we ate lunch, bought from Cafe Kotakahvio. I'll discuss the merits of the cafe later but with our seats secured and food bought, we enjoyed the Elf Show.
I wasn't sure whether our son was going to be interested in the show, but he sat completely still and watched it in full, from start to finish. The Elves performed various tricks and acrobats, and a ballerina mesmerised us all with her skills and grace. And as there are no speaking parts, there is no worrying about translations or worrying whether you'll know what is going on.
The Elves were very funny too and it was a very entertaining show. It didn't go on too long either, just the right amount of time to capture the attention and imaginations of children and adults alike. It was an ideal thing to enjoy while eating our lunch. I highly recommend you find out the times of the Elf Show and plan to get there about 10-15 minutes before the show to secure your seat as it's worth watching.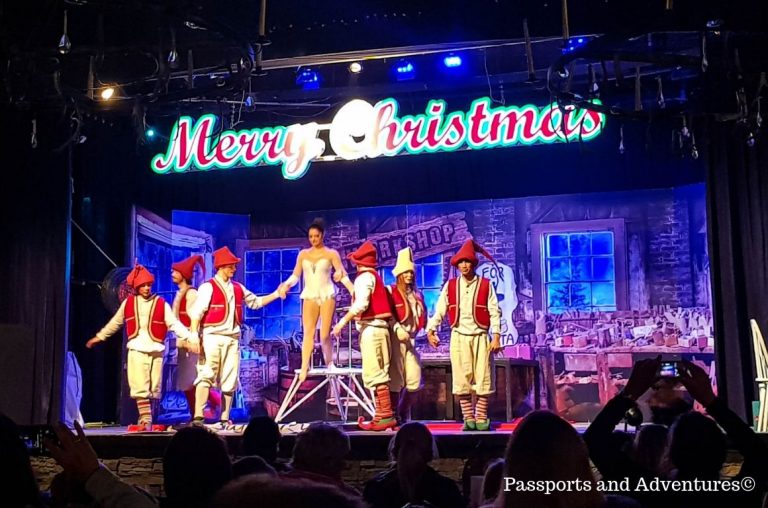 Take A Ride On Santa's Magic Train
This was by far my favourite part of SantaPark and was a complete surprise to us. We took a ride on Santa's Magic Train towards the end of our visit to SantaPark Arctic World and it was brilliant. I thought it was going to be a very short ride, but we were taken by surprise.
Each train carriage takes a maximum of two adults and two children and when we queued around 3pm, then line moved very fast, we weren't waiting long at all. Once we got into our carriage, we left the station and entered a truly magical world that you have no idea is there from outside. The ride reminded me of the "It's A Small World" ride at Disneyland Paris and was just lovely. The train takes you through different enchanting worlds. From snowy landscapes to the world of snowmen and elves, it was a ride that blew me away.
Our son loved it and didn't want to get off. It takes longer than you imagine and leaves you feeling very Christmassy afterwards. I highly recommend you take a ride on Santa's Magic Train as it's just lovely. Your carriage moves through at a nice pace and you cannot see other carriages in front or behind you, so you feel like you've got the whole place to yourself. Just be careful to not get the queue for this mixed up with the queue for Father Christmas as we did!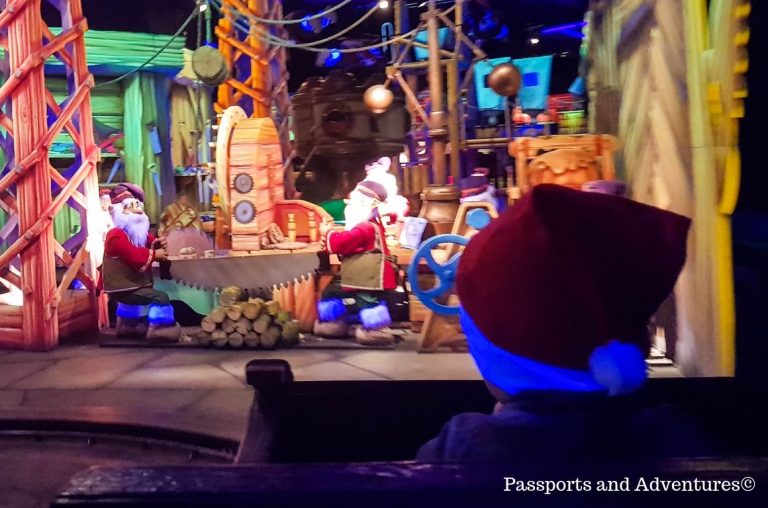 Visit The Ice Gallery
One of the first things we did when we entered SantaPark, and after passing under the windy Arctic Circle Line, was visit the Ice Gallery and Bar. This cold, icy chamber is home to the realm of the Ice Princess who warmly greets you as you enter. Before you enter you must don some warm cloaks, located on a rail just outside the entrance.
You can also view the Ice Gallery from the warmer corridor if you've had enough of the cold. But it's worth going inside to see the ice sculptures up close. I think my favourite sculpture was the reindeer, it was just magnificent looking. At the time of our visit there was no-one attending the bar but that didn't matter to us. You won't spend too long in the Ice Gallery as it is obviously freezing inside, a balmy -10ºC, but it's worth a look.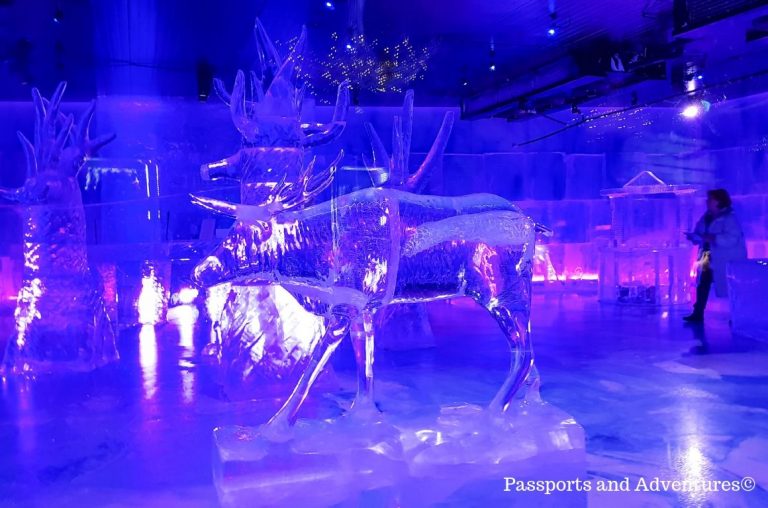 Send Someone A Special Message From The Post Office
There is a post office at SantaPark where you can send Christmas greetings to loved ones back home, but somehow, we totally missed this post office. Each postcard or letter will have an official Arctic Circle/Santa postmark on it. And if you happen to be visiting during the year, you can have you letter held and posted closer to Christmas. That's great service and you could have all your Christmas cards posted from SantaPark if you are visiting during the year. Just don't forget your cards!
Make Your Own Christmas Decorations With The Elves
Although I really wanted to go and partake in the Christmas crafts with the elves, our son was having none of it. So, unfortunately, we didn't get to enjoy this activity. There were two different areas for crafting with elves. One area was for making your own Christmas decoration and there were rows and rows of Santa Claus decorations at the back of this station. I have it on good authority that you can make as many as you want and take them home with you for your own tree. I was gutted the boy didn't want to do this.
The second crafting station was an area where you could make your own Christmas cards. With the necessary supplies to let your imagination run wild, I'm sure I'd have enjoyed this, if the boy had let me. Maybe next time!
Visit Santa Claus In His Office
Of course, you cannot visit Lapland without paying Santa Claus himself a visit. At SantaPark you can meet the REAL Santa inside his office. You can have a chat with him, tell him where you are from and share your Christmas wish-list with him. And don't worry, I have it on good authority that he speaks quite a few languages. Santa also tells you about his office, can show you his naughty and nice list (which one will you be on), and he can show you how he navigates his way around the world on Christmas Eve as he delivers presents to boys and girls.
You can also have your picture taken with him and take pictures of your own. The pictures taken by the Elves are available to buy, priced from €27 each or you can buy the complete set on a USB stick for €32.*
Now, we elected not to visit Santa at SantaPark as we had visited him at his Santa Claus Village just two days before and felt it might have been a bit confusing for our son to see him again. We did, however, end up in the queue for Santa by mistake and before realising we were in the wrong queue, it was moving quite fast. This was later in the day, just before 3pm. I can imagine the wait is a lot longer earlier in the day when most of the tour groups are there.
Hints and Tips for Visiting SantaPark with Kids
The best advice from others is to arrive at opening time to avoid the rush of the tour groups. Despite arriving at almost 12pm, we weren't waiting too long for activities. The only wait we had was for lunch. Other queues moved quickly. It seemed like most of the tour groups were either finished their activities or were gone by early afternoon when we did our activities.
As for lunch, it is overpriced and not the best. We got 1 adult meal and 2 children's meals and there didn't seem to be any difference in portions. You get a main meal, a slice of bread and can help yourself to salads. The three meals and drinks still came to nearly €50.
Lunch was also chaotic at best. Where we thought we had to queue up to pay turned out to be the tour group check-in desk. Instead, we had to queue at the tea/coffee cafe and pay there. There was a long queue and only one person working. Then my husband was made to rejoin the check-in queue. He decided against this and nipped under the rope and no-one batted an eyelid. So, think long and hard as to whether you want to eat at SantaPark. My advice is to bring a picnic and enjoy it at the tables in front of the stage while watching the Elf Show.
You could cover SantaPark in a few hours if you arrive at opening time and head straight for things like Santa and Elf School. Other activities have shorter queues with no queues witnessed for the Ice Gallery or Mrs Gingerbread's Kitchen during our visit.
If you are visiting with young children and have time you could visit two mornings in a row at opening time to avoid the tour groups and queues as your ticket is valid for two consecutive days.
Be aware that there are some paid-for things like the gingerbread biscuits for decorating, trying the Ice Princess drink and your official Santa pictures, although you can take as many of your own pictures with Santa as you like.
There are gift shops at the entrance to SantaPark, near the post office and prices vary depending on what you want to purchase. We bought one or two souvenirs here. One thing we didn't see were Christmas decorations saying "SantaPark". You could buy a keyring and replace the ring with ribbon to turn it into a Christmas decoration instead.
Santa does not give out gifts. You can instead buy one and slip it to the elves before your visit.
The supplies for making your own cards and decorations are free and you can either leave your masterpiece behind or bring it home with you. And if you get a chance, grab some extra supplies from the Christmas decoration station. That way you can make your own decoration to add to your tree next year alongside the one you made at SantaPark. Just don't be too greedy.
There is an Angry Birds playground/soft play area above the restaurant seating area where little ones can run off some steam. There is a slide which brings them back down to the lower level. Just be careful of smaller children and older ones hogging the Angry Birds Games. It's not huge but can give parents a much-needed break for a cuppa and cake as we did.
SantaPark is the only known place in the world where you can cross UNDER the Arctic Circle. Pretty cool, hey!
Elf School is conducted in both Finnish and English.
And if you arrive before opening, you can either play in the area just in front of the entrance or have a coffee in the Arctic Treehouse Hotel located beside SantaPark if it's too cold for playing outside.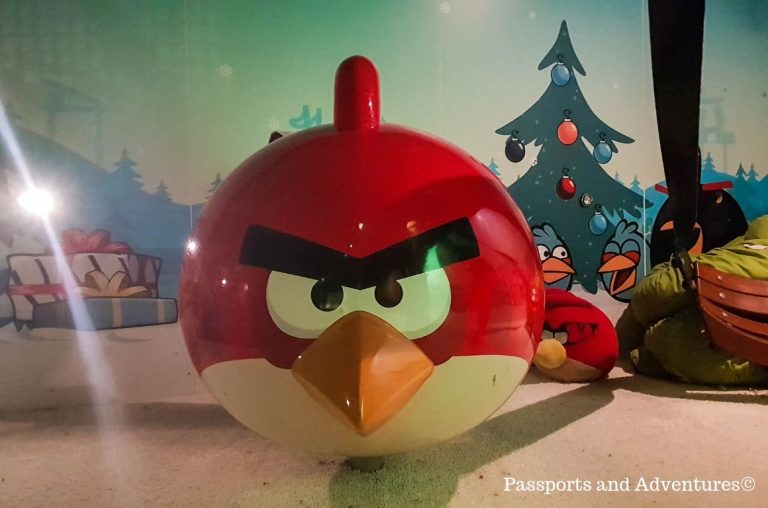 Information for Your Visit to SantaPark with Kids
SantaPark is open throughout the year and it is best to check the SantaPark website for up-to-date opening times and days.
Tickets can be purchased either online prior to your visit, or at the ticket booth at the entrance to SantaPark.
Winter entry costs €35 per adult, €28 per child (between the ages of 3 and 12, under 3's are free to enter) for the winter season, €17.50 per adult and €15 per child for the summer season.*
SantaPark is located approximately 8km outside of Rovaniemi. You can reach it either by taking the Santa Express bus or by taxi. The bus will cost you €6.60 return from the city centre and a taxi will cost you approximately €20 each way. Check the Santa Express timetable for departure/arrival times and up-to-date ticket prices. If you have a hire car, there is free parking at SantaPark for guests.
There are three sets of toilets throughout SantaPark. One at the entrance beside the ticket office and two within the underground cavern.
There are cloakrooms at the entrance but no lockers, so you'll need to carry your bag with you. And be careful with jackets/suits left at the cloakroom. One of my nephews' snowsuits was taken (mistakenly or not) from the cloakroom and wasn't discovered until my sister-in-law and her family were about to leave. They had to get a suit from SantaPark as he had no alternative outdoor clothing and temperatures were below freezing, AND it was their first day in Lapland.
As a result, we put our son's snowsuit on a hanger and zipped it up. Then put our own jackets over it and zipped them up in an effort to deter anyone from taking them. Our jackets and suit were still there when we returned to get dressed to leave.
Guide dogs are the only animals allowed in SantaPark.
Smoking is prohibited in all indoor areas of SantaPark.
SantaPark has a first aid room. Should you need first aid assistance, contact one of the Elves.
Most of SantaPark is extremely accessible for both wheelchair users and buggies. Only the Angry Birds playground is not accessible, as it has stairs. There are a limited number of wheelchairs available at SantaPark with information about this available at the ticket booth. Buggies can also be borrowed with a daily deposit of €30.
Baby-changing facilities can be found in SantaPark in the toilets beside the ticket office and at the Arctic Circle crossing by the post office.
In Summary
Overall, we enjoyed our visit to SantaPark. We were expecting queues much longer than we experienced and seemed to time our visit to most activities well. Our son loved the Elf Show and my favourite part was the ride on Santa's Magic Train, as it was my husbands. It was a good way to end our visit to Lapland before returning to Helsinki.
Have you taken your kids to Lapland yet? If not, make sure to put Santa Park on your to-do list.
Cath
*Prices correct at the time of writing this post (June 2019).
We were given complimentary entry to Santa Park as part of our collaboration with Visit Rovaniemi during our visit to see Santa in Lapland.
If you'd like to know how to get to Lapland on a budget, read this post in which I detail how much our 10-day trip cost us and how much a similar might cost those going from the UK.
If you are looking for inspiration, why not read about the Lapland bucket list itinerary we put together for our visit to Lapland with kids, with the help of Visit Rovaneimi.
For help with packing the right clothes for a winter visit to Lapland with kids, I have a post detailing what you'll need.
And for more ideas and inspiration, check out the Visit Rovaniemi website where you'll find a wealth of information, ideas for excursions and more for a visit to the Official Hometown of Santa Claus.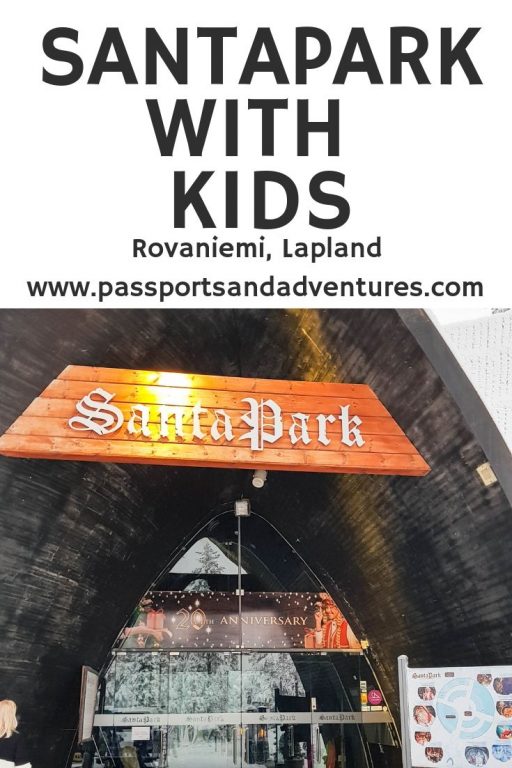 Related Posts