Welcome to another Local Family Guide Interviews, the series in which my fellow family travel bloggers share their local knowledge, and give us some hints and tips, to visiting their hometowns, cities they live in or regions they know like the back of their hands. After all, who better to tell us about somewhere than those who live there or who call it home. And I am very excited to welcome Ariana from World of Travels with Kids.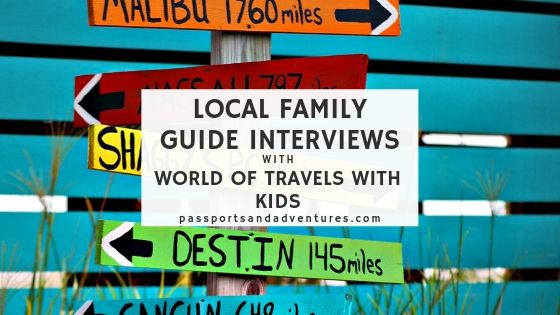 *This post may contain affiliate links. To learn more about affiliate links, please read my Disclosure Policy.
Please introduce yourself, your family and your blog.
We're a multicultural family that believes that adventures can be found around the corner or across the world; the kids are half Nicaraguan, half Australian, and our eldest was born in Peru where we lived over 10 years. We've been blogging at World of Travels with Kids for 3 years, sharing our expertise of our home countries and other frequent traveller's tips.
Where are you located/where do you call home?
I (Ariana, the Mumma of the family) have had itchy feet for the longest time, after backpacking for a couple of years through Russia (and the ex-Russian states), China, and South East Asia I turned to do a stint in South America. As fate would have it I put down my pack in Cusco, Peru, and remain strongly connected to this day, some 17 years later. I've spent much of that time working in a travel agency focused on offering off the beaten track and sustainable tourism, and also volunteering in a social enterprise in partnership with the people of the indigenous communities at Threads of Peru. I love the mountains, and the curious mix that is Cusco – a deeply indigenous place yet at the same time cosmopolitan and modern.
Tell us about your hometown/location?
Cusco was settled some three thousand years ago by Incan legends Mama Occlo and Manco Capac and Cusco became the home of the Quechua tribe. To the Quechuas it was the Bellybutton of the World and the heart of their empire that spread from Chile in the south to Colombia in the north. Reputed to have temples covered in gold, Cusco has always had a mythical feel, one that remains to this day. Now, the Spanish churches are built on the Incan foundations and the people an interesting mix of Spanish and indigenous people.
These days, as a World heritage site Cusco is worth a visit in its own right as well as being jumping off point for visits to the famous Machu Picchu and the lovely Sacred Valley of the Incas.
Share with us your top 5 cool things to do in your city/hometown/region for families.
People watch in the Plaza de Armas. My kids have always loved running around in the stunning and central Plaza, flanked on either side by imposing cathedrals.
Let some steam off in a Playground. While in the Western world there are plentiful numbers of playgrounds, they aren't so common in Latin America. Except in Cusco, where there are a few of them. Combine a visit to the Pachacutec statue with a visit to Urpicha Playground.
Explore the markets. Cusco has great markets, and it provides a chance to mingle with the local people. There are finger puppets and Andean dolls galore, not to mention some brightly coloured knitwear that your kids will look very cute in!
Cuddle a baby alpaca or lamb. All around Cusco's centre indigenous people make their living as photographic models. They bring to work each day their baby animals… so keep your eyes open for a baby alpaca or lamb, dressed up to be as cute as possible. Kids absolutely love hugging the alpacas; and just remember to compensate these local people accordingly!
Cusco is the jumping off point for the Sacred Valley and Machu Picchu. We say that a visit to Machu Picchu will be so much richer if you allow yourself extra time – and for our little ones the train ride to Machu Picchu is more popular than a visit to the ruins themselves!!! More info about visiting Machu Picchu can be found here.
If you are looking for hints where to stay in Cusco, our "Where to stay" post is written with years of insider knowledge and will be particularly helpful for anyone considering an independent stay (as in, a Airbnb).
Or if you are looking for hotels that I know well.
The Sacred Valley is also incredibly family friendly with alpacas to pet and much more for the active family.
It's raining in your city/hometown/region. What rainy day activities can you recommend for families?
It rains a lot in Cusco from November through March… the mountains turn a lovely emerald green, though the cobblestone streets become rushing torrents of water.
Visit one of Cusco's 50 churches or museums. I'm guessing that there MUST be about 50 churches and museums in Cusco, as there are a lot. There are a lot of amazing pre Colombian artefacts as well as conquest era art, and then a vibrant contemporary art scene. Not too much of that is suitable for small kids. However, we've enjoyed a visit to the Temple of Santo Domingo (the Coricancha) as there is space for kids to run, or a climb up the bell tower of the Church of La Compania with the little ones.
Learn about local dances at a Picanteria. There are fiestas on year round in Cusco, but if it's a rainy day we'd head to a local Picanteria for a typical Peruvian lunch and a demonstration of Peruvian dances. We like the restaurant La Cusquenita which has good food and a great show.
Choco Museo. While there are Choco Museos (Chocolate Museums) now literally spread across Latin America, Cusco was the home of the very first one. Join a kid friendly tour to learn about this special bean. Children love the hands on feel of the tour, as you grind your own beans, and finally pour your own chocolate.
Cooking class. With the rising popularity of Peruvian cuisine on the global foodie scene, there has been an equal rise in the numbers of cooking schools around Cusco. Our kiddos were too young at last visit, but that didn't stop Mumma cooking up a storm. You will need to ask at schools for their minimum ages.
Is there anything families need to know/should be wary of in your city/hometown/region?
The altitude is the major thing that affects visitors to the Cusco region. People either underestimate how the altitude will affect them, or don't allow enough contingency time in their itinerary. Families, especially with young kids, need to acclimatise properly. I can't emphasise this enough… If you don't you risk a hospitalisation in serious cases or in less serious cases a fairly unpleasant start to the holiday. For more info visit this post about acclimatising to altitude with kids.
What are your top 3 tips for families visiting your city/hometown/region?
Acclimatise properly. I just said that above and that's Ok, it can't be repeated enough. People seem to think it won't affect them. I say better to be safe than sorry!
Go slowly, we would recommend about 10-12 days for Cusco, the Sacred Valley and Machu Picchu. You would need even more time if you were going to do one of the famous treks like the Inca Trail. In fact, if you are unsure the Inca Trail is something you can do with your tweens then you should check out this post about trekking with kids in Peru.
Prams are not that practical in the Andes. With gorgeous narrow cobblestone streets in much of Cusco, prams don't work very well at all. We would recommend in taking a comfortable toddler backpack or carrier. I have usually used a baby carrier for getting around Cusco. My Deuter trekking pack for longer distances (see below picture) or an Ergo for more crowded areas.
What type of travelling do you and your family enjoy, and where has been the top family destination that you've visited?
We enjoy all types of travel; Mumma started out as a backpacker, and as an expat in Peru and Nicaragua we travelled like locals. After having kids we started looking for a bit of comfort and safety in our travel, this meant a better level of accommodation and often private transport. Now, we opt for mid-range with an occasional splurge at a luxury hotel.
It might be touristed, but I honestly believe that Bali is a great family travel destination for those folks who don't want to stay on the resort all day!
For fun: if money was no object, where would you take your family and why?
Tough one! I would say an extended stay in Europe. As Australians a European holiday is expensive and there is so much to do and see! There is so much history, amazing food, and more… I feel like Europe is a place we could spend a really long time.
Second choice would be an African safari, though I feel that this is far more achievable than a long term European holiday. And why? Who doesn't want to see wild animals in their natural habitat?
Thanks so much to Ariana for sharing everything she knows and loves about Cusco. We'd love to visit Peru at some stage in the future. Ariana blogs at World of Travels with Kids and she can also be found on Instagram, Facebook, Pinterest and Twitter.
If you are thinking of visiting Peru with your family, check out Booking.com for hotels and family-friendly accommodation. If you like home comforts like us, why not consider an AirBnB. Click this link to get money off your first booking. And remember to check Skyscanner for the latest flights, prices and availability to Peru.
To find out which destinations we've been to, or for tips on travelling with kids, head back to the homepage and have a look around.