Despite being from Ireland, there is so much of the country I've yet to explore with our son. And whenever we visit Ireland, I'm always looking for things to do in Ireland with him that we haven't done before. So, in my never-ending quest to find great family days out with the kids in Ireland, I decided to compile my own list. And so, in this post you'll discover the best things to do in Ireland with kids, some of which we've already done, and some of which are on our to-do list.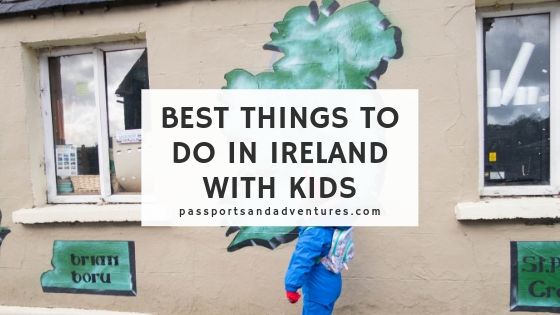 *This post contain affiliate links. To learn more about affiliate links, please read my Disclosure Policy.
When it comes to family holidays, Ireland is a great country to visit. Despite being a small enough country, and an island, there is an abundance of fun things to do in Ireland, whether you are visiting Ireland with kids or not. And as I mentioned already, there are so many places in Ireland I am yet to explore. I guess it comes down to the fact that when you are living in a country, you take it for granted that all those fun activities and things are on your doorstep. So, you kind of forget about them until it's too late.
Earlier this year I put together a post, an Ireland bucket list if you will, which included ideas for where to go in Ireland and some of the awesome activities in Ireland for travellers, be they solo travellers, couples, adults or families. You can read it here.
But it was a more generalised post and for this one I wanted to drill down and come up with a list which was suited more to families. A list that could become the reference point for those travelling to Ireland with children.
As well as giving you an idea about some of the best cities in Ireland for families, I hope to give you some family day out ideas and ideas of place to visit in Ireland with kids, so that if you are planning to visit the Emerald Island as a family, deciding where to visit in Ireland is an easier decision to make.
Best things to do in Ireland with kids
In the next few sections, you will learn about the best things to do with kids in Ireland. You will discover some of the best places to visit in Ireland with kids, gain ideas for what to do in Ireland during your family holiday and learn some of the things you must see in Ireland while there.
I have broken down the post into sections dedicated to the Ireland destinations and Ireland sightseeing attractions according to province. For the Dublin attractions, I will give you my top ten things to do in Dublin, Ireland as I have written an extensive post about visiting Dublin with kids, which you can read here.
This is by no means an exhaustive list. As we discover more of Ireland as a family, or learn of new, exciting things to do in Ireland with the family, I will update this post. So, do check back from time to time to see what's new.
Things to do in Leinster with kids
The province of Leinster is located in the Eastern half of the country and is comprised of the counties of Dublin, Carlow, Kildare, Kilkenny, Laois, Longford, Louth, Meath, Offaly, Westmeath, Wexford and Wicklow. With the capital being in this province, you won't be short of things to see in Ireland in this part of the country.
Top 10 things to do in Dublin with kids
In this section I'm giving you a quick run down of the top things to do in Dublin as a family. This is by no means an exhaustive list and you can find ideas for more fun things to do in Dublin in my Dublin with kids post.
1 Visit the Phoenix Park. This 707 hectares (or 1750 acres) walled city park is the third largest in Europe and is home to the American Ambassador to Ireland in Deerfield Residence, Aras an Uachtarain, the residence of the Irish President, the Papal Cross, the Magazine Fort, the People's Gardens and Dublin Zoo, one of the top things to do in Dublin with kids. With wide open spaces where you might spot some of the resident fallow deer, a visit to the Phoenix Park is a must when in one of the best cities to visit in Ireland. The Phoenix Park was one of my favourites in Dublin when I was younger, and I cannot wait to introduce my son to it.
2 Spend some time in Howth. This little village in the north of Dublin and is dominated by Howth Head, the peninsula of this district. Originally a small fishing village, this is now quite an affluent part of Dublin where you can enjoy the marina, enjoy some coastal walks, see two lighthouses or even visit the National Transport Museum, located near Howth Castle. The Castle was formerly a private residence but is undergoing development after being sold by the family.
3 Discover a working farm at the Airfield Estate. The Airfield Farm is a charitable organisation run by the Overend family and was established in 1974. Its purpose is to offer educational and recreational opportunities. Children can learn about farm life and get the chance to meet some of the two- and four-legged residents. There are daily activities on offer such as egg collecting and cow milking. We cannot wait to visit the Airfield Farm on our forthcoming trip.
4 Let kids be kids at Imaginosity. Imaginosity, the Dublin Children's Museum is by far my son's favourite place to visit in Dublin to date. It's brilliant for kids of all ages but, in particular, it is one of the best things to do in Ireland with toddlers. Split across three floors, Imaginosity, as the name suggests is a place where kids can let their imaginations and curiosity run wild. Said to be aimed at children under the ages of 9, there are so many areas to explore that you might find yourself "losing" a child in there. With train tracks, a doctors surgery, American diner, grocer, post office, baby and toddler areas, a huge climbing frame spanning all the floors, and even a full sized, real Audi A1 for little ones to learn to drive in, it's by far one of the most fun places in Dublin for kids. And we will be returning very soon.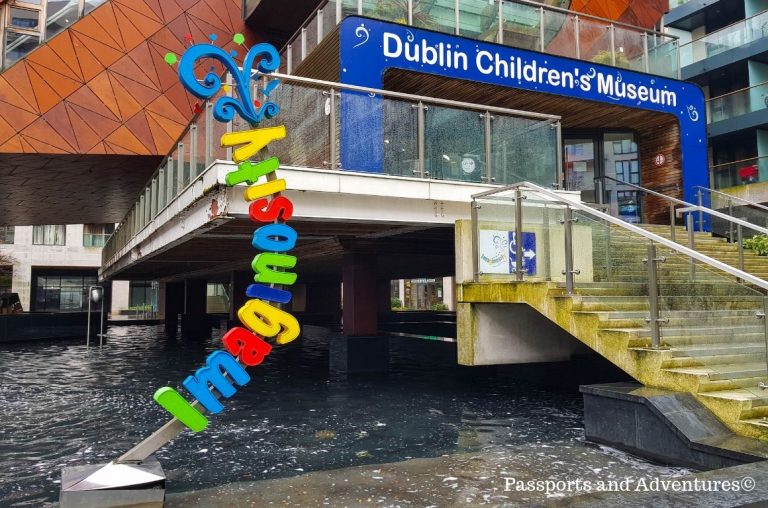 5 Discover Dublin's History at Dublinia. I first visited Dublinia not long after it opened on a school tour in 1990 (showing my age now). And I finally got the chance to revisit with my son during our time in Dublin over Easter in 2018. Dublinia is an interactive museum in which you can learn about the history of Dublin from the time of the Vikings, through the Middle Ages and into modern day. Kids can try on outfits from the eras, discover the potions and cures from the Middle Ages, see inside a Viking house and even dig for fossils in the History Hunters section. If you are visiting Dublin with older kids, you can also enjoy 360 degree panoramic views from the top of St Michael's Tower, which in included in your ticket. You could also combine your visit with Christ Church Cathedral, located right across the street. I highly recommend a trip to Dublinia when in Dublin, with or without the kids.
6 Spot the celebrity houses in Dalkey. Dalkey is another affluent part of Dublin and has been dubbed the "Beverly Hills" of Dublin due to the fact that many celebrities choose to live in this part of the city. Current and former residents include musicians Bono and The Edge from U2, film directors Jim Sheridan and Neil Jordan and racing drivers Damon Hill and Eddie Jordan. Aside from celebrity spotting, Dalkey Castle and Heritage Centre is a great place to visit. It has models, exhibitions and displays on Dalkey's history and walking tours are available. Dalkey Island is a great place for a picnic with the kids and there is transport available in the form of a ferry sailed by local man Ken the Ferryman.
7 Visit the "Dead Zoo", the Natural History Museum. Located on Merrion Square, and locally known as the Dead Zoo, the Natural History Museum is one of the best things to do in Dublin. One floor is dedicated to animals of the Emerald Isle, while another is dedicated to animals of the globe. There are two gallery floors, but these are currently closed (at the time of writing this post) due to a roof collapse in previous years. The museum is free to visit too.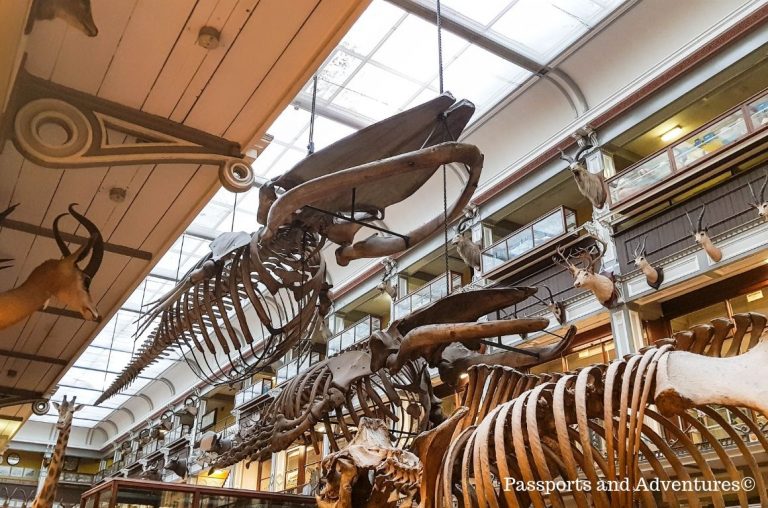 8 Explore Malahide Castle. I have only visited Malahide Castle once and it was a very long time ago, so I am eager to return and enjoy it with my son. Especially as we are big fans of visiting castles and have already enjoyed some of the best Irish castles for kids. It is one of the top attractions in Dublin. Malahide Castle lies outside the city centre and has 800 years of heritage with parts of the castle dating back to the 1200's. As well as the castle, in which you can take a tour, there are beautiful gardens to enjoy, a butterfly house and a fairy trail which kids will love. It's a must-do when in Dublin.
9 Wander through St Stephen's Green. Located on the south side of the city centre, St Stephens Green is a Victorian public park with over 3.5km of pathways, completely accessible to all visitors. There is a lake with ducks and wildlife to enjoy, landscaped gardens and lawns, a waterfall, sculptures and a children's playground. During summertime there are often musical performances in the bandstand. It's a beautiful park in the centre of the city and if you're wondering what to do in Dublin, then why not add a visit to St Stephen's Green to your itinerary. And don't forget to take a picnic if the weather is nice.
10 Get locked up at Kilmainham Gaol. If you are looking for a place to learn even more about Ireland's history and its fight for independence, there is not better place to visit than Kilmainham Gaol. This former prison is now a museum and was the place where many Irish revolutionaries were imprisoned and also executed by the British, including the leaders of the 1916 Easter Rising. Kilmainham Gaol is one of Europe's biggest unoccupied prisons, instead filled with history. As well as tours of the prison, you can also visit the museum dedicated to artefacts from the 1916 Rising and the museum on the history of Irish nationalism. Admission is via timed guided tours only, and there are dedicated children's tours for children aged between 6 and 12 years of age. I visited Kilmainham Gaol when I was 12 and am itching to return to learn more about the history of the country I call home.
There are lots more things in Dublin to do with kids, including sightseeing. Dublin has a wealth of attractions and activities for families with kids of all ages. There are also plenty of things to do should the weather become typically Irish. You won't be short of ideas for kids' activities. Dublin is one of the best cities in Europe to visit with kids. Heck, I'd even go so far as to say one of the best cities in the world. So, make sure to plan to visit the capital for a few days during your family trip to Ireland.
Best things to do outside Dublin with kids in Leinster
While Dublin is wash with things to do with kids, the neighbouring counties have some amazing places to visit near Dublin with kids. Further afield you will find popular Ireland tourist attractions that are not to be missed during a visit to Ireland. Let's concentrate on the neighbouring counties of Wicklow, Kildare and Meath before travelling outwards.
County Wicklow
Powerscourt Estate, House and Gardens – This large country estate located in Enniskerry has a house and an extensive garden to explore. The Powerscourt Gardens have been voted 3rd in the top ten gardens by National Geographic and offer a blend of formal gardens, terraces, lakes and more across 47 acres. Entry is payable and there are audio guide tours of the estate available. There is parking, a cafe, Avoca shop and toilets on site.
Powerscourt Waterfall – Powerscourt Waterfall is somewhere that eluded me while living in Ireland but somewhere I visited for the first time with our son. Ireland's highest waterfall at 121m (398ft), it is located 6km from the main estate and is set in lovely woodlands. There is a small cafe, on-site parking, toilets and a children's playground beside the car park. There are also various trails for walking leading away from the waterfall to enjoy.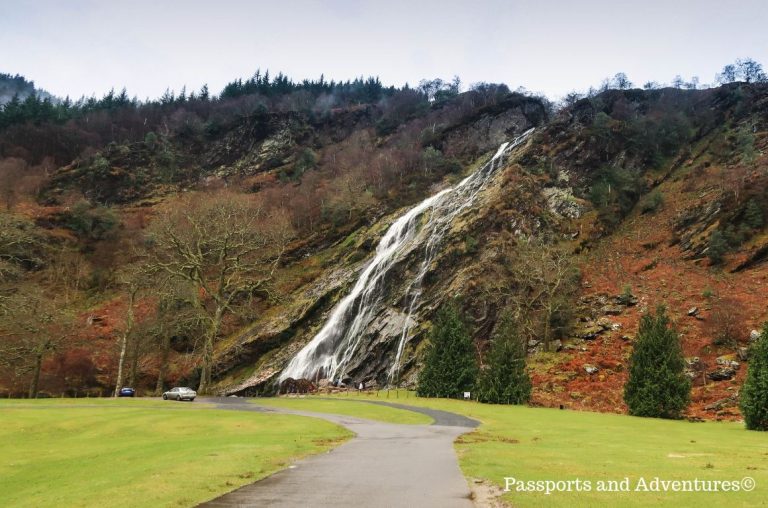 Glendalough – Somewhere that I always wanted to visit but never seemed to get the chance was the beautiful Glendalough. An early Medieval monastic settlement set in a glacier valley, Glendalough is an area of both history and natural beauty. Explore the monuments and ruins, wander around the lakes or hike into the hills for a better view across the valley. There is a Visitor Centre with toilets, you can book guided tours of the site and limited parking is payable.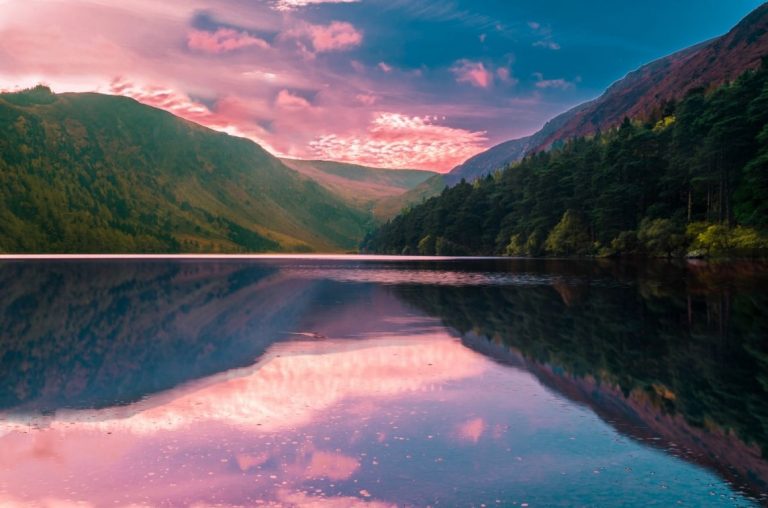 Brittas Bay – This 4km stretch of beach on the Irish Sea was the scene of many family camping holidays when I was younger. An EU Blue Flag beach, it is perfect for letting kids be kids during a warm summers' day or for long strolls along the shore. It is said that Brittas Bay was the landing site for St Patrick.
Sea Life, Bray – The National Sea Life Centre is located on the Seafront in Bray, making it an ideal place to combine with the other attractions in Bray for a family day out. With over 30 displays containing more than 1000 creatures, it is also the perfect place to spend a rainy day in Ireland with the kids as it is all indoors. Just 2 minutes' walk from the DART, you can even visit without a car. This is a payable attraction
National Botanic Gardens – Located in Kilmacurragh, near Wicklow town, entry to the National Botanic Gardens is free, parking is ample, there are toilets and a cafe on site and is only an hour from Dublin. Guided tours are available during summer. This is the sister site to the National Botanic Gardens in Glasnevin in Dublin.
County Kildare
Irish National Stud and Japanese Gardens – If you are looking for things to do in Kildare for kids, then a visit to the Irish National Stud and Gardens is worth considering, located in Tully. The Irish National Stud was established in 1946 and has bred countless race winners and guided tours of the stud are available from the visitor's centre. As well as the stud, you'll also find the iconic Japanese Gardens, somewhere I visited once in my childhood and long to return. You'll also find St Fiachra's Gardens where there is a play area for kids, a fairy trail, small coffee shop and toilet and baby changing facilities. This place is on our next Ireland trip itinerary.
Kilkea Castle – Once the home to the powerful Fitzgeralds, Earls of Kildare, this medieval castle is located just a few miles from Castledermot and Athy. Originating from the late 1100's, Kilkea Castle is now a luxury hotel and golf course after being redeveloped following closure during the economic crisis. Members of the public are free to enter the castle grounds and dine in the restaurants, although be prepared for the castle to be closed if it is exclusively booked.
Clonfert Pet Farm – Located near Maynooth, Clonfert Pet Farm, as well as having the usual farm animals, some of which you can get up-close-and-personal with, they have 2 outdoor play areas, an indoor play area, mini golf, go karts, picnic spots and more to keep the kids entertained. Entry is payable at a very reasonable price, go karts cost extra and they also have a cafe for refreshments.
Kildare Maze – Located near Nass, the Kildare Maze is a great family day out near Dublin. This family attraction in Kildare is home to the largest hedge maze in Leinster, a wooden maze, crazy golf, and adventure trail and zip line and is somewhere the kids will love. There is a large car park beside the reception building which is free. There are picnic benches if you want to bring your own food. However, if you don't bring a picnic or the weather is looking debatable, there is a cafe onsite, serving among other things pizzas (my son will be happy). There are also toilets on site which are wheelchair accessible. This, too, is on our Ireland itinerary for our forthcoming holiday.
County Meath
Tayto Park – 55 acres of farmland have been transformed into a fun filled family theme park centred around those famous crisps, and my personal favourites, Tayto. Tayto Park is a new addition since I was last living in Dublin and, I am reliably informed this is a brilliant family fun day out. With rollercoasters, playgrounds, adventure zone, pet corner and more, this is an action-packed full day out for families. The is parking for 800 cars, several dining options and toilet and baby changing facilities. And you can visit the Tayto factory. That's me sold! Entry and rides are payable.
Trim Castle – Located in the town of its namesake, Trim Castle is a Norman castle dating from the 12th century and sits on the banks of the River Boyne. It is the largest Norman castle in Ireland. Admissions is payable, with access to the Keep by way of guided tours only for safety reasons. The tour is included in the full ticket. There is a car park close to the castle which is payable and has a 2-hour limit, and toilets are located on-site.
Newgrange and Bru na Boinne – Bru na Boinne, or the Boyne Valley of Tombs, is a UNESCO World Heritage Site located at Donore. It is one of the world's most important prehistoric landscapes and is home to the famous Newgrange passage grave. Access to Newgrange and Knock are by guided tour only, from the visitor's centre which is currently undergoing refurbishment. This is probably an Irish attraction suitable for older kids given it takes 3 hours to tour the entire site.
Rathbeggan Lakes – Located in Dunshaughlin, this heritage and adventure park has lots of things to keep kids entertained such as a maze, trampolines, bouncy castles, lake activities and a pet farm. Admissions to Rathbeggan Lakes is payable at a very reasonable price, parking is free, there is a coffee area in reception where you can also buy snacks and hot food during the summer and there are toilets.
Funtasia – Located in Bettystown, just 20 minutes north of Dublin, this large waterpark and amusement has the potential to provide a full day's entertainment. As well as the waterpark with its slides and other water gushing activities, Funtasia has a fairground with amusements and rides, bowling, a jungle play area and more. Entry, amusements and rides are payable. There is a restaurant, toilets and parking available. Note, there is also a sister Funtasia located in Drogheda, County Louth.
County Carlow
Altamont Gardens – Located in Tullow, Altamont Gardens are known as the most romantic in Ireland. The 100-acre estate has many formal and informal gardens to explore with kids. Enjoy a walk around the lake, another along the River Slaney and discover nooks and crannies in the Arboretum, Bog Garden and Ice Age Glen. There are guided tours available, a seasonal cafe, entry is free, but parking is payable and there are toilets on site.
Delta Sensory Gardens – Voted the number one thing to do in Carlow, these gardens are located in Strawhall Estate. An Oasis of Peace and Tranquility, these 16 interconnecting gardens on the 2.5 acres site are completely wheelchair accessible and so are popular with families of all age ranges. Along with the various gardens at Delta Sensory Gardens, there are also walks to enjoy, water features and sculptures. Entry is payable, there is a car park and cafe where you'll find toilets.
County Wexford
Kilmore Quay – Located in the village of Kilmore, a quaint little fishing village in County Wexford, it is an enjoyable place to visit with kids. Kilmore Quay is a location where the Irish Sea meets the Atlantic Ocean and there are several other attractions close by for a fun family day out.
Courtown Beach – Another scene of summer holidays for my family, Courtown is a popular seaside town. As well as miles of sandy beaches, you will also find other things to do in Courtown with kids including visiting the Adventure and Leisure Centre.
Hook Lighthouse – One of the world's oldest lighthouses and second oldest operating lighthouses in the world, Hook Lighthouse is located on the Hook Head Peninsula. You can climb to the top of the Lighthouse tower where you can enjoy amazing views on a clear day. There is a visitor centre and cafe as well as parking. This is an Irish tourist attraction that the boy and I will be visiting during our two weeks in Ireland this year.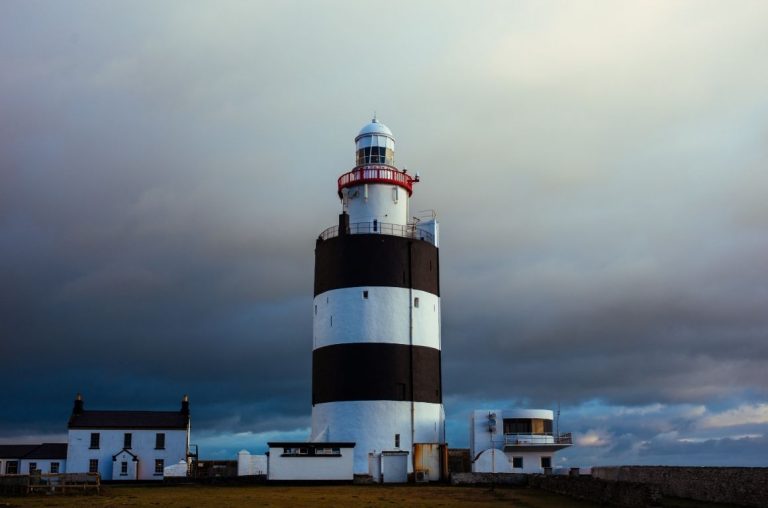 John F Kennedy Memorial Park and Arboretum – Located near New Ross, this park dedicated to JFK stretches across 623 acres and not only has an arboretum with over 5500 species of trees, flowers and shrubs, there is also woodland walks, a playground, tree houses and a beautiful lake. There are other seasonal events and activities and there is a cafe, toilets and picnic areas. The boy and I will be paying it a visit on our way down to County Waterford.
County Offaly
Birr Castle, Gardens and Science Centre – Home to the 7th Earl of Rosse, the residential areas of the castle are not generally open to the public, but the gardens and grounds are accessible all year round. Birr Castle dates back to medieval times. During summer, there are limited availability for guided tours inside the castle, but these are for children aged over 12 only. The grounds have extensive areas to visit, including formal gardens, terrace and waterfalls. There is a play area with a huge treehouse that kids will love. There is off-site parking across the road from the castle in a pay-and-display public car park. On-site there is a cafe for refreshments, toilets, a gift shops and of course, the interactive science centre. This has made our Ireland itinerary.
Lough Boora Discovery Park – This family-friendly environment with a host of free activities is a great place to visit with kids. There are also picnic areas, fairy trails, play areas and sculpture park at Lough Boora Park. There is payable parking on-site, toilets and a cafe. Explore the lake and wetlands with kids or enjoy a walk or cycle along some of the trails. It's a great place to get close to nature.
County Kilkenny
Kilkenny Castle – Built in the 1100's, this Norman castle is one of the most popular attractions in Kilkenny. Hundreds of thousands of visitors flock every year to visit this stunning grand country house and enjoy its 50 acres of rolling parkland. Other things to enjoy at Kilkenny Castle with the kids are the rose gardens, lake, playground and tearooms. There's even the opportunity to enjoy some orienteering trails. Entry is payable, there are tearooms as mentioned for refreshments where you will also find toilets and there is parking nearby, but not on site. This is on our hit-list for our next trip to Ireland.
Castlecomer Discovery Park – This 80-acre fun park features plenty of activities to keep kids happy. There's a zip line, scavenger hunts, an Elf Village, Coal Mining exhibition, woodlands, play areas, picnic tables and much more. There is parking on site which is free for the first hour and then payable after that. There is also a cafe for refreshments. Entry is payable depending on the activity you wish to do while there, but the woodland itself is free to visit. You will find toilets and baby changing facilities in the visitor's centre.
Things to do in Connaught with kids
The province of Connaught is located in the western half of the country and comprises the counties of Galway, Leitrim, Mayo, Roscommon and Sligo. Some of the best places in Ireland, and most rugged, can be found in the West of Ireland. One of the best cities to visit in Ireland, in my opinion is Galway City, and you won't be short of ideas for things to do in Galway for kids.
County Galway
Kylemore Abbey – If you are wondering what to see in Ireland, particularly the west of the country, then a visit to Kylemore Abbey is something you should consider. It is a Benedictine monastery founded in the early 1920's in the grounds of Kylemore Castle. There are restored rooms to explore within the Abbey, beautiful walled Victorian gardens and woodland and lakeside walks to enjoy. Kids will enjoy making a wish at the Giants Ironing stones. Located just an hour from Galway City, this is one of the best places to see in Ireland. Entry is payable, there is a restaurant and tearooms, a gift shop and toilets.
Atlantaquaria – Located in Galway City, this aquarium features native Irish sealife, feeding sessions and touch tanks. If your kids love fish this is one of the great fun days out in Ireland for kids. If time permits, we'll be heading there to see if we can find Nemo and Dory. The aquarium is split across two floors, there are interactive activities and also children's workshops on offer.
Salthill – Salthill is the seaside area of Galway and has a great beach with a combination of rocky pools and sandy stretches. Just off the Promenade you'll find Leisureland, which has 3 swimming pools and an outdoor fairground. We spent one summer holiday in Salthill when I was a teenager and we loved it. It's a lovely area and has lots on offer for some fun days out for kids in the west.
Dunguaire Castle – This castle, located on the southeastern shore of Galway Bay, is a 16th century tower house and is one of the Ireland sights we will definitely be visiting during our Ireland trip. Dunguaire Castle's 75-foot (23m) tower and defensive walls have been restored and it is open to tourists during the summer months. If your kids enjoy castles as much as our son, then this is a great place to take the kids. If they are older than our son, you could enjoy a Medieval Banquet in the castle too.
Kilmacduagh Monastery – Located near the town of Gort in County Galway, this monastery is a ruined abbey dating back to the 7th century. While there are ruins of "Seven Churches" it is not these that draws people to this site. Its round tower, a fine example of one in Ireland, is complete and intact but also has a lean of over 2 feet or half a metre from vertical. It has been dubbed the Leaning Tower of Galway and is one of the best things to do in the west of Ireland with kids, as the site is enclosed so kids are safe to wander and explore. This is a place that might make our Ireland itinerary for our next holiday. The site is free to the public, is mostly paved and the buildings can be explored by getting a key from the house across the road. There is also parking there.
County Mayo
Achill Island and Keem Bay – Achill Island in the west of Ireland, is located in County Mayo and is one of the best places to go in Ireland with kids. This is the location in Ireland where my husband's family holidayed when he was a boy and he introduced me to this beautiful part of Ireland during our honeymoon. Achill Island is Ireland's biggest isle and is attached to mainland via the Michael Davitt Bridge. It is a beautiful island, popular during the summer with holiday makers and is a great place to visit with kids. Most notably, Keem Bay should not be missed during a visit to Achill. The most westerly point of Achill, this small bay has a beautiful sandy beach nestled among the hills and is somewhere the kids will enjoy. And, if you are lucky, you might even spot a basking shark in the waters from the viewpoints above the bay.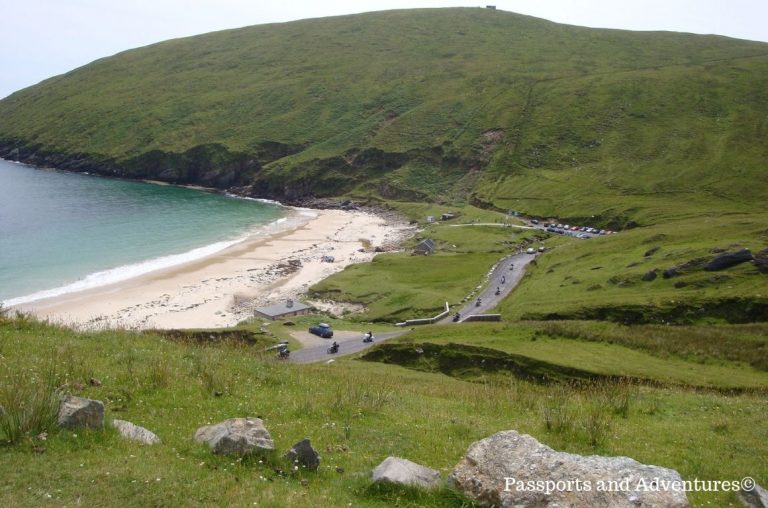 Clare Lake – Located in Claremorris, this lake is part of McMahon Park and is a great place to take the kids in Mayo. It is a 9-acre park with trails, the lake itself, woodlands areas and plenty of places for the kids to run off steam and play hide-and-seek. There is a specific trail for kids called the Land of Giants, where kids will find a giant's chair, door and guitar. A walk around the lake is enjoyable and you can read all about it here.
County Roscommon
Strokestown Park, House and Gardens – Featuring a Georgian Palladian Mansion with its original furnishings and fabrics, the National Famine Museum & Archive and Historic Gardens & Woodlands, Strokestown Park is a great place in Roscommon to visit with kids. There are often seasonal events taking place in the park including craft, garden, family events and even concerts. There are woodlands and gardens to explore, a cafe for refreshments and tours of the house are available. This is a payable attraction and there is ample parking.
National Famine Museum – Located within Stokestown Park, the National Famine Museum is the home to the records from the time of the Great Irish Famine which occurred between 1845 and 1850. The Museum also tells the story of the famine and includes both documents and artefacts from the era. For those interested in history, it's an interesting place to visit. Admission to the museum is included in the general public ticket to Stokestown Park.
County Leitrim
Cavan and Leitrim Railway – This railway was a narrow gauge 3ft railway which ran in the counties of Cavan and Leitrim from 1887 to 1959. It was established in 1883 and the railway, station house and other buildings have been restored. Some of the locomotives and carriages have also been restored and are on display. The museum also houses airplanes, vintage buses and artillery along side the railway. The Cavan and Leitrim Railway is a payable attraction and will delight any young train fans.
County Sligo
Gillighan's World, The Field of Dreams – Located near Tubbercurry, this enchanted fairy gardens and spiritual sanctuary will allow kids of all ages to be transported to a magical world. Even adults can discover their "Inner Child". There is a discovery trail through botanical gardens, a map and mystery quiz, a treasure hunt if you will, which kids will love, a water cave, pet haven and more. This magical faeirie land has Rainbow Tea Rooms if you want a cuppa or snack, parking is free, and dogs are welcome on leashes. NOTE: currently closed.
Things to do in Munster with kids
The province of Munster comprises of the counties Clare, Cork, Kerry, Limerick, Tipperary and Waterford. It is an area of Ireland steeped in history with results in it having some of the top 10 places to visit in Ireland with or without kids. There is a huge range of family-friendly days out in Ireland to be found in this part of the country.
County Tipperary
Rock of Cashel – One of the top 10 things to do in Ireland involves a trip to the small town of Cashel in County Tipperary. It is here you will find the Rock of Cashel, one of the top places to visit in Ireland. This historic abbey was once the seat of the Kings of Munster and the oldest buildings date back to the 11th century. It is one of the top attractions in Ireland and is a family-friendly site. Kids will enjoy exploring the inside of the abbey and the graveyard outside. This is a payable attraction and under 5's are free. There is no cafe, gift shop or toilets on-site. There is a payable public car park at the bottom of the hill where you will find payable public toilets. Aim to get there early to beat the tour buses if visiting with young kids.
Read all about our visit to the Rock of Cashel with kids here.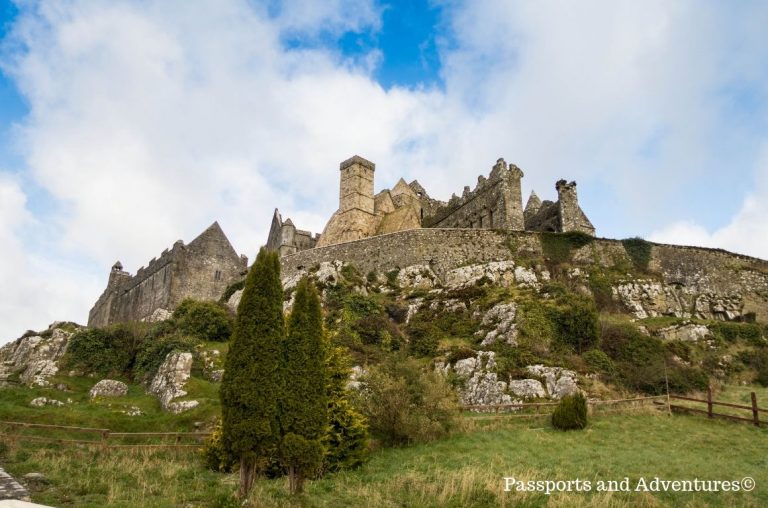 Cahir Castle – Located on the banks of the River Suir, Cahir Castle is a medieval castle dating from the 13th century, and is one of Ireland's largest and best preserved castles and is one of the best castles in Ireland to visit with kids. It is a great castle to visit with kids, with lots of nooks and crannies to explore, towers to climb, an interactive model of the castle that you might have to drag the kids away from and more. It's a must do in Ireland, especially with kids.
Read all about our visit to Cahir Castle with kids here.
Swiss Cottage – Another one of the top tourist attractions in Ireland is located just a few minutes from Cahir Castle, the Swiss Cottage. This beautiful ornamental cottage was built in 1810 and was part of the estate of Lord and Lady Cahir and was used for entertaining guests. Today it is a historic house museum and is an interesting place to bring the kids. It is a payable attraction at a reasonable price, there is parking on-site, guided tours are available and there are also toilet facilities. With both the Swiss Cottage and Cahir Castle near one another, it makes Cahir one of the best towns to visit in Ireland.
Ballina Outdoor Lido – A heated outdoor swimming pool located in the town of Ballina, the lido is the perfect place for some family fun days out in Tipperary, especially when the sun is shining. There is a charge for using the pool and there are changing facilities and toilets. Just beyond the pool you will find picnic tables and a playground.
County Cork
Fota Wildlife Park – Located on the island of Fota just outside Cork city, Fota Wildlife Park is one of the best things to do in Cork with kids. Within the wildlife park you can see animals such as European bison, tigers, red panda, giraffe and much more. It is a full day out with kids as it took us over 3 hours to do just one loop, and we even missed a few things. There is a land train for a tour of the zoo, plenty of places for snacks and drinks, a huge playground about halfway around which the kids will enjoy and plenty of toilet facilities. If you are looking for a great family day out in Ireland with kids and are in Cork, then I highly recommend a visit to Fota Wildlife Park.
Read all about our visit to Fota Wildlife Park here.
Blackrock Castle – While this may look like castle from the outside, having been built as one in the late 1500's, this is no ordinary castle. Blackrock Castle is now an observatory and museum with interactive exhibits the kids will enjoy. There are tours of the castle which bring you to the top of the tower and below to the armoury. This is a payable attraction which has toilets and a cafe attached to it. There is no no-site parking but there is a public car park a short walk from the castle.
Cobh – Famous as the last port of call for the Titanic, Cobh is a lovely port town full of charm. And you'll also find plenty of things to do with kids including boat tours from the harbour, a heritage centre, Spike Island, a museum and of course, the Titanic Experience. Here you can re-enact the boarding of the final 123 passengers onto the ill-fated ship and learn more about one of the most famous ships of all time. You could also combine your trip with Fota Wildlife Park as they are only 10 minutes from each other.
West Cork Model Railway Village – One of the best things to do west Cork for children is a visit to the model railway village. Located in Clonakilty, this model village allows you to step back in time and explore the towns that grew up along the railway in west Cork in the 1940's. Young train fans will love this delightful attraction. Entry is reasonably priced and you'll also find a cafe, shop, indoor and outdoor play areas, free parking, picnic tables and toilet facilities.
Blarney Castle – One of the most popular historical Irish sites is Blarney Castle. Many people flock to kiss the famous Blarney Stone and hope to be bestowed with the gift of the gab. Located not far from Cork City, aside from the castle and stone, Blarney Castle has some amazing grounds to explore with kids. There are numerous gardens, just be careful in the poison garden. There are two waterfalls, a playground, Blarney House and the barns with vintage cars. It's a great place to visit with kids and we enjoyed a teddy bear hunt (not an event, we did it ourselves) during a visit to Blarney Castle one Easter Sunday. Read about our visit to Blarney Castle with kids here. It is a payable attraction with a gift shop, toilets, cafe and toilet and baby changing facilities. Our top tip: get there for opening to beat the crowds and head straight for the top of the castle to kiss the Blarney Stone. That way you get the most popular part of the castle out of the way and can enjoy exploring the grounds afterwards. Just be aware that children under 8 years of age are not permitted to kiss the stone.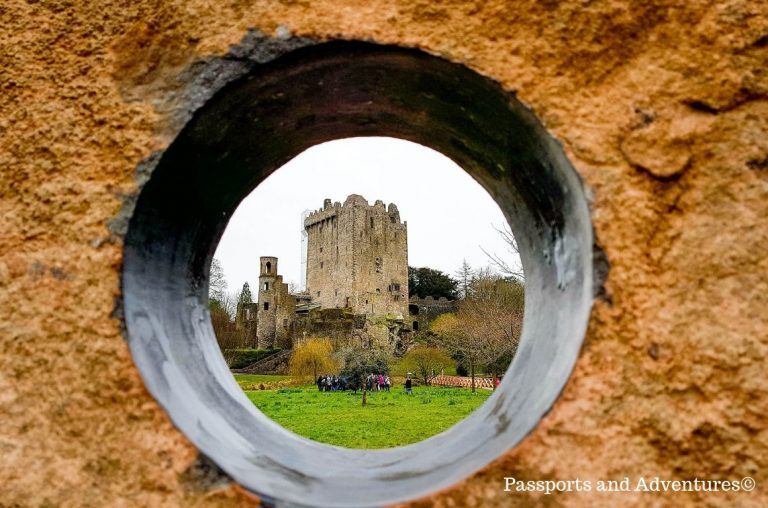 County Waterford
Waterford Castle – One of the best castles to stay in Ireland is Waterford Castle. It is a historic house once owned by the powerful Fitzgerald family and was developed into a hotel and resort in the 1980's. And it is where my son and I are staying for a few days during our forthcoming trip to Ireland. There are extensive lawns and gardens to explore, a playground and fairy trail. The hotel has family lodges as well as rooms within the castle. To access the castle, you have to get a small ferry. I'll report back once we've completed our stay.
Waterford and Suir Valley Railway – Young train fans will love the Waterford and Suir Valley Railway. This family-friendly railway runs along the scenic banks of the River Suir, with plenty of things to spot along the way. The station from which the two vintage carriages depart is located in Kilmeaden. There are light refreshments available to buy from the station, picnic benches both indoors and outdoors and a large car park. We will be visiting this lovely little attraction during our time in Ireland.
Waterford Viking Triangle – This area of Waterford City is so called because of the 1000-year-old Viking walls which once surrounded it and it is a cultural and heritage part of the city. The most famous building to visit is Reginald's Tower, containing the Viking Museum. The Waterford Viking Triangle also contains the Medieval Museum and the Bishop's Palace Museum. The famous Waterford Crystal factory and showrooms are also nearby and there is a replica Viking ship standing beside Reginald's Tower. Kids will enjoy the various exhibitions and displays and the chance to imagine what life must have been like on the longship at sea when the Vikings were on their way to Ireland. It is one of the top things to see in Ireland if you are visiting Waterford City.
County Clare
Bunratty Castle and Folk Park – One of the top 10 things to see in Ireland is Bunratty Castle and Folk Park. Located just 20 minutes from Limerick City within the County of Clare, this is a large 15th century tower house which is spectacular. And if the castle isn't enough to get the kids interested, the attached Folk Park should do it. With houses and buildings depicting 19th century village life in Ireland. The colourful houses with their thatched roofs and peat fires will pique their interest. There are also farm animals, a fairy trail, tea rooms and a playground. We thoroughly enjoyed our visit to Bunratty Castle on a previous visit to Ireland and highly recommend it to families. Read about our visit here. It's one of those must-see places in Ireland.

The Cliffs of Moher – One of the most iconic of Irish landscapes has to be the Cliffs of Moher. Standing majestically towering over the Atlantic Ocean, these cliffs run for 14km along the southwestern edge of the Burren and are at their heights stand 214 metres (702ft) above the water. They are the most popular tourist attraction in Ireland and it easy to see why. There is a visitor centre with all the facilities you need for a great day out. Inside there are exhibitions that bring the cliffs to life. There is a large car park, the cost of which is included in your entrance fee. Since this is one of the best things to see in Ireland, it is advisable to visit either first thing in the morning or later in the day, avoiding many of the tour buses. Kids will enjoy climbing O'Brien's Tower, walks along the pathways and the exhibitions. I visited with my hubby pre-kids and am delighted to be returning this year with our son.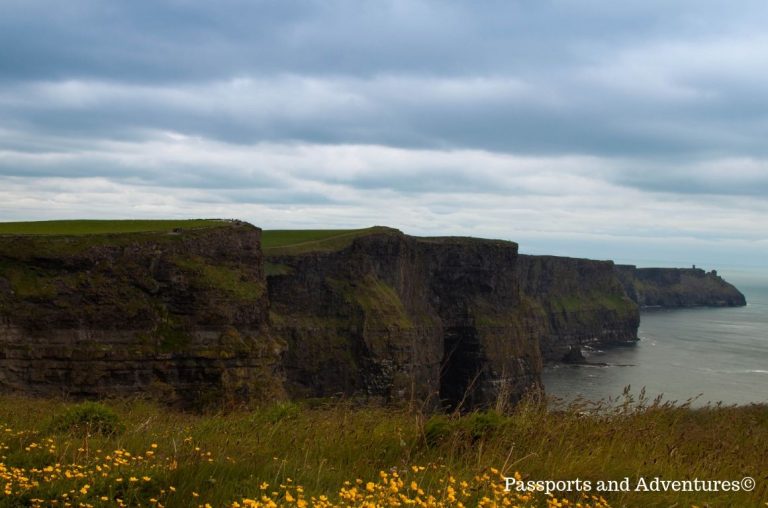 The Burren National Park – Located in the northwest of the county, the Burren National Park is an area of outstanding beauty. It is the smallest of the six National Parks in Ireland. There are nature trails to enjoy while watching out for different flora and fauna. There are Iron Age and Medieval ruins to explore. It is open all year round, is free to enter and parking is limited to laybys, so it is advisable to take the free bus shuttle from Corofin.
Father Ted's House – If your kids are teenagers and have ever watched the TV show, Father Ted, they may be interested in seeing the house that was used for external shots. Craggy Island is a fictious island, but scenes of the house were actually shot in County Clare. And the farmhouse is still there and is a private residence. You are welcome to take photographs from the gate but if you want to see inside, you may be able to book afternoon tea with the owners.
County Limerick
King John's Castle – One of Ireland's best-preserved Norman castles, dating back to the 13th century, King John's Castle in Limerick city is one of the great places to go with kids in Ireland. Sitting on the banks of the River Shannon, this castle will capture kids' imaginations. Upon entering the castle, you pass through an interactive exhibition before seeing some excavation works. After this, you enter the castle grounds where you can climb towers to take in the views of the city and river, interact with the people who lived in the castle through holographic displays, and when you're finished, shoot each other will the cannons outside. This is a payable attraction, and there is free parking for visitors in a dedicated car park, just a few minutes' walk from the castle entrance. There is a gift shop, small coffee shop and toilets on-site. My son and I thoroughly enjoyed our visit to this great castle in Ireland for kids.

Adare Desmond Castle – This 13th century ruined castle and ring fort is only open seasonally. Located near the town of Adare, it is just 20-minutes' drive from Limerick City. Access to the castle is available via guided tours from June to September and via a provided shuttle bus from the heritage centre. I had been hoping to visit this castle with my son during our Irish road trip in March 2018 but we were outside of the visiting season.
Lough Gur – This horseshoe lake at the base of Knockadoon Hill in County Limerick is one of Ireland's most important archaeological sites, largely thanks to the Grange Stone Circle found near the lake. It is Ireland's largest stone circles. Kids' imaginations can run wild at this entrance to fairy land. There are castle ruins, the circle itself and lots of areas for walking and exploring with kids. And if that's not enough, Ireland's only Donkey Sanctuary is located nearby, which is free to visit. There is a heritage centre (which is payable) at Lough Gur where you'll find a museum, coffee dock, retail shop and dressing-up corner for the kids. Toilets are located at the main entrance to Lough Gur.
County Kerry
Ring of Kerry – When it comes to Ireland places to visit, you will find none more enchanting than the Ring of Kerry. This 179km circular route, in what can easily vie for the title of most beautiful places in Ireland to visit, was a place my husband and I visited during our motorbike honeymoon in Ireland. Best explored by car, you should make sure to visit the Gap of Dunloe, and maybe take a horse and cart trip through it (you can't drive a car through it), and also Lady's View for stunning views across Killarney National Park. There are lots of beaches and lakes for kids to enjoy. You'll also find the Torc Waterfall and Muckross House, Gardens and Farm off the Ring of Kerry.
Dingle – A small fishing port on the Dingle Peninsula, this is a great coastal town to visit in County Kerry. Watch the fishing boats coming in, or fishermen fixing their nets. You could also enjoy a boat tour from Dingle and try and spot Fungie, the bottlenose dolphin that has been a local resident for over 30 years. Or if your kids don't fancy a boat ride, why not visit the Dingle Oceanworld Aquarium. With sharks, touch and feel tanks, reptile encounters and a new butterfly oasis, it's a great place to visit with kids.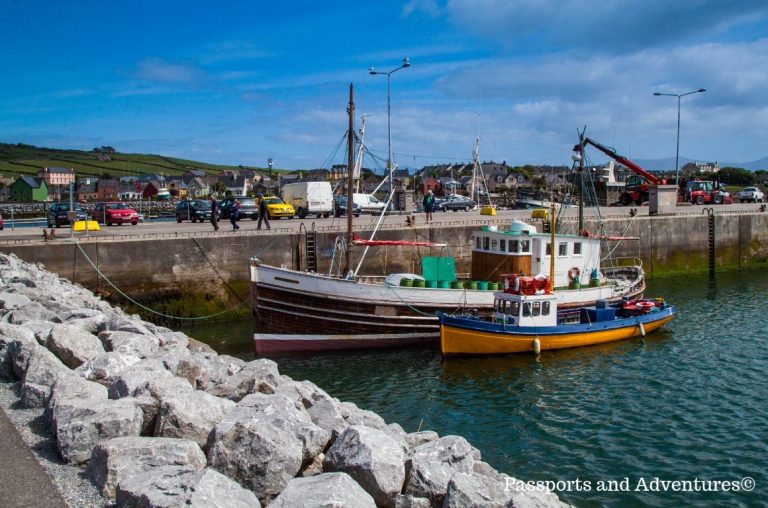 Ballybunion – My family spent a week in the seaside town of Ballybunion and the one memory that sticks out most for me is the long stretches of beaches we enjoyed. This town lies on the Wild Atlantic Way 15km from Listowel. Dads can enjoy golf in two of Ireland's best golf courses while Mum enjoys one of the two Blue Flag beaches with the kids (or the other way around of course, Mums can play golf too). There's also a playground just five minutes from the beach, and there are amusements, arcades and plenty of restaurants too.
Ross Castle – This 15th century tower house and keep lies on the edge of Lough Leane in the Killarney National Park. Only open during the summer, it's a great place to explore with the kids. Inside the castle, furnishings from the 16th and 17th century adore the rooms. This is a payable attraction with toilets at the car park. Guided tours are available.
Killarney Falconry – Get up-close-and-personal with some magnificent birds of prey at Killarney Falconry, located just five minutes' drive from Killarney town. Take a walk around the Killarney lakelands with a team of hawks and experience them landing on your gloved fist. This is a once-in-a-lifetime chance to get close to these top aerial predators and see them in action. They cater for families and this is a payable experience which must be prebooked. But how cool would it be to experience a hawk landing on your gloved arm!
Things to do in Ulster with kids
The full province of Ulster contains nine counties in total. Three counties belong to the Republic of Ireland and they are Donegal, Monaghan and Cavan. The remaining six belong to the United Kingdom and they are Antrim, Armagh, Down, Derry, Tyrone and Fermanagh. If you'd like to know more about the split, scroll down to the "History of Ireland" section below.
There are a host of things to do in Northern Ireland and the three counties from the Republic. Some of the top Ireland attractions can be found in this province, in part thanks to a certain popular TV series. In this section you'll find ideas for things to do in Ulster with kids, or without, including some ideas for things for kids to do in Belfast.
This post from Map Made Memories about things to do in Northern Ireland with kids is worth reading if you are heading to that part of the island of Ireland.
County Donegal
Glenveagh National Park – The second largest National Park in Ireland, Glenveagh National Park exists to conserve interesting plant and animal communities and it's a great place in Ireland to visit with kids. The Visitor's Centre is located on the north shore of Lough Veagh has displays on the park and its history as well as information about the trails around the park. Admission is free and parking for cars is located at the Visitor's Centre. There is a payable shuttle bus to take you further into the park to the castle and grounds, another area of the park kids will enjoy exploring. There are tours of the castle and grounds available (payable locally) and Ranger-led walks. It is advisable to arrive early during the busy summer months. The park also has a restaurant, tearooms and toilet facilities at the Visitor's Centre.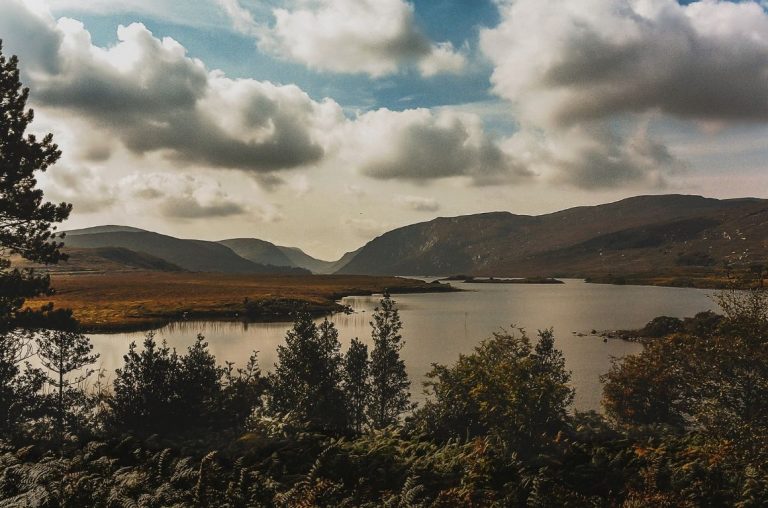 Drumboe Castle and Woods – Located on the outskirts of Stranorlar, Drumboe Castle originally has four towers and was built in the 1600's. It became the headquarters for the Irish Free State forces during the Irish Civil War and became famous for the Drumboe Massacre when four anti-Treaty IRA fighters were shot dead in retaliation for the death of a National Army soldier. The Georgian house was demolished in the 1940's and what remains lies at the car park for the woods. The woods have three trails in which you can bluebells in springtime, changing of colours in autumn and most are only an hour long. It's a great place for a nature hunt with kids in County Donegal.
Maghera Caves and Port – Located near Ardara, these caves are sign posts "Alladin's Cave" as you approach the town. They are accessible at low-tide and you need to check locally regarding the tide times. Kids will love exploring them, despite there not being much to see, and the beach can be enjoyed. Access to the beach is via the car park (payable), 200m away. If your kids are older you could explore the 20 caves, 8 arches and 5 tunnels by kayak. But it is advised to be experienced kayakers before you attempt this. And if time allows, why not stop by the Assaranca Waterfalls nearby.
County Cavan
Cavan and Leitrim Railway – See County Leitrim
Erica's Fairy Forest – Located near Fairgreen, this is a wonderful place to visit in Ireland with young kids. It is a fairy forest dedicated to a young girl, Erica, who lost her life to cancer. It's also a great place for a walk or picnic and they hold events at special times of the year, including an Easter Egg Hunt at Easter. It is free to visit from sunrise to sunset.
Killinkere Visitor & Pet Farm – This family-run working farm is located in Lisnagirl near Virginia in County Cavan. With farm animals and activities such as nature walks, heritage trail, pony rides, tractor trailer rides and hands on farming fun, it makes for a great family day out in County Cavan. NOTE: Currently closed.
County Monaghan
Rossmore Forest Park – A national forest park just outside of Monaghan town, this was once the site of Rossmore Castle but only the buttresses to the castle walls and the entrance stairway now remain. It is a great place for a walk via the many trails located there, ideal for a nature hunt. In springtime watch out for bluebells while in early summer you can see the rhododendron and azalea displays. There are also places to have a picnic. It's free and there is a car park for visitors.
County Antrim
Giant's Causeway – One of the top ten things to do in Ireland, with or without kids, is to visit the iconic Giant's Causeway. An area containing over 40,000 interlocking basalt columns, it was declared a UNESCO World Heritage Site in 1986. Most of the columns are hexagonal, although you may spot some four, five, seven or eight-sided columns too. Legend has it that the giant Fionn mac Cumhaill (Finn MacCool) was challenged to a fight by a Scottish giant. Fionn built the causeway so the two giants could meet and duel. Across the sea there are identical basalt columns (part of the same ancient lava flow) at Fingal's Cave in Staffa. There are 6 sites to explore at the Causeway and kids will love imagining themselves as giants. Visiting and walking along the Giant's Causeway is free. However, the three car parks, Visitor's Centre and the Clifftop Experience are all payable. There are toilets available and a grab-and-go coffee outside of the Visitor's Centre if you choose not to pay to visit this.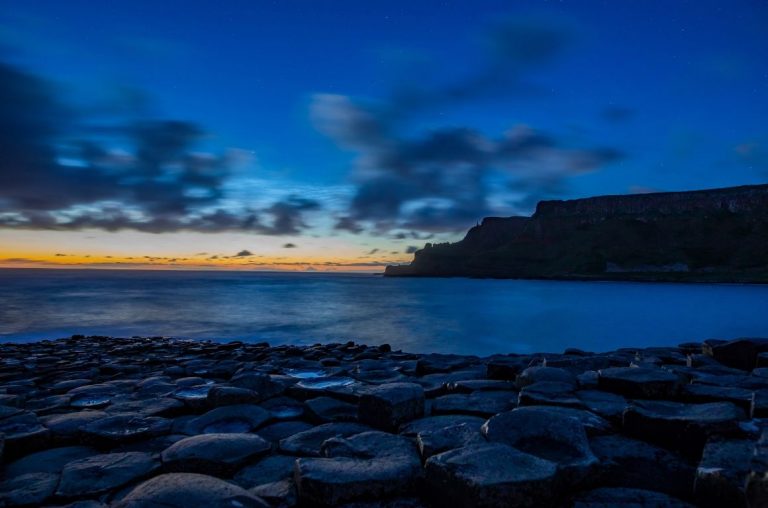 Dunluce Castle – This medieval ruined castle is located on the edge of a basalt outcropping not far from the town of Bushmills and is accessed from the mainland via a bridge. Dunluce Castle has steep drops either side which gave them added protection. Kids will love exploring the nooks and crannies of this ruined castle. I know our son would love it. This is a payable site with toilet facilities, tearooms, parking and guided tours available. It's close proximity to the Giant's Causeway makes it ideal for combining the visits for a full family day out in Northern Ireland.
Carrick-a-Rede Rope Bridge – This famous rope bridge in County Antrim near Ballintoy connected the mainland to the tiny island of Carrickarede. It spans 30 metres above the rocks and 20 metres in length and is one of the best adventurous things to do in Ireland with kids. First erected by salmon fishermen in 1755, this bridge is enjoyed by the many tourists that folk to cross it. There are guided walks available, a lovely coastal walk to enjoy and you might be lucky enough to spot dolphins, basking sharks and porpoises too. The Carrick-a-Rede rope bridge has some activities to cross off the "50 things to do before you're 11 and 3 quarters", a fun family-friendly program to be enjoyed across the entire Coastal Causeway and created by the National Trust.
County Armagh
Armagh Observatory and Planetarium – Delve into the cosmos at the Armagh Observatory and Planetarium, a 14-acre site with beautiful landscape gardens known as the Aramgh Astropark. With interactive displays to learn about space and the planets, and other creative activities, this is a great place for any budding astronaut. They also have daily shows and events throughout the year. Within the Astropark, featuring a scale model of the Solar System, you can stroll through the Universe. Admission is free to Armagh Observatory Grounds, Gardens and Astropark but entry to Planetarium is payable as are guided tours of the Observatory.
Navan Centre and Fort – This ancient ceremonial monument near Armagh which legend says was the capital of the Ulaidh, a Gaelic over-kingdom in north eastern Ireland in the Middle Ages. With a replica Iron Age Fort and Living History Characters, kids will love learning about how life was 2000 years ago by helping the Celts cook a meal or tend to their gardens and herb beds. Or how about dressing up as a Celt ready for battle. This is a payable attraction with a coffee shop for refreshments.
County Down
Dundrum Castle – This ruined medieval castle, near the town of Newcastle, was built near the start of the 13th century. This castle should not be confused with castles of the same name in the Republic of Ireland. The Keep is closed but the grounds and visitor's centre are open to the public and are free entry. A great little castle to explore with kids, especially if they imagine they are dragon hunters or princesses. Parking is free and be aware there are no other facilities here. Bring a picnic to enjoy after exploring or playing hide-and-go-seek.
Castlewellan Forest Park – Located near the town of Castlewellan, Castlewellan Forest Park is 460-hectare park includes woodland, a 40-hectare lake, the National Arboretum of Northern Ireland, a Peace Maze and Castlewellan Castle. Within the arboretum you can see giant Sequoia trees, planted in the 1850's. You can also enjoy activities such as camping, cycling, walking, horse riding and even fishing within the lake (permit required). If the kids want to simply play, head to the 'Animal Wood' providing the opportunity to play with wooden forest animals. There is also a huge wooden play structure and it is located beside the Peace Maze. You'll find on-site parking, toilet and baby changing facilities, a tearoom and picnic areas. This is a payable attraction but would make for a great family day out in Northern Ireland with kids.
Seaforde Gardens and Tropical Butterfly House – Located near Downpatrick, the site has stunning walled gardens to explore, Ireland's oldest living maze, and an arboretum containing champion trees and rare specimens. The Tropical Butterfly House is a tropical oasis where you can witness free flying butterflies and learn about their life cycle. You can enjoy refreshments in the Garden House cafe. This is a payable attraction.
County Derry
Creggan Country Park – Located near Derry city, this outdoor park offers a full range of outdoor pursuits, water sports, angling and walking. Kids can try their hand at orienteering, raft building, kayaking, search and rescue and even try out an assault course. Each activity is payable and there is on-site parking, toilets, showers (for those who get mucky or wet), and a cafe for refreshments.
Tower Museum – This award-winning museum in Derry city is located within the historic city walls and houses two permanent exhibitions, "The Story of Derry" and "An Armada Shipwreck – La Trinidad Valencera", each with interactive displays. The Tower Museum also boasts the only open-air viewing facility in the city with panoramic views of the inner city and the River Foyle. Admission is payable and there are toilet and baby changing facilities on-site.
Riverwatch Aquarium and Visitor Centre – Located just outside Derry city, is a brilliant free thing to do in Northern Ireland with kids. Enjoy fish tanks and learn about the local wildlife too. They offer free activity packs to help keep kids entertained and it's a great place to take the kids on a rainy day in Northern Ireland. Just note however, that the aquarium is closed on weekends. There is on-site parking, a cafe, gift shop and toilet and baby changing facilities.
County Tyrone
Ulster American Folk Park – This open-air museum is located near Omagh and has more than 30 buildings to explore and learn about three centuries of Irish emigration. You can wander through thatched cottages and meet costumed characters who will tell you tales of times gone by while they show you some traditional crafts. There's even a full-scale emigration ship to learn about conditions faced by those taking the long trip across the Atlantic Ocean. This is a payable attraction, with a cafe, gift shop and toilet and baby changing facilities. It's a great place to take kids and watch out for special events taking place during your visit.
Gortin Glen Forest Park – Near Omagh, this is a great place to take the kids back to nature on County Tyrone. With marked trails, all leading back to the car park, you can enjoy a nature hunt while looking out for different flora and fauna at Gortin Glen Forest Park. There's even a wooden play structure for kids to enjoy. For those with mobility difficulties there is a beautiful 5-mile drive to enjoy some breathtaking views. You'll also find picnic and BBQ facilities, as well as toilets. Entry is free but parking is payable.
County Fermanagh
Boa Island – Located 25kms from Enniskillen, Boa Island is an island near the north shore of Lower Lough Erne. It is approximately 5 miles long (8kms) and is connected to the mainland by two bridges at either end. It features stone carvings, one of which is Ireland's oldest and most famous carved stones, the Janus Stone. The island also features a rath, or ringfort, and is an interesting place to visit wit kids.
Marble Arch Caves – One of Europe's finest showcaves, the Marble Arch Caves offer visitors the chance to explore a natural underwater world of rivers, waterfalls, passages and chambers. There are walkways through lit passages and tours last 75 minutes and contain a mixture of walkways, steps and short boat ride. It is advised to wear comfortable shows and to bring a sweater. Advanced booking is advised, especially during the busy summer months. At the caves you'll also find a gift shop, parking, cafe, exhibition area, and toilets facilities. This is a payable attraction and one the kids will enjoy, so long as they aren't afraid of enclosed spaces. The caves are located within the Marble Arch Nature Reserve which you should explore after your guided tour visit.
Things to do in Belfast with Children
There are a host of things to do in Belfast for kids but as Belfast is located within two counties, Antrim and Down, it doesn't fall within one county category. Belfast is also the second largest city in Ireland after Dublin and with its location in Northern Ireland is part of the United Kingdom. I have a post about top things to do in Belfast with kids which goes into detail about each place. However, here is a short list of some of those great attractions in one of the top destinations in Ireland for families.
Ulster Museum at the Botanic Gardens
Botanic Gardens and Palm House
W5
Titanic Belfast
National Football Stadium at Windsor Park
HMS Caroline
Victoria Park Belfast
Belfast Castle Visitors Centre
Belfast Zoo
Ulster Folk and Transport Museum
Streamvale Open Farm
Hop On Hop Off Sightseeing Bus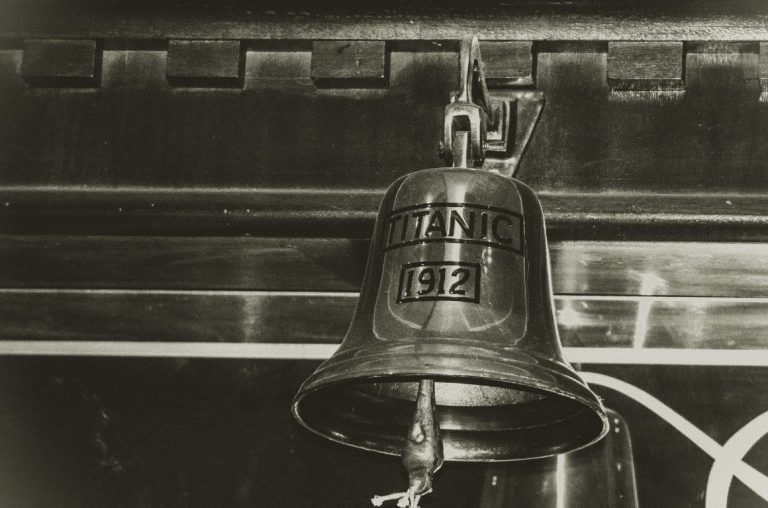 Tips for Visiting Ireland with Kids
When planning your family trip to Ireland, it can feel slightly overwhelming. Do you choose to split your time between the Republic and Northern Ireland? Do you choose one and explore it fully? With so many things for kids to do in Ireland, deciding the best places to visit can be difficult. But by now, hopefully, you have some idea of where you might like to visit. So, to help you plan your visit to Ireland better, here are some tip for visiting Ireland with kids.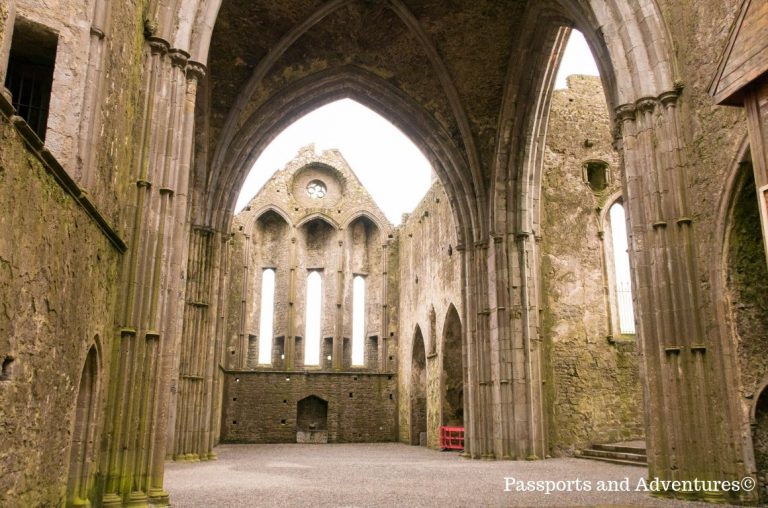 How to get to Ireland
Travelling to Ireland with kids is pretty easy and you have two options. You can either fly into one of the five main airports, or you can sail into the main ports by ferry. The airports include Dublin, Belfast, Cork, Shannon and Knock (in the west of Ireland). Arriving by ferry will land you into either Dublin, Rosslare, Belfast or Larne, the main ferry ports in the Republic of Ireland and Northern Ireland, respectively.
To check for flights to Ireland from the UK, visit UK Skyscanner. And for flights from America, visit Skyscanner USA.
To arrive by ferry into the Republic of Ireland, I recommend using Stena Line, a ferry company I used for years to travel between the UK and either Dublin or Rosslare. And for ferries to Northern Ireland, I suggest checking Direct Ferries for crossings.
How to get around Ireland
Getting around Ireland is best done by car, particularly if you are planning on visiting several of the best attractions in Ireland. If you aren't arriving by ferry in your own car, I suggest checking rentalcars.com for car hire in Ireland. Just be wary of buying the full excess waiver insurance with them, as you will still be held responsible for the excess by the car hire company and need to claim anything back from the insurers they sell the insurance through.
Motorways and main roads are well signposted, and Google Maps will get you pretty much anywhere you need to.
Public transport within Ireland is good, with trains and bus services linking all the major cities. All the major towns and cities have at least a bus service within the city, with Dublin also having the DART (Dublin Area Rail Transport) along the coast, and the LUAS linking more of the outskirts to the city centre. Belfast has a metro and bus service to get around the city. Use Translink to check routes and time within Northern Ireland, Bus Eireann for bus routes and times within the Republic of Ireland and Irish Rail for trains.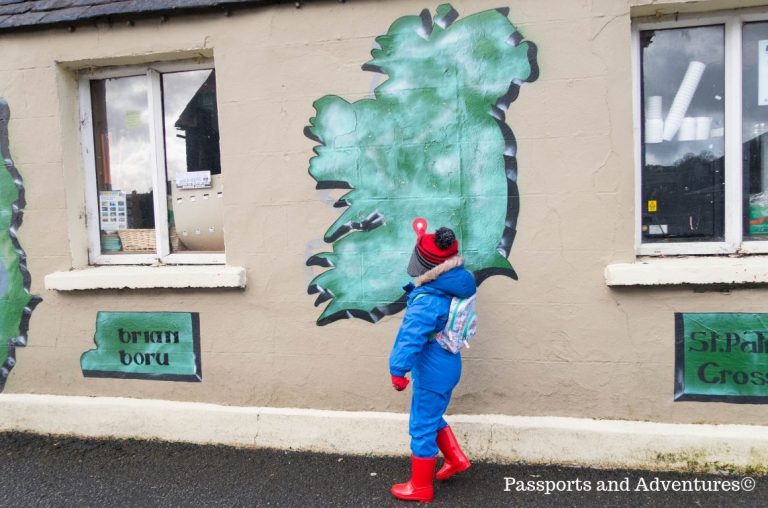 Where to stay in Ireland
The question here is how long is a piece of string. When you decide your itinerary and choose the things to see and do in Ireland for your family, only then can you decide where to stay in Ireland. If you are staying in Dublin, check out the recommended family-friendly accommodation in my post about visiting Dublin with kids.
But I will warn you, that the best places to stay in Ireland, in most counties, should be booked at least a few months in advance of your trip, particularly during summer, around Saint Patrick's Day and also during the Six Nations Tournament. Ireland is a popular destination during most of the year, with those times already mentioned being the peak times.
Our preference as a family is always AirBnB, simply because it gives us the option to choose separate bedrooms, cooking facilities if we want to go self-catering and often works out a bit more economical than staying in hotels. That said, if you prefer a hotel, we recommend looking on Booking.com for family-friendly hotels in the areas of Ireland you are visiting.
And if your family doesn't conform to the 2+2 average, Bumbles of Rice have put together a great post about hotels catering for families with 3 or more children. Check it out here.
Facts about Ireland
Where is Ireland
Ireland, or Eire to give it its Irish name, is a small country in Western Europe. The Emerald Isle, another name for Ireland, lies on the edge of the North Atlantic Ocean and is sandwiched between that and the Irish Sea, the body of water separating it from the British Isles.
Ireland's History
It is a country full of history, over 1000 years of it. Originally, it was a country made of many smaller kingdoms, that is until the idea of one national kinship gradually came into force with the High King of Ireland in the 7th century.
In the 9th century, Ireland was raided by Vikings who started to establish towns and settlements in the country, namely along the coast with Dublin, Cork, Limerick and Waterford, to name but a few. It is from here that Irish history really starts to become chronicled.
Towards the end of the 12th century, a Norman invasion saw Ireland come under alternating control of Norman Lords and the King of England. Ireland became a Lordship of the King of England and by the end of the 15th century, central English authority in Ireland had waned until Henry VIII made himself King of Ireland in 1542. English rule and authority gained strength again until Ireland was almost completely under English rule by the turn of the 17th century.
Wars, famine and failed attempts to regain independence continued until a law called the "Home Rule" was eventually passed, in 1914, in British parliament giving twenty-six counties of Ireland a devolved government. Six counties in the northern half of the country opted to be excluded from this and it was this exclusion which created Northern Ireland.
Independence of the twenty-six counties, to later become known as the Republic of Ireland, started with the famous 1916 Easter Rising. In December 1921, the Anglo-Irish Treaty gave the Republic full and free independence from Great Britain after a three-year guerrilla war, but the six counties of Northern Ireland were given an opt-out option, something that was immediately exercised, allowing them to remain within the United Kingdom. The Civil War finally ended with a cease-fire order from then president of Ireland, Eamon de Valera in May 1923.
And so, it has remained for almost 100 years. The Republic of Ireland, or Eire, contains twenty-six counties, while Northern Ireland has six counties, all which lie on the Island of Ireland. There have been further problems with the Northern Ireland conflict lasting almost 40 years in which members of the Catholic and Protestant communities lost their lives during a period known as "The Troubles". Peace came into effect with the Good Friday Agreement in 1998 and remains today.
It is a full and diverse history that Ireland has and is one which has shaped the country in more ways than can be imagined.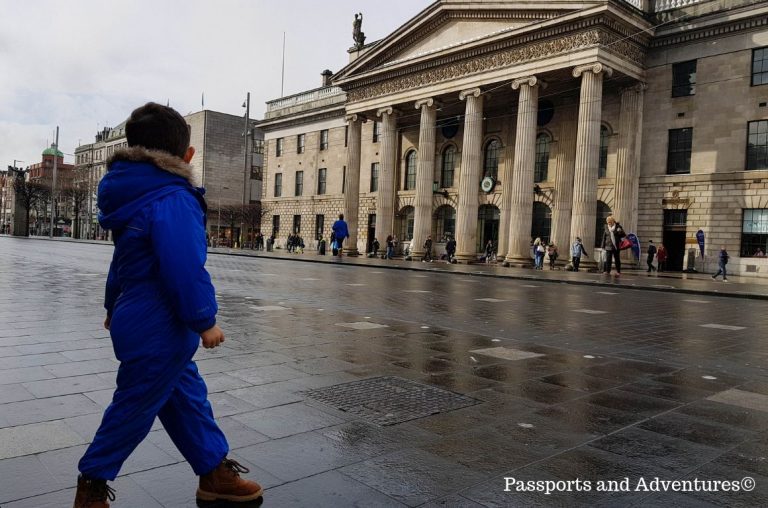 Fun Facts About Ireland
Ireland is a snake-free island. It is said that St Patrick drove the snacks from Ireland. The truth is they never got a chance to colonise the island as Ireland's land-link to Europe was severed before that of the United Kingdom.
As mentioned, the island of Ireland is split into two separate countries. The Republic of Ireland, which is known as Ireland, has twenty-six counties, which Northern Ireland, a country which is part of Great Britain, has six counties.
The official language of Ireland is Gaelic, although there are less than 400, 000 fluent speakers left. English, while a second language, is the most widely spoken.
Ireland has a population of just less than 5 million people, a quarter of whom live in or on the outskirts of the capital, Dublin. Other major cities are Cork, Limerick and Galway in the Republic and Belfast in Northern Ireland.
The patron saint of Ireland is St. Patrick and his feast day is celebrated in Ireland, and throughout the world, on the 17th of March each year. The national symbols of Ireland are the harp, shamrock (a type of clover) and the Celtic Cross. GAA, or Gaelic Football, is the national sport. And the national drink is Guinness, brewed in the Guinness brewery established by Arthur Guinness in Dublin. Ok, this last fact is not quite true, but many Irish do love a pint of Guinness.
Ireland has won the Eurovision Song Contest a record seven times.
Famous Irish novelists and poets include WB Yeats, Jonathan Swift, James Joyce, Bram Stoker and Maeve Binchy.
Maeve Binchy was just one of many famous people to live in the Beverly Hills of Dublin, Dalkey and Killiney Hill, as already mentioned. Other famous inhabitants of this part of Dublin have included Neil Jordan and Jim Sheridan (from the film world), Roddy Doyle (author of the Commitments), Bono and The Edge from U2, and even Damon Hill and Eddie Irvin from F1 racing.
In Summary
Ireland is an island that has so much to offer families. From Dublin sightseeing to other Ireland points of interest like the Cliffs of Moher and the Giant's Causeway, you will never be short of ideas for things to do in Ireland with kids. I hope you've gotten an idea of some of the top things to do in Ireland with your kids during your trip from this list, and that you've at least shortlisted some of the best spots in Ireland to add to your itinerary.
As I mentioned at the start, this is by no means an exhaustive list of the best things to do and best places to go in Ireland as a family, but a guide to help you start planning a magical trip to Ireland. As more amazing places come to my attention, I will add them to the list but for now, I hope this helps anyone planning their family visit to Ireland.
Cath x
I also recommend these Lonely Planet books for further research.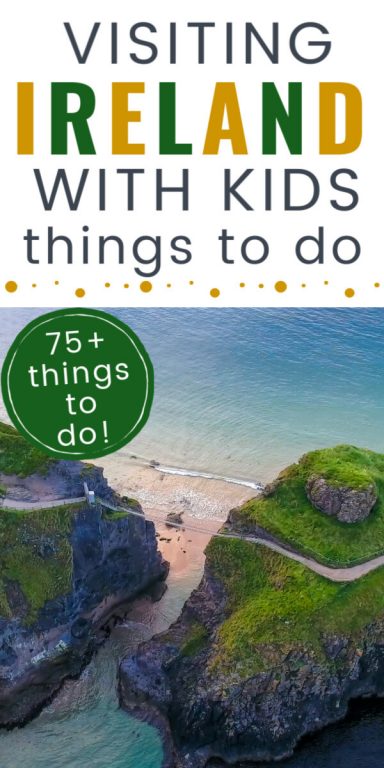 Passports and Adventures is a participant in the Amazon Services LLC Associates Program, an affiliate advertising program designed to provide a means for sites to earn advertising fees by advertising and linking to amazon.com, amazon.co.uk, amazon.ca. Amazon and the Amazon logo are trademarks of Amazon.com, Inc. or its affiliates. To learn more about affiliate links, read my Disclosure Policy here.
Related Posts