With our first holiday abroad with our son coming up in 2014, I decided to do a search to see if there were any nice record books in which to document his flights. I knew he'd be making a fair few from early on in his life, so thought it would be a nice thing to do for him until he was old enough to take over. My long search finally lead me to the Simply for Flying website and their amazing book. Here is my Simply For Flying Flight Logbook Review.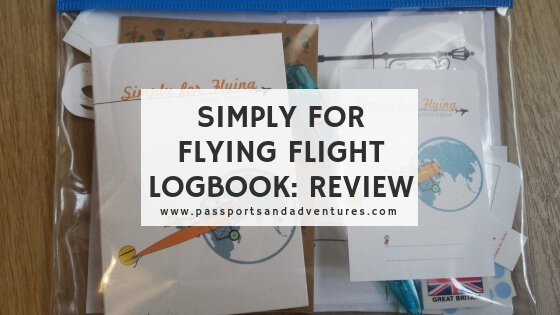 *Posted November 2018. Updated November 2019
A unique children's flight logbook, its design and creation came from Bronwyn Darnoc's own search for an age appropriate flight logbook for her own two children as they embarked on their first few flights. She herself had a logbook which was a lovely keepsake, filled with memories of her own childhood flights, and she wanted the same for her children. 
When I  finally stumbled upon her website I knew it was exactly what I was looking for for our son. 
The Simply for Flying Flight Logbook is a lovely little book, measuring 135mm x 95mm, and is the perfect size for storing with those all important passports. It has a personal details page, one with a note to the captain explaining the purpose of the book, and enough pages to capture 42 flights.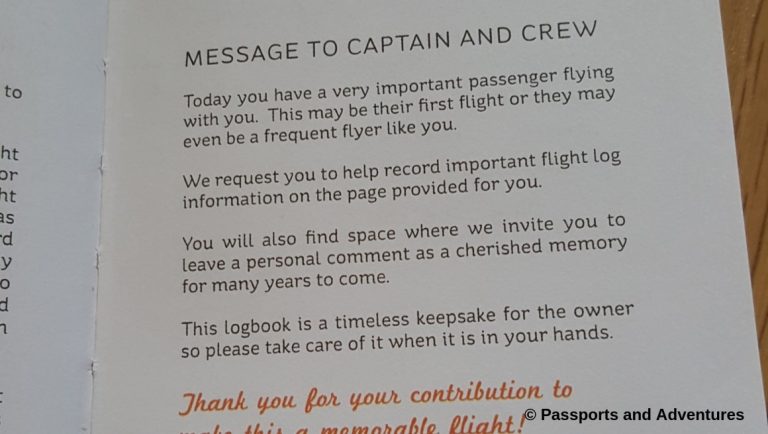 Each flight's details are spread across two pages. The left page is for the flight information such as the airline, flight number, destination and distance travelled. There is a small section for the captain's name, signature and personal message to the owner of the book. The right page is for your child (or you if they are not writing yet) to record their own memories of the flight.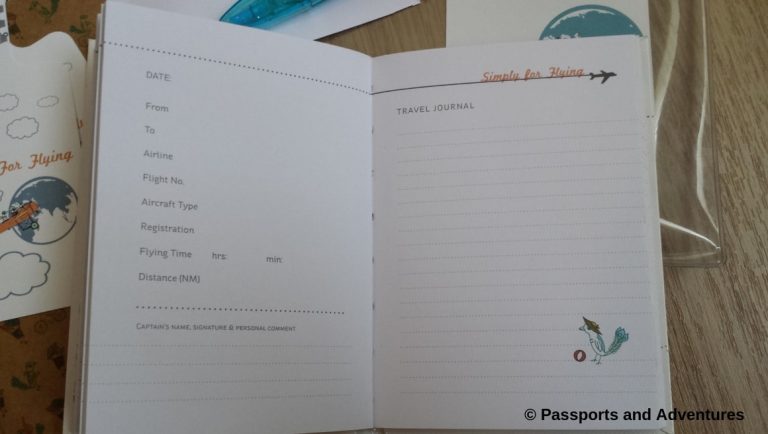 It is a wonderfully simple design, but is perfect for children of all ages. I certainly have not come across anything like it. At the time of my search there was the option to purchase just the logbook or a kids flight kit. 
I opted for the Simply for Flying Flight Logbook kit which contains:
The Simply for Flying Children's Flight Logbook

A clear plastic pouch (for keeping everything together and safe)

A blank 60 page notebook

4 savvy bird character post cards to colour and send

Activity cards

A world map, with dot stickers to map your flight

A multi-crayon or colour pencil set and travel savvy bird badge

Sticker set

Small memory card set

Make your own popsicle

Eraser

2 Simply for Flying ID disposable wrist bands

2 Simply for Flying luggage tags.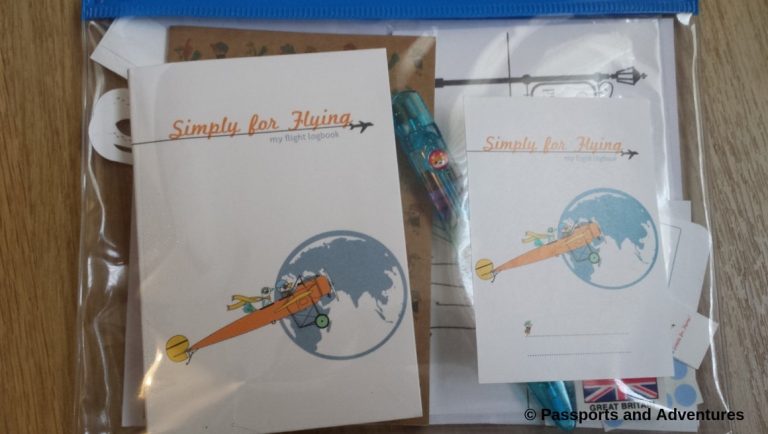 Although our son was too young for the full kit at the time I bought it, I ensure I take his Simply for Flying Flight Logbook with us on each flight. It didn't arrive on time for his first flights to and from Gran Canaria, but it now, at almost age 5, he is about to finish his first one and start his second, logging over 60,000 nautical air miles too.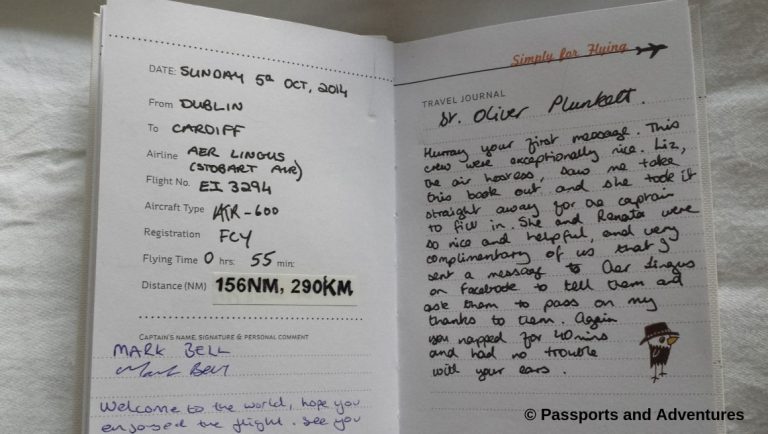 I have not managed to get a signature on each flight but his first message came on our return flight from Dublin to Cardiff after a weekend at home visiting family, and both the air stewardesses and captain on that flight couldn't have been more helpful. It's why I will always fly with Aer Lingus to and from Ireland if I can! 
Although he doesn't have a message from the captain for each flight, and may not in the future either, it is still going to be a lovely way to record all the air travelling he does since his first flight at 8 months old! In fairness, I have gotten much braver and bolder when handing in his book to the cabin crew and no-one has rejected us yet!
Once our son got a bit older, the kit has come in handy and he's even started asking the crew for the captain's message himself. This has resulted in him being invited onto the flight deck after we've landed a few times, but he only recently got brave enough to accept the invitation.
This little book is such a simple, yet brilliant idea and I'm so glad I got it for our son. Thank you so much to Bronwyn at Simply for Flying for converting her fantastic idea into a reality for all young airplane travellers! 
Why not follow her on Facebook, Twitter and Instagram, or her blog at Simply for Flying.
You can purchase the Simply for Flying Flight Logbook online via her website or her online shop as I did. The kit is made to order and costs €27.50. It ships from Singapore so allow plenty of delivery time if you want it for a particular flight. The logbook on its own is €14.95+delivery.
What I love about the Simply for Flying Flight Logbook
Value for money

Small enough to keep with your passports

Plenty of pages

The kit has lots to entertain your little ones with.
What I don't like about the Simply for Flying Flight Logbook

The Simply for Flying Flight Logbook is a lovely keepsake for any child and is a great way of documenting all the air miles they do in their lives. It will be coming with us on every flight we take with our son, be it for a holiday or a trip home to Ireland to see family. I wish I had something like this from my childhood!
Cath x
*Prices correct at the time of writing this post.
**I was not asked to write this post.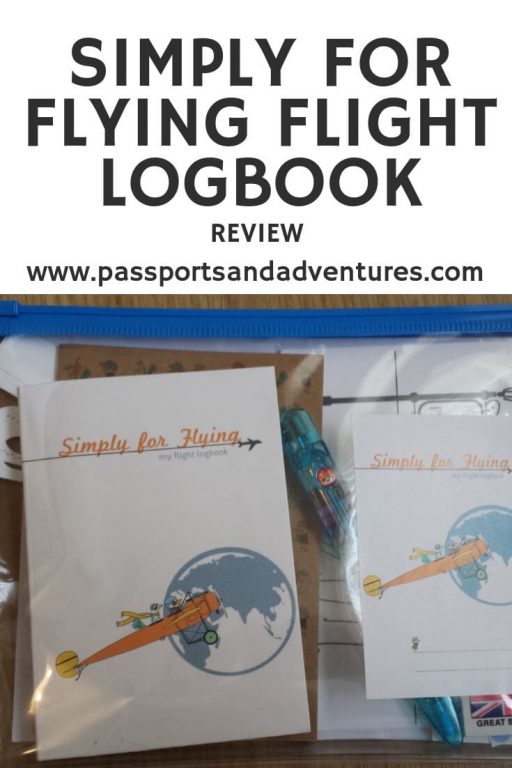 Related Posts