When planning a trip to Yellowstone Park, not only do you need to consider how you are getting there, where you are staying and for how long, you'll also want to decide and make a list of all the thing you want to see and do in Yellowstone National Park. So, to help you out a bit, here is our Yellowstone Bucket List that we compiled before we visited. Note that although we were looking for things to do in Yellowstone with kids, they are not exclusively for those travelling with kids.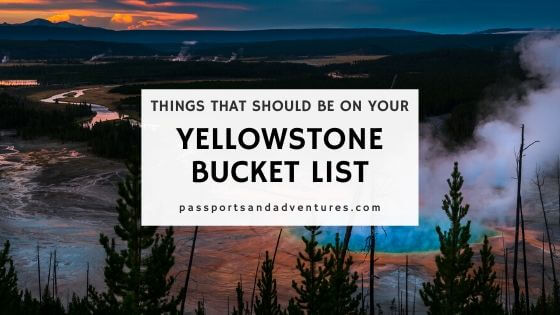 UPDATED: November 2019
Why go to Yellowstone with kids?
My husband and I had wanted to make a visit to Yellowstone ever since seeing the 3-part BBC documentary. It just looked like the most wonderful place to visit, full of wildlife and earth's raw power. I can't quite believe it was broadcast in 2009. We watched it a few times since that first time, and each time our desire to go to that part of the world just got stronger.
When our son came along we knew we wanted to share our visit to Yellowstone with him but we became very torn. Do we go and just take lots of pictures for him to look back on when he's older? Or do we wait until he is older so that he can remember the trip?
We also wondered if we did the trip while he was young, would it be something he would do himself in years to come, therefore helping with some of the guilt we might feel at doing this trip of a lifetime while he was too young to remember it. Or is it one of those trips you make just once in your life. See, torn!
By the time he was two and a half year old, our patience ran out and we decided just to book it. We felt a little guilty as our son would only be three and a half and would most likely not remember the trip but we really wanted to go. But, we figured that it would be a trip that could ignite his love of adventure, a trip we could share our memories of, and give him a chance to start appreciating everything the world has to offer.
So, we got planning.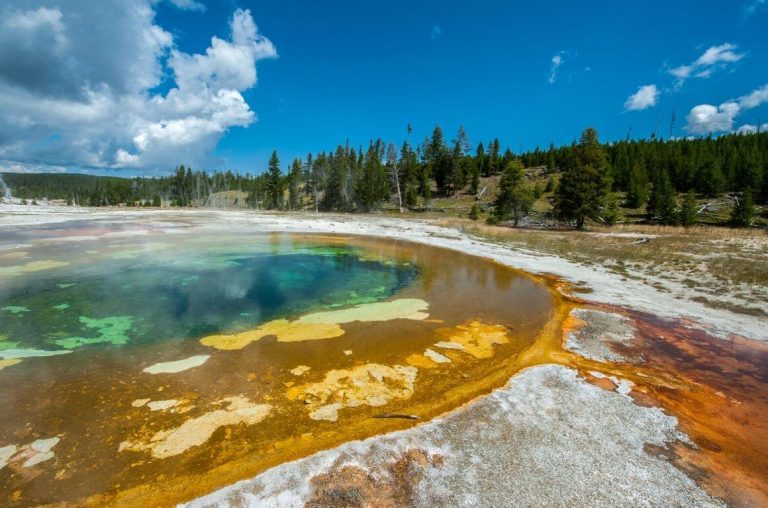 Planning a Yellowstone trip
We started by looking into flights. Originally we planned to fly to either Billings, Bozeman or Yellowstone airport itself, all via Salt Lake City, and hire a car there. We then wanted to drop the car off at Portland Airport as we would be combining our visit to Yellowstone with Portland, Oregon.
However, when considering the car hire option, we saw quotes of over $4000. That is just crazy money. To take that option would mean our transport costs would be well over $7000. That was our budget well and truly blown. So, we started again and found that car hire from and to Portland airport, for a big 4×4 RV car, was $1000 for two weeks. This was a bit more reasonable and so we took the decision to fly in and out of Portland and drive to Yellowstone.
Check out this post for details of our Portland to Yellowstone (and back) road trip.
I should point out that we were not doing the entire 860-mile drive from Portland Airport to Yellowstone in one go. Once we arrived into Portland, we would drive 220 miles to a place called Richland in Washington state near the Columbia River. We would be staying overnight before then doing the 600-mile drive from Richland to Island Park, in Idaho, which was where we were staying.
Our drive from Santander in Northern Spain to Southern Portugal a few months before would have given us some practice for us for a full day in the car. It would be a long day but worth it in the end.
Next came accommodation at Yellowstone. We had considered staying within Yellowstone itself but it was crazy money.
Instead of staying in Yellowstone itself, we managed to secure a fabulous looking log cabin in the woods, through AirBnB, just outside a town called Island Park. This town is just a 30-minute drive to West Yellowstone. This base was ideally located for us and, if we were lucky, we might even see some wildlife from the cabin.
We were staying there for 5 days before we slowly made our way back to Portland via Missoula and Richland again. The first two days of our USA road trip would be long and tiring but I was really looking forward to visiting Yellowstone, finally.
Check out my Ultimate Guide to Visiting Yellowstone with Kids post. This post is full of information for planning a visit to Yellowstone, and includes things to do with kids at Yellowstone, helpful tips for families and more.
How to decide what things to see and do in Yellowstone National Park
With flights, car and accommodation all sorted, I started investigating the best things to do in Yellowstone National Park, beside the famous Old Faithful geyser. With no prior knowledge of the park, and no clue as to the top things to do in Yellowstone Park, I asked a few travel Facebook groups I'm in for their recommendations. We got a varied response and here are what people recommended to ensure we saw and did the best of Yellowstone during our time there.
Recommendations for the top things to do in Yellowstone Park (and nearby)
There is no-one better to ask for recommendations of things to do, see and must-do Yellowstone main attractions than those people who have already been. Here are what my fellow family travellers recommended we have on our Yellowstone Bucket List.
An Ice Cream at Mammoth Hot Springs
Mammoth Hot Springs, located some 76 miles from Island Park in the North of Yellowstone National Park, is apparently a great place to watch elk parading while enjoying an ice cream. There is also a visitor's centre and Fort Yellowstone is also located at Mammoth Springs.
You can walk on boardwalks above the thermal spring features or drive around the travertine terraces, amazing looking terraces formed from limestone. I think this is one of those must-see places in Yellowstone any visit to Yellowstone.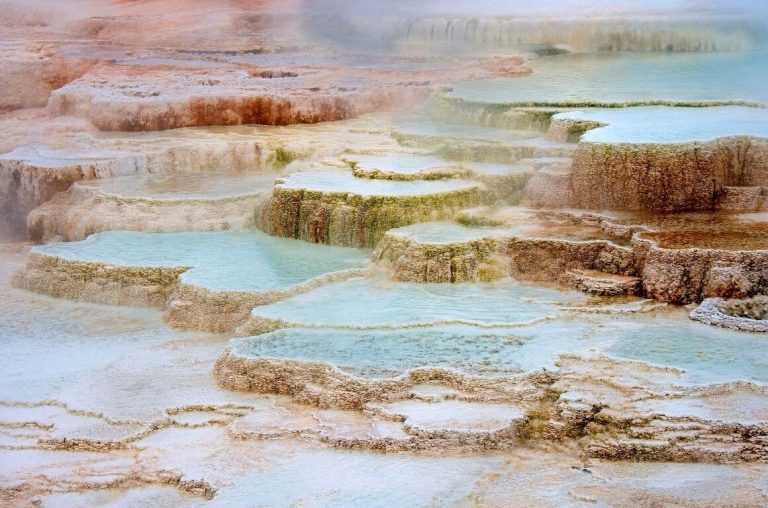 The Boiling River
The Boiling River is only a few miles north of Mammoth Hot Springs. It is a Hydrothermal feature, popular for seasonal bathing, where a hot spring flows into a cold river water.
It is one of the few legal areas within Yellowstone that is suitable for people to bath in; the river itself, not the spring. That said, it is not always open, there is no lifeguard on duty at any time, currents can be very strong and disease-causing bacteria thrive in the warm waters and there is only one toilet.
Update: While this was a nice idea to do during our visit to Yellowstone, we gave this a miss as I didn't any of us getting ill just a few days into a two-week USA road trip.
The Old West Dinner Cookout
This dining experience within Yellowstone was recommended to us and was one we booked straight away after looking into it more.
Leaving from Roosevelt Lodge within Yellowstone itself, you travel for 30-45 minutes by traditional canvas wagon to the cookout area where you will find the cookout site serving steaks and traditional sides. As the experience starts at dusk it is one of the best places around the Roosevelt area to see wildlife. The only drawback was the 2-hour drive back from Roosevelt to our accommodation at Island Park.
Was it worth it? YES!
The Grizzly and Wolf Discovery Centre
This wildlife park and education centre is located just outside Yellowstone at the West entrance, just 30 minutes from Island Park. The Centre is home to both grizzly bears and grey wolves, who unfortunately cannot live in the wild.
The centre offers visitors to Yellowstone a unique chance to see these creatures who act as ambassadors for their wild counterparts within the park. As we would be passing through West Yellowstone to enter the National Park itself, we would definitely be visiting this centre! And we can say that if you are wondering what to do in Yellowstone with kids, a visit to this centre is a must.
Bear World
This drive-thru wildlife park is located south of Island Park, about a 55-minute drive, in a town called Rexburg near the Jackson or Teton Gate of Yellowstone National Park. You have a chance to see Mountain Elk, Bison, various Deer, Mountain Goats, Moose and both Black and Grizzly Bears. It also boasts a petting zoo, amusement rides and bottle-feeding experiences with the keepers.
Update: This was on our Yellowstone Bucket List, but unfortunately we didn't make it that far.
Other top things to do in Yellowstone National Park
As well as the recommendations we received, we already had an idea of what we wanted to see and do during our time in the park. These were already on our bucket list.
Drive the Grand Loop Road
If you are going to Yellowstone, you will most likely be taking a car like us. Therefore, driving will play a big part in your days. One of the things we wanted to do in Yellowstone was to drive the complete Grand Loop Road.
This 142-mile circular route passes all the major landmarks and visitors centres of the park and also takes you along some amazing scenery. In my opinion, it's the best way to experience Yellowstone.
Old Faithful Geyser
No visit to Yellowstone would be complete without seeing the most famous geyser on Earth, Old Faithful. This geyser, which gets its name from the fact its eruptions occur every 60-90 minutes, has to be on everyone's Yellowstone to-do list. And it was certainly on ours. And the best thing? If you miss an eruption you only have to wait a maximum of 90 minutes for the next one!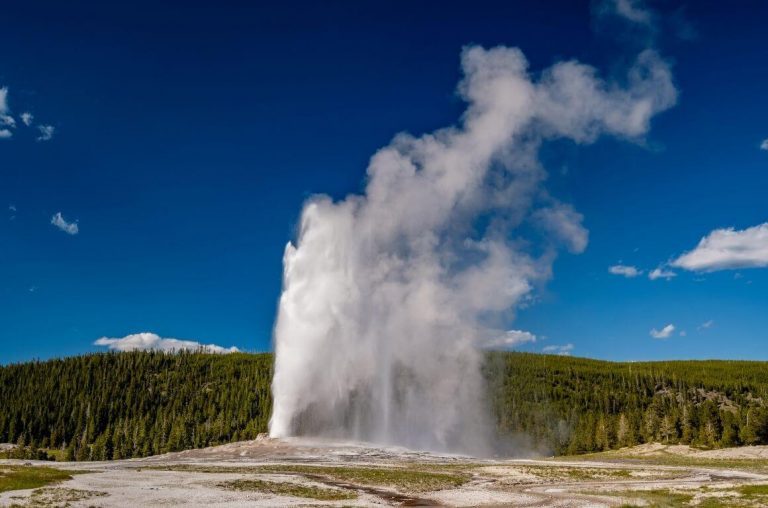 See a Yellowstone waterfall
When we were deciding what to see in Yellowstone Park, waterfalls were high on the list. And there are no shortage of waterfalls in the park.
The most famous are the Lower and Upper Falls of the Yellowstone River, in the area around Canyon Village. But there are a few more that you can put on your Yellowstone Bucket List including Tower Fall, Gibbon Fall and Mystic Fall. The various falls are some of the best places to visit in Yellowstone Park.
Catch a glimpse of the wildlife
Although this cannot guaranteed, one of the main reasons people visit Yellowstone is to see the wildlife in their natural habitat.
The park is home to animals such as bears, wolves, elk, coyote, moose and of course, bison. While some animals may be more elusive, I had it on good authority that we were highly likely to see bison and elk. As for the others, well that comes down to luck and the time of day you are in the park.
Spotting wildlife is one of the best Yellowstone activities for families who are driving around the park. We would just have to keep our eyes open and maybe invest in a set of binoculars.

Other recommendations and tips for visiting Yellowstone
As well as getting some recommendations of places to visit and things to do in and around Yellowstone from our fellow travellers, they also gave us some other recommendations and tips for our Yellowstone trip. Here they are.
Running Bear Pancake House
This eatery located in West Yellowstone was recommended to us for breakfast. As we would be passing through West Yellowstone most days on our way into the National Park, we out it on our to-do list to try this place out. I suggested to my hubby that we eat there on our first morning and if it was good, we'd eat there most mornings on our way into the park.
Jackson Lake Lodge
Located in Grand Tetons within Yellowstone, this hotel was recommended to us for either breakfast or lunch. It was quite a drive from where we are staying in Island Park, so we decided to only go there if we were nearby one day.
Update – We never made it that far.
Buy groceries before entering the park to save money
One person recommended we buy our groceries and lunch before going into Yellowstone as everything inside the park is very expensive. We were expecting the worst and so our plan was to eat breakfast outside the park if we didn't cook ourselves. Then, on our first day we'd try somewhere inside for lunch, and if it is extortionate then we'd do as this person suggested. But I did think lunch near Old Faithful was a given really. I have reported back on the cost of things inside the park in my Ultimate Guide to Yellowstone with Kids post.
Enjoy homemade pies
While looking at the Bear World website I stumbled across a recommendation on their site for a place called Frontier Pies in Rexburg. They make and serve homemade pies of all sorts and we decided to stop for pie there if we were in the area. I quite fancied the sound of the Jumbleberry Pie or the Lemon Meringue Pie.
Summary
All of this, alongside things like Old Faithful Geyser, the Grand Canyon of Yellowstone and Mystic Falls, was going to make for a jam-packed few days during our visit to Yellowstone. And this was just the start of our USA road trip. From Yellowstone, we would head to Missoula and Lolo National Park. Then we planned to drive along part of The Dalles Shamrock Tour on our way back to Richland, before heading for Portland. While in Portland we wanted to take a day to drive along part of the famous 101, the Pacific Coast Highway.
So, our Yellowstone Bucket List looked a bit like this.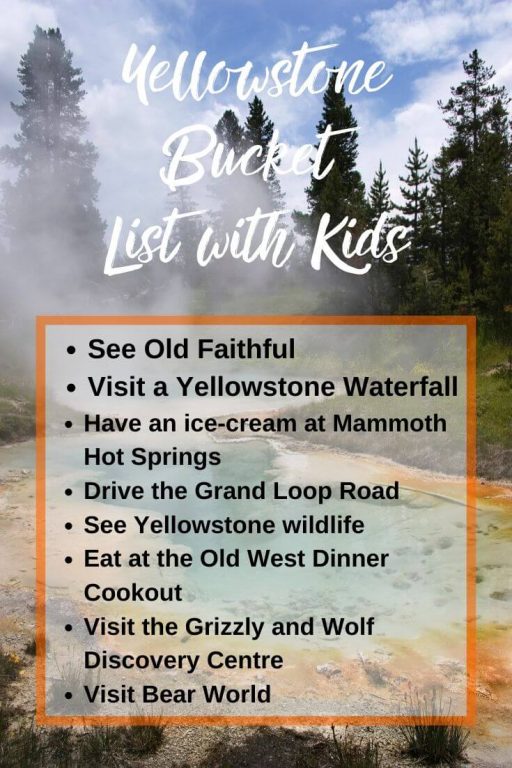 If you are wondering what are the best things to do in Yellowstone in August, and if you are also wondering how many days to spend in Yellowstone, check out my Yellowstone 3-day itinerary. In this post I tell you exactly what we did during our time in the park and I also give you ideas for the best way to see Yellowstone in 3 days or longer.
Cath x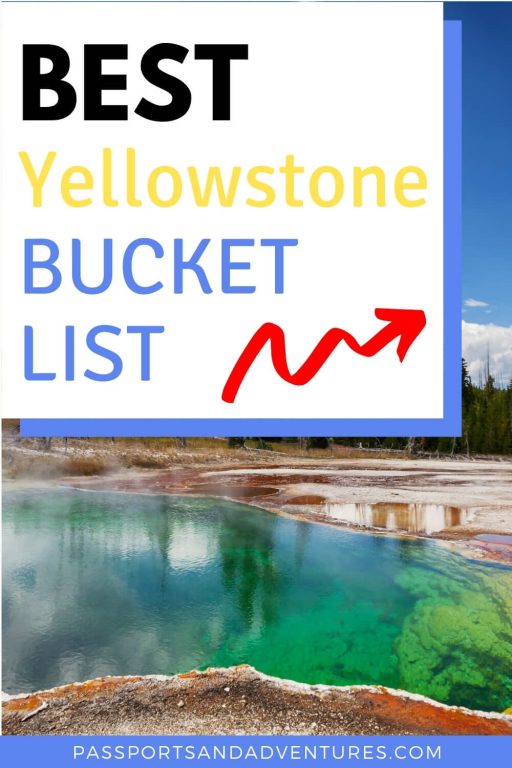 Related Posts