If you cannot celebrate St Patrick's Day in Ireland, but still want to enjoy it, why not try my St Patrick's Day Trivia Game. Filled with fun facts you may or may not know about St Patrick, this is the perfect game to enjoy on the 17th March.
You can find my St Patrick's Day Trivia Game printable at the end of this post.
Why you need my St Patricks Day Game Printable
If you'd love to be in Ireland for the celebrations of the patron saint but are unable to make it, then my St Patrick's Day quiz game is ideal to enjoy as a family or group of friends.
There is nothing I love more than being in Dublin for the 17th of March. Seeing the happy faces on my fellow Irish people as they land in Dublin Airport to be with family and friends. Going into Dublin City Centre to join in with the festivities and see the parade. It brings back memories of being in town with my mum, who sadly is no longer with us.
But, if for any reason I cannot make it home to Ireland to celebrate St Patrick's Day in Dublin, I do my best to celebrate it with my family by baking green cakes and shamrock cookies, eating a traditional Irish dinner, enjoying St Patrick's Day activities with my son, and even helping him discover St Patrick's Day fun facts for kids through my St Patricks Day trivia game.
If you are looking for a way to make St Patrick's Day for kids more fun at home, then you need my quiz. It can help make the day more enjoyable as you play together and even learn some new facts about the patron saint of Ireland, along with some other things you might not have known.
What's inside my St Patricks Day quiz for kids?
The quiz comes in four sheets and includes lots of St Patrick's Day facts for kids as well as some about Ireland. These come in the form of St Patrick's Day trivia questions which have the answer written underneath them.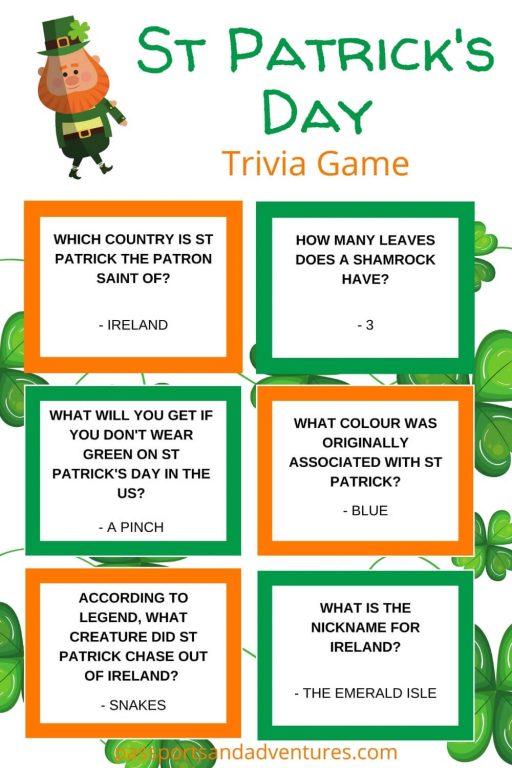 How to use my St Patrick's Day Trivia Quiz?
The quiz is four printable sheets containing 30 different St Patrick's Day trivia facts, as well as some Irish trivia facts, and can be used to create a few different St Patricks Day games for kids.
Give everyone taking part some paper and pen and have a general quiz. Encourage the players to write down their answers. The person with the most correct answers wins.
Cut out the 30 individual St Patrick's Day trivia question cards. Ask each question and give the card to the person who is first to answer correctly. The winner is the person with the most answers at the end of the game.
Cut out the question cards and cut the answers off the bottom. Lay the answers out on a table with the players around it. Ask each question and the person who chooses the correct answer first wins the pair. The winner is the person with the most correctly matched questions and answers at the end.
Other ideas for using this St Patrick's Day trivia for kids quiz
Whether you are looking for St. Patricks Day ideas for kids to entertain them at home or for a trip to Ireland, there are a few ways to enjoy this St Patrick's Day Trivia Game.
If you are lucky enough to be heading to Ireland for St Patrick's Day, or are going to a big city to watch a St Patrick's Day parade, then you use this quiz to reveal to the kids where they are going if it is a surprise. You can also use it to keep the kids entertained and excited on the journey there. Ask them questions on the trip to your destination.
You can use it during family quiz nights at home, or you can also use it as an Irish quiz for kids if they are learning about Ireland through school. Use it alongside other St Patricks Day printables for kids for fun activities to help celebrate the big day together.
St Patricks Day Trivia Game Questions and Answers
For the full list of St Patricks Day Trivia questions and answers, download the printable below via the button below. The list includes questions about St Patrick for kids as well as some more general knowledge Irish trivia for kids. Feel free to decide which are most suitable for the ages of your kids. Here are a sample of some of the clues you can expect to find in this St Patrick's Day trivia quiz.
Which country is St Patrick the patron saint of? – Ireland
On which day in March is St Patrick's Day celebrated? – 17th March
What musical instrument is the national symbol of Ireland? – The Harp
What Celtic symbol is often associated with St Patrick? – Shamrock
NOTE: This printable is for personal use only. You may not SELL or reproduce the file or the printed version of the file for commercial reasons.
Do let me know in the comments if you play the game and who won!
Cath x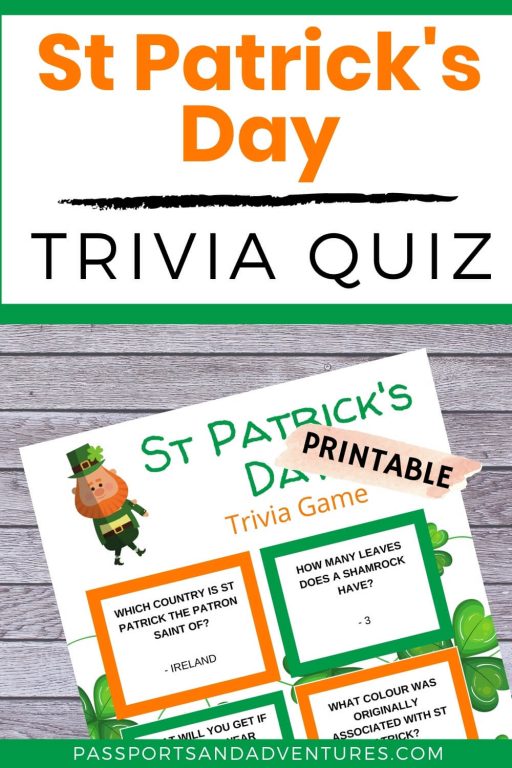 Related Posts