Ireland, or the Emerald Isle, is a country rich in history. Established by the Vikings over 1000 years ago, it is one of the best family destinations in Europe. From the world-famous Guinness brewery, to the Wild Atlantic Way, to the land of leprechauns, Ireland is a magical country with so much to offer everyone who visits, especially families. We've only just begun exploring our homeland as a family and part of that has been discovering some of the best castles in Ireland to visit with kids.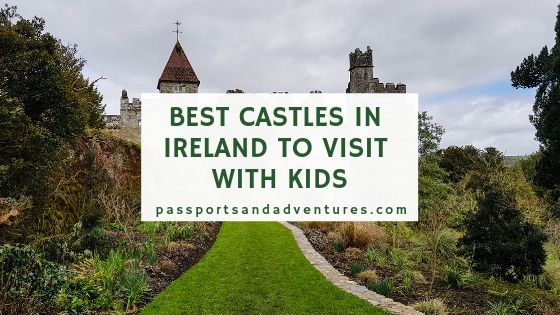 Post Updated July 2019
Although I might be biased as I hail from Dublin, I really do think Ireland has so much to offer. As I've mentioned in previous posts, living in Ireland we often took for granted that we had some of the best places to visit in Ireland on our door-step. That is starting to change as our son and I started exploring the southern half of Ireland during a road trip in 2018 over Easter, and part of that exploration involved some of the castles to visit with kids in Ireland.
In this post I'm going to share with you the best castles in Ireland to visit with kids, all destinations you should be putting on your bucket list of places you must see in Ireland.
Note that these are ones we have personally visited and explored with our son. As our long-term plans involve returning to Ireland as often as possible as a family, to explore even more of the country we call our homeland, this list will be adjusted and expanded accordingly. While not everyone will agree with these, we will only recommend Irish castles we have explored and enjoyed ourselves with our son.
So, here are the best castles to visit with kids in Ireland, which are also among some of the best things to do in Ireland with kids. And if you want to sleep in a castle, there are a few castle hotels near Dublin you can consider.
Best Castles in Ireland to Visit with Kids
If you are planning to visit Ireland with kids, then you must make time to visit some of the best castles of Ireland. And whether you want to visit what might be the most famous castle in Ireland, or want to visit one of the most beautiful castles in Ireland, you won't be spoiled for choice.
Below you will find some of the best castles in Ireland to visit, with or without the kids, all of which we have first-hand experience of. There are lots of Norman and Medieval castles in Ireland suitable for families, and as we discover more, they'll be added to our list. So, let's dive in.
Cahir Castle
Cahir Castle in Ireland, dating from the 12th century, is located in County Tipperary and is a brilliant castle to visit with kids. One of the largest castles in Ireland, Cahir Castle is situated on an island on the River Suir and is one of the best preserved castles on the Emerald Isle. There are lots of rooms on different levels to explore in the main part of this Irish castle. And there are also some beautiful gardens off the side of the main stronghold for little ones to enjoy.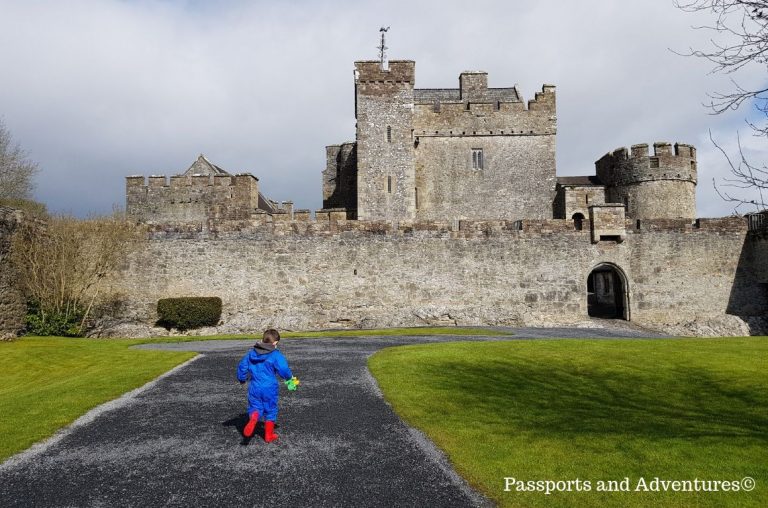 We visited Cahir Castle during our Irish road trip and were suitably impressed by it. Our son had a great time pretending to shoot me with the cannons that sit within the courtyard of the main castle. He also really enjoyed the interactive model of the castle. It had buttons which, when pressed, lit up different sections of the model of the castle. There is also other audio-visual shows for visitors to enjoy.
The thing that our son was most intrigued by was the portcullis, which you can see off one of the upper halls. There are also some stunning views across the River Suir from the windows of the upper halls and rooms. We even enjoyed a dragon hunt at Cahir Castle. There is so much to explore and see at this castle that kids certainly won't be bored. It's definitely one of the best castles for kids in Ireland and somewhere to put on your list of places to visit in Ireland with kids.
Read more about visiting Cahir Castle with kids and our visit here.
Lismore Castle
Lismore Castle and Gardens are located in County Waterford. One of the many Irish medieval castles, the castle itself is still in private ownership so the building is not open to the public. That said, the extensive gardens are and are a wonderful place to explore with kids. The upper gardens are a 17th century walled garden while the lower gardens are more informal.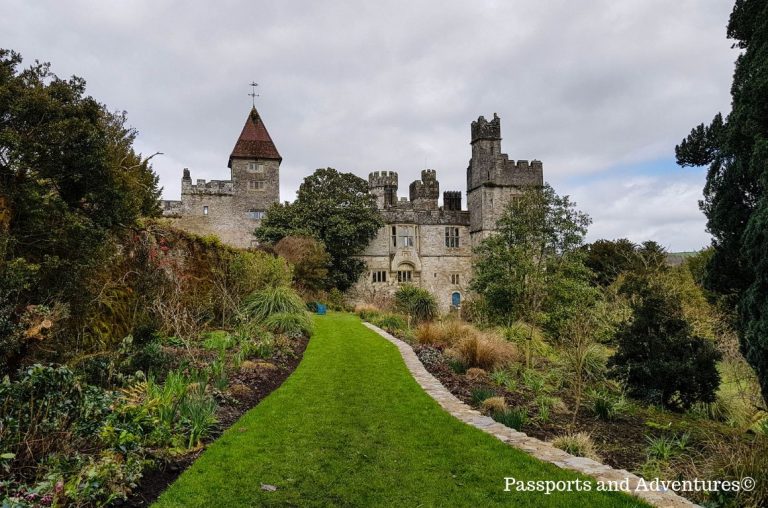 My son and I visited this castle during our Easter road trip and met another mum and her son in the café at Lismore Castle. As she holds an annual pass to the castle and visits regualrly, she offered to walk around with us and show us some of the grounds and we gratefully accepted.
The gardens were just starting to come into bloom and we could see some of the many gardeners hard at work preparing the grounds for the coming busy summer months. Sally, the lady we met, showed us some of the upper walled-garden and also showed us the tree swing and play area located in the lower gardens. Our son and Sally's son had a great time in this area and kids of all ages will enjoy the play area. I was very grateful I had put a waterproof all-in-one on my son, so he could slide down a tube as it was full of muck and dirt. But he came out grinning from ear to ear.
Our visit to Lismore Castle and Gardens was not a very long one, and we didn't see all of the grounds simply because we were enjoying Sally and her son's company. It was also the last castle of a full day's exploring and is one I really want to return to on our next visit, so we can explore more of the lower gardens. But I can highly recommend it as one of the top Irish castles to visit with kids as they will love the lower gardens and play area in particular.
Read more about visiting Lismore Castle and our visit here.
Bunratty Castle
Located in County Clare, not too far from Limerick City, Bunratty Castle and Folk Park is one of the must-see places in Ireland with kids. Not only do you have Bunratty Castle itself to explore, but also the Folk Park which is hugely interesting. Bunratty Castle, dating from the 15th century, is one of the best tourist sites in Ireland and has a few different levels to explore. Within the large tower house there are rooms such as the Earl's Kitchen, the Great Hall and the Earl's Bedroom to explore.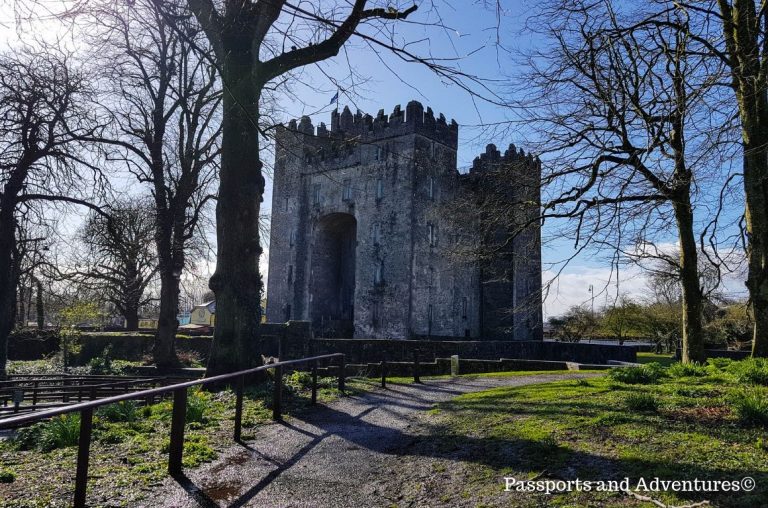 If you have time, and perhaps if your kids are bit older, I highly recommend you book one of the Medieval Banquets. Held within the castle itself, the banquet is a traditional Medieval feast with mead, singing and other entertainment. Although I didn't bring our son, my husband and I have attended one during our biking honeymoon in Ireland and thoroughly enjoyed it.
The Folk Park of Bunratty Castle is a wonderful place to bring kids in Ireland. One of the most interesting places to visit in Ireland, this park contains houses showcasing 19th century Irish village life. Rural farmhouses, shops, workshops and streets have been recreated in the park and are a sight to see. It very much reminded me of St Fagan's in Cardiff.
Our son was completing intrigued by some of the furniture and the lack of stairs in the houses. My favourite part of each house had to be the peat fires. They reminded me of my parent's house in Galway and the peat fires we used to light during the winter. If only technology could let me bottle it up and let you smell it as you read it.
There are over 30 buildings to explore around the park and even some farm animals too. Costumed characters can be seen throughout the park to help depict life in 19th century Ireland and are also on hand to answer any questions you may have.
One area we never got to explore during our visit was the Fairy Village. Despite spending several hours at Bunratty Castle and Folk Park, we somehow missed this section. However, it's a great excuse for us to make a return visit to one of the best castles in Ireland. If you are considering visiting Ireland with kids, then you need to include a visit to Bunratty Castle as they will thoroughly enjoy it if our visit is anything to go by.
Find out more about one of the best castles to see in Ireland and our visit, click here.
And to find out more about why you should visit Bunratty Castle, even without the kids, check out this post from XYU and Beyond.
King John's Castle
Located in Limerick City, King John's Castle is one of the best-preserved Norman castles in Europe dating back to the 13th century. It sits on the banks of the River Shannon and is quite a large castle to visit.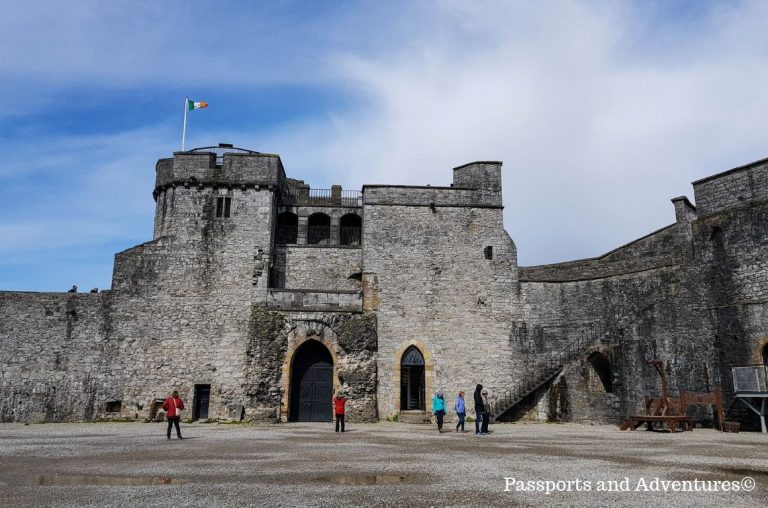 As you enter the castle there is an exhibition, which you should note is more suitable to older children than our son, who was 4 at the time of our visit. That said, there are a few displays in the exhibition which young children will enjoy.
The one which caught our son's attention the most was the model of the castle with buttons which light up certain areas, similar to that found at Cahir Castle. After this exhibition you pass through an area showing you excavations before you enter the main courtyard of King John's Castle, which is one of the largest we've been in.
From there you can visit various towers and keeps of the castle and in many you will find interactive displays. In one keep we visited we found the stonemason and the interactive display was a video of the stonemason. It gave our son a bit of a fright when he started talking to us! I won't ruin it for you.
If you climb to the top of the main gatehouse keep, you'll be able to enjoy some stunning views of Limerick across the River Shannon. King John's Castle in Limerick is a great castle in Ireland to visit with kids and can easily be combined with a visit to Bunratty Castle as they are quite close to one another. It's one of the best castles to see in Ireland and should make you Ireland bucket list of you are visiting County Limerick or Clare.
Blackrock Castle
Although this is a castle from the outside, Blackrock Castle in Cork is a bit of a surprise once you step inside. Developed as a coastal defence fortification in the 16th century to protect Cork Harbour further up the River Lee, Blackrock Castle is now a museum and observatory.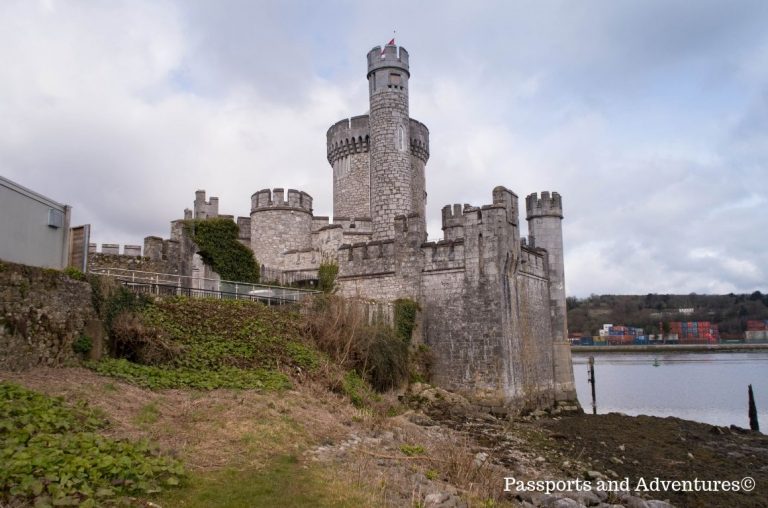 With interactive exhibits about exploring space and alien life forms, to the gunnery and rich maritime history of the caste, Blackrock Castle Observatory is a great place to take kids and is one the top Irish castles for families. There are also daily tours about the castle during which you can climb the tower and enjoy the views across the River Lee and also visit the gunnery.
We joined this tour and it was interesting learning about the history of the castle. However, be warned that younger children might become a little bored during this. You can also enjoy a planetarium show at the castle, something we didn't get to do during our visit.
There is a café within the small grounds of Blackrock Castle should you or little people get hungry and there are various events held throughout the year at the castle just for kids. Check out the events page of the website to see what's on.
Although we didn't spend very long at Blackrock Castle, both my son and I enjoyed our visit to the observatory. I would like to return when he is a little older to rejoin a castle tour as I didn't get to hear all of the talk, but what I did hear was very interesting. I would also like to see the gunnery and enjoy a planetarium show. However, that said there was still plenty of things to keep us entertained during our visit.
Blarney Castle
No visit to Ireland is complete without a visit to Blarney Castle, especially if you are old enough to kiss the Blarney Stone. Blarney Castle, in County Cork, is another of the medieval castles in Ireland and one of the most popular castles in Ireland. In my opinion it is also one of the most famous castles in Ireland, thanks to the fable of the Blarney Stone. Legend says that if you kiss the Blarney Stone you will be given the gift of the gab.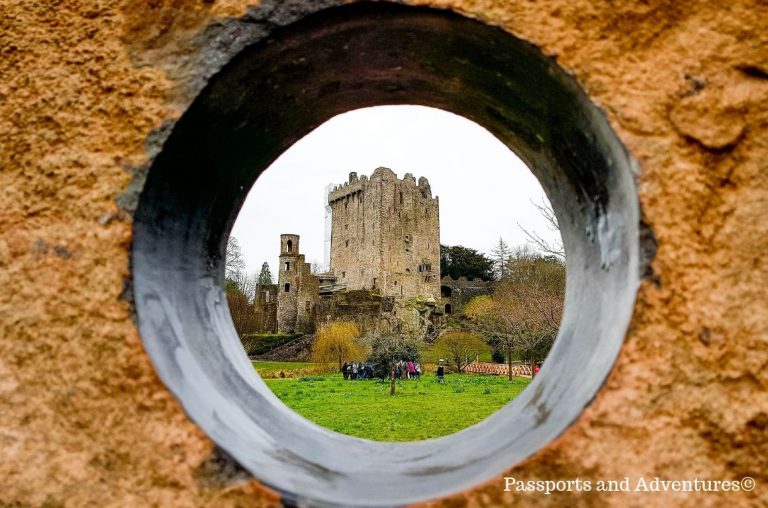 Blarney Castle and Gardens is an extensive site with many things to see and enjoy aside from the castle itself. The grounds are large and have various gardens throughout from a Poison Garden featuring poisonous plants, to the Fern Garden where you will find ferns as well as one of the two waterfalls. There are so many areas to explore with kids from the two waterfalls, many gardens and lake to a playground, which sadly we missed during our visit.
We visited Blarney Castle with my son's cousin over Easter and instead of a dragon hunt, we did an impromptu teddy bear hunt which they both enjoyed. They also surprised us by climbing the 100 steps to the top of the castle, so I could kiss the Blarney Stone. Bucket list item ticked off.
My son and his cousin were fascinated at what I was doing. Hopefully we will return when they are old enough to kiss the stone themselves. I've written more about our visit to Blarney Castle on the blog before but suffice to say it was such a great place to visit with a three and four-year old. I just wish we'd had more time to explore the grounds. Alas, we had a drive to Dublin to do. That said, my husband wants to visit Blarney Castle and Gardens during our next Irish road trip so we'll plan a full day there.
Blarney Castle and Gardens was one of the highlights of our Ireland road trip over Easter and is one of the best things to do in Ireland with kids.
Rock of Cashel
Although technically not a castle, the Rock of Cashel appears as a castle to little ones such as my son. This beautiful Abbey dating from as early as the 12th century, based in the Tipperary town of Cashel, is an impressive sight as you enter the town.
Perched high on a hill overlooking the surrounding countryside, it is something that you need to see for yourself. It is a great place to explore with kids for an hour or two, you won't spend more than that exploring inside the Abbey and the graveyard around it. This was the first historic site in Ireland I visited with our son during our Easter road trip in Ireland.
The interior of the Rock of Cashel is quite breath-taking, with high arched beams where the roof once sat, impressively large transepts and naves, and intricately decorated tombs. The graveyard, which surrounds the building is small and houses a large number of graves. Just be respectful and help younger kids to be as well.
The Rock of Cashel can easily be combined with a trip to Cahir Castle as they lie only 20 minutes apart so will easily make a fun family day out in Ireland if you are near County Tipperary or are visiting the area as we were.
Read about visiting The Rock of Cashel with kids and our visit here.
In Summary
These are just a few of the best castles in Ireland to visit with kids and will make for some really fun family days out in Ireland. As I've mentioned, my son and I visited all these castles during our Ireland road trip over Easter and on some days visited more than one castle. We managed to visit some of the top 10 castles in Ireland and will be continuing our quest to add more to this list during a forthcoming trip to Ireland.
This is by no means a complete list of castles to visit in Ireland with kids and we intend to update it very soon when we visit more of the amazing castles Ireland has to offer.
If you are looking for some ideas of things to do in Ireland with kids why not visit some of the top castles in Ireland. You can even make it more interesting for them by turning your visit into a dragon hunt or teddy bear hunt as we often do.
Here is our itinerary, sharing how we visited all these castles, some of which are great Medieval castles for kids, during our first road trip in Ireland.
Day 1 – Travelling to Ireland
Day 2 – Rock of Cashel, Cahir Castle, Lismore Castle (Tipperary and Waterford)
Day 3 – Bunratty Castle and King John's Castle (Clare and Limerick)
Day 4 – Family Day
Day 5 – Blackrock Castle (Cork)
Day 6 – Family Day
Day 7 – Blarney Castle (Cork)
Day 8-10 – Dublin with family and return to Portugal
I do hope that if you are planning a visit to Ireland with kids you will try visit one of the many beautiful castles in Ireland. There are so many to choose from and we have every intention of visiting a whole lot more in our subsequent visits to the Emerald Isle, including some of the castles close to Dublin during our next trip.
Have you visited any of these castles with kids?
Cath x