One thing that is in abundance across the US are its National Parks. With 423 National Park Sites under the management of the National Park system, how do you know which one are kid-friendly National Parks and which one of perfect for your family vacation? In this post you'll find an amazing list of the best National Parks for kids in the US as tried and tested by those who have been.
As well as discovering the best national parks for families you will also discover what makes them great, an idea of some things to do in them and where to stay in or near these great National Parks. Where possible we've included how to reach the best family National Parks and when the best time to visit them is.
This list of the best US National Parks for families is in no particular order as they are all worth visiting. And the ones we have not visited are on our family bucket list now!
Best National Parks for Kids in the US
Whether you are travelling with babies, toddlers or older kids, these are the best National Parks for family vacations in the USA.
Top Tip: Accommodation in and near the best National Parks in the US book up quickly and in advance. If you are planning on a visit to one of these, you must book your accommodation in advance to avoid disappointment.
Joshua Tree National Park, California
One of the best US national parks to visit for families with kids of all ages is Joshua Tree National Park in Southern California. Joshua Tree National Park is great for kids (and adults) of all ages because there are some great beginner-level hiking trails such as the Hidden Valley trail (mostly flat) and also some more advanced trails for those with more experience.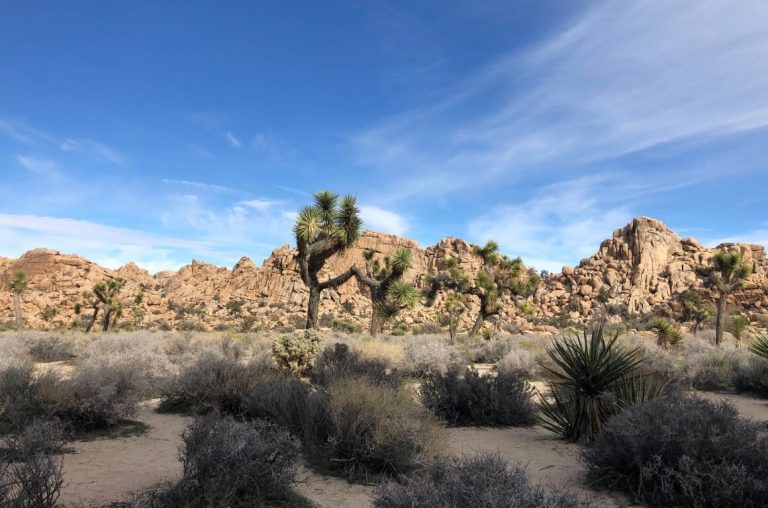 One of our favorite reasons we loved visiting Joshua Tree with younger kids was that they had a blast climbing all over and under the giant rocks even right off the parking lots. My favorite way to describe this park was a giant playground for all. Another fun thing to do in Joshua Tree National Park is to stay in the park until after the sunsets to find out if you can see the Milky Way, which is best visible in the summer. However, the best time of year to visit Joshua Tree National Park is in the winter months, where crowds are lighter and it isn't nearly as hot as the summer months.
When visiting this park it is easiest to fly directly into the Palm Springs airport if you aren't driving in from another nearby area. In Palm Springs there are tons of great places to stay, and many other options of things to do in the immediate area other than the national park.
Joshua Tree National Park is one of the best National Parks in the US and was suggested by Amanda from Patsey Family Travels.
Click here to find the best accommodation deals in Palm Springs for your Joshua Tree National Park visit.
Yellowstone National Park, Wyoming (Montana and Idaho)
If you are looking to visit National Parks with kids, then Yellowstone has to be on your list. As the first US National Park, this is one of the best National Parks to visit with kids. With geysers shooting water high into the sky, smelly rotten-egg springs and mud volcanoes and bison on the great open plains, kids of all ages will love Yellowstone.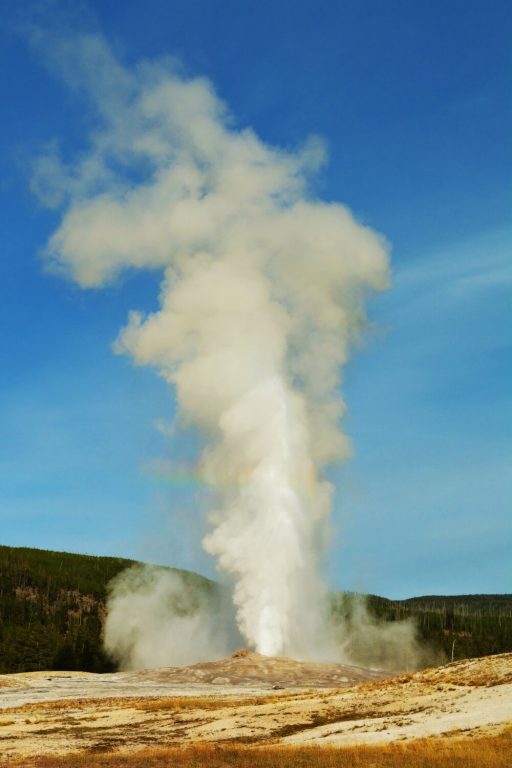 A great thing to do in Yellowstone for kids is for them to become a Junior Ranger. Let them complete tasks, listen to a Ranger talk and get their badge of honour. They could also become a young Scientist, solving mysteries by combining field work with a visit to one of the visitor centres. Just remember to get their booklets on your first day so they have plenty of time to complete their tasks.
Yellowstone is best visited in the summer months as much of the park is closed and under a heavy blanket of snow from October to April. While July and August are the busiest months, you can easily plan your days to avoid the worst of the crowds. Whether you have 3 days in Yellowstone or longer, you will have plenty to see and do.
The easiest way to reach Yellowstone is to fly into Salt Lake City and road trip the rest of the way. There are smaller airports in Bozeman and Yellowstone too. And if you are not camping in the National Park or are unsuccessful in securing accommodation within the park, there are plenty of places to stay in West Yellowstone which has a gate into the park and is just a 30-minute drive to Madison Junction from where you have access to all parts of this amazing US National Park.
Yellowstone was the first National Park we visited and one we will return to in the future. Discover more about Yellowstone and how to enjoy it as a family, including the best things to do in Yellowstone with kids.
You can find great accommodation options and deals in West Yellowstone here.
Theodore Roosevelt National Park, North Dakota
Theodore Roosevelt National Park is one of the least visited national parks in the country; yet in my opinion, one of the best for families. Many people have never heard of this national park located on the western border of North Dakota and Montana. I believe that it is quite an underrated national park and a great extension for families planning a South Dakota trip.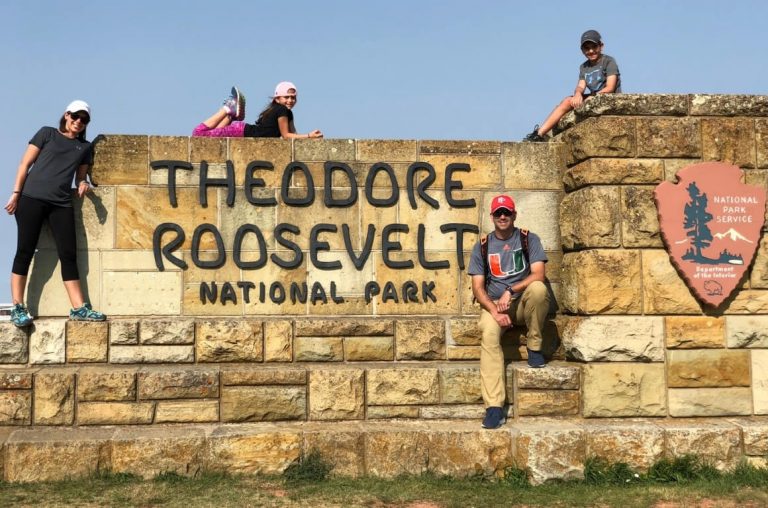 Theodore Roosevelt is best explored on a road trip, as the closest major airport is two hours away in Bismarck. Families should home base in the small gateway town of Medora. It is a charming western town with a walkable downtown area and located adjacent to the South Unit of the park. The Amble Inn is located right downtown within walking distance to the restaurants and is a great central location for families.
The Visitors Center is a great place to start as they have junior ranger programs, guided tours, and the trailhead to one of the best trails for families, Painted Canyon Nature Trail. This trail starts right at the Visitor's Center and takes you on a gradual descent into the canyon. During this one-mile loop, you will see tall prairie grass, bushes, and desert-like rock formations while you are walking amidst the streaks of color "painted" on the canyon. We were lucky enough to spot bison in the distance, and I wish I would have brought my binoculars. The views from both the top and bottom of Painted Canyon are remarkable. The scenic drive is also a great family activity, as there are herds of bison, wild horses, and a prairie dog town.
Summer is the best time to visit Theodore Roosevelt National Park, as it can be quite cold most months. In addition, since it is not as popular as some of the other parks out West, you will have the park mostly to yourselves. It makes for a great national park vacation away from the summer crowds and filled with scenic views of the mountains and animals. If you're looking for more information about outdoor adventure in North Dakota, including more hiking recommendations, check out these national park sites in North Dakota.
Theodore Roosevelt National Park is one of the best national parks for families in summer and was suggested by Margie of DQ Travel.
Find your accommodation in Medora for visiting this great US National Park here.
Carlsbad Caverns National Park, New Mexico
Are you looking for adventure and otherworldly exploration? For a completely new and different experience, Carlsbad Caverns National Park is the perfect natural wonder for families to visit. Walk down or let the elevator take you below to the giant caves you would never know are there from the surface.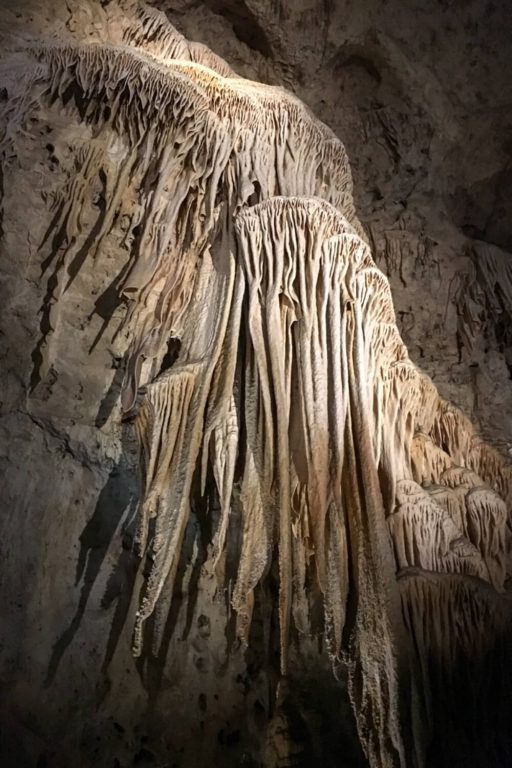 As a family we love to visit national parks, and Carlsbad Caverns is one my kids will never forget. There are large lit rooms and small passages, stalactites and stalagmites, and kids get to discover hands-on the things they've talked about in school. It truly seems like another world as you travel from the heat of the surface into the dark cool caves.
Take a hike around the Big Room Trail as a family; it's the largest single cave chamber in North America. The main trail is 1.25 miles, but there are shorter options as well.
Another fun activity is to go to the Bat Flight Amphitheater to watch the Brazilian free-tailed bats emerge from the cave to search for food each evening. There's a ranger-led talk beforehand and then the impressive exodus of bats kids are sure to love! The bats go south in winter so plan for this program when they're in residence.
Our favorite time to visit is in spring or fall, as the true New Mexico heat hits in July and August. Carlsbad Caverns is best reached by car, although local airlines do fly into Carlsbad from Albuquerque, El Paso, or Lubbock. We like to make it a road trip and drive down from stops in Taos and Ruidoso, New Mexico.
The closest place to stay near the caverns is in White's City Cavern Inn, and the town of Carlsbad is only about a 25 minute drive. Carlsbad Caverns National Park is a memorable must-see destination for families.
Carlsbad Caverns National Park has been suggested as one of the best national parks to visit with kids by Lauren from Explorer Momma.
Find the latest deals, prices and availability for Carlsbad accommodation here.
Saguaro National Park, Arizona
One of the best National Parks to visit with kids is Saguaro National Park in Tucson, Arizona. Because this park is located in the desert, the best time to visit is November through April, when the temperatures are cooler and you can hike without heat exhaustion! While it's possible to visit in the summer months, expect temperatures to reach above 100 degrees Fahrenheit.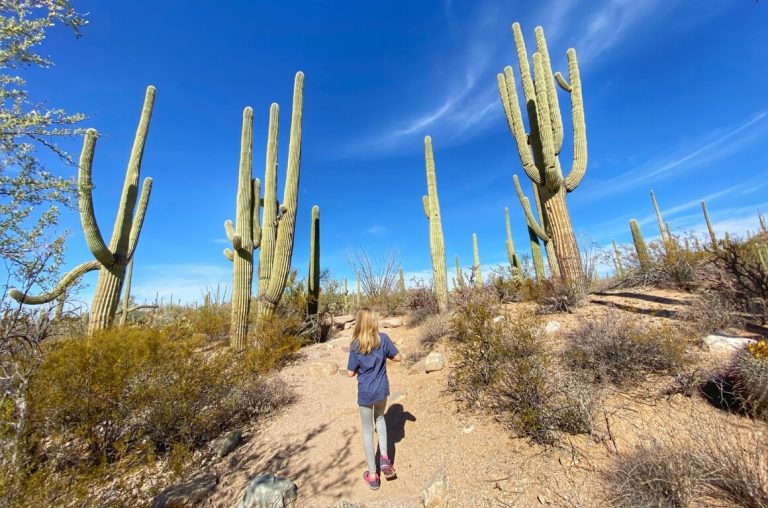 Saguaro National Park is located right in the middle of Tucson, which means there are lots of things to do besides just visiting the park making it the perfect family vacation destination. There are two sections to this park, the East and West, so be sure to leave enough time to explore both sides of the park. Before heading into the park, be sure to stop at one of the visitor centers to grab a Junior Ranger booklet! From there, go on a hike to see the giant cacti and dense cactus forest. Many of the trails are kid-friendly, some even perfect for toddlers. If you're feeling lazy, head to the East side of the park and drive around the very scenic loop drive that loops around the entire park.
The easiest way to get to Saguaro National Park is by flying into Tucson. Alternatively, you can fly into Phoenix, which is less than 2 hours away. Stay at the Westin La Paloma Resort & Spa, which has a kids club, multiple pools, slides and lots of family-friendly amenities. If you're looking for a great National park to visit with kids, Saguaro National Park is a great option!
Maggie from Milana's Travels suggested this national park as one of the best.
See the latest deals for the Westin La Paloma Resort & Spa here. Or find other family-friendly accommodation in Tucson here.
Yosemite National Park, California
When it comes to the best US National Parks, it doesn't get more iconic and stunningly beautiful than Yosemite. With sheer granite cliffs, rushing rivers and waterfalls, giant sequoias, and vast vistas, Yosemite impresses at every turn.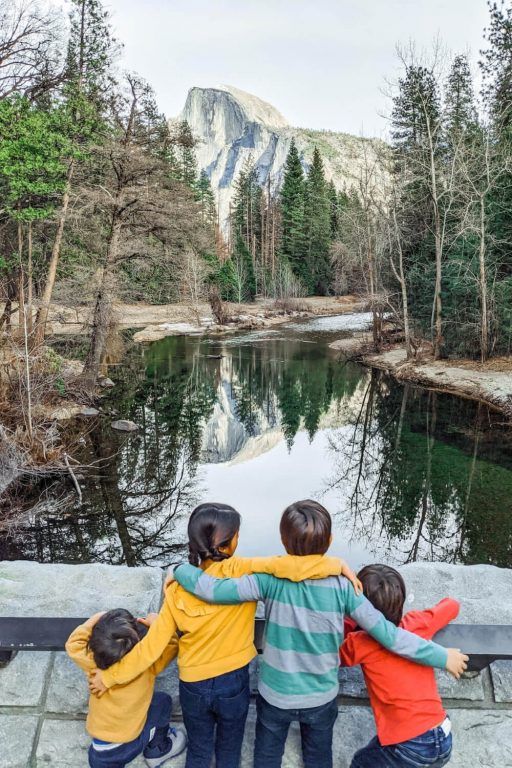 While Yosemite is fantastic whether you're 2 or 92, it's especially wonderful for families since there is so much to do within a small, easily accessible area. There are plenty of big-bang-for-your-buck stops that provide high reward with minimal effort. When visiting, be sure walk the loop to Lower Yosemite Falls, the tallest waterfall in North America. Be sure to stop at Bridal Veil Falls, as well, which is short enough for even young toddlers to walk. (Note: the Bridal Veil path is currently under construction.) Though the road to Glacier Point is currently closed for renovation, make sure to head up to the top when it does open for some of the most spectacular views of Yosemite Valley. You could also head some lesser-visited but still gorgeous areas of the park such as Hetch Hetchy or Tuolumne Meadows.
Yosemite is stunning in a variety of seasons, but May and September/October are especially nice for lower crowds and mild weather. May generally rewards visitors with gushing waterfalls, while the early fall has beautiful dry and sunny days. Winter is also stunning, especially after a snowfall!
It's easiest to get to Yosemite by car; it's about 4 hours from San Francisco or 6 hours from Los Angeles or Reno. While there, it's best to stay inside the park if possible. There are a number of beautiful campgrounds, or the historic Ahwahnee Hotel is perfect if you prefer indoor lodging. Outside of the park, Rush Creek Lodge has incredible family-friendly amenities.
Yosemite National Park was suggested as one of the best national parks for young families by Preethi from Local Passport Family.
Check out the accommodation at the Ahwahnee Hotel here. Or find the best alternative accommodation near Yosemite here.
Assateague National Seashore, Maryland/Virginia
If you're looking for one of the best US national parks for families, it doesn't get much more family-friendly than the beach. Assateague National Seashore is a national park that spans across both Maryland and Virginia, with two separate entrances in each state. In addition to the beautiful beach and great facilities, Assateague is uniquely known for its wild horses. On any given day, you can find horses along the water on your drive in, in the parking lot, or on the beach. The best time to see the horses in Assateague is in the morning before it gets too hot, or later in the evening.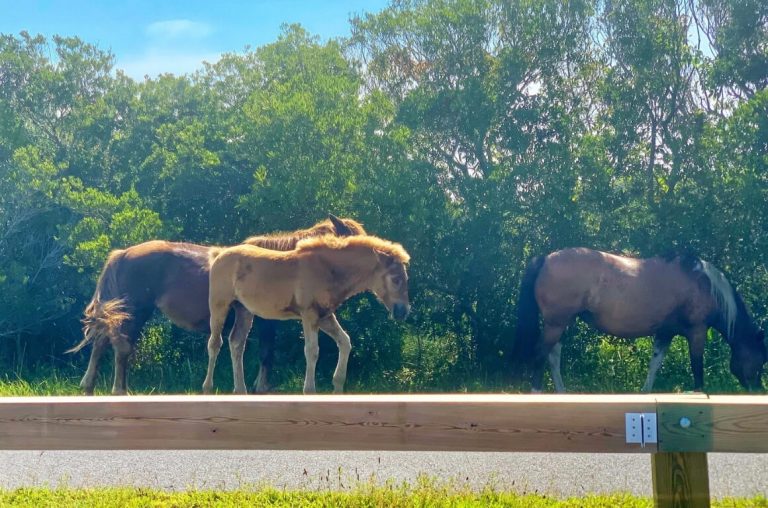 While visiting Assateague NPS in Maryland, you can learn more about the area at their visitor's center on the way into Assateague Island. Outdoor activities are also plentiful, and the island includes great paths for walking and biking. Plus there are spots for kayaking, crabbing and more.
Another great thing about Assateague National Seashore in Maryland is that it's very close to the nearby Ocean City, Maryland. There are a number of things to do in OCMD, including a boardwalk, amusement rides, amazing seafood restaurants and water sports. The proximity to a popular public beach also offers access to a number of great hotels and beach rentals as well. If you prefer camping, you can go camping directly on the beach in the state park section of Assateague. The nearby Frontier Town in Berlin, MD is a great nearby campground with several amenities to make your trip to Assateague National Seashore a great one.
Assateague National Seashore is one of the best national parks in USA for families according to Amanda from Toddling Traveler.
Find accommodation near Assateague National Seashore in Berlin here.
Valley Forge National Historical Park, Pennsylvania
One of the best national parks for families is Valley Forge National Historical Park in Pennsylvania. This historic park, home of George Washington's winter encampment from 1777-1778, offers so many fun things to do. Kids will love visiting Valley Forge thanks to the hiking trails, biking, and the fun American history.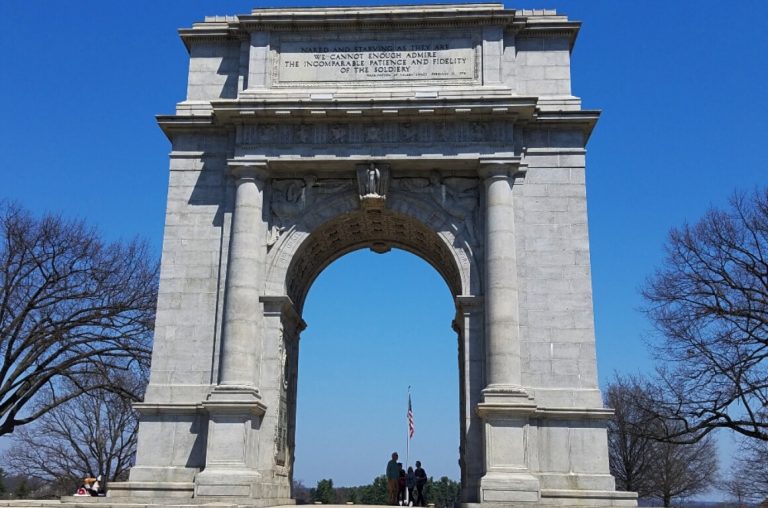 First, when you arrive at Valley Forge, stop at the Visitor's Center. Kids can pick up the Junior Ranger Activity Book to earn their badge! Inside the center is a small exhibit that showcases artifacts from the American Revolution. There is also information about what the soldiers endured during the winter encampment.
After the visitor's center, you can drive or bike on the 8.7-mile trail to learn more about life on the encampment. Don't forget to stop by the magnificent National Memorial Arch! If hiking is more your style, the park offers several trails ranging in length and ability. Some of the pathways bring you to the historic structures in the park, so you can hike and learn a bit of history along the way!
Located just outside of Philadelphia, Valley Forge National Historical Park is free to enter and open year-round. The best times to visit the park is late spring or fall, when the temperatures are cooler and the park isn't as crowded. If you are looking to stay nearby, Valley Forge National Historical Park is less than a 10-minute drive from King of Prussia, where you can find hotels from most of the major chains, tons of restaurants, and the King of Prussia Mall for shopping.
Lauren from Wild Kids Wander voted the Valley Forge Historical National Park as one of the best to visit with kids.
If this US National Park is your kind of thing, then find your accommodation in King of Prussia here.
Glacier National Park, Montana
Glacier National Park in Montana ranks in our top three all-time favorite national parks we've uncovered with kids and teens. Cascading waterfalls, reflective lakes, towering mountains, winding rivers, wildlife sightings, and huckleberry delights will help you unwind and unplug outdoors.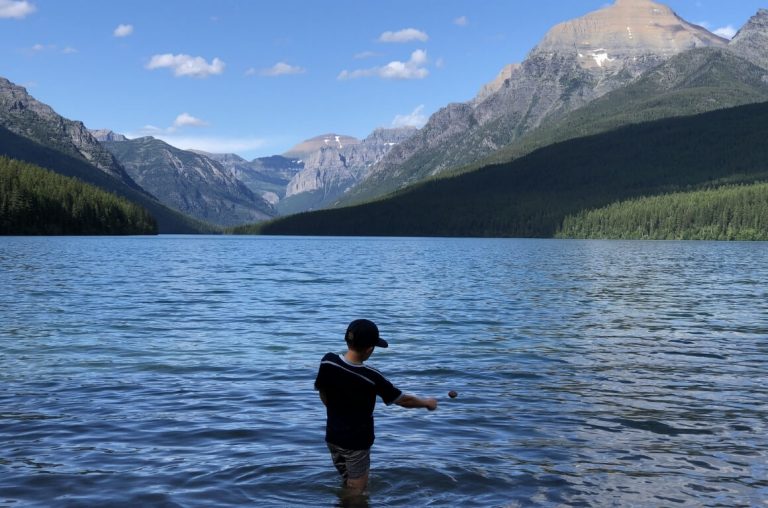 The lengthy list of things to do with kids and teens while based around West Glacier entrance can keep you busy for a week, with plenty of time for relaxing and forest bathing to boot. Kayak or float down the North Fork of the Flathead River. Jump into one of Glacier's many alpine lakes like Lake McDonald or Bowen Lake. Grab a huckleberry bear claw up in Polebridge. Hike to Avalanche Lake via Trail of the Cedars and along the lush Avalanche Creek. Drive the Going-to-the-Sun Road up to Logan Pass for mountain goat sightings and so much more.
The best time to visit Glacier National Park is in July and August when the days are long and pleasant. The sun stays out until nearly 10 PM! Since Glacier is typically teeming with visitors in mid-summer, consider exploring the park later in the day when most other visitors have hopped off the trail and left the park in search of dinner.
To reach Glacier National Park, fly into Missoula, Montana or the closer, smaller Glacier Park International Airport. Drive up through the enchanting town of Kalispell near Flathead Lake for a walk down main straight and a good lunch stop.
For lodging, aim for the Village Apgar Inn or the Lake McDonald Lodge inside Glacier National Park. Just outside Glacier, rent a vacation cabin around Columbia Falls, a small town thriving with great local restaurants and live music in the summer. There are also many options for camping in and outside Glacier.
*Check nps.gov to see if Glacier's east side entrances are open. The east side sits on the Blackfeet Tribe Reservation and as of 2020, they were not allowing visitors on their land due to the Covid-19 pandemic.
Glacier National Park was voted the best US national parks for kids and their families by Tanya from Rad Family Travel.
Find your accommodation in Columbia Falls here.
Shenandoah National Park, Virginia
Shenandoah National Park is well worth the visit for families looking to explore more of the US National Parks. With over 500 miles of hiking trails within the park, there's no shortage of hikes to do. Further to that, there's a chance to experience some of the Appalachian Trail while hiking on trails that are part of this epic 2,190 mile thru-hike.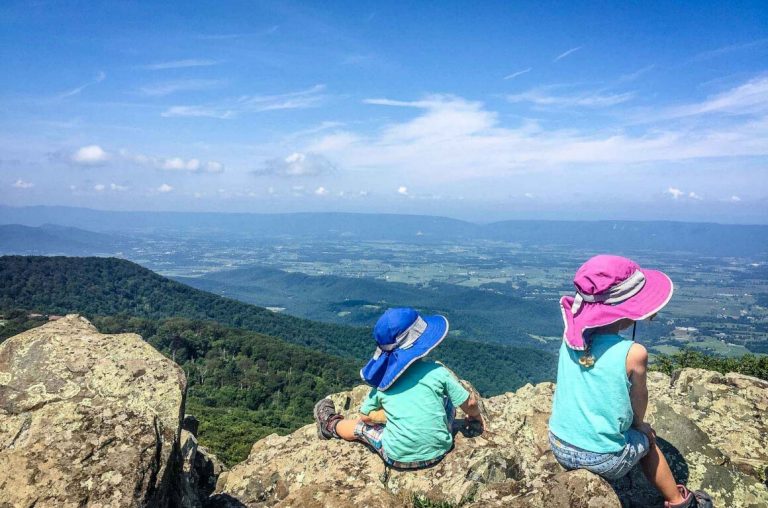 Getting to Shenandoah National Park and exploring the park is best done by car. For anyone not within driving distance, the closest airports are in Washington D.C., under 75 miles away. There are a few places to stay within the park, but for families finding an Airbnb outside of the park or camping within the park are the two best options.
The best time to visit Shenandoah National Park is between June and October. October offers the stunning fall foliage in a kaleidoscope of colors, a bucket list item for many people. The summer months can get very hot, but it's cooler up in the mountains making it still an enjoyable time to visit. The canopy of trees offering shade and plenty of opportunities to cool off in streams, make for some fun hiking experiences. Spring will offer better temperatures for hiking plus an abundance of wild flowers. The spring and fall will be the busiest in the park.
While visiting with kids, there are plenty of kid-friendly hikes in Shenandoah National Park to make everyone in the family happy. The Stony Man hike is 1.6 miles return and offers stunning views of the Blue Ridge Mountains. Watch any little ones at the viewpoint as there are no safety rails. The Dark Hallow Falls trail, also clocking in at 1.6 miles, is another popular hike that has the reward of a waterfall at the end. There's also plenty of opportunities to do some wildlife spotting in the park. Brush up on your bear safety and keep your eyes peeled as you drive through the park!
Celine from Family Can Travel voted Shenandoah National Park as one of the best US National Parks for families to visit.
Find the latest accommodation deals for Front Royal, the nearest city to the park, here. If you'd prefer an AirBnB and are new to AirBnB, use this link to get a discount on your first stay.
Mesa Verde National Park, Colorado
Mesa Verde National Park in southwest Colorado is an educational treat back in time. Embark on ranger-led tours to visit Ancient Puebloan dwellings that were last fully inhabited in the 1300s. Mesa Verde is home to 600 cliff dwellings alone.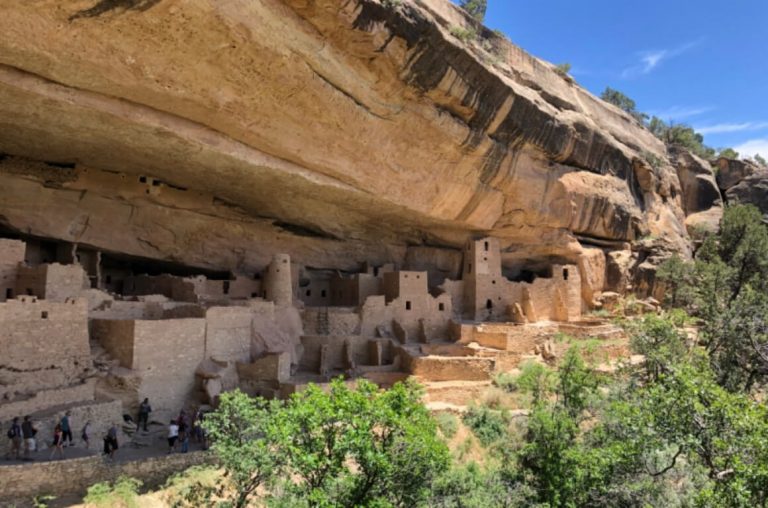 Your first stop will be the new fantastic Mesa Verde Visitor and Research Center. After a forty minute drive to Cliff Palace Loop, with your ticket in hand, follow your knowledgeable ranger on a short hike down into the sprawling Cliff Palace. On a separate reserved tour, climb down steps and up ladders as you step into the famous Balcony House. Your kids will love all of the climbing and up-close looks at these spectacular cliff dwellings located on Mesa Verde's Cliff Palace Loop. Spy more cliff dwellings from overlooks along Mesa Top Loop Road.
Contemplate the Ancient Puebloan life and their impressive architecture with their kivas and living spaces dating back as far as 600 – 1300 CE. If the Cliff Palace and the Balcony House leave you wanting more, buy tickets for a next-day tour of the Long House on the Whetherill Mesa Loop. Each ranger-led tour lasts one hour, but Mesa Verde is quite expansive, so proper planning is required in order to know how to plan your time in this park.
The cliff dwellings are open to tour late spring through summer and into fall. Summer can be hot, but plan your tours just right for shaded visits and pack lots of waters and snacks.
Mesa Verde is just 12 minutes outside of Cortez and is a highlight on a southwest Colorado road trip as you make your way to splendid mountain towns and hot springs locations in the San Juan Mountain Range.
It's recommended that you stay the night in Far View Lodge inside Mesa Verde or in the nearby town of Cortez the night before you want to tour the cliff dwellings. The super clean and funky Retro Inn doesn't disappoint. In summer, Cortez's new city park pool is a great way to cool off after your park visit.
Tanya from Colorado Hikes and Hops said Mesa Verde National Park is one of the best National Parks in the US for kids.
Find the latest prices and availability here for the Far View Lodge inside the park.
Rocky Mountain National Park, Colorado
Rocky Mountain National Park is one of the most iconic USA National Parks, and it's also one of the most family-friendly. It's fairly easy to get to thanks to its location just 90 minutes from the Denver airport. But once you reach the mountain community of Estes Park, you'll feel like you're a world away from the big city!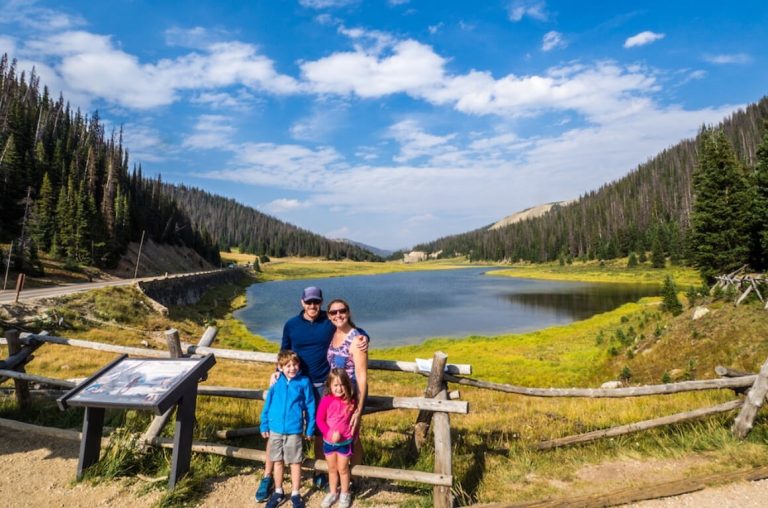 Rocky Mountain National Park offers so many wonderful things to do with kids. There are plenty of hikes that are appropriate for school-age kids, and some that are even manageable with preschoolers. You'll definitely want to spend at least one full day exploring the trails near Bear Lake, Cub Lake and Sprague Lake (be sure to check with rangers before starting your day so you'll know what's open). It's worth spending another day driving Trail Ridge Road, which goes over the top of the Rockies, across the Continental Divide and to the town of Grand Lake on the other side.
Summer offers the ideal weather for visiting Rocky Mountain National Park, but it can be extremely crowded, especially in the family-friendly Bear Lake area. On the other hand, Trail Ridge Road is usually only open from Memorial Day to mid-October (exact dates depending on the weather). If you can swing it, the ideal time to visit is right after Labor Day: most schools are back in session, but the park is fully open and the aspen trees have even started "quaking".
We had a wonderful stay at The Ridgeline in Estes Park. It's walking distance to all of the town's amenities, but has plenty of evening entertainment on site including a huge indoor pool with movie projection, a game room and fire pits for making s'mores with your complementary kit.
Melissa from The Family Voyage suggested Rocky Mountain National Park as one of the best national parks for young kids in the US.
If you want to stay at The Ridgeline as suggested by Melissa, find latest prices and availability here.
Hawaii Volcanoes National Park, Hawaii
One of the most unique National Parks in the United States is Hawaii Volcanoes National Park. Located on the Big Island of Hawaii, this UNESCO World Heritage Site is home to Hawaii's most famous volcanoes: Mauna Loa and Kilauea. This park is about 40 minutes from Hilo and 2.5 hours from Kona.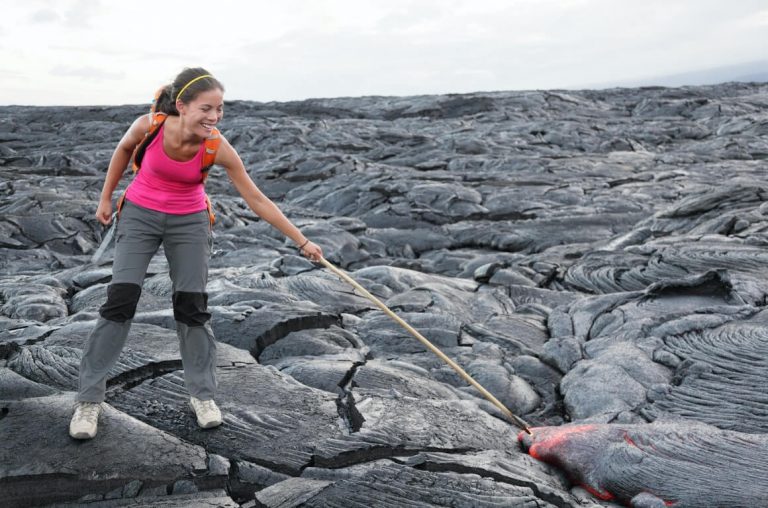 There are so many kid-friendly things to do at Hawaii Volcanoes National Park for families that you'll probably want at least a full day to explore. Your first stop should be the visitor's center, where you can find out about the Junior Ranger programs and special events happening that day. Then, head to the Thurston Lava Tube for the opportunity to walk through part of a mountain carved out when lava gushed through. There's also the Devastation Trail, which is a small hike across barren land. There are tons of hiking trails for all skill levels, but you should check with a ranger for tips on the best one for your family. And you can stop at the Holei Sea Arch near the ocean.
The best time to visit Hawaii Volcanoes National Park is when there's an active volcano. That's your opportunity to see lava. Otherwise, it's a fascinating place to explore any time of year. The only options for places to stay inside the park are Volcano House or the campground. Volcano House is a historic hotel that first opened in 1846 and has an incredible view of Kilauea's Halemaumau Crater.
Hawaii Volcanoes National Park was voted as one of the best US National Park for families by Marcie from Marcie in Mommyland.
Find accommodation in Kilauea by clicking this link.
Olympic National Park, Washington
For families visiting the Pacific Northwest, Olympic National Park is a must-see. It's located about 2-3 hours away from Seattle and covers most of the Olympic Peninsula. Since it does cover so much ground, it's a good idea to plan to stay a couple of nights to explore all of the main attractions. Key spots to stay are Port Angeles, Lake Crescent, Forks, and Lake Quinault. Most families will visit during the summer months, which is truly a delight, however it is also the busiest time to visit. If you can visit in the shoulder season you could avoid the heavy crowds.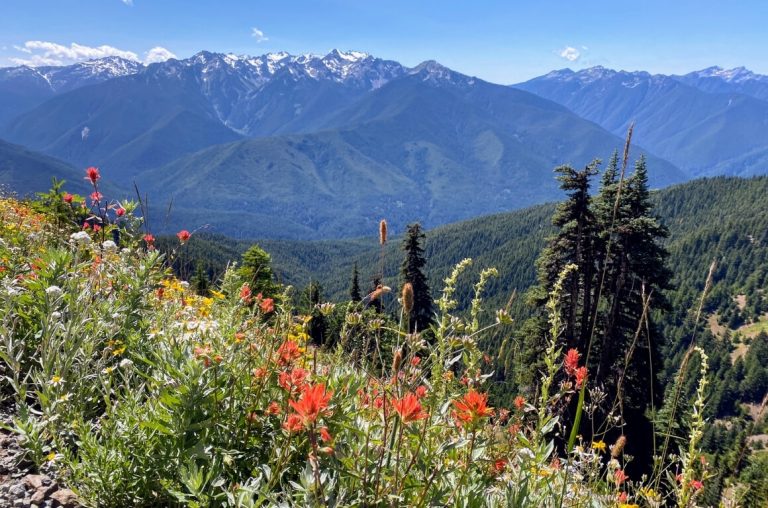 One of the most popular spots is Hurricane Ridge near Port Angeles. Port Angeles is also where the main visitors' center is located for the park. Hurricane Ridge is one of the main hiking trailheads for the park, and offers you amazing 360-degree views of the surrounding mountains and the Strait of Juan de Fuca. You can even catch a glimpse of Canada from certain outlooks. For families, this is an excellent stop because there are plenty of easy trails that start at the Hurricane Ridge parking lot and offer beautiful views. There are also some more challenging hikes with steep elevation gains. Hurricane Ridge is also a popular winter activity destination.
A few other must stops for families is Lake Crescent, a crystal-clear lake perfect for picnics and water play. Do keep in mind that it is the second deepest lake in Washington. And finally, you must head to the coast and visit some of the great Pacific Ocean beaches. Keep in mind that the beaches to the north will feature lots of rocks and driftwood, while the beaches to the lower part of the Olympic National Park coast do feature sand. But not matter which beach you visit you can expect strong tides and cold water!
Olympic National Park offers families a true Pacific Northwest experience with waterfalls, lakes, rainforests, and coastal beaches.
Kimberly from Stuffed Suitcase voted Olympic National Parks as one of the best National Parks for kids in the United States.
If you are planning to visit Olympic National Park, find your accommodation in Port Angeles here.
White Sands National Park, New Mexico
If you want to visit a unique National Park with kids, head to White Sands National Park in White Sands, New Mexico. It's the perfect stop on a road trip from Dallas to Phoenix.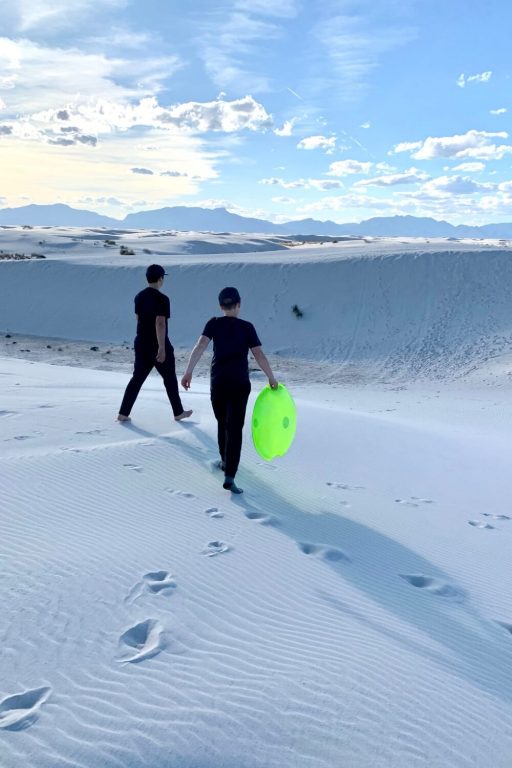 The white sand here is different from typical beach or desert sand. In White Sands, the dunes are actually gypsum which is commonly used to make drywall for houses. Due to its properties, the sand is quite easy to walk on without sinking, making it perfect for kids to navigate on their own.
Your first stop should be the visitor's center where you can pick up a park map. Head to the gift shop in the back where you can rent plastic disks so the kids can go sledding.
Once you have your sleds, the park is yours to explore. You will see many cars parked in the first parking lot, but we recommend continuing on until you find a space just for your family. The main road through the park is Dunes Drive, a 16 mile loop through the dune field. There are plenty of places along the way to get out and sled.
If the kids don't want to sled on the sand dunes, there are several hikes available. Those with small children should try the Interdune Boardwalk that is stroller and wheelchair accessible. It's an easy half mile stroll between the dunes.
Another option is the Dune Life Nature Trail where you can learn about the tracks of animals who live in the park. This one is a mile loop that requires climbing some dunes.
The best time to visit White Sands is in the off season when it's not as hot (October to April). We recommend staying in Las Cruces, which is only 30 minutes away. There are several family friendly properties in the area, but we stayed at the Home2Suites by Hilton which is walking distance to Rudy's Country BBQ, the perfect place to end your day.
If you are looking for one of the best national parks for young children with stroller accessibility, then Kirsten from Kids Are A Trip has suggested White Sands National Park.
Find accommodation in Las Cruces here for your visit to White Sands National Park.
Arches National Park, Utah
Arches National Park is not only one of the best national parks in the United States to visit with kids, its unique topography and natural red rock arches make it one of the most picturesque places in America.

Arches is located just outside of Moab, Utah. It is one of the "Mighty 5" national parks located within the state. There are approximately 2,000 natural, sandstone arches within the 76,500-acre protected area which give the park its name.
With a variety of trails suitable for even young or inexperienced hikers, Arches National Park is easy for families to explore in a day or two while on a Utah or Southwest USA road trip. Many of the popular sites within the national park are located right off of the paved, scenic drive. One of the easiest hikes, Double Arches, is just a short half mile walk to see the two sprawling massive arches. Kids will also enjoy scrambling and climbing on the large boulders, or sitting and enjoying the breeze beneath the arches.
For those looking for something a bit longer or more challenging, the hike to Delicate Arch is perhaps the most popular hike in the park. This three-mile long trail is rated as one of the most challenging within the park, but can easily be done with children. The large free-standing arch has become a symbol of Utah and is one of the most famous geological features in the United States, if not the world.
Although the park can be a lot of fun for families, its desert climate, harsh sun, and limited shade can create dangerous conditions for people of all ages. When visiting Arches National Park, be sure to bring plenty of water and sunscreen, and dress in protective clothing.
Arches National Park has been voted one of the best for families in the US by Melissa from Parenthood and Passports.
Find accommodation on Moab here for your visit to Arches National Park.
Badlands National Park, South Dakota
Badlands National Park is famed for its wildlife, pinnacles, gullies, buttes, canyons, sunrises, and sunsets and is one of our family's favorite, low-key national parks. Located off I-90 in South Dakota, the Badlands seemingly appear from nowhere when you're driving through South Dakota from the east. Rapid City has the closest airport if you're flying in, and Wall is the closest town with any services.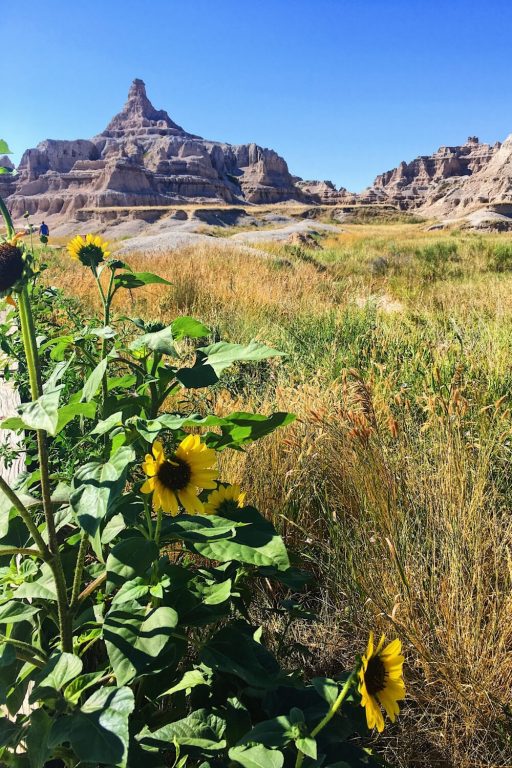 Featuring 244,000 + acres of prairie, grasslands, and mountains, hiking, biking, driving, and wildlife viewing are all popular at Badlands. The Badlands Wildlife Loop State Scenic Byway is a fan favorite – but if I were to ask my children their opinion, they would say in heartbeat to visit Roberts Prairie Dog Town and hike at Pinnacles Overlook. Don't forget to take binoculars because you will see bighorn sheep, bison, and of course those silly prairie dogs!
The really nice thing about Badlands is that it is not crowded like some of the more iconic national parks. You don't have to worry about taking shuttles or getting reservations for the more popular activities. The best time to visit is from late spring to early fall. Weather can be harsh in South Dakota – very hot in the summer and very cold in the winter. Make sure to have sunscreen, water, and hats if you go in the summer.
There are a few accommodation options: camping in the park, a hotel in nearby Wall, or take a day trip from Rapid City. Wall caters to backpackers so if you're looking for fancier accommodations, I recommend staying in Rapid City and driving the hour to Badlands. There are so many amazing things for families to do in the South Dakota Black Hills and Badlands area! You will not regret visiting Badlands National Park!
Badlands National Park is one of the best US National Parks if you prefer quieter parks and was suggested by Michelle from Simplify Live Love.
Find your Rapid City accommodation here for Badlands National Park.
Zion National Park, Utah
Zion National Park is one of the best national parks in the United States for families. It is excellent for families because it is easily accessible, has many family-friendly hikes, and has downtime areas for children.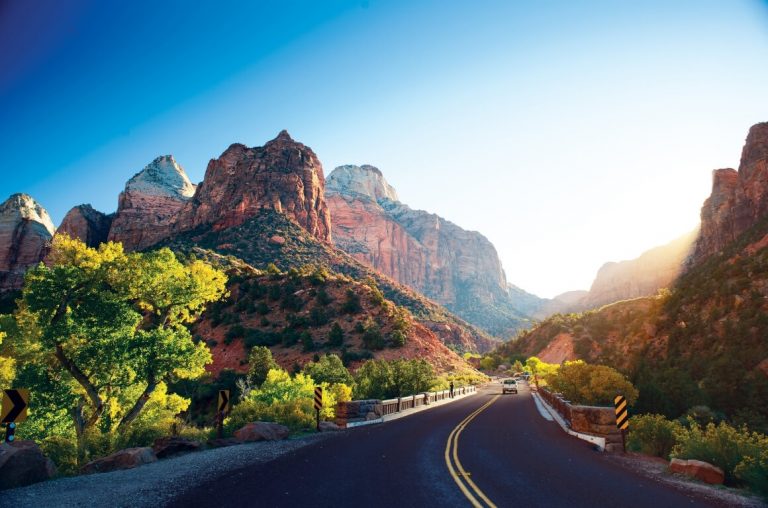 Getting to Zion National Park is easy. You can either fly into Las Vegas, Nevada, or Salt Lake City, Utah. Las Vegas is an easier trek at 170 miles away, while Salt Lake City is 300 miles away. There are a few lodging options near Zion National Park; however, the most popular are the Zion Lodge (in the park), Springdale, and Hurricane. Zion Lodge is in the park, and it is pricey. Springdale is the town at the base of Zion National Park and has many nice but costly options. The most economical option (but around 20 minutes from Zion) is Hurricane, Utah. If you do not mind the drive, this is where you'll find the best accommodations for your money.
There are many things to do in Zion National Park with kids including lots of family-friendly hikes in Zion National Park. Some hikes for families include Riverside Walk, Lower and Upper Emerald Pool Trails, Weeping Rock, and the Pa'rus Trail. However, hands down, the best hike is up to The Narrows via Riverside Walk. Next, if you need to kill time during naptime, drive the Zion-Mt. Carmel Highway!
Riverside Walk up to the Narrows is a beautiful hike and not too strenuous. 'The Narrows' itself is a hike up the Virgin River. If you are an experienced hiker and have the appropriate gear, you can hike up The Narrows with children in tow; however, I'd recommend wearing the child if possible. Even if you do not hike The Narrows, children can still play in the Virgin River, play with rocks, and build sandcastles at Riverside Walk's end.
The Zion-Mt. Carmel Highway is the highway that connects the east and west sides of the park. It is not as exciting as hiking The Narrows; however, it is a breathtakingly scenic drive you can do during naptime or when your children's legs tire out.
Catherine from Traveling with the Littles has voted Zion National Park as one of the best national parks for toddlers and their families.
If you are visiting Zion National Park and thinking of staying close-by, find your accommodation in Hurricane.
Big Bend National Park, Texas
Big Bend National Parks is one of our all-time favorite National Parks. This part is located in the Chihuahuan Desert in Southern Texas. No matter what your family is looking for, this National Park has it all.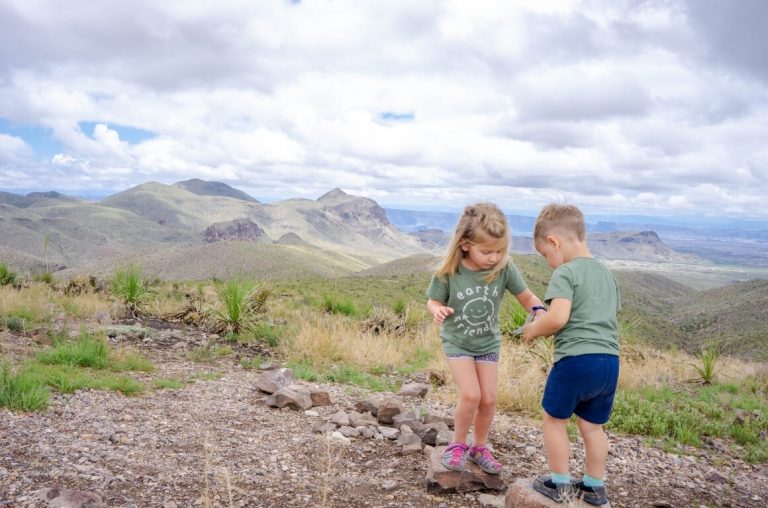 First, make a stop at the Fossil Discovery Museum. This free open air museum features the park's ancient life and how it has changed over the years. The museum is shaded and handicap accessible too! Another amazing stop in Big Bend with kids is a trip to Boquillas, Mexico! That's right, this park has an official port of entry where, with a valid passport, you can hop over to this small town to help support the local economy for some fresh made Mexican food and margaritas.
After Dinosaurs and an authentic Mexican experience, head to the Chisos Basin where you will find a mountain range in the middle of the desert. Inside the mountain range is a family friendly lodge and camping. The Chisos Basin is generally cooler than the rest of the park in the warm months, so spend a morning hiking of the many trails in this part of the park. Next, head to the Santa Elena Canyon. Here you can find a beach front entry to the Rio Grande River. Many stop along the banks for a swim or they trek across the river and hike into the canyon. If your kids are a little older, consider renting kayaks to kayak the canyon or hiring a private guide to take you through!
The best time to visit this amazing park is in the spring when the flower are in bloom and the weather is cooler. I highly recommend staying inside the park since it is so huge, so either camp in the Chisos Basin or if you have an RV, check out the Rio Grand RV Park that is inside the park. It has full hookups and a nice general store.
Big Bend National Park is one of the best National Parks in the USA for kids and their families and was suggested by Tavia from Big Brave Nomad.
If you cannot find accommodation in the National Park, you could stay in Alpine and drive the one hour to Big Bend National Park. See the latest deals for Alpine accommodation here.
Canyonlands National Park, Utah
Canyonlands National Park, located in the desert of Utah is one of our favorite places to visit with kids. It's a great place to explore since it's significantly less crowded than neighboring Arches National Park, yet still provides some incredible desert adventures.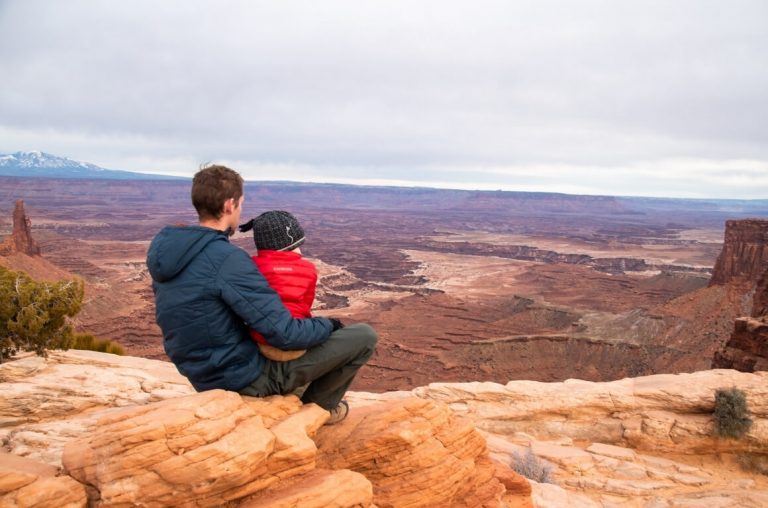 Summer in Canyonlands can get brutally hot, so plan on a fall or a spring visit here. If you want to have the park all to yourself, visit Canyonlands in the winter, when temperatures are cooler, very few people visit.
The main areas of Canyonlands are Island in the Sky, The Maze, and The Needles District. If you are planning on doing some hiking and seeing the major arches and lookouts, plan on just visiting Island In The Sky and The Needles. If you're looking for adventure, sign up for a backcountry 4×4 trip, or a slot canyon adventure.
Canyonlands is about a 40 minute drive outside of the adventure capital of Moab, Utah and there are not any services near the park. Plan on being self-sufficient while you're there with plenty of food, water, and gas to last your stay. Plan on camping in the park or traveling to and from Moab each day.
Canyonlands National Park was submitted by Jessica from Bring the Kids who voted this as one of the best National Parks to visit with kids in the US.
For the latest accommodation deals in Moab, click this link.
Grand Teton National Park, Wyoming
If you're in search of jaw dropping mountain views, lots of alpine beauty, and a taste of the Wild West, don't miss out on Grand Teton National Park. While Grand Teton is often overshadowed by neighboring Yellowstone, it's so full of amazing places that we plan a trip just to visit here every year with our kids.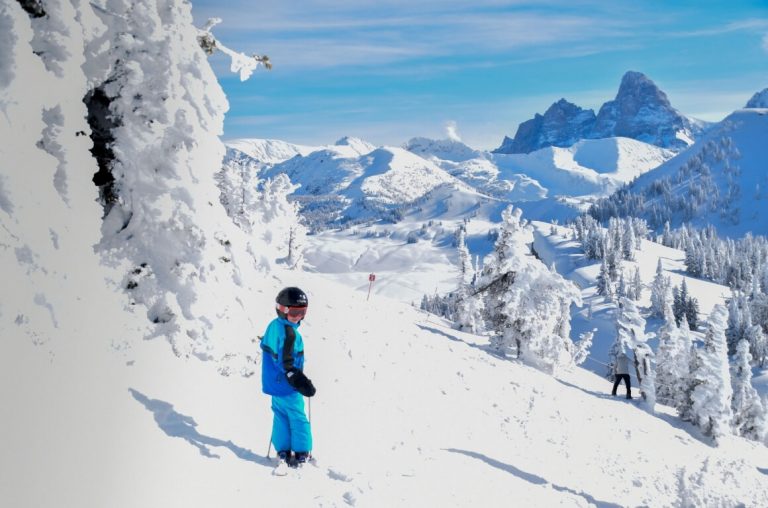 To really appreciate Grand Teton, you need to get off the beaten path. Do that by taking a hike up into the mountains (Phelps Lake is a great option), or by taking a scenic raft trip on the Snake River. Wildlife is abundant here, especially around sunrise and sunset, so keep your eyes peeled. If you head to Grand Teton in the winter, the Nordic skiing is fantastic, or you can ski at Grand Targhee for the most stunning views of the Tetons, right from the ski run.
July and August bring the most crowds, but if you want to experience the best of a Grand Teton summer, plan on visiting in September!
Jessica from Skiing Kids voted Grand Teton National Park as one of the best National Parks for kids, even in winter.
Jackson is the nearest town and you can search for accommodation here.
And there you have it. The 21 best National Parks in the US to visit with kids. With tips on what to do in the National Parks with kids, whether there are family-friendly hikes or not and some ideas of where to stay if you are visiting one of the parks, I hope this post will help you plan your next visit to a National Park in the US.
Cath x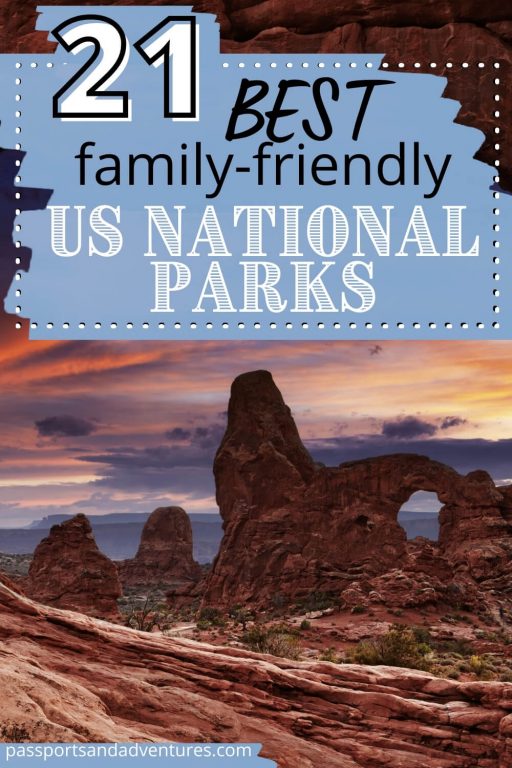 Related Posts