In September 2016 the Passports Family visited New York for the very first time. Our son was 2 years and 8 months old and both Mr Passports and I were a bit apprehensive about what we would be able to do with him while there. We also had to be realistic that certain things may be off limits to us due to having a toddler in tow. That said, we never let having a toddler put us off booking New York in the first place. Today I'd like to share with you our top 5 things to do in New York with a toddler in tow to show you that you should never be afraid to just do it.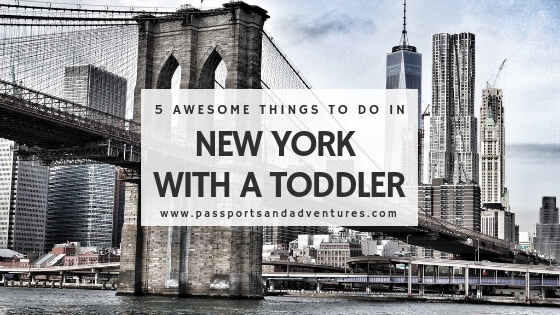 Photo by Hannes Ri on Unsplash
Updated March 2019
If you think that New York is a city not to do with toddlers and is best left until the kids are older, think again. Despite visiting with our son when he was just 2, we all enjoyed our time in the city and cannot wait to return in the future. Yes, certain things might prove a bit difficult with young kids and others they might get bored with, but we've proved that New York most definitely can be enjoyed, even with a toddler in tow. So, if you've ever wondered is New York suitable for toddlers, then wonder no more, and read on.
5 Awesome Things to Do in New York With a Toddler
New York, NYC, the Big Apple, the City that never sleeps, whatever you want to call it, New York is a city that is on most people's bucket list. However, some families out off going until their kids are much older. Worries like "is New York toddler friendly", or "what things can I do with a toddler in NYC" are just some of the reasons and excuses they use to forgo their dreams of ticking off this top family-friendly city.
But I want to show those families with these fears that New York with kids, even young kids, can be awesome and that there is a wealth of things to do in New York with toddlers. Here are 5 of the top things to do in New York with a toddler, some of which are free things to do in NYC with kids.
See New York from up high in the Empire State Building
We weren't sure if we were going to have time to visit the Empire State Building but we were up quite early on our last morning in the city, so decided to get the subway into New York and headed for the Empire State Building after a fab breakfast at a traditional diner around the corner from it.
We got there very early, just after it opened at 8am and to our surprise there were absolutely no queues. I did not expect this from one of New York's top tourist attractions. I had been worried as we didn't pre-book our tickets but we bought them, strolled up to the elevator and straight up to the 80th floor, the first stop, in an elevator with plenty of room in it.
After strolling around that floor and "ooh-ing" at the views, we then headed up to the 86th floor. This is the open-air observatory used in all the films and TV and we had been advised not to bother going any further. The views were even better from there. We really enjoyed our visit to the Empire State Building, especially as we seemed to pick a great time to go. And it proved to be a great thing to do in New York City with toddlers, as our son enjoyed running around on the 80th floor before trying to spy things from the 86th floor.
Arriving just after 8am on a Wednesday morning meant there were no queues. We have heard last thing at night (it is open from 8am to 2am) is the best time to visit for no queues and for getting snaps of the New York skyline lit up at night.
Our tickets included the 80th and 86th floors costing $38 each (children cost $32 and under 6's go free). We didn't bring our son's buggy and that was a great idea as you need to fold it before getting into elevators.
To check latest prices and for tours in the Empire State Building, CLICK HERE.
Tickets to include both the 86th and top deck cost $58 for adults and $52 for children, but as we were advised we didn't bother doing the top deck and certainly didn't feel like we'd missed out. The views from the open-air observatory deck on the 86th floor are all you need! There are, however, VIP passes that allow you to skip the queues if you plan visiting at busy times but they come at a premium, so be warned.
Don't believe me that the Empire State Building is best visited early? Karen of Mini Travellers also visited the Empire State Building early one morning and found it one of the best things to do with jet lag in New York.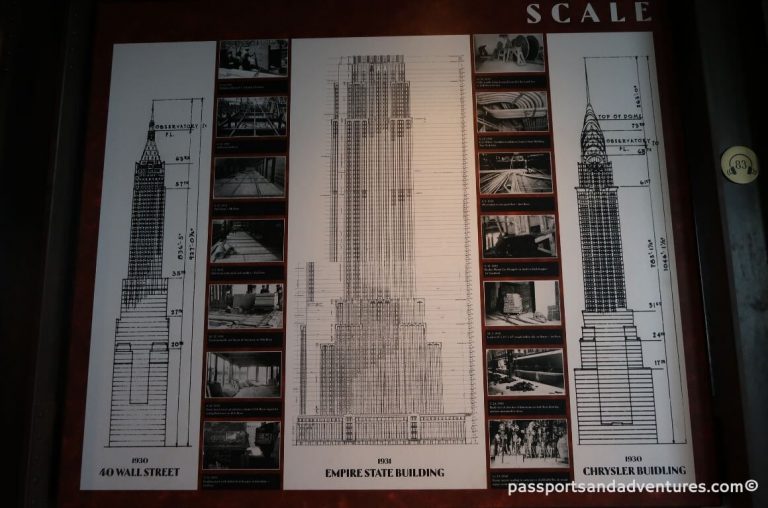 Take a Stroll through Central Park
This was one New York attraction that we were not going to miss. Central Park is huge with a lake and various other areas of interest in it. It also contains the Central Park Zoo. It is 843 acres or 3.4km2 and we only saw a small fraction of it. Surprisingly it is almost half the size of the Phoenix Park in Dublin!
Our main reason for visiting Central Park was to have a photograph taken in Strawberry Fields, to carry on a family tradition. We managed to find the elusive rock with memorial plaque on it and a kind passing tourist took our picture, ensuring the tradition carry's on.
The best part about Central Park is that it's easy to get to and is free! Attractions inside can cost extra such as the zoo and restaurants but if you are visiting on a sunny summer day, why not take a picnic and enjoy it on one of the many grassy areas. We didn't get to stop long in Central Park but it will definitely be on our must-return-to list for our future visits to New York. Kids will love it as it's a great place to run free among a busy bustling city! It also makes New York for toddlers fun.
And if you are visiting New York with older kids, why not join a guided walking tour of Central Park. While it is a casual 2-hour tour, it is a great way to explore the park, get your bearings and see all the famous film locations within the park.
To find out more and to book a walking tour, check out the availability and prices HERE.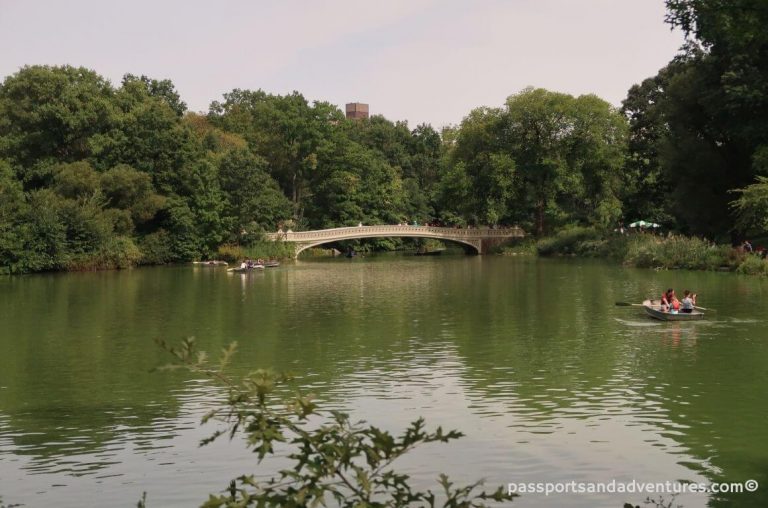 Visit the World Trade Centre Memorial
The Twin Towers Memorial park was top of my to-do list and we visited this on our jam-packed second full day in New York (the first being a total washout due to it being a very rainy day). We had breakfast in a traditional diner nearby before heading around to the site.
The memorial is both wondrous and humbling, and it really hits home what happened on that awful day when you see the two pools and all the names of the people who lost their lives when the two towers fell. Most upsetting for both my husband and I was seeing a lady's name and beside it "And Her Unborn Child". We both welled up and gave our son's hand an extra squeeze.
The pools and landscaped gardens around it are stunning and a fitting memorial. There is also a museum at the site but we didn't visit it as we felt our son would be too bored for us to take our time going around it. We plan to visit it when he is older so that he can understand it more. It's one of the top things to do in New York with kids that are older than toddler ages, and probably best suited to those over 10 who can understand the significance of the memorial.
The memorial park itself is free while the museum costs $26 for adults, $20 for young adults aged between 13 and 17 and $15 for children (between 7 and 12 years of age, under 6's are free) and you can pre-book your tickets up to 6 months in advance. It is advised to allow yourself 2 hours for your visit, particularly if you plan to include the museum in your visit. The memorial is open from 7.30am to 9pm daily and the museum from 9am to 8pm.
To check for availability and skip-the-line tickets, CLICK HERE.
The only thing I will advise, especially if you are visiting with a toddler, and you are getting the subway, do not travel during rush hour. We made that mistake and kept trying to get out of the way of commuters, and general New Yorkers, and it took us ages to exit the amazing mall and concourse up to street level. So avoid rush hour if you can! But you should definitely put this on your must-see list of places to visit while in New York.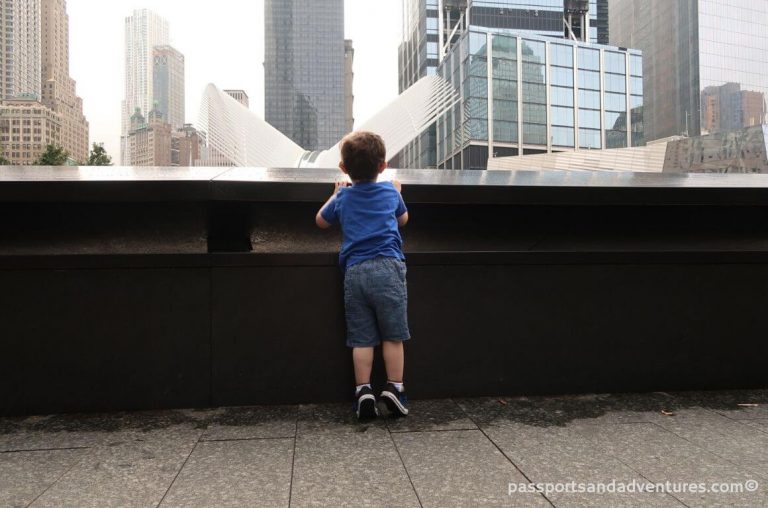 See Manhattan from the water on a Water Ferry
We did this on the recommendation of my sister-in-law and thoroughly enjoyed it. It is a 1 hour boat ride around the tip of Manhattan that takes in Manhattan, Liberty Island and the Brooklyn Bridge, which we would have missed had we not seen it on this trip. It's one of the awesome things to do in New York.
We got on the Zephyr, a large ferry type boat, at Pier 16 and headed for the top deck. The weather was lovely and when the sun came out it made our water views of Manhattan very magical. We also managed to get some pictures of the Statue of Liberty without having to step off the boat which we thought was great.
The boat trip is narrated with information from a guide and ours was very funny. There are two cash bars on board, remember cash, and you can buy tickets for this which combine other attractions too.
Tickets just for the ferry cost us $30 for adults and $19 for children (with under 3's free) and there are various departure times between 10am and 5pm. This boat trip was thoroughly enjoyed by both us and our son and is definitely one I would recommend you do for a different view of Manhattan. If your children are anything like ours you'll find this one of the best things to do with toddlers in New York City.
To find availability and check latest prices, CLICK HERE.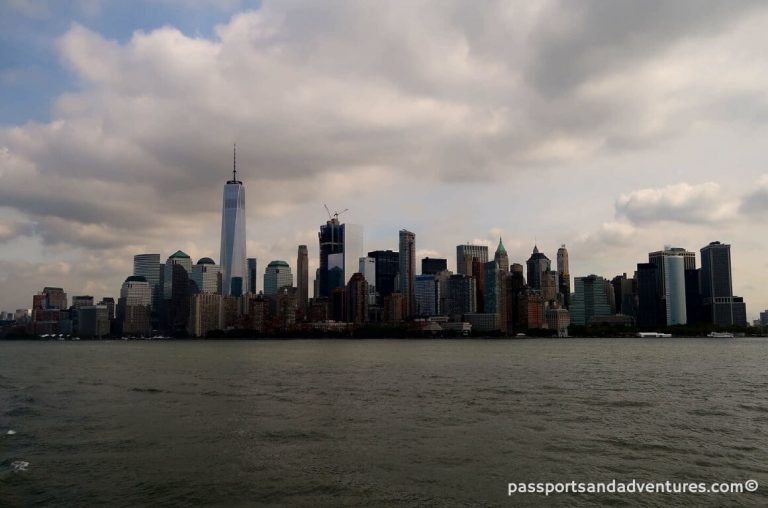 Enjoy the bright lights of Times Square
No trip to New York would be complete without a trip to Times Square and having your picture taken with all the lights of the billboards behind you. Times Square was the very first stop during our trip and it is an amazing place to see in the flesh. Our son was amazed by all the lights and sounds, although he wasn't too enamoured with the sirens around us.
Times Square is free to visit and there are plenty of shops around if you fancy a bit of shopping or restaurants if you want a bite to eat. We went into the Disney Store and bought our son a t-shirt and Mickey Mouse as it just had to be done.
The only thing I'll warn you about Times Square and strollers/buggies is it gets very, very busy and can be a bit difficult to navigate with a stroller/buggy. I'll be honest and say I took no prisoners on the sidewalk and got through relatively unscathed. For kids on their own two feet, keep a tight grip on their hands and don't let go as the crowds could easily swallow them up.
As mentioned this is one of the free things to do with toddlers in NYC, just keep hold of them tightly and take no prisoners if you are navigating with a stroller/buggy.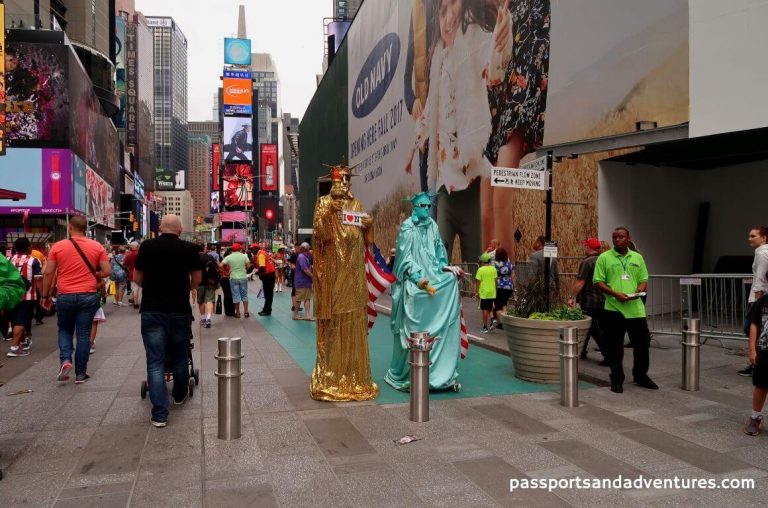 Tips for Visiting New York with Toddlers
In this section you will find some useful hints and tips for visiting New York with toddlers, young kids and even the older members of the family. From where to stay in New York with a toddler, to how to get around New York with a toddler and even travelling to the city, this quick guide to New York City with a toddler will help you plan a great visit to one of the most famous cities in the United States.
How to get to New York with Kids
If you are lucky enough to live in the USA you can avail of internal flights, buses and trains to New York. However, if like us you are a family based further afield, such as the UK or Ireland, the first thing you need to do is book an international flight to New York.
The best place for finding the best flight times and prices is Skyscanner. If you have the option of flying via Dublin, like we did with Aer Lingus, you might be lucky enough to do pre-clearance with US Customs. This makes your entry to the USA very easy. Whatever airline you choose, make sure to fly into their JFK, Newark or LaGuardia.
We flew into JFK, and having done pre-clearance in Dublin, we were out of the airport and in a cab heading for the city in no time, a big plus when travelling with a toddler.
To find the best flights, deals and prices, CHECK OUT SKYSCANNER.
Where to stay in New York with a Toddler
If you want to be in the hub of things, then staying on Manhattan Island is a must. You can reach all the major things to do with kids in New York pretty easily.
AirBnB used to be a great source of family-friendly accommodation in Manhattan but listings are become rarer and more pricey. The reason is, under state law, it is illegal in most buildings for an apartment to be rented out for less than 30 days unless the permanent tenant is residing in the apartment at the same time.
As a family we prefer to have the whole place to ourselves as you never know when your kids might be sick or playing up and no-one wants to be sharing an apartment with someone else during those times.
That said, there are listings for New York on AirBnB, and more so off the island of Manhattan, the last time I checked. So, you might get lucky finding a suitable one. However, just be aware that if you rent the entire place, your host is acting illegally.
We rented a fabulous two-bedroom apartment in Astoria, just across the Hudson River before this new law came into being during our trip Stateside. It was a gorgeous apartment and was just 20 minutes on the subway direct into Times Square. It had everything we needed for our stay with our then two year old.
If you are new to AirBnB, sign up using THIS LINK to get money off your first stay.
However, your best bet for staying on Manhattan Island as a family is to find a hotel. New York is awash with hotels and you won't be short of options. From budget hotels to some of the most luxurious in the world, there is something for every budget.
To check availability and prices for family-friendly hotels in New York, CLICK HERE.
How to Travel in New York City with a Toddler
The Subway
New York is a relatively easy city to navigate, whether you are visiting NYC with kids or toddlers. The easiest and most efficient way around the city is using the subway. Much like the Paris Metro and the London Underground, the New York Subway reaches far and wide.
It's easy to find your way around, find stations themselves and ticket offices are in most subway stations. It also runs 24 hours a day, seven days a week. It really is the city that never sleeps. To use the subway you need a Metro card, which we bought at the subway station near our AirBnB in Astoria.
And best of all, kids under 44 inches or 111 centimetres in height travel free with one paying adult. That's roughly the height of the average 5 year old. Strollers/buggies should be folded when using the subway, and this is where an umbrella buggy, like our Maclaren, comes in handy. We definitely needed to collapse it when travelling into Manhattan during morning rush hour, there was literally no room left on the subway once we hit Manhattan Island.
Use cabs – traditional and app-based cabs
There is nothing more iconic than seeing a Yellow New York cab, especially if it your first time in New York. And there are plenty of them. Uber and Lyft are also in the city and available to use. We actually used Uber to get ourselves back to JFK on the day of our departure.
If you are not a fan of Uber, you can hail a yellow cab and pay digitally using the Arro app. Note, that the traditional yellow cabs are exempt from car seat rules and children under 7 years of age are permitted to sit on an adult's lap in the back seat of the cab. Some of the cab apps such as UberFamily can provide car seats, so ensure you download the app before arriving in the city if you plan on using them.
You can bring your own and the driver is obliged to allow you to install it, but let's face it, when travelling with kids there are enough things to be carrying on flights without adding car seats into the mix.
For older toddlers and preschoolers you could decide to use a travel Boosterseat from Munchkin or a Mifold, a portable car seat which doesn't take up a lot of room and is one which we have ourselves for travelling and emergencies.
Use a Hop On Hop Off sightseeing bus
One of the first times we used a hop on hop off bus as a family was during our road trip in Ireland. We used the hop on hop off bus attached to the Dublin Pass and it was a brilliant way to get around with young kids.
So much so that, during a girls weekend in Edinburgh, myself and my sisters used the same method to get around the city and ensure we saw all the main sights. And a family weekend in Barcelona saw us do the same. They're my preferred method for seeing the city and getting your bearings while taking in the main sights. With unlimited stops and bus stops at all the major attractions in the city, they are one of the best ways to explore any major city in the world.
And to get the best of your time in New York, why not get yourself a New York Explorer Pass. Not only does it give you access to the Hop On Hop Off Big Bus new York, you can also choose which attractions use enter using your pass and it also gives extra discounts on shopping, dining and other attractions.
For more information about the New York Explorer Pass and latest prices, CLICK HERE.
Walking in New York with kids
New York is actually quite easy to walk around with kids, but bear in mind, it is a huge grid and little legs might complain of being tired. We brought our son's stroller/buggy and he enjoyed the ride from there. Even now at five years old, I'd be wary of walking too far in the city with him, despite the fact he is well-travelled and used to wandering cities with us.
If you do decide to walk around Manhattan, it's quite easy to navigate as the street numbers increase as you walk uptown (from the bottom towards, say, Central Park), and they decrease when you walk downtown. We walked from Central Park (59th Street) to Macy's on 34th Street and it was an easy stroll, albeit in the rain for us.
So there you have it, 5 things to do in New York with young kids, particularly toddlers in tow, along with some tips about getting to the city and traveling around NYC with kids. There are a thing or two to keep in mind with each of the things to do in New York with kids but they can ALL be enjoyed even with little ones for company. We had fun at each of them, got plenty of photos and got to tick a few things off our NYC to-do list.
There were one or two things we discovered weren't ideal with our son, such as the National History Museum due to them charging for toddlers, but that won't put us off visiting when he is older to enjoy them. It will be a few years until we plan our return trip but when we do we already have a huge to-do list made which includes the Brooklyn Bridge Park, the New York Transit Museum, the New York Aquarium, Madame Tussauds, Grand Central Station, Coney Island and a Helicopter Ride over Manhattan.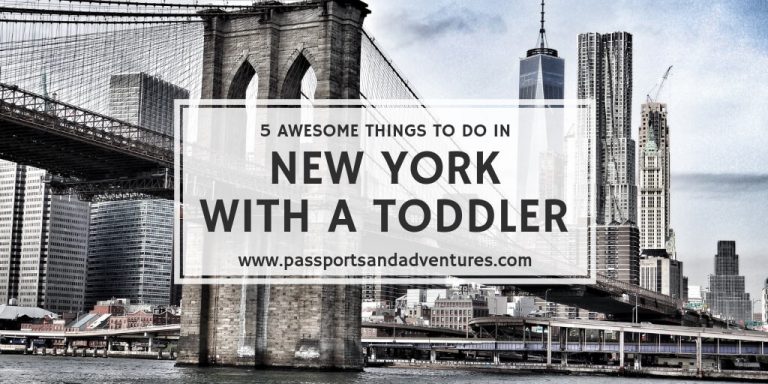 There are many things to do in New York with a toddler in tow and some that we didn't do. Another idea if you are travelling with toddlers or babies is to visit one of the New York petting zoos dotted around New York state. Most are within easy reach of the city and young kids will love them!
If you are considering a trip to New York and I haven't convinced you to bring the kids as well, then please check out the great post by Our Globetrotters about 10 things to do in Manhattan with kids and also this post by Dais Like These. And if it's going to be your first time in New York, you might want to check out this great post from Fly Drive Explore. And finally, if you only have 24 hours to spend in New York, this post from Zena's Suitcase has some additional ideas of how to maximise your time in the Big Apple.

Cath x
Note: all prices have been updated in March 2019.
I also recommend these Lonely Planet Books to help you plan your time in New York even more.







Passports and Adventures is a participant in the Amazon Services LLC Associates Program, an affiliate advertising program designed to provide a means for sites to earn advertising fees by advertising and linking to amazon.com, amazon.co.uk, amazon.ca. Amazon and the Amazon logo are trademarks of Amazon.com, Inc. or its affiliates. To learn more about affiliate links, read my Disclosure Policy here.