For many years, Yellowstone National Park was top of our bucket list. Having seen a documentary about it, we knew one day we would visit. However, we had long thought of it as somewhere to go when our son was older. But, in 2016 we took a chance and, on a whim, booked flights, car hire and accommodation to make our dream of visiting this amazing place a reality. In this guide to visiting Yellowstone with kids I'll tell you how to get there, where to stay and the best things to see and do in this unbelievable National Park.
Updated April 2021.
Did you know that Yellowstone was the world's first-ever National Park? It was declared a National Park by President Ulysses S. Grant on 1st March 1872. Yellowstone covers an area of over 3400 square miles (almost 9000 square kilometres), an area including parts of the states of Wyoming, Idaho and Montana. And it is bigger than Rhode Island state.
A UNESCO World Heritage site, Yellowstone National Park has many different ecosystems and has lakes, canyons, rivers, waterfalls and mountains within the Rocky Mountain range. It also has many geothermal features stemming from the fact it is part of an active super-volcano which last erupted over 630,000 years ago.
The geothermal features in Yellowstone include hot springs, fumaroles, mud pots and geysers. Yellowstone contains the world's largest concentration of geysers, with the most famous being Old Faithful.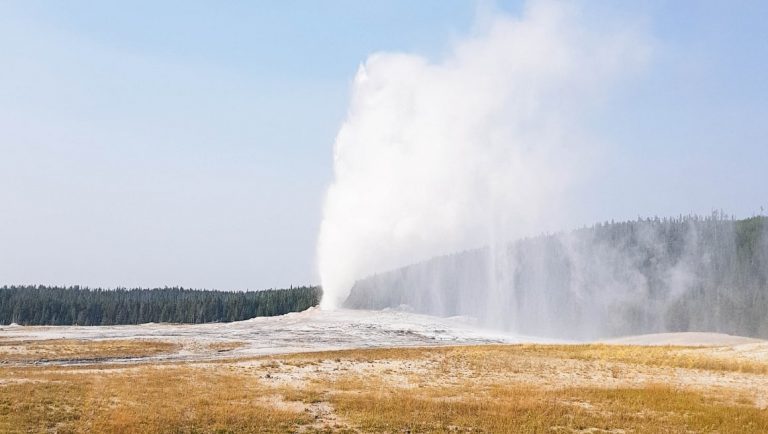 Visiting Yellowstone With Kids: Planning and Research
Before we went to Yellowstone, we did a lot of planning. The one thing we knew for certain was we wanted to combine a visit to Yellowstone National Park with a wider, longer USA road trip.
We investigated flying into one of the nearest airports to Yellowstone and picking up a car there. Our plan was to start at Yellowstone and drive to Portland, Oregon. But, to pick up a car and drop it off at another airport was proving very expensive, more than our flights from the UK to America.
So, we looked at our options and decided to fly into and out of Portland, hiring a car from the airport and driving to Yellowstone before slowly making our way back. You can take a detailed look at our two-week USA road trip itinerary in this post.
From there, we looked at accommodation options and booked AirBnB's where we could. This gave us the flexibility of separate bedrooms for us and our son, with the convenience of being able to save money and cook for ourselves. And with flights, car hire and accommodation sorted, our Yellowstone visit was in the making.
After this we researched things to do in Yellowstone with kids and turned to some of the travel Facebook groups for recommendations from those who live close by or have visited themselves. We got some brilliant recommendations and put together our Yellowstone Bucket List for our trip. We didn't tick them all off, but we got quite a few done during our time in the park.
So, my advice is to not only research how you are going to get there and where to stay, hopefully with a little help from this post, but also what you want to do and see while in Yellowstone and the surrounding area.
Now, let me help you a little with that planning!
How to get to Yellowstone National Park
When deciding how to get to Yellowstone, you have a few options. You can visit using a tour operator, travel there yourself, or go with friends.
There are many travel agencies online that have package available for Yellowstone for those who wish to travel to the park with a tour. However, in my opinion, these are to be avoided for a few reasons.
Firstly, they can prove expensive compared to booking everything yourself. Secondly, you are at the mercy of the tours timetable which will limit just how much real exploring you can do at your own leisure. And thirdly, yours will most likely not be the only tour arriving at the popular sights.
For a 3-night, 4-day guided Wildlife Tour of Yellowstone and Grand Teton, we recommend you CLICK HERE for latest prices, availability and full details.
In my opinion, you are much better booking everything yourself and touring the park in your own transport, whether it is your own car or a hire car, or even with friends. By effectively diy-ing your trip, you can decide how long to spend in the park each day, how long to spend at each sight and you can even time your visits to avoid the busiest times of the days (and hence, those package tours).
If booking everything yourself, first and foremost, you need to decide how you are going to get to Yellowstone. This will very much depend on where in the world you are located.
If your location is outside of the USA, you will need to investigate flights for a start. For those of you located within the USA, you will need to decide if you want to road trip there, or if you would prefer to spend more time in the park and less time on the road getting there, in which case you too will need to investigate flights. So here are some ideas for getting to Yellowstone National Park.
By plane
For those of us located in the UK, Europe or further afield, a plane journey is the very start of planning a trip to Yellowstone National Park. And for my US readers who want to spend less time driving to the park, a flight is also something you'll need to consider.
The nearest, largest airport with good connections is Salt Lake City, located 320 miles south of Yellowstone, roughly a 5-hour drive to the west gate, or a 6-hour drive to the south gate of Yellowstone. There are no direct flights from the UK or Europe to Salt Lake City, so you will most likely be connecting in Chicago or New York. We elected to fly direct from Heathrow to Portland with Delta Airways and drive from there to Yellowstone.
There are several smaller airports located closer to Yellowstone National Park, many of which connect to Salt Lake City. They include
Jackson Hole, Wyoming (for the Grand Tetons and south gate of Yellowstone, approximately 1 hour)
Bozeman, Montana (northwest gate of Yellowstone, approximately 1.5 hours)
Cody, Wyoming (east gate of Yellowstone, approximately 1 hour). This is the official Yellowstone Regional Airport.
Idaho Falls, Idaho (west gate of Yellowstone, approximately 2 hours)
Billings, Montana (north west or east gate of Yellowstone, approximately 3 hours)
To find the best prices for flights, we recommend you check SkyScanner. Click the highlighted link to check the latest prices and availability with SKYSCANNER UK.
Car hire will be necessary as the best way to see and experience Yellowstone National Park is with your own transport. We used Hertz at Portland Airport and hired a Ford Expedition which was extremely comfortable and easy to drive. And it cost a fraction of what a different drop-off airport option would have cost us.
To find competitive car hire prices, we recommend checking out rentalcars.com. Click the highlighted link to find the best car hire prices with RENTALCARS.COM.
By car or RV
If you are located within the US or are travelling by RV or car, the easiest way to navigate to Yellowstone is using good old Google Maps. There are five entrances to Yellowstone National Park and the nearest towns to each are detailed below. These are the gates through which anyone travelling to Yellowstone will enter.
North West Gate – Gardiner, Montana
North East Gate – Cooke City-Silver Gate, Montana
West Gate – West Yellowstone, Montana
East Gate – Cody, Wyoming
South Gate – Jackson Hole, Wyoming (the south gate is accessed via the Grand Teton National Park).
If you are wondering how to enter the park and how much does it cost to get into Yellowstone with a vehicle, you will need a National Parks pass from the gate you first enter, which costs $35 and is valid for 7 days.* All gates are open 24 hours a day during the normal, summer season. Alternatively, you can get an annual National Parks pass which costs $80 per year and admits the pass holder and 3 passenger in non-commercial vehicles to all the US National Parks.
Note that most roads are open within the park from mid-April to early November. During winter, only the road from the northwest gate to Mammoth Falls is open. To visit Yellowstone during winter you will need to book a guided tour as this is the only way to see and explore the park.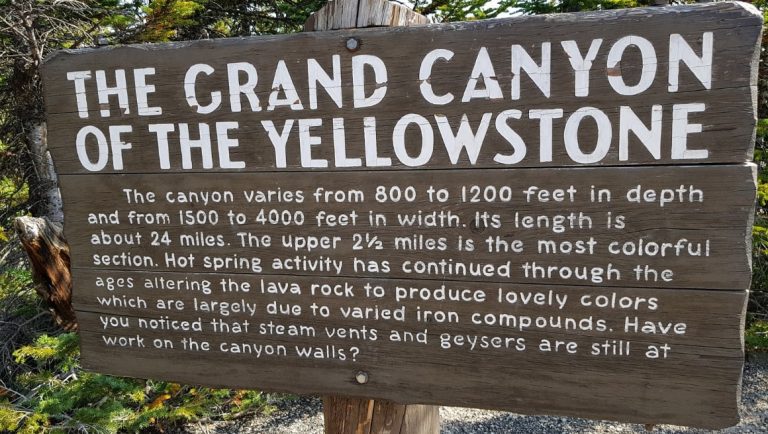 Where to stay in Yellowstone National Park
When planning your trip, you have three options when it comes to where to stay in Yellowstone. What you choose will also depend on how far ahead of time you are trying to book and also your budget.
Staying in Yellowstone
Within Yellowstone, there are a few options. You can elect to stay in the hotels or lodges, or you could camp.
Hotels and Lodges in Yellowstone
There are 9 properties within Yellowstone National Park with over 2000 rooms, with everything from basic cabins to luxury suites available. However, reservations in the hotels and lodges within Yellowstone get booked up nearly a year in advance, so you need to decide early on if you want to stay in the park and where to stay in Yellowstone. You can check back for cancellations but personally, I wouldn't leave it too late to secure accommodation.
It may also be advisable to split your time between two places to reduce the amount of driving you need to do to explore the whole of the park. However, if you give yourself enough time in Yellowstone, this won't be necessary. Hotels and lodges within Yellowstone include
Note that only two properties are open in winter and are booked via guided tour packages.
Camping in Yellowstone National Park
Camping is also available at Yellowstone National Park, although this is probably more suited to those living within the USA and who are planning to road trip to the National Park. There are 12 campsites in Yellowstone National Park, with over 2000 sites, 5 of which allow reservations. These include
Bridge Bay
Canyon
Grant Village
Madison
Fishing Bridge RV Park (the only RV park within Yellowstone).
The other campsites operate a first-come, first-served basis and during the busiest months of July and August are often marked as "FULL" as you drive by. Camping costs between $20-33 per night, with RV's costing up to $79 per night (plus tax and utility fee). The first-come, first-served campsites fill in the morning, so it is advisable to arrive early to try and secure your pitch.
Sites are limited to 14 nights between 1st July and the first Monday of September. For the rest of the year, it's 30 days.
Yellowstone also operates a network of back-country campsites for those who wish to stay along less travelled routes.
Campgrounds are typically found in villages with camping services like self-service laundry, general stores, gas/petrol stations and cafes nearby. Full details of all the services at each campground are detailed in the Yellowstone newsletter you receive as you enter the park.
Outside Yellowstone – Where to stay near Yellowstone National Park
If you decide the hotels or lodges are outside your budget as we did, or if you leave it too late to secure accommodation in the park, then you can always look for accommodation outside Yellowstone Park, which is exactly what we did.
Hotel accommodation outside Yellowstone
There are many hotels within the gate towns of Yellowstone, with a varied price ranges to suit all budgets. There are these hotels in Gardiner:
In West Yellowstone you'll find:
Holiday Inn – Click here for latest prices and availability.
Days Inn by Wyndham – View this hotel and get the latest prices by clicking here.
Explorer Cabins – For the latest prices and availability, click here.
And in Jackson Hole you could stay at the
SpringHill Suites by Marriott – Click here for the latest prices.
Hampton Inn – Check the latest prices and availability here.
The Lexington – Click here to see this hotel and gt latest prices.
You'll need to factor in your driving time to the Yellowstone entrance if staying in Jackson Hole as you pass through Grand Teton National Park before arriving at Yellowstone.
For a full list of hotels near Yellowstone National Park, and for latest prices and availability, CLICK HERE.
AirBnB accommodation outside Yellowstone
We opted for an AirBnB in a location called Island Park, just 30 minutes drive from the West Entrance to Yellowstone. It was a log cabin, located in the woods with all the home comforts we could have wanted including the option of a campfire for preparing s'mores.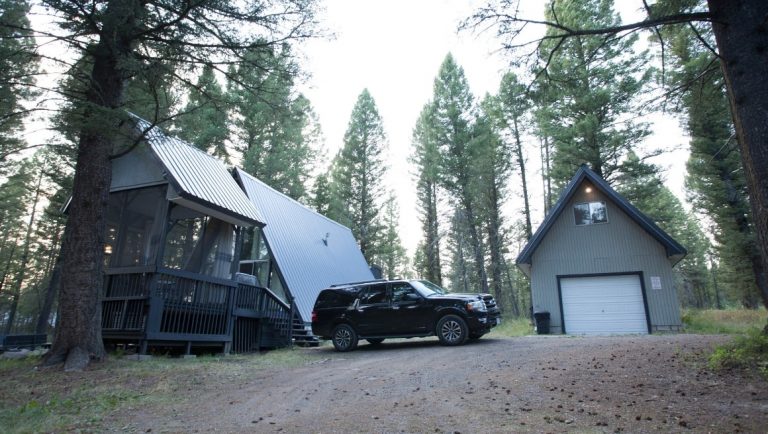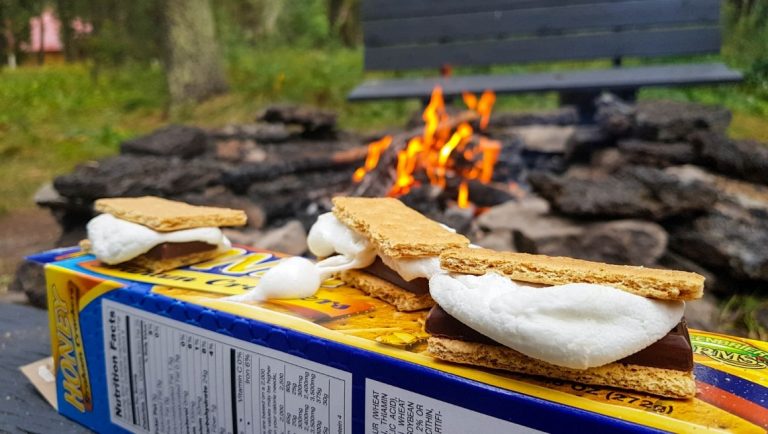 Just one thing to note when it comes to choosing an AirBnB for your Yellowstone trip. There will be several listings for inside Yellowstone or in the gate towns. However, I found that many of these were not "Book Now".
When I contacted the named person for the listing I found that these were apartments which sounded like time-share and I was told I'd have to wait until, earliest, 60 days before our arrival to book and confirm availability.
When planning a big trip like this I like to know I have secured my accommodation well ahead of time. So just be careful and look for "Book Now" listings as you'll know they are available to book.
When is the best time to go to Yellowstone
Yellowstone National Park is only open between mid-April and very early November, so the best time to visit Yellowstone is during this period. July and August are the busiest times to visit, while the shoulder seasons of April-May and September-October will be quieter. We visited at the end of August and found some of the more popular sites very busy during the middle of the day. However, nowhere felt completely overcrowded.
Temperatures in Yellowstone during the summer are mild and in July range from typically 4-21°C, although we did see both sleet and temperatures of 26°C during our visit. Therefore, pack for varying weather types.
You can visit Yellowstone during the winter but only via a guided tour, as already mentioned. This is because all roads, except the one from the north gate to Mammoth Falls, are closed to all vehicles. During winter, the only way to see and explore the park is in a snow coach or by snowmobile. You will also need reliable winter clothing (think ski wear). And it can be bitterly cold during winter in Yellowstone, with temperatures ranging from 0 to -16°C.
How many days in Yellowstone – How long should I spend in YNP
You could visit Yellowstone for as little as two days and see most of the most popular Yellowstone sights. However, to truly enjoy your time in the park, and to allow yourself time for unscheduled stops and time to explore, you really need 3 or more days in the park.
During our visit to Yellowstone, we spent 3.5 days in the park, exploring the various areas at our leisure. This worked out well for us with our then three-year-old in tow. It allowed us to see all the major attractions and to travel at our own pace, both for our own pleasure and taking him into consideration.
To find out more about how we spent our three days in the park, why not check out this guest post I wrote for Travel Mad Mum, in which I share a Yellowstone trip itinerary based on what we covered during our own visit and how best you can spend 3 days in Yellowstone to ensure you don't miss any of the Yellowstone must-see things.
Read my post about how best to spend 3 days in Yellowstone here.
What to do in Yellowstone and What to see in Yellowstone with Kids
When planning your Yellowstone road trip, what to do in Yellowstone and what to see in Yellowstone with kids will need some research. The first thing your itinerary will depend on is how many days you are spending in the park. I recommend you make a list of all the Yellowstone sights you want to visit and see and make a plan from there. To help you decide, here are some ideas for the top things to do in Yellowstone.
Scenic Drives – The Yellowstone Loop
The roads in Yellowstone National Park are divided into two major loops, the North Loop and South Loop. The North Yellowstone Loop takes in places such as the Boiling River, Mammoth Hot Springs, Yellowstone Canyon and the North Geyser Basin. While the South Yellowstone Loop includes the Fountain Paint Pot Trail, Grand Prismatic Spring, Morning Glory Pool, Biscuit Basin, Old Faithful and Yellowstone Lake.
You will be hard-pressed to cover both loops in one or even two days. There are many Yellowstone sights to see along each one and you will often come up against traffic as other visitors stop to view animals or find a parking spot at the busier, popular areas. However, you can easily cover them over three days and still have time to stop and explore different areas at your own pace.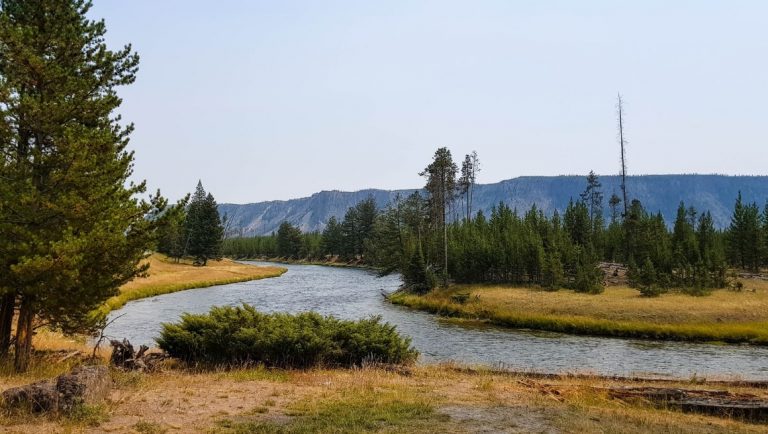 Wildlife Watching
Yellowstone is home to many animals, some of whom are easily seen during a visit, while others will remain elusive. Among those that call Yellowstone home are bison, moose, elk, bears, wolves, bighorn sheep, mule deer, coyote, pronghorn and marmot, to name but a few.
During our time in the park we saw bison in both the Hayden and Lamar Valleys. Along the Madison River we were lucky enough to see elk both in the afternoon and early evenings, drinking along the river banks. We also spotted a young coyote another day, on our way back from Norris to Madison.
However, a word of warning. Remember that all animals in Yellowstone are wild animals and are dangerous. Nor is Yellowstone a zoo. As you enter the park, you will receive a newsletter alongside your pass. Read it carefully, especially the section about wildlife safety. You are advised to stay 100 yards (91m) from bears and wolves, and 25 yards (23m) from all other animals. And if an animal moves towards you, you must also move to maintain the required separation distance.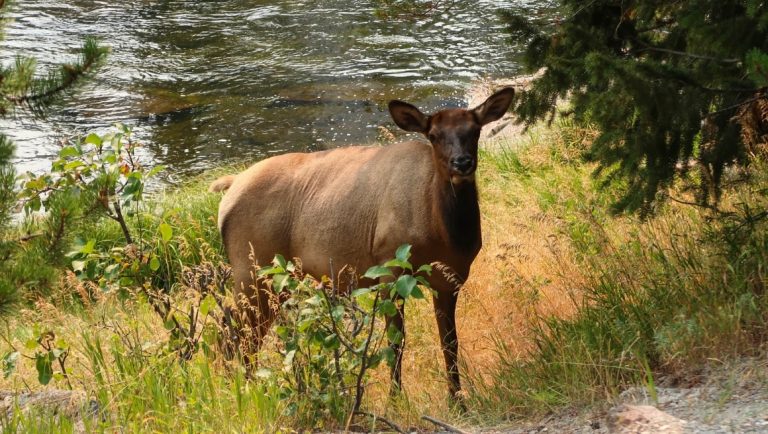 Rivers
There are several rivers in Yellowstone, many of which you will drive alongside or cross as you navigate your way around the park. They include the Bechler, Falls, Firehole, Gallatin, Gardiner, Gibbon, Heart, Lamar, Lewis, Little Firehole, Little Lamar, Madison, Snake and Yellowstone Rivers.
We drove along the Madison River every day as we entered the park via the West entrance and there are a few places long it to stop and enjoy the area along the riverside. This river was also the one along which we spotted elk on a few occasions.
If you drive along the South Loop, following the Yellowstone River towards Canyon Village, you are highly likely to spot bison in the Hayden Valley. So, keep your eyes peeled.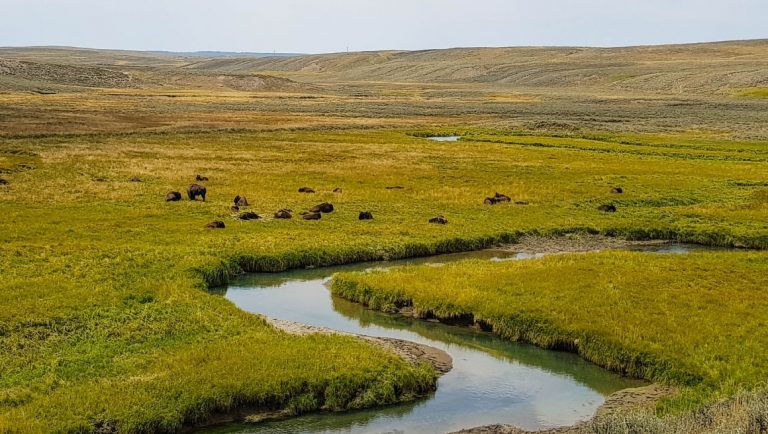 Enjoy the Waterfalls
Yellowstone National Park has many waterfalls, some that are small and some that are spectacular and large. These are among some of the best things to see in Yellowstone and you should really try to see a few of them to really appreciate them. Part of our Yellowstone Bucket List was to visit at least one of the waterfalls. The waterfalls of Yellowstone include
Firehole
Gibbon
Kepler
Lewis
Lower Falls of Yellowstone River (the tallest at over 300 feet (33 meters)
Mammoth
Mystic
Tower
Union
Upper Falls of the Yellowstone River
During our few days in Yellowstone we saw and enjoyed three of the waterfalls on offer in the park. We saw the brink of the Upper Falls of the Yellowstone River. Unfortunately, we couldn't view it from the bottom as the viewing point for this was closed to allow reconstruction work of the car park to take place.
We also saw the Lower Falls of the Yellowstone River from both above and below. Just be warned, while it is easy to get to the lower viewing point for the Lower Falls, it is a steep hike back up to the car park.
We also visited Gibbon Falls. After passing it one evening on our way towards Madison to leave the park, we decided to visit it early the next morning. We arrived long before the crowds and was only one of two cars in the car park. And we thoroughly enjoyed having this waterfall all to ourselves. They were by far our favourite falls that we visited in Yellowstone.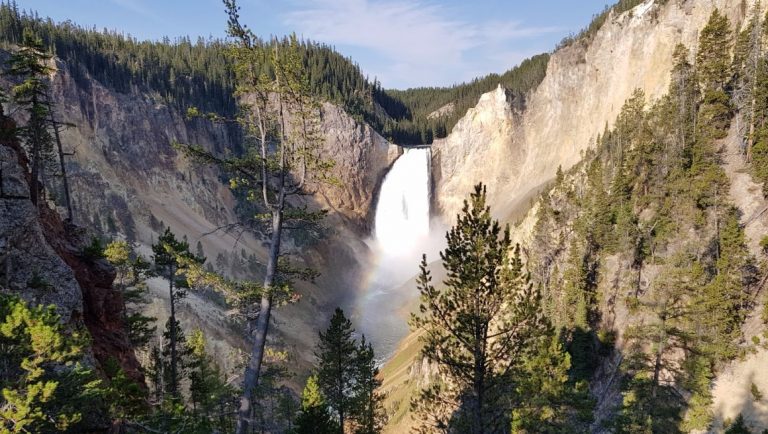 Geysers and Springs
The one thing Yellowstone is most famous for is its geysers and springs. These are some of the most popular attractions within the park,are among the top things to see in Yellowstone, and are best viewed first thing in the morning. They include
Old Faithful
Grand Prismatic Spring
Fountain Paint Pot
Opal and Turquoise Pools
Excelsior Geyser
Clepsydra Geyser
Mud Volcano
and more.
These are among the top 10 things to see in Yellowstone National Park, and you really should make time to visit them. Top of your list should be Old Faithful. This geyser is the most predictable geyser in the world for eruptions. It erupts every 60 to 90 minutes for between 1.5 and 5 minutes. The time between eruptions depends on the length of the last eruption.
The Grand Prismatic Spring is one of the best places to visit in Yellowstone and should also be on your must-see list. And at the Lower Geyser Basin you should visit the Clepsydra Geyser which is on an almost constant eruption.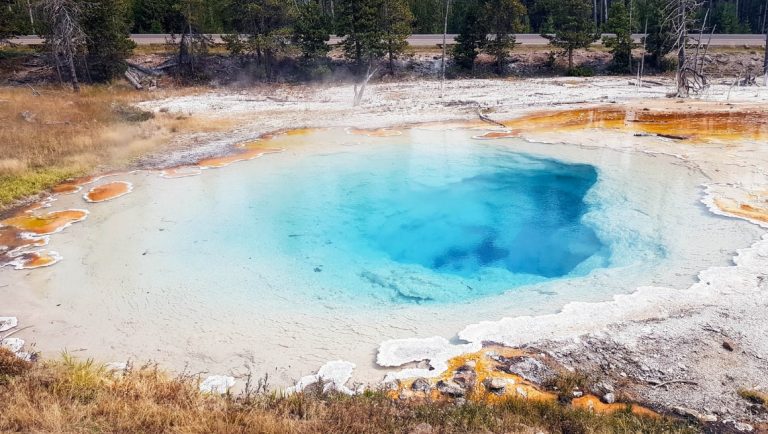 Yellowstone National Park for Kids
Yellowstone have two activities especially designed for the younger visitors to the park. The two programs are the Junior Rangers Program (which is also available in other National Parks in the US) and the Young Scientist Program. These are two ways in which Yellowstone National ark for kids is brought alive and made interesting.
Junior Rangers Program
Kids between the ages of 4 and 13+ can become a Yellowstone Junior Ranger. The Junior Ranger activity booklet is available at any of the visitors centres for just $3. To become a Junior Ranger, kids complete tasks which include
Hike on a park trail or boardwalk,
Complete the age-appropriate activities on geysers, wildlife and park habitats,
Attend a ranger-led activity such as a talk, guided walk or evening campfire program, getting the rangers signature as proof.
The booklet is divided into 3 age sections: 4-7, 8-12 and 13+.
Young Scientist Program
Yellowstone offers children the chance to become a Young Scientist through their Young Scientist Patch Program. Children can purchase a self-guiding booklet for $5 at the Canyon Visitor Education Centre (ages 10+), or Old Faithful Visitor Education Centre (ages 5+).
They can then borrow a pack of equipment to conduct experiments. Once finished, children are awarded a Young Scientist Patch or Key chain. This is a perfect activity for those children staying in the Old Faithful area for a few days.
Hiking
Hiking is a popular activity among Yellowstone visitors and families can easily enjoy this activity together. There are over 1000 miles of hiking trails within Yellowstone and it's a great way to escape the crowds and to get in touch with the Yellowstone wilderness. Brochures describing day hikes are available throughout the park and there are trails of various difficulty as follows
8 Easy Trails
5 Moderate Trails
3 Hard Trails.
If you plan on doing some hiking, ensure you check about seasonal closures or areas to avoid and ensure you carry bear spray (and know how to use it, see further on) as you may encounter wildlife during your hike. The Yellowstone National Park newsletter may contain some example hikes for you to consider, so remember to check that as you enter the park.
Visitor Centres and Museums
Most of the main areas of Yellowstone have visitor centres that contain exhibits, educational information and details on the history of the park. We visited the Albright Visitor Centre at Mammoth Hot Springs during our time in the park. It was there we learned about the history of Yellowstone National Park and the decimation of bison in the late 1800's. The Visitor Centres are great to visit if it is raining in Yellowstone.
Other top things to do in Yellowstone National Park with kids
While the activities detailed above are some of the top things to do in Yellowstone, there is a host of other things to enjoy in the park. These include, but are not limited to
Rafting and Boating (allowed on Yellowstone Lake in particular)
Cycling
Guided tours and Ranger talks
Fishing (with a permit)
Horseback riding
Stargazing
Sunrise/sunset viewing.


Bear Safety
Bear Safety is something you need to keep in mind when visiting Yellowstone National Park, particularly if you plan on doing some hiking. Yellowstone is the natural habitat of both Grizzly and Brown bears. The Yellowstone Newsletter you receive upon entering the park will have full details of good bear safety. But I'll try to summarise the main points for you
Check the local visitor centres or ranger stations for recent bear activity in the area you plan to hike.
Remain alert, aware and vigilant at all times. Watch for fresh tracks or scat.
While hiking, ensure you are in groups of 4 or more and make noise while hiking, especially in areas of limited visibility. This can include talking loudly or wearing bear bells.
Carry Bear Spray and know how to use it. Bear spray can be bought in the park from visitor centres, gift shops, outdoor stores, service stations or ranger stations. The newsletter has details on how to use it.
Avoid attracting bears by keeping all food, trash, scented items, coolers and cooking tools in bear-resistant-containers or your car. This is especially important for those camping within the park.
If you encounter a bear, DO NOT run. Bears have a natural instinct to chase. Instead, back away slowly. If it charges, stand your ground and use bear spray. For more information about your safety in bear country visit the Bear Safe website.
Top Tips for Visiting Yellowstone with Kids
So, now that I've shown you how to plan a trip to Yellowstone, you have most of your visit planned, here are some additional top tips for visiting Yellowstone with kids to help you even further.
Driving
Driving takes longer than you expect within the park so allow for this. Delays can be caused for several reasons from road works, to unplanned stops to view wildlife. Roads within Yellowstone are single lane and have a speed limit of 45mph (73kph).
Lack of mobile/cell signal
There is very little mobile phone signal (cell) within the park. Download your routes from Google Maps to your phone before entering the park or use the map provided when you enter the ark. This map proved invaluable to us during our time in Yellowstone.
Toilet Breaks
If visiting Yellowstone with kids, particularly toddlers or young kids, stop regularly for toilet breaks. Most main attractions have toilets but note that many are long-drop type toilets. Queues during the day can be quite long and I'd advise you to bring both toilet tissue and hand sanitiser as you will be lucky to find either provided. The hotels and lodges will have regular bathrooms.
Note, the toilets at Canyon (for the Upper and Lower Falls of the Yellowstone River) are located at the Brink of the Upper Falls. There are none further along the Canyon Drive and you'll have to drive some way to get back as the Canyon Drive is one-way.
Food and Eating in the Park
To be completely honest, food within the park is not great. We found it to be overpriced and extremely bland and cold. Instead, stock up on supplies in one of the gate towns before you enter the park and pack a picnic with you each day. You can then have a picnic in your car or at an appropriate place. We had snacks at the general stores and at Lake Lodge of tea/coffee and cakes or biscuits and ate our lunch from the picnic we brought in with us. This was much more enjoyable.
Keep Children Close
Yellowstone is a dangerous place with wild animals, the Earth's thin crust and hot boiling springs. Keep a close eye on children and keep hold of younger children and toddlers. Around the springs and geysers, I'd advise you to keep toddlers and young children on reins such as the Adventure Belt. We brought our son's Adventure Belt with us to use in these areas. If you don't have some, keep hold of their hands tightly.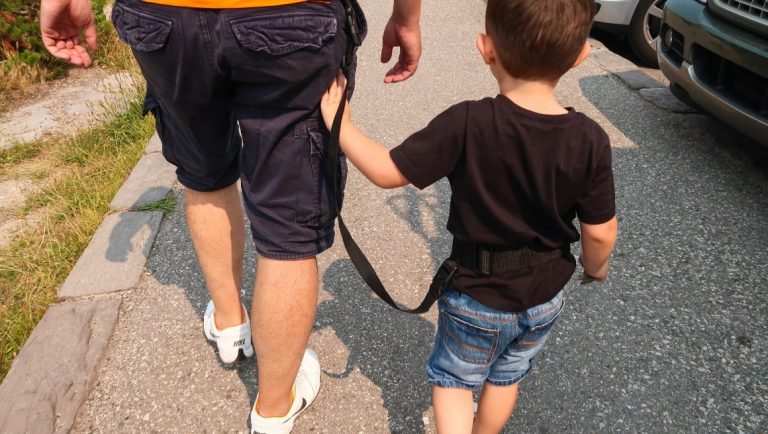 Wildlife Viewing
For the best wildlife viewing, be in the park very early in the morning before dawn or at dusk. To spot the more elusive animals such as wolves in the Lamar Valley, you'll need to be up before the crack of dawn, literally. We saw elk along the Madison River at dusk on several nights as we were leaving the park to return to our AirBnB. And don't forget your binoculars!
Time your viewing of the eruption of Old Faithful
Old Faithful Visitors Centre has a board with the approximate time of the next eruption displayed. So, check this when you arrive at the area if you don't see a crowd sat gathered waiting for it. If you've just missed it, you could spend some time in the visitors centre or browse some of the gift shops in the various buildings including the Inn and Snow Lodge.
Buy your gifts as soon as you spot them
Each gift shop has a different animal on the Yellowstone emblem on the gifts. So, if you see one you might like, buy it there and then. We had to return to the Old Faithful Snow Lodge gift shop as my husband wanted a particular gift that we didn't pick up during our first visit to the area and subsequently didn't see in any of the other gift shops.
Get into the park as early as possible
In general, it is advisable to get into the park as early as possible. This will give you the best chance to beat the crowds at the most popular sights including Old Faithful, the Grand Prismatic spring and the two main waterfalls of Yellowstone. This is especially important for the Grand Prismatic Spring; whose car park is tiny.
During our first day in the park, we passed it in the afternoon and there was no parking available at all in the car park. It was so busy that cars were parked on the side of the road for at least a mile leading to it. However, on our second day in Yellowstone, we arrived at the Grand Prismatic Spring before 9am and found parking with no problem.


Visiting the waterfalls of the Yellowstone River
When planning to visit the Upper and Lower Falls of Yellowstone River, I would advise you get there as close to 9am as possible. Not only will you beat the main crowds, but you'll find plenty of parking too. We arrived at the Lower Falls before 9.30am and they were bathed in the most beautiful light from the sun. Any later in the day and we would have missed this photo opportunity.
Boardwalks and Babies
Around the springs and geysers, there are boardwalks to walk on and enjoy the sights. While you can take a buggy/stroller on these, many are quite uneven and narrow, and some also have steps. If you have one, it would be better to use baby carrier to explore these areas.
Don't leave home without snacks and water
Make sure to bring snacks and drinks in the car, even if you don't plan to carry a picnic. The snacks will help to relieve boredom in the kids, should it happen. And you will need the water after visiting the springs and geysers. Our mouths were very dry after visiting these areas.
Don't forget your layers
Bring some layers in the car, even if the weather appears sunny and warm. During our visit to Yellowstone we not only saw temperatures up to 26°C but we also encounter rain and sleet in the Lamar Valley which made outside temperatures drop quite a bit within the space of an hour or two. So, ensure you have some leggings (if wearing shorts) and a cardigan or jacket to layer up if necessary.
A not-to-be-missed Yellowstone experience
One thing that was recommended to us during my research and planning of our trip to Yellowstone was the Old West Dinner Cookout within the park itself. So, we took a chance and booked it for our last night at Yellowstone. It turned out to be the best way to end an unforgettable visit to this stunning landscape.
The Old West Dinner Cookout takes place at the sight of the first-ever hotel in Yellowstone, which is no longer standing. You can opt to arrive one of two ways; either a 1- or 2-hour horseback ride, or via a wagon. The wagon is a canvas-covered wagon pulled by two horses and takes approximately 30-45 minutes. You are accompanied by two cowboys, in our case, the main man Joel and a cowgirl called Kimberly.
During your ride the cowboys share tales and get to know the guests on their wagon before arriving at the Cookout site. There, you can enjoy steaks cooked how you like them, sides including coleslaw, corn on the cob and more, and cowboy coffee brewed on the campfire.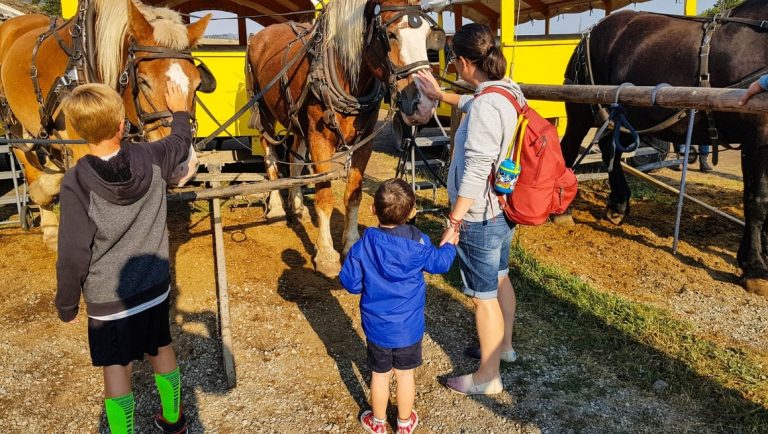 During dinner you are treated to some traditional cowboy and western songs, before gathering around the campfire for some stories from the cowboys. You also get a chance to say hi to the horses that pulled your wagons, and if you're really lucky you might even see some Yellowstone wildlife in the area.
It really is a wonderful experience and a great way to end your visit to Yellowstone. The Old West Dinner cookout (by wagon) cost us $66 per adult and $53 per child (ages 3-11)*, and although it might seem a bit pricey it was worth every penny (or cent).
To learn more about the Old West Dinner Cookout and read review, please click here to go to TripAdvisor.
Things to Do Near Yellowstone with Kids
While there are plenty of things to keep you occupied within Yellowstone itself, there are also two additional things to do near Yellowstone, particularly you are travelling with young kids. They both give you a chance to view wildlife that is naturally found within the park but which can often be elusive. And which one you visit will depend on how much time you have at Yellowstone and what gates you are entering or leaving through.
The Grizzly and Wolf Discovery Centre in West Yellowstone
This centre is a not-for-profit Wildlife Park and Educational facility. The main purpose of the centre is to inform visitors about grizzlies and wolves through educational programs. Visitors can view these animals in their outdoor habitats and it's a sure-fire way of seeing these animals, as often they remain elusive within Yellowstone Park itself.
All the bears and wolves, for one reason or another, cannot be released back into the wild, so the Grizzly and Wolf Discovery Centre provides them sanctuary for the remainder of their lives.
The centre is in West Yellowstone just around the corner from the west entrance to the park. The centre opens at 8am and closes at either 6, 7 or 8pm, depending on the time of year, and is open 365 days of the year. Adults cost $15, while children between the ages of 5 and 12 are $10.* Under 4's have free admission. Our tickets were valid for visits on two consecutive days, which we made use of.
The centre has plenty of free parking, toilets and a playground on the grounds. There is an exhibition about the different bears found in North America, and you can even see examples of the destructive force of bears when they are hunting for food in bins. It's quite something to see. This centre is one of the top things to do in West Yellowstone and will be enjoyed by the younger kids especially.
Read the latest reviews of this centre here.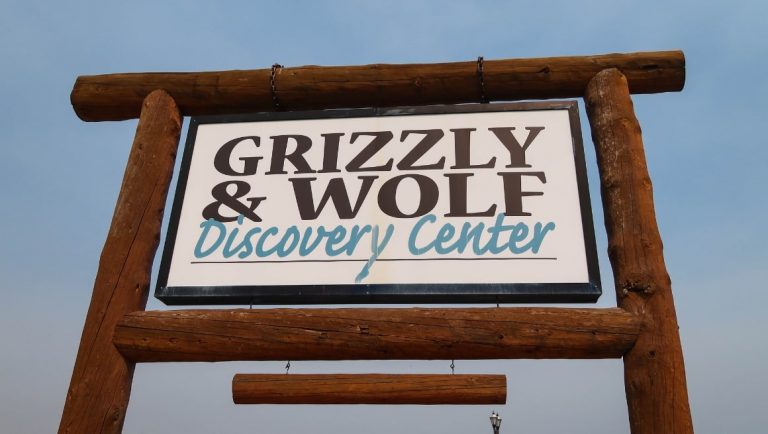 Yellowstone Bear World in Rexburg
Located 5 miles south of Rexburg in Idaho, Yellowstone Bear World is a great place to visit, especially if you are staying in Jackson Hole. Established in 1998, it is a chance to see grizzly and black bears if you didn't spot them in Yellowstone itself. It is a drive-thru wildlife park housing not only bears but other indigenous animals of North America in their native habitat.
Yellowstone Bear World is not open throughout the year, only for the summer season, typically opening in April and closing towards the end of October, and has opening hours of 9am to 5pm. Adult tickets cost $24.95, while children (3-10 years of age) cost $12.95. Under 2's are free.
Visitors also have the chance to leave their cars and enjoy time in the petting zoo, a one-acre area with free-roaming farm animals and birds. There are other experiences to enjoy such as bottle-feeding bear cubs and elk calves too. There are guided tours that get you closer to adult bears, and there are also some amusements rides to enjoy.
Read the latest reviews of Yellowstone Bear World here.
I think I have covered just about everything there is to know about visiting Yellowstone with kids. From the best way to get to Yellowstone by plane, car or RV, to the best places to stay both inside and outside of the park, and also the best things to do in Yellowstone, it's all here to ensure you enjoy the best of Yellowstone National Park.
I didn't include a where to eat section as that is very much your personal choice and will depend on whether you are staying within the park or outside. Personally, we didn't like the food in the park. As we were staying in an AirBnB, we cooked breakfast and dinner for ourselves and we brought a picnic into the park with us each day. It worked out much better for us and was a more cost-effective way of dealing with food too.
If you are planning your own visit to Yellowstone National Park, I hope you have found this post helpful. Do let me know in the comments below. And all that's left for me to say is I'm so jealous, I'd love to return one day soon. And enjoy your trip!
Cath x
 *Prices updated in April 2021.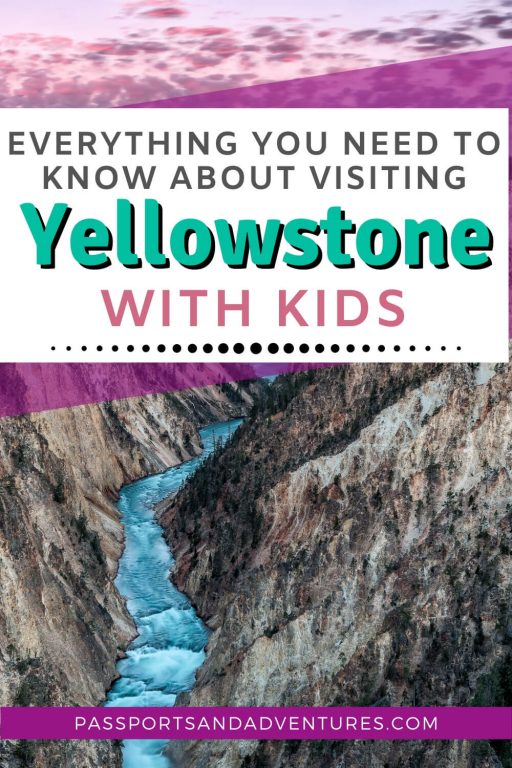 Related Posts