A few years ago, we visited Slovenia, and more specifically Lake Bled, Slovenia, with friends of ours. Our son was 18 months old at the time and I really wondered if there were things to do around Lake Bled with Kids, and more specifically, things to do around Lake Bled with a Toddler in Tow. In this post I'll enlighten you on things to do in Lake Bled.
*This post contains affiliate links. To read more about affiliate links, please visit my Disclosure Policy page.
Updated February 2019
When we decided to visit Slovenia, I must admit I had to do some research as Slovenia is a country I knew very little about before we visited it. I even wondered where is Slovenia? I think the main reason I knew so little about it is because it is a relatively new country.
Bordered by Italy in the west, Austria to the north, Hungary to the northeast and Croatia to the southeast, it also has a border along the Adriatic Sea. It was part of the former Yugoslavia and gained independence in 1991. It joined the EU in 2004 and its currency is the euro. It's capital is Ljubljana and there are an abundance of amazing places to visit in Slovenia.
While there are many things to do in Slovenia, many people focus on the capital. However, Lake Bled holidays are among the top things to do in Slovenia as it has a huge range of things on offer for holiday-makers of all types.
Lake Bled is nestled in the Julian Alps. Slovenia is home to this mountain range which is part of the Southern Limestone Alps that stretch from northeastern Italy to Slovenia. The highest peak is Mount Triglav and the Julian Alps are named after Julius Caesar. Lake Bled, as mentioned, is nestled in the Julian Alps and has both glacial and tectonic origins.
In this post I'm going to share with you our top 5 things to do Lake Bled with kids and also share with you some other things to do in Lake Bled, Slovenia. I'll also give you some tips about how to get to Slovenia, how to get to Lake Bled, where to stay, some ideas for Lake Bled accommodation and a few more facts about Lake Bled.
5 Things to Do Around Lake Bled with a Toddler – Top Things to Do in Lake Bled with Kids
We had never considered Slovenia as a holiday destination, so when friends of ours suggested a Lake Bled holiday, I was quite dubious. But the pictures I was seeing during my research got me excited nonetheless for our Lake Bled adventure.
We visited Slovenia in the summer, in August, as our friend's children are older than our son and the holiday needed to fit around their school holidays. Also, as our friend's children were older, they had been on the hunt for a holiday which was different from your usual package sun holiday. So, Lake Bled was suggested and accommodation and flights were swiftly booked.
I did wonder how we would fair with our son being so young but I need not have worried. It turns out there are plenty of things to do around Lake Bled with a toddler and it's one of the best places to visit in Slovenia with kids.
A Walk Around Lake Bled
One of the very first things we did around Lake Bled with our son was walk around the beautiful lake. This is one of the must-do Lake Bled activities and best of all it's free.
The walk goes around the circumference of the lake and we started on the path near one of the hotels in town, following it under a bridge, to the far end of the lake (just under 4 miles on total). There is a boardwalk from here before you walk around the back of the entrance to the lido. It is simply a beautiful place to take a walk and takes roughly 2-2.5 hours to complete, depending on whether you stop to teach your toddler to throw stones in the water.
Our son loved throwing stone, as you do when you're 18 months old, and it became a regular thing for us when we did our Lake Bled walks during our Slovenian holiday. There are jettys where the gondolas stop that make for a great platform to teach an 18 month old toddler to throw stones into the water. There are also several areas suitable for having a picnic and also several cafes and restaurants around the lake for lunch, dinners or even a snack (see below).
Our son and I even had a walk ourselves around the lake one day while we waited for everyone else to do their Lake Bled toboggan ride, which I am reliably informed was brilliant (best suited to older children, more on it later). It is one of the top 10 things to do in Lake Bled, and is an amazing way to spend a few hours, especially during the summer.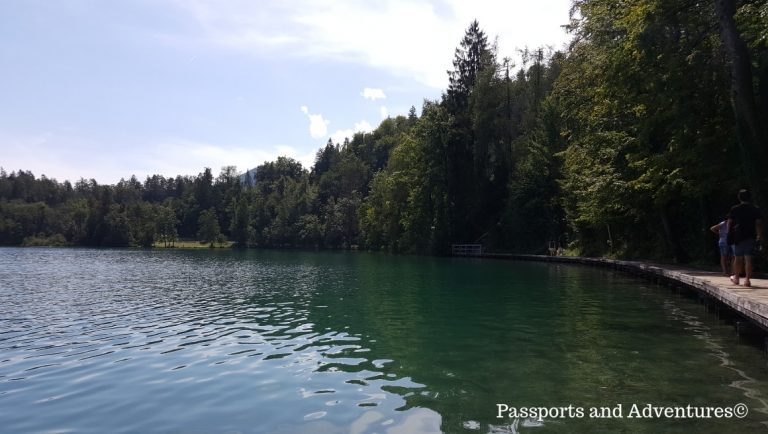 Relax and Swim at Bled Lido
One of the best things to do in Lake Bled in summer is to pay a visit to the lido. The Lake Bled Lido is an area of the lake made for pleasure, sunbathing, swimming and Lake Bled water sports such as kayaking and body boarding. It is situated on the side of the Lake opposite the town just under the castle and has a charge to enter it. We visited it twice and is a great place to bring a toddler.
There are several pools of varying depths to go in, and our son and I got into the water on both occasions. He thoroughly enjoyed it, having gotten used to being in the water from his Waterbabies lessons. You can enjoy free swimming in Bled lake outside of the pools, but it is advised to stay in certain areas to avoid being in a precarious position with kayaks, body boarders or worse still, the Lake Bled boats, which look like gondolas, ferrying people across to the island.
Mr Passports, our friend and their teenage son enjoyed body boarding one day and I was quite surprised at how well my husband was doing for his first time, and how much fun they seemed to be having, even in the rain that rolled in off the Alps one afternoon.
There are also kayaks which can be hired out, a room with table tennis (which we ladies and our son used as shelter the afternoon of the rain), sand pits and swings for children, and also ample changing rooms and lockers. The Bled Lido is a great place for those living around the Lake to go to for a bit of R&R.
Just be warned. If you decide to swim outside the pools, you cannot reach the bottom of the lake with your feet so you should be able to swim, and you will be swimming among the fish of the lake at all times, whether it is in the pools or in the open water!
Bled Lido costs 9 euro per adult and 6 euro per child under 14 years of age*. This gives you all day access to the lido. Other amenities such as kayaks, deckchairs and umbrellas can be hired for additional charges and you can find out more about Lake Bled boat hire at the office beside the entrance to the lido. We highly recommend a visit to the lido in summer as it's one of the best things to do in Lake Bled with kids.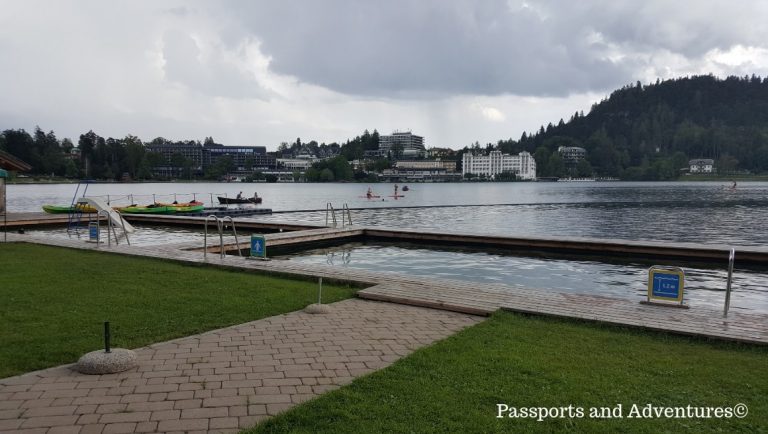 Visit Bled Castle and Admire the Views
One of the top 5 things to do in Bled is pay the castle a visit. Bled Castle is situated on a hill overlooking Lake Bled itself. It is best reached by car or by bus, and there are many coaches which go to the castle. There is parking at the castle grounds but at busy times it might take you a while to find a space.
Lake Bled Castle, which has both Romanesque and Renaissance architecture, has some stunning views of the lake and surrounding areas. This is definitely a place to visit if you want to get some panoramic pictures of the lake from above.
Our son quite enjoyed toddling around the courtyard of the castle while everyone else explored the castle. There are several rooms toddlers can visit such as workshop and library, but I would suggest that if you visit you leave the buggy in the car. The courtyard is cobbled and there are areas of the castle which are not very buggy accessible. We had our son in his Toddlepak reins and they worked a treat.
We hadn't started our dragon hunting adventures when we visited Bled Castle, but it would make a great place to do some dragon hunting! So, if you're looking for Lake Bled things to do, especially with toddlers in tow, we can recommend a visit to the castle.
Bled Castle costs 11 euro per adult and 5 euro per child under 14. For families with at least 2 adults, 1 child is admitted free of charge. Bled Castle also has a museum and restaurant if you fancy a sit down in a beautiful setting.
Why not take a tour of Lake Bled and Bled Castle. To see latest prices and book your tour, CLICK HERE.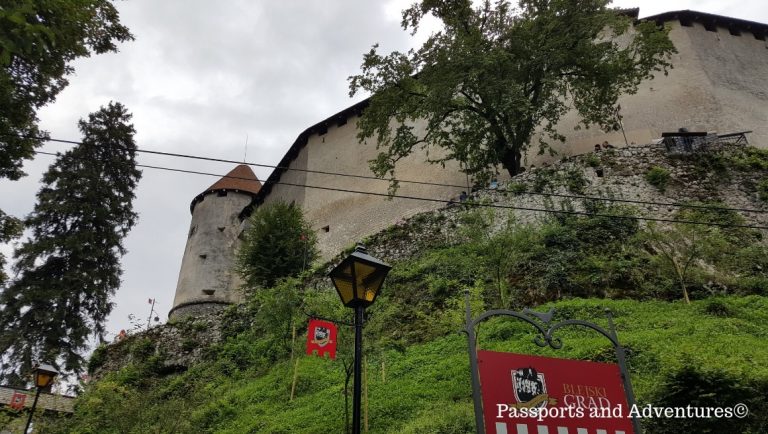 Take a Pletna Boat to the Church on the Island
In the centre of Lake Bled lies an island with a church. It is the iconic church which forms the centrepiece of most pictures and photographs of Lake Bled. To reach it you need to take one of the many gondolas, or Lake Bled pletna boats from the stations around the lake. It is one of the top things to do in Bled and it is said that your wish will come true if you ring the bells inside the church.
We took our son over and he seemed to enjoy the boat ride. The gondola itself has a charge (currently 15 euro per adult return and 8 euro per child under 14 return) but visiting the island itself is free. There is a walk around the edge of the island which doesn't take very long, which is just as well as you only get 30 minutes on the island. But that said, 30 minutes is enough with a toddler in tow. There are information boards along this route telling you about the different species of fish that can be found in Lake Bled.
You can go inside the church which carries a donation cost (6 euro at the time of our visit in 2015), there is a gift shop selling all manner of items including chocolate and gifts, and there is a tea room too. Visiting the island is an absolute must during your Lake Bled visit. I really enjoyed the ride across the lake and there were no complaints from our son either.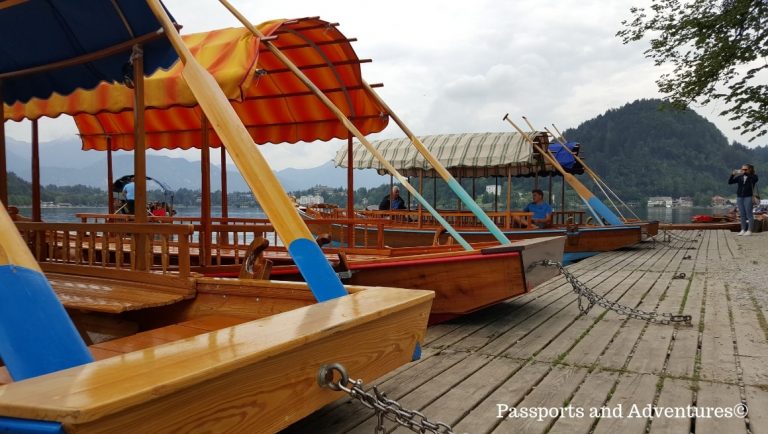 Savour a Lake Bled Cake
No trip to Lake Bled would be complete without having at least one slice of Lake Bled Cream Cake. It reminded me of a custard slice but boy is it so much more. We had been told to make sure we tried on at Bled itself, so, one afternoon, while out as a family, the Passports Family stopped at a rather nice restaurant for a slice of Bled Cake and some tea and coffee, and we were not disappointed.
It was the most heavenly take on a vanilla slice I have ever tasted and even our son got in on the act. I haven't tasted a vanilla-based dessert or cake anywhere near as good as Bled Cake. So, I highly recommend you try it if you ever get the chance to visit Bled, as it is definitely one of the must-do things to do around Bled. And you must let your toddler have at least one mouthful.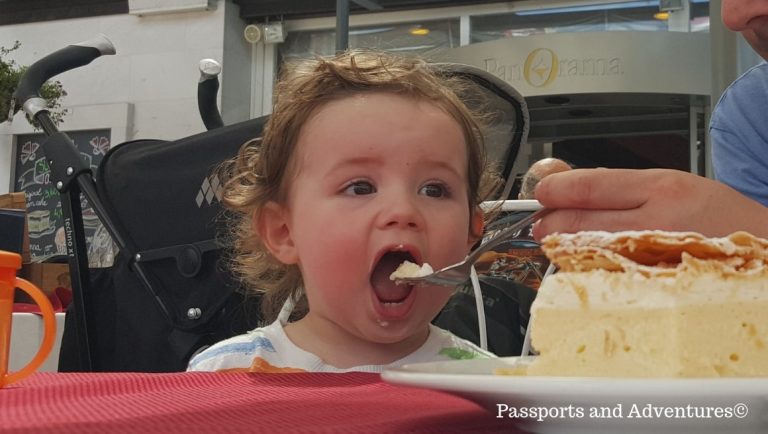 Other Things to Do in Bled with Kids and Things to Do Near Bled
While the attractions and things to do in the section above are the Bled activities we managed to squeeze in during our holiday in Slovenia, there are a few more things to do with kids in Bled that are worth mentioning, in case you are visiting Slovenia with children older than toddler age and are also taking in Lake Bled. There are also some things to do near Lake Bled that are worth mentioning and one or two further afield.
Enjoy a Ride on the Tourist Train
The Lake Bled tourist train is a small train that drives around the lake during the summer season from May to October. During the peak season of June to September, it runs every day from 9am to 9pm every 45 minutes, while outside the peak season it runs on weekends from 10am to 5pm, depending on the Lake Bled weather. It takes approximately 40 minutes to do a complete circuit and the last updated prices stated adults were 5 euro each and children were 3 euro each. It has a few stops around the lake where you can get on/off.
Row to Bled Island Yourself
If the 30 minutes you get on Lake Bled Island isn't enough if taking a Lake Bled boat, or pletna, particularly if you are travelling with older kids, then why not rent a row boat which you get for around 10 euro/hour. Yes, you need to make your way across the lake but if you do it this way you'll get longer on the island. The Lake Bled boat rental is located beside the entrance to the lido. You can also rent boats from the beach which is located closest to the island at the far end from town (the scene of our stone throwing lessons with the boy).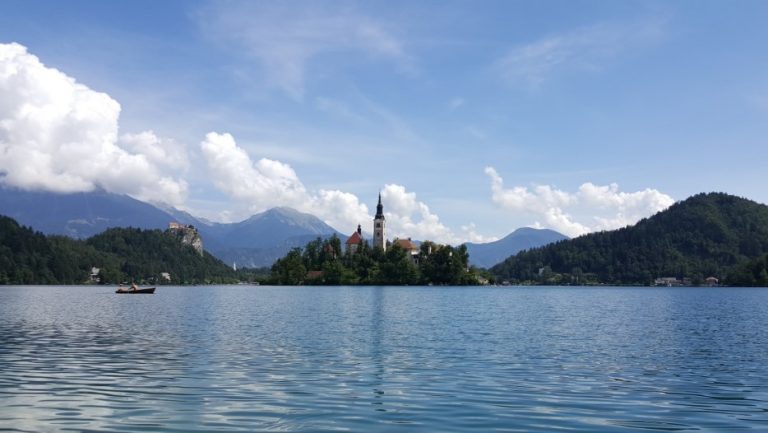 Enjoy an Adrenaline Ride on the Lake Bled Toboggan Run
With a track length of 520 m, an elevation difference of 131 m and top speeds of 40 km/hour, older kids and adults alike can get their adrenaline rush by enjoying summer tobogganing on the Straza slope. From spring to autumn you can enjoy a thrilling ride on the sledding track that runs alongside the chairlift. And you don't even need to walk up as the chairlift operates during the summer season as well.
During winter Straza becomes a gentle ski slope which can also be enjoyed during the night as it is lit and has a ski school and equipment rental. With incredible views of the city and across the lake towards the castle, this is one of the best things to do in Bled with older kids.
Enjoy the Natural Wonder that is the Vintgar Gorge
Located within the Triglav National Park just 4km from Bled, and carved our by the Radovna River, the Vintgar Gorge is a 1.6km long gorge which is one of the best things to do in Slovenia with kids. With boardwalks that criss-cross the river, it is easy to get to, easy to walk and is extremely photogenic. Unfortunately, we missed visiting the gorge during our first visit to Slovenia, but you can rest assured we'll be visiting during our next.
There are small waterfalls, canyons and bridges to cross over the river in the Vintgar Gorge, before the boardwalks turn into gravel paths along the edge of the river. Once you reach the end you should catch the Sum waterfall before either retracing your steps or hiking back through the valley.
There are several places to park, with the biggest located beside the entrance to the gorge costing 5 euro, although during peak season this will fill up fast. There are shuttle buses running from Bled to the gorge from the end of June to the beginning of September for a small price. Adults cost 9 euro to enter the gorge, children between 6 and 15 years of age are 3 euro and under 6's cost 1 euro. The Vintgar Gorge is in the Slovenia top 10 things to do with kids. Just be warned, bring a baby carrier and not a stroller/buggy.
Visit Lake Bohinj
While Lake Bled is one of the best places in Slovenia to visit with kids, it is also one of the most popular. If you are looking to escape the crowds, then in our option one of the most beautiful places in Slovenia that you should add to your Slovenia itinerary is Lake Bohinj.
Located 16k southwest of Bled, just a 30-minute drive, is the unspoilt lake of Bohinj. If you thought Lake Bled was impressive you haven't seen anything until you've visited Bohinj. We visited one day with our friends to get a change of scenery and I am so glad we did. Although there is a car park beside the tourist office, it was very quiet and the lake is actually quite a bit bigger than Bled.
There is also some incredible scenery to enjoy and a trail runs around the circumference of the lake which will take you longer to walk around than Lake Bled as it is double the length. Admittedly we didn't walk the complete circuit as we naively brought our son's stroller/buggy and the path is not completely flat all the way around. The initial paved paths become gravel trails the further along the lake you get. So terrain stopped us from continuing.
That said it did mean we got to turn back, enjoy some stone throwing at the shoreline before stopping for a drink to enjoy the views across the lake. So, if you are wondering what to do in Slovenia near Bled, I highly recommend Lake Bohinj. We loved it so much that we plan to stay near it on our next visit and drive into Bled rather than stay there.
If you are staying in Ljubljana and want to visit Lake Bled and Lake Bohinj, we recommend THIS one-day tour with Get Your Guide.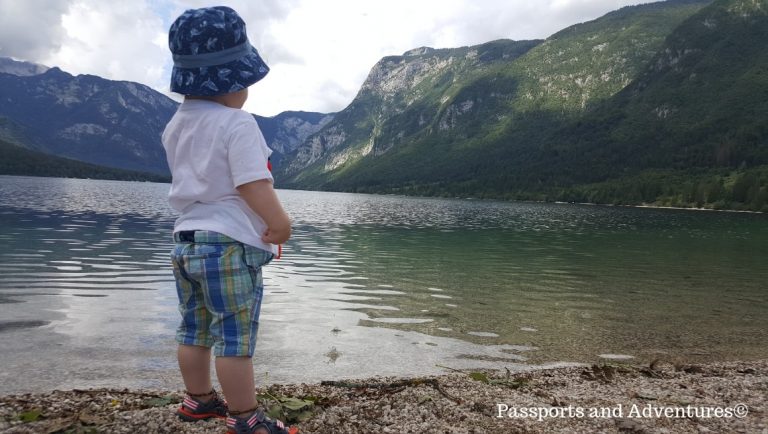 Go Underground in the Postojna Caves
As I mentioned already, the friends we visited Slovenia with have older kids, so to ensure they didn't get bored around Bled, our friends suggested leaving the area and venturing to Postojna Caves. These Slovenia caves are located approximately an hours drive from Lake Bled and make for a great day trip from Bled.
These deep underground caves are definitely in the top 10 things to do in Slovenia and are one of the Slovenia attractions you should really make the effort to visit. We went mid-week and it was very busy as it was the height of the summer season. That said we found parking without problems in the overflow car park and managed to join an English-speaking tour shortly after arriving.
And this is something that even toddlers can enjoy. When you enter the caves, you board a small train that was probably the highlight for our son. This train takes you into the caves where you disembark and walk through an underground wonderland. The majority of the tour follows a smooth path which is suitable for strollers/buggies and we managed with our son without any problems.
Be aware that the tour lasts approximately an hour and a half and once you've ventured deep into the caves there is pretty much only one way to go, and that is with the tour. That said, it's an enjoyable experience. We then had a bite to eat in one of the restaurants before making our way back to Bled. The Postojna Caves are a must do in Slovenia with kids.
Get your combined Postojna Caves and Predjama Castle tickets HERE with Get Your Guide.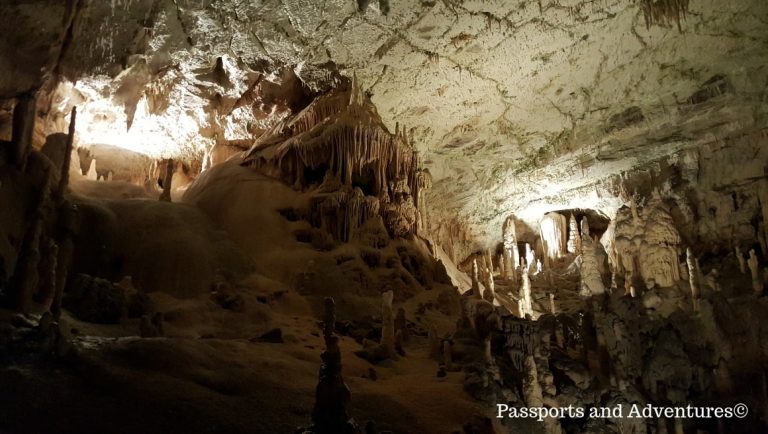 Visit Predjama Castle
Just a short 15-minute drive from Postojna Caves is Predjama Castle. Unfortunately we didn't get a chance to visit this castle during our day trip from Bled, but we plan to visit it during our return trip to Slovenia.
You can get combined tickets for the caves and the castle which will afford you a small discount over buying the tickets separately. The world's largest cave castle, Predjama Castle is an impregnable medieval castle that is perched in the middle of a 123 metre high cliff. With a history spanning 800 years. As a family that enjoy visiting castles with kids, this is one we will not miss in the future. So, if you are wondering where to go in Slovenia with kids for an interesting day out, we recommend a combined trip to Postojna and Predjama.

Enjoy the capital, Ljubljana
Since we hadn't known much about Slovenia before we visited in 2015, we based ourselves in Bled and very much concentrated our time there with two day trips away from the Bled area. One place I long to visit is Ljubljana, the capital of Slovenia. From the things I've read and hear about it, it will be a city we will thoroughly enjoy as a family.
Ljubljana has a host of things to offer families including another castle to visit, Roman ruins which Mr Passports would love, a natural history museum, a park and more. I think our return trip to Slovenia is going to be busy one.
How to Get to Slovenia
Slovenia is easily reached by a number of routes. There is one international airport located 30km from Ljubljana. Low cost airlines Wizz Air and EasyJet fly to the capital, along with other airlines. To find out what flight options are available to Slovenia from your local airport, we recommend you check Skyscanner.
You can also fly into neighbouring countries and either take trains or buses to Ljubljana or drive (checking with the car hire company first if you can cross borders). The next nearest airport is in Trieste in northern Italy.
You can fly to other nearby European airports and use a shuttle bus from GoOpti to get to Ljubljana airport.
How to Get to Lake Bled
From Ljubljana Airport you have a number of options for getting to Bled. The easiest way is to hire a car and drive from the airport. The drive itself takes less than an hour and there are many rental car companies located at the airport. For the best prices for hire cars, we recommend Rentalcars.com.
If you prefer not to rent a car, or are not planning on venturing away from Bled, then you can reach it via public transport.
Where to Stay in Lake Bled
When we visited the Bled area, we stayed in what was the equivalent of an AirBnB. This was before we were aware of AirBnB but nonetheless, we found a great three-bedroom self-catering apartment that both our friends and we could share. Our on stayed in our bedroom and we had cooking facilities and a living area.
Our apartment was located in the little village of Zasip, just 3km from the centre of Bled. And it was perfect. At a push, you could walk into Bled, as our friends did one evening and there was plenty of parking for the guests.
When we visit Bled we plan to either stay here again or in a town between Bled and Bohinj. Again, we'll seek an AirBnB-type accommodation.
To get money off your first AirBnB booking and subsequent stay, CLICK THIS LINK.
That said, if AirBnB is not your thing there are a number of great family-friendly Lake Bled hotels and other accommodation in and around Bled as recommended by TripAdvisor. They are
Pension Pletna $$ – If you want to wake up to view across the lake, then this very small hotel is one for you to consider.
Garden Village Bled $$$ – For something a little different why not try this resort. With tree-houses, glamping tents and pier tents, kids will love staying here. Click here for availability and latest prices.
Camping Bled $ – For budget-friendly glamping, why not book your stay with Camping Bled. The glamping huts can accommodation a family of four, have access to a hot tub and are located right beside the lake.
Jazz Rooms and Apartments $$ – This family-run hostel is suitable for couples, solo travellers and also families and from reviews I've read the 5 euro breakfast is amazing. Located a little bit away from the centre, Bled town is accessible but noise-wise the hostel remains quiet. For latest prices and availability, click here.
Bled Apartments $$ – These fairly new apartments are located just a short 10-minute walk from supermarkets and Lake Bled restaurants and Bled is just a bit further. With on-site parking, these would be ideal for families with a hire car. Check out this accommodation and get latest prices by clicking here.
Hotel Jelovica Bled $$ – This 3-star hotel is located just a 15-minute walk from Bled Lake and has free on-site parking, WiFi and buffet breakfast included. Family rooms and suites will sleep 4 people and/or up to 3 children. Click here for latest prices.
Hotel Savica Garni $$$ – This 4-star hotel is located within a mile of Lake Bled and also has free on-site parking, WiFi and buffet breakfast included. Family rooms feature two king beds and can accommodate up to 3 children. Check latest prices by clicking here.
Rikli Balance Hotel $$$ – This luxury, 4-star hotel has suites which can accommodate up to 3 children. Located within a mile of Lake Bled it has free on-site parking, WiFi and buffet breakfast included. It also has an indoor pool, 2 restaurants and a spa. Check availability and latest prices by clicking here.
You can also find a full list of hotels and accommodation and the latest prices and availability for Bled HERE with booking.com.
How to Get Around Lake Bled
If you are staying within Bled itself, it is very easy to get around town on foot. That said, if you have a hire car and are staying just outside of Bled, there is a large paid-for car park near the lido-side of the lake. But be warned, this car park gets very busy and full very quickly during the peak summer months. It is also popular with tour buses. And there is a limit of 2 hours for parking!
You can use the tourist train, as already mentioned, to get around the lake if you don't want to walk. You can rent bikes around Bled and boats are the best and only way to get to the island.
During July and August there is a Hop On Hop Off Bus which you can use around Bled and the surrounding areas. Note that it only runs from Tuesday to Friday.
There are several taxi companies operating in Bled and your accommodation should have information about them with telephone numbers.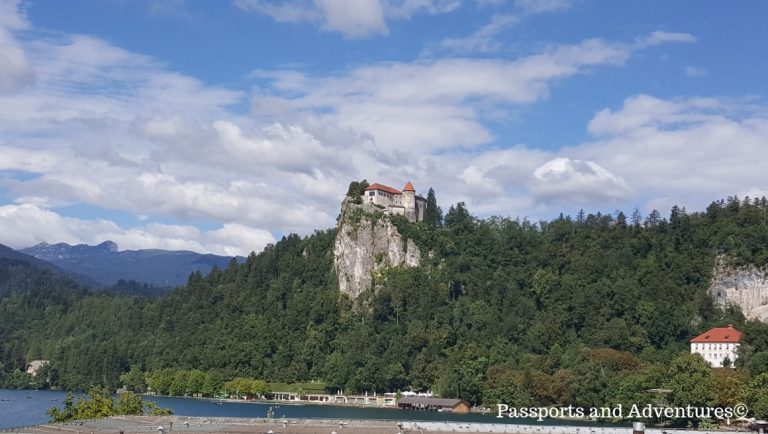 Facts about Lake Bled and the Surrounding Area
As mentioned earlier, Lake Bled and the town of Bled are located at the foot of the Julian Alps. The city was originally a spa town but has become one of the major Slovenia tourist attractions, thanks to the beautiful scenery and the famous Bled Island.
Lake Bled itself is 2.12 km long and between 0.5 and 1 km in width during the summer, and a maximum depth of 29.5 meters. The Lake Bled water temperature during summer is between 23 and 26 degrees Celsius, and this is pleasant enough to allow for people yo enjoy some Lake Bled swimming.
The Lake Bled island is the only natural island in Slovenia and legend says the lake was created by fairies.
The boats which take people to the island are called Pletna boats, which is a traditional, flat-bottomed boat which has a signature awning. The first ones were built in the 12th century and the special rowing technique has been passed down from generation to generation. A Lake Bled boat trip on one of the pletna boats is a must!
The most iconic symbol of Bled is the Lake Bled church on the island, the Church of the Assumption. However, the lush bushes, shrubs and trees on the island hide the fact that there are other buildings on the island such as a chaplain's house, provost's house and small hermitage. The present form of the church dates back to the 17th century and the bell tower stands at a height of 52 meters.
Lake Bled freezes in winter and people can enjoy ice-skating on the lake in parts. It is also extremely picturesque during winter.
I am sure there are other things to do around Lake Bled with a toddler in tow, but those featured above were our top 5. In the end, it was one of the best holidays we've had within Europe with our son, so much so we have every intention of returning when he is older, as you've probably gathered already. I think my husband is keen to get both our son and me on the toboggan ride!

A lake-side holiday wouldn't have been my first choice of holiday that year but we were not disappointed and it has me eager to try another lake-side holiday in the near future. I was pleasantly surprised that there were actually things to do around Lake Bled with kids, and I'd highly recommend it as a holiday destination, whether you have kids or not.
I hope this post has shown that you can experience some of the best of Slovenia in and around Lake Bled. It really is a wonderful place for a family holiday and is one of the top places to see in Slovenia. I hope I've also shown you what to do in Lake Bled during your visit, how to get around Lake Bled, where to stay and some ideas on how to get to both Slovenia and Bled.

And if you think you can get away with a one-day visit, consider it carefully as Elizabeth from Dutch Dutch Goose regretted not staying at least one night around Lake Bled. And for ideas on why Slovenia should be on your bucket list, check out this post.
Have you done a lake-side holiday, and if so, where should we go next?

Cath x
If you enjoyed this post and are considering visiting some other cities with your kids, check out my posts about visiting New York, Barcelona and Dublin with kids. Or for more travel inspiration and tips, start back at the homepage.
I recommend the following reference books and travel journals:








*Prices and post updated in April 2019. Some prices have not been updated as I could not find relevant information and the original 2015 prices have been pointed out.
Passports and Adventures is a participant in the Amazon Services LLC Associates Program, an affiliate advertising program designed to provide a means for sites to earn advertising fees by advertising and linking to amazon.com, amazon.co.uk, amazon.ca. Amazon and the Amazon logo are trademarks of Amazon.com, Inc. or its affiliates. To learn more about affiliate links, read my Disclosure Policy here.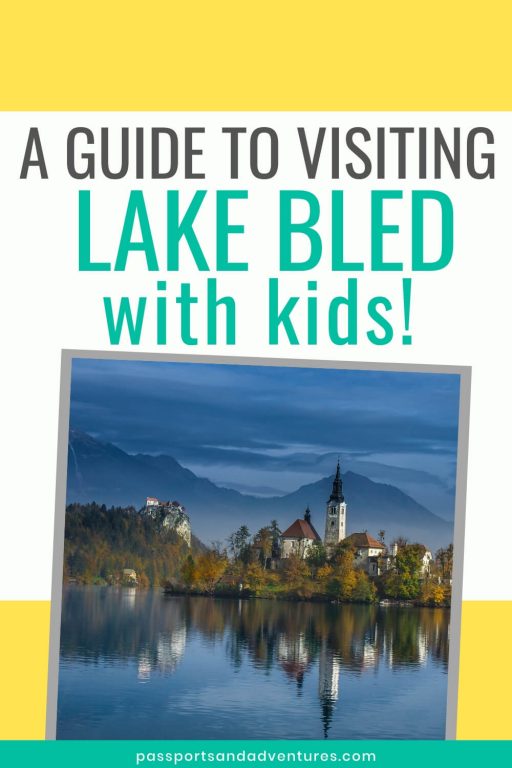 Related Posts