So, you're thinking of planning a girls weekend away and not sure where to go. Why not head for London? With so much to see and do, London has something for everyone. But how do you even begin to nail down what do with the girls during your ladies weekend away? Stop stressing. I'm going to share with you 9 awesome things to do on a girls weekend in London which will easily fill 48 hours and having you leaving London with smiles on your faces.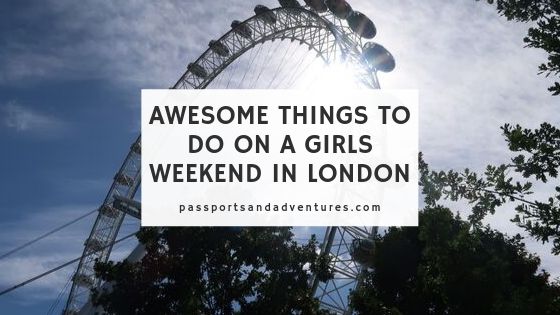 POST UPDATED SEPTEMBER 2019
*This post may contain affiliate links. To learn more about Affiliate links and how they work, please visit my Disclosure Page.
In 2017 my sisters and I were headed to London for a concert. We were going to see Take That in the O2, so we decided to make it a full-on girly weekend in London. The concert wasn't until the Sunday night and we had all day Saturday and most of Sunday to do what we wanted. I started looking into girls weekend ideas and came up with a few things we could do. Once my sisters said yes, we had a plan and added to it as the weekend approached.
Tips for Your Girls Weekend Away in London
You first need to decide how to get to London if you don't live in the city. From within the UK, you could take a train direct to the city and transfer onto the London Underground. But, if you don't live in the UK, then you will most likely be looking at flying into one of the five airports around London – Heathrow, Gatwick, London City, Stanstead or Luton. We all elected to fly into Gatwick as it was the easiest option for where we were staying.
To find flights to London I recommend using Skyscanner USA or SkyScanner UK.
I was flying in from Portugal on Friday afternoon and my sisters were arriving from Dublin on the Saturday morning. And we were all flying out on Monday morning from Gatwick.
The next thing to consider is where you are going to stay in London. If you prefer a hotel option, there are literally thousands of options to choose from, and you are sure to find something to suit you and within your budget.
To find the perfect London hotel with latest prices and availability, click HERE.
For us, we wanted something close to the O2 so we opted for an AirBnB. If you are new to AirBnB, sign up with this link to get a discount on your first stay.
Getting around London is really easy via the Tube or London Underground. You can get a Visitor's Oyster Card which is brilliant. It's also easy to top up. Or, you could elect for a London Sightseeing Bus to get around the city. This can double up as transport for getting around the city as well as sightseeing and visiting the attractions and landmarks on your list of girly things to do in London.
To get the latest ticket prices and book your London Sightseeing Bus, click HERE.
9 Awesome Things to Do in London with the Girls
We had a full 48 hours in London once we'd all arrived in the city, so we were determined to fill it with fun things to do in London for ladies. I started researching things to do in London on the weekend as well as which London tourist attractions we could visit. Here are the 9 things we did during our 48 hours in London. You can easily pick and choose from these things if you are spending a girls day in London rather than a full weekend. And if you are wondering how to spend 48 hours in London, this is the perfect place to start planning your London itinerary.
Saturday
Stay in a Greenwich AirBnB
First and foremost, as mentioned, you need to find somewhere to stay in London. I opted to book a two-bedroom AirBnB in Greenwich as it was close to the O2 where the concert was being held. It meant we wouldn't be trying to squeeze onto a Tube with thousands of other TT fans, nor worse still, trying to get a taxi back into town. By staying near the venue, we could walk back to our accommodation afterwards hassle-free.
What was even better was it was just a 20-minute Tube ride to Waterloo where we could connect to other Tubes to get around Central London. It didn't cost as much as a hotel, we could share the apartment and even cook there if we fancied it. It was conveniently located and cost-effective.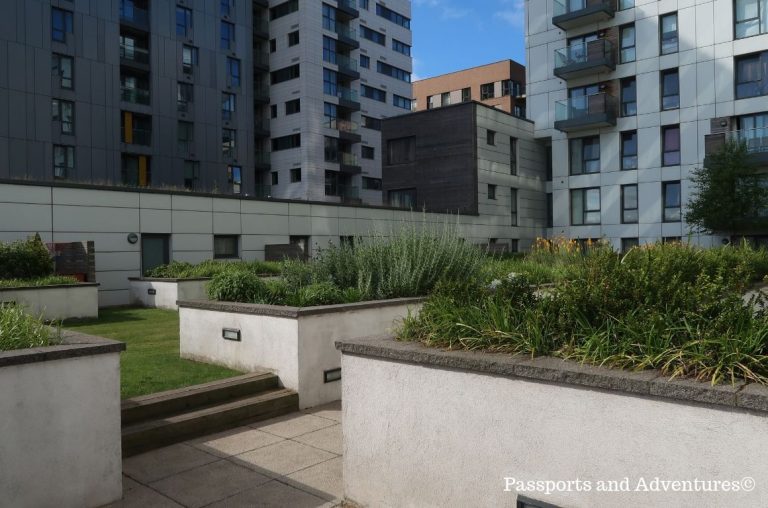 Shopping on Oxford Street
No trip to London with the girls would be complete without doing the number one girly things to do. And that meant a visit to Oxford Street. Once my sisters had arrived at our AirBnB and dropped off their luggage, we headed for Oxford Street and grabbed a Costa before hitting the shops. I have to say we were relatively good and didn't spend a fortune, spending most of our time in the Disney shop for our kids!
That said I had visited Oxford Street the previous day and perused a few shops including Next and Pandora, buying myself my first ever Pandora bracelet. An addiction was started that day, I can tell you. There are hundreds of shops in and around Oxford Street, and I'm sure you can fit a little bit of shopping time into your girly weekend. Shopping, after all, is just one of those things to do on a girls weekend that has to be done.
Enjoy the View from the Shard
While researching idea for our sisters' weekend in London I read a few other blog posts in which visits to the Shard were mentioned. It hadn't been on my radar before, but I thought it might be a good what to get a birds-eye view of London and would be a nice touristy thing to do in London. We didn't just want to shop or drink coffee, so booked tickets for the three of us.
The View from the Shard is located in Western Europe's tallest building and gives amazing views across the whole of London. We were lucky that the day we visited was sunny with good visibility and you really could see for miles. It reminded me somewhat of being on the Empire State Building looking over New York. One thing to note, book your tickets in advance as you'll save £10 over the on-the-day ticket prices!* For full information on visiting the View from the Shard, visit their website.
Or why not pre-book your tickets with a Champagne option HERE.


Enjoy dinner and cocktails at the ICE Bar
I had read a blog review of the ICE bar in London and knew we just had to include it in our girly weekend itinerary. I booked it and kept it a secret from one of my sisters as a surprise. After returning to our AirBnB and telling her she might want to bring a cardigan or jacket (despite it being a lovely summer's day), she started to get suspicious about where we might be eating.
We made our way to the ICE bar which is located in a side street just off Regent Street and we were seated in the downstairs restaurant for our meal. I had opted to have our meal first and then drinks in the ICE bar itself afterwards. We had a lovely three course meal, and each of us thoroughly enjoyed our chosen dishes, before we were ushered back upstairs to get our cloaks and gloves, ready for our drinks in the ICE Bar.
And what an experience that is. The -5°C cold air hits you as soon as the doors open. You're given an ice glass to drink from and there is a range of both alcoholic and non-alcoholic drinks and cocktails to choose from. One drink is included in your booking, but you are free to purchase more. Be aware that you only get 40 minutes in the ICE bar, but it is more than enough as the cold does start to get to you after a while.
We enjoyed two drinks and a short dance before we'd had enough of the cold and ended our first night in London. This is a cool thing to do in London and is an idea on how to end girly days out in London too. To make a booking for the ICE bar, please visit their website.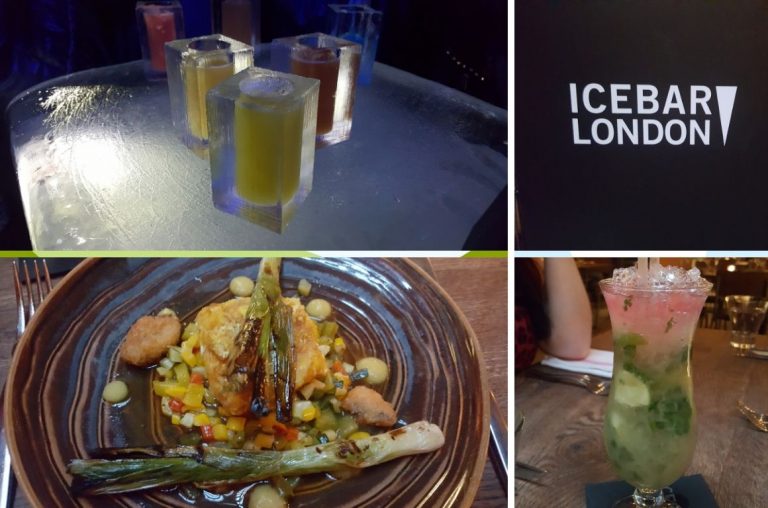 Sunday
Brunch at Le Pain Quotidien on Southbank
We stumbled upon Le Pain Quotidien by accident and it was an extremely pleasant surprise at that. This organic-range café is located at Southbank and serves dishes made from organic ingredients, along with an amazing array of breads. We hadn't eaten breakfast before leaving our AirBnB, so we were famished once we arrived at Southbank. We were lucky enough to get a table outside, which was nice, if not a little chilly due to being in the shadows.
Coffee, tea and brunch were ordered, and we were soon sipping our drinks and enjoying people watching from our table. Once our food arrived, myself and one sister tucked into delicious baked eggs with chorizo, while the other had a lovely chorizo and potato frittata. While this is not the cheapest breakfast or brunch you could have in London, it is certainly the tastiest. Each of us could have had our meal twice over. It was so good I returned with hubby and son in tow just a few months later. Make sure you include Le Pain Quotidien on your London weekend trip itinerary! It would also be the perfect place to start a ladies day out in London.
And if you are a bunch of foodie girls, then why not try a food tour. Check out this awesome post about London Food Tours from A Taste for Travel!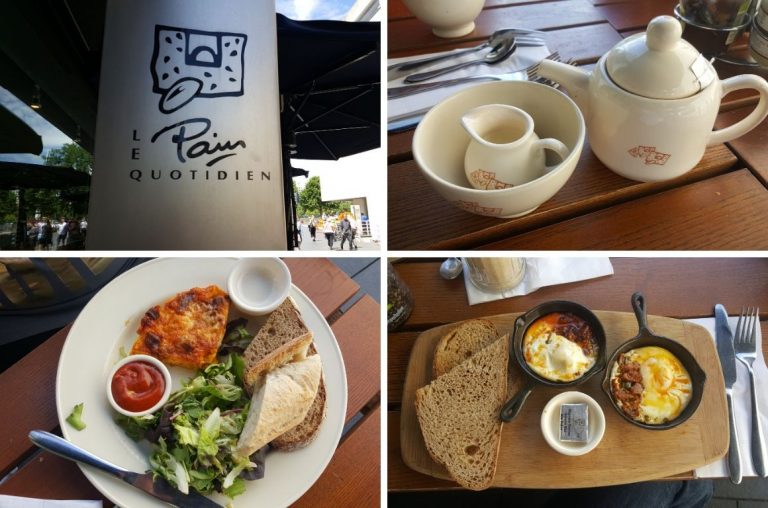 Take a Ride on the London Eye
As we were being tourists in London, we decided to take a ride on the London Eye. Despite many weekends in London before, this London attraction had always eluded us. So, I booked Fast Track Flexi tickets online, allowing us to arrive whenever we wanted on our chosen day. After our delicious brunch, we walked around the corner and joined the Fast Track queue which was practically empty.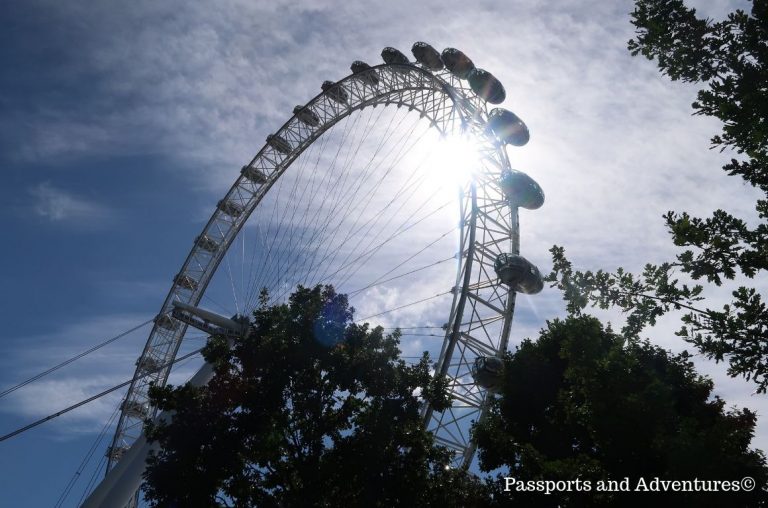 The London Eye is a huge Ferris wheel on the south bank of the River Thames and one rotation only takes 30 minutes. The views when you reach the top are incredible and give you a different view of London compared to the View from the Shard. It's not the cheapest of attractions but it's worth it for the views you get. Each pod comes equipped with interactive tablets which point out the various landmarks of London which you can see from the Eye and I enjoyed it so much I made a return trip with my hubby and son a few months later. Details on visiting the London Eye can be found on the website. It's one of those things to do in London on a girly weekend that should make your itinerary.
Why not treat yourselves to a London Eye VIP ticket and skip the queues. Buy your tickets here.
Sightsee London with Duck Tours
Now, this tour used to be by both land and water but unfortunately, the slipway Duck Tours used to enter and exit the River Thames, has been bought to build a sewer. However, that said they are operating their land tour route, but check their website for more up-to-date details.
This tour was a great alternative to the more traditional open-top sightseeing tour bus. We climbed aboard our distinctive yellow vehicle and had a land tour around London before entering the water beside the MI6 building, home to James Bond's office. It was a great way to see London, albeit a little wet as the waters in the Thames were quite choppy. We had a lot of fun on our tour and it was a thoroughly enjoyable way to see some of the more famous landmarks of London.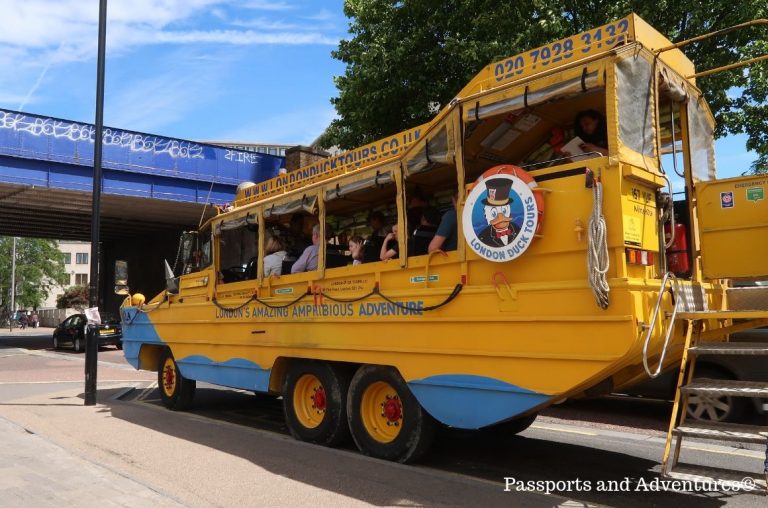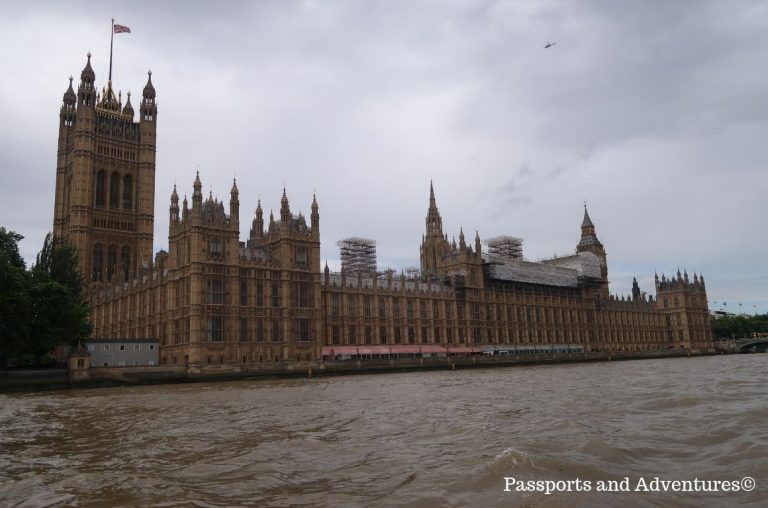 Grab an early dinner in Wagamamas, Greenwich
After an enjoyable day sightseeing in London we headed back to Greenwich to get ready for our concert. However, knowing restaurants around the O2 were going to be very busy immediately before and after the concert, we decided to get an early dinner and headed for Wagamamas in Greenwich.
I had never visited a Wagamamas before but was impressed by the quality and taste of the food. The only thing I didn't like was the fact that everyone's dishes arrived at our table at different times. Two of us got our starters quite quickly but one of my sister's starters arrived quite a while later and only minutes before her main arrived.
Then, my other sister had to wait a while for her main, and three separate waiting staff brought the same dish to our table after she had gotten hers. It all seemed a bit chaotic but despite this, the food was amazing and very tasty and each of us came away pleasantly satisfied with our meals. So, if you don't mind not getting all your party's dishes at once, I'd recommend a meal in Wagamamas.
Catch your favourite artist in concert at the O2
Now as I've mentioned, two of my sisters and I were having a girls weekend in London to attend the Take That concert. We'd booked our tickets almost a year before and were really looking forward to attending a concert outside of Ireland. Where we stayed in London was dictated by location to the O2, but I found lots of AirBnB's near Greenwich. And it was an ideal location for getting into Central London too.
Whether you are a pop fan, rock fan or R'n'B fan, you should always consider catching your favourite artist in the O2 (or other London event), so that you can have the best girls weekend away, combining music with shopping, eating and touristy things, like we did!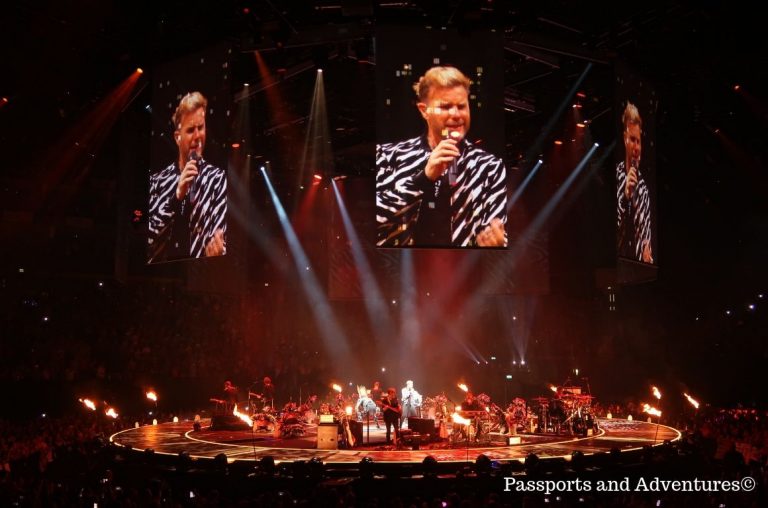 In Summary
So, if you and your girl gang are investigating places to go for a weekend away, start investigating weekends in London! There is so much to see and do in London, and I hope you'll consider putting one of the things I've suggested on your own London itinerary. One thing I wish we had done was another Thames River cruise, particularly after reading this great post by The Life of Spicers about how to save money on London River Cruises.
As for my sisters and I, all four of us next time round, we were soon in the planning stages of our next sisters' getaway weekend. For 2018, we settled on Edinburgh. For 2019, it was another girls weekend away in London.
Have you and your girlies had a girls weekend away recently, and if so, where did you go?
Cath x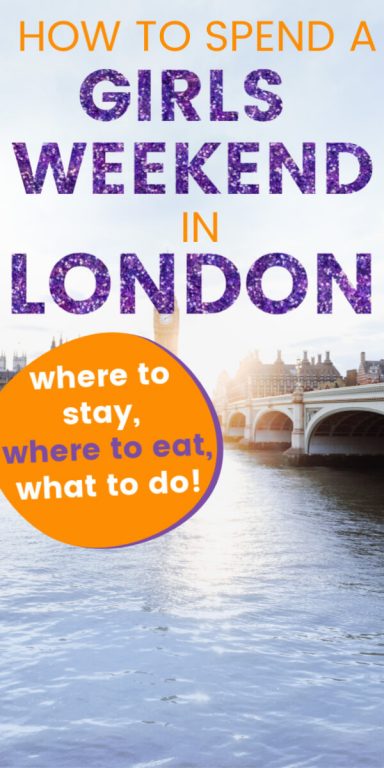 Related Posts