Lapland, Finland is a place most families dream of visiting with their kids and for some it is a once-in-a-lifetime trip. The chance to meet Father Christmas in his hometown. And maybe a few Elves too. Planning Lapland holidays is a big part of the process, but once you've got your holiday booked, then what? In this post I'm sharing with you over 30 practical tips for Lapland with kids to help you prepare for your visit to this magical place on earth.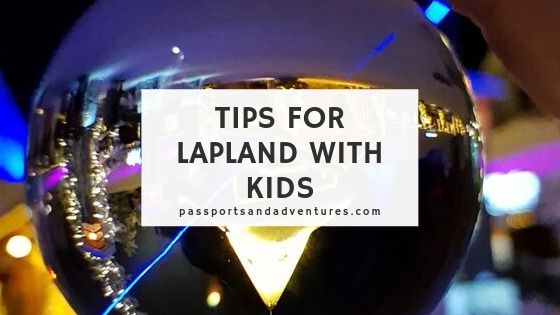 *This post contains affiliate links. To find out more about affiliate links and how they work, please visit my Disclosure Page.
When we visited Lapland with our son before Christmas in 2018, I did a lot of research. A lot. We managed to book Lapland on a budget and so could enjoy it without worrying about how much we had paid for our 4-day trip to Lapland if anything didn't quite go to plan.
As well as booking our trip I also wondered "what should I consider when planning a trip to Lapland" in terms of hints and tips for visiting Lapland. I gleamed some tips from my research and learned a hell of a lot along the way.
In order to help you get the most out of your family trip to see Santa in Lapland, I thought it would be useful to put together a list of practical tips for Lapland with kids. From things to consider before you go, to tips for when you arrive in Finnish Lapland, and helpful hints and tips to remember while you are there.
Note that we visited Rovaniemi, Finland and chose to visit Lapland in winter, just before Christmas. So, the tips contained within the post are mostly applicable to family holidays in winter in Lapland.
Practical tips for visiting Lapland with kids
I have broken down the sections into four. In the first section you will find Lapland travel tips for before you arrive. Following this you will find a section with ideas on what to remember to pack for your trip to Lapland, things to make sure you have in your suitcase before you arrive. I also have a section on tips for when you arrive including some ideal tips for visiting Lapland for the first time. And lastly, some tips to remember for while you are in Lapland.
Tips for going to Lapland – Before you go
Best age to go. One thing that I've seen crop up time and again is what is the best age to take kids to Lapland. And the truth is any age is suitable. My sister-in-law has been twice, first with five children between the ages of 9 and 1, and then with six children between the ages of 12 and 1. None of them suffered with feeling the cold and all of them had an amazing time. Yes, the youngest won't remember it but both times the baby was taken on the reindeer ride and they have some amazing family photos with Santa Claus. Older children will be able to enjoy more adventurous winter activities but there's still plenty that can be enjoyed with the younger ones. I've read people saying that the ideal age is between 5 and 7 years of age, and we went when our son was almost 5. But really, any age is suitable, you know your children best.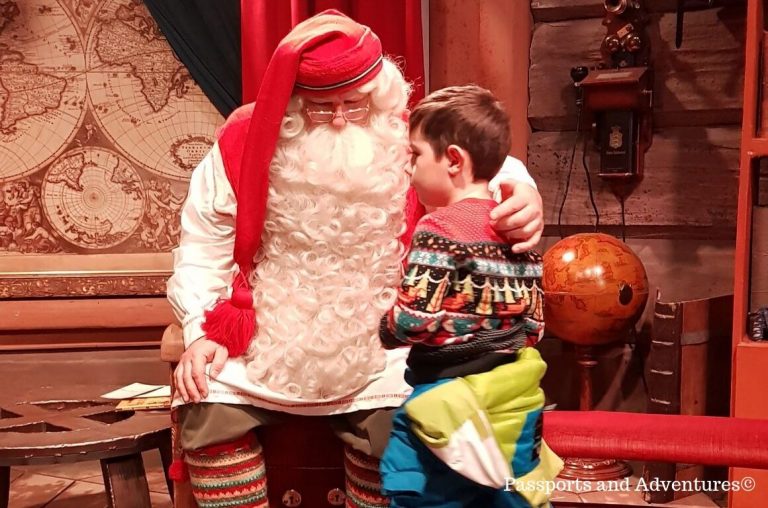 When to book Lapland. If you are choosing a package holiday with a tour operator, then earlier is best. Places go pretty rapidly, especially if they are advertising deals. I've seen some forums where people are booking their Lapland trip over a year in advance. If you are choosing to DIY Lapland, then this very much depends on your budget. Easyjet released their direct flights from Gatwick to Rovaniemi early in 2019 and the prices started to rise rapidly. Just note that most airlines will release their timetables 11 months in advance, while some low-cost airlines only release them six months in advance. The same goes for AirBnB accommodation. Some will be advertised a year in advance, some six months. You can DIY Lapland with only a few months to go, but to avail of the best savings where flights are concerned, sooner rather than later is best.
How long to stay. In truth, a day trip to Lapland is too short a time in my opinion. You will leave the UK (if travelling from there) very early in the morning, have a very rushed day and then arrive back into the UK very late. During my research I also found that day trips weren't much cheaper than at least doing an overnight trip. To really enjoy your holiday, I think you need to be aiming for a 3-day Lapland trip. We had four days and five nights in Lapland and thoroughly enjoyed ourselves at our own pace.
Lapland DIY versus Package Holiday. If you still haven't booked your Lapland visit and are on the fence, then I'd advise you to really weigh up the costs of doing Lapland DIY versus a package holiday. Check what exactly is included in the package holidays you are considering and measure it against the potential savings of booking Lapland yourself. It may seem scary to even considering booking everything yourself but it's not really. The one thing to remember is that package holidays will include some excursions whereas you would need to book and pay for them yourselves. There are a range of winter activities in Santa Claus Village at reasonable prices that it wouldn't add hundreds to the cost of your holiday. Likewise, when it comes to clothing, most package holidays will include the use of snowsuits. Doing it yourself would mean you either need to buy your own snow clothes or rent them from local companies, which the tourist office in the area can advise you on. Do this before you go if you are thinking of renting clothing instead of buying. And most will include meals.
If you really can't face doing Lapland DIY, I recommend you check out Santa's Lapland.
Read my blog post about how we booked a 10-day trip to Lapland and Helsinki for the price of a 1-night Lapland trip with a tour operator.
Best time to visit Lapland. Lapland can be enjoyed throughout the year but if you are planning to see Santa with kids, the best time to go is during December. To be guaranteed a good amount of snow, January to March is the best time, although there is likely to be snow on the ground from early December.
Which resort is best. There are four main resorts within Lapland in Finland. None can hold the title of the best place to go in Lapland, each has its advantages. They are Rovaniemi, Levi, Yllas and Saariselka. Saariselka is furthest north and so gets snow earlier than the other resorts, with Rovaniemi the furthest south. Rovaniemi is the Official Hometown of Santa Claus and some would say the most commercialised, but we never thought so. The further north you go, the more chance you have of experiencing traditional Finland. It very much comes down to budget, choice of route to Lapland (DIY or package) and what you want to get out of it as a family.
Where to stay in Lapland. In Lapland you have a choice of accommodation options, depending on your budget and family's needs. There are hotels throughout the region, many of which will be included in the package holidays. You could also book a log cabin, although be warned, you may require your own transport for this option. Or you could choose an apartment/home with AirBnB if you prefer. There are plenty of options to choose from. AirBnB gives you the option to shop at the supermarket and cook for yourselves, keeping costs down as meals in restaurants can become expensive.
If you are new to AirBnB, sign up with this link to get a discount on your first booking.
Things to pack into your suitcase for Lapland
Marshmallows. For toasting on the fires around Santa Claus Village. Remember wooden sticks too.
Hot chocolate sachets. You can either bring a flask of hot water with you and enjoy hot chocolate while toasting marshmallows on a fire, or you can enjoy them after a hard day's fun.
Bubbles. Say what? Hear me out. This may seem like a crazy thing to bring but bubbles freeze when you blow them into the cold air and kids will thoroughly love the result.
Hand warmers. If you are dressed appropriately, then you won't need to bring a huge amount of hand warmers. A few in your bag will suffice, particularly if the kids are feeling the cold. But you could also use them for keeping your phone warm if it's the one camera you have with you. Pop into the pocket where you phone is.
Portable phone chargers. The cold can affect your phone and I found my battery didn't last as long in the day if I was repeatedly taking it in and out of my pockets. So, a portable phone charger and appropriate cable are a must for ensuring you always have some battery left for important photos.
Spare batteries, memory cards and a tripod. Spare batteries kept charged up, and spare memories are a must for your camera. And if you are planning to go hunting for the Northern Lights and want to photograph them, a tripod is a must for long exposure pictures.
An EU adapter and 4-plug extension cable. Finland uses the two-pronged electrical sockets, so a universal travel adapter if you are coming from outside mainland Europe is essential. Also, bring a 4-plug extension cable from home to ensure you can charge multiple devices without needing multiple adapters.
Light up toys. If you are visiting in winter, why not bring some little light up toys from home for the kids to play with in the snow. They'll make sure great pictures too.
An insulated bag for snacks. An insulated bag will ensure your snacks don't freeze in the cold and they are also useful for keeping pre-made baby bottles warm.
Lip balm and hand cream. You may not think you'll need these but at the very least pack lip balm. The cold air during Finnish wintertime is very drying and lip balm will save you from constantly licking your lips to try and keep them moist. Hand cream too if you are removing your gloves for picture taking.
Backpack. Make sure you have a backpack for your days out in Lapland. This is handy for storing snacks and drinks and also as somewhere to store your gloves and hats when you go indoors.
Snacks. Food is not the cheapest in Lapland and if there any particular snacks your kids enjoy, then remember to bring some from home for your trip. Not only will it save you money but will keep hangry kids at bay if you are in a queue to meet Santa or waiting for an activity to start.
Alcohol. If you'd like to enjoy a glass or two of wine after the kids have gone to bed, stock up in duty free on your way to Lapland. Alcohol is expensive in Scandinavia and also has to be bought in liquor-type stores which are not usually open beyond 8pm during the week, 6pm on Saturdays and closed on Sundays. So, to save some money and hassle, buy your wine in duty free.
Top tips for visiting Lapland – When you arrive
Have winter gear ready. When you are travelling to Lapland, you can wear your normal clothes such as jeans and jumpers with your winter boots. But have your ski pants, jackets, hats, gloves, scarves and snoods in a separate, accessible bag, ready to put on you and your kids before you leave the overnight train from Helsinki, or for as soon as you land and exit the plane. Having them packed in a suitcase isn't going to help if the temperatures are well below freezing. If you have them ready to put on, the kids can start playing as soon as you arrive.
Download the Northern Lights App. If you haven't done this before you go and are hoping to witness the Northern Lights, I would suggest you download the app when you arrive. Then keep an eye on it throughout your holiday in case there is a chance you might see them. If you are staying further north inside the Arctic Circle in Levi, Yllas or Saariselka, you have a better chance of seeing them than Rovaniemi. But you never know.
Have layers and multiple sets of gloves and hats. It goes without saying that you need to have the appropriate clothing for a visit to Lapland, especially in winter. If you are wondering what you need to pack for a trip to Lapland with kids, read my blog post in which I tell you everything you need to know. Layering is important for keeping warm and dry. And having at least two sets of hats and gloves for everyone would be advised. If you are building snowmen, having snowball fights and generally having fun in the snow, your gloves and hats may become wet and take time to dry. So, having spares would be best where kids are concerned. Snoods and balaclavas are also a good idea for kids, especially for winter activities such as reindeer sleigh rides and husky safaris.
Book some winter activities. If you didn't book any before you arrived in Lapland, it is probably a good idea to get some sorted for you and the kids. You don't need to pre-book activities in Santa Claus Village in Rovaniemi, you may just have a short queue in front of you, but they move quickly. However, if you want a longer activity such as a husky safari in the Lapland countryside, I would advise you get this booked as soon as you arrive, or you may find yourself disappointed. The local tourist office can help with this and if you are staying in Rovaniemi, I highly recommend visiting the offices of Visit Rovaniemi off Lordi Square or their website.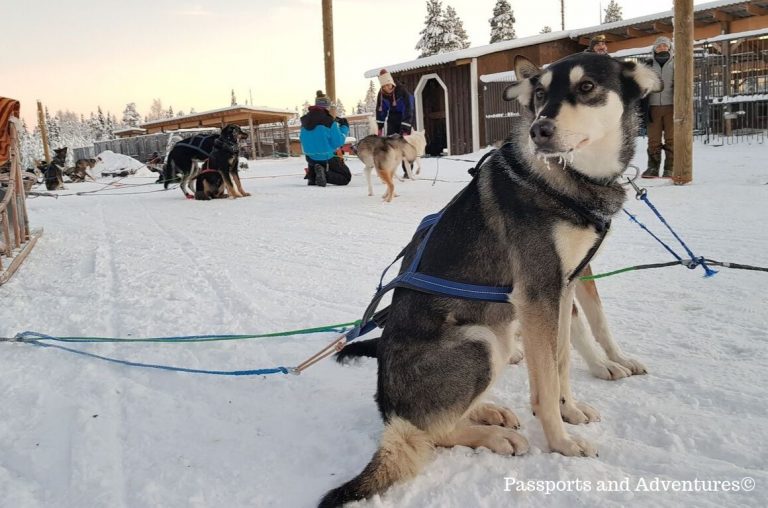 Double up. What do I mean by this? Well, if you are someone who feels the cold easily, I would advise you double up on gloves on your hands. You can get a thin glove for underneath your ski/winter gloves. We didn't need to do this as our ski gloves did the job nicely. There was only one night when it dipped below -10C, and we did feel it a bit, but otherwise neither us nor our son needed to double up on gloves. We did, however, double up on socks. One thin set of non-cotton socks underneath thick winter socks. I am someone who hates having cold feet so doing this was important to stay warm and comfortable.
Helpful tips for Lapland – During your trip
Keep your phone insulated. I don't mean get it a jacket of its own. To conserve your battery, keep you phone in an inside pocket or an insulated/lined pocket of your jacket. If the temperature is particularly cold, pop a hand warmer inside the same pocket, as I've already mentioned.
Be mindful of the shorter days. If you are visiting Lapland during winter, be aware that days are very short in terms of daylight. In some parts, daylight will only consist of dusk-type light. You're inside the Arctic Circle after all. During our December trip, the "day" was from 10am to 3pm, after which it started to get dark very quickly. This can throw your body clock out of kilter. Just stick to your normal getting up and going to bedtimes and you should be ok if you are from within Europe. From outside Europe and you'll be battling not only shorter days but also jet lag. Just do what you can to survive both with the kids.
For tips on surviving jet lag with kids, read my post here.
Do you really need a 'full' excursion. Consider whether you really need to take the kids on a full excursion, especially outdoor ones like snowmobiling, husky safaris and reindeer rides. We did a 2-hour husky safari, during which we were on the sleds for around 40 minutes (see point below). This was more than enough for our five-year-old and was the longest outdoor activity we did. For our reindeer sleigh ride, we enjoyed a 1km ride through the forest behind Santa Village and felt this was more an adequate. At Santa Village there were three options for the reindeer rides of 400m, 1km or 3km. The 1km lasted 15 minutes and was perfect. So, really think long and hard about whether you want to spend an extended period of time on an outdoor winter activity.
Go for ethical activities. If you are looking to book a husky or reindeer safari, look into companies that are ethical and really look after their animals. We wanted to do a husky safari and got advice from Visit Rovaniemi about a good company in the area that ran their kennels with good morals and ethics. We enjoyed our husky safari with Bearhill Husky and can highly recommend them.
Read all about our Bearhill Husky Safari here.
Get your Arctic Circle crossing certificate. If you are in Rovaniemi for your Lapland trip, ensure you visit the tourist information office at Santa Claus Village to get your Arctic Circle Crossing certificate (costing between 4 and 5 euro). You can also get your passport stamped for a fee. You can also get a certificate at SantaPark.
Take a packed lunch. If you are out and about, or visiting either Santa Village or SantaPark, consider taking a packed lunch with you, especially if you are in self-catering accommodation such as an AirBnB. Eating out in Lapland is expensive and both the venues mentioned have limited menus, with lunch at SantaPark being quite expensive for food that wasn't that great. So, why not bring a packed lunch to save yourself some money and ensure you have things the kids will eat with you.
Don't forget the postcards home. When you are in Santa Claus Village or SantaPark, make sure to send some postcards to loved ones back home, especially if you are visiting before Christmas. It'd make for a nice surprise. And mums and dads, remember to organise your kids' letters from Santa for next year before you leave Santa Village.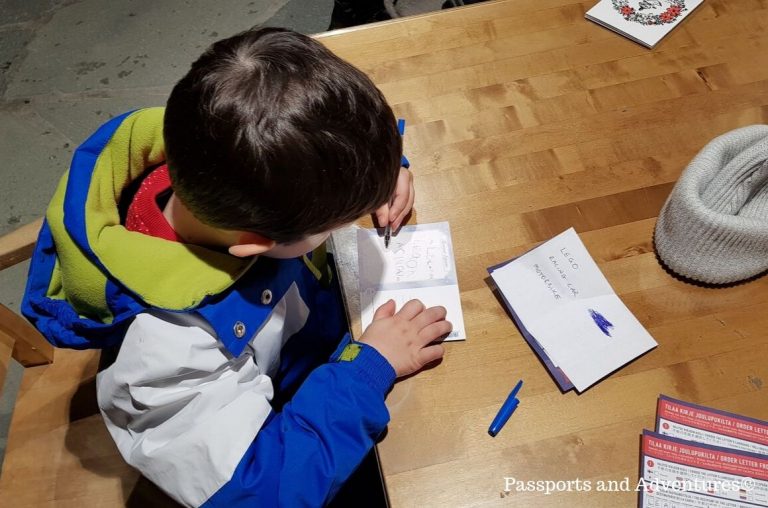 Remember a present. Unless you are with a package holiday, where it might be included as part of the package, remember to bring a small present to slip to the Elves before you meet Santa, especially in Santa Claus Village as Santa does not give out presents. With so many children visiting him, he would have none left for Christmas Day if he did give them out. Slip it to the Elves before it's your turn and they in turn can give it to Santa. It doesn't have to be big, just something to ensure there are no tears.
Enjoy the snow. You can't go all the way to Lapland and not enjoy the snow if it's fallen. Get outside in the few hours of daylight and build a snowman, have a snowball fight, make snow angels and climb the snow mountains the snow removal vehicles create when clearing roads and footpaths. Just be careful your kids don't bang their heads as they slide down them. Also, if you want, buy a snow sled for the kids to enjoy around town and in Santa Claus Village. They also make it much easier to transport kids from place to place. Just don't be tempted to take any you see outside restaurants, shops or hotels as they most likely belong to other children.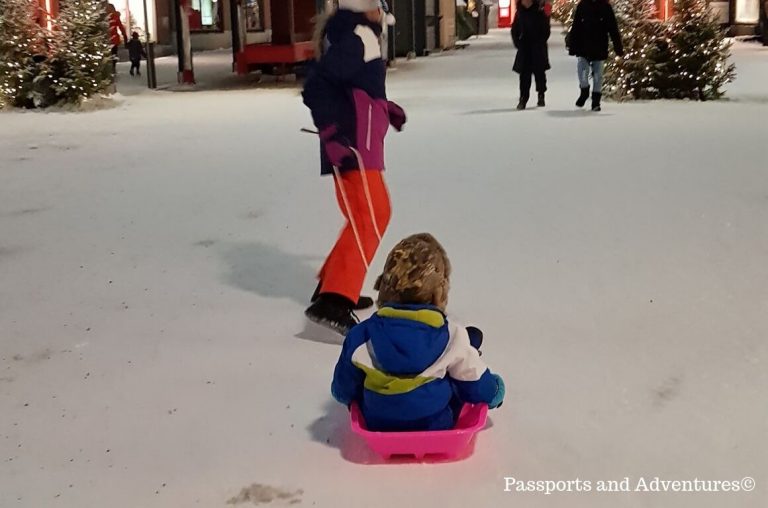 Slow down. If there is snow on the ground, remember to slow down, especially if you are not used to walking on snow and ice like us. It is very easy to lose your footing on ice if you're not used to it. Also, be mindful that getting wrapped up against the cold means it will take longer for you and the kids to get ready for anything, so allow extra time for getting yourselves ready to get out the door. Don't leave it until the last minute.
Relax. Try your best to remain relaxed during the day, even if the kids are driving you mad. And keep the evenings for relaxing after a long day of fun in the snow. Once you get back to your accommodation, take your suits off and hang them to dry, get everyone showered and into their pyjamas and relax on the sofa or bed with a hot chocolate and some Netflix. Try to have your dinner before you return to your accommodation so you can exactly this.
Combine Lapland with Helsinki. If you are going to go all that way, and if you have a connection in Helsinki, why not extend your holiday by a few days and enjoy everything the city has to offer families. It's a very family-friendly city and there are some amazing things to do in Helsinki with kids. You can even take a day trip to Tallinn while you are there and visit the Estonia capital, which is what we did. It will make for a truly unforgettable family holiday.
Don't forget the Christmas Jumpers. Yes, this might be so cliched but, if you are going to meet Santa, why not dress everyone in Christmas jumpers to get into the spirit of things. Bonus points if they are matching jumpers.
Insurance. My biggest tip before visiting Lapland is to ensure you have winter sports cover included in your travel insurance, and to check the fine print before doing any excursions such as snowmobiling. Some insurers, although they say winter sports, will not cover you for certain activities. So, be careful and read the fine print.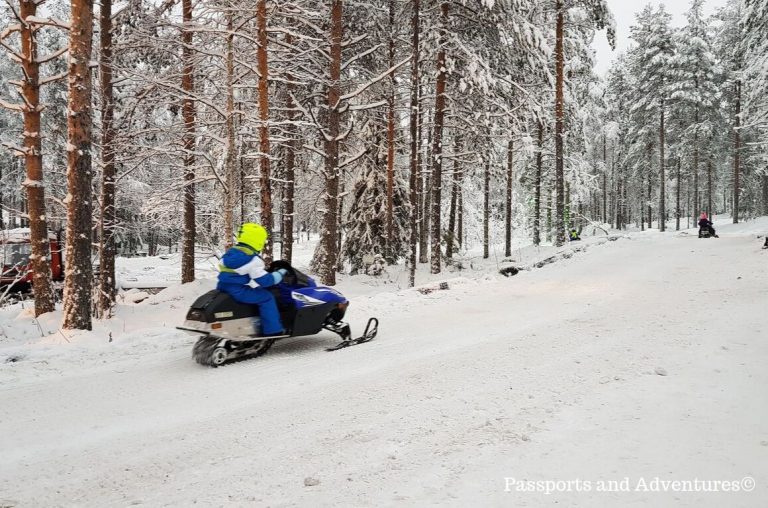 In Summary
I hope you find these tips for visiting Lapland useful. This is by no means an exhaustive list but everything I could think of that I thought would make your trip just that little bit easier. They are either tips I learned before we went, or tips from our time there. And if there are any you would add, please leave them in the comments and I'll add them for future readers.
Most importantly, if you are preparing to go to Lapland with your family, enjoy yourself. It really is a magical place and will be a trip you will never forget.
Cath x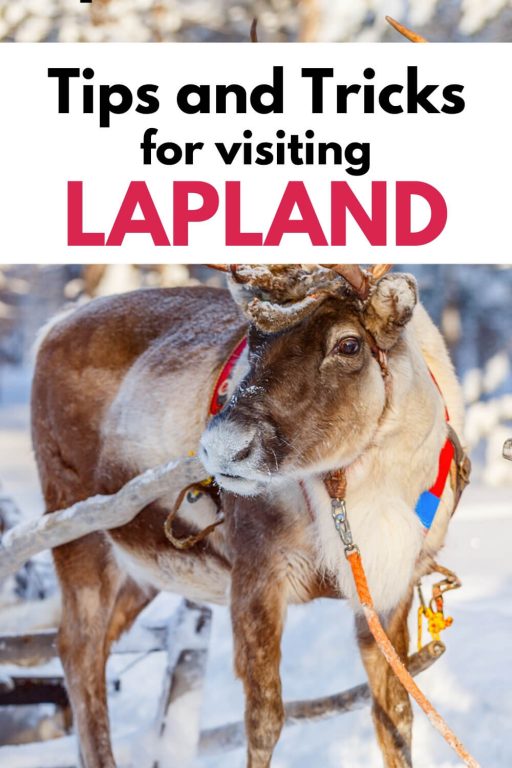 Related Posts