In December 2018 we embarked on a trip-of-a-lifetime. Destination: Lapland, Finland. We were going to visit Lapland as a family to enjoy some winter fun and to visit Santa in his hometown. In this post you'll find details of our amazing 5-day Lapland itinerary with kids to help you plan your own magical family trip to Lapland. This itinerary for Lapland is designed for a winter trip and can be used by families, solo travellers, groups and couples.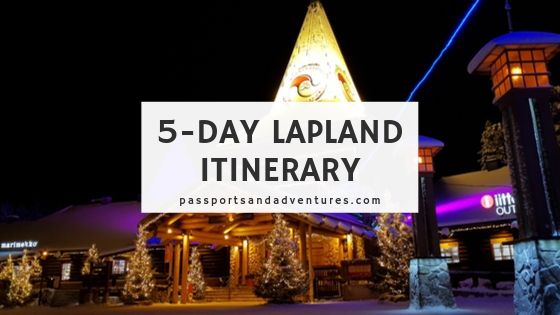 *This post may contain affiliate links. To find out more about affiliate links and how they work, please see my Disclosure Policy.
An Amazing 5-day Lapland Itinerary
Lapland, Finland is a destination that many families would love to visit with their kids. It is also a destination that is popular with solo travellers, couples and families without kids. While this itinerary focuses on our trip to Lapland with our son, it can easily be adopted for those taking a trip to Finland without kids. We saw many groups without children enjoying all the activities discussed in this post.
This Lapland itinerary is designed for those staying a couple of nights in the town of Rovaniemi, where we chose to base ourselves, during the winter. You can still use this itinerary for other regions of Lapland, tailoring your excursions to those available in your town/area. I advise you to research them before you arrive so you can plan ahead of time.
While we stayed 4 nights and had 5 days in Rovaniemi, you can pick and choose your excursions to suit the amount of time you have in Lapland. If you are travelling without kids, you can easily get most of this itinerary for Lapland done in 3 days instead of 5. So, use it as a guide.
Note that if you are visiting Lapland for the day on one of the Lapland day trips, this itinerary is not for you. Your excursions are pre-organised and to a timetable.
Our 5-day Lapland Itinerary with Kids
We visited Lapland in December 2018 and before we went, I did some research and planning to ensure we had a good idea of what we wanted to do and when. We had planned some winter activities ahead of time and I had a rough idea of other things we wanted to do.
Learn about what was on our Lapland Bucket List here.
The most important item on our agenda, the whole reason for our trip, was to visit Santa in Lapland. Among the many things to do in Lapland for families, this is probably the top reason they choose to take this trip. Whether you choose to book one of the Lapland packages or book Lapland DIY, Santa is going to play a very important part, especially those travelling with kids. And on a Rovaniemi itinerary that means paying Santa Claus Village or SantaPark a visit.
We also wanted to do a husky safari and pre-booked one before we went. We got advice from Visit Rovaniemi, the tourist office, who suggested a company that has a good ethical policy. The other thing we booked ahead of our arrival was a family photo shoot with a local photographer.
Remember, that the day is extremely short in Lapland during winter, with daylight hours typically from 10am to just after 2pm. While this won't stop you enjoying yourselves, be mindful of booking excursions that you want to do in day light.
Let's see how we spent our 5 days in Lapland.
Lapland Day One
For our family trip to Lapland, we flew from Portugal to Finland. We had looked at direct flights from Helsinki to Rovaniemi, but they were working out quite expensive, so we chose to take the overnight train, dubbed the "Santa Express", although at 12 hours, it's not quite what you'd call express.
So, day one saw us arrive into Rovaniemi at around 10am local time, to a fabulous white, winter wonderland. We immediately went into the station building and stowed our bags in the lockers. If you are going to Lapland and are arriving by train, I suggest you do the same as lockers are at a premium. There are other lockers available at the shopping centre in town.
After stowing your bags, head back outside and get your pictures with the train which should still be on the platform. Enjoy a snowball fight as well. Then, if like us, you cannot check into your accommodation until 3pm, why not walk towards town and head to Arktikum, the Arctic museum and science centre. You can grab lunch in the cafe before enjoying the museum at your leisure. There is a cloak room where you can store your ski jackets, hats and gloves. I highly recommend you visit this museum.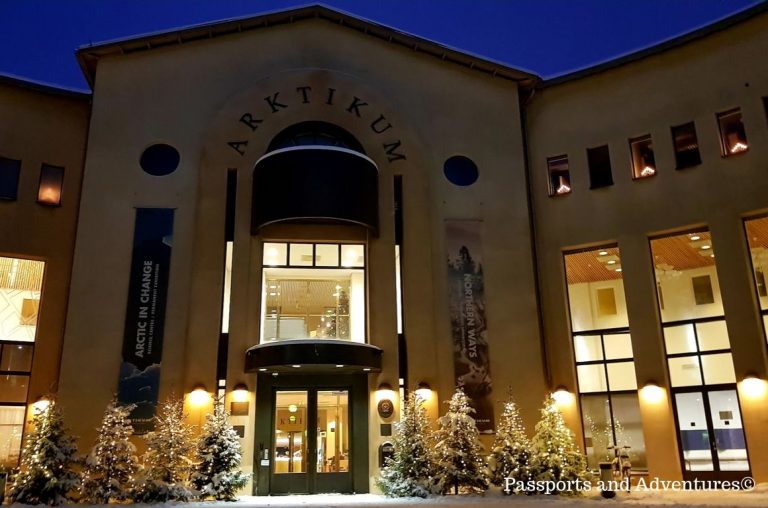 You can explore and learn about the Arctic, its indigenous people and wildlife, and learn about conservation and also how climate change is affecting the region. There is also a chance to learn about Lappish history. You will easily spend a few hours in Arktikum, which is one of the best things to do in Rovaniemi with kids.
When you leave the museum, you can either walk back to the train station or shopping centre to collect your bags, or hop a taxi. If you are visiting in December and have spent a good few hours in the museum, you will most likely come out to darkness. This is the Arctic winter time after all.
Check into your accommodation, drop your bags and take a walk into town, stocking up on necessary supplies in the K Market supermarket in the shopping centre, Shopping Centre Revontuli.
You can either have dinner at your accommodation or have dinner in town. We highly recommend Rosso's, an Italian-type restaurant located just off Lordi Square, opposite the offices of Visit Rovaniemi. They serve good food at a very reasonable price for Finland. Then it's early to bed ready for your next day.
Lapland Day Two
For our second day in we started with a family photo shoot with local photographer Kaisa Siren. Kaisa picked us up from our AirBnB apartment and drove us to Ounasvaara Forest where we had some amazing shots taken in the snowy forest. Afterwards, we visited a local Husky Park where we got the chance to meet some of the dogs and get some pictures with them, before being dropped off at Santa Village.
So, if you are visiting Lapland in December and want to capture some special moments in Lapland, I highly recommend a photo shoot with Kaisa. She is very friendly, welcoming and produces some amazing pictures. She will also judge the best time of day for your shoot to make the most of the short winter days.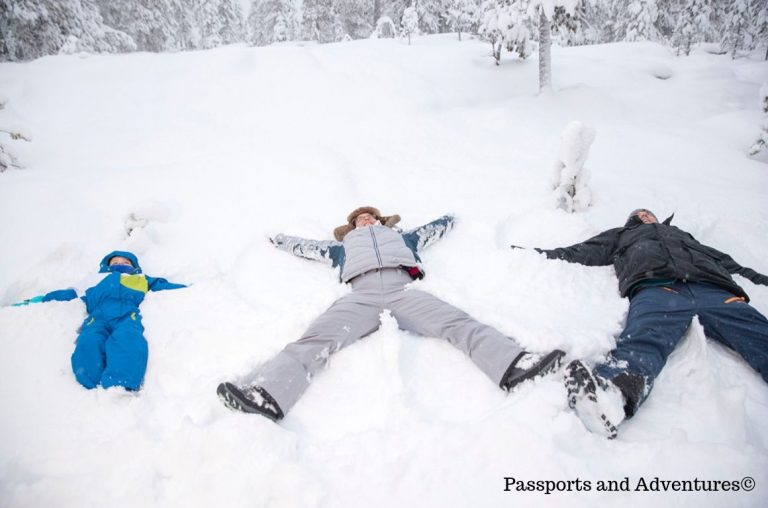 As you will probably finish your shoot just after lunch, you should head to Santa Claus Village, Rovaniemi. Grab lunch in one of the restaurants, or eat a packed lunch if you've brought one, and then soak up the atmosphere of the village. As Santa Village is located right on the Arctic Circle in Finland, make sure to visit the Information desk to get your Arctic Circle Crossing Certificate. And, if you've got your passport with you, you can also get it stamped for a fee.
At Santa Village, start getting some pictures, allow the kids to do some sledding if there are some free, and play in the children's playground. Although a word of warning, if there is ice on the big slide, don't allow very young children to come down it, as my son hit his head off the side of the slide on his way down.
If you are travelling without kids, or your kids are older, this day would be the ideal one to do a Northern Lights tour. If you are doing one, head back to your accommodation in the afternoon for a rest and some food before joining your tour later in the evening. We looked into a Northern Lights tour but as many start around 9pm, we knew our son would not be able for the late time at almost 5 years of age. Maybe next time.
After we finished in Santa Village, we got the number 8 bus back into town and had a nice cuppa and some cake in Choco Deli Oy cafe, before meeting family in Rosso's for dinner. Be warned, this cafe does the most amazing cakes and has an array of chocolates on offer that are very hard to resist.
Lapland Day Three
For our third day in Lapland, we planned to spend most of our day at Santa Claus Village. There are a host of activities available at Santa Claus Village, Lapland and it is also one of the best places to see Santa in Lapland. To beat the tour group crowds, either arrive first thing in the morning or plan to arrive later and plan your visit to Santa after they have arrived/left.
Start your day at Santa Claus Village with some snowmobiling. The Arctic Circle Snowmobile Park is located at the back of the village and charges €20 for 10 minutes for children, although it seems a lot longer than 10 minutes. Our son loved this, so much so he went twice. They also do longer Snowmobile safaris for older children and adults. Pre-booking may be necessary.
After snowmobiling, head to Santa Claus' Reindeer for a 1km reindeer safari through the forest at the back of the Village. There are 3 different lengths of safaris from here; 400m, 1km and 3km. The 1km lasted about 15 minutes and was more than enough for us and our son. The 400m reindeer safari cost €18 per adult and €14 per child, while the 1km cost €29 per adult and €23 per child.*
Following your reindeer ride, head to the Santa Claus Main Post Office to see all the letters sent to Santa from around the world. Also, you can send your own postcards home to loved ones and organise letters from Santa. This post office gets very busy in the day, so if it's crowded, wait until later in the day when the tours are gone, and it quietens down.
By now you may be getting hungry, so stop for some lunch. The Napatapuli restaurant does reasonably priced food and my son and I shared the chicken nuggets and chips basket in here.
After lunch you can either visit Snowman World or pay Santa a visit. We spent some time in Snowman World and enjoyed some tubing after marvelling at the ice carvings in the bar/restaurant. Because the snow was late arriving in the year of our visit, the igloo and ice rink were not complete. Just be aware of this. Entry to Snowman World was €25 per person.*
After your visit to Snowman World, browse the shops, let the kids play in the playground or go sledding. On this particular day we met up with family in the afternoon, enjoyed a warm cuppa in the Napatapuli restaurant and then captured our pictures of the village after the crowds had gone.

We missed the last bus back into Rovaniemi so we got the Santa Claus Village Hotel to call us a taxi which cost us €25.
Lapland Day Four
For day four of our Finnish Lapland adventure, we booked ourselves onto a husky sledding tour. We got advice from Visit Rovaniemi about which one to choose and went from there. If you are interested in any Lapland excursions, then Visit Rovaniemi is the place to contact. We booked a morning tour with Bearhill Husky and it was one of our best Lapland experiences.
Read all about our Bearhill Husky Sledding Adventure here.
So, day four should be the day you plan your longer safaris, whether it is a reindeer or husky safari. You will most likely be picked up mid-morning, either from your accommodation or a central location in town. And you will be finished before the sun starts to set. For those who have travelled from afar, by now you should be adjusting and getting over your jet lag.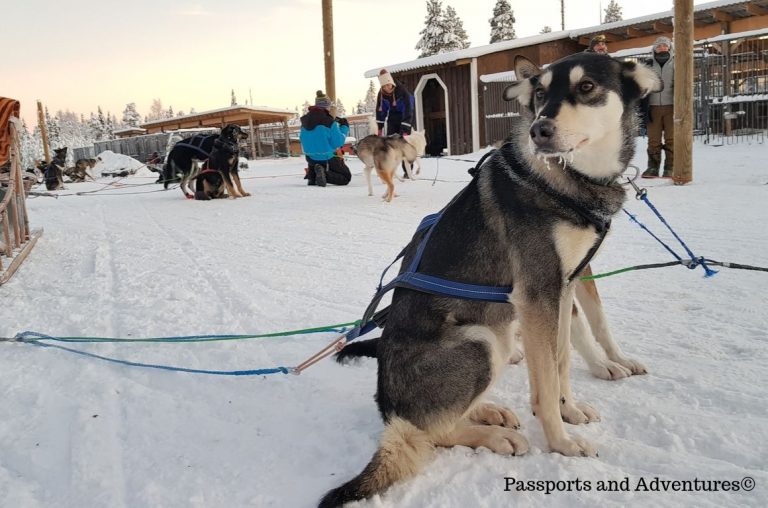 Once you are finished your longer excursions, I suggest you head to Pilke, the Biodiversity Museum located right beside Arktikum. This museum shows you how important the Arctic forests are to the region. This is included in the Culture Pass and is a great museum and science centre for kids. There are lots of areas for them to explore, build things and even tree felling vehicles to climb up into.
There were also several sections and displays which appealed to the scientist in me. Overall, we loved Pilke and suggest you add it to your Lapland itinerary.
Lapland Day Five
On our last day in Lapland we headed to SantaPark, the underground home of Santa Claus. We first went to the train station before the first train arrived and stowed our luggage in a locker, ready for collecting later for our overnight train back to Helsinki. If you are on the same schedule, do this well before 10am to get the best chance of a locker.
From the train station take the bus to SantaPark and enjoy this underground cavern which has a theme-park feel to it with an Elf School to attend, Mrs Gingerbread's Kitchen where you can decorate your own gingerbread biscuits, a magical Santa train which reminded me of Disneyland's It's A Small World ride. And of course, there is also the opportunity to meet Santa.
We chose not to do this as we had already met him at Santa Village and felt it might confuse our young son. We also did not think anything could top our meeting with Santa the day before. We did have lunch at SantaPark which was a bit chaotic. Ordering lines were not where we thought they were and collection of food in different places. However, it filled our bellies. So, you've been warned.
Once you have completed a circuit of SantaPark, let the kids enjoy some free play in the Angry Birds play area before heading back into Rovaniemi to tick off the last museum on your Culture Pass, Korundi.
This museum is a contemporary art museum and while some of the displays and works of art are astounding, be watchful with young kids. We spent most of our time, particularly on the second floor, telling our son to be careful around all the glass pieces. We were glad we visited it, but it is probably more suited to teens. Alternatively, you can swap around the days you visit the Pilke and Korundi Museums.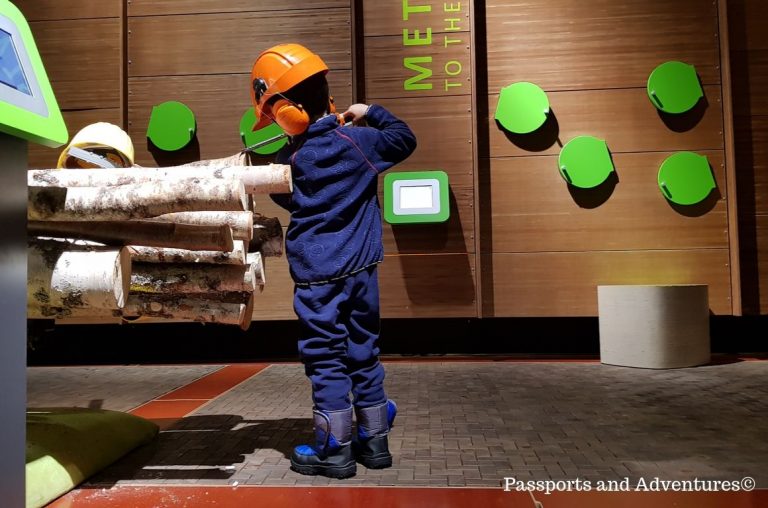 If you are catching the train back to Helsinki, make your way to the station on foot (it's not very far), collect your bags and bid a fond farewell to Lapland.
And that completes how to spend 5 days in Lapland. I hope it gives you an idea of how many days in Lapland you'll need to enjoy yourself and tick most things off your bucket list.
How to plan your visit to Lapland
In this section you'll find a summary of how to plan a Lapland 5-day trip yourself.
I wholeheartedly suggest you book Lapland yourself. It isn't as scary as you think and by going DIY, you can take things at your own pace, relax and not rush around like a headless chicken in a crowd of other headless chickens.
Firstly, check out flights to Lapland from your starting country using Skyscanner. From the UK, Easyjet fly from both Gatwick and Manchester direct to Rovaniemi. There are flights from Helsinki to Rovaniemi which would have negated the need for us to take the train but they were more expensive than our flights from Portugal to Finland. As we were trying to keep the cost of our trip to Lapland down, we decided against these flights. And the train was an experience.
From other countries, you will most likely need to fly to either the UK to catch the direct flight, or into Helsinki to catch either a plane or train to Lapland.
If you are thinking of doing the train, sign up to their newsletter early in the year to get notified of when they released their Saver Tickets. These cost us just €49 per person each way, with our son travelling free of charge as he was under 10 and sharing our bed.
Once transport is sorted, I suggest looking at AirBnB for accommodation close to the city centre. If you are new to AirBnB, sign up via this link to avail of money off your first completed stay.
Alternatively, you can check out hotels.com for accommodation in hotels and other venues around the city and surrounding area.
And finally, once flights, transport and accommodation has been sorted, I suggest you look into your longer excursions and/or photo shoot and book them ahead of arrival. Other things like the reindeer or husky rides at Santa Claus Village and SantaPark do not need to be booked prior to your arrival.
And I would also suggest, if you are using the train to get to and from Rovaniemi, that you consider spending a few days in Helsinki like we did. It's a great city and has a lot on offer for families.
Read my Helsinki – Things to Do with Kids post here.
FAQ about Lapland
Where is Lapland?
Lapland is an area found within Sweden, Finland, Norway and part of Russia's Kola Peninsula.
Which is the best Lapland Santa Experience?
Within Rovaniemi, there are two options to meet Santa in Lapland. The first is at Santa Claus Village and the other is SantaPark. We chose to only see Santa at Santa Village. The Santa we met was amazing, very engaging and even knew a few words of Portuguese, much to our surprise and delight. He didn't rush us and was happy for us to take our time. If you are taking a trip to see Santa in Lapland and are heading to other areas, check out the Santa options available on TripAdvisor for the area you are visiting or consult the tourist boards within the area. You could also see what options are mentioned in the package holidays on offer for the other areas of Lapland.
How to get to Lapland, Finland?
I have briefly given you an outline in the section above and you can find more details about visiting Rovaniemi in Finnish Lapland in this post of mine. For other areas of Lapland, you will need to decide where you want to go and investigate your options both via a package holiday or by doing it yourself.
Where to stay in Lapland?
This firstly depends on what part of Lapland you visit. It will also depend on what you want to get out of your trip. It has been said by some people that Rovaniemi is quite commercialised, but we never thought so. As it is a big town, there is lots of amenities catering for everyone. If you want a more intimate, quieter affair, then perhaps going further north to Levi or Yllas would suit you better. Also, the further north you go, the earlier the snow will arrive and there are more options available should you want to do some skiing.
Can I fly to Lapland without going via Helsinki?
If you are travelling from the UK, as mentioned, Easyjet fly direct to Rovaniemi. So, yes, there is an option to fly straight to Lapland. If you are taking a package holiday, then the tour operators such as Santa's Lapland and TUI fly their planes direct to Lapland. However, be warned that the direct flights with Easyjet get booked up quickly.
Should I combine my Lapland trip with a few days in Helsinki?
Yes, in my opinion, if you are going all that way, and especially if you are connecting in Helsinki, then you should add a few days in the Finnish capital onto the end of your trip. A few days is more than enough to enjoy the Helsinki sights. There are a range of Helsinki attractions suitable for those travelling with or without kids and in this post you'll find some ideas of things to do in Helsinki.
In Summary
I hope this Lapland itinerary for 5 days has given you some inspiration for how to plan your time in the region and given you an idea of what you can achieve in 5 days during the Lapland winter season. And rest assured that it's not just for kids, Lapland is for adults as well.
We thoroughly enjoyed our time in Lapland, ticking off everything from our bucket list including meeting Santa and enjoying an amazing husky safari with Bearhill Husky. We also enjoyed some Helsinki sightseeing after we'd finished in Lapland to top off our trip.
Has this inspired you to consider visiting this magical winter wonderland now?
Cath x
If you are thinking of going to Lapland and are unsure about what to pack, you'll find my Lapland packing list here full of details on what clothing to pack for Lapland, with or without kids. And for tips for visiting Lapland, check out my post here. It's got 30+ practical top tips to ensure your trip is an awesome one.
*Note: Prices are correct for December 2018.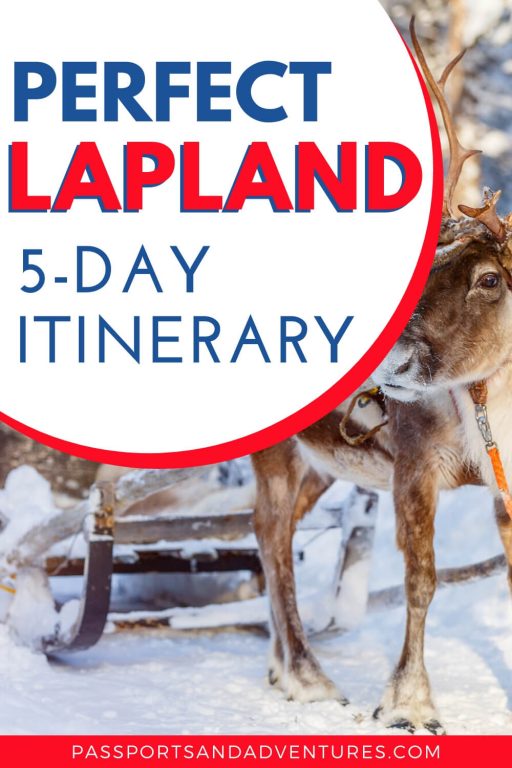 Related Posts