Where bucket lists are concerned, we often put one together or have one in our heads with all the places we'd like to visit one day. But what about the smaller members of the family? I thought it would be fun to put together a US bucket list for kids to list all the amazing places in the USA that kids should visit at least once.
In this post I and my fellow family travel bloggers are sharing with you a list of kids bucket list ideas for visiting the US. From famous US landmarks, to the best US national parks for families, museums and theme parks, this US bucket list for families covers all the places you need to visit at least once with your kids.
Ultimate US Bucket List for Kids
Yellowstone National Park, Wyoming
If you are putting together a summer bucket list for kids for the US, then Yellowstone needs to be on it. Especially if your kids love the outdoors and animals. Yellowstone is an amazing place to visit as a family with so much to see and do.
At every turn you are likely to bump into resident wildlife such as bison and elk. Bison are ten-a-penny and you will see elk along the banks of the rivers at dawn or dusk. If you are really lucky you might spot a coyote or wolves, especially in the Hayden and Lamar Valleys.
Aside from animals, kids will be fascinated by the geysers, springs and mud volcanoes. There are gentle hikes throughout the park which are suitable for families. In the visitor's centers around the park, kids can learn about the geology and flora and fauna of Yellowstone National Park and can become a Junior Ranger too.
Yellowstone is one big classroom and there are learning opportunities everywhere for kids of all ages. Visiting Yellowstone as a family is one of the must-have places on your US bucket list for kids.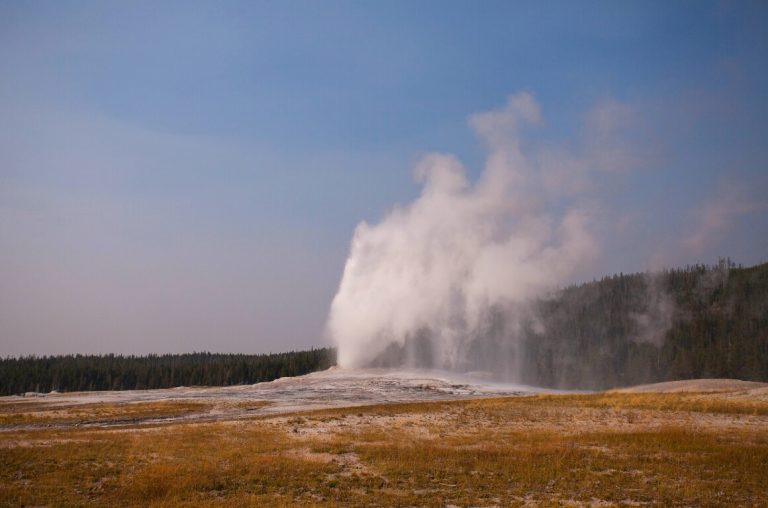 Oregon Museum of Science and Industry, Portland, Oregon
The Oregon Museum of Science and Industry is one of the best places to visit with kids in Portland and is a must if you are looking for bucket list ideas for kids for the US. Although you might think this isn't a museum for kids, you're mistaken.
OMSI is located in Downtown Portland and is a brilliant place to visit, even with toddlers. With 3 auditoriums, a planetarium and exhibition halls, there are lots to see and do here. The Science Playground is brilliant if you are visiting Portland with toddlers as there are fun activities for kids aged up to 6 years old.
There is a Life Sciences hall for learning about biology, an Earth Science hall where kids can find out about geology-oriented things and in the Turbine hall, exhibitions demonstrate engineering, physical, chemical and space travel.
The planetarium is a must-visit as you can sit back and relax while learning about the night sky. And if your kids are interested in marine things, visit the USS blueback submarine which was used on the film The Hunt for Red October.
There is also a large Featured Exhibition hall for visiting exhibitions, in which we saw the Pompeii Exhibition. Check in advance what is visiting during your visit.
If you are looking for great places to take the kids in Portland and somewhere to put on their US bucket list, then ensure OMSI is included.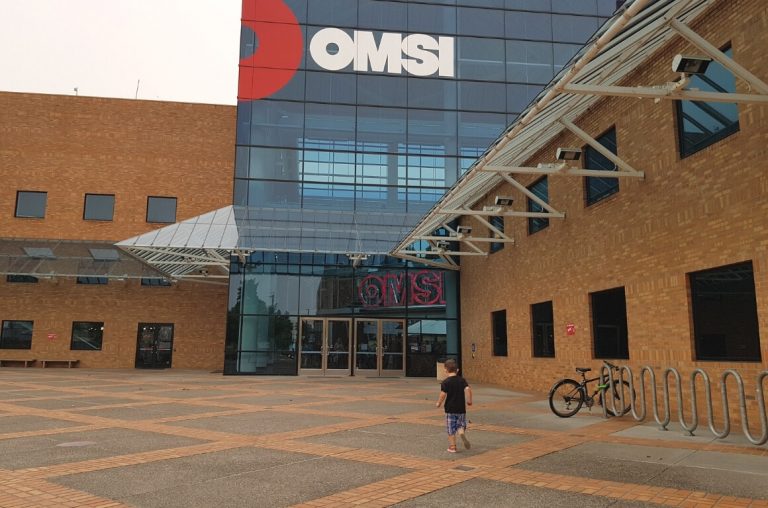 Central Park, New York
If you are creating a US summer bucket list with kids or even a winter bucket list for kids, then Central Park, and New York City has to be on it. Visiting New York with kids is somewhere that has to be done at least once, especially as there is so much to see and do as a family in the big Apple.
Central Park has to be top of the list. In summer, it is a quiet slice of heaven in a bustling city with lots of green space for kids to just be kids. Central Park is the ideal place to escape the city, take a break from sightseeing and enjoy a picnic before letting the kids play. You will find the New York City Zoo in Central Park. There are no less than 21 playgrounds throughout this great park for kids to enjoy.
Central Park also has a carousel, an adventure theatre, you can enjoy boat rides on the lake and sometimes you could be lucky and catch a show or some story-telling. In winter, Central Park is home to an ice rink so enjoy some skating.
Aside from Central Park, there are lots of things to see and do in New York as a family including visiting the Natural History Museum, saying hi to the Statue of Liberty, getting a view of New York from the Empire State Building and more. So, make sure if you are putting together some bucket list ideas for families, that you add Central Park and New York to it!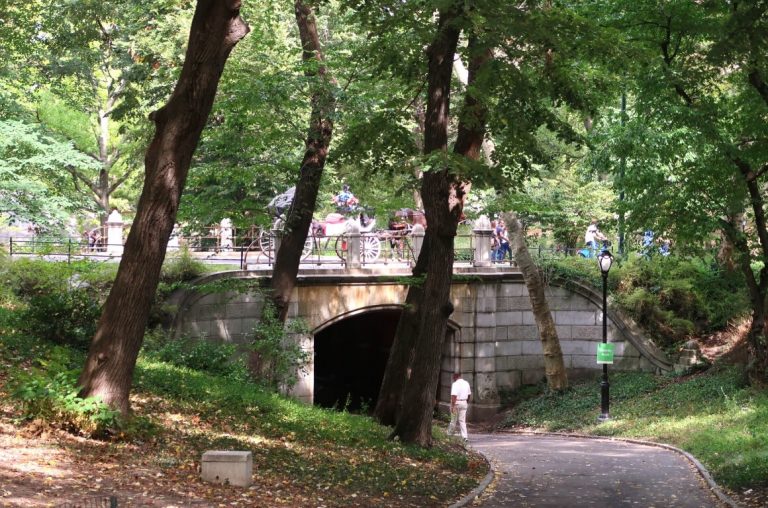 Walt Disney World, Florida
Visiting Walt Disney World is somewhere almost every child wants to visit isn't it. There is something you really can't describe about the magic you feel when you walk into one of the Disney Parks. For younger children especially, Magic Kingdom is a must place to visit.
With bright colours, amazing smells, bright colours, stunning theming, and that's just as you walk through the gates. I will never forget the first time my family walked into Magic Kingdom and experienced the magic. Our first stop was to see Mickey Mouse (of course) and to watch the look on my daughter's face as she saw him in the flesh was a moment that will stay with me forever.
There is so much to see and do in Magic Kingdom apart from just characters. You can experience the fun and joviality of the character parades that happen throughout the day, or perhaps take in the stunning view of Main Street USA with Cinderella's Castle at the end.
There are thrills and spills to be had from rides such as Space Mountain for the thrill seekers to It's A Small World, or Peter Pan's Flight for the more timid among the family.
It will be impossible to see everything in one visit to Magic Kingdom, and Walt Disney World, but with something for the whole family, it really is a must visit for the young and young at heart alike.
Angela – The Life of Spicers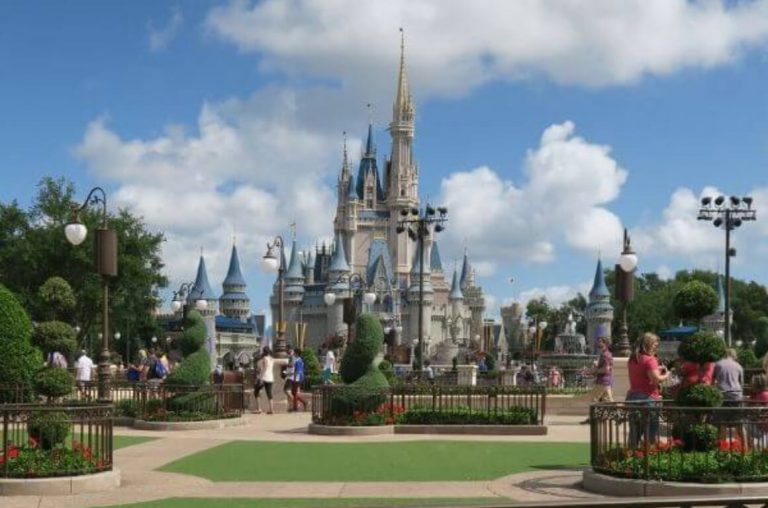 Rocky Mountain National Park, Colorado
Rocky Mountain National Park in Colorado should be on every kid's USA travel bucket list. The park itself offers trails that are perfect for all families-from those with infants and toddlers to teenagers. Little ones will enjoy walking around Bear Lake. At just 0.7 miles, it's perfect for all abilities with lots of opportunities to stop and take in the amazing views.
With older kids, you can hike up to Emerald Lake. The entire round trip takes 6 miles and offers amazing lake views along the way. Seeing Emerald Lake at the top will be your reward!
Rocky Mountain National Park is located near Estes Park, CO, a very kid-friendly city. When not hiking and exploring the park, you will have lots of opportunities for more fun. From kid-friendly restaurants, amusement parks, playgrounds and bike rentals, there's something for all kids to enjoy. You can go horseback riding with kids at the YMCA, rent family bikes at several locations in town and explore Lake Estes. There are also creeks in town that kids will love exploring. If you're looking for an amazing family vacation in the USA, a visit to Rocky Mountain National Park should be on your list!
Maggie, Milana's Travels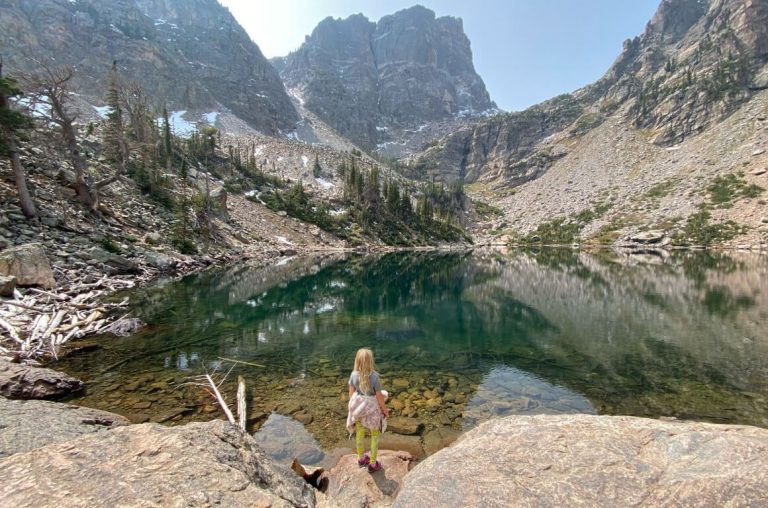 Disney Cruise
One destination that should be on a kids' bucket list is traveling on a Disney Cruise. While many destinations are international, the majority of the port cities are U.S. based. Regardless of where your travel takes you, the best part of a Disney Cruise is the experience onboard. Disney Cruises are centered around family fun and offer activities for kids of all ages.
Both kids and parents will love Disney's youth clubs. The Oceaneer's Club and Lab, which are youth clubs for preschool-aged and elementary-aged children offer kids the chance to play games, draw characters, build crafts, do a science experiment, cook, dance with a Disney character, play dress-up, and even have a late-night pajama party. The teen areas of Vibe and Edge have nooks for listening to music, couches to relax with friends, video game competitions, scavenger hunts, and even a specialty coffee and milkshake bar. Character Meet and Greets occur daily on the ship, as do Broadway-style shows, magic shows, trivia competitions, as well as a theatre showing first-run Disney movies. Up on deck, you will find dance parties, pools, slides, soft-serve ice cream, and a sports area.
While Disney Cruises are usually more expensive than other cruise lines, you get what you pay for. Kids will love the never-ending options of entertainment and may not want to ever get off the ship.
Margie – DQ Family Travel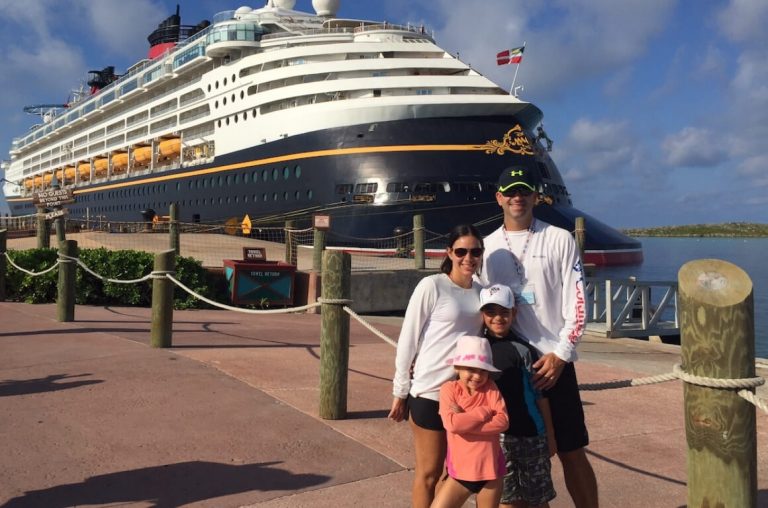 Miracle Hot Springs, Idaho
Our family is made up of big hot springs fans — natural or developed, we look for them whenever we travel. Sometimes, we even plan a trip around them. There are more than 100 "soakable" hot springs in Idaho, and while every one of them makes it to the bucket list, I think Miracle Hot Springs is a good one to start with.
Miracle Hot Springs is located in Buhl, Idaho, not far from Twin Falls. It is a developed hot spring, meaning the natural hot spring is diverted into pools. They have clean, private soaking tubs (called "VIP rooms"), as well as four large communal pools. We liked the VIP tubs both for the private changing area and the private pool. Plus, you can scoot out to the main pools quite easily.
After a day paddle boarding or walking around Shoshone Falls, or diving into the Pliocene at Hagerman Fossil Beds National Monument, a dip into the hot and warm pools is highly recommended. Last time we visited was after cross-country skiing at Craters of the Moon National Monument.
If you'd like to spend the night, there is an RV and tent campground and a few charming geodesic glamping domes for rent.
To really make this a bucket list-worthy trip, visit Miracle's sister hot spring — Banbury Hot Springs. It's about a ten minute drive and offers another hot spring experience. Banbury is located on the Snake River and has kayaks for rent (for use on the river, not in the hot spring pool).
Melynda – Traveling Mel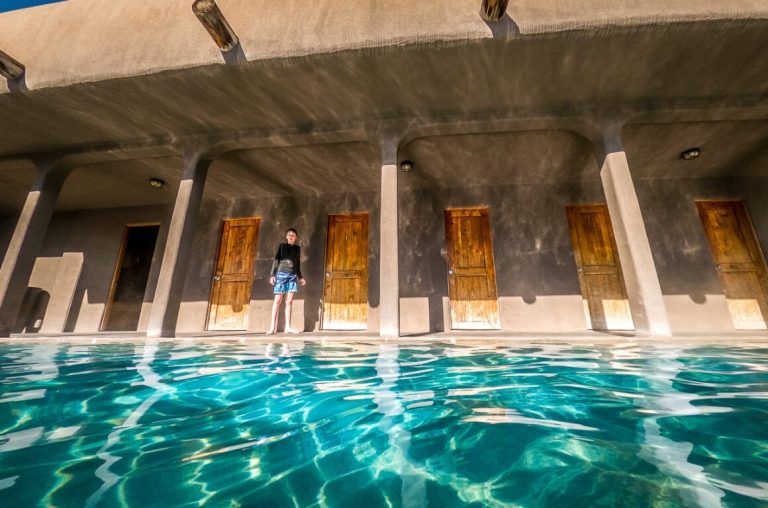 Park City, Utah
If you're looking for a great escape for the entire family that's full of adventure and amazing scenery, then you absolutely must visit Park City Utah. Located just 30 minutes from Salt Lake City, a visit to Park City is easily accessible, but will make you feel like you're secluded in a mountain getaway.
All year round, kids will love the Olympic Park ropes course, the Swaner Nature Preserve, and a free trolley ride down main street (make sure to stop at Java Cow for treats). If you've got kids who love action sports, make sure to sign up for a class at the Woodward Indoor Action Sports Complex. In the summer, make sure to take a ride down the alpine side and hit the trails for a hike. Our favorite hike in the area is Silver Lake Trail, and if you've got mountain bikes, a visit to Trailside Park is a must do for all ages.
If you visit Park City in the winter, you absolutely must ski in Utah, no matter what. However, as much as we adore skiing, the absolute coolest winter activity in Park City for kids is a dog sledding trip with Luna Lobos. The entire experience is incredibly family friendly and it's something that your kids will never forget!
Jessica – Skiing Kids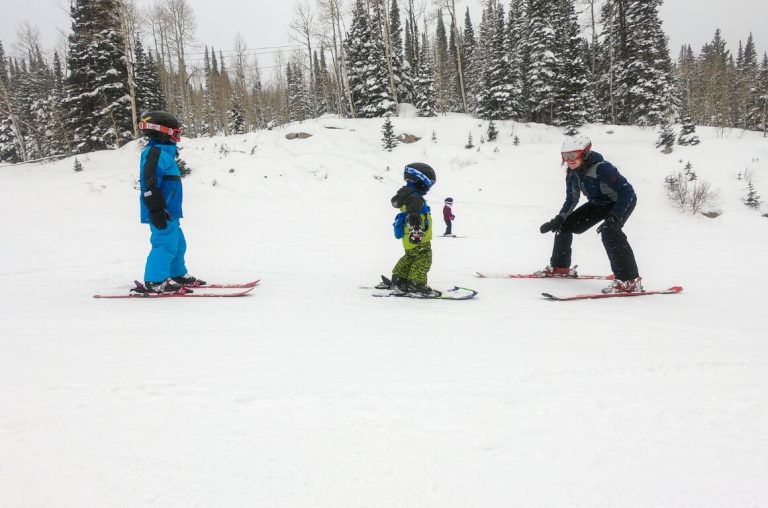 Grand Canyon
You just can't visit America without visiting the Grand Canyon, that would be like visiting Australia and not seeing the Sydney Harbour Bridge! There are many ways to see the Grand Canyon and for those that are time poor, you can always opt for a helicopter experience from Las Vegas or Los Angeles. Many include a landing in or on the edge of the Canyon so you get the best of both worlds, from the air and from the ground.
Rightfully so, the Grand Canyon would have to be one of the most visited National Parks in the USA. The old saying goes, photos just don't do it justice, its a place you definitely have to experience yourself. If you can get your kids out of bed early enough, a sunrise experience really can't be beaten. This is also a good time to beat much of the crowds and you'll feel like you have the whole Grand Canyon to yourself.
Depending on the time of year, kids will really enjoy riding on the back of a mule along the dirt tracks into the Grand Canyon. You'll be surprised how the colours change from different angles and at different times of the day depending on where the sun is sitting. You might also be lucky enough to see it covered in a light dusting of snow in you visit during the winter months. Whatever the time of year, the Grand Canyon is an amazing place to visit and there plenty to entertain people of all ages.
Sally – Our 3 Kids vs The World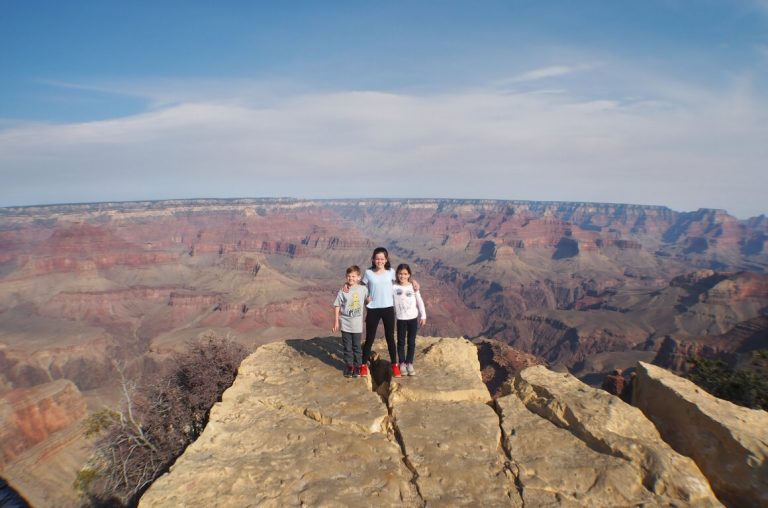 Zion National Park, Utah
Does your kid love adventure? Zion National Park is one of the coolest National Parks in the USA! Guaranteed to be an experience your kids will never forget, Zion National Park in Utah has some of the most epic landscapes and scenery in the country. There are so many bucket list worthy things to do at Zion. From hiking the Narrows, conquering fears at Angel's Landing, horseback riding in the Virgin River, checking out the wildlife, or simply star gazing in one of the best dark sky locations, you won't be at a loss for kid friendly activities. Hidden bonus: your kids will be learning about the area's rich culture, history, and geology along the way plus building confidence as they face and conquer these challenging outdoor adventures.
One of the best parts about Zion National Park? Your family can have an entirely different experience depending on what season you choose to visit. The summer months can be very busy, so plan accordingly. Whether you want to camp as a family or stay in a hotel, make sure to book accommodations as far in advance as possible since lodging options fill up fast.
Zion National Park is one of those places your entire family will absolutely fall in love with.
Julie – More than Main Street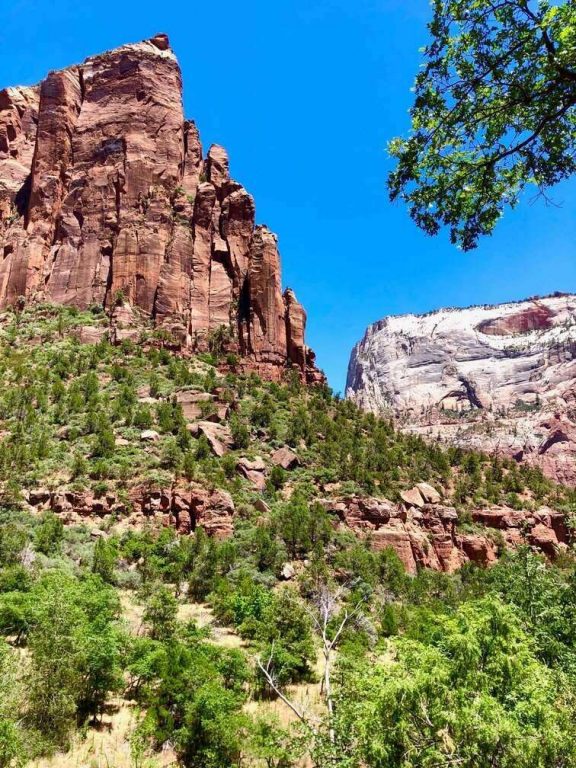 Great Smoky Mountains National Park, North Carolina/Tennessee
Great Smoky Mountains National Park should be on every kids bucket list, because it is one of the most spectacular National Parks in the US. Spread over North Carolina and Tennessee, it is the most-visited National Park since it is within a day's drive for half of the country's population.
The park is bordered by two towns that are made for family fun, Gatlinburg and Pigeon Forge. Both cities offer unique museums, outdoor adventures, and easy access to the park.
We highly recommend driving through Great Smoky Mountains NP to truly appreciate the hidden trails, waterfalls, and foliage. Popular routes include Newfound Gap Road, Clingmans Dome Road, and the Roaring Fork Motor Trail. Allow for plenty of time to stop as needed for wildlife viewing, playing in streams, and taking in the stunning tree top views.
After a day in the park, explore the nearby towns. In Gatlinburg be sure to visit Ober Gatlinburg amusement park, take a ride on one of the alpine mountain coasters, and cross the SkyBridge, the longest pedestrian footbridge in North America.
There are also plenty of things to do in Pigeon Forge with kids. We recommend a visit to The Island and a ride on the Great Smoky Mountain Wheel, Beyond the Lens! Museum, Dollywood, and Paula Deen's Lumberjack Adventure Park.
The entire area has endless adventures for all ages, and we promise you'll want to return time and time again.
Kirsten – Kids Are A Trip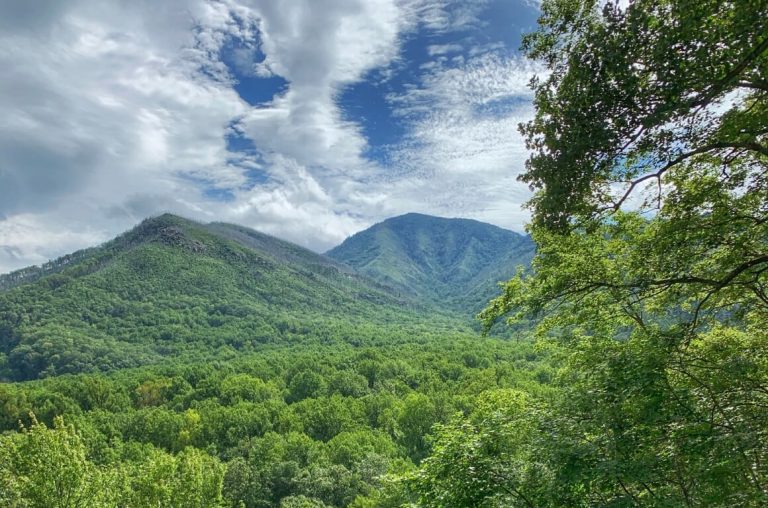 Niagara Falls, New York
Want a vacation your kids won't stop talking about? Consider booking a trip to Niagara Falls! What kid wouldn't love standing in an actual waterfall?
Niagara Falls is the oldest state park in America and is sure to impress. Nowhere else in the United States can you get so up close and personal with waterfalls of this magnitude. Niagara Falls is actually made up of three different waterfalls: Bridal Veil Falls, American Falls, and Horseshoe Falls.
Although there are breathtaking views everywhere you turn, there is so much more to do than just look at the falls. You can literally walk under Bridal Veil Falls at Cave of the Winds and go right up to the Falls on the Maid of the Mist boat cruise. Spoiler alert: you will get wet and your kids will love every second of it! Check out the Observation Tower, hit up the aquarium, and learn the history of the falls during your visit too. There are even hiking and biking trails nearby if you have time left to explore more. If you have a US passport, walk over the Rainbow Bridge to Canada and don't miss the spot where you can stand with one foot in the USA and one foot in Canada!
Niagara Falls is an adventure every kid should add to their bucket list.
Julie – More than Main Street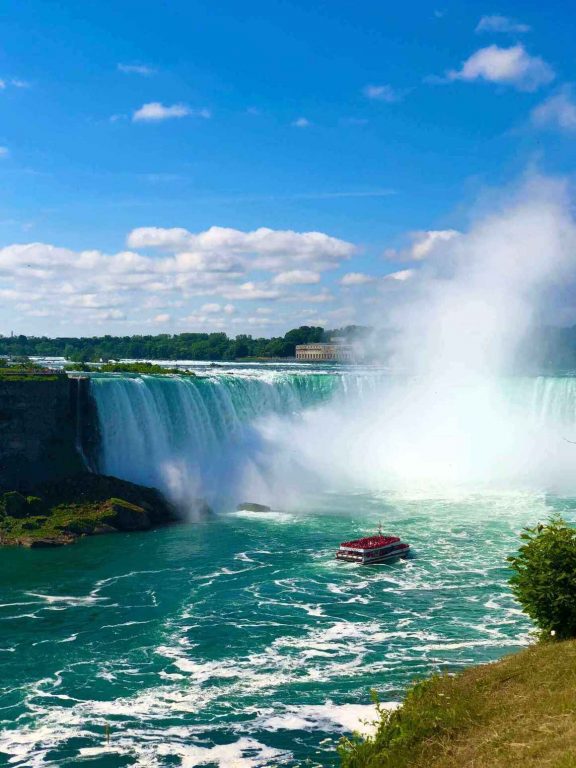 Mud Island, Mississippi
So yes, the title has mud in it and what kid doesn't, at some point or another, want to play in the mud. But, don't worry, this island is not filled with mud. It is though filled with lots of other fun things for your child(ren) that makes Mud Island the perfect spot to add to their bucket list.
The first fun experience is just getting there. There is a parking area across the river (on the mainland) which then will allow you to ride this cool monorail over the Mississippi River to the island. Once you're on the island there's a cool museum to walk through that includes parts of an old riverboat. You can see exactly what the sleeping rooms on a riverboat looked like and even sit on an old fashioned couch.
But the best part? They have a replica of the Mississippi River laid out on the ground including some bridges and lots of details showing the cities it passes and the depth of the river. And because it's placed in the ground the kids can take their shoes off (if it's wet the 'river ' will be filled with water) and can actually 'walk' in the river. So, while the kids are having fun they will also be getting a great lesson about the Mississippi River! It really is such a fun place to take the kids they'll definitely want to add it to their US bucket list.
Cassie – White Sands and Cool Breezes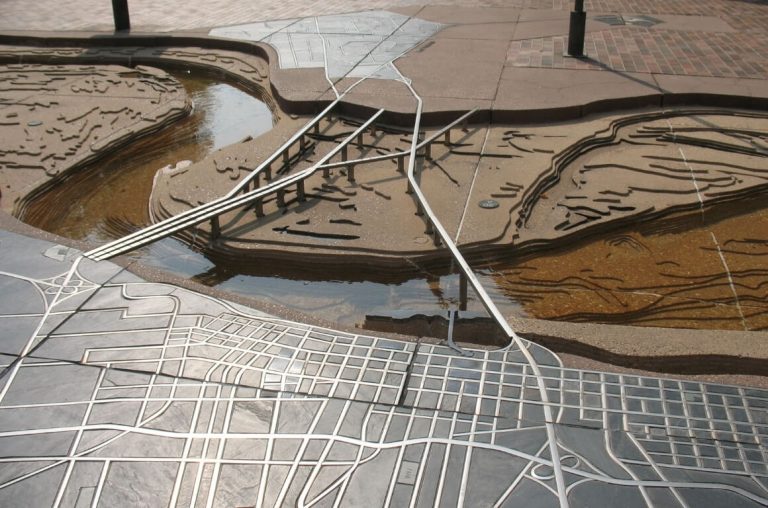 Hawaii Volcanoes National Park, Hawaii
Hawaii Volcanoes National Park, located on the Big Island of Hawaii, is a must-see for families with school-age children who are fascinated by the world around them. It offers a rare opportunity to see the island's geologic history laid bare.
The Hawaiian islands were formed by a "hot spot" in the mantle as the Pacific plate of the Earth's crust has slowly moved over it. While the other islands of Hawaii are dominated by long-dormant volcanoes that have slowly been eroded and overgrown by lush foliage, the three volcanoes on the Big Island still tell the story of this young island's birth.
Hawaii Volcanoes National Park is the perfect place to immerse your kids in the wonders of science. As they trek around the cooled lava flows, they'll learn to tell the difference between ropy pa'hoe'hoe and blocky a'a, or between shimmery olivine crystals and Pele's tears.
There's more than enough to do in Hawaii Volcanoes National Park to fill two days of your time on the Big Island. I recommend signing your kids up for the Junior Ranger program, which adds helpful context for the sights around you and encompasses geology, ecology and anthropology.
Melissa – The Family Voyage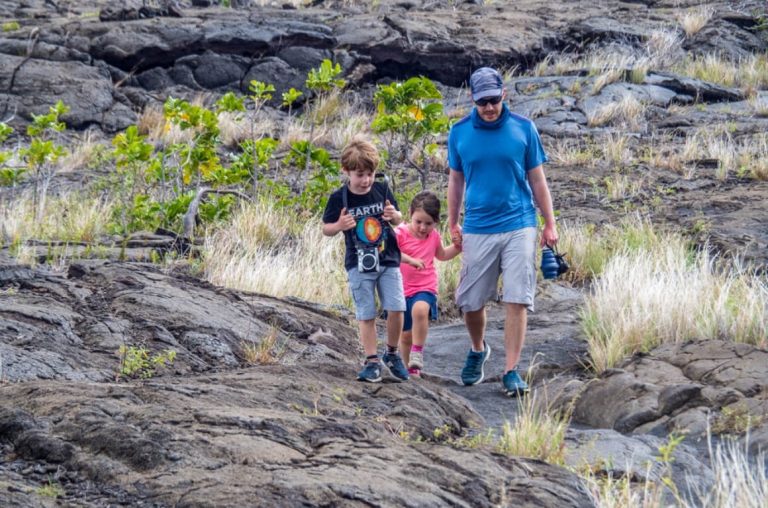 Southwest Colorado Road Trip
Every family with active older kids and teens must have a southwest Colorado road trip on their USA adventure travel bucket list.
You'll discover the incomparable, jagged San Juan mountains and why the sweet town of Ouray is nicknamed "Switzerland of America". This historic area includes the famous Million Dollar Highway with divine hikes and 4X4 drives to jaw-dropping waterfalls and old mining ghost towns.
You can also experience three of Colorado's unique four national parks on this southwest Colorado road trip. Your kids will love sledding down massive sand dunes in the Great Sand Dunes, scaling ladders to ancestral Puebloan cliff dwellings in Mesa Verde, and dipping into the Black Canyon of the Gunnison.
Add in star-studded camping if that's your thing, rewarding hikes, a free gondola ride into gorgeous Telluride, options for whitewater rafting, paddling, canyoning, climbing, and biking. Top it all off with gnarly tacos, burgers, pizza, and local brews.
The real icing on the cake is treating your family to not just one, but three top hot springs destinations in the Colorado mountains. Soak and swim in these fabulous family-friendly hot springs: Pagosa Springs, Ouray, and Mount Princeton. (Look for the adult-only terraces too.)
This Southwest Colorado road trip doles out endless adrenaline rushes for your active kids and teens — they'll be begging for more. Grab your swimsuit, hiking shoes, and sunglasses for one amazing family summer vacation.
Tanya – Rad Family Travel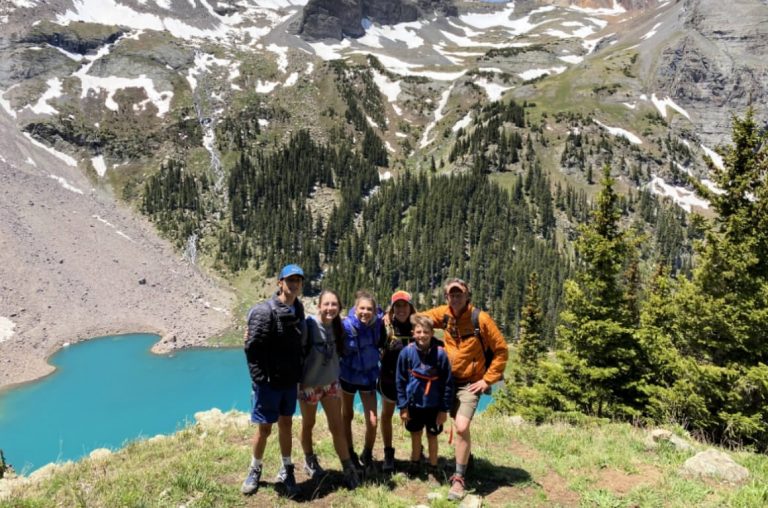 I hope you have enjoyed this US bucket list for kids that myself and my fellow bloggers have put together. We've tried to include some summer bucket list ideas for kids who will be visiting the US with family and that you can enjoy in some of the best cities in the US to visit as a family and beyond.
Is there anywhere you would add to the list?
Cath x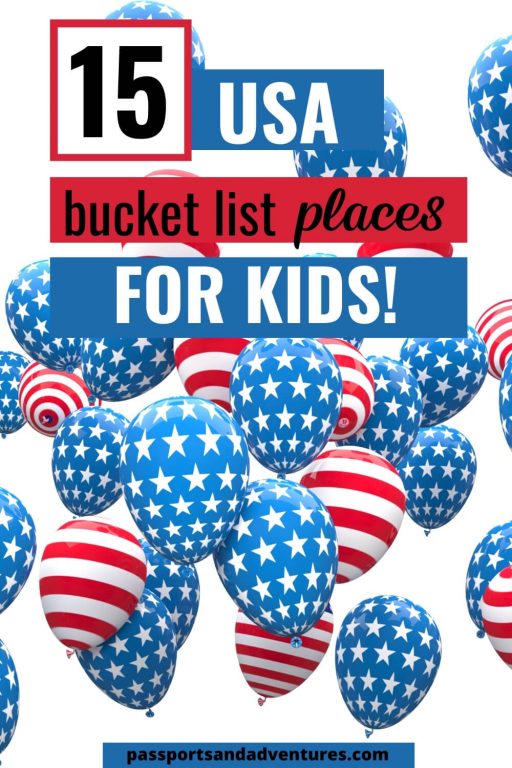 Related Posts