Are you taking the kids camping? Then don't leave home without my free printable camping journal for kids. The kids will love it, recording their memories of the family camp trip and you might even get a few moments peace.
You can find the link to my free Camping Journal for Kids printable at the end of this post.
Why you need my Camping Journal for Kids
With people seeking a staycation vacation to blow away the cobwebs, camping is gaining in popularity among families as the perfect way to get a break from the house but remaining as safe as possible. Camping is also a rites of passage in families and every kid needs to go camping at least once.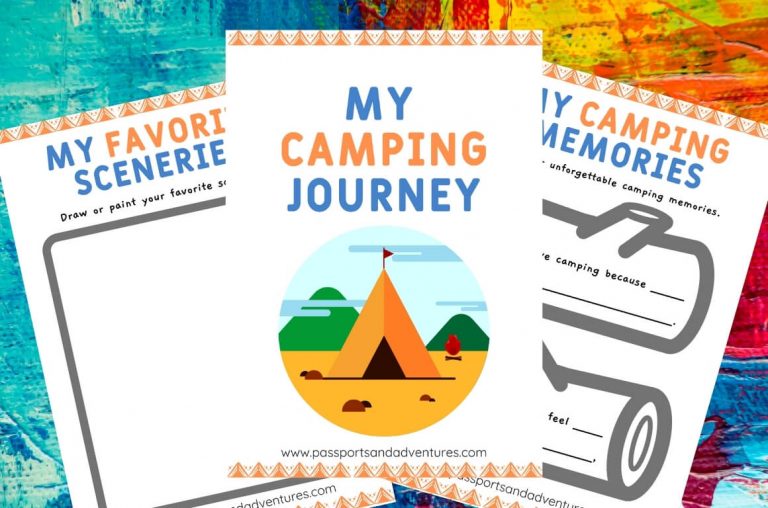 My family used to go camping in summer when I was younger every year. We'd pack up my Dad's car, jammed to the roof, and off we would go to a camp-site, usually on the East Coast of Ireland, about 2-3 hours from our home in Dublin. We'd all muck in with getting the tent and cooking area set up and we'd enjoy a few days away from the house, running around the camp-site or enjoying ourselves on the nearby beach.
And as a teenager I always wrote about our summer adventures in my diary. These days they are called journals but I started writing my diary when I began high school and kept writing until my early twenties. It was a great way to remember our family adventures (and secretly talk about my teenage crushes).
But journals are not just for teenagers. Journals can be a great way to record the memories of family vacations and adventures. They are also a great way to keep the kids busy, especially if the weather turns bad and it's raining outside while you all shelter inside the dry tent.
And if your kids have a summer project to do for when school returns, a kid's camp journal would be a great project to hand in.
And it doesn't just have to be for the kids. It can also be used as a family camping journal to record the memories of a great camping trip. And if there are a few of them you could bind them together to create a camping journal book.
What is inside the Kids Camping Journal?
So, what will you find inside my kids camping journal? There are 11 free printable camping journal sheets which includes 10 pages jam-packed with things to write, draw and record. There is space for your kids to record their details, jot down any cool memories they've made and even space to remember the new friends they made on the camp-site. There is a page with a backpack to colour in, lessons learned page and also space for them to draw whatever they like.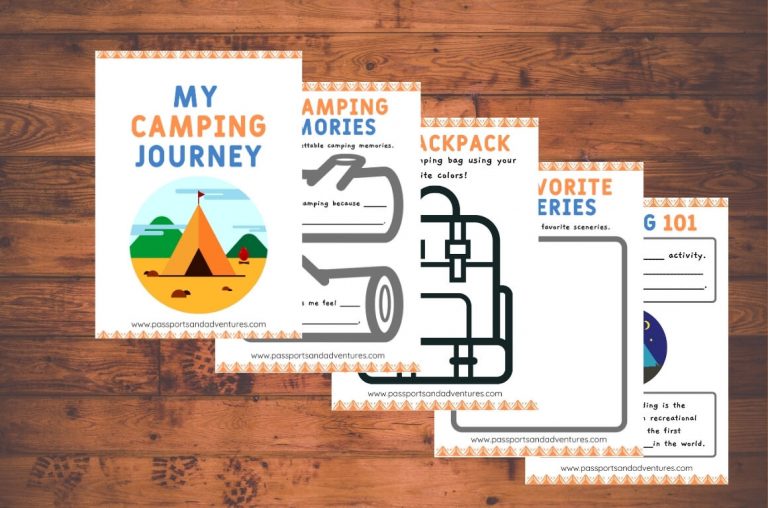 You could even print out multiple copies of the drawing pages if you are going to be camping for more than a few days. Set the kids a task of drawing something every day to keep them busy. Just don't forget the pencils and crayons.
You could use a clipboard to keep the pages together or place them into a plastic folder to keep them safe, together and dry (in case it rains). And once you get home, bind them together or punch holes in them and store them in a ring-binder.
Kids Camping Journal Printable
The file is an easy to open free camping journal pdf which you can save to your computer or print right away.
Grab the kids camping journal here.
You will be asked to insert your first name and email address in the required boxes and to opt-in to my newsletter, which you can unsubscribe from at any time. This printable will be sent direct to your inbox (check your spam folder) as a subscriber bonus (plus you can get more free family travel printables if you continue your subscription).
NOTE: This printable (and any subsequent free printables sent to you) is for personal use only. You may not SELL or reproduce the file or the printed version of the file for commercial reasons.
How to use the Camping Journal
Print out the journal in colour, along with copies of any additional pages you might want and keep safe as suggested above. Make sure to print a copy for each of your kids and also print again for more camping adventures if you go more than once a year.
Additional things you might need
These are additional things you might need for the printed camping journal for kids.
Books about camping for kids
I hope your kids enjoy my Camping Journal for Kids and it helps you get five minutes to enjoy a cuppa while they fill it in.
Cath x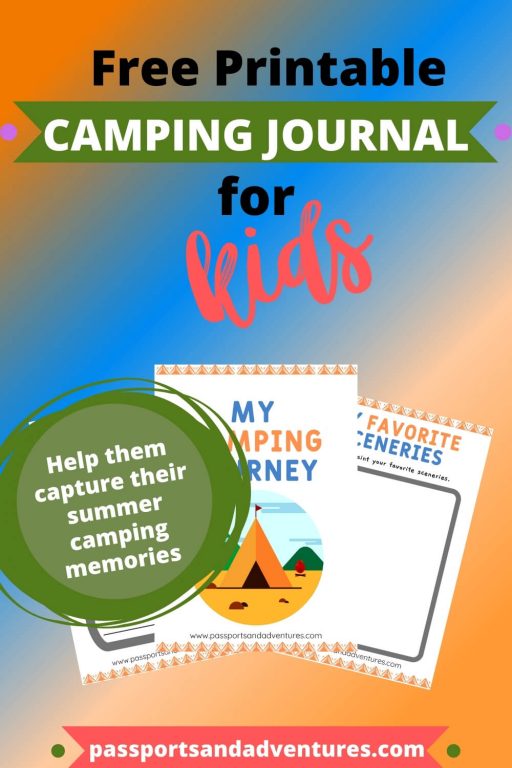 Passports and Adventures is a participant in the Amazon Services LLC Associates Program, an affiliate advertising program designed to provide a means for sites to earn advertising fees by advertising and linking to amazon.com, amazon.co.uk, amazon.ca. Amazon and the Amazon logo are trademarks of Amazon.com, Inc. or its affiliates. To learn more about affiliate links, read my Disclosure Policy here.
Related Posts