The United States is one of the best places to go with kids. It is a country that has so much on offer for families and, no matter where you go, you will always find something to do with kids in tow. But how do you decide exactly where to go when you are looking for family vacation ideas in the USA. To help you narrow it down, I've compiled a list of the best US cities to visit with kids. Read on to find out which are the best places to travel in the US with kids.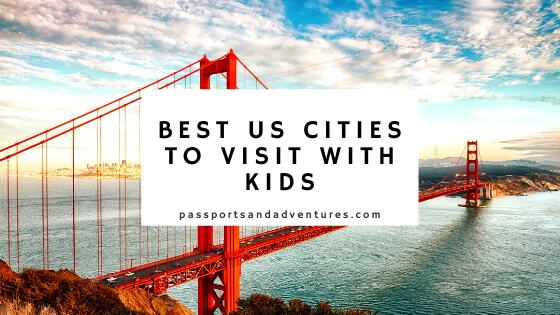 As a family, it can be hard deciding on the destination for your next US city trip. While you want to be able to explore the city to its full, you also need to keep the kids in mind. And that means trying to find kid-friendly cities in the US. The majority of the top US cities to visit are family-friendly, but that still leaves you with a huge list to choose from. So, I thought I would compile a list of the best cities to visit in the US with kids with the help of my fellow family travel bloggers to ensure your decision making is that little bit easier.
15 Best US cities to visit with kids
New York, NY
No list of the best places in the US to visit with kids would be complete without New York. Regularly appearing as one of the top 10 cities in the US, New York might not seem like a number 1 choice for taking kids. But, the Big Apple has so much to offer families, that your hardest choice will be deciding what to do during your time in the city.
From the bright lights of Times Square (and the Disney shop there), to discovering Manhattan from the water on a river boat tour, to enjoying the wide-open spaces of Central Park, New York has it all. If you enjoy museums, New York has some of the best museums in the world to visit with kids including the Natural History Museum and the Metropolitan Art Museum.
If you are visiting New York with a toddler or young kids, then head to Central Park. Not only are there wide-open spaces for them to run free and enjoy themselves, Central Park also houses the New York Zoo, has several lakes and playgrounds for kids to enjoy.
Enjoying views across Manhattan from the Empire State Building is a must or looking up at the dizzying heights of WTC One at the World Trade Centre Memorial Park is another. The museum at the WTC Memorial is better suited to older kids, although toddlers and younger children might enjoy the park surrounding the two fountains.
You also don't need to stay right on Manhattan. Choose one of the areas across the river such as Astoria, Brooklyn or union City and let the kids enjoy the ride on the subway into the heart of Manhattan. This is also the best way to get around the city, just be aware that strollers may prove troublesome, so a carrier is a better choice. While the sidewalks are nice and spacious in Manhattan, Times Square is busy all the time and may be difficult to navigate with a stroller. Other than that, New York is extremely family-friendly, making it one of the best places to travel with kids in the US for a city break.
Read why I think New York is one of the best US cities to visit with toddlers in my New York with a toddler post.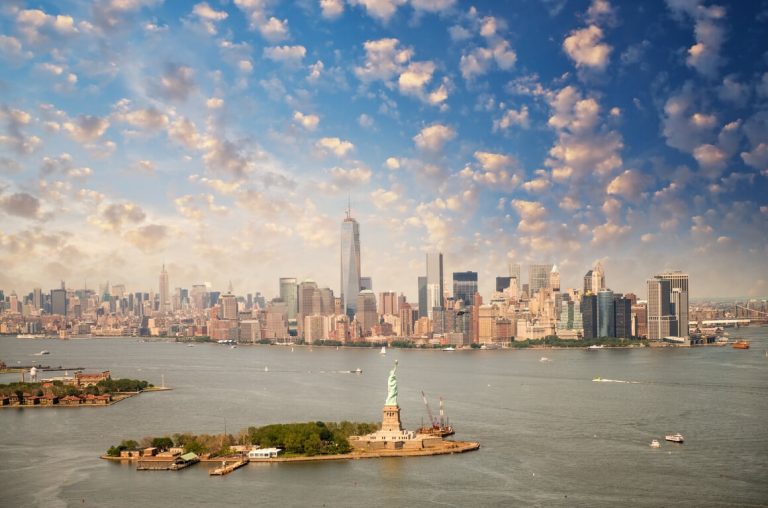 Portland, OR
Portland, in Oregon, is one of the best places to visit in the USA with kids. This cool, fun city in the Pacific northwest is extremely family-friendly with large, wide sidewalks Downtown and plenty on offer to keep the kids happy and entertained.
Of all the things to do in Portland with kids, one of the best places to visit is the Oregon Zoo. Located in Washington Park, this outdoor zoo is amazing with an incredible Pacific Northwest section where you can view birds and animals native to this part of the US.
Washington Park also houses the Portland Children's Museum, an ideal place to take toddlers and young children. This great museum has different areas to let kids' imaginations and creativity come out. Afterwards, visit the Hoyt Arboretum, the Japanese Gardens or the Rose Test Gardens.
Another great place to take kids is OMSI, the Oregon Museum of Science and Industry. The Science Playroom will have kids not wanting leave and older kids will enjoy the Planetarium and USS Blueback submarine, where The Hunt for Red October was filmed.
There are other parks to enjoy, the waterfront is a great place for a stroll or cycle and there is even an amusement park. And if you enjoy nature, you could drive along I-84 and go visit the stunning Multnomah Falls.
As for places to stay, there are lots of family-friendly hotels in the city as well as in the suburbs. And you will be spoilt for choice with places to eat. Portland, Oregon is definitely one of the best cities to visit with kids in the US.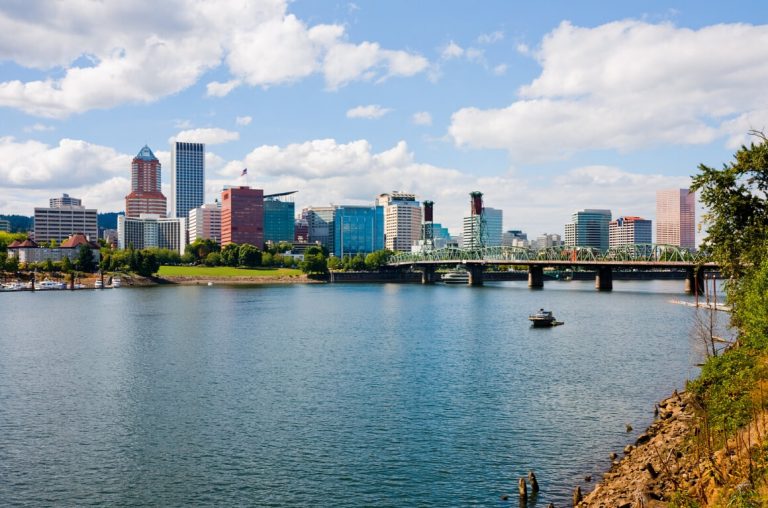 Miami, FL
One of the best cities in the US for kids has to be Miami. Located on the east coast of Florida, this is an exciting city jam-packed full of fun things to do with kids.
The first thing you should do when you get to Miami is hit the beach. The city is home to miles golden sand from its iconic South Beach to family-friendly beaches ideal for gentle paddling and building sandcastles. But if you want time out from the sun and sand then Miami also delivers.
You can spot alligators in the Everglades and admire Art Deco architecture; go on a bike ride or a jet ski and then swim in the Venetian Pools. These retro swimming pools can be found in Coral Cables and date back to 1924. They were fashioned from a former rock quarry and feature palm trees, coral rock formations, waterfalls and cave-like grottos. In its heyday, the Venetian pool was the place to be and the favourite hang-out for movie stars, celebrities and A-listers.
Another place you must visit in Miami with kids is the excellent Frost Science Museum. This hands-on museum encourages curious minds to learn through touch, smell, sound and experimentation. When you're finished here, head to the Fairchild Tropical Botanic Gardens, a vast expanse of lakes, tropical trees, orchid gardens and a butterfly house.
Don't miss Wynwood on your trip to Miami. The city's hippest neighbourhood is where you'll find the coolest street art. Give the kids a camera for the afternoon and get them to capture their favourite murals.
Katja – Globetotting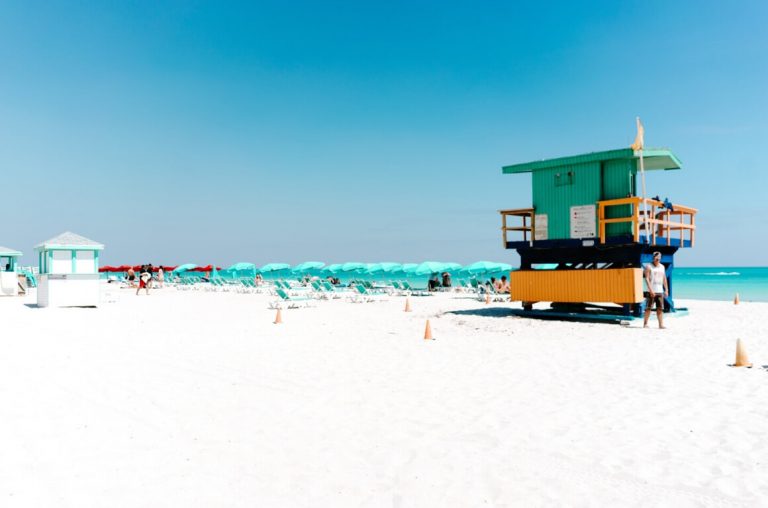 Photo by Kelly Russo on Unsplash
San Diego, CA
San Diego is one of the best US Cities to visit with kids. From zoos and amazing playgrounds to beaches and museums, there is no shortage of things to do with kids in San Diego. The San Diego Zoo draws in millions of visitors from all over the world each year. If your kids like animals, don't miss visiting one of the best zoos in the country!
San Diego is also home to lots of playgrounds, our favorite being the new Waterfront Park. Let your kids play for a bit and don't forget their swimsuits if it's a hot day as there is an awesome water play area. After, take a stroll around Little Italy or Seaport Village, both within walking distance to the playground.
Of course, no trip to San Diego is complete without visiting a beach. There are many options to choose from but our family favorite is La Jolla Shores, which has plenty of parking and is popular with families. There's a new playground right on the beach, making it the perfect beach for families with young kids.
If you're looking for a family friendly hotel in San Diego, the San Diego Mission Bay Resort is great. It's centrally located and right near the freeway, making it easy to get to other parts of the city without driving for too long. Since San Diego is super spread out and the public transportation pretty much non-existent, you will need a rental car especially if you want to reach the not so popular neighborhoods. If you're looking for an amazing city to visit with kids, make sure San Diego is on your list!
Maggie- Milana's Travels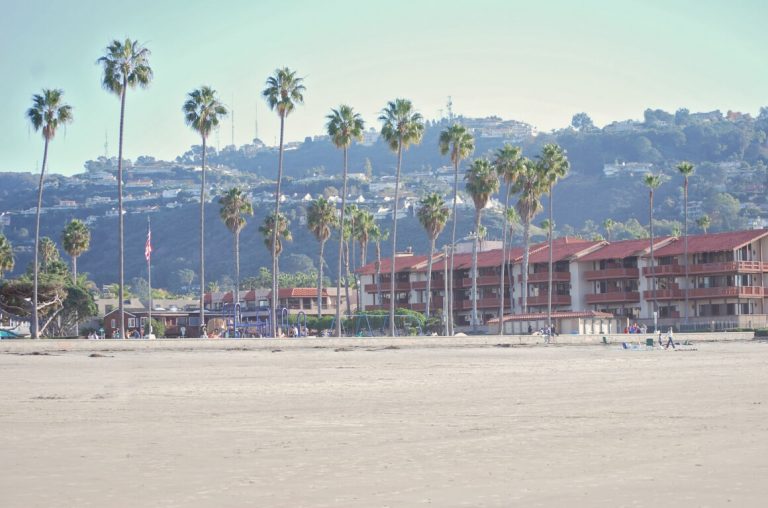 Picture Credit: Milana's Travels
Raleigh, NC
Looking for super family friendly cities in the US? Raleigh, North Carolina certainly deserves a spot on the list! There are endless fun things to do in Raleigh with kids no matter what their ages.
For children under the age of ten, Marbles Kids Museum is an absolute can't miss attraction. Your children won't want to leave this incredible world of imaginative play. Pullen Park, the North Carolina Museum of Art, and Dorthea Dix Park are all awesome options if you're looking to get outside with your kiddos. Looking for something unique to do? Take a hike to see the chainsaw art in Umstead Park. College sports are also a big thing here. Try to catch a game no matter what the season!
Grab a delicious meal at the family friendly Cowfish Burger Bar or The Pit Authentic Barbecue. Then head to downtown Raleigh for a mini street art scavenger hunt with your kids, shopping, samples from the Videri Chocolate Factory, and a visit the NC Museum of Natural Sciences.
You may often hear the area referred to as The Triangle which is referring to Raleigh, Durham, and Chapel Hill, NC. To get to the area, fly into Raleigh Durham International (RDU) airport. You will need a car to get around, although Uber and Lyft are widely available. Need a place to stay? Look into the Raleigh Marriott City Center downtown to be conveniently located to everything! Whether your family is looking for sporting events, shows, museums, history, or outdoor activities, Raleigh literally has something for everyone!
Julie – More than Main Street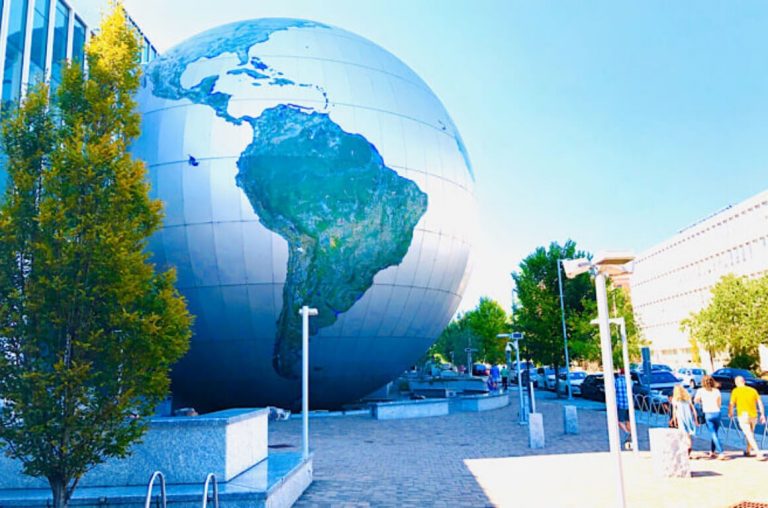 Picture Credit: More than Main Street
Chicago, IL
As one of the largest cities in the United States, Chicago has an abundant number of activities, events, museums, and things for children to do. One of the best things about Chicago is its location on Lake Michigan. As one of the great lakes, Lake Michigan has an amazing shoreline that extends through and past Chicago that has spectacular beaches to visit, especially during the summer. North Avenue Beach and Foster Beach are great family beaches, or if you have a pup, it's always fun to visit the dog friendly Belmont Harbor Beach.
If the weather isn't great, there are plenty of places to visit with kids. The Museum of Science and Industry is among the best hands on museums for children in the US, and the Field Museum houses the bones of the largest dinosaur discovered. Walking through the Ancient Egyptian exhibits or the exhibits about the renowned planet exhibitions is a great way to spend the day. Not far from the Field Museum, Adler Planetarium or Shedd Aquarium are other great places to visit with kids.
Chicago is also host to so many different kinds of foods, among which the Chicago pizza is well known. Pizza places such as Gino's, Lou Malnati's, Uno's are all plentiful around the city and well worth a visit to try one of the most infamous pizzas in the US. A Chicago style hot dog can also be tried, and quite easily at many places around the city.
When visiting, it's best to stay inside the downtown area in order to maximize one's time, although the area around Lincoln Park is a great place as well and close to the free Lincoln Park Zoo. There are plenty of hotels to choose from along the Magnificent Mile or a bit further north to enjoy a spectacular time in the bustling city.
Diana – Travels in Poland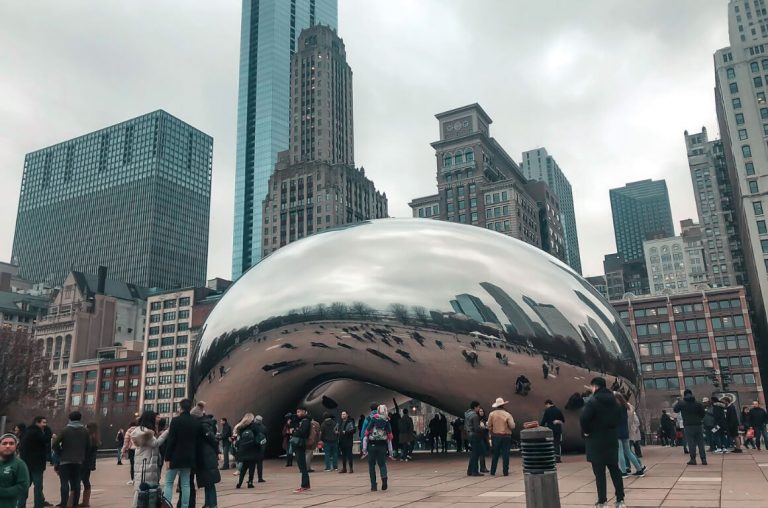 Picture Credit: Travels in Poland
Charleston, SC
While we typically enjoy spending as much time as possible outside of cities, Charleston is one that we were more than happy to spend a few days in. With the combination of the southern food, a historical town center and plenty of fun activities, we couldn't have been happier to spend a couple of days in Charleston with kids.
While strolling the beautiful streets in the historic town center will be less exciting for the kids, the Waterfront Park is a must for the whole family. While we were enjoying the views, the kids were happy to splash about in the fountains. For things to do specifically for the kids, the Children's Museum of the Lowcountry and the South Carolina Aquarium are the perfect places to add to a Charleston itinerary.
With some extra time, we recommend visiting the Magnolia Plantation for a shady walk under the magnificent stately trees. The kids will be excited to spot an alligator swimming in the river or to spend some time at the small zoo.
Our favorite activity in Charleston was kayaking down a narrow, tidal estuary from the coastal islands south of town. Get ready to see some dolphins and spot the many birds along this beautiful scenic kayak. You know it's good when your kids are happy to sit for two hours. Just plan to go early and bring plenty of water.
To get our fix of Southern BBQ, the Swig & Swine came highly recommended and we couldn't agree more. Make sure you go hungry!
Celine – Family Can Travel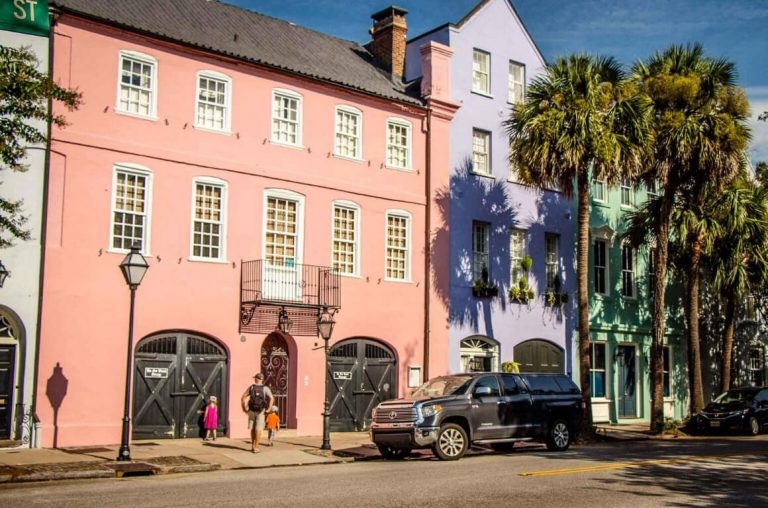 Picture Credit: Family Can Travel
Phoenix, AZ
One of my favorite US cities is Phoenix, Arizona (which happens to be my hometown). This desert city has everything families could want in a vacation destination, with outdoor adventures, water parks, museums, and unique attractions. Be sure to rent a car to see the city as the "Valley" covers several different cities, including Scottsdale, Tempe, Mesa, and more.
There are so many awesome things to do in Phoenix with kids, but families shouldn't miss the Musical Instrument Museum. This interactive museum has over 15,000 musical instruments from around the world, and it's one of a kind. Another favorite is the Arizona Science Center, with hands-on activities that teach kids about science. Kids can play at a magnificent water station, lie on a bed of nails, and ride a bicycle on a high wire overlooking museum guests below. If your family prefers outdoor adventures, be sure to head to Papago Park and climb the most unique rock structures for views of the entire area.
Most families choose to stay at one of the resort properties in Scottsdale for their spectacular amenities and swimming pools. The Phoenician has an awesome outdoor water area for kids with a tree house, pirate ship, and even a giant waterslide. Hyatt Regency at Gainey Ranch has a 2.5 acre water park, complete with a sand beach and a 3 story high speed water slide. The Westin Kierland Resort is another good option for families, with their Adventure Water Park. Families can try their hand at surfing with the Kierland flow-board simulator, enjoy a float on the lazy river, or take a ride on a 110-foot-long water slide!
For the best food in Phoenix, head to Barrio Cafe, for Mexican food that doesn't disappoint. If the kids want pizza, be sure to try Craft 64 in downtown Scottsdale, for awesome pizza and craft beer. Follow up with treats at Sugar Bowl, an old fashioned ice cream parlor serving families since 1958!
Kirsten – Kids Are A Trip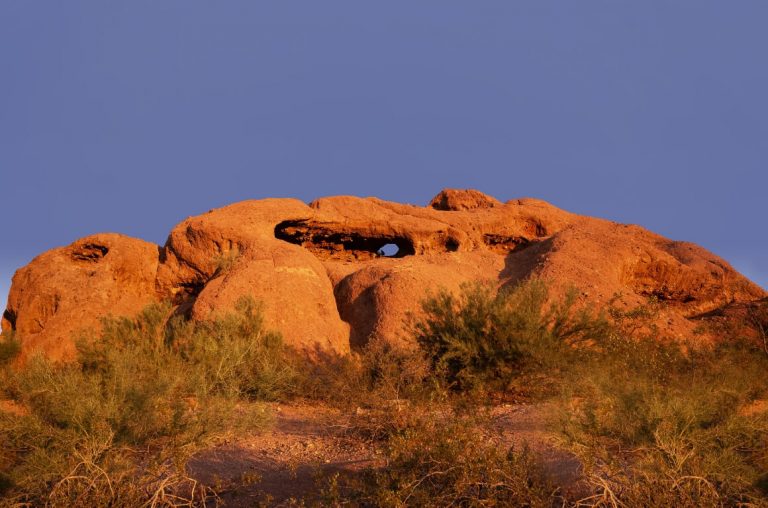 Seattle, WA
Seattle is an incredible city based in Washington State. This city is completely full of fun museums and centres for kids. From the museum of flight, for aviation loving kids, to the Space Needle and the Chilully Museum, the options of days out in Seattle with kids are endless.
If museums are not necessarily your thing and you'd prefer free activities to keep the costs down, the downtown waterfront is a beautiful place to wander. You'll fine a Ferris wheel, buskers, markets and so on. The vibes are chilled but bustling with people.
An all time classic place to visit in Seattle is the Pike Market. It's hundreds of years old and is such a stimulating place to visit with kids. The smells, sights and sounds provide one of the most authentic local experiences in Seattle and our kids loved it just as much as we did. The street food, the flower stalls, Nik nak stores and so much more!
If we had to limit it to just 3 activities in Seattle we'd say go to:
1. The Museum of Flight
2. The Chilully Museum
3. Pike Market (especially for nibbles and street food)
Seattle is also an easy city to escape to nearby Olympic National Park! You could easily mix a city break with some hikes and wilderness! I can highly recommend staying in the small village of Union, it's not too far from Seattle for the ultimate fusion break.
Karen – Travel Mad Mum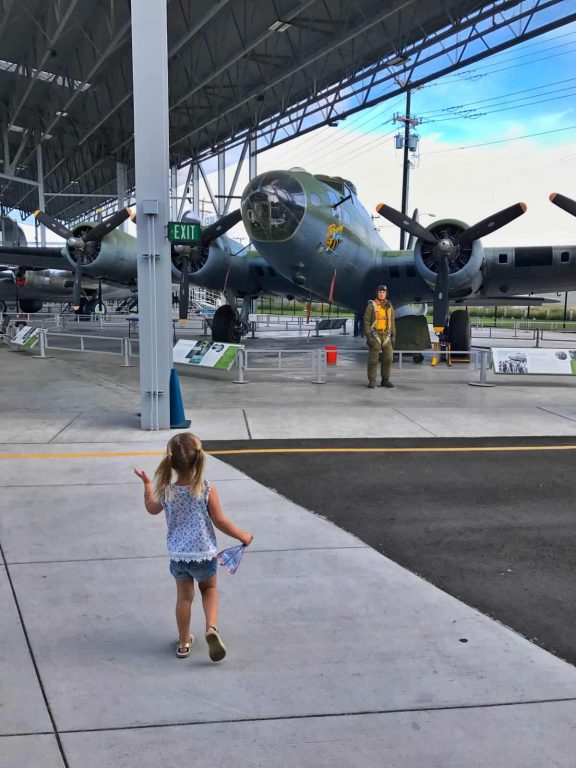 Picture Credit: Travel Mad Mum
Honolulu, HI
While there are plenty of cities across the United States that are kid-friendly, none of them compare to Honolulu, Hawaii! It's the ultimate mix of culture, sights, and activities.
First of all, it's home to Ala Moana Center, the largest outdoor shopping mall in the world. They have an awesome food court area where kids can try all kinds of Hawaiian and Asian food. Plus, there's tons of free entertainment and a play area there.
Another awesome place to go in Honolulu with kids is Bishop Museum. This is where you'll find the largest collection of Hawaiian artefacts. It's a great place to learn a bit about Hawaiian history, plus they have an awesome planetarium, demonstrations, and tons of programs for kids.
One of the most popular (and iconic) areas of Honolulu is Waikiki. It's been featured in countless movies and TV shows throughout the decades. Some of the best things to do in Waikiki with kids include learning to surf, going to a free hula show, hiking Diamond Head, and experiencing an authentic Hawaiian luau.
While I always recommend renting a car in Hawaii, families can also consider using the Waikiki Trolley. They have many routes that will take you all over Honolulu and it's a super fun way to get around with kids!
If you're looking for a kid-friendly place to stay in Honolulu, there are tons of options! My top pick is the Hilton Hawaiian Village in Waikiki. You'll be impressed with their extensive kids programs, their pool area, on-site luau, and more than 20 restaurants to choose from.
Marcie – Hawaii Travel with Kids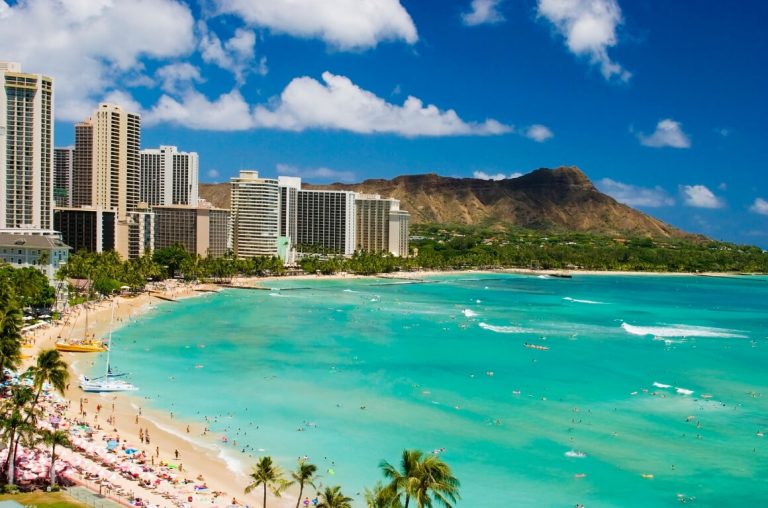 San Francisco, CA
With its incredible mix of nature, history, and city life, San Francisco is one of the very most family-friendly cities we've experienced. The wide variety is amazing for families of all forms.
First and foremost, there are a plethora of outdoor activities to do that are perfect for kids of all ages. One of our favorite activities is going over to the Land's End area of the city. The beautiful hiking trail is easy enough for youngsters, and also has major bang for your buck in terms of landscape. The cliffs dropping into the Pactific are stunning, especially when they meet up with views of the Golden Gate Bridge. We also love exploring Golden Gate Park – the art museum, Japanese tea garden, and big playground are all favorites!
The historical sites are also perfect for families. Maritime National Historical Park is an absolute gem, and one that's not usually very crowded. With historic ships to go aboard, as well as a visitors center with displays on San Francisco's maritime history, it's a win for toddlers through grown ups. Plus, the art in museums and on walls throughout the city is as engaging as it is decorative.
Finally, San Francisco has all the advantage of a big city for families – fantastic food, tons of museums, and easy accessibility both for arrival and in terms of exploring nearby areas. There's tons to see in close range, so you can easily make a whole family trip just out of visiting the San Francisco Bay Area.
While in San Francisco, I would recommend staying near the Marina, North Beach, or Nob Hill for easy accessibility to the most popular attractions. The western side of the city tends to be more residential and peaceful, though, if that's more your vibe! You'll never run out of fantastic food options in the city, but some can't-miss spots are Tartine Bakery, Bi-Rite Creamery, and La Taqueria, all in the Mission District.
Preethi – Local Passport Family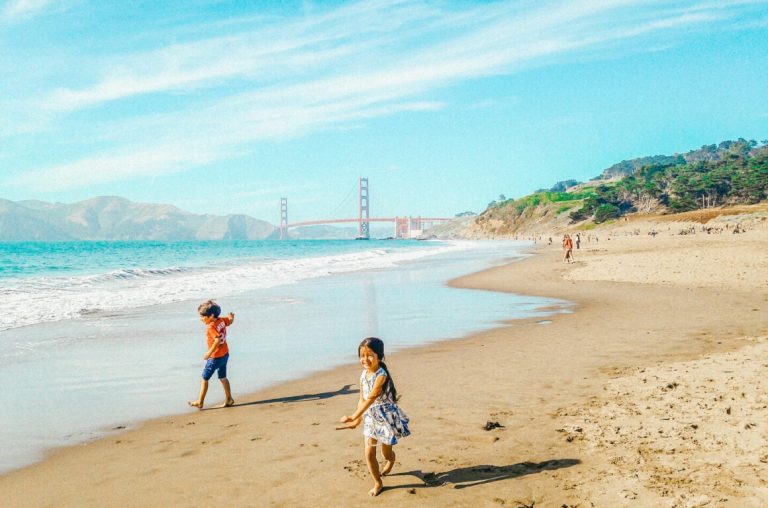 Picture Credit: Local Passport Family
Philadelphia, PA
Philadelphia is a great city to get an understanding of the beginnings of modern America and where better to begin than with the iconic Liberty Bell. Housed in a museum dedicated to the Declaration of Independence, which was signed in the neighbouring Independence Hall, you can get a real sense of this iconic turning point in the country's history.
Head for the Philadelphia Museum of Art, known the world over for the scene in Rocky where he runs up the steps outside of the building. Delve inside for more cultural delights and child friendly activities spread across more than 200 different exhibits, including the world-famous Impressionist works by the likes of Monet and Cézanne, a section dedicated to the work of Rodin and an incredible Japanese ceremonial teahouse. Visit on the first Sunday of the month and Wednesday evenings for 'Pay what you wish' admission.
Philadelphia Zoo is the oldest in the country and one of the great things to do in Philadelphia with kids. It's home to a wonderful collection of animals big and small with a real focus on interaction for younger visitors. This sprawling zoo with giraffes, lion, tigers, hippos and much more is also a wonderful conservation space too with programmes supporting birds and animals which are at risk around the world.
If you and the kids are getting hungry after all the sightseeing head for Reading Terminal market, a bustling foodie heaven where you can sample Philadelphian delights including Cheesesteaks and Hoagies.
End your day with a trip to the ballgame. Baseball is a family affair and you'll all receive a warm welcome at Citizens Bank Park stadium, home of the Phillies. You'll love the thrill of the game and incredible atmosphere, and fun activities for children to enjoy alongside the main attraction.
Nichola – Globalmouse Travels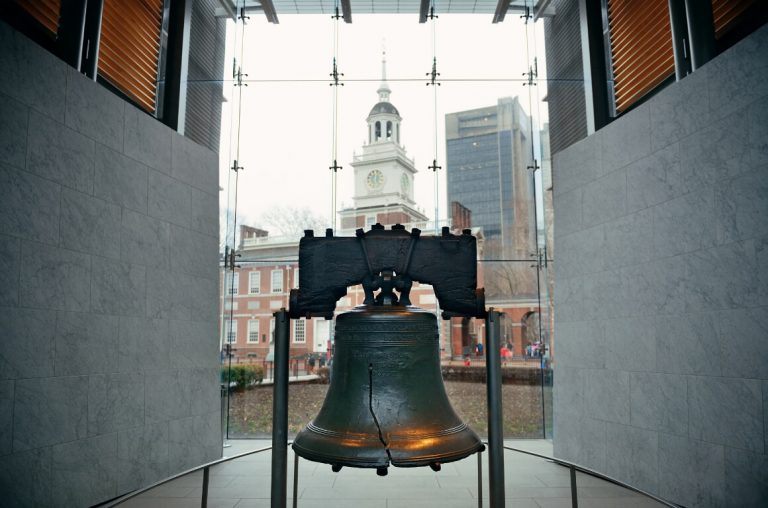 Washington DC
Washington DC is one of America's most iconic cities, but it's also one of the best for travel with kids. What makes it so great? It's extremely easy to get around and there's an endless list of things to do.
Getting around DC couldn't be much simpler. If you're staying near the National Mall, you can walk almost everywhere – check out the Westin Washington DC City Center. If you opt to stay in Arlington or Alexandria (both just over the river in Virginia and offering better value than staying downtown), metro rail will whisk you into the city in a matter of minutes – Hyatt Centric Arlington is the most convenient option, while Holiday Inn Key Bridge Rosslyn offers great value.
Unlike the New York City subway, DC's metro system has just a few lines and is extremely easy to navigate. Many visitors will only ever need to take one or two lines! For access to the tourist sites, also consider the DC Circulator. It makes limited stops and can get stuck in traffic, but it's extremely cheap for families and easy to navigate.
The biggest appeal of DC, of course, is the plethora of family-friendly attractions. DC is home to dozens of museums that are part of the country's government-sponsored Smithsonian Institute. They range from the Natural History Museum and the National Gallery of Art to the National Museum of the American Indian and the National Postal Museum. The world-renowned Air and Space Museum is in the middle of a massive renovation but most of it is open at any given time (completion isn't expected until 2025).
In addition to all of the museums, there are tons of famous (and not so famous) monuments to explore. Every visitor should at least see the Washington Monument and Lincoln Memorial at opposite ends of the Mall. A visit to the nearby National Archives to see America's founding documents is always fascinating for older kids too.
DC is full of so many things to do with kids, but the best part is that every activity listed above is completely FREE. There's no ticket charge and no suggested donation. You can walk in, explore until your kids say they're bored, and then leave. You don't have to feel guilty about spending money on an attraction and then your kids not wanting to stay long – sometimes we'll visit a DC Museum for 30 minutes and then move on to the next one!
Melissa – The Family Voyage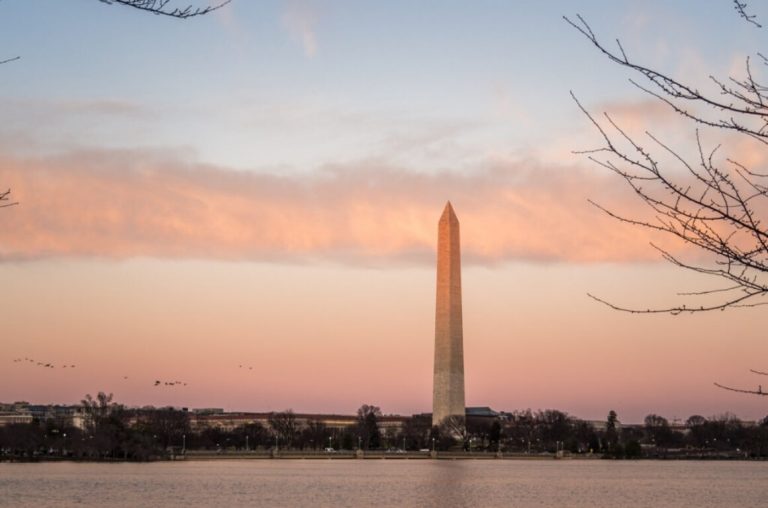 Picture Credit: The Family Voyage
Houston, TX
Houston isn't the first place families think of when travelling in the US but it is actually an incredibly family-friendly city. The people are very welcoming and, it having such a lot of families living there, it makes it a great place to go to visit. Houston with kids is incredibly easy!
Houston has lots of green space to explore including lots of parks and playgrounds. Houston also has loads of museums (there's even an entire area called the Museum District!) The two best museums for kids are Children's Museum of Houston and Houston Museum of Natural Science but there are many more such as the Art Car Museum and Blue Bell Creameries. Not exactly museums but also well organised and fun to visit are Houston Zoo and Downtown Aquarium. There are a lot of soft plays areas (Wonderwild is our favourite), ice-rinks, shopping malls, trampoline parks and, science labs. Houston has a huge theatre district and many music acts play there before or after playing in Austin so it is well worth checking out what's on. Houston is big on sports so, depending on the time of year, fans can also go to see a baseball/American football/basketball game. Foodies will be in heaven with lots of affordable but high-quality family-friendly restaurants. The Tex-Max and BBQ scene is amazing.
Just outside Houston, there are also lots of options including going to the beach in Galveston, visiting Kemah Boardwalk and going round NASA where mission control was located. The beach in Galveston isn't too far away and there are a few theme parks/waterparks in the area.
Finally, if you visit in March, the Houston Livestock Show and Rodeo is a must-do.
Staying "inside the loop" (the 610 ring road) is probably the best for accessibility although the Galleria area just outside is very popular. Downtown is the financial centre and there isn't as much to do there at weekends. The Heights has good bike trails and playgrounds. Hiring a car is a must in Houston – public transport is not the best and it is a very spread out city.
Emma – Wanderlust and Wet Wipes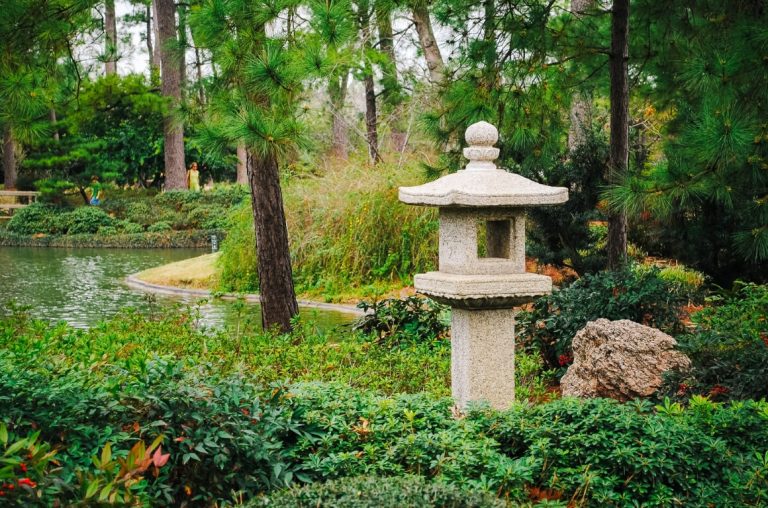 Picture Credit: Wanderlust and Wet Wipes
Boston, MA
One of the best cities in the US to travel to with kids is Boston, Massachusetts. Located in the northeast, Boston has a major airport to fly into making it easily accessible from anywhere in the country.
Boston is a super friendly city in the US because it is full of history and fun things to do for families. You can easily spend a few days in the city exploring, or also drive a few hours to experience some awesome beaches. Boston is known for its rich history of the US and one of the best ways to experience that in Boston is to walk the Freedom Trail. A few other popular things to do at any time of the year with kids include the New England Aquarium and the Children's Museum, but our favorite indoor thing to do in Boston is definitely the Museum of Science. The Museum of Science in Boston is great for all ages from little kids to adults, and you can easily spend an entire day exploring the museum.
Our family loves to stay in the Fort Point neighborhood when visiting Boston because there is a fun waterfront playground, a few awesome breweries, and some yummy restaurants nearby. However, Boston is a super walkable city and you really can't go wrong with where you stay in the city. The Little Italy neighborhood in Boston is located in the "North End" and is not to be missed for some of the best Italian food in the country. Also if you are looking for some classic New England seafood, put your name in for a table at Neptune Oyster (also located in the North End). Boston is full of fun things for families with kids of all ages, and is a great destination to visit year-round!
Amanda – Patsey Family Travels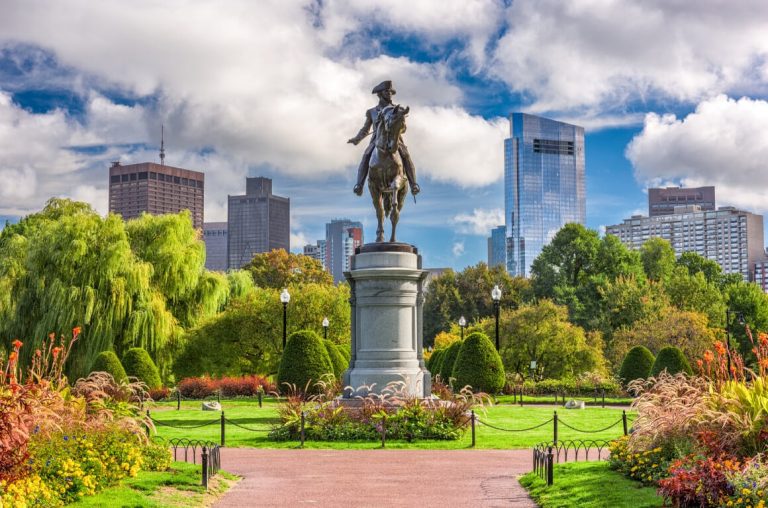 Summary
If you have been wondering about the best destinations for kids in the US, I hope you have a better idea from this post which are the best cities to visit in the USA with kids. From East Coast to West Coast and some in between, this list has been compiled by those who have been and experienced these US cities with kids. Many of these have also been included in my post about the most family-friendly cities in the world.
And, if you are visiting the US near Christmas, why not find a US Polar Express Train Ride to take the kids on to ensure your visit is an unforgettable one.
Which US city will you visit next as a family?
Cath x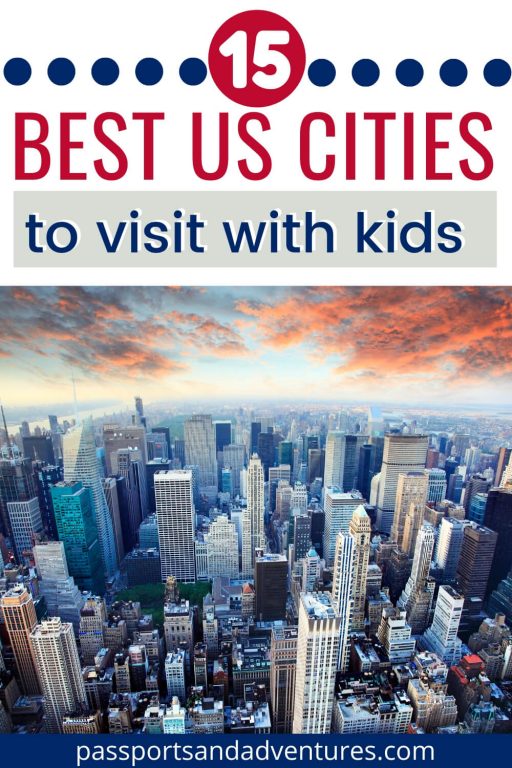 Related Posts