Thinking about going camping as a family for the first time, but not sure where to start? Camping with kids can be both enjoyable but a bit daunting if we're honest. However, with this beginner's guide to camping with kids, you'll be better prepared to get ready for your first family camping trip!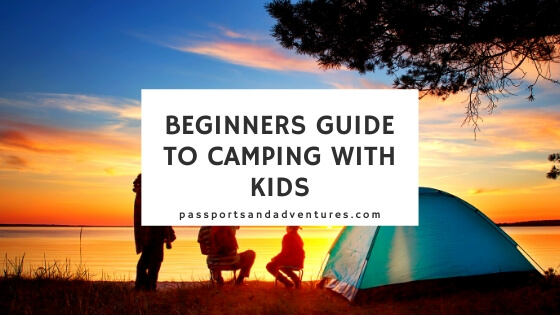 Beginners guide to camping with kids
Going camping is a rite of passage for kids. When I was younger, many of our summer family trips involved packing up the car and heading to a southern beach area of Ireland including Dungarven, Brittas Bay and even Ballybunion. My husband's family were more adventurous and went to North Wales for their summer camping trips as well as Achill Island on the West Coast of Ireland.
Ok, so these places might not mean much to my readers who aren't from Ireland, but they all had some things in common. They are beach-side towns and they have campgrounds. And we were just one of hundreds of families that made that trip every summer to go camping as a family.
We are yet to go proper camping with our son but when we do, both myself and my husband will be leaning on our experience of camping with our parents to ensure we're prepared and that our first family camping trip is as good as we can possibly make it be. But, to help you prepare, I though I would share some tips and let you know of things you should think about before going in this short beginner's guide to camping with kids.
Getting started
One of the first things you need to decide is what type of camping do you want to do. Do you want to go car camping, which simply means packing up a tent in the car and off you go? Are you lucky enough to own or have access to a motorhome or RV? If so, this will dictate what types of campgrounds you can go to. Do you prefer to have home comforts and a real bed? Then a campground with mobile/holiday homes would suit you better. Or you could even try glamping. Do you want to rough it a bit more than that and fancy camping in a yurt or basic cabin? This is one of the first things to consider when it comes to camping with kids.
Where to go
Once you decide on the type of camping for your family, it's time to decide where to go. Most towns, cities, national parks and other areas will have a campground of some more. But the facilities may vary greatly from place to place.
You all need to ask yourself these questions. Do you want to be near the sea? Do you want to be near the mountains? Do you need on-site entertainment for the kids? Do you want outdoor activities or indoor nearby? Do you want to be able to visit the city? Do you want to be able to go hiking? All of these things will need to be factored into your decision.
If you have a caravan, motorhome or RV, then your options of campgrounds may become more limited depending on whether they have spaces for this type of camping. You may have more options if you are tent camping.
If home comforts are a must, then your search needs to be limited to sites with mobile/holiday homes for rent. Be aware that the most popular ones will be booked up early, so start searching as soon as you have decided that this type pf camping is the one you want.
Are you looking to camp in a National Park? Not all of them allow pre-booking, so bear this in mind. You may also need to know the details of the size of your tent or motorhome, so have these to hand.
Deciding where to go can be a bit trickier, particularly if you are leaving it until the last minute to try to secure a place.
Have a trial run at home
If you decide to go tent camping, it is highly advisable to have a trial run at home, particularly if this is your first-time camping with kids or if you have purchased a new tent. No-one wants to get caught trying to put up a new tent in the dark if you arrive late to your destination.
Pick a dry afternoon and get the kids involved. Read the instructions and make sure you iron out any problems or tricky bits you come up against, so you are fully prepared once you arrive at your campground. Let the kids camp out in the garden once the tent is up. That way you can see how they handle the darkness, strange outside noises and whether you need to remember to bring additional things with you.
This will also ensure the kids are prepared for the campground a bit more and know what will be happening in the first hour or so when you arrive.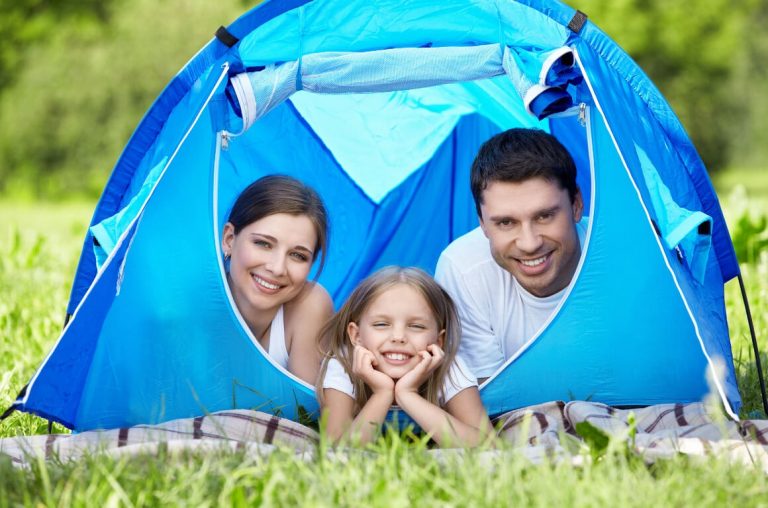 How to sleep comfortably
There is one thing that I cannot compromise on when it comes to camping and that is my sleep. I need it as comfortable as possible. And for me, that means being warm, dry and on a blow-up bed with my earplugs. I have even been known to use an eye mask during summer.
For camping with kids ensure your sleeping bags are suitable for the lowest temperatures you are likely to experience. Purchase sleeping bags which can cover temperatures below that as you don't want the kids or you getting cold at night.
My husband and I made this mistake when we went camping for the first time together pre-kids. We bought cheap bags which didn't have a great temperature range and we had to borrow blankets from friends we were with as we were freezing at night. The next time we went camping we invested in much better sleeping bags and it paid off. The moral of the story is research and don't buy cheap!
When camping with kids, especially younger ones, stuff their sleeping bags with clothes or towels to fill the space so they retain heat better. Use a sleep mat/fold up bed to reduce the cold from the ground. We always used blow-up beds pre-kids and will use them along with a sleep mat to reduce the cold from the ground. But, a word of warning. Always make sure you put the valve stopper back on your blow-up beds. I forgot to do this one summer and the next time we went camping, my husband and I had to sleep on the ground as we had no cover for our air valve!
I would also recommend being prepared to layer up for sleeping to keep everyone warm. Use wool/polyester underlayers to wick away moisture, fleece or wool upper layers to keep in heat. Wool socks and beanie hats are advisable if you know the temperature is going to drop at night. And don't forget a few extra fleece blankets too. These usually don't take up too much space and can be a lifesaver.
To learn more about the layering system, read this post about packing for Lapland with kids.
Remember to bring the kids' sleeping items like their favourite blanket, pillow and teddy bear. Bring a portable, battery-operated white noise machine if they find it hard to fall asleep. And ear plugs and eye masks if they are light sleepers.
Other things to consider bringing would be solar string lights to light up the area around your tent. The small bit of light from these may provide a comfort to kids who are wary of the dark. And it does get dark in a tent at night! Remember headlamps or torches for trips to the toilets and bug spray to ensure no mosquitoes are in the sleeping area before everyone goes to sleep.
How to eat well
When it comes to eating while camping with kids, you have a few options. Eating out, at the on-site restaurant (if there is one) or going into the nearest town are always an option but costs can start to increase greatly if this is your only way of getting a meal.
To keep costs down, we recommend bringing some of your own food and cooking at your tent. Most campgrounds will allow camping cookers but not all will allow throw-away barbecues, so check ahead of time.
Remember to bring all your kids favourite snacks and lots of them. Being outdoors can work up an appetite if your kids are like my son, so ensure you have a well-stocked supply of snacks. And let them snack as and when. No-one wants hangry kids while camping.
Pack non-perishable, non-refrigerator snacks and food, unless you are bringing a portable fridge and will have an electricity point. Bring cereal for breakfasts, make sandwiches or wraps for lunch and buy fresh food only when you need it.
If you are going to cook meals, think of easy-to-cook, one-pot meals, especially if you only have a one-ring cooker. We would advise you to bring a two-ring cooker which will make cooking a bit easier. Hot dogs are a staple camping food, as are burgers and sausages. Beans, rice, noodles can all be cooked while camping. My dad used to make a chicken curry and serve it with rice when we camped when I was younger. We'd have the whole camp trying to sniff it out when he was cooking!
Think of easy meals that don't need a lot of preparation and that the kids will love. And if necessary, forget about the healthy living. It's only for a short time and easy is the name of the game when it comes to camping and cooking!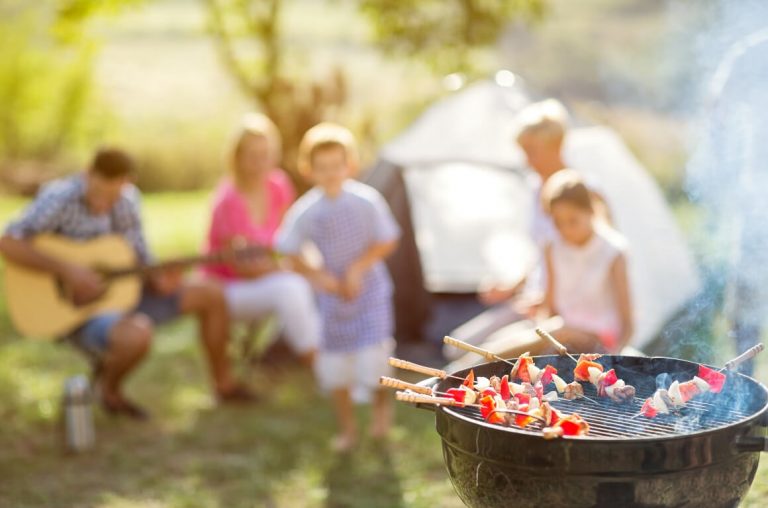 Keeping kids entertained
Camping is a great opportunity to leave technology behind and get back to nature as a family. However, we do understand that not all kids love being outdoors. So, if you really need to bring the tablets, remember to bring a solar-powered portable charge if you won't have an electric access point.
To keep younger kids entertained, bring washable toys that you don't mind getting dirty. Dirt goes hand-in-hand with camping and kids.
For older kids, bring some board games that everyone can play, especially if it is raining and you don't want to venture out.
Binoculars and an adventure kit can provide hours of fun for adventurous, outdoor kids. Create a scavenger hunt, get your hiking shoes on and explore the camp or go hiking. There are lots of ways to entertain kids while camping and they don't always need to involve tablets or technology.
Don't worry about the dirt
You are all going to get grubby, let it go. Dirt and kids on camping go together as I have already said, so stop worrying. Bring reusable baby wipes to tackle dirty faces and hands and allow the kids to wear clothes two/three days in a row. It will mean less laundry on-site and when you get home. Besides, everyone expects to see kids with muck up to their elbows and on their knees on a campsite. It is a sign they have been having fun. So, let the dirt in and the worries go!
What not to bring
Don't bring several changes of clothes, several pairs of shoes and multiple toys for the kids. Plan to let the kids get dirty as discussed in my previous point and bring less clothes. If you run out, do some hand washing. Don't bring several pairs of shoes. Wellies, hiking shoes and flip flops for the shower block are all you need. If it rains you can use the wellies or can alternat with hiking shoes if they get really wet.
And don't let the kids pack a mountain of toys. Give them a small backpack each, ensuring they pack washable, dirt-friendly toys, some colouring books and crayons/pens, puzzles, and a book or two which will cover entertainment, whether it is wet or dry.
Fire Safety
If you are going to a campground that allows campfires, it is important to talk to your kids about fire safety before you arrive. This is equally important if your campground allows disposable BBQ's to cook or even a gas ring.
If your kids are going to be near a campfire, give them their own little camping chair to sit in so they feel included. Mark a 'fire line' in the ground which they are not allowed to cross, explaining that it is for safety and if they cross it, you will need to put the fire out. If you are camping with a baby, bring a travel cot and use it as a playpen to keep them safe.
When it comes to BBQ's or cooking rings, let kids sit close by but do not let them near them. Again, you could have a 'fire line' that they cannot cross. Never leave the BBQ or cooking ring unattended with kids around.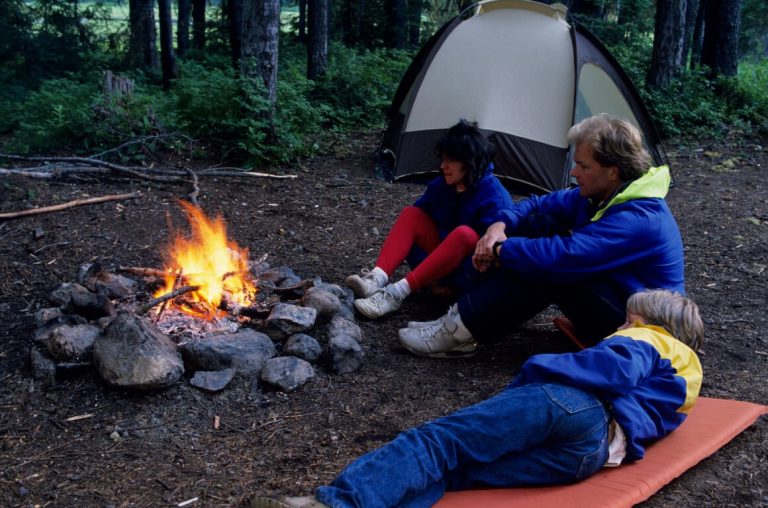 Give up and go home
If things really are not working out or if the weather turns bad, no-one will think less of you for giving up and going home. If it is your first time camping with kids, try to pick a campsite close to home as part of your 'trial run' so if the kids cannot get to sleep, or if you forgot something important, or if the heaven open and everyone is wet and miserable, at least you can bail out and get home quickly.
We've done it before. When camping on the Isle of Man one year, my husband and I gave up on our last night on the island and booked into a hotel. It had been raining non-stop on our second-to-last full day on the island, we were wet and miserable and while our tent was dry inside, the wind was howling, making it lean so much we thought we were going to lift up like Dorothy and find ourselves in the Land of Oz.
So, for our last night, when we got a brief dry spell, we packed up our tent and booked a hotel to have some home comforts on our last night before getting the ferry back to the mainland. Did we feel guilty? Not one bit. The hot shower, comfortable duvet and soft pillows more than made up for the huge price tag.
Other tips for camping with kids
Don't forget the bug spray. Make sure you have one for your body, especially if you are camping near water, and one to spray inside your sleeping area before you or the kids are heading to bed.
Don't forget your basic first aid kit. Cuts and scraps may happen and will need tending to, as you don't want any dirt getting embedded and causing an infection. Make sure you have plenty of stock inside it, just-in-case.
Keep the kids moving. We all know that fresh air can tire kids out, so get hiking, bring the kids bikes and cycle in the afternoon or early evening if it is not too hot, or go for a long walk on the beach if near the sea. Bring snacks, drinks, a hat and sunscreen. The more you can wear the kids out, the more likely they are to sleep well later.
Plan for naps if travelling with little ones who still need them. Plan to go for a walk if they are still in a stroller, go for a drive or ensure the bedroom area is quiet and ready for them to nap. The white noise machine may help to drown out any outside noise from the campsite.
And if necessary, let the kids stay up late to see the stars. While they might get a bit overtired you may get a lie-in the next morning with them. Be less rigid when it comes to bedtime and the kids may well thank you the next morning.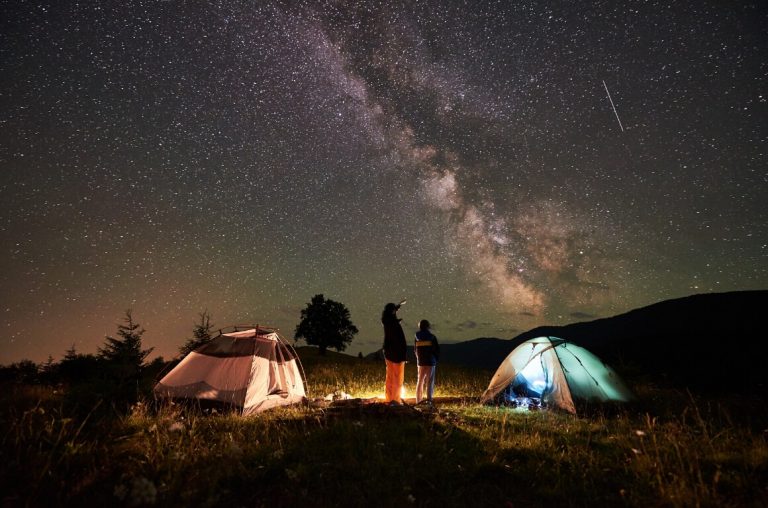 Summary
I hope you've gotten some useful hints and tips to help you prepare for your first family camping trip. The big thing to takeaway from this is to throw the rules out the window and go with the flow. Keep the kids fed and active and they will most likely flake out and sleep well. With a little preparation and some fore thinking, your first camping trip as a family can be a successful one. And remember, if it is not working out, go home. It won't be worth the moans and groans to stick it out.
Have you been camping with your kids yet?
Cath x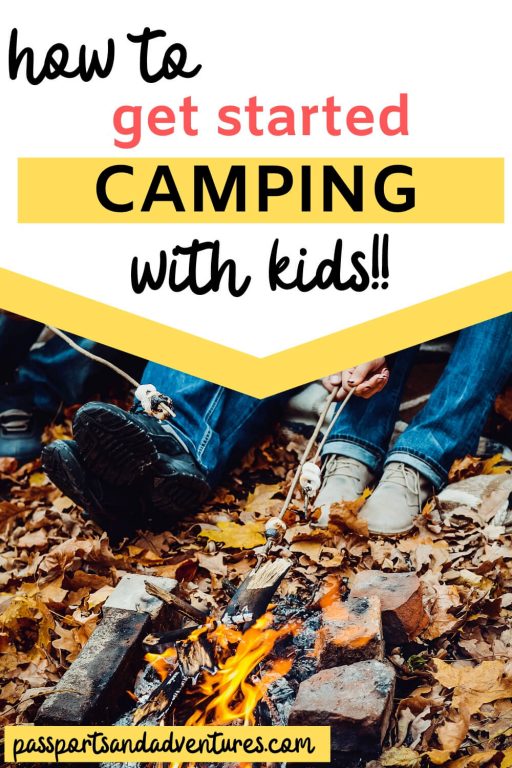 Related Posts