Fota Island Wildlife Park, near Cork City, is a great place to take the kids if you are in the area. We were kindly invited to enjoy the park in exchange for sharing our thought with you, my readers. This post is my Fota Wildlife Park review.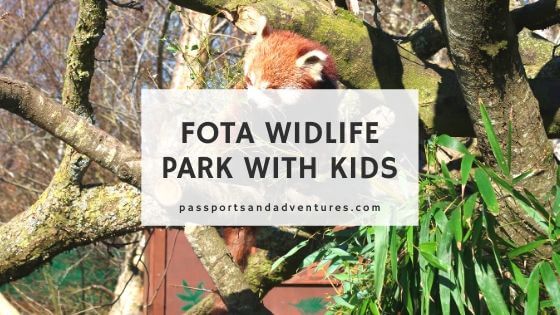 *Post originally published in May 2018. Updated in February 2020.
As many of you will know my son and I went to Ireland over Easter for a 10-day road trip in 2018. During our time we visited many castles, but I also wanted to make sure we went somewhere that was just for him to chill out and enjoy himself as a child. We were given the opportunity to visit Fota Wildlife Park in Cork during our time in Ireland. I'm here to tell you all about our awesome day out at Fota Wildlife Park.
Set in a hundred acres on the scenic Fota Island in the heart of Cork harbour is a unique place where you can come face-to-face with free-roaming animals. It's the perfect day out for any family especially those with children. Fota Wildlife Park houses over a hundred and forty different species of animals and birds. With everything from deer to red pandas to penguins and even peacocks, Fota Wildlife is a great family day out in Cork. The Fota animals are sure to include some of your kids favourites!
Our awesome day out at Fota Wildlife Park (review)
My son and I visited Fota Wildlife Park with my sister and niece who joined us in Cork for the Easter weekend. We arrived just after opening time at 10 a.m. and were greeted by a member of staff who gave my son and I our complimentary tickets to Fota. My sister and niece paid their entry fee and we also received a token for the parking.
After entering Fota, we immediately went to visit the toilets which are conveniently located beside the café and gift shop at the entrance. With two preschoolers in tow, we wanted to make sure that we didn't hear "I need to go to the toilet" halfway around before we got near any other toilets. Once everybody had visit the bathroom, we started walking in an anti-clockwise direction. There are lots of signs around Fota giving you a suggested route and we decided to follow that route which takes you in an anti-clockwise manner around Fota Island Zoo.
The first animals we came upon were zebras and ostriches who were roaming in a large open enclosure. Opposite these was a group of cheetahs, my personal favourite animal. Walking past some antelope we came across an enclosure that held European bison. As many of you know, we visited Yellowstone National Park in 2017 and got to see great herds of American Bison, but I was very surprised to see some European bison. My son was thrilled to see bison, with "bison" having been the word of our USA road trip.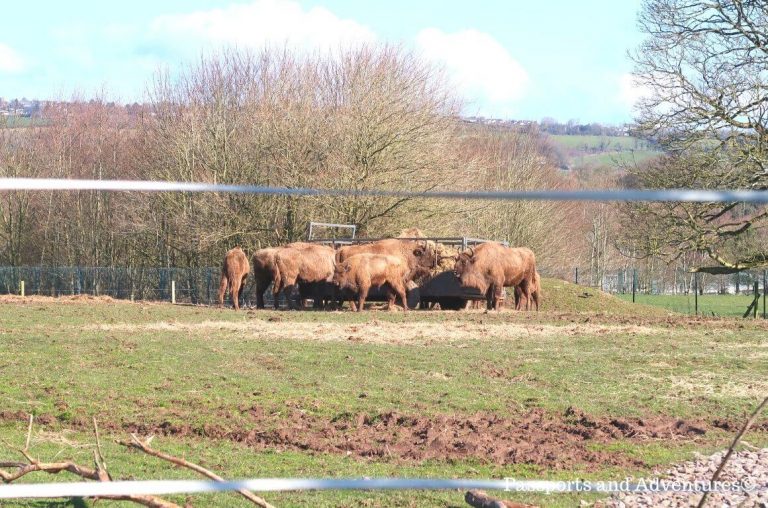 After passing the bison we started to see signs for tigers and my son was eager to go and find these. We passed into the Asian sanctuary entrance, continuing our hunt for the Asian tigers. When first entering the Asian Sanctuary, we first came across some Asian lions. Daddy lion was perched upon a platform. We also saw mummy in the distance playing with some cubs and after seeing the lions, we carried on and found some Indian rhinos.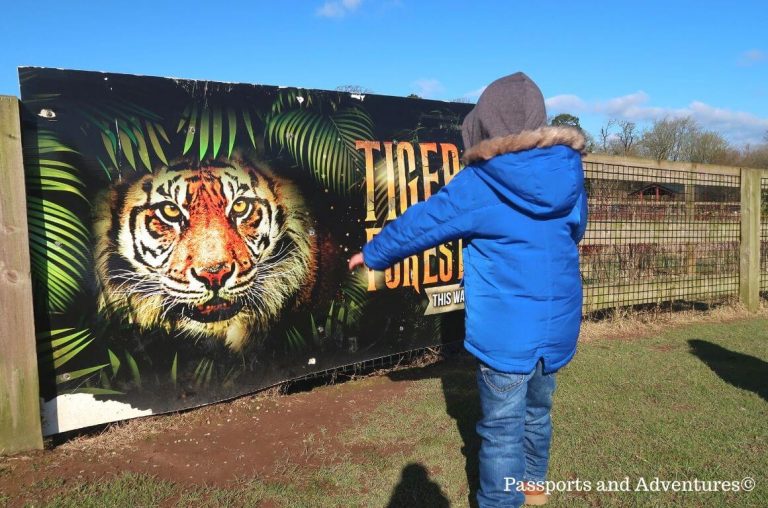 Walking through the Asian Sanctuary we could see evidence of expansion in the Asian part of Fota Wildlife Park. This expansion is going to include enclosures for takin and markhar, and for some Asian bears due in 2020. These would be great additions to the Fota Wildlife Park animals list.
After passing a Monkey Island containing some lar gibbons, we finally came upon the Tiger Forest. My son was thrilled. We immediately saw a tiger roaming along the fence, much to my son's delight. In another section of the tiger enclosure, we could see a younger tiger playing with what looked like a fake fur hide. He was throwing it up in the air, catching it with his mouth, and just generally having fun with it.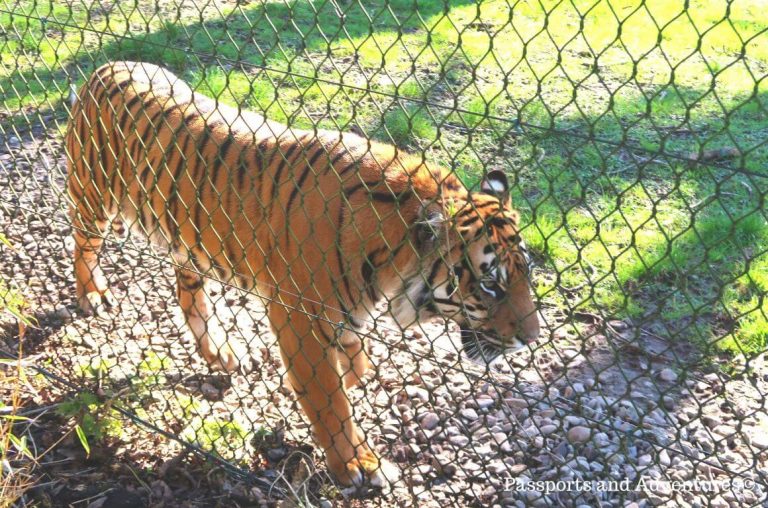 Near the Tiger Forest, there is the Mu Cang Chai eating area. However, we did find that we couldn't get a cup of tea there and the food wasn't ready. So, we decided to carry on passing by lion tailed macaques and langur monkeys, which are also known as leaf monkeys, and also agile gibbons. We also saw some red pandas and came across some spotted deer in this section, which was one of the last sections before we exited the Asian Sanctuary.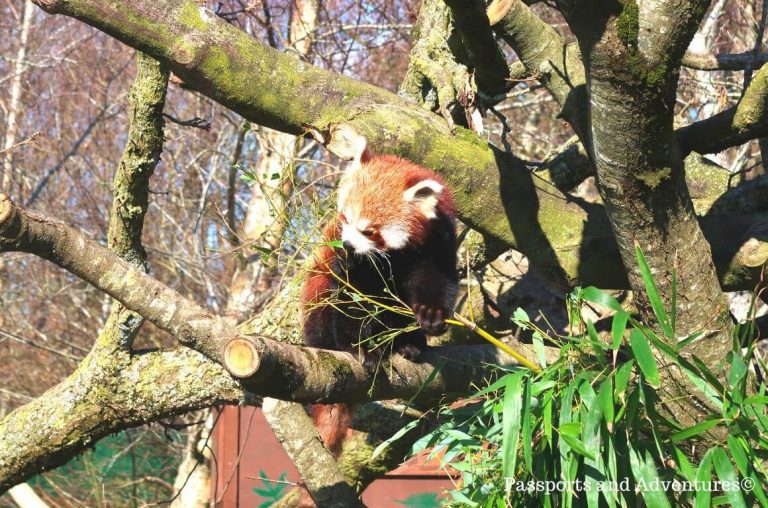 We then decided to visit the Tropical House. The Tropical House is a really good place to bring the kids within Fota Wildlife Cork. It is quite warm inside, hence the name tropical, and you have butterflies flying throughout the house which means there is a double entry system and exit system at the doors. Just be careful with these with your kids as you don't want the butterflies to escape.
Inside the tropical house not only did we see free flying butterflies, but we also spotted some snakes, frogs and lizards, one of whom was loose in the actual house and was perched on one of the beams in the roof. He was quite a sight to see.
Exiting the Tropical House, we made our way towards the lake. This large lake encompasses another of the Monkey Island parts of Fota Wildlife Park. Again, taking an anti-clockwise route, we decided to pass by my son's favourite animals, the penguins. The enclosure is quite nice but I was quite surprised to see some of their enclosure was just fenced with wood and not caged. My son did try to climb over this fence but I soon stopped him.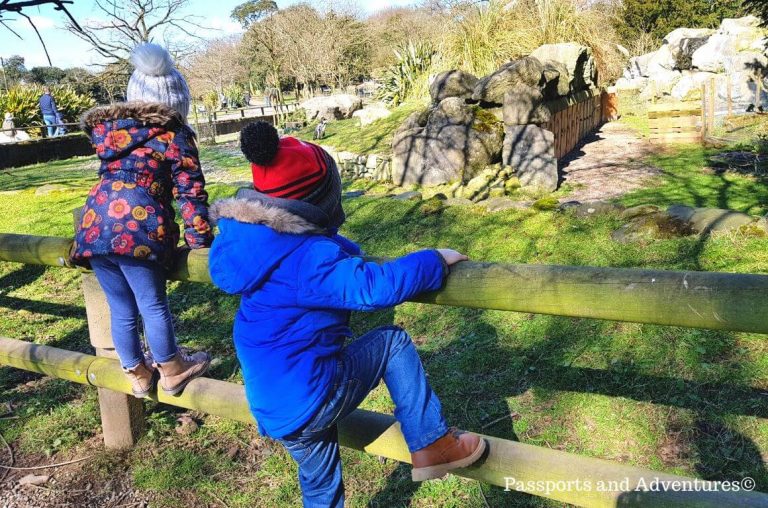 At the very far end of Fota Wildlife is an area which includes the Oasis Café, the train station exit and also a large picnic area beside a children's playground. This was the busiest area during our day, with plenty of people getting snacks and drinks from the cafe and enjoying them outside while the kids played in the playground. It was quite chilly on the day that we visited Fota Wildlife Park, so we elected to have a cup of tea and a slice of cake in the cafe before allowing the kids to have some fun at the playground. It was during this time that we came across a peacock roaming freely around the picnic area.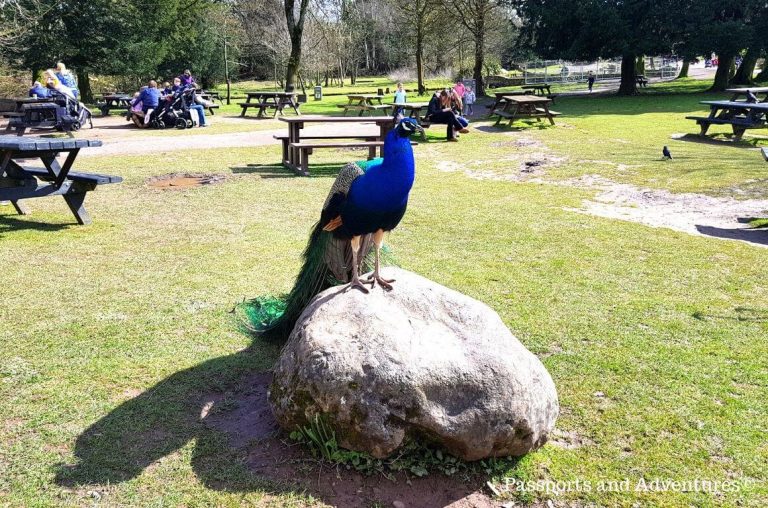 As we exited the Oasis Café, and before we went to the playground, we saw some members of staff running after some cheeky lemurs who had been stealing sandwiches from people on the picnic areas. It was fascinating to watch but also very funny. We were just glad it wasn't us whose sandwiches were being stolen by the lemurs.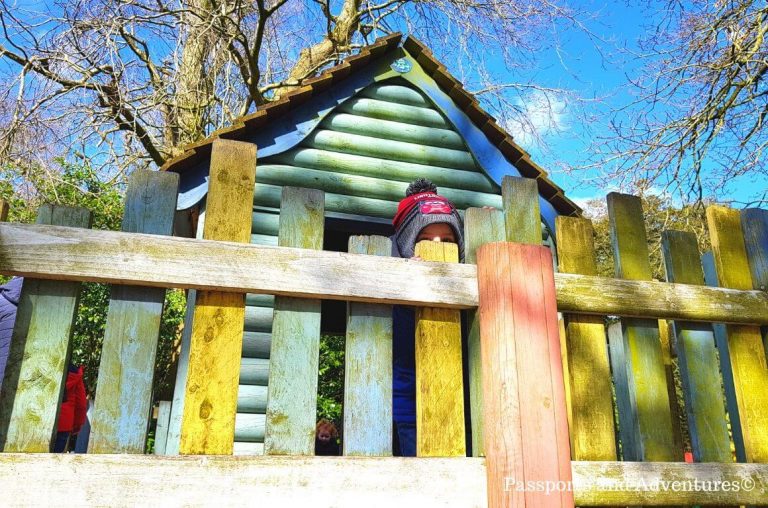 The kids enjoyed themselves at the playground and once they were done, we decided to carry on with our visit and passed by pink flamingos. Beside the flamingos are black spider monkeys, and I can tell you something, they are noisy monkeys. One of them was just shouting away at the top of a tree while another one lazily just looked at him as if to say "shut up". You can check out my video below to hear how noisy he was!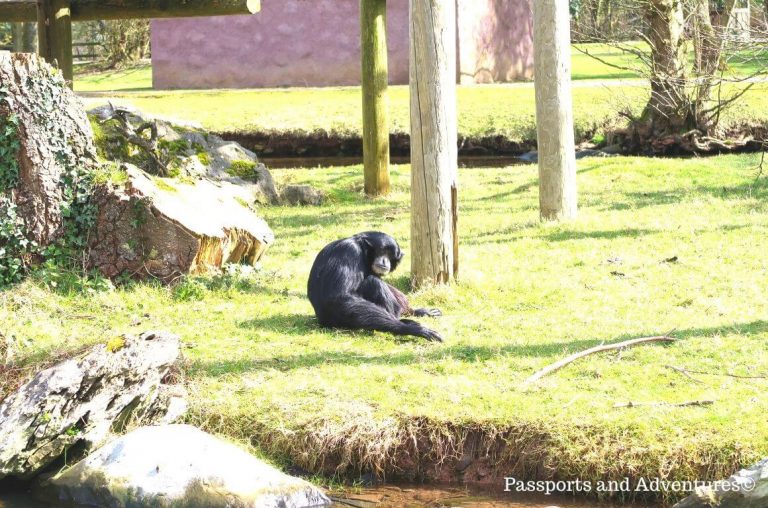 From here we passed by more monkeys who are housed on Monkey Island before carrying on along Prairie Dog Walk and passing some grey seals who looked magnificent in the water. Further on we passed by Cheetah Hill which had several enclosures with cheetahs contained in them. More of my favourites!
We also passed by an area that had some free roaming wallabys and mara, which are large relatives of guinea pigs commonly found in Argentina and other areas of South America. There are a few free roaming animals throughout the park including the ring-tailed lemurs, which we saw at the Oasis Café, kangaroo and wallaby as mentioned. Check where you'll see them on the Fota Wildlife Park map available at the ticket desks and make sure to be watching out for them while you make your way around.
As we passed Cheetah Hill, the kids were starting to get pretty tired at this stage, so we coaxed them on and bribed them with some sweets because we knew that we were coming up to the last set of animals that we needed to see which included the giraffes. There are a large number of giraffes at Fota Wildlife Park, and I've always loved these majestic animals, finding them quite fascinating with their tall necks. Finally, we passed some more red panda, Brazilian tapirs and some macaws, which are like parrots.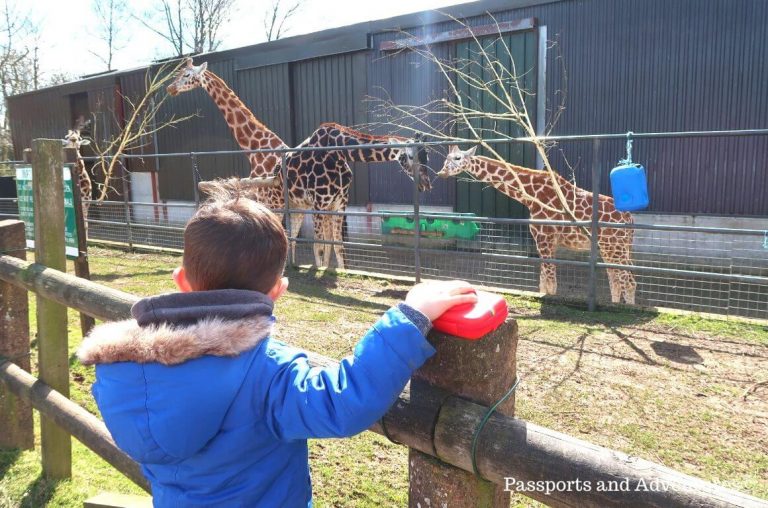 After a final visit to the toilets beside the café, we ventured into the gift shop, where the kids got something small for being so good. There are lots of gifts available in the gift shop so just be careful you set a limit otherwise the kids might go crazy. Satisfied that we had seen everything we wanted to see, we decided to cut our loses and run before we ended up with two really whingy, overtired kids on our hands. Making our way through the exit we are really surprised to find out how long we'd spent there. If you are wondering how long does it take to go around Fota Wildlife Park with two pre-schoolers in tow? Well, we had spent three and a half hours in Fota Wildlife Park. No wonder the kids were tired!
What we loved during our day out at Fota Wildlife Park
Lots of animals to see.
Great range of birds and other animal species.
The free roaming animals are a new one to me and something I've not seen in any other zoo that we have visited around the world, including Chester and Oregon Zoos.
There are a few sets of toilets around the zoo, always a most when you're visiting with kids.
Although the map says there are three areas for seating or for eating, we did find that the Mu Cang Chai Café, near Tiger Forest, wasn't open when we arrived at it.
There are plenty of information signs around Fota Wildlife Park including a recommended route to take. This is the one that we did take and it ensured we saw as many animals as possible.
There's also an education centre and an incubation house to visit depending on the age of your kids.
There's plenty of parking you don't need to worry about that.
Value for money and has good opening hours.
It is good to see there are areas which are being extended throughout the park.
All the animal enclosures appear to be of a decent size for the animals.
Most of Fota Wildlife Park is accessible to both wheelchairs and buggies.
There are various feeding times for different animals. Refer to the park map for which animals are fed at what time.
What we didn't like about our day out at Fota Wildlife Park
Nothing except we would have liked to have been able to get a cup of tea at the first place that we stopped.
Tips and information for your day out at Fota Island Wildlife Park
Where is Fota Wildlife Park? It is located on Fota Island, Cork.
The Fota Wildlife Park address is: Fota Wildlife Park, Fota, Carrigtohill, Co. Cork, Ireland. If you want to know how to get to Fota Wildlife Park, you can use Google maps or check the website for more details. The park is well sign-posted as you approach it.
Fota Wildlife Park opening hours are from 10am to 6pm Monday to Sunday. Last entry at 4.30pm.
The park is closed on December 24th, 25th and 26th.
Fota Wildlife Park Prices are as follows**: Adults €16.90, Children (under 16 years of age) €11.50, Seniors and Students (with valid student card) €12.50, and under 3's are free. For details on family or group tickets please visit the Opening Times and Prices section of the Fota Wildlife Park website. You can also buy Fota Wildlife Park tickets online via the website.
There are Wild Experiences also available and full details of these, including prices, can be found in the Prices Section of the website.
The park is wheel chair and buggy accessible and there are 4 manual wheelchairs available for use, free of charge, but these are subject to availability.
To see what activities are being held and when, check the calendar on the homepage of the Fota Wildlife Park website.
If travelling with young kids, please ensure you visit the toilets at the entrance before you start your walk.
Refer to the map that you get when you pay in for each of the seating areas, dining places and also toilets especially when visiting with young kids.
As with anywhere in Ireland, please make sure that you have waterproof rain jackets or umbrellas with you just in case. Make sure you have raincoats with you, at the very least, as you just never know if the weather will change during your visit.
You have to pay for parking, so you can either pay at the exit or you can get a token from the entrance which will allow you to exit the car park.
I would suggest that if you are travelling with young children, bring a buggy. We spent three and a half hours with our three and four-year-olds and they were pretty tired by the end of our visit.
Watch out for free roaming animals throughout the park, there's a list of these in the park map.
Summary
We thoroughly enjoyed our visit to Fota Wildlife Park during Easter weekend. The enclosures are nice and big for the animals they house. There is a great variety of animals and birds on display and it's a great place for a family day out in Cork. I have to thank Fota Wildlife Park for giving us the opportunity to review the zoo. If you are ever in the Cork area and are looking for a great family day out, then I can highly recommend Fota Wildlife Park as a great place to take the kids.
Cath x
*We received one adult and one child complimentary entry to Fota Wildlife Park for the purpose of this review. However, as always, these are my honest thoughts and opinions of Fota Wildlife Park.
**Prices correct at the time of updating this post.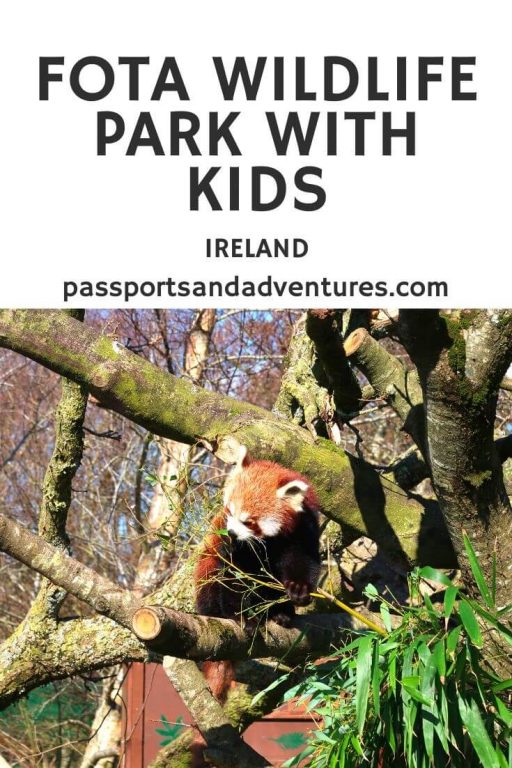 Related Posts