While we were in Portland at the end of our USA road trip holiday, we were kindly given complimentary entry to Oregon Zoo in order to review it. In this post you'll learn what we got up to in our Oregon Zoo review, and discover some hints and tips to make your visit to the Washington Park Portland Zoo a great one.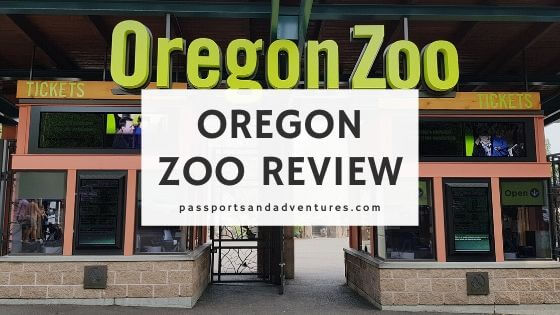 POST UPDATED JAN 2020
Our Portland Oregon Zoo Review
During our research on things to do in Portland with kids, a visit to Oregon Zoo came highly recommended so we were thrilled to be invited to review the zoo during our trip.
We arrived in smoky Portland on the Tuesday afternoon and had decided to do our visit to Oregon Zoo on the Thursday, located in Washington Park, Portland. The zoo is also often referred to as the Portland Zoo.
So, after breakfast in our hotel, we drove along I-26 from Hillsboro, where we were staying, to Oregon Zoo. It was easy to get to and there was plenty of parking, despite what I had read online. The Oregon Zoo parking is out front in the general car park for Washington Park and is payable.
We arrived before their opening time of 9.30am to collect our tickets and the gates opened just as I exited reception. As you enter the zoo initially you pass through the Entry Plaza where there is the main gift shop, a restaurant and where you can get your photo taken.
We decided to go clockwise during our visit to the zoo and the first area we visited was the Great NorthWest. Boy, were we blown away by this zone. Set among the trees and forest, this area is simply stunning and houses animals and birds that can be found across the Great North West of the North American Continent. Many of these we wouldn't have seen in other zoos we have visited.

It was absolutely beautiful among the trees and waterfall, almost peaceful. We saw gorgeous Black Bears, beautiful Bobcats and the symbol of North America, the Bald Eagles. These are majestic looking birds and an easily recognisable bird.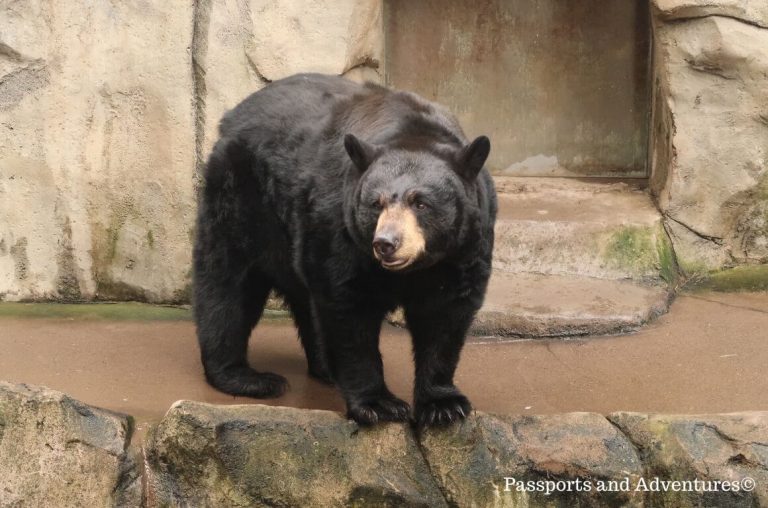 From there, we carried on and saw River Otters that were very playful and our son was quite taken by them. We didn't manage to spot any beavers, I think they were hiding on us.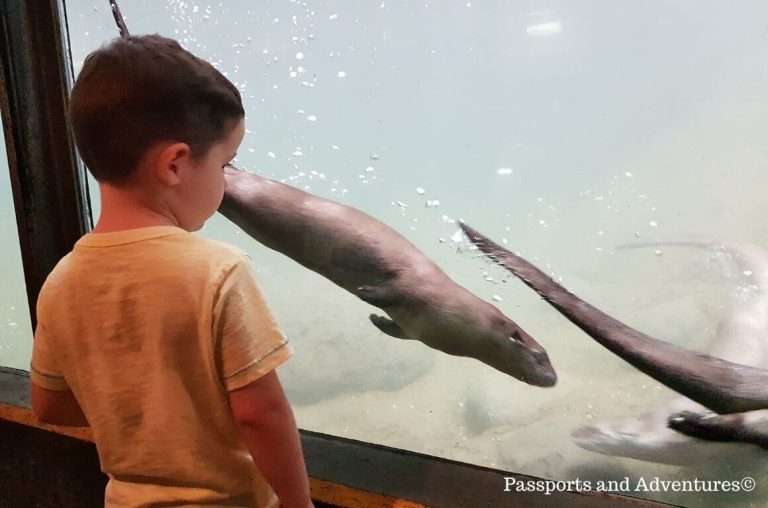 Next up were the Cougars and my husband absolutely loved these cats. There were two that we could see and they were beautiful creatures.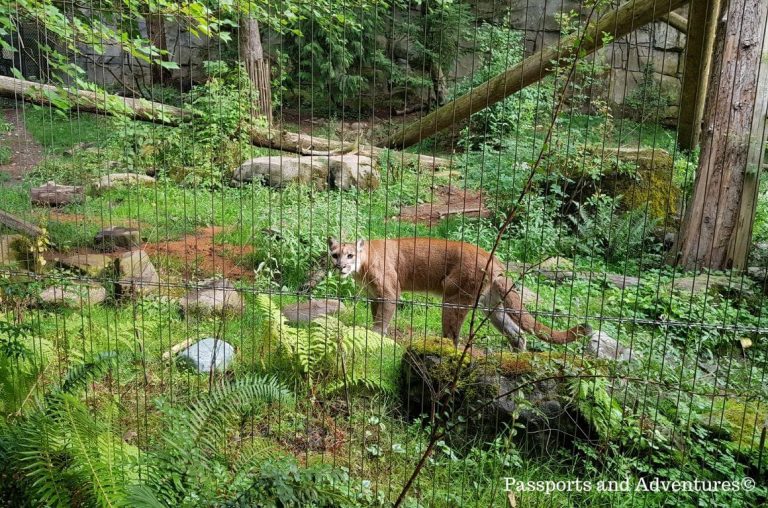 From the cougars, we passed by the Petting Farm where we saw a few goats but the gates were locked so we couldn't go in and pet them. It was a shame as I am quite fond of goats and always enjoy meeting them like at the Small Breeds Farm in Kington.
Just passed the farm and barn is the Carousel. Having been on one in Missoula just a few days before, our son was most definitely not going to let us pass this without at least one ride. So I joined him. We were very lucky as the lady had just opened the carousel at 10.30am so along with one other boy, we were first on.
After our ride, we continued our visit to Oregon Zoo by visiting Nora, the Polar Bear. She was in a very playful mood, sticking her head into an orange bin. We were very lucky to see her as we later discovered she was being moved to a zoo in Utah the following week to be paired up with a male polar bear.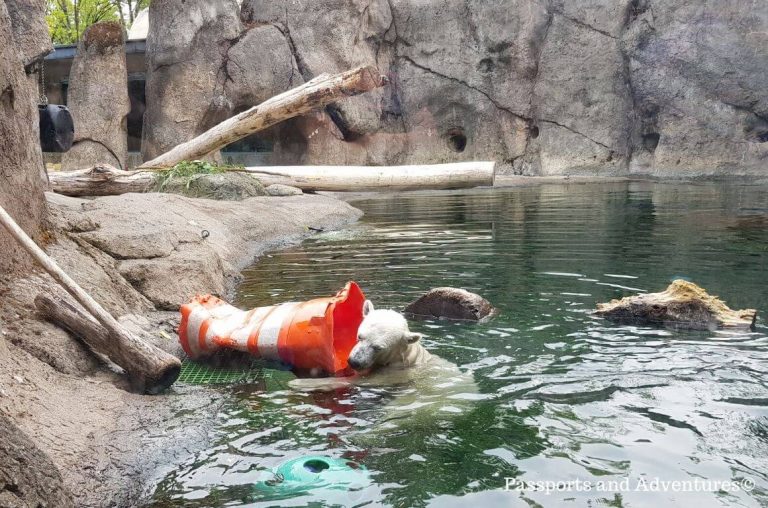 Next, we visited the Primate Forest before going to see the Lions and my personal favourite, the Cheetahs, in the Predators of the Serengeti area. We also came across an animal we had never heard of, let alone seen before; the Caracals. These medium-sized cats are native to Africa, the Middle East and parts of Central Asia and were beautiful looking creatures. Our son also had great fun at the meerkats!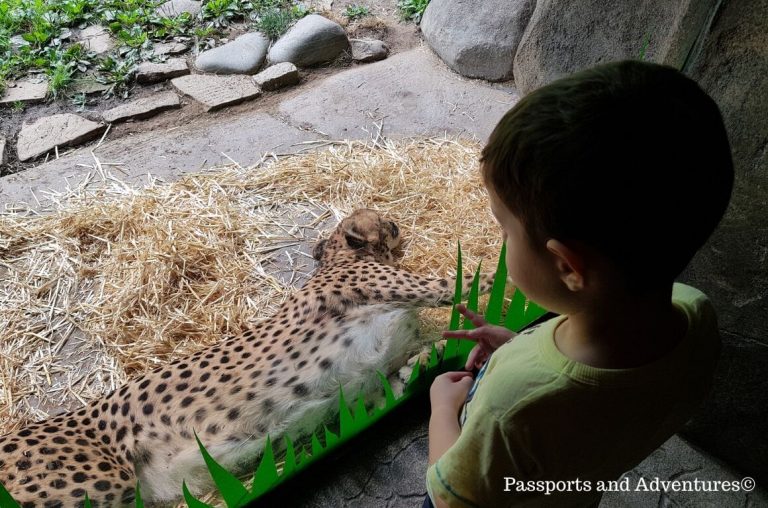 After the Predators of the Serengeti, we walked past the rhinos and hippos and our son was fascinated by the hippos as they were making a lot of noise! Off Rainforest Plaza, we saw the giraffes, which we always enjoy, before we decided to stop for some refreshments at the Coffee Crossing in the Discovery Zone. The price for a tea, coffee, 1 cake, 1 cookie and some crisps (or chips as they are called in the USA) was only $14, which I think is reasonable.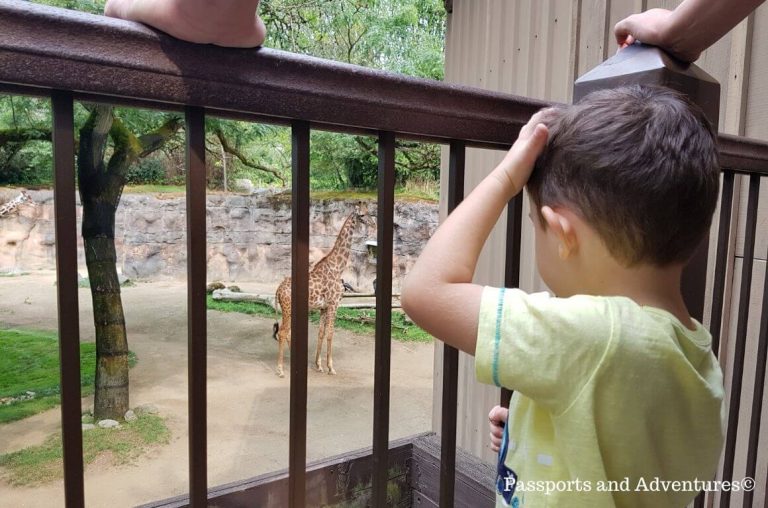 We enjoyed our pit stop and afterwards, our son had fun in the playground next to the cafe, even making friends with a little girl. It was good to let him stretch his legs and burn off some energy after the mammoth hours and miles he had just done in the car.
While we were enjoying a break, our son also spotted the zoo train. Before we went on the train we finished off visiting the rest of the animals which included our son's favourites, the penguins, and the seals which seemed to be playing with our son at the glass. They would swim away, turn back, swim directly towards him and turn at the last minute. He found this all very funny.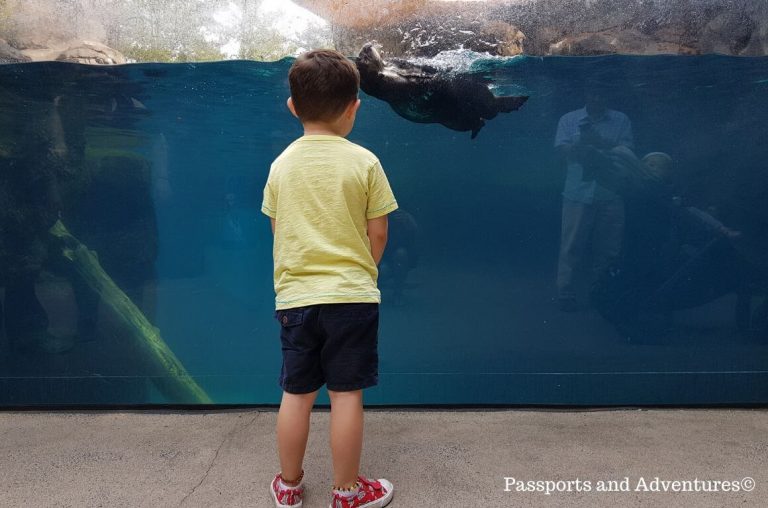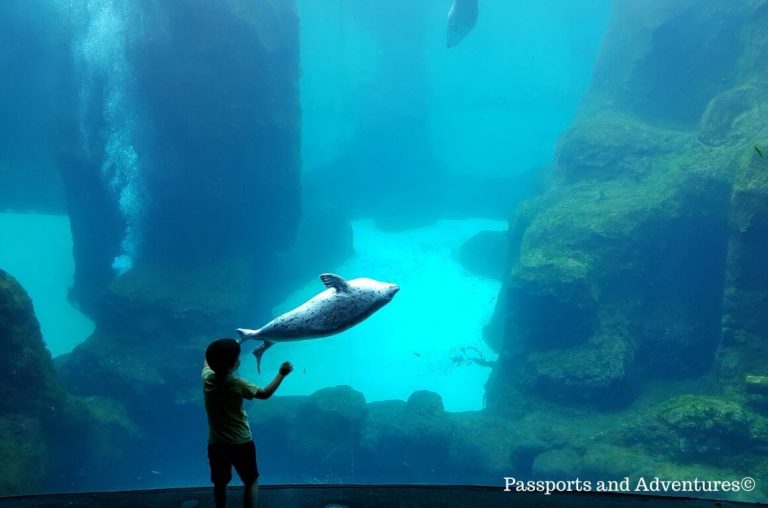 Satisfied we had seen everything we wanted to during our visit to Oregon Zoo, it was time to take the train, or Spencer as our son called him (from Thomas the Tank Engine). The train meanders through parts of the zoo including the Great Northwest and the Elephants Lands, which we had visited after our ride on the carousel. It was a lovely way to end our trip to the zoo.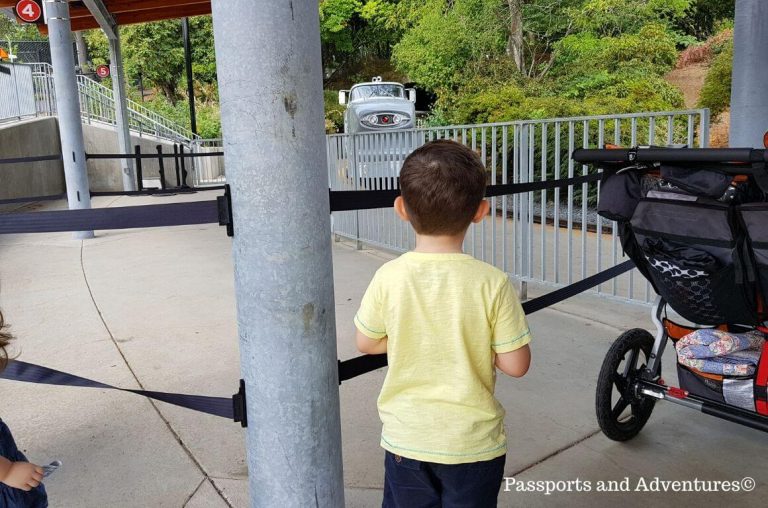 As we passed through Entry Plaza on our way out, we stopped by the gift shop to buy a magnet (something we always do on our travels) and got our son a small toy. Overall, we absolutely loved our visit to Oregon Zoo. It was a great way to spend some time together as a family outside of the car. Dare I say it, my husband and I think Oregon Zoo tops even Chester Zoo which had been our firm favourite since our visit the year before this visit!
Facts about Oregon Zoo
Oregon Zoo was formerly known as the Washington Park Zoo, mainly due to its location. The address of the Portland Oregon Zoo is 4001 SW Canyon Road, Portland, OR 97221.
Founded in 1888, it is the oldest North America zoo west of the Mississippi.
It is set among 64 acres and houses no less than 1955 animals from 232 species. Among the Oregon Zoo animals you'll find species from around the globe.
Its exhibits include the African Rainforest, Savannah and Predators of the Serengeti, as well as Elephant Lands, Amazon Flooded Forest, Bears, Condors of the Columbia and the Great Northwest (our favourite).
Oregon Zoo has species survival plans for 21 endangered or threatened species and has successful breeding programs for the California Condors, Asian Elephants and African Lions.
Things we discovered during our visit to Oregon Zoo for you to consider if visiting the zoo
The Oregon Zoo times, in peak season, are from 9.30am to typically 5.30pm. During off peak season, the Oregon Zoo admission is also 9.30am but it closes at 4.30pm.
Oregon Zoo is not as big as some we've been to but there are plenty of areas and zones to explore so a stroller/buggy would be advisable for young kids.
There is an Oregon Zoo train and carousel (additional costs for these). We went on both and enjoyed them, although the train more so than the carousel.
There are four main Oregon Zoo restaurants/cafes, serving drinks and food which varies from snacks and cakes to full meals. As mentioned we had two hot drinks, a cake, cookie and crisps/chips and the total was $14, which was reasonable compared to other zoos we have visited. There are also smaller drinks huts around, mainly during the summer and on busy weekend.
Picnic areas are available.
There is a big gift shop at the entrance.
Toilets are dotted all over the zoo. We were actually surprised by how many, certainly more than some other zoos I won't mention.
Information signs are really good and animal signs are informative. For kids, there is a zoo key available from the admissions kiosks which unlock secrets of the zoo, costing $3.50. We didn't get one but they would be brilliant for older kids.
There are a few play areas around the zoo and we tried two of them at the primate area and discovery zone. Our son enjoyed both.
Parking is available beside the Zoo and Children's Museum and is payable. It costs $2 per hour, up to a maximum of $8 per day. We arrived at 9.20am on a Thursday morning after the summer and there was plenty of parking but I've heard it gets very busy during the summer so arrive early!
Baby changing facilities are available around the zoo.
The zoo is fully accessible and wheelchairs, strollers/buggies and electric scooters are available for hire.
Oregon Zoo prices**:
Oregon Zoo tickets cost $17.95 per adult and $12.95 per child. Veterans and senior citizens receive a $2 discount.
Child prices are for children aged between 3 and 11 years of age. Children aged 2 and under are free. Discounts may also be available, check the Oregon Zoo website for details. Tickets are available for purchase online.
There are some additional costs including the train ($4) and the carousel ($3) per person.
Our final thoughts on the Oregon Zoo
I am so glad we had the opportunity to visit Oregon Zoo. We were especially blown away by the Great Northwest zone and had the chance to see many animals we wouldn't normally see in European zoos. Oregon Zoo is easily doable in one day and children of any ages will thoroughly enjoy it. I highly recommend you visit it if visiting Portland.
Cath x
*We were kindly given complimentary entry to Oregon Zoo for the purpose of this review. However, as always, these are my own honest thought and opinions.
**Prices correct at the time of updating this post in January 2020.

Related Posts