Planning a trip to Disneyland Paris with kids can be a daunting task, overwhelming in fact. Not only do you need to decide what to pack in your suitcase, but you will also need to consider everything you need to take into the parks with you every day. When it came to decide what to bring with us, it seemed a backpack was the best idea in terms of a Disney Day Bag. With my Disneyland Paris Park Bag packing list, you'll find all the items you will need to bring if visiting the Disney parks with kids.

*This post contains affiliate links. To find out more about affiliate links and how they work, visit my Disclosure Page.
Covid-19: Disneyland Paris phased reopening and important information
Disneyland Paris Backpack – What to pack in your Disney Day Bag
With my packing list for what to pack in your Disney Day Bag, you'll find a guide to the items you will need to ensure you have everything both you and the kids will need.
Now, if you think you can spend the day in the parks with just a handbag, you are sorely mistaken. While this may mean you aren't carrying a lot, it will mean you may have hangry kids on your hands, no autograph books for getting character signatures and what happens if one of your children gets wet, or even worse, sick.
Therefore, I highly recommend you find the best backpack that you can, and that you also make a Disneyland backpack list to ensure you are covered for all eventualities.
You don't have to go for a character-themed one either. Any small, sturdy one will do, so long as it is big enough for everything you need.
For some great recommendations on Disney backpacks, check out this post from Follow Me Away. While these are recommendations for Walt Disney World, they will work equally well for Disneyland Paris or at least give you an idea of the type of small Disney backpack that would work as bag for your days in the park.
The best bag to use as your Disney Day Bag
In my opinion, the best type of bag to use is a backpack. By having two shoulder straps, you have support for everything you are carrying and still have two free hands. A must as a parent.
As mentioned, you don't have to go for a specific Disney-themed backpack but there are plenty to choose from if that's what you want (see my section below for just a few ideas). Just make sure to choose one that is big enough for everything you plan to carry and that can withstand some rain should the heavens open. If it doesn't come with a rain-cover, you can buy a cheap one on Amazon.
We brought our Cabin Zero backpack into the parks every day and it had more than enough room for everything we needed. In fact, I would go so far as to say it was a little too big. But it had come as our cabin bag, so meant we didn't need to bring an additional bag.
If you are still in two minds about the type of bag to bring, here are a few ideas.
Disney Backpacks for Adults
In this section you'll find a few ideas for backpacks for adults. Some are Disney-themed, and some are just regular backpacks. For those visiting Disneyland Paris and arriving by plane, these can double-up as your cabin bags as long as you are not travelling hand-luggage only.
Best Disney-themed Backpacks for Adults
If you are going to Disney, then you may want to have a Disney backpack. I've found three which would work well as your Disney day bag for the parks and should have enough room in them for everything you need to bring.
Disney Mickey Mouse Backpack, Black – Amazon

Firstly, I love this Disney Mickey Mouse Backpack. It's fun, versatile and has two mesh drinks bottle holders on either side. It has a large main compartment for costumes, clothing, snacks and entertainment, and it has a front pocket for smaller items too. It may be marketed for boys but I think this would work well for adults too.
Buy this Mickey Mouse bag HERE.
Vintage Mickey Mouse Patterned Backpack – Amazon
Why not go vintage with this Vintage Disney Backpack. There is a large main zipped compartment, three exterior and three interior pockets, mouse lining inside and it has a mesh back on the backpack. This backpack is well made and a great backpack for a day at Disney.
Buy this Disney-themed backpack HERE.
Minnie Mouse Duffel Bag – Amazon

This Minnie Mouse satchel duffel backpack has a gorgeous repeated Minnie Mouse design with faux leather straps and trim. There is a large main compartment secured by a drawstring opening and the button down flap. There are also two side pockets. This would make the perfect Disneyland backpack for meeting Minnie Mouse.
Buy this Minnie Mouse Duffel bag HERE.
Best Regular Backpacks for Adults visiting Disneyland Paris
If you don't want to bring a Disney-themed backpack, then a regular backpack will certainly do the job. This is what we opted for as our backpack doubled up as our cabin bag and Disneyland Paris day bag. Here are just three ideas of backpacks that could be used for your day at Disney.
PacSafe Venturesafe 25L Anti Theft Backpack – Amazon

In my opinion, this would be the best backpack to use as your Disneyland Paris parks bag. PacSafe bags are designed to be anti-theft with secure zippers and cut-proof materials used. They also contain RFID blocking pockets to keep your credit and debit cards safe. This backpack comes in 3 colours and 25 litres of storage. There are 2 exterior zippered storage pockets, 2 side pockets for water bottles, a large interior pockets, chest strap for comfort and waist straps too. This is a great all-round backpack.
Buy this PacSafe backpack HERE.
Osprey Packs Daylite Plus Daypack – Amazon

This Ospreys daypack would work perfectly well as a Disneyland Paris backpack. It is available in 14 colours, has a large main compartment and two stretch mesh side pockets which could be used for water bottles and has a mesh covered back panel for ventilation and comfort. There is also a front pocket with mesh organiser. This is a great backpack to use as a Disney parks bag.
Buy the Ospreys Daylite Daypack HERE.
CabinZero Classic Backpack – Amazon

CabinZero bags are a great option to use as a Disney backpack. With a large internal compartment, with two internal zippered storage compartments and another exterior compartment at the front, there is plenty of storage here for everything you need to bring with you for a day at Disneyland Paris. I used my Classic 28L CabinZero bag and it worked well. The only thing lacking with this option is the side pockets for water bottles.
Browse the range of CabinZero backpacks HERE.
Disney Backpacks for Kids
Of course, you could make your kids carry their own costumes, autograph books, snacks and drinks into the parks, especially if they are older kids. Younger kids might find it too much carrying a backpack around for the day and you'll end up being the one carrying their bags plus your own. You know your kids best, so decide yourself. That said, there are some great ideas for kids Disney backpacks on Amazon. I'd recommending sticking with Disney-themed ones as kids are more likely to agree to carry their own bags if it is one of their favourite characters.
Check out the range of Disney-themed kids backpacks HERE on Amazon.
What to pack in your Disneyland Paris Backpack
Now that you've decided what type of bag to bring into the parks, let's talk about what you need to bring with you for a day at Disneyland Paris. Some of these we brought ourselves, and some are things people suggested we bring but didn't.
Essential things you need in your Disneyland Paris Day Bag
Camera, spare battery and spare memory cards – You'll need a good camera to capture all those special moments. If you are not going to use your phone, then make sure you have a good camera with plenty of capabilities. I use the Canon G7X Mark ii. Don't forget a spare battery and memory cards.
Portable phone charger – If you are using your phone to capture pictures and videos of your day in Disneyland Paris, make sure you don't run out of power with a portable phone charger. Make sure to have a good quality one that can charge your phone a couple of times in one day.
Disney costumes for the kids – Costumes and outfits are expensive to buy in the shops at Disneyland Paris. To save yourself some money, buy your kids Disney outfits before you go and bring them in your backpack if they don't want to wear them. Our son had a change of outfits for one day and wore his others in the morning. If he got tired of it, it was easy to take it off and pop inside our backpack.
Mouse Ears – You mustn't forget your mouse ears if you plan on wearing some. You can, of course, buy them in the parks too.
Spare clothes for the kids – You never know when they might get wet or sick, so it's best to have a spare change of clothes for the kids in your Disney day bag.
Autograph books and pens – Again, these can work out expensive if you buy them in the parks, so purchase them at home and bring them with you. If the one you choose to buy doesn't come with a pen, make sure to have your own pen or, even better, a Sharpie marker with you to give to the characters to use.
First aid kit and medicines – It is a good idea to bring a small first aid kit with you in your Disney day bag. There are no general shops within the parks selling first aid supplies or medicines, so bring your own. There are First Aid Rooms beside the baby care centres in both parks where you will find trained staff with some supplies but this won't be of any use if you are the other end of the park and need a plaster or cold compress. Make sure to have essential medicines with you including Calpol and Nurofen for adults and kids alike.
Snacks – Because no-one wants hangry kids in between meals. Either bring some of their favourite snacks with you from home or visit the shopping centre at Val D'Europe to stock up. Silicone sandwich bags make great snack bags that are reusable and so more environmentally friendly than plastic disposable version.
Reusable drinks bottles – Make sure you have your kids drinks bottles and your own reusable water bottles. There are drinking fountains located around the parks, often near the toilets, and you can fill bottles there.
Check out some Disney-themed drinks bottles for kids HERE.
Small, concentrated squash – Make sure to have one or two of the small, squeezy concentrated squash bottles to dilute in the kids drinks bottles, especially if they don't like drinking plain water.
Identity bracelet for the kids – We used an IDme bracelet with our son while visiting Disneyland Paris. There is a small card to insert into the band on which you write your contact details in case you get separated. It's always a good idea to make sure your kids have some of your contact information on them should they need it.
Nappies, wipes, formula, bottles and baby food (no glass) – For families travelling with babies, ensure you have enough nappies, bottles/formula and baby food to last you the whole day. Make sure to bring plastic containers or pouches for baby food.
Stroller/bike lock – Although you are NOT allowed to lock strollers/buggies to railings in any Disney park, you could lock the wheels if your stroller/buggy wheels allow it. Or, if you are travelling with another family, lock the two strollers together.
Small cross body bag – If you are going to leave your main Disney backpack with your stroller/buggy when going on rides, then make sure to bring a small cross body bag with you to put all your valuables, tickets, camera, money, cards and phone inside and bring it with you on the rides. Both my husband and I have PacSafe anti-theft bags which we use for everyday use, whether we are at home or abroad. And they would work equally well in Disneyland.
Other useful things to have in your Disneyland Paris Bag
Activities for queues – Disneyland Paris is a popular place and is busy most of the year. But at more popular times such as during summer, school holidays and at Christmas, expect long queues for rides. To save you hearing "I'm bored" bring some small toys, hand-held games consoles or other activities to keep the kids entertained while they wait.
Neck Lanyard – While not essential, I found a neck lanyard very handy for keeping tickets, meal vouchers, our hotel charge card and my ID all in one easy-to-reach place, rather than having to dig around in my bag for it.
Stainless Steel Straws – As a family we are trying to become more environmentally friendly, especially when we travel and we now travel with some stainless steel straws so we can avoid the plastic ones given out at restaurants and cafes. Something like these will cover a family of four.
Earplugs or Ear Defenders – If your kids ears are quite sensitive and you are planning on watching the fireworks, then some ear defenders would be handy to have in your Disney backpack.
Hand gel, tissues and wet wipes – Useful in a variety of situations and it's better to have them with you than wish you did if you've forgotten them.
Feminine hygiene products – For the ladies, it is a good idea to ensure you have sanitary products with you such as tampons and sanitary towels with you, if you are not a moon cup user. There are some for sale at the shop near the stroller/buggy hire, but they can run out. Some hotel shops may stock them, but it's better to bring them with you so you don't get caught out.
Ponchos – If you have waterproof gear with you for winter time, these won't be necessary, but you may find it handy to bring your own with you for summer as they are expensive to buy in the parks.
Things to bring in your Disneyland Paris backpack for summer
Sun cream and sun hats – If you are visiting in summer, remember your factor 50 and sun hats, especially for the kids.
Sunglasses – Always a good idea if the sun is shining strongly.
Large muslin – This can be used to cover up sleeping kids in strollers to protect them from the sun. Something like this one in the picture would be ideal. It comes in 4 different designs and is breathable.
Things to have in your day bag for Disneyland Paris in winter
Lip balm and hand cream – While this is useful year-round, winter at Disneyland Paris can be very cold and with cold air come dry hands and lips. So, remember to at least bring lip balm with you ladies.
Thermals – If you or your children are likely to feel the cold, especially in the evenings watching parades or the fireworks, then remember a set of thin thermals to pop on under their clothes to keep them warm. If you are staying in the Disneyland Hotel then you can probably pop back to your room to put them on, but if you are staying further away from the parks, having them with you (if you don't want to wear them all day) is better than a long trek back to your hotel.
Raincoats – Ensure you have raincoats for everyone in your backpack for Disneyland Paris as you never know when the heavens might open. If you have a waterproof winter coat, then you won't need an additional raincoat.
Waterproofs – Winter is not only cold at Disney Paris, it can also be wet. To save getting wet bums on outdoor rides, have waterproof over-trousers for adults and waterproof rain suits for kids in your bag to pop on if the heavens open.
Hats, gloves and scarves – For reasons I've already discussed.
Thin fleece blanket – If you are travelling with little ones who still use a buggy or stroller, then a thin fleece blanket will be very useful for colder winter days or when you are watching a parade or the fireworks.
Check out the range of Disney-themed children's fleece blankets on Amazon.
Hand warmers – Handy if you are someone who really feels the cold.
Glow Sticks – Great for entertaining kids before and during the fireworks display at the end of the day in Disneyland Paris.
Disneyland Backpack Rules – FAQ
Can you bring backpacks into Disneyland Paris?
If you are wondering does Disneyland allow backpacks, the answer is yes. You can bring backpacks into Disneyland Paris, provided they do not measure more than 55cm x 40cm x 25cm as per the Disneyland Paris Park Rules.
What is the Disneyland backpack policy regarding food and drink?
You are allowed to bring your own food and drinks in your backpack to Disneyland Paris. What you are not allowed to bring are large family picnic hampers.
What are you not allowed to bring into Disneyland Paris?
You are not allowed to bring any illicit or hazardous substance into the parks including alcoholic beverages, glass containers, dangerous or offensive weapons or anything that may endanger other visitors. You are also not allowed to bring items that may disturb other visitors such as vuvuzelas, horns, loudspeakers. You are also not allowed drones or selfie sticks of any kind, or monopod-type tripods. NOTE: you will be required to pass through bag security checks on your way into the parks.
Can I bring a backpack on rides at Disneyland Paris?
Yes, you can take backpacks onto Disneyland rides. The only rides at Disneyland Paris with bag storage are RC Racer and Parachute Drop. On all other rides, you are required to keep your bag with you and store it at your feet.
In Summary
I hope you've found this guide to what to pack in your Disneyland Paris backpack useful. I hope it will also help you easily prepare your backpack for your Disney trip. This list is by no means exhaustive and can be changed according to your family's needs. But it is meant as a starting point to help you plan your Disneyland Paris day bag.
Is there anything I've missed off the list that you would add? Do tell me in the comments.
Cath x
Need help with other aspects of planning a trip to Disneyland Paris? I have a complete guide with tips for Disneyland Paris including how to get there, where to stay, and tips for inside the parks.
If you are wondering whether to get a Meal Plan and where to eat in Disney Paris, check out my post about the best restaurants in Disneyland Paris.
And if you are travelling with younger children, then you might want to check out this post about the best rides for young kids at Disneyland Paris.
Passports and Adventures is a participant in the Amazon Services LLC Associates Program, an affiliate advertising program designed to provide a means for sites to earn advertising fees by advertising and linking to amazon.com, amazon.co.uk, amazon.ca. Amazon and the Amazon logo are trademarks of Amazon.com, Inc. or its affiliates.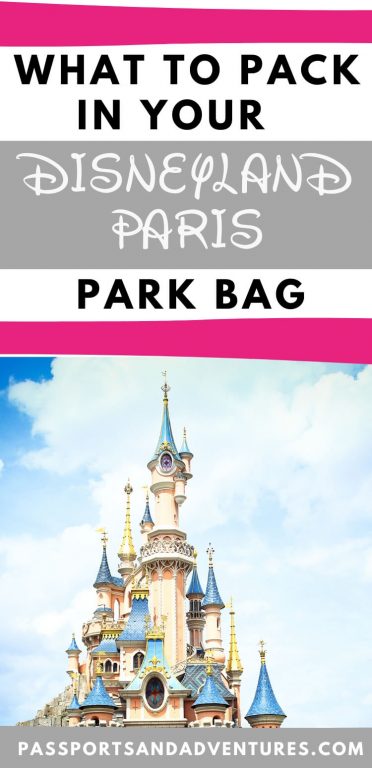 Related Posts