In 2018 we finally started to properly explore our new homeland, with a trip to the northern half of Portugal. We had only ventured north once but thought it was high time we started seeing more of the country. During our trip, we planned to visit Lousa, Nazare and Lisbon. But it got me wondering about things to do in Lisbon with kids, seeing as our son would be with us.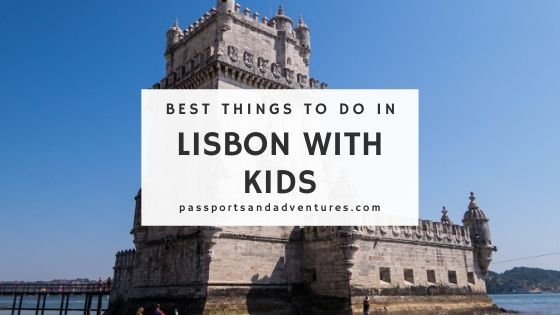 *This post contains affiliate links. To find out more about affiliate links and how they work, visit my Disclosure Page.
**POST UPDATED OCTOBER 2019
We hadn't visited Lisbon before our planned road trip and had heard great things about it from those who had been, particularly my parents who visited it twice a year for nearly 10 years while on holiday. We'd been wanting to visit the Portuguese capital and thought this week-long road trip would be the ideal time. We would be staying outside the city, in an area called Cascais, and would travel into the city via the trains. We'd been warned not to drive in Lisbon. So, the advice was being heeded.
But, as we were travelling with our son, we needed to ensure we would have some things on the agenda to keep him happy. Anyone who travels with kids knows they need to be kept happy as well. With no knowledge of Lisbon or what to do in Lisbon with kids in tow, I thought I'd ask my fellow bloggers for their recommendations. And they came back with some great ideas for what to see and what do with kids in Lisbon.
11 Amazing Things to Do in Lisbon with Kids
Paying a visit to Lisboa with kids, to give it its Portuguese name, is easily done, whether you are visiting from the UK, Europe or further afield. The Portuguese capital is a very family-friendly city and has a wealth of things on offer, including some great things to do in Lisbon with toddlers. In this section, my fellow family travel bloggers are sharing their top things to do in the city, whether you are visiting Lisbon with a toddler, kids, or teens.
Oceanario de Lisboa
Oceanário de Lisboa is the largest public aquarium in Europe and I have to say is the best attraction of its kind we have ever visited. Set over two expansive floors, which surround an enormous central 5 million litre tank, it is home to a plethora of marine creatures including black tip sharks, sting-rays, penguins, otters and the kids favourite, a huge ocean sunfish. What sets it apart from other aquariums, is its top floor, which represents how land animals live with their ocean counterparts, see beautiful Puffins nesting on the cliffs, penguins diving into the tank and terns circling overhead!
Outside is also the Cable Car which gives spectacular views over the Vasco da Gama bridge – the longest bridge in Europe. The aquarium is certainly one of the best things to do in Lisbon with kids and is not-to-be-missed.
Kara – Are We Nearly There Yet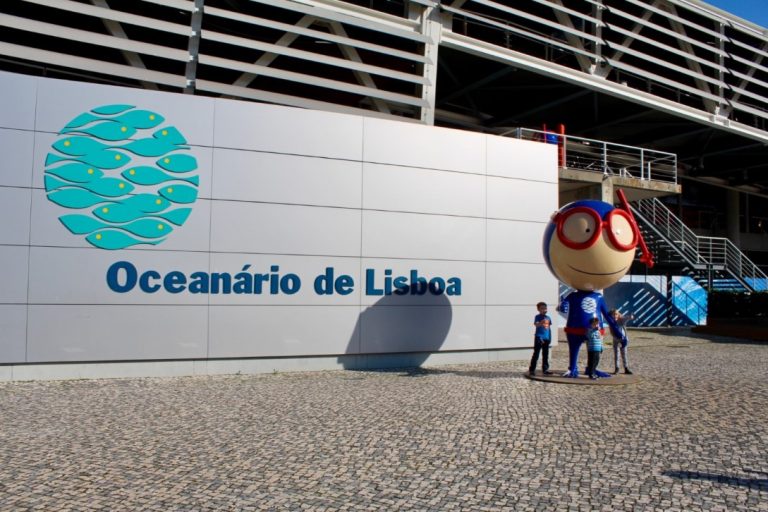 Pre-book your tickets to one of the best aquariums in the world, the Oceanario de Lisboa, by clicking here.
Explore a Church without a roof at Convent do Carmo
An ancient convent may not strike you immediately as a fun place for kids but Convento do Carmo, in the city centre, was one of the highlights of my kids' time in Lisbon. The reason for this somewhat unusual choice for a 5 and a 7-year-old lies in one characteristic of the place: the convent has no roof!
From the outside, the building looks like a Gothic church but, as you walk in, the surprise awaits: the convent was destroyed by the Lisbon earthquake in 1775, and now all that still stands are its perimeter wall and some of its columns. The kids couldn't believe their eyes: they ran up and down what used to be the main nave and kept looking up, curious about the earthquake and the arches that now seem to sustain the sky.
The convent also hosts a small museum and my son grew quickly quite fond of it as it has some small mummies! The convent is not a place for kids as such but one that can easily be enjoyed with them and one I highly recommend adding to your Lisbon itinerary.
Marta – Learning Escapes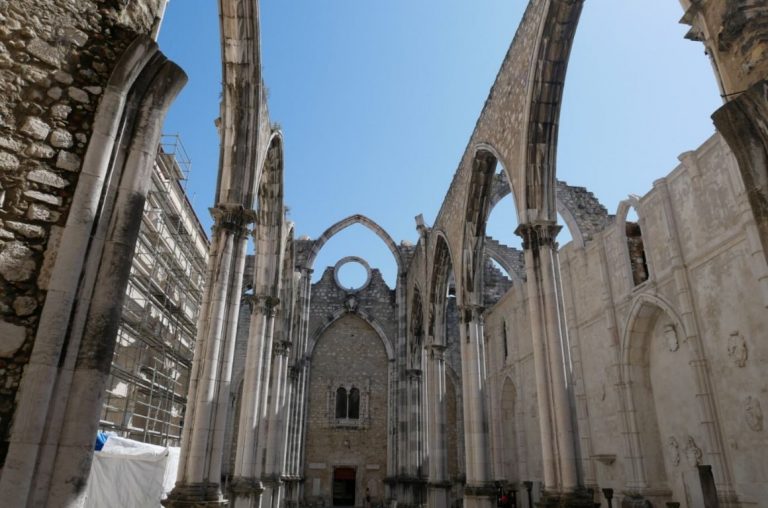 Little Lisbon Tours
Little Lisbon is one of those rare companies that focus on kids only. Their tours are simple yet informative and engaging. All that one would expect from a company whose audience are kids. We absolutely hit the jackpot with Mariana and the Little Lisbon Tour for kids. A tour of Lisbon with kids in mind was exactly what we were looking for. Don't let the kids tag fool you, adults will certainly get something out of this adventure as well.
We went on The Lisbon Earthquake tour. The tour started at one of the many amazing miradors in Lisbon looking over the downtown area. We started off talking about buildings in the Lisbon skyline as Mariana took the girls over to the side of the lookout to get a better look. They were pointing out buildings that survived the 1755 mega earthquake. Bec and I assumed a support role from here on in as Marianna and the kids marched to their own beat.
We started moving downhill, in the process we learnt about one of the famous churches, the Carmo Convent, the famous Tiles of Lisbon, the grid that Lisbon's downtown area is built on and the river front area. Marianna comes equipped with biscuits and work sheets to keep the kids interested and occupied. The biscuits also had a cultural significance as they are the same recipe that was served to survivors of the earthquake.
Little Lisbon is a great experience for the whole family and is one of the best things to do with kids in Lisbon.
Mark – Wyld Family Travel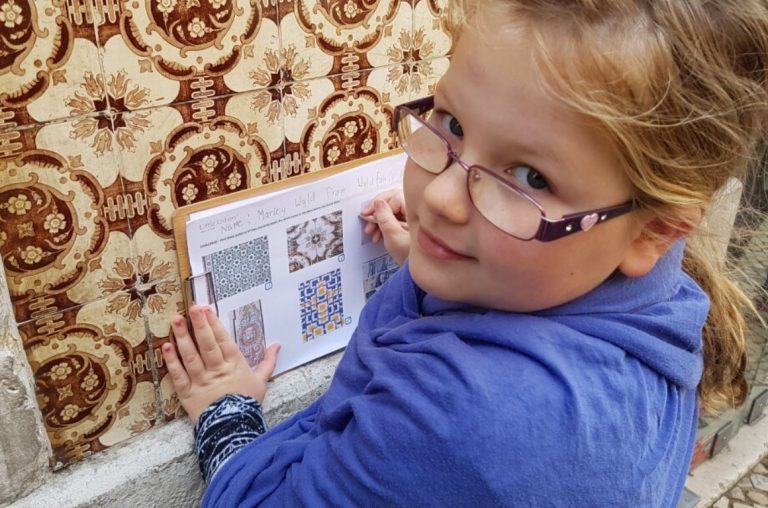 Lick you lips after trying the best Portuguese tart in Lisbon
A trip to Lisbon with kids would not be complete without a visit to Manteigaria, a patisserie and makers of the famous Portuguese pastry, Pasteis de Nata.
While you wait to be served, the kids will enjoy watching the chefs hard at work in the kitchen as they prepare hundreds of pastries each day.
Don't be deterred by the queue – service is speedy, and it won't be long before you have your first taste of what may be the best pasteis de nata in Lisbon!
Made up of a fine, crispy pastry shell with a rich custard filling, they are melt in your mouth delicious. Don't forget to order a few extra for later (just make sure the kids don't steal them all)!
If you are lucky to find space at the bar, order a coffee to have with your pastry. Otherwise have them boxed up and enjoy as you explore the nearby bohemian Barrio Alto district or hop on the Bica Funicular Railway for a hair-raising ride down the hill towards the sea. Lisbon, for kids and adults alike, would not be complete without enjoying a pasteis de nata .
Rachel – Adventure and Sunshine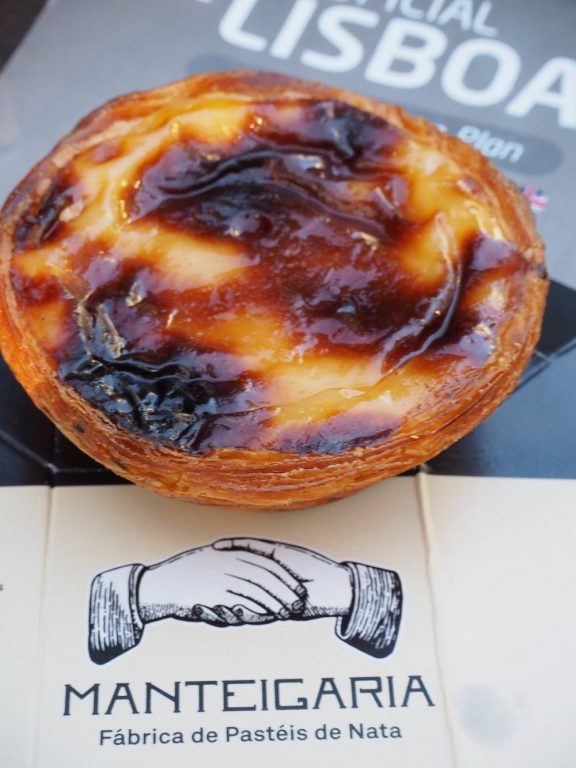 Discover Belem
One of the most pleasant afternoons we had in Lisbon was in the leafy suburb of Belem. Located immediately outside of the city centre, Belem is one of the most kid friendly areas in the whole of the city and it was a hit with 3 generations of us: kids, parents and grandparents!
For little ones, the main attractions in Belem are the vast, open air esplanades and parks, as well as the famous Belem custard tarts, always a hit with kids thanks to their sweet taste.
In terms of sightseeing, the main attractions here are the iconic Belem tower, the incredible Jeronimos monastery, and several museums. None of these are specifically for children, but the areas are easily accessible and very green so it is easy to mix more cultural endeavours with play time for the kids. Visiting Belem is one of the best areas of Lisbon for children.
You can reach Belem in several ways, including tram and taxis, but we decided to go for the touristy way and chose a tuk tuk. It was a bit silly but great fun and it went a long way to get the kids in the right mood for exploring. You can read more of how to plan a great stay in Lisbon in our family city guide.
Marta – Little City Trips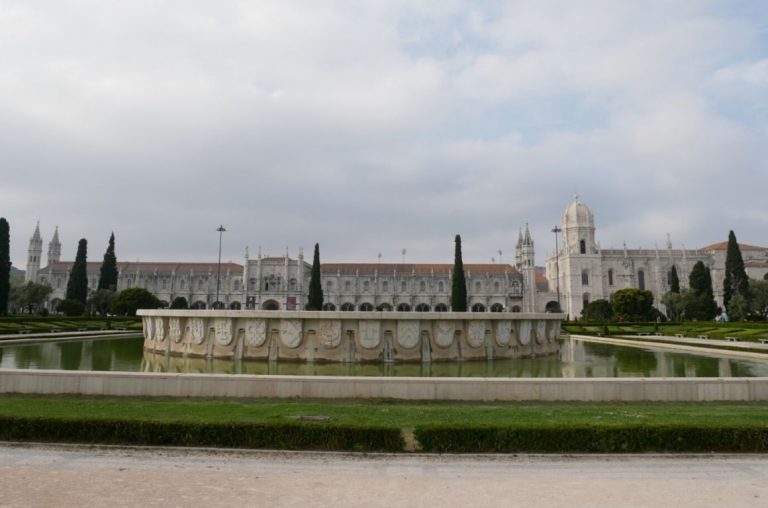 Get your fast-track tickets to Belem Tower by clicking here.
Bring Your Kids to Market
I grew up in Northern Portugal, and one of my favourite things to do as a child was to visit the market. There was just something so exciting about the buzz of the marketplace and seeing all of the different stalls – particularly the fish and seafood ones. This mightn't be every child's idea of a good morning out, but I just loved seeing all of the different weird and wonderful things that were on sale in the market.
Markets are a big part of Portuguese life. While many countries no longer have daily markets, and now only have farmer's markets at the weekend, the Portuguese still do a lot of their shopping at the market. It's where you'll get the best quality food and, surprisingly, it's also much cheaper than the supermarkets as well.
Look out for unique and unusual things that you can show your kids and that you might not get back home like diospiros (a type of persimmon), fish and seafood, cheeses, or sweet products like cakes and pastries.
If you visit the Mercado da Ribeira in Cais do Sodré, be sure to visit the Time Out food market in the same building. It's a great place to grab something to eat and refresh yourselves before you go onto your next adventure.
James – Portugalist

Bump your way through the city on a Tuk Tuk Lisbon Tour
Before you set off to explore any city with kids, it helps to get a lay of the land. This can be on a double-decker bus tour, from the back of a golf cart, or, in the case of Lisbon, a tuk tuk tour.
The important thing to know before heading to Lisbon is that it is a very hilly city. Trams and funiculars help with those hills, but lines can be long and even when using them, exploring Lisbon still requires some climbing. This can be tough on little legs or tired bodies. We found the perfect way to get to know the city and its major neighbourhoods and landmarks was from the back of a tuk tuk. A two to three-hour tour will give you a chance to see most of the city and determine which neighbourhoods you want to return to and explore further.
Just keep in mind that those cobblestone streets can be bumpy. Everyone will need to be buckled in, so it is best for kids that are out of car seats and can easily buckle and unbuckle themselves. You will jump out frequently to scenic overlooks or to pop into landmarks, so you don't want to spend five minutes each time getting everyone buckled up. Also, look for the eco tuk tuks to minimize the environmental impact. A tuk tuk ride will be a fun-filled thing to do in Lisboa for kids.
Tamara – We 3 Travel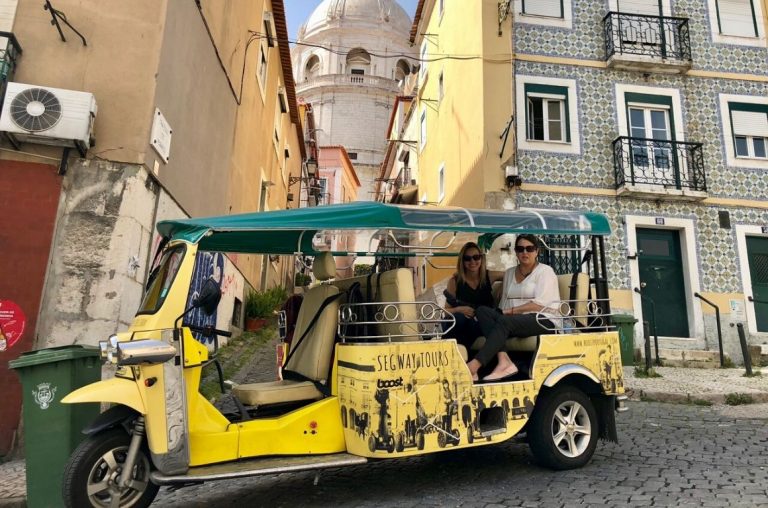 Enjoy a sightseeing tour of Lisbon without having to tackle the hills in a 2-hour tuk tuk tour. Click here to get up-to-date prices and availability.
Go back in Tasty Time at Pop Cereal
Something fun for both the kids and the adults is to go to the Pop Cereal Cafe. Located in the Bairro Alto neighbourhood of Lisbon, down a cobblestone street littered with street art, you will find this café that serves a popular breakfast item all day long.
Pop Cereal features over 100 cereal options from the past and present; and the kids will love how fun the décor is and trying to decide which cereal to taste. They will revel in the stories that their parents will tell describing all the cereals from when they were children and being able to try the cereals from their parent's past.
Not only can you get cereal and milk, but they offer toppings including crackers and sweets. Everything you can imagine giving oneself a full experience of assorted flavors in one bowl. After you are done munching on your treat, this cute café even offers napping areas. The perfect place to take a break and is one of the best unique Lisbon things to do with kids.
Gina – Jet Set And Forget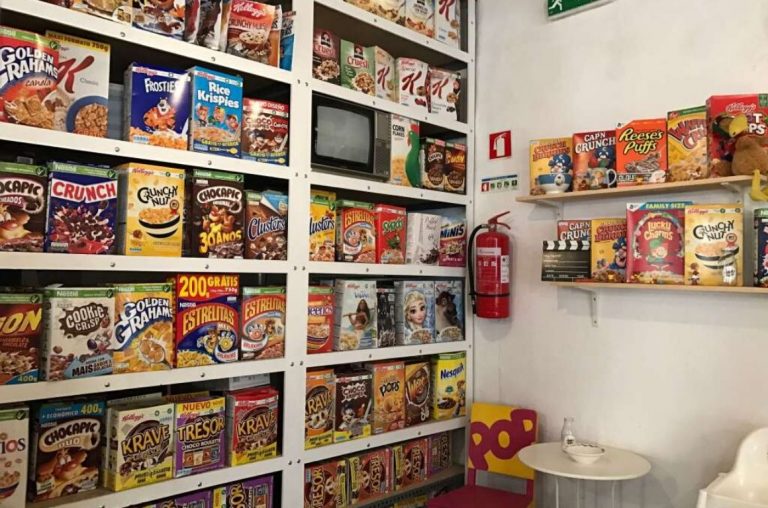 Pretend you are the King of the Castle at Castelo Sao Jorge
Rising high above Lisbon, overlooking its hills, the Tagus river and the Atlantic Ocean is the ancient Castelo Sao Jorge. It was from this vantage point that the rulers of Portugal could see explorers returning from the new world.
Walk the battlements and pretend you are King Manuel I greeting Vasco da Gama after his voyage to India. Imagine you are in the castle for the glittering reception celebrating his success and bounty of exotic spices.
The battlements are steep and narrow so will capture the imagination of older children and teens.
The imposing square castle dates from the Moorish occupation in the 11th century. From every turret you can see incredible vistas of Lisbon, just as the kings would have done hundreds of years ago.
Visit the camera obscura for live 360-degree views of the city and the archaeological museum within the castle walls. These exhibitions give a great introduction to Lisbon and its history.
Need some quiet time? There is a shady square where peacocks roam where you can take in the scenes of the city. The edges are lined with ancient canons pointing seawards. Visiting the Castelo is one of the fun things to do in Lisbon for kids for getting their imaginations going and making memories.
Katy – Untold Morsels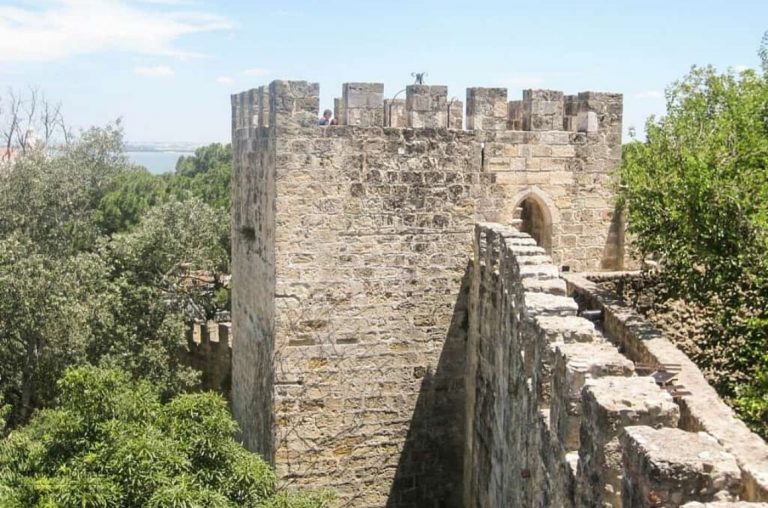 Skip the queue and get an escort around this Lisbon landmark by booking your tickets here.
Day Trip to Sintra
Sintra is just under an hour from Lisbon by train. A trip to Sintra can provide relief from the heat on hot scorching summer days in Lisbon. Exploring is the highlight of the day for kids at Sintra. Several sites at this UNESCO World Heritage area will thrill and excite kids. Starting with Quinta da Regaleira. It is an amazing old-world estate filled with mystery. There are lakes, ponds, wells and caves to be explored.
You can disappear into a cave and come out at the bottom of a well. You can use stepping stones across ponds and disappear into the grotto and re-emerge on top of a hill. It's the sort of place that will provide mystery and excitement for kids. The Moorish Castle which sits on the hill overlooking the town is an amazing ruin dating from the 11th century. Today you will still find watch towers to explore and defensive walls to walk. I must say this is not for the faint hearted as it's a long way down from the top.
If the castles and palaces don't keep them entertained there is an air museum and the beach nearby.
Rebecca – Travels in Gippsland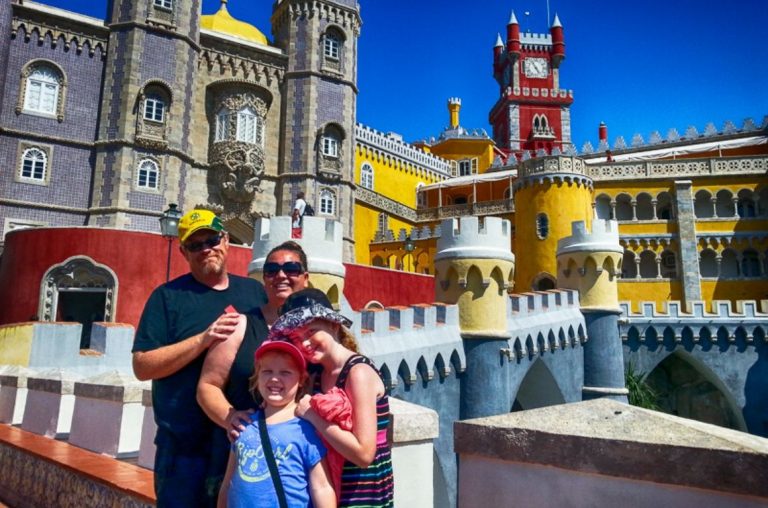 Why not combine a trip to Sintra with a visit to Cascais. Get latest prices and availability for this full day tour by clicking here.
Take the Wooden Lady through the City: Tram Line Nr. 28
Riding the tram in Lisbon is an absolute must thing to do. Why? Well, this old wooden lady has been rocking its way up and down the steep and narrow cobblestoned streets and alleys of Lisbon for quite some years, namely since 1873. As a tourist and especially with kids, choosing the tram number 28 for your first day in Lisbon is a great way of getting to know the city.
This tram line connects Martim Moniz square with Campo Ourique and, thus, takes you through the entire city. Above all, line 28 is mostly served by the old and authentic lines which are wooden, never really have closed windows and resemble the San Francisco trams a little. Hop on, find yourself a seat and simply enjoy everything that is passing by. Sometimes, you even feel as if you enter a person's living room – this is how narrow the streets are. For us, this is the perfect way of beginning your day in Lisbon.
Clemens – Travellers Archive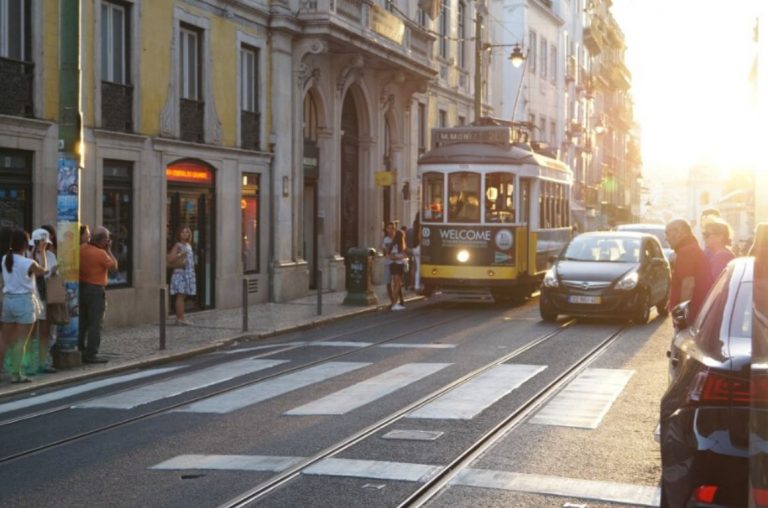 Buy your tickets for a Lisbon Tram 28 ride and Walking Tour here.
Tips for Visiting Lisbon with Kids
In this section you will find some helpful tips to ensure that your visit to Lisbon, Portugal with kids is a successful one. I'll give you help on getting to the city, some ideas for the best places to staying during your visit in Lisbon with kids, and tell you the best way to travel around Lisbon with children.
How to get to Lisbon with kids
Assuming you are coming to visit Lisbon from another country, the best way to reach the city is by plane. Lisbon airport is an international airport served by airlines from a host of countries including the UK, Ireland, USA, Brasil, Africa and further afield.
Both budget airlines and international airlines serve Lisbon and we advise checking SkyScanner for routes, availability and prices from your departure airport.
For prices, routes and availability click HERE to check UK SkyScanner, or click HERE for SkyScanner USA.
If you are visiting Lisbon from within Portugal you can reach the city by driving, train or bus. Trains are the easiest way to reach the city and timetables can be found on the Comboios de Portugal website. The main bus service provider is EVA Transportes.
Where to stay when in Lisbon with kids
Deciding where to stay in the city will depend on a few things. Firstly, you need to be aware that Lisbon is hilly, very hilly. In fact, it is comprised of no less than seven hills.
So, if you want to avoid these, you need to choose the area you stay in wisely, particularly if you are in Lisbon with toddlers or babies and plan to bring a stroller/buggy. Likewise, where you stay might also depend on the Lisbon family activities and attractions you plan on visiting.
The best area to stay in, to avoid many of the hill would be the Baixa district or somewhere close to Avenida da Liberdade. The Chiado area is close to the Baixa area so it family-friendly as well.
One of the best family-friendly hotels in Lisbon is the Martinhal Lisbon Chiado Family Suites. It is comprised of spacious serviced apartment and is in a great location in the centre of the city. It also has a kids club, baby concierge and each apartment comes with a full kitchen and bathroom.
To check availability and see the latest prices, click here.
The Tivoli Avenida da Liberdade hotel is another great family-friendly place to stay in Lisbon. Located on the main avenue it is in the heart of the city. With a pool, roof-top bar and gym, this 5-star hotel is a luxury place to stay in Lisbon with kids.
For latest prices and availability for the Tivoli Avenida da Liberdade, click here.
A great budget-friendly hotel in the city is the TRYP Lisboa Oriente Hotel, located close to the Oceanario de Lisboa. Although not in what you would consider the very centre of the city, you can access the rest of Lisbon easily as it is located beside the Estacao do Oriente train station.
To check availability and see the latest prices for this hotel, click here.
And if you don't mind staying outside of the very centre, then the Palacio do Governador in the district of Belem is the perfect place to stay with kids. With the grassy areas of Belem and the famous tower nearby, this is a great place to stay away from the very centre of the bustling capital city. And the centre is easily accessed via Tram 15E or via taxi.
See the latest prices and availability for this hotel by clicking here.
We choose to stay in AirBnB's when we travel for the freedom and flexibility they offer. Lisbon has plenty of properties on offer. If you are new to AirBnB, get a discount off your first stay by clicking this link.
How to get around Lisbon
Getting around Lisbon is pretty easy considering there are a few options available to visitors. The city has a good tram system and these prove very popular with visitors. The famous Tram 28 is the most popular and it is best to join it at one of it's starting points if you want a seat as it becomes very crowded quite quickly.
You can take a train within the city but these do not serve every area or district and are usually connections in order to travel further than the city itself.
Buses are a faster and cheaper option than the trams or trains. The city also has a metro system. And of course, the city has plenty of taxis and is served by Uber as well.
The best way around the city is to get a Lisboa card which is available for 24, 48 or 72 hours. This provides unlimited access and travel on the public transport network and also gives you free admission to 23 museums and historic buildings and you can benefit from discounts at a vast range of other attractions.
Secure your Lisboa Card before you visit the city, and get the latest prices, by clicking here.
In Summary
Wow, there are some great ideas here for what to see and things to do with kids in Lisbon. During our trip, we were hoping to visit Belem as it lies along the same train line we would be taking to and from Cascais. The castle sounded right up our sons street, as did the aquarium. And I really wanted to try visit as many of the suggestions as possible during our few days in the city. I just wasn't sure how we were going to fit it all in!
Thanks so much to all my fellow bloggers to contributing to this post and helping us plan our visit to Lisbon with kids.
For some more ideas for family things to do in Lisbon, check out this post from Mummy Travels.
Cath x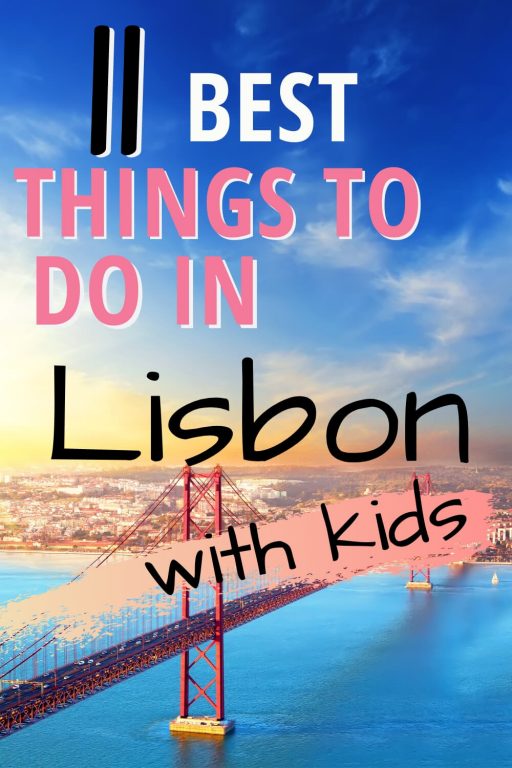 Related Posts