When we lived in Wales we lived close to the market town of Abergavenny. Tucked away near one of the car parks is a small ruined castle. In this post I'm going to share with you one of our visits and give you some information and tips in case you want to visit Abergavenny Castle with kids.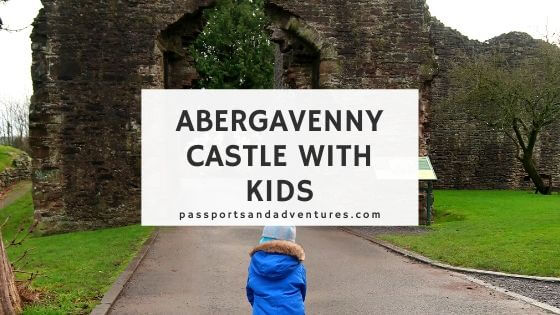 *Post originally published in May 2017. Updated in April 2020.
We were regular visitors to Abergavenny as it was only 15 minutes from our house when we lived in Wales. We would often pop down on a Saturday for breakfast in our favourite café before running some errands, like depositing money in our son's bank account or getting his ever growing feet measured in Clarks. A few times we went gone dragon hunting at Abergavenny Castle after we'd finished and our son loved this little castle.
Abergavenny Castle is a ruined castle which was established in 1087 by a Norman Lord. Now a Grade 1 listed building, it is quite small and is located beside one of the main town car parks. It had a stone keep, towers and ditch fortifications. It housed both the family and the army of the Lord of the Castle. In the 19th century a lodge was built on top of the motte as a hunting lodge for the Marquess of Abergavenny and today acts as the castle museum.
Abergavenny Castle was also the scene of an infamous massacre over Christmas in 1175. The whole castle was destroyed in 1233 by the Earl of Pembroke and eventually rebuilt in stone. The walls you can see today are the remains of a stone hall built between 1233 and 1295.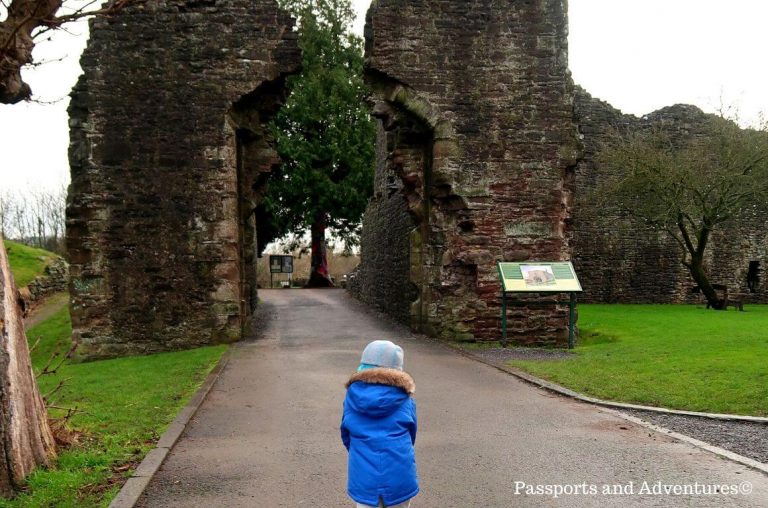 Whenever we used to go dragon hunting at Abergavenny Castle, we always went clockwise for some reason, starting along the ruined walls. We'd check the holes and nooks and crannies in the walls for the dragon. We'd check the outside of the walls and also the gated entrances.
We always checked around the edge of the motte where the lodge now stands and also in the trees in the gardens. There are many a ruined wall with holes to check as you never know where the dragon might be hiding.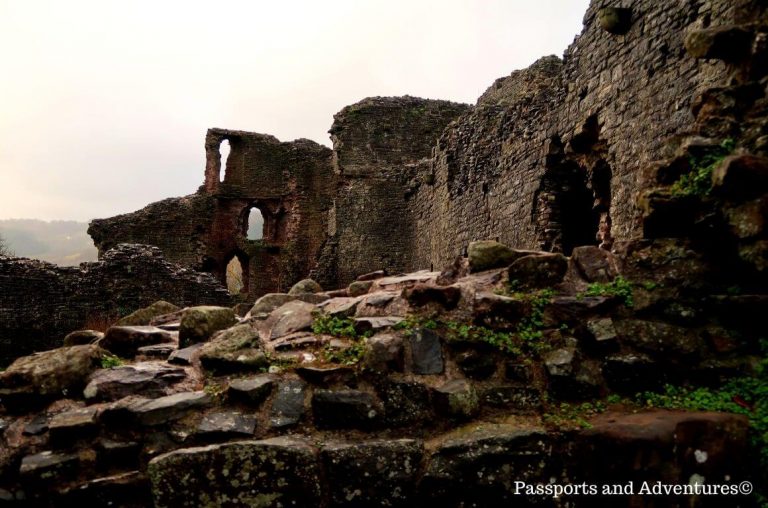 On one of our adventures dragon hunting at Abergavenny Castle, we started at the main ruins and our son checked all the usual places. Not finding the dragon where he initially thought it might be, he took a moment to reflect and think hard about where he might be hiding. Cue camera time for me!
We walked along the bottom of the motte and then made our way up it to the ruin wall that runs perpendicular to it. Lo and behold the dragon was hiding in one of the holes in the wall. Our son was delighted to find him at long last. He gave him a hug and then promptly tried to put him back where he found him.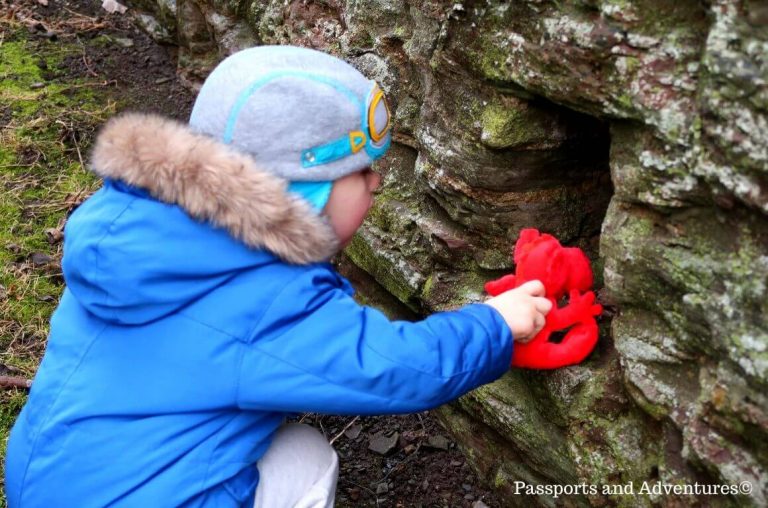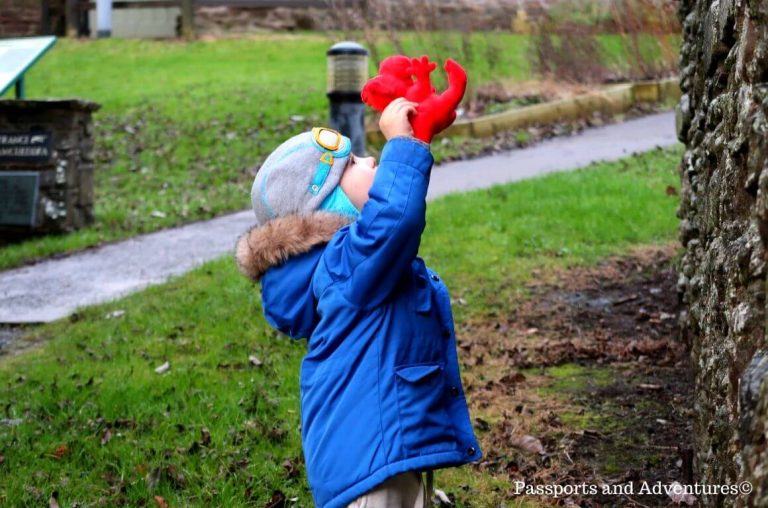 Although this was a short expedition of dragon hunting at Abergavenny Castle, it was no less fun than previous visits for our son. Happy that he had found his dragon he didn't let go of him until he fell asleep in the car on the way home. Dragon hunting is tiring work you know.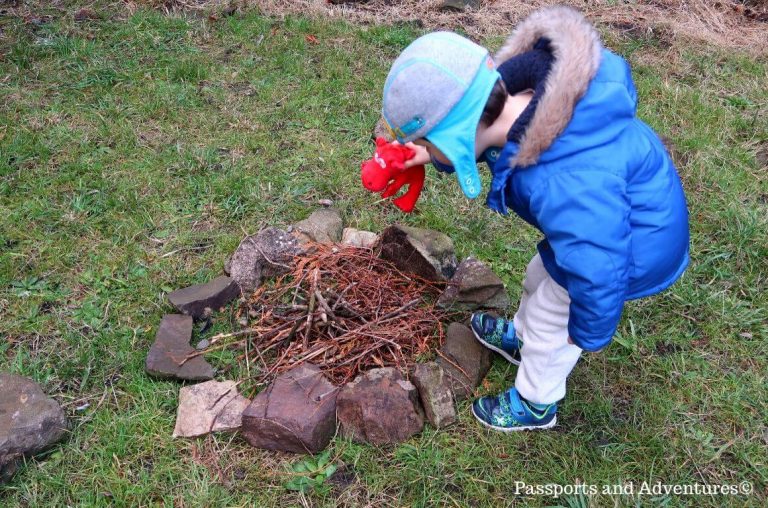 Things to note if you visit Abergavenny Castle with kids
Abergavenny Castle ruins and the museum are free to visit and are located near the main car parks of Abergavenny town.
There is limited free parking within the grounds itself. The nearest car park is a pay and display carpark.
The museum is open from 11am to 1pm and 2pm to 5pm, Monday to Saturday, and 2pm to 5pm Sunday between March and October. Between November and February the museum is open Monday to Saturday from 11am to 1pm and 2pm to 4pm.
There are various exhibitions, both temporary and permanent, within the museum. Check what's on by visiting the Abergavenny Museum website.
Note that the grounds of Abergavenny are quite uneven so are inaccessible to wheelchairs and buggies for the most part.
There are Family Backpacks available in the museum for families to use free of charge during their visit (free to use with a returnable security deposit such as car keys or mobile phone). These include replica artefacts, historic games, information sheets and activity sheets and binoculars to make visits more interesting. We haven't used these but they sound brilliant for slightly older children than our son's 3 years of age.
We always enjoy ourselves whenever we go dragon hunting at Abergavenny Castle. I would recommend you visit Abergavenny Castle if you are in the area but it wouldn't quite make a full day out unless you plan to get one of the backpacks and bring a picnic to enjoy in the grounds (tables available at the back of the castle). It is quite small, but that said is easily enjoyed for an hour or two for a spot of dragon hunting. As we haven't ventured into the museum I cannot comment on it.
We generally go dragon hunting at Abergavenny Castle after running errands after breakfast. It's a nice way to round off a visit to Abergavenny. Have you visited it?
Cath x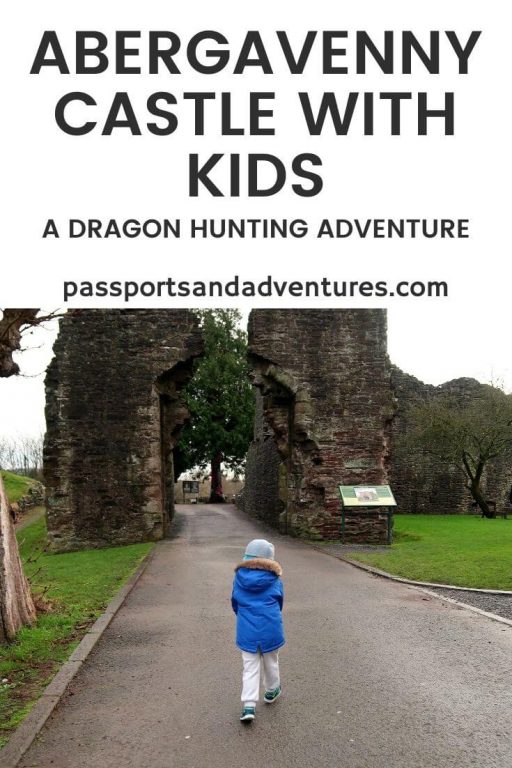 Related Posts