A small ruined castle on the Gower peninsula that is ideal for a short family visit is Weobley Castle. In this post I share with you our visit and give you some tips and information for your own visit to Weobley Castle with kids.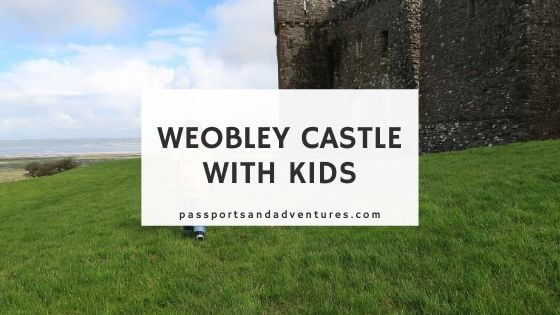 *Post originally published in April 2018. Updated in April 2020.
Found in a secluded spot on the Gower Peninsula is a castle known locally, so I am told, as Wobbly Castle. Weobley Castle, pronounced web-lee, was the scene of our second to last dragon hunt in Wales. In my effort to squeeze in as many South Wales castles as we could before we left the UK, our son and I went on a dragon hunting adventure at Weobley Castle after visiting a friend one April Saturday afternoon.
Weobley Castle is a 14th century fortified manor house on the Gower Peninsula, which overlooks Llanrhidian saltmarshes and the Loughor estuary. Built by the de la Bere family, stewards to William De Braose, Lord of Gower, it's final owner, Emily Talbot gave it to the state in 1911 and it is now in the care of Cadw.
Having seen pictures of Weobley Castle online, I thought it might be a good spot for a dragon hunt. So, after visiting a friend in Swansea one Saturday morning, our son and I drove out to the Gower. Now, Weobley Castle was quite a drive from my friend's house in Swansea. Add another 45 minutes onto that journey to get home and I was hoping it would be worth it.
Our visit to Weobley Castle
When we arrived, we found the very small car park, and to be honest, I wasn't even sure we were allowed to park there. But we were, it's just big enough for 5 cars. We had some trouble finding where to show our Cadw membership cards as there was no ticket office like the other castles we've visited. Turns out, it was a small room off the side of the farmhouse beside the castle, which doubles as the gift shop. But no-one was there.
After a few minutes of waiting, I gave up. As I had a membership card I thought if anyone wanted to check we had paid, I could simply show my card. So off we went to explore the castle.
We rounded the farm yard and were met with a lovely sight. The castle sits beside a working farm but is mostly hidden from view until after the farm. Weobley Castle is quite small too. It's nowhere near as big as the other castles we've visited on our dragon hunting adventures. The only one smaller is Abergavenny Castle. That said it wasn't going to stop us seeing if a dragon lurked inside.
One of the first things that struck me as we approached the castle was the views across the Loughor estuary. Although it wasn't the brightest of days, the views were wonderful. No wonder the de la Bere family chose this spot for their manor house.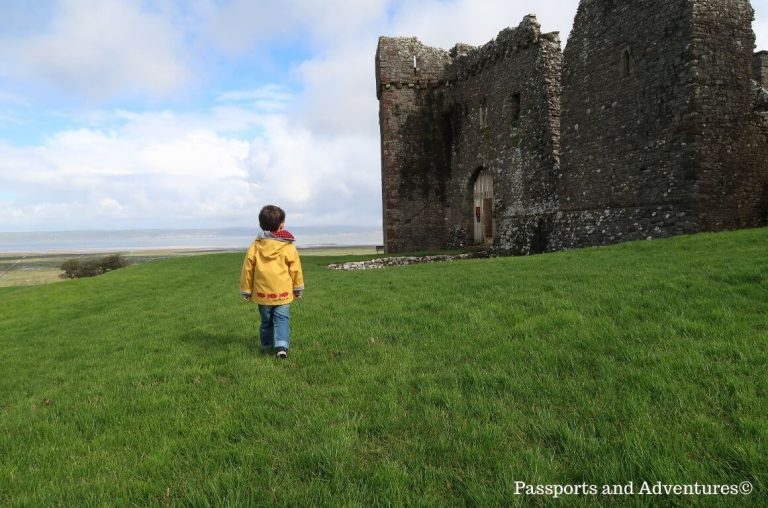 We entered the castle through what seems to be the main gate and turned left. We came across a room with an exhibition, which I later discovered is entitled: Weobley: A Gower Castle and the Peninsula through the Ages". Our son was not interested, he was here to hunt a dragon. So we began.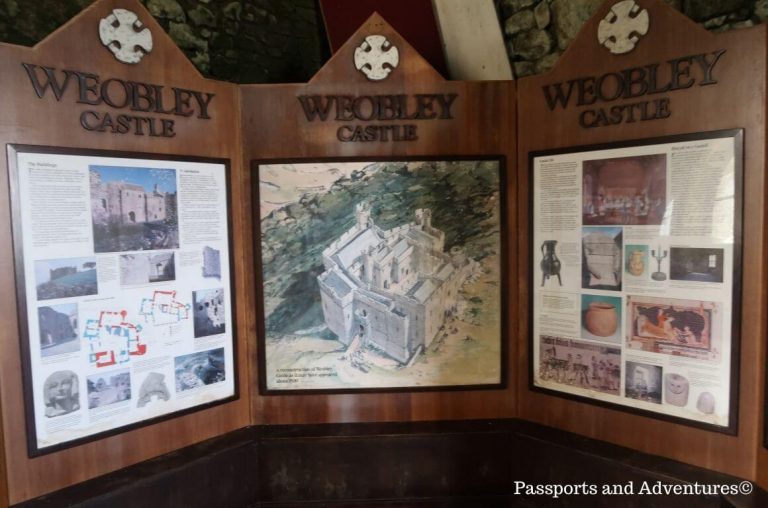 Holes in walls, under stairs, in nooks and crannies, we searched every bit of that room and the adjacent one. Having no luck, we left this room and went outside to continue our hunt for the Weobley Castle dragon.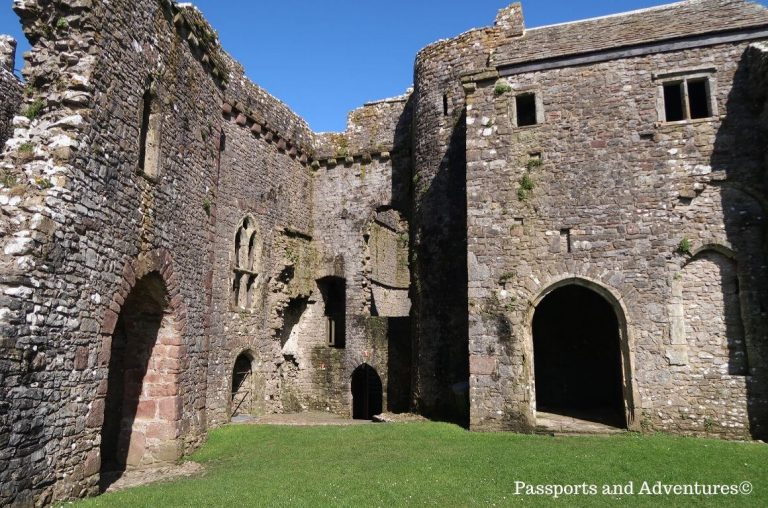 At this stage the sun was trying to peek through the clouds and our son took a breather to enjoy it in the grassy courtyard, while picking daisies for me. After picking a billion daisies from the grass, we continued our dragon hunt around the courtyard, checking the many nooks and crannies he could have been hiding in. And we found him, in a rather big recess in a wall. Our son was thrilled and gave him a big hug.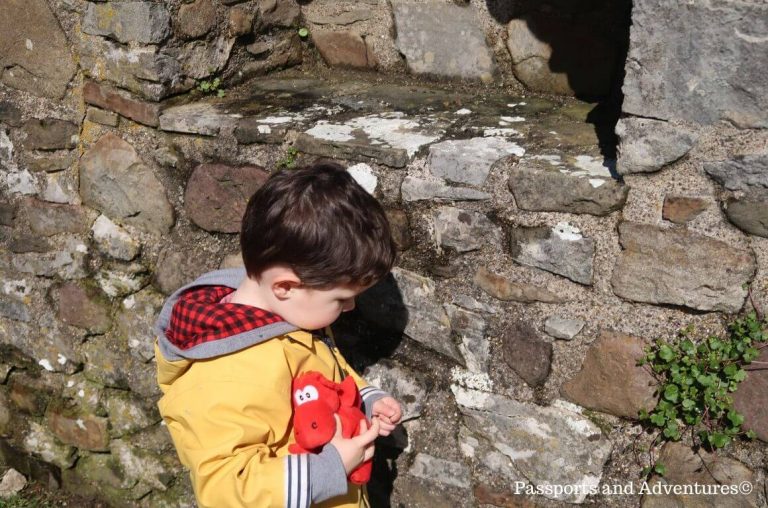 We had found the dragon and our work was done. We left the castle and stopped at a fence in the car park to watch some sheep before having a snack at the car before setting home after a very successful visit to this small, but lovely castle on the Gower Peninsula.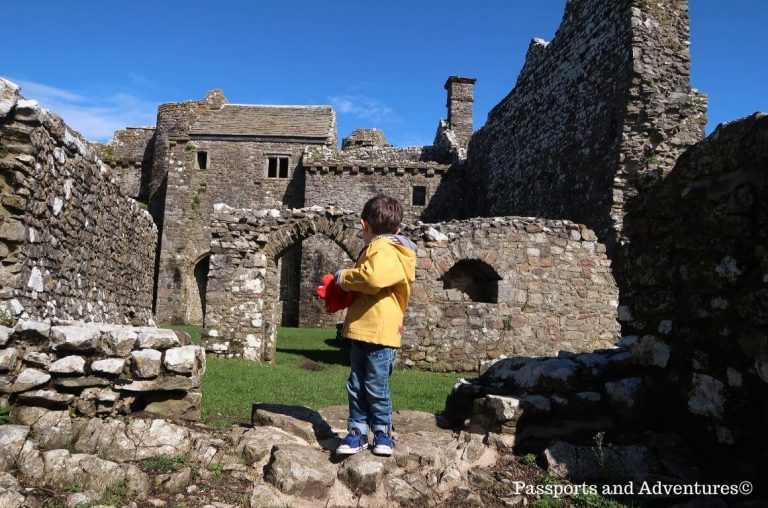 Things to note if you visit Weobley Castle with kids
Weobley Castle is a Cadw site, meaning you gain free entry if you are a member.
The Castle is open as follows: November to March 9.30am to 5pm, while between April and October it is open from 9.30am to 6pm. Last admission is 30 minutes before closing.
Note, that the castle is open every day except the 24th, 25th and 26th December, and also 1st January.
Entry costs £4.00 per adult and £2.60 for children under 16, seniors and students. Under 5's get free entry.
There are visitor toilets located in the farmhouse garden. However, there are no baby changing facilities.
The castle is difficult to access with a wheelchair or buggy, due to the different levels of the castle.
Weobley Castle is a non-smoking site.
There is a small gift shop but no café.
Weobley Castle has a small car park with 5 spaces. However, there is further space for cars on the roadside.
Weobley Castle is not located within a village. That said you drive through several before arriving at the castle and each have cafes or pubs suitable for getting refreshments if you wish.
Although a small ruined manor house, our son and I thoroughly enjoyed out dragon hunting adventure at Weobley Castle and can highly recommend you visit it if you are in the Gower. You won't spend more than an hour or two at it, so you could combine it with lunch in one of the nearby villages for a nice family day out. I'm really happy we made an effort to visit this South Wales castle. Despite it being nearly an hour and a half's drive from where we were living, it was worth it.
Cath x
*Prices and visiting times correct at the time of updating this post.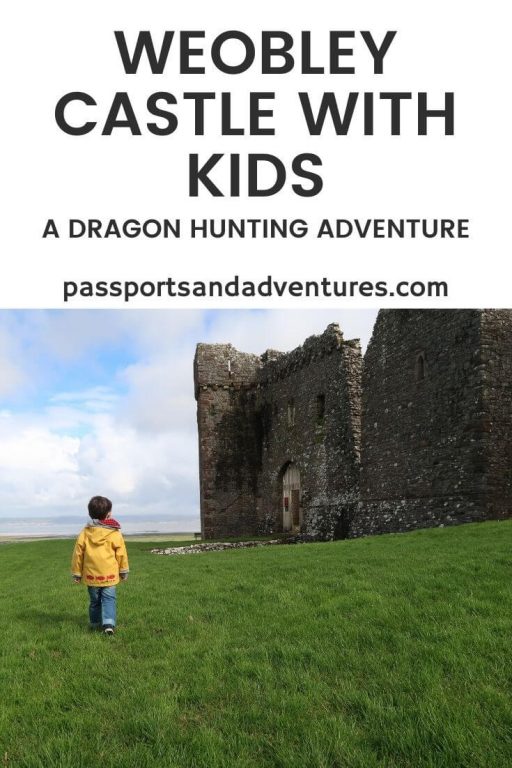 Related Posts