Powis Castle, near Welshpool on the Wales/England border is a great place to visit as a family, even if you are just passing by. This post details our visit one bank holiday weekend as we were returning from North Wales to the South and also gives you some tips and information to help with your own visit to Powis Castle with kids.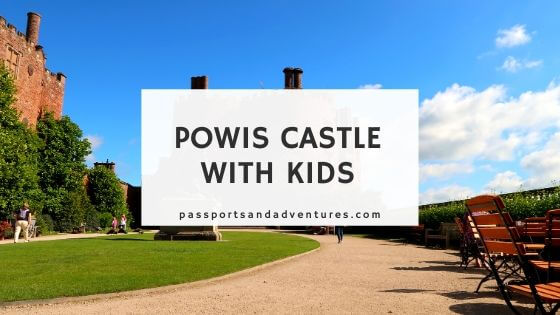 *Post originally published in June 2017. Updated in April 2020.
Powis Castle is one castle that was recommended to us by a work colleague of mine quite a number of years ago. While we longed to go dragon hunting at Powis Castle, it always remained slightly out of reach as it was a bit too far for a day trip from home, being situated in Mid Wales. However, one August bank holiday weekend, we were in Chester and thought it would be perfect to visit on our way back down to Wales. So that's what we did!
We left Chester and took the A5 down towards Shrewsbury before turning off for Welshpool and Powis Castle. Powis Castle is a National Trust site. It was originally built in the 1200's and the Herbert family took ownership in the late 16th century and it has remained in their family ever since. A medieval castle, fortress and grand country mansion, it doesn't resemble your usual castles in Wales. It is very much more a stately home and is extremely grand indeed, being the seat of the Earl of Powis.
When we arrived there was plenty of parking in the car park and we walked up the road and footpath to the ticket office where we paid to get in. As the castle didn't open until 11am, we had 45 minutes to kill and so we found a seat in the courtyard and my husband got us some drinks and cakes to enjoy in the glorious sunshine from the courtyard restaurant. We really enjoyed our tea break and admired the grand home from our seats.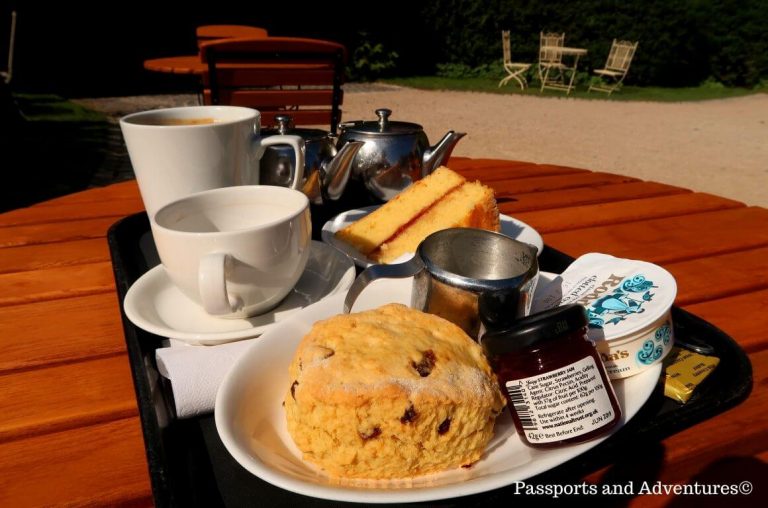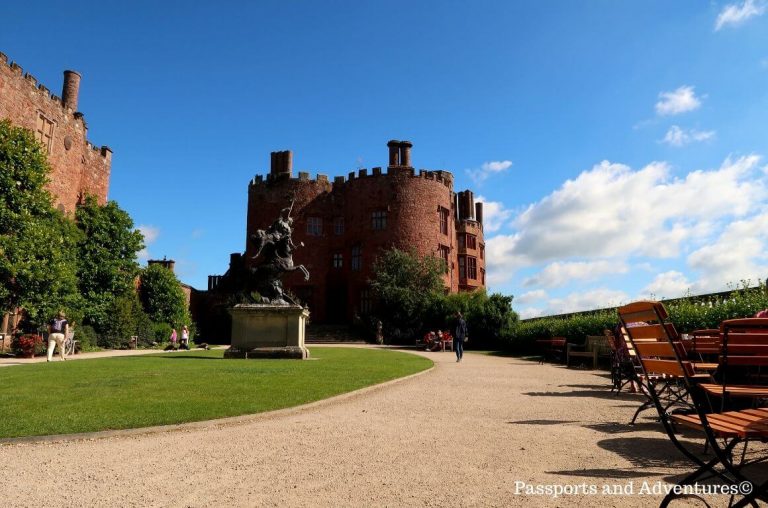 Our plan was to start our dragon hunting at Powis Castle within the castle itself and if we were out of luck we would check the extensive gardens instead. We started in the drawing room but there was no obvious signs of our hiding dragon.  There was a very nice gentleman giving talks and information about the room and the Herbert family too. We moved upstairs towards the bedrooms, some of which were not open to the public for obvious reasons. In those that were, we saw no sign of the Powis Castle dragon.
From the bedrooms we moved downstairs to the kitchen where there were two people giving talks about how the kitchen was run and still is today. Children also had the opportunity to dress up and partake in some activities there but we were on a dragon hunt so didn't stop. We thought we spotted him in the games room where there was a large billiards table and the cabinets were full of stuffed animals, but, he either wasn't there, or had managed to evade us as we wandered through the castle. We did, however, leave a message in the visitors book in this room.
Having had no luck within the castle (of which you cannot take pictures inside as the Earl still resides there), we turned our attention to the gardens. However, dragon hunting is tiring work, particularly on a sunny day like this, so we paused at the courtyard for an ice cream before continuing our hunt. And I must say the ice creams were very good!
We started by taking a right from the entrance to the gardens and headed towards the lake that sits at one end of the gardens. We checked all the holes and cracks in the walls where a dragon might hide but still we couldn't find him. As we rounded past the lake, and before we headed up a small hill to the side of it, our son spotted him hiding at the foot of a rather magnificently big tree. He was hiding on the ground among the foliage.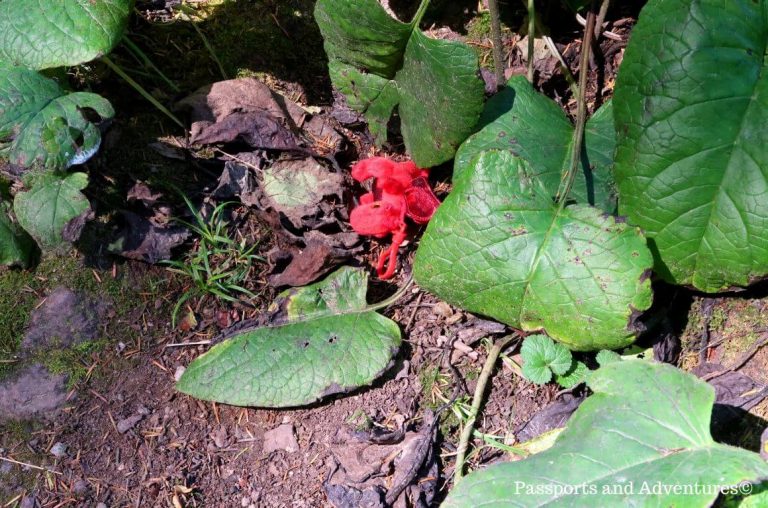 We had found him! However, a little boy just ahead of us wasn't too impressed that our dragon hunting at Powis Castle was more successful than his, as I overheard him say to his mum "that boy has a dragon, I want a dragon". Oops. Satisfied with our result, we took a short stroll up the hill and discovered the Ice Cellar of the castle. I had never seen one before and was quite surprised by it. You can only look through some gates into it and you cannot see the floor but it gives you an idea of what one from centuries ago looks like.

Our visit to Powis Castle was a success and it was a castle we had wanted to visit, so we could now tick it off our list.
Things to note if you visit Powis Castle with kids
It is a National Trust site. Cadw membership cards aren't accepted.
It costs £14.20 for an adult and £7.10 for a child to visit the whole property (without GiftAid) and a family ticket costs £35.50. To visit the gardens only £10.00 (adult) and £5.00 (child).*
The Castle opens from 11am to 5pm, as does the museum, shop and garden shop. The gardens open from 10am to 6pm, with the garden coffee shop opening from 11am to 4pm. The restaurant opens from 10am to 5pm.
Parking is free, and there is ample parking. There are electric car-charging points in the car park and some spaces for disabled badge holders.
Dogs are allowed on the lead in the car park and courtyard only. There are strictly no dogs allowed in the deer park.
There are baby changing and feeding facilities on site.
There are toilets available on site.
There is a children's quiz/trail and also games on the great lawn (although we didn't see these as we didn't visit that end of the gardens).
NOTE: the castle is not very wheelchair accessible, nor buggy accessible. The ground floor is, but that's where it stops due to the historical nature of the castle. The garden has a step-free route which is highlighted in the leaflet available at the ticket office. For wheelchair users there is a virtual tour of the upper floor rooms available at the ticket office.
Guided tours are available.
We were glad we got the opportunity to go dragon hunting at Powis Castle and even better to combine it with a great weekend away. I am not sure we would have visited Powis Castle had we not been travelling back from Chester. We had glorious sunshine during our visit and the ice cream was most welcome and delicious.
I can highly recommend a visit to Powis Castle if you ever get the chance. We did not get to explore all the grounds as they are quite extensive, especially for little legs but it would make a great day out for the whole family. Maybe bring a picnic to enjoy somewhere in the gardens if you visit.
Thanks for reading the next post in our Dragon Hunting Series. I hope you enjoyed it. If you missed our previous ones you can find them in the Dragon Hunting Series. And if you'd like to have a sneak peek at Powis Castle, we filmed a little vlog of our day out dragon hunting at Powis Castle (below).
Cath x
*Prices correct at the time of updating this post.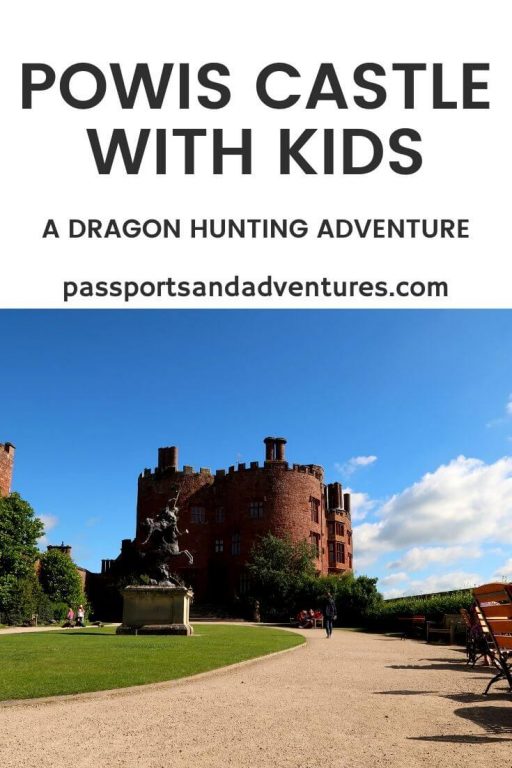 Related Posts