A small castle near the town of Abergavenny which is a great place in South Wales to visit with kids is Raglan Castle. Despite being a ruin, there is enough to keep kids interested and entertained and in this post you'll find out about our visit to it and tips and information to help you enjoy visiting Raglan Castle with kids.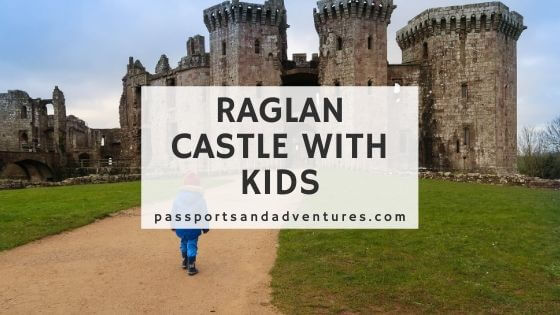 *Originally published in July 2018. Updated in March 2020.
Another South Wales castle that our son had been to before we started our dragon hunting adventures, this castle was located less than 30 minutes from our house. And yet, for some reason had eluded us until just before we left the UK for our new life in Portugal. Well, we had to rectify that. And so, a dragon hunting adventure at Raglan Castle was planned, and our son and I finally did it one February afternoon in 2017.
If you are wondering "where is Raglan Castle", Raglan Castle, Wales is located just north of the village of Raglan in Monmouthshire, less than 20 minutes from Abergavenny. A late medieval castle, it dates from somewhere between the 15th and early 16th century. It has a large hexagonal keep known as the Great Tower, or Yellow Tower of Gwent, and was built for show rather than battle in mind, although it did see some. In 1938 Henry Somerset, the 10th Duke, entrusted guardianship of Raglan Castle to the Commissioner of Works and this Grade I listed building is now controlled by Cadw.
As with previous visits, when we arrived, we parked in the car park. That said, I needed to wait for a certain little someone to wake up before we could get going as he'd fallen asleep in the back of the car! Once he finally woke up, we made our way to the ticket office, and after showing our Cadw membership cards, we entered Raglan Castle to start our dragon hunt.
Raglan Castle is one of the more beautiful castles we've visited in Wales. Although a ruin like them all, there is still quite a bit of it intact, and you can easily imagine how splendid it must have looked when it was inhabited and the pride of Raglan.
We started our search for the Raglan Castle dragon by checking holes along the drawbridge under the gatehouse. No dragon. We then turned left after the gatehouse, into what seems to be marked as the library, but no dragon was hiding among the books.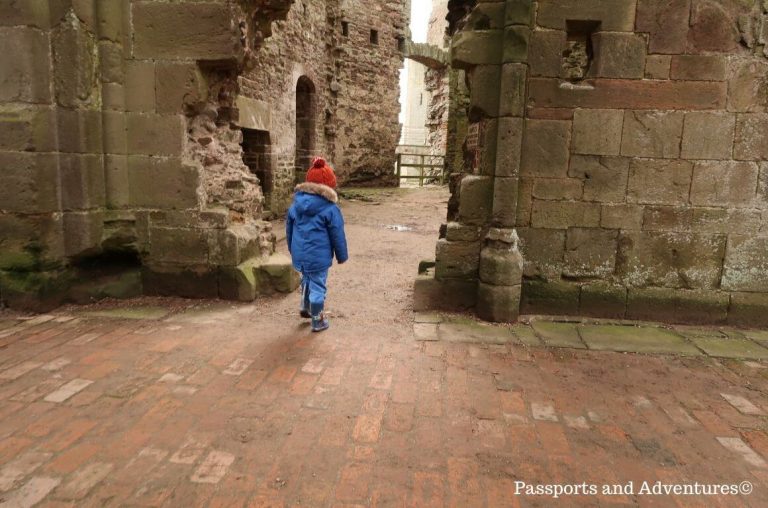 After the library, we made our way through the Parlour, across the drawbridge to the Great Tower, the hexagonal keep. We climbed the stairs, always checking for signs of the dragon. My little dragon hunter enjoyed the views from the windows along the staircases.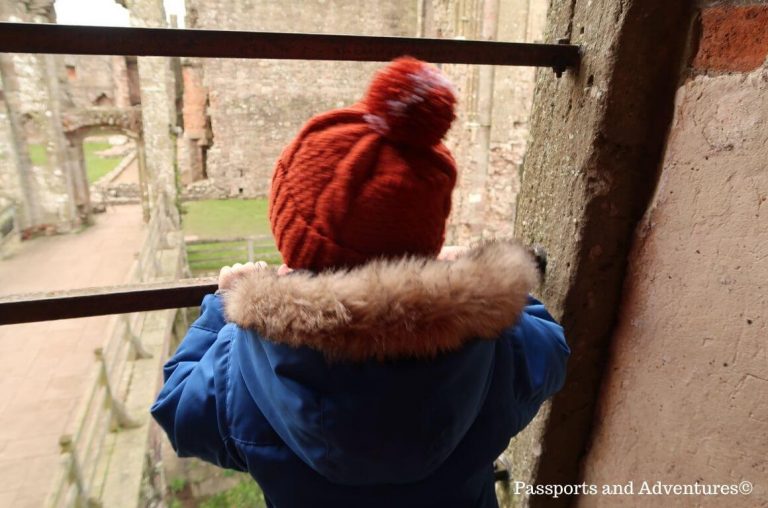 With no dragon hiding in the Great Tower, we made our way back downstairs, and started checking around the Fountain Court and Apartments that lined this lovely grassy area for the Raglan Castle dragon. We also checked the Chapel and the Hall to no avail.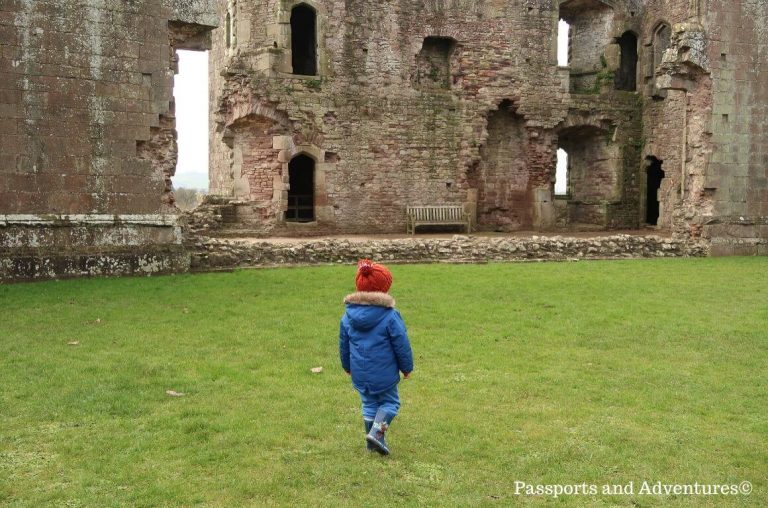 Next, we moved onto the area which houses both the kitchen and pantry, and lo and behold, we spotted the dragon hiding on a set of steps leading from the Buttery into the Hall. We had found him! As we had completed our mission, we decided to enjoy exploring the remaining areas of the castle, including the stone courtyard.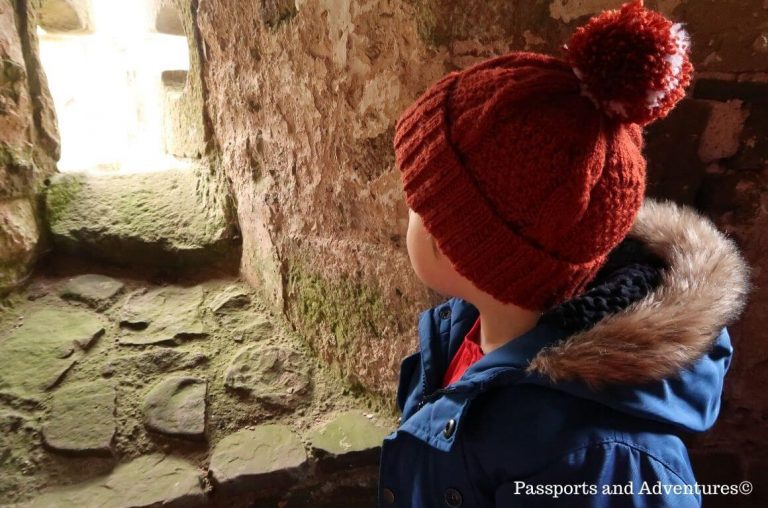 Before leaving Raglan Castle, our son made a beeline for the library again, fascinated by the books embedded in the walls. One final glance back at the beautiful building and our dragon hunting adventure at Raglan Castle came to an end.
Things to note if you visit Raglan Castle with kids
Raglan Castle is a Cadw site, meaning you gain free entry if you are a member.
The Castle is open as follows: November to February 10am to 4pm Monday to Saturday, Sunday 11am to 4pm. March to June and September to October, the castle is open between 9.30am and 5pm. During July and August, the castle opens at 9.30am and closes at 6pm. Last admission is 30 minutes before closing.
Note, that the castle is open every day except the 24th, 25th and 26th December, and also 1st January.
Raglan Castle prices are as follows: £7.70 per adult and £4.60 for children under 16, veterans and students, and £6.10 for seniors. Under 5's are free entry.
There are visitor toilets on site that have baby changing facilities. There is also a toilet available for visitors with disabilities or limited mobility.
The castle is partly wheelchair and buggy accessible. However, upper or lower floors are not.
Raglan Castle is a non-smoking site.
There is a gift shop but no café.
Parking is available at Raglan Castle on the grassed surface in the outer grounds of the castle. Dedicated parking is not available.
Dogs are welcome in the castle provided they are kept on leads, and owners clean up after their dogs.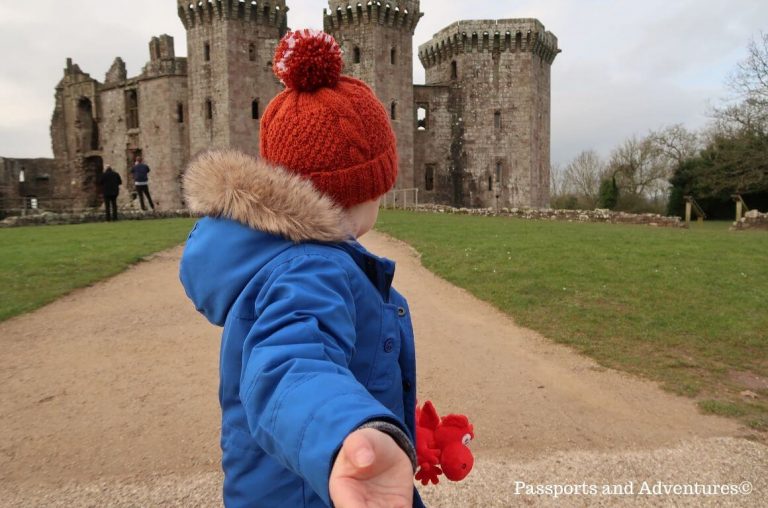 Raglan Castle, as mentioned, is located only 20 minutes from the town of Abergavenny and can also be easily accessed from Newport. Although a ruined castle, there is enough still intact to provide little dragon hunters with plenty of places to explore and room to run around.
It is a very beautiful castle to visit and worth it if you are in the area. Although there is no café there, I can highly recommend you visit the Cwtch Café in Abergavenny afterwards for a bite to eat with a cuppa. Their eggs Benedict was my favourite dish of a morning, and they do some amazing cakes too.
I do hope you get a chance to visit this castle which we were very lucky to live near in our last few years of living in the UK. It's a splendid castle, and one I will be keen to return to with our son.
Cath x
*Prices and visiting times correct at the time of updating this post.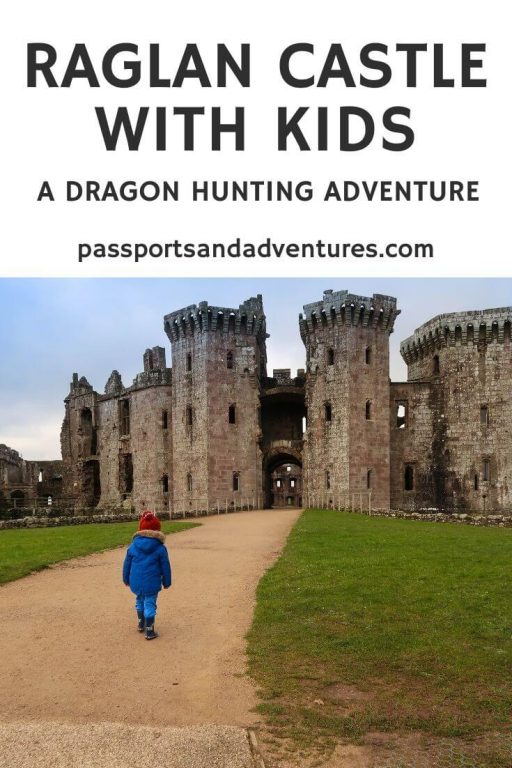 Related Posts