One of our main aims for our Easter road trip in Ireland in 2018 was to visit as many castles as possible. Despite living in Ireland for 17 years, I hadn't explored many of them and I was going to change that. So, when planning our itinerary, I put as many on the list as possible and plotted our route from there. Visiting Cahir Castle with kids is a fun family-day out in County Tipperary, as we found out, and in this post I'm going to share with our time at one of Ireland's largest castles.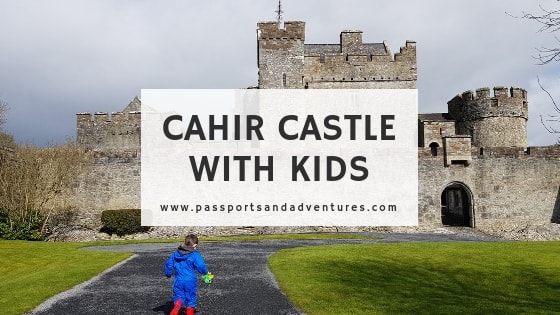 *This post contain affiliate links. This means that if you click on a link and then make a purchase, I receive a small commission at no extra cost to you. To learn more about affiliate links, please read my Disclosure Policy.
As already mentioned, Cahir Castle is located in County Tipperary on a rocky island in the River Suir. It is one of Ireland's largest and well-preserved medieval castles. Built in the 13th century on the site of an earlier native Irish fortification called a cathair (stone fort, from which it got its name), Cahir Castle was once the home of the powerful Butler family, the Earls of Osmond, in the late 14th century.
Despite being remodelled and extended in the 15th to 17th century period, it fell into ruin in the late 18th century after being abandoned by the family. In recent years it has been extensively restored by the State and is managed by the Office of Public Works, a department one of my grandfather's worked in.
Our Visit to Cahir Castle
Cahir Castle is a great historic site to visit with kids, owing to the fact it is quite large and has many floors, wards and areas to explore. We arrived before lunch, having visited the Rock of Cashel, and found plenty of parking in the public car-park next to the castle. You enter the castle along the barbican, past the northeast tower. After paying our entry, we decided to start exploring the castle via the portcullis and trap area to the right and behind the ticket office.
The trap area leads to the inner ward where we found cannons on the grass lawns. Well, our son had a great time pretending to shoot me with the cannons. So much so I had to coax him away on the promise of hunting a dragon within the castle buildings.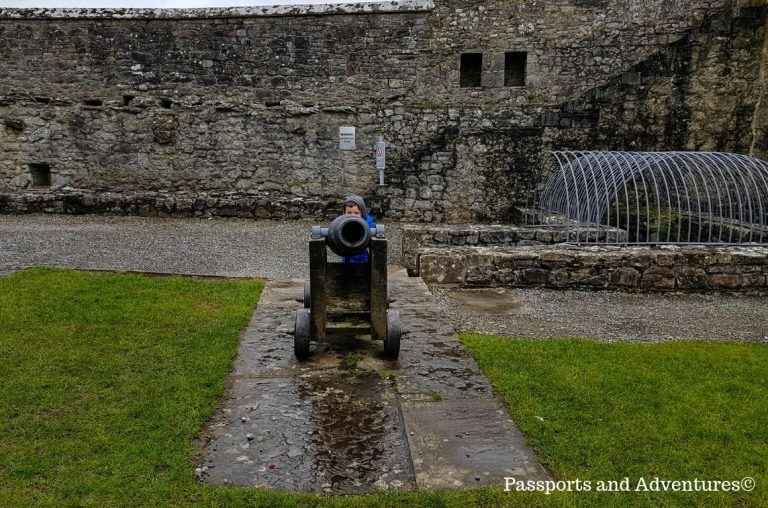 We started our dragon hunting adventure in the northwest tower after someone decided against visiting the lower part of the northeast tower. The steps descending into darkness weren't up his street apparently. But no dragon was to be found. We searched the hall but again no dragon. We eventually found him in a hallway on the upper floor of the gatehouse/portcullis building between the inner and middle wards. Our son was thrilled to have found him.
There were quite a few rooms to explore between the northwest tower, hall and gatehouse. One room had an impressive looking stag's head on display among the furniture. We also happened upon an interactive model of Cahir Castle in another room which had buttons to press to illuminate various areas of the model. You can guess who enjoyed this exhibition more.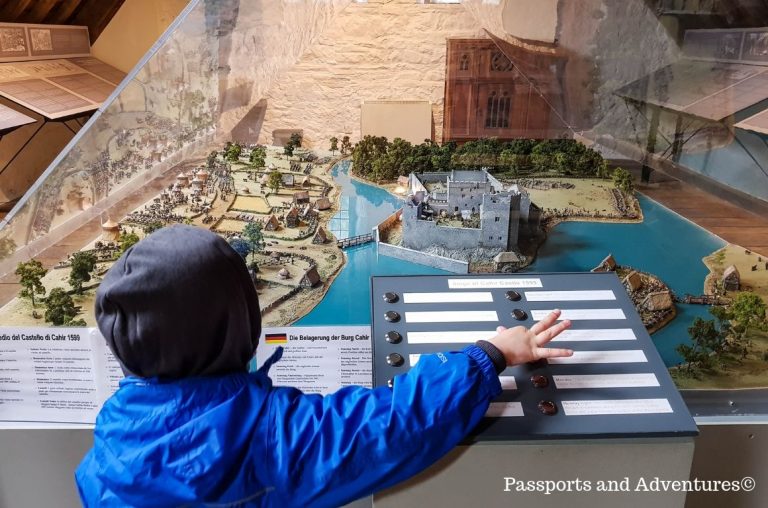 After passing the mechanism for the portcullis in the upper floor of the gatehouse, we came along a hallway where we found the dragon. But there were also stunning views across the inner ward towards the River Suir that we had to stop and admire. It had been raining earlier but at this particular moment the sun was shining, and it was easy to imagine lords and ladies admiring the views across the river in medieval times.

Before leaving the middle ward for the outer ward we visited the bathrooms in a building across from the gatehouse. We then went into the Outer Ward where there was a large grass lawn and signs of spring starting in the borders and hedges. Our son enjoyed some freedom, running around the lawns and giggling to himself. Before long, we found our way back to the public car-park adjacent to the castle on the other side of the riverbank where we got ready to visit a third castle of the day.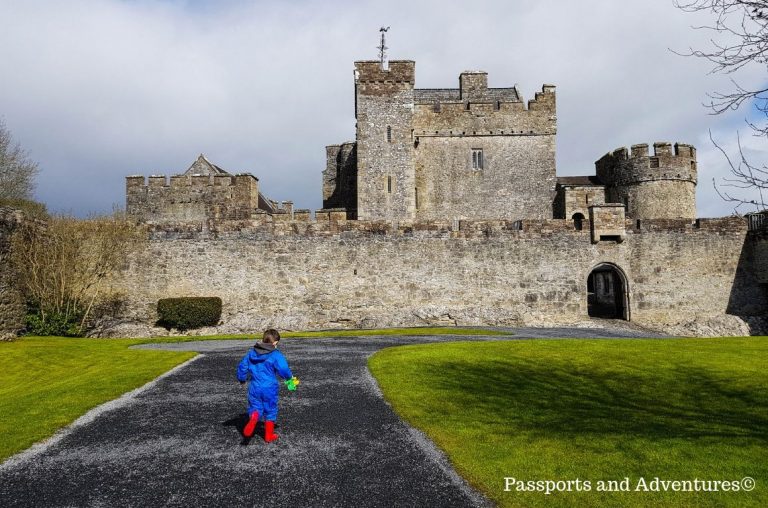 Information for Visiting Cahir Castle with Kids
Cahir Castle is open every day of the year except between the 24th and 30th December.
It has the following opening times: March to mid-June 9.30am to 5.30pm, mid-June to August 9am to 6.30pm, September to mid-October 9.30am to 5.30pm and mid-October to February 9.30am to 4.30pm.
Admission costs 5EUR per adult, 3EUR per child and 4EUR per senior. Entry for under 5's is free.*
There are exhibitions to be viewed in the castle and guided tours are available.
Toilets can be found within the building opposite the gatehouse building within the castle grounds. I did not notice any baby-changing facilities.
Due to the nature of the site and the different levels to the grounds and castle, there is limited access for visitors with disabilities and your visit should be made by prior arrangement. While the grounds are mostly flat, there are cobbled pathways, so a stroller/buggy might be best left at the ticket office or in your car and use of a baby-carrier is advised.
There is no gift shop or cafe within the castle, but you'll find plenty of options within Cahir town itself.
There is a public paid-for car park adjacent to the castle. During busy times such as in the summer, this might get very busy, so arriving early in the morning or later in the afternoon might be advisable.
We thoroughly enjoyed our visit to Cahir Castle during our road trip in Ireland. There was plenty of rooms, exhibitions and cannons to keep a certain 4-year-old amused. And of course, no visit to a castle is complete without a little dragon hunting adventure.
If you are thinking of visiting Ireland with kids, I can highly recommend you put Cahir Castle on your itinerary. You can easily combine it with a visit to the Rock of Cashel as they lie just 20 minutes apart. And if you have time you could also visit the Swiss Cottage, which is not too far from Cahir Castle. We never got the chance to go there as we were headed for Lismore Castle Gardens in County Waterford. But we'll get there on a future trip to Ireland.
If you are considering a trip to Ireland and County Tipperary, I recommend you start your flight and hotel search with Expedia.

If you have booked your flights, but not your accommodation yet, you can either search for a family-friendly hotel in County Tipperary or consider staying in an AirBnB, as we do. By clicking this link you'll receive money off your first completed stay. And should you be looking to hire a car, we recommend Rentalcars.com, a company I use regularly myself to find the best prices.
Cath x
*Prices correct at the time of writing this post. We were not asked to write this review and paid for our entry ourselves.
We recommend these Lonely Planet books to help you plan your trip to Ireland.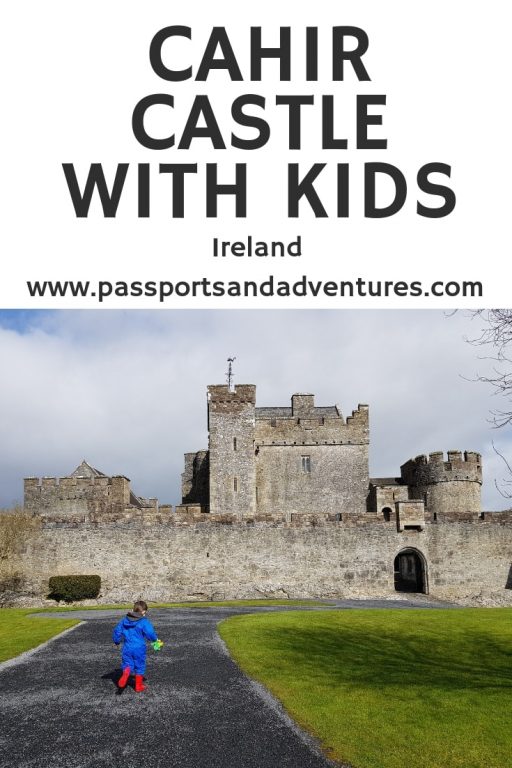 Related Posts