Are you planning a family road trip this summer? Looking for some ways to entertain the kids while you road trip to your destinations? Grab my free road trip games for kids printable and set them to work to while away a few hours.
You can find the link to my free Road Trip Games for Kids printable pack at the end of this post.
Why you need my free printable Road Trip Games for Kids
Family road trips are a great way to enjoy a vacation together while discovering new places along the way. But sometimes it can also be a drag for the kids with endless miles and miles of driving. One of the best ways to make the miles go quicker is by including some fun road trip games for kids.
Road trip car games for kids can include I-Spy, the name game where you name something and the next person uses the last letter to name their item, or grow a story where someone says the first line of a story and everyone takes a turn to add to it.
But, sometimes you might not feel like playing these car trip games for kids. Heck, you might even get an "I don't want to play" from the back seat. This is where my free printable road trip games for kids come into play. Having this in your back pocket can come in handy when the kids need some entertainment and you need some quiet time, or for when someone doesn't want to play any of the other car games.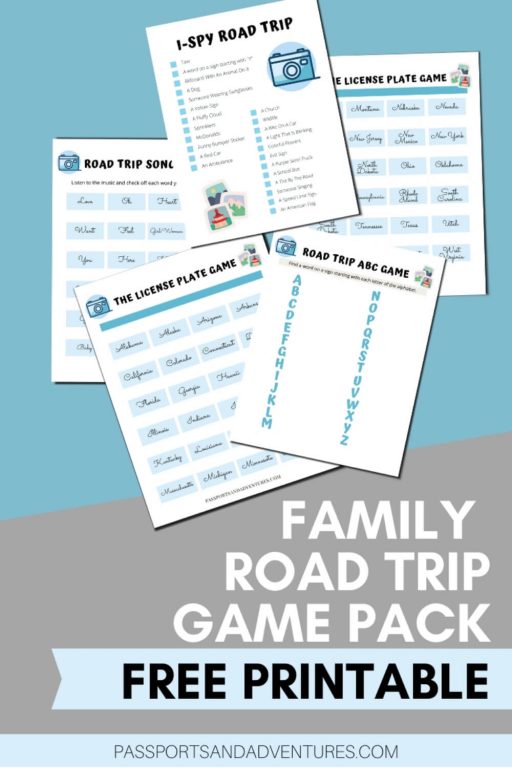 What's inside my printable car games for kids pack?
My printable games for kids in the car pack comes with a snazzy cover page and 5 pages of activities for kids to enjoy.
There are two pages for the License Plate Game in which kids must cross off each of the states once they spot a license plate from that state. These pages are in alphabetical order from Alabama to Wyoming.
Next there is an I-spy Road Trip Game that has a list of items kids can spot on the trip to cross off. First one to spot the entire list wins!
Also included in the car games for kids pack is an ABC Road Trip Game in which kids must write a sign starting with each of the letters. I wonder will anyone find something beginning with Y and Z.
And last but not least, there is a Road Trip Song Game. This game has a list of words kids must listen out for in songs played on the radio or your road trip song playlist on Spotify or iTunes. Again, first to cross off their words wins this game.
How to use the Road Trip Games for Kids printable?
Print out the games pack in colour and either keep it in a plastic folder or on a clipboard. Ensure you have pens for everyone. You can also print multiple pages of the I-spy, ABC and Song game pages to use on different days of you road trip if you are moving from place-to-place rather than staying in one destination.
Additional things you might need:
These are additional things you might need for the printed road trip games packs for kids.
US Road Trip Games for Kids Printable
The file is an easy-to-open free road trip games for kids pdf which you can save to your computer or print right away.
Grab the kids road trip games pack here.
NOTE: This printable is for personal use only. You may not SELL or reproduce the file or the printed version of the file for commercial reasons.
I hope my printable road trip games for kids comes in handy for your next family road trip together.
Cath x

Passports and Adventures is a participant in the Amazon Services LLC Associates Program, an affiliate advertising program designed to provide a means for sites to earn advertising fees by advertising and linking to amazon.com, amazon.co.uk, amazon.ca. Amazon and the Amazon logo are trademarks of Amazon.com, Inc. or its affiliates. To learn more about affiliate links, read my Disclosure Policy here.
Related Posts