Road trips can be a great way to explore a country with kids, whether it is your own home country or another. But a road trip for kids and their family needs a little bit of preparation. In this post you'll find hints and tips on how to prepare for a road trip with kids to ensure you are ready to embark on an awesome journey together.
We have hit the road a couple of times as a family, sometimes for small road trips, others for some pretty epic ones. Our first proper road trip involved a 600-mile or nearly 1000-km trip from Santander in Northern Spain to Tavira in the Algarve in Southern Portugal. This was our road trip which saw us emigrating from the UK to Portugal in 2017. Our car was filled to the rafters and we also had our dog with us. It was our first trip and we learned a lot.
Three months later we went all out and drove from Portland, Oregon to Yellowstone and back again over two weeks. This epic USA road trip saw us cover 3000 miles during our fortnight and was an even bigger learning curve.
In 2018, myself and our son enjoyed a 10-day road trip in Ireland in April followed by a 7-day road trip around Central Portugal (this time as a family) in August later that year. And we are in the midst of planning another little road trip within Portugal, this time as a multi-generational road trip as we will be joined by my Dad.
So, you could say we are fans of taking a road trip with kids and because of our experiences to date, we know a thing or two about preparing for a road trip with kids. In this post I am going to share my tips for planning a road trip with kids including all the things you need to think about before you go and how to prepare ahead of time for things that might crop up along the way. These road trip tips apply to any road trip whether it is a few hours long or a two-week long adventure!
How to Prepare for a Road Trip with Kids
Preparation is key when travelling with kids via any mode and going by car is no different. Whether you are getting ready for a Florida road trip with kids or embarking on an epic European road trip with kids, these tips apply to all types of road trips. You'll find helpful tips for planning a long road trip with kids and these will also help you if you are planning a road trip with kids that is just a few hours long.
1 – Road trip planning with kids
When taking a road trip with kids you need to plan your destination and your stops along the way carefully. This applies whether you have done the trip before, such as to visit family, or for a longer vacation over a few days or weeks.
Plan your route and decide if you want to take motorways/interstates, or if you want to get off the boring roads and take a more scenic route. Factor extra time into your journey if the latter is your preference, especially as you may need to detour into a town or village for fuel. Motorways usually have fuel stations at regular intervals but make sure you are aware of their locations before you hit the road.
If it is a trip you have done many times before, you still need to plan gas/petrol stops and food/toilet stops for you and the kids. Make sure your favourite place to stop is open, and not closed for renovations or another reasons.
For a journey you are undertaking for the first time, investigate gas stations along the route you will be taking and check out what facilities they have. Do they have toilets (most do but you never know)? Do they have a food counter, fast food outlet or restaurant on-site? If you are road tripping with your dog, is there somewhere to walk your dog and toilet them? Everyone will need to stretch their legs, dogs and humans alike.
2 – Get your car checked
If you are heading on a road trip in your own car it is a good idea to get your car serviced or at least checked out at a local garage. Make sure the spare tyre is checked and inflated to the correct air pressure. Get your brakes, oil and coolant levels checked and topped up. Make sure your washer fluid is full and wiper blades are in good working order.
Make sure you have breakdown cover in place covering all the countries you are visiting if leaving your home country. Ensure you have enough yellow fluorescent jackets for all the passengers you will be carrying. This is mandatory in many European countries, so make sure you have plenty. Ensure you have your breakdown triangle and also a breathalyser tube, which is mandatory in some European countries.
Carry spare bulbs for your lights, a torch with spare batteries, a first-aid-kit, jump leads and ensure you don't forget your jack, wheel brace and locking wheel nut key!
All of these things could be put onto a road trip with kids checklist for your car to ensure you don't forget to get the car checked and so you don't forget the essentials for the car before you set off.
3 – Packing for a road trip with kids
Before you even start packing for a road trip with kids you need to consider your boot space and whether you need to bring the kitchen sink or not.
When we were emigrating from the UK to Portugal we needed to bring clothes, laptops, valuables and some of our son's toys with us as it would be about six weeks before our removals company delivered our belongings to us. As well as our essentials for six weeks, we also had our rather large German Shepherd, his bed, food and other items we needed for him.
Our son was still in a stroller so that had to come and we also brought one of our son's bikes. Luckily, we have a Land Rover Discovery which has a large boot, so we managed to fit a lot into it. However, your car might not have such a large boot space, so really think carefully about what you need to bring.
Subsequent road trips have been easier as we've only needed to carry clothing, other essentials and sometimes food, either in our own car or in a hire car. In this case we've had plenty of boot space.
If your road trip is bringing you to a camp site for your holiday, you may need to pack all your camping gear. This needs to be factored in before you start filling bags with clothes, toys and other kids' essentials. You might need to consider buying a top-box or even a trailer as one set of our friends did when they started camping with teenagers and couldn't fit it all into their estate car!
It would be a good idea to put together a packing list for road trip with kids so you can assess the list BEFORE you start to play Tetris with your car boot!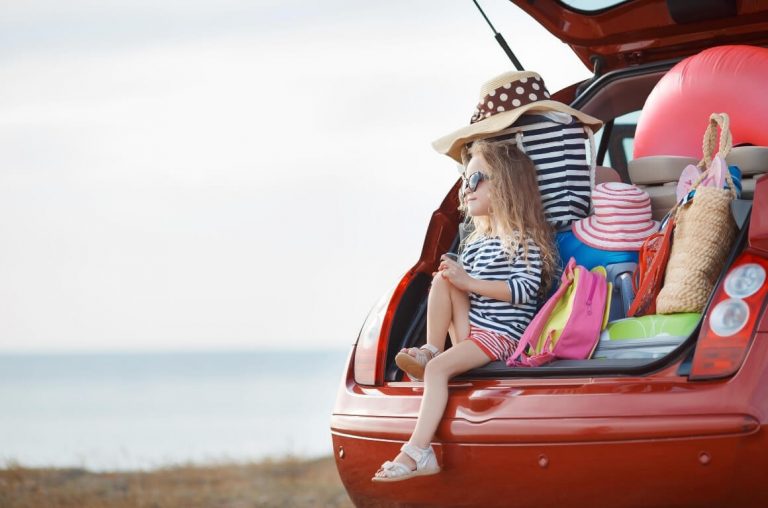 4 – Download your route and have all your documents ready
After you have planned your route, ensure you download it to your phone to make sure it is available offline. If you happen to hit an area with no mobile signal or patchy signal at best, you want to ensure you can still carry on your journey, particularly if you have chosen a more scenic route off the motorway or interstate.
You should also make sure you have all the relevant and necessary documentation to hand. Carry your passports, or certified copies of your passports if you are not leaving your home country (such as us in Portugal). Make sure you have your International Driving License if it is required. Car insurance covering everywhere you will be visiting is a must as already mentioned. Travel insurance with good medical cover is also essential, especially when travelling with kids.
Ensure you have the address of any hotels or the location of your destination to hand, just in case. And you could print out your road trip map for the kids so they can follow along and see progress rather than relying on asking "are we nearly there".
5 – Consider your driving time
When planning a road trip with kids you need to consider your driving time and be realistic. Can your kids handle a full, long day on the road or are they better suited to short trips of just a few hours long?
Our trip from Santander to the Algarve lasted 13 hours with a few stops along the way for toilet breaks, food and fuel. Our longest driving day on our USA road trip was also 13 hours from Richland in Washington state to Yellowstone National Park. And our son handled both of them with no problems.
When we road tripped around Central Portugal, our longest driving day was six hours when we drove from home to Lousã, and it only took that long because there was an accident on the motorway just outside Lisbon. Both my son and I slept through that part, haha!
You know your kids better than anyone else and know what are they are capable of handling, so plan your driving time accordingly.
6 – Share the driving
While we are on the subject of driving times, it is a good idea to share the driving with your partner, especially if you have long driving days. That is unless you cannot drive.
My husband and I often share the driving, with him starting and me taking over once he starts to feel tired. We shared the driving in Spain and in the USA but within Portugal he usually does the driving. So, do think about sharing the driving.
7 – Consider breaking up long journeys
If you have a very long road trip to take, consider breaking up your journey with an overnight stop to relieve the tiredness and let everyone rest. On our USA road trip, our first journey from Portland to Yellowstone was 812 miles in total. As we were coming off an 11-hour flight and jumping straight into a hire car, we drove just 220 miles of the total first over 3 hours before stopping overnight to rest. The next day we continued our journey to Yellowstone.
Similarly, when we disembarked our ferry from Portsmouth to Santander at 6.30pm local time, we drove 1 hour south of Santander and stayed in hotel overnight before continuing our journey south. Both times we were glad we stopped instead of trying to push on and drive to our destination.
So, if you have a considerably long road trip to take, break it up with stops overnight or even a few days to explore the local area before moving on.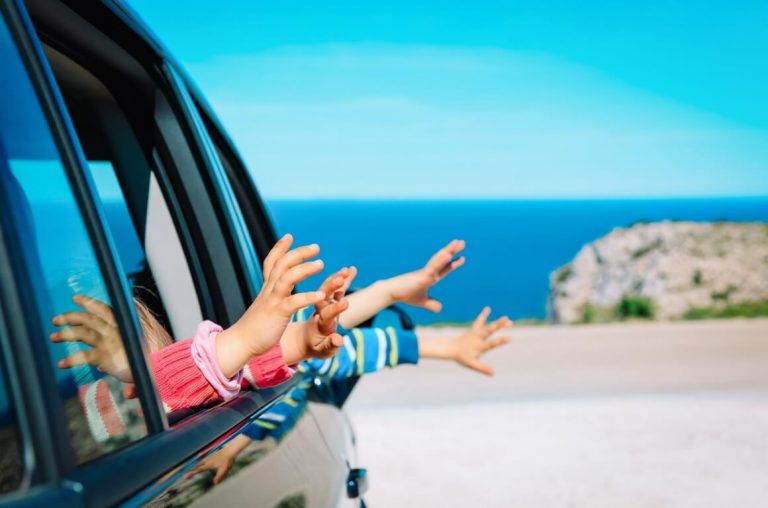 8 – Plan and pack your driving day bag
Before setting off, you need to decide what to bring on a road trip for kids to keep them fed, happy and comfortable. These road trip essentials for kids with go a long way to making the journey less stressful and more enjoyable.
Make sure you have all the essentials in one bag which is kept in the car with you, rather than packing into the boot with everything else. This will contain everything you need for you and the kids including the items discussed below.
If you will be stopping near a beach, remember to have a few towels and baby powder in your day bag in case the kids want to dip their toes in the water. And if you are travelling with your dog, make sure to have water, a drinking bowl and everything you need to clean up after them at any stops along the way.
9 – Snacks and entertainment
It is really important to prepare the road trip snacks for kids ahead of time and think carefully about the type of things you are bringing. Unless you want to be cleaning the car for weeks after, try to NOT bring mashable or spillable snacks with you. Yogurt pots are a no in my book, but pouch yogurts might be ok with kids that won't spill.
For snacks for us and our son we tend to bring homemade sandwiches, pre-chopped fruit, biscuit bars and sometimes a few sweets and crisps/potato chips. We stick to things that won't make a big mess if they are dropped and also things that won't upset his stomach. I don't bring yogurt pouches as he has been car sick in the past after having one and it was not a good mixture of smells to have in the car.
Whatever you do, do not leave home without drinks for everyone and top up regularly, even if it means bringing a large container of water with you. On a hot day you will need the drinks and, god forbid, if you break down you will be thankful of the drinks while you wait for a breakdown truck to arrive. Just make sure you stop regularly for toilet breaks if everyone is drinking a lot!
Next to plan and prepare are the road trip activities for kids. I'm not talking about activities and entertainment for when you reach your destination, I'm talking about things to keep the kids entertained in the car. No-one wants to hear the words "I'm bored" from the back of the car so consider ways to keep the kids from muttering those words.
During our long road trips our son has been happy enough to just listen to music and watch the world go by. Sometimes he will ask to play a game and we have two we regularly play. The first is i-Spy but with colours as our son has only recently started to read and learning to put letters to words and things. Our version goes:
i-Spy with my little eye something the colour of (insert colour).
It can get a bit repetitive, but he enjoys it. The other game we created in America was spotting Mack (big trucks from Disney's Cars). Every time we spotted a big America truck we'd shout "Mack" and we got bonus points if it was red. You can substitute truck for anything else like a motorhome, a motorbike, pick-up truck or van.
Other ways to entertain kids include listening to music. Create them their own playlist on Spotify and sing your way to your next stop. Audiobooks for road trips with kids can also be enjoyable as can family-friendly travel podcasts.
You could bring some road trip printables like road trip bingo and play together while your partner drives. Small toys suitable for a car can entertain the kids, especially if paired with a travel tray table. Think Lego, colouring books, stickers. Just try not to bring anything that is likely to roll off the tray table. You can get non-roll crayons if your kids enjoy colouring books.
And depending on your child, screens can be your best friend too. Load up their tablets with movies and a few episodes of their favourite tv series and pop it into a headrest holder. See my point below though!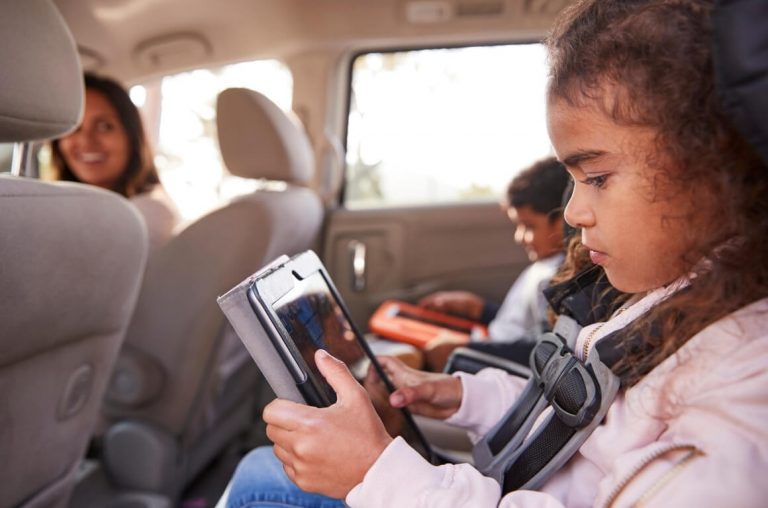 10 – Think carefully about allowing screens in the car
While we do allow our son screen time when we are travelling or on vacation, we severely limit screen time in the car for one reason only. Car sickness.
On our journey from Santander to our overnight hotel, we allowed our son to watch his tablet to try and keep him awake. However, it resulted in him being car sick just a few minutes from our hotel. This was not a pleasant experience when we were going to be spending the whole of the next day in said car.
If your children are prone to travel sickness it might be wise to avoid screen time or else be prepared for car sickness. See my next point.
11 – Prepare for travel sickness BEFORE it happens
Even if your kids are seasons car travellers, you never know when travel sickness will strike. So, it is best to be prepared ahead of time.
If certain foods disagree with your children while they are travelling, then it is best to avoid them. This is why we avoid any type of yogurt before or during our family road trips. Travel sickness is also the reason we severely limit screen time in the car as mentioned already. We also carry travel sickness bands with us in case our son complains of a sore belly.
To ensure you have the best road trip with kids, make sure you have a car travel sickness plan. Have a change of clothes in the car with you (not in the boot), a towel, some baby wipes, plastic bags (nappy bags will suffice) to put soiled clothes into and also the clean-up wipes. It is also advisable to have some air freshener with you as no-one wants to face hours with a smelly car. Have some dry biscuits, preferably ginger ones, in the car which can help settle upset tummies, and some water which you should be carrying anyway.
Should the worst happen, find a safe place to pull over, clean up your child and sit them down with a biscuit and some water while you then turn to cleaning the car. If you manage to stop in a lay-by, get rid of any wipes in available bins and seal soiled clothes in a double bag to reduce any odours creeping out. Spray some air freshener and leave the windows open while your little one is recovering.
12 – Taking a road trip with young kids
We've done several road trips with our son when he was young, and it is more than doable to enjoy a road trip with young kids. You just need a little bit more preparation before you set off. You should ensure you have enough nappies, wipes and food to last the journey and then a few more hours, in case of delays or a breakdown. Ensure everything you need is packed into your road trip day bag.
If you are travelling with kids who are newly or still potty training, make sure you bring a travel potty with you. You should also carry toddler pull-ups, especially if you are likely to be driving at night when they might fall asleep. It will save you having to clean the car seat!
Always ensure that you never leave home for a road trip with younger kids without at least one change of clothes for them, for a variety of reasons. We always had two spare sets of clothes for our son when he was under the age of four.
If you are travelling with a baby, aside from the obvious nappies and wipes, make sure you have food, if they are weaned, and formula, if they are bottle-fed, for the entire journey and longer. We took a baby thermos-flask with us and made our son's bottle on the road if necessary. You can easily make a bottle with this water and powder from a formula dispenser.
If your journey is going to take more than a few hours, plan your stop when your baby is due a feed and refresh the hot water from the food outlet or counter at the service station. Just ensure you leave sufficient time from your baby finishing their bottle to when you set off again to allow the bottle to settle down. Otherwise the point above about travel sickness may apply!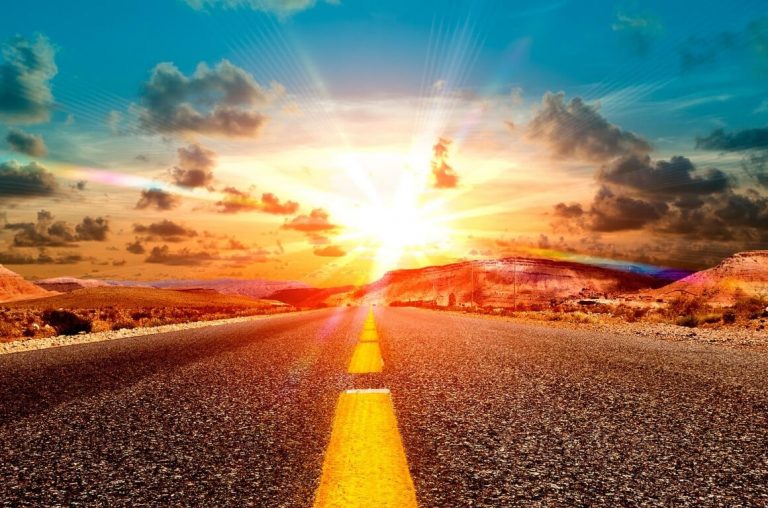 13 – Coordinate your travel with nap or sleep-time
If you are travelling for just a few hours and with young kids, try coordinate most of your driving with their naptime. This will ensure they get the rest they need, and you can get most of the boring driving done while they nap.
If your journey is going to take longer than a few hours, consider driving at night when they are normally asleep. It will be dark and so they should drop off to sleep and remain asleep for most of the journey, if not the entire journey.
I hope this post has helped you and you now know how to prepare for a road trip with kids. You should have a good idea what to take on a road trip with kids, including snacks and entertainment, things you need to remember before you leave the house and even how to deal with car travel sickness. These are tips we have learned over the years from road tripping with our son and I hope they will help you when you are planning a road trip with kids.
Cath x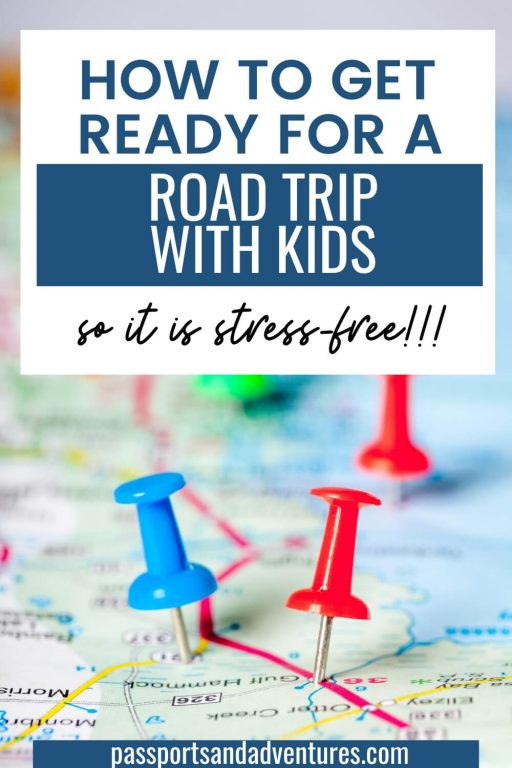 Related Posts
Passports and Adventures is a participant in the Amazon Services LLC Associates Program, an affiliate advertising program designed to provide a means for sites to earn advertising fees by advertising and linking to amazon.com, amazon.co.uk, amazon.ca. Amazon and the Amazon logo are trademarks of Amazon.com, Inc. or its affiliates. To learn more about affiliate links, read my Disclosure Policy here.