Heading to the city that never sleeps soon? The city so good, they named it twice. If you are starting to prepare for your trip and are wondering what to pack for a trip to New York, then let this post be your guide. This New York packing list includes what you should pack, additional things for summer and winter in New York, things to leave at home and a few additional tips you might not have thought about.

*This post contains affiliate links. To read more about affiliate links, please visit my Disclosure Policy page.
New York is a destination that is on many peoples travel bucket list. It is a city that is home to over 8 million people and which over 50 million people visit every year. It is also known as one of the top fashion cities in the world and so when it comes to packing for New York, people can often become overwhelmed.
What to Pack for New York
When it comes to deciding what to pack for New York, the first thing you need to consider is the time of year you are visiting. The weather will very much dictate your clothing choice as the seasons are quite different from one another. Deciding what to wear in New York is very much dependant on seasons and will also depend on your New York to-do list. Are you simply going sightseeing or do you plan to experience the New York nightlife? Will you be going to fancy restaurants or eating on the go?
So, to help you plan for your trip, you'll find some ideas below on what to pack for both summer and winter in New York, two of the most popular times of year for visitors.
Packing List for New York – Clothing
With it being a major city for fashion, how to dress in New York can be a big worry for visitors. When we were preparing to visit the city, I knew I had to make an effort. The mum/scientist in me needed to take a back seat and I wanted to make a bit of an effort to look presentable in New York.
I did some research and discovered that black is a staple colour in New York. It is a city with a large business focus, and this can often dictate people's attire. But you don't just want to wear black. To me, black is boring but at the same time, you don't want to stick out like a sore thumb. So, here is an ideal of a basic New York packing list for summer or winter, but whatever you do, leave the Hawaiian shirts at home. The items listed below work for adults and kids alike.
Footwear – First and foremost, you need a good set of walking shoes, boots or sandals, depending on the time of year you are visiting. Sandals can go on your New York packing list for summer, while you may want to stick to boots for winter. Spring/fall lists could opt for comfortable walking shoes. You will be walking miles each day if you are sightseeing, so your footwear needs to be comfortable. This goes for children, ladies and gentlemen alike. And ladies, you only need one pair of heels if you are planning to be out and about in New York at night. And even then, I'd pack a pair of foldable flats to pop into your handbag.
Jacket – You should also pack a light jacket or raincoat for spring, summer and fall. Although days might be warm, the nights could get chilly, particularly in spring and fall and you could see some rain. So, a light jacket which is waterproof would be advisable.

Dresses – For visits to New York in summer, ladies make sure to pack a few summer dresses. Not only will they keep you cool, they can be extremely fashionable. For evenings, bring a cocktail dress if you are going out for dinner or hitting some of the bars. You won't go wrong with a little black dress like this one in the cool bars of NYC.
Shirts – You will need at least one shirt per day for your trip to New York for each member of your party. This goes for men and women alike, as well as kids. Short-sleeved shirts for summer are a necessity, especially if sightseeing as you may become sweaty on hot and humid days. Longer-sleeved ones will be needed for winter to keep warm. Men can opt for polo shirts, which are versatile for both day and evening times.
Pants – For ladies, cropped pants can be very fashionable in spring and summer, while men should opt for chinos. Jeans are acceptable but more so for fall and winter. For ladies, a staple outfit would be cropped pants and a blouse, and for men, team chinos with a polo shirt.
Additions Things to Pack for New York in Summer
For summer in New York, think warm days, sometimes hot and humid with average temperatures between 26 and 29C (low to mid-80's F). It can go above this.
Skirts and shorts – Instead of pants, ladies can opt for skirts and men can opt for shorts. But remember to keep it almost smart-casual.
Sunglasses – It goes without saying that you will most likely need sunglasses during a trip to New York in summer. Shop the full range of sunglasses on Amazon here.
Sun hats – A must for children especially to protect their scalp from being burnt.
Top tip: Pack lightweight, breathable fabrics such as linen and cotton for summer in New York. As mentioned, days are warm and can get hot and humid so to keep comfortable opt for this type of fabric.
Additional Things to Pack For New York in Winter
Your packing list for New York City in winter must include some additional items to ensure you keep warm. Average temperatures in winter are between 2 and 9C (low 30's to upper 40's F) depending on when in winter you visit. Mornings and evenings will see temperatures dipping and there is always a chance of snow. So, remember to wrap up warm and use layers.
Winter coat – Everyone is going to need a good winter coat in New York during winter. If you have one that is also waterproof, even better.
Hats/Gloves/Scarves – Other things to bring to New York in winter include hats, gloves and scarves to wrap up against the cold.
Thermal Leggings – Ladies, if like me you are susceptible to feeling the cold, a set of thermal leggings under pants, jeans or trousers wouldn't go amiss. A set of thermal base layers might be advisable for younger children visiting New York during winter.
Woolly socks – No-one feels comfortable with cold feet, so pack the woolly socks!
Fleece tops/Jumpers – These will come in handy for layering up on particularly cold days. Use fleece tops if you are just sightseeing and a nice winter jumper if you are attending an event or going to a fancy restaurant.
Other New York Essentials
When you are packing for New York, clothes aren't the only thing you need to worry about. Here is a list of other things to pack for New York that will come in handy. These are useful for sightseeing, staying as sustainable as possible and general comfort.

Refillable water bottle – To avoid the need for water in single-use plastic bottles, bring your refillable bottle with you. The tap water in New York is safe to drink and there are water fountains around the city which you can refill at. Fill up before you leave your accommodation in the morning.
Micro-fibre towel – When considering what to bring to New York, a micro-fibre towel might not be top of your list but if you are planning to visit in summer, you might want to enjoy a picnic in Central Park or Battery Park. So one of these can act as your picnic blanket and won't take up too much room in your bag.
Camera, spare batteries and memory cards – You can't go to New York and not take pictures. When we were visiting for the first time a few years ago I invested in a Canon G7X Mark ii especially for the trip. It has all the capabilities of a DSLR camera without bring too bulky and heavy. I've also recently gotten a GoPro Hero 8 Black and took it on a trip to Thailand to test it out. It may become me new favourite travel camera!
Phone/tablet chargers – Remember to pack your phone and tablet chargers, especially if you decide to only use your phone's camera.

Portable phone charger – For the same reason above, you don't want to run out of power just as you are taking a picture of the Brooklyn Bridge or Statue of Liberty. So, ensure you never run out of power on your phone or tablet by always carrying a portable power bank with you. Buy the featured power bank HERE.
Universal Adapter – If you are travelling to the USA from another part of the world, ensure you have a universal plug adapter with you. We have this travel adapter and it works brilliantly.
Extension cable – If you are unsure if there will be many plug sockets in your hotel room, and have a lot of electronics to charge, then an extension cable might be useful for charging all electronics overnight in one take. Shop the full range of extension cables here on Amazon.
Umbrella – This could come in handy in spring, fall or winter for showers. When I was deciding what to pack for New York in September, I omitted a small umbrella and regretted it later when my raincoat actually leaked.
Medicines – If you require specific medicines, then it is advisable to bring them with you. And pack extra in case of delays of any kind returning home. You may find it difficult getting hold of certain medication in pharmacies in the city without a local doctor's note, and you could be paying upwards of $200 to see one. And DO NOT leave home without adequate travel insurance. Medical care in the USA is expensive so ensure your insurance has good medical cover with it.
Guide book – Remember to pack your Lonely Planet Guide book to New York, but try to avoid consulting it in the streets. If you need to check something, step into a doorway or wait until you are taking a coffee break. Anything to avoid looking like the typical tourist.


Pacsafe Bag – While you could use a rucksack as your day bag for sightseeing in New York, they are not advisable if you are going to be travelling on the Subway. You can use them but should remove them and hold them at your feet to avoid taking up too much room or bumping into people on crowded trains. My husband and I both have a Pacsafe Metrosafe LS200 cross-body bag and these have plenty of room for everything both we and our young son need for a day of sightseeing.
Reusable folding bag – This could come in handy for holding store bags or souvenirs you have bought. It could also be used to carry them on the flight home.
What not to Pack for New York
There are a few things you should leave off your list when packing for New York. Why bring a lot of stuff when it is readily available in the city or is banned. Read on.
Toiletries – Why stuff your luggage full of large bottles of toiletries when there is an abundance of Walgreens in the city. Save the baggage weight allowance and just bring small bottles with you and buy while you are there.
Makeup – Ladies, bring the absolute minimum you will need in terms of makeup when you are packing. Trust me, you will be stocking up in the likes of MAC and Sephora when you pass one and will need to space for bringing your purchases back.
Drones – Do not bring a drone to New York City as they are banned. It will be a waste of your time and if you attempt to use one, you could find yourself at the wrath of NYPD. So, leave it at home.
Other Tips for Packing for New York
Less is definitely more when packing for a trip to New York, especially if you plan on doing some shopping while you are there. You will need the extra space for your NYC purchases, including clothes, makeup and souvenirs. You won't want to be leaving behind that new coat or expensive bottle of perfume you bought in Sephora.
Use packing cubes to cut down on space and bring an extra one or two empty ones to use with your new purchases. And don't forget that foldable bag which could be used as a spare bag for bringing your purchases home with you. Shop the full range of packing cubes here on Amazon.
In Summary
If you've been wondering what to bring on a trip to New York, I hope this New York City packing list has helped. I've tried to give you some ideas for both a summer and winter visit to the city, as well as some essentials you should bring and things you should leave behind. New York is quite a fashionable city, so remember this when making your clothing choices for your New York getaway.
Cath x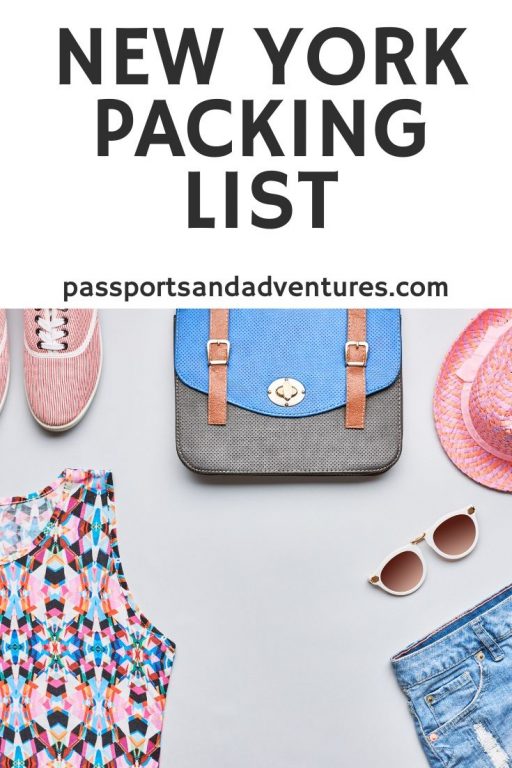 Passports and Adventures is a participant in the Amazon Services LLC Associates Program, an affiliate advertising program designed to provide a means for sites to earn advertising fees by advertising and linking to amazon.com, amazon.co.uk, amazon.ca. Amazon and the Amazon logo are trademarks of Amazon.com, Inc. or its affiliates. To learn more about affiliate links, read my Disclosure Policy here.
Related Posts