The last stop on our two-week USA road trip last year was Portland. I've spoken before about why we wanted to visit Portland but one of the aims while there was to have some down time after a lot of driving and to spend some quality time together as a family, out of the car. Our plan was to find fun things to do in Portland with kids, so our son could have some fun, and one things on our bucket list for the city was visiting the Portland Children's Museum.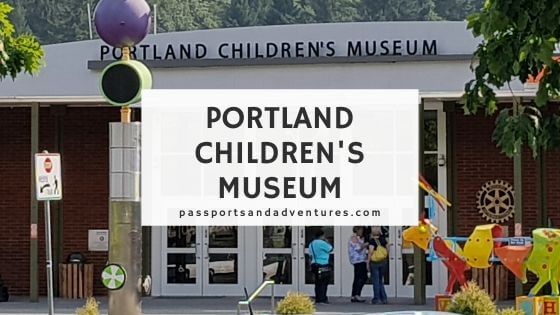 Now I'll admit that I had never come across the idea of children's museums until I started looking into things to do in Portland with kids. I did some searches and asked some lovely people in some travel Facebook groups I am a member of what there was to do in Portland with a toddler, and the childrens museum cropped up several times.
Our Visit to Portland Children's Museum
I also discovered that the children's museum in Portland is located right beside Oregon Zoo in Washington Park, one of the other places on our Portland bucket list. We could combine the two and so a lovely family day out was decided.
Our first port of call was Oregon Zoo and we had a brilliant time there, in what has to be one of the best zoos we've ever visited. Once we had finished at the zoo, we did the short walk around to Portland's Children Museum to see what it was all about.
The Portland Children's Museum, as mentioned, is located in Washington Park on the old site of OMSI (Oregon Museum of Science and Industry, another place we visited while in Portland). It was founded in 1946 by Dorothy Lensch. Having moved to their new site in Washington Park, the museum was able to expand their programs and to open a school as well. The children's museum now hosts more than 300,000 visitors each year.
We arrived after lunch, having refuelled in the zoo and we paid our tickets and entered what can only be described as a kids paradise.
We were first greeted by a crocodile on his back with his mouth open, the idea being you brushed his teeth. It's a chance to get involved with your kids and to explain why brushing your teeth is important.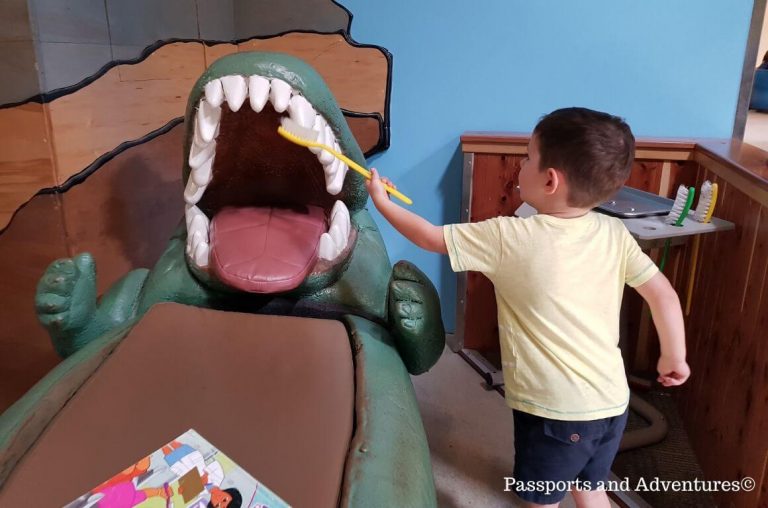 From Mr Crocodile we moved onto the Water Works room and this was by far our son's favourite section. Having learned my lesson from visiting the water discovery section during our visit to OMSI the day before, I had brought spare socks for him to change into after this room. He spent ages in this room.
We even had family fun at a table where you could build channels for a boat to run down. You could create both fast and slower moving channels and watch the effect of each by letting a toy boat run down them. This area was great fun and would be one of the great things to do in Portland with a toddler.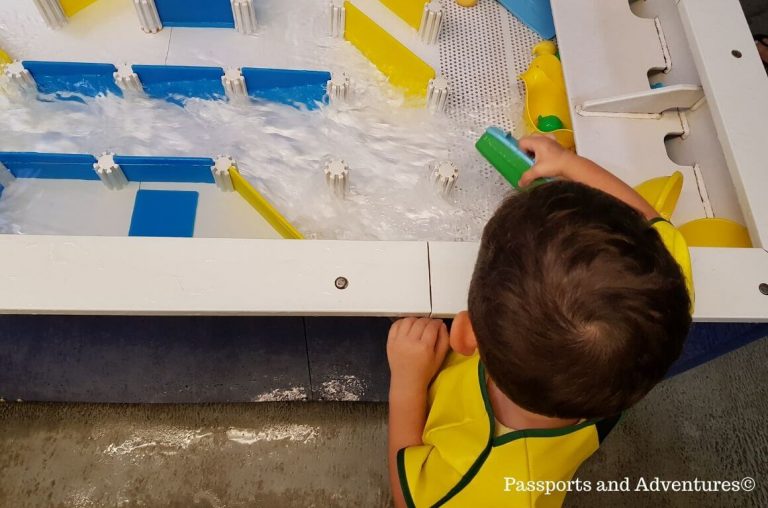 After the water room we moved onto the Groundworks area and our son had great fun trying to figure out how to work the diggers in the room. He spent ages filling buckets and moving "soil" from one end of the room to another. And there were even hard hats for the budding builders.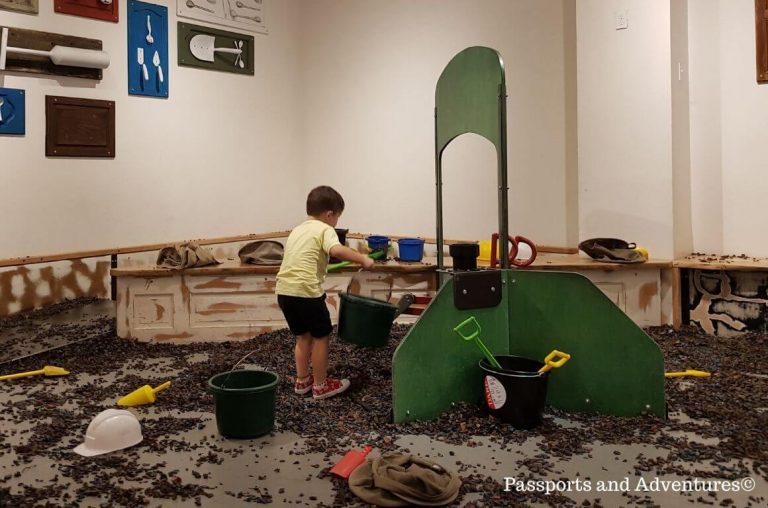 There was also a pet hospital in the next room but our son wasn't interested so we moved on to the Treehouse. Although a small enough room, the treehouse was great and there was a tunnel for kids to crawl through.
Next up was the theatre room. In here was a wall with coloured holes into which you placed an opaque tube which took on the colour of the light. This wall was awesome, and I could have played with it for hours, had I been let that is!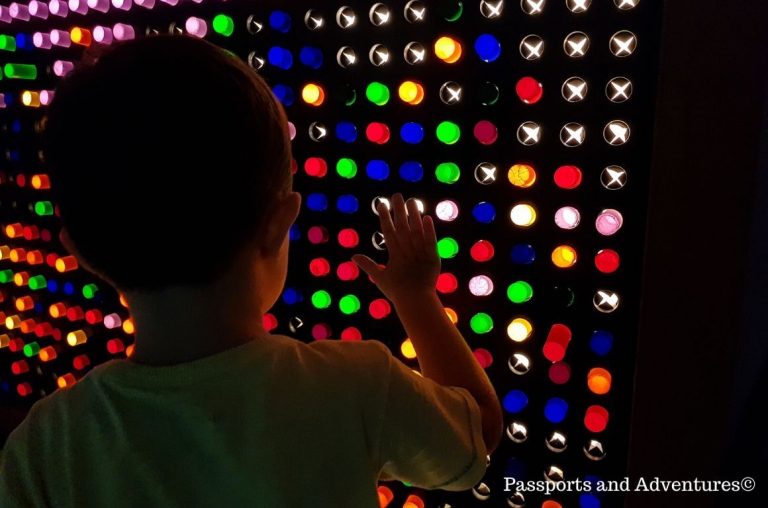 There was a Clay Studio in which classes were run at different times during the day. Kids can make something from clay and come back and collect their masterpiece at a later time.
The Maker Studio was our son's second favourite section. A room filled with things to use to create anything you like, he made a beeline for the hammering table. Safety glasses on, he grabbed a hammer and got banging. And because it's a children's museum, no one batted an eyelid at the noise he was making.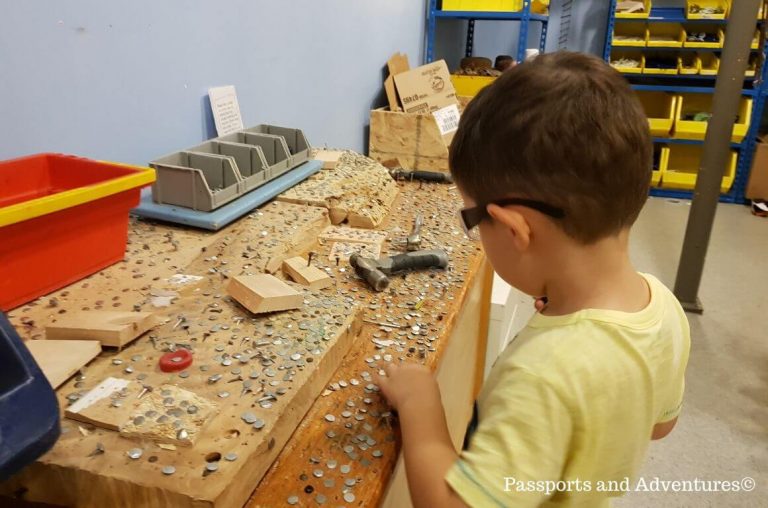 There was every kind of craft supplies you can imagine for children to use. And it was evident they were by the large creation hanging from the ceiling!
Having hammered all the nails he had the energy for, we moved onto the Vroom Vroom section. And you guessed it, it had cars and trains for little ones to enjoy. There was a ramp in this room down which two cars could race. Our son and another little boy thoroughly enjoyed their races on this ramp. And when it was time to move on, there was an almighty tantrum from our boy!
Before making our way back to the exit we visited a room with slides, climbing walls and other games, all designed for some fun and exercise. Our son did really well on the climbing wall. We stopped by the gift shop on our way out and found a small Curious George teddy which we couldn't leave behind.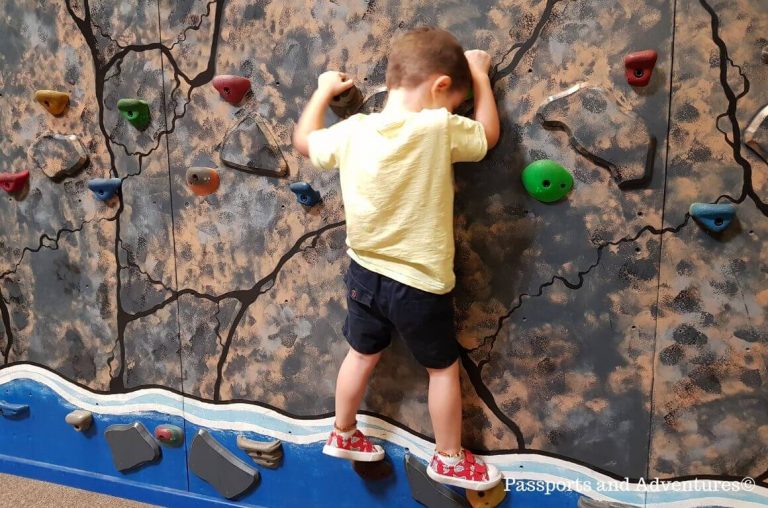 And even though we were finished inside, we weren't quite finished. There was a piano for kids to get musical at, a train to drive and even a pretend wooden ambulance.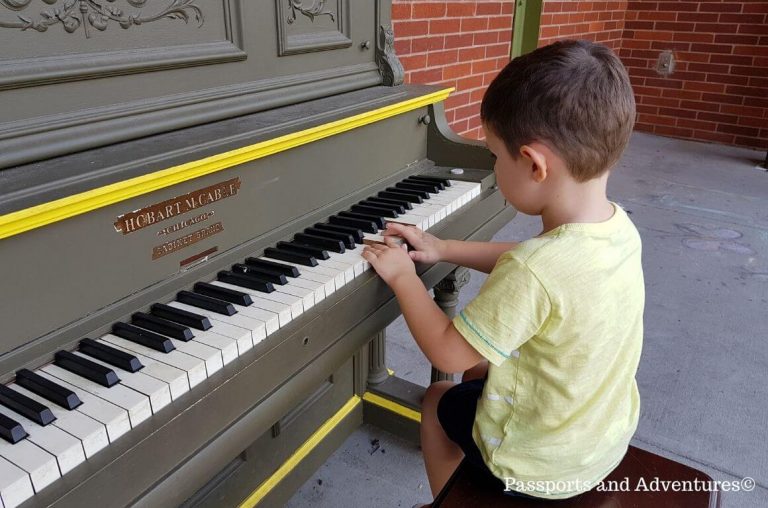 Things to note if visiting the Portland Childrens Museum
The Portland Children's Museum hours are from 9am to 5pm, 7 days a week.
Various activities are held during the day such as story time and pottery glazing. For full details see this section of their website.
There are different admission prices depending on whether you are a member or not. Non-members will pay $10.75 each, with under 1's free. Museum members have free entry.
There is a Portland Children's Museum free day, and this is generally the first Friday of each month, but can change.
Exhibits include Building Bridgetown, Clay Studio, Maker Studio, Water Works, The Market, Groundworks, Outdoor Adventure, Pet Hospital, The Theatre, Twilight Trail, Treehouse Adventure and Vroom Vroom.
The Outdoor Adventure is a large 1.3-acre outdoor space, although I cannot comment on it as we didn't get a chance to visit it.
The museum has a cafe that serves nutritious meals and snacks. And you can use the cafe tablets to east your own food which is welcomed too.
Portland Children's Museum is fully wheelchair accessible indoors and they also welcome families with members with disabilities and learning difficulties too.
There is parking in front of the museum in the public car park of Washington Park and costs just $4.00 per day, ideal if you plan to combine a visit to the zoo with the children's museum as well. There is no free or dedicated Portland Children's Museum parking.
The main toilets for the museum are located in the cafe at the front of the building.
There are stroller lockers located beside the toilets as the general policy is no strollers on the museum floor.
Is it worth visiting the Children's Museum, Portland, Oregon
So, is the Children's Museum in Portland worth visiting?Absolutely. Our son had a brilliant time just being a kid and got to do things he wouldn't normally such as play with water, dig "soil" and hammer nails. The museum is designed for kids between the ages of 0 and 12 years of age in mind, and it shows.
My only gripe is that it is the same entrance price for both adults and children. This is the first time I've come across this and felt there should have been a slightly smaller price for children's entry. That said, if your child and you want to spend all day there, it's worth it. Either way, a visit to the children's museum in Portland is worth it, particularly if you combine it with a visit to Oregon Zoo next door.
Of the two Portland museums we visited, I think our son enjoyed this more. So, if you only have time for one and are wondering what to visit in Portland, why not add the Portland Children's Museum onto your list of Portland adventures and activities.
For other kids activities in Portland, check out this post. And discover what there is to do at the Oregon Museum of Science and Industry with kids here, one of the other museums in Portland we visited during our time in the city.
Have you heard of, or come across children's museums before?
Cath x
*We were not asked to write this review. All prices are correct at the time of writing this post (Jan 2018).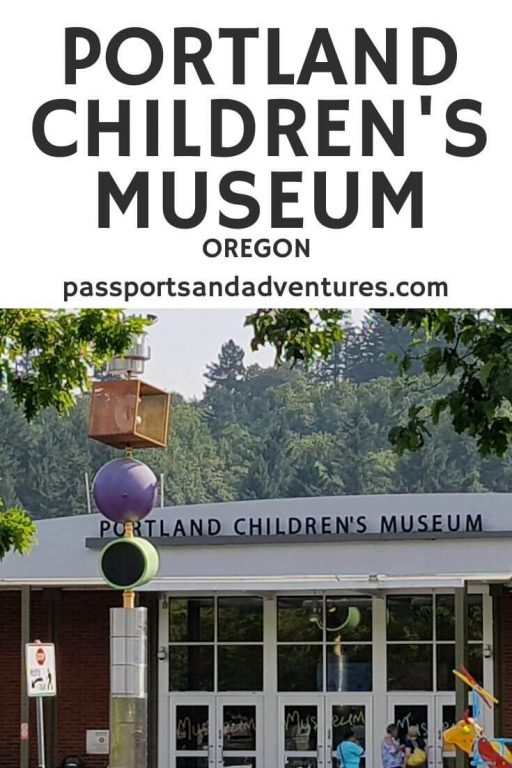 Related Posts