When investigating things to do in Portland with kids, I checked with the people in the know, members of some family travel Facebook groups, and many recommended we pay a visit to the Portland Oregon Museum of Science and Industry, or OMSI as it is also know. Here is our account of visiting OMSI with kids and whether it is worth it.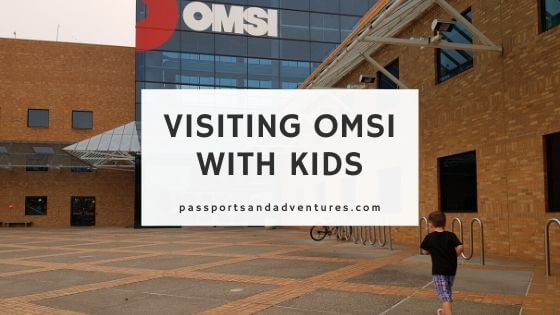 POST UPDATED JANUARY 2020
Those of you who have read our USA Road Trip Holiday Diaries will know that we visited the Oregon Museum of Science and Industry, or OMSI as it is known, while we were in Portland. This had been recommended to us and was on our Portland Bucket List. In this post I'm sharing with you our visit to this Portland museum, telling you whether visiting a science museum with a toddler is worth it and some useful information should you plan a visit there yourself.
What is OMSI?
OMSI was founded in 1944 and was originally located in Washington Park at the site of the Portland Children's Museum. However, as visitor number grew, and exhibitions got bigger, a new location was found for it on the east bank of the Willamette River.
The Oregon Museum of Science and Industry, Portland building is huge and houses no less than 3 auditoriums, a planetarium and numerous exhibition halls. They also have a submarine exhibit in the form of USS Blueback which was used for the film The Hunt for Red October before being towed to its current location at the pier adjacent to the main OMSI building.
Exhibition halls include the Featured Hall for special touring exhibits and the Turbine Hall with exhibits for engineering, physics, chemistry and space travel. There is also the Life Sciences Hall which is all about biology, and includes talks and demonstrations with live animals. The Earth Science Hall features geology-oriented exhibits with two specialised laboratories. The Planetarium holds astronomy and laser light shows. And there is the Science Playground which we spent the most time in.
Our Visit to OMSI, the Portland Science Museum
The day after we arrived in Portland we decided to head there. I was quite excited as I had found out they had a Pompeii Exhibition on at the time of our visit to OMSI. Mr Passports is a huge fan of Roman History and we'd love to visit Pompeii at some stage so to see the exhibition was an unexpected bonus. Our only reservation for our visit to OMSI was whether our son would enjoy it. We need not have worried.
We arrived shortly after 9.30am after driving from our hotel and once we'd bought our tickets for the Pompeii Exhibition (including museum admission) and planetarium tickets, we made our way to the café for a quick cuppa and bite to eat. There I had my very first peanut butter and jelly sandwich, which was quite nice.
After we had eaten, we made our way upstairs to explore the exhibitions halls. As soon as we entered this area, our son made a beeline for some giant cubes and dived right in. He and I had great fun at a giant pinball machine which was designed to educate children about food groups. Although he was too young to understand these, he still had fun trying to whack the balls!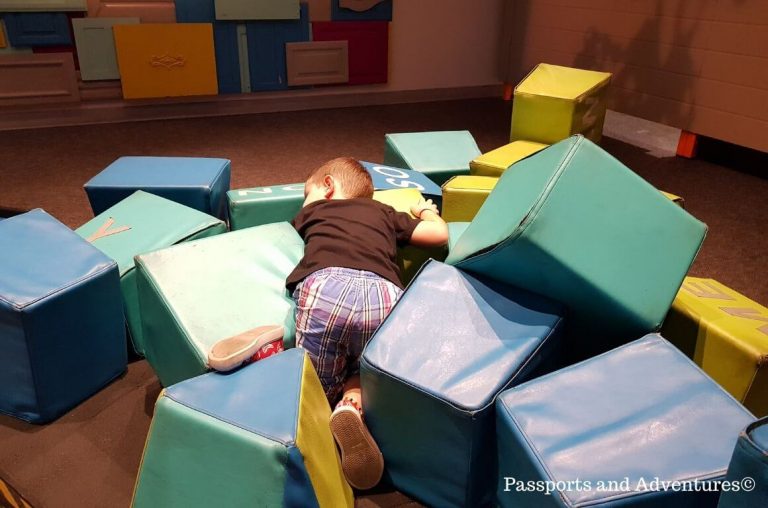 There were exhibits about recycling and garbage, exhibits about animals where we saw a Dire Wolf skeleton and saw live animals, and my personal favourite, an exhibit about fluorescent materials. This brought me back to my science background.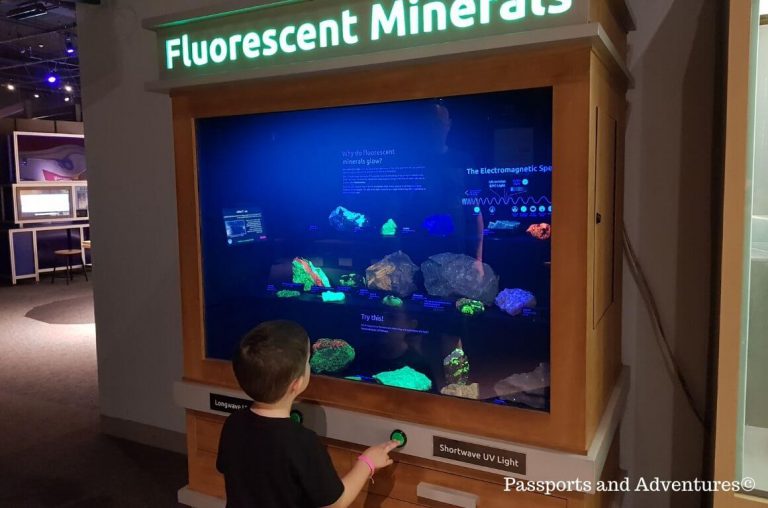 Next, we moved onto the Science Playground. And our son had a whale of a time in the Science Playground. This area has been designed for families with newborn to children of six years of age. Fully enclosed and designed so that children are visible and secure at all times, it encourages children to discover through play and imagination. It has various experimental stations including
a stimulating infant area
a giant sandbox
a water area
a reading area and
a physical sciences area.
First stop was the water area of course. Only, we hadn't quite planned for the wet floor. We had to take our son's shoes off as we entered but forgot to take his socks off. Wet feet were the result for spending so much time having splashy fun in the water area. It also meant he couldn't really go into the giant sandbox as his feet were still wet and I didn't fancy trying to get sand off his feet!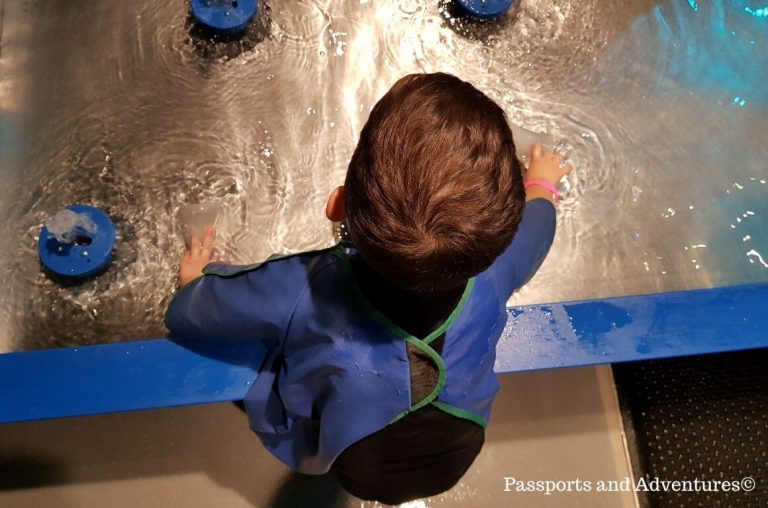 Next our son had fun at the physical sciences area and was playing with other children, putting balls through holes and down ramps.
We moved into one of the rooms off the main one and he and I did a fun game with magnetic balls in a maze. I ended finishing it when he got bored!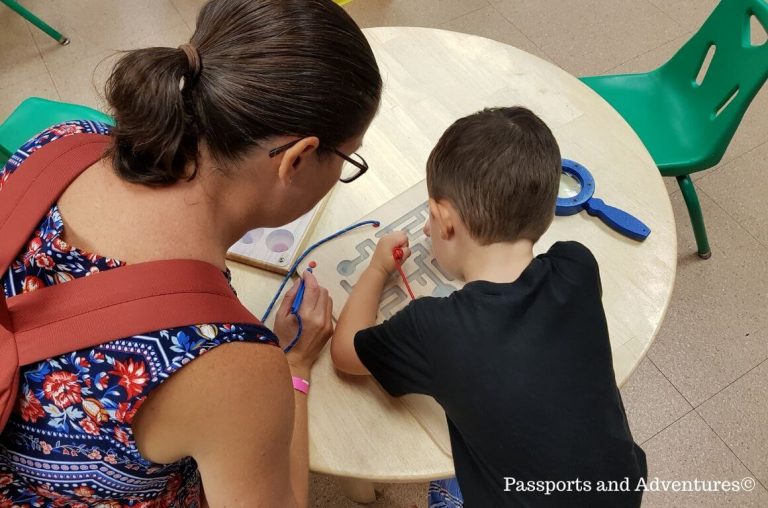 As were we getting close to our 12pm time for the astronomy show in the planetarium, we had to drag our son away from the Science Playground. This was the first time my husband had been in a planetarium and he and I enjoyed it. It was great being shown some of the star constellations we can see above our house in Portugal, although I couldn't tell you their names, apart from the Plough now. Our son got a bit restless before the end but stuck it out thankfully.
After the stars show we made our way to the Pompeii Exhibition. They allowed entry at timed intervals, which was to allow them to show the short video at the start of the exhibition. This gave some background about Vesuvius and Pompeii and the build up to that fateful night in 79AD.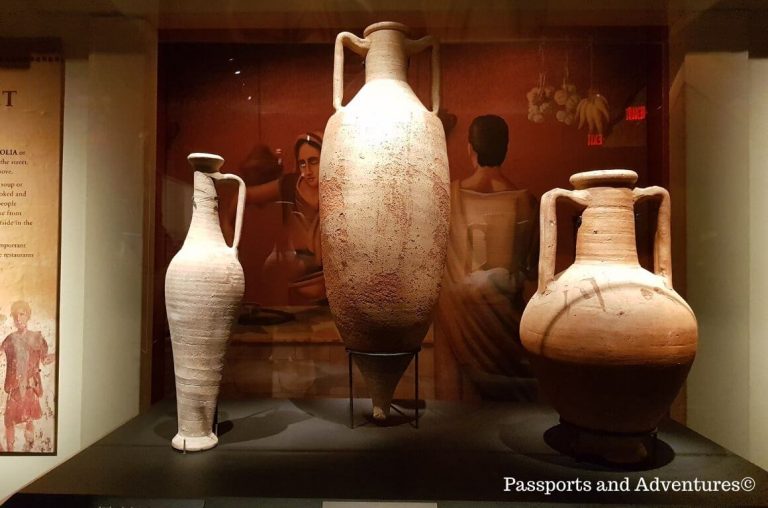 Once you had watched the video, you were let into one of the main exhibition halls which featured artefacts from Pompeii including urns, gladiator clothing and weapons, mosaics and frescoes. Between this hall and a second one, there were over 200 artefacts on loan from the Naples National Archaeological Museum.
It was amazing to see how well preserved some of the items were and the level of detail in them, particularly metalworks such as jewellery and coins. After the main hall, we were led upstairs where there was another short video. However, it was advised that it was unsuitable for young children and we were allowed to skip this video and were let into the next exhibition hall by a member of staff.
The video we didn't see was a 4D one in which you could experience the fury of Vesuvius in an immersive theatre with vivid sights, sounds and shaking ground. I think it was very helpful of OMSI to allow families with younger children to skip this part.
The last room of the exhibition had more artefacts and also body casts of people from Pompeii. It was a sobering place, especially seeing the body casts of children. We didn't stay long in this room with our son.
Other past OMSI exhibits in the visiting hall have included Exquisite Creatures, The Science of Ripley's Believe it or not and the Science behind Pixar.
Before we finished our visit we visited the museum of science and industry gift shop which is well stocked, and our son got a little space ship souvenir with his name on it for his room.
Overall, we thoroughly enjoyed our visit to OMSI and highly recommend it as we think it's one of the best museums in Portland. Had we known how good the Science Playground was going to be we might have booked a later showing in the planetarium and let our son enjoy it even more. I am so glad it was recommended to us and made it onto our Portland Bucket List.
Visitor information for OMSI
The Oregon Museum of Science and Industry parking is located adjacent to the OMSI building and is quite large. Parking at OMSI is charged at $5. We were there early on a Wednesday morning in September and there was plenty of parking.
OMSI Portland is also served by public transport. The OMSI/SE Water Ave Station connects to the MAX, bus and Portland Streetcar lines.
OMSI hours are as follows: 9.30 to 5.30 Tuesday to Sunday. It is closed on Mondays. From June to September the Oregon Museum of Science and Industry hours extend to 7pm.
The cafe is open from 8.30 to 5.30 Sunday, Tuesday-Thursday and from 8.30 to 8.00 on Friday and Saturdays.
Submarine tours are from 9.50 to 4.30 and you can even do sleep overs!
OMSI admission prices are as follows: $15.00 for an adult and $10.50 for a child (3-13 years).
Entry to the submarine costs $7.50. For the Empirical Theatre, which we didn't go to, an adult costs $7-8.50 and a child is $6-6.50. Entry to the Planetarium costs between $6.75 and $7.50. The Oregon Museum of Science and Industry Membership gives free general admission and discounted entry to the submarine, Empirical Theatre and Planetarium.
The Pompeii Exhibition ended in October. To see up-and-coming events, please visit the Events page of the OMSI website.
Each month there is an adults only event held at the museum called OMSI after dark. Each month sees a new theme arrive and adults can enjoy some drinks, food, music and science fun. For details about OMSI after dark, check out the OMSI events page of the website.
The OMSI address is 1945 SE Water Avenue, Portland, OR.
We can highly recommend visiting OMSI if you are ever in Portland, Oregon. There is plenty to see and do for children and adults alike. Children will particularly like the Science Playground, so give yourself plenty of time in there. This and the Portland Children's Museum are some of the best Oregon museums for young kids.
Cath x
*Prices are correct at the time of updating this post (January 2020).
**We were not asked to write this review.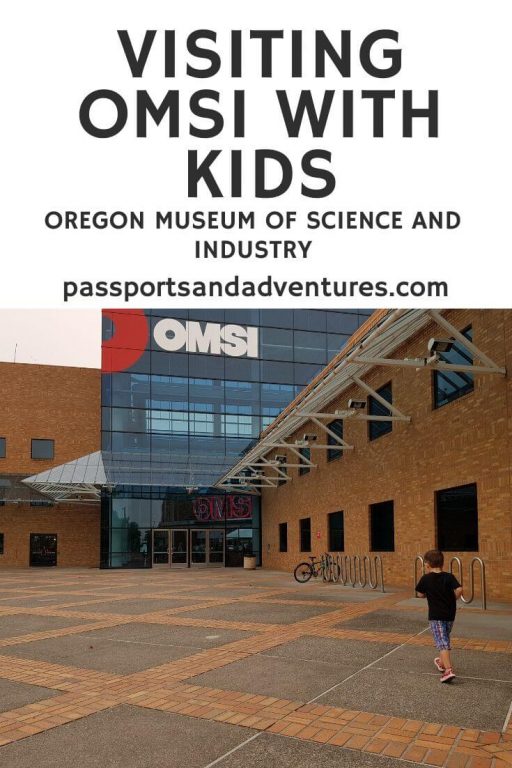 Related Posts