As soon as we booked our trip of a lifetime to visit Santa in his home in Finland, the next thing on my mind was what we should pack for our family trip to Lapland. For a start, we live in Portugal and we were no longer used to cold temperatures. Nor did we have any proper winter clothing. So, I did some research to find out the best clothes to pack for Lapland with kids and what we should have been bringing in our suitcases. Find out more in this Lapland packing list post.

*Post originally published in November 2018. Post Updated in March 2020.
Let's face it, Lapland is cold in December, whether there is snow or not. Hubby and I visited Norway one year at the beginning of November before we had our son and daytime temperatures barely got above freezing. We sort of layered up, but we still felt the cold, especially when we went hunting for the Northern Lights. Fast forward a few years and with us heading to Finnish Lapland in December, with our son, where the likelihood of snow is high and below freezing temperatures were pretty much guaranteed, we needed to be prepared.
Now, we elected to visit Lapland on a budget, meaning we were not going with one of the package holiday tour operators. They provide warm winter gear in the form of snow suits and gloves, possibly snow boots as well, but we had to purchase everything ourselves. So, I wanted to make sure I was getting us the right clothing for Lapland to ensure we stayed warm during our arctic adventure to see Santa. I set about putting together our Lapland packing list and ensuring I bought everything well ahead of time.
Some of the questions floating around my head at the time included "what to pack for Lapland in December" and "which were the best base layers for Lapland for both our son and us". These needed to be addressed in my research and the answers found to enable me to ensure we packed the best clothes for Lapland and meeting Santa.
Lapland Packing List
As most families are travelling to Lapland to visit Santa before Christmas, it is important to know what to wear in Lapland in December. As well as detailing the best clothing for Lapland we ourselves were bringing, you first need to know how to dress for Lapland in winter, because it is not just a case of extra jumpers. Before telling you what made it into our luggage, I want to tell you about the layering system. I'll also share with you some other things you may want to consider popping into your suitcase for Lapland.
What to wear in Lapland – The Layering System
Before I detail what we were packing for Lapland, I thought I'd best address how you ensure you and your little ones stay warm in the freezing temperatures of Lapland. The best way to keep warm is to use the layering system. What does this mean? In simple terms, lots of thin layers that can be removed or added as necessary.
The best way to keep warm in the winter conditions of Lapland is to use lots of layers to keep warm and dry. It's better to have many layers that can be removed than to not have enough to keep warm. How many layers for Lapland you will need will depend on your own family's ability to cope with the cold.
The reason you should use lots of thin layers is these will keep you warmer than one thicker layer because warm air is trapped between the thin layers acting as an insulator. If you remove a layer, you reduce the amount of air acting as an insulator. Hence, if you have just one thick layer, you are removing ALL of the insulating air.
If you start to get warm you can remove one layer at a time. However, if the weather turns colder, or you move from an indoor activity to an outdoor activity, you can easily replace the layer you've removed. Each layer has a different function and so is made from different materials. Let's take a look at each layer and the type of clothing for each.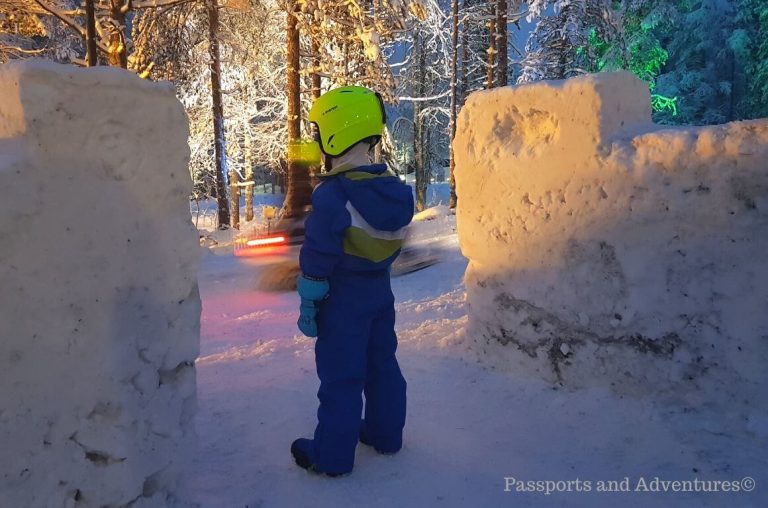 Base Layer
The base layer is the one that sits directly against your skin and is one of the most important ones as it has to keep you dry whether you are sitting still or moving about. It has two functions. The first is to help regulate your body temperature and the second is to 'wick' away moisture from your skin. This layer is your first form of defence against the cold. While it might provide you with a small amount of warmth, that is not its primary function.
The primary function is to help regulate your body temperature and to wick away, or transport moisture and sweat away from your skin, as mentioned. If this does not happen, the build-up of moisture against the skin can cause you to get cold in an already cold environment.
This layer should be tight fitting and should NOT contain cotton. Cotton will soak up moisture, but it won't dry out, so it does not aid with the wicking process. The best base layers for Lapland are those made from wool or synthetic materials such as nylon, polyester, polypropylene or acrylic, although acrylic should only be present as a mixture to be most effective. Merino wool is the best and most expensive, but it is slower at drying out. Synthetic materials or mixes dry quicker by moving the moisture out to the next layer.
Mid Layer
The role of your mid layer is to primarily provide insulation. Just like the base layer, it should keep you dry and move moisture away from your body but reflecting any remaining body heat back into your body to provide warmth. It should also help to stop cold air from reaching your body.
A good mid layer should be breathable and wick away moisture so that any moisture trapped by the base layer is transported away to be evaporated.
This is where I have seen the most confusion about suitable materials when people ask, "what should I wear to Lapland". The best fabrics for mid layers are again wool, micro-fleeces and thin-insulated jackets. Wool is the best but takes its time to dry, so fleeces are the best option. Also, the best option for this layer is one long-sleeved, thin mid layer top along with a warm fleece, adding to the layering system. Normal jumpers and sweatshirts won't keep you warm enough. And, cotton is best avoided as it will retain moisture which can lead you to getting cold.
What I have also found is there are not many articles or posts detailing the type of mid layer bottoms available or recommended. You also need to remember that your mid layer should not be skin tight as you want to have air trapped in this layer to act as insulation. The best advice I've found is to have fleece lined trousers, fleece jogging pants (but not 100% Cotton ones) or fleece leggings. An alternative, if you know you are not going to remove your outer bottom layer, is to use a pair of fleece pyjama bottoms. Merino wool leggings will work as well.
Remember, this is your insulating layer, so you want it to keep you both warm and dry.
We managed to find fleece mid layer tops and bottoms for our son from a Norwegian company which he could be seen in when we removed his snow suit indoors (see picture below). And he was lovely and toasty in them too!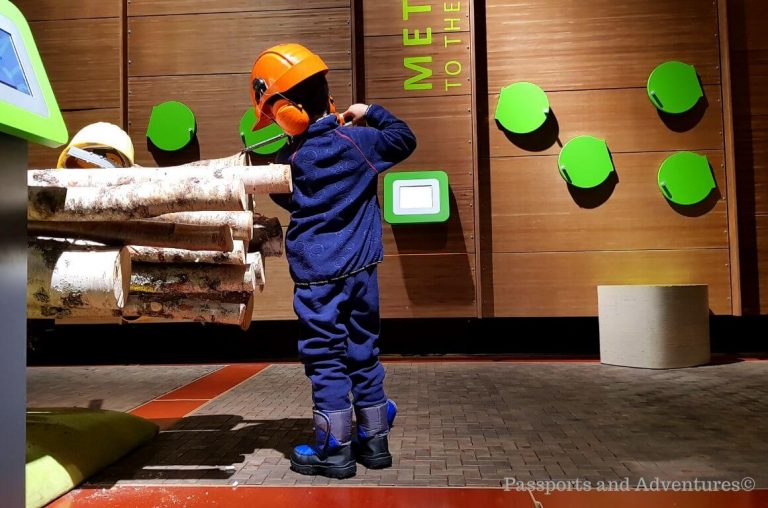 Outer Layer
This is the layer is the one in direct contact with the elements and is the one designed to protect you from the wind, rain and snow. Your outer layer needs to be waterproof and breathable to allow sweat and water vapour to escape the body but also keep you dry if it starts to rain or snow. These are some of the most important Lapland clothes you need to consider.
For Lapland you need an insulated jacket and bottoms to protect you from the cold. Choose clothing containing either down or synthetic insulating fibres. They should also be windproof and waterproof to protect from the harsh wintery elements. Ski clothing such as jackets and ski trousers, or salopettes, are a good idea as they have been designed for the wintery elements you'll face in Lapland. Buy the best jacket for Lapland and bottoms that you can afford for both you and your children. Children might be better in an all-in-one as they will be playing in the snow a lot. Suits like a Mountain Warehouse snow suit are ideal for younger children.
For your outer layer don't forget hats, warm and stylish ski gloves (or mittens), scarves, a balaclava or a snood, socks and boots. The ideal type of hats are fleece or woollen ones, or alternatively Trapper-type hats (the ones with the bits to protect your ears). We found these to be the best Lapland hats for our son and us. Scarves should be made of wool or fleece and a balaclava or snood will help protect the neck and face, particularly if you are doing outdoor activities. These should be wool or synthetic materials.
For hands, a double glove system is recommended. I've seen people suggesting silk glove liners but a thin set of gloves under thermal or ski gloves or mittens is best. If using wool gloves, ensure they are not your upper-most layer as they will get wet and frosty if playing in the snow. Ideally, you should avoid woollen gloves if you can. Again, you should buy the best gloves for Lapland that you can avoid, particularly your outer ones.
For your feet you'll need thermal or merino wool socks and again, avoid cotton socks as they won't keep you warm. A double sock layer will most likely be needed, so use a thick pair of synthetic socks underneath your thermal pair to keep your feet warm.
And finally, you'll need a good pair of snow boots for Lapland, particularly if you are visiting in December or January where temperatures will be cold and you'll be walking on snow and ice. You can use snow boots or alternatively waterproof boots, so long as they allow you to wear two pairs of socks comfortably and are waterproof. You may need to buy one size bigger than you normally wear to allow for the extra thickness of two pairs of socks.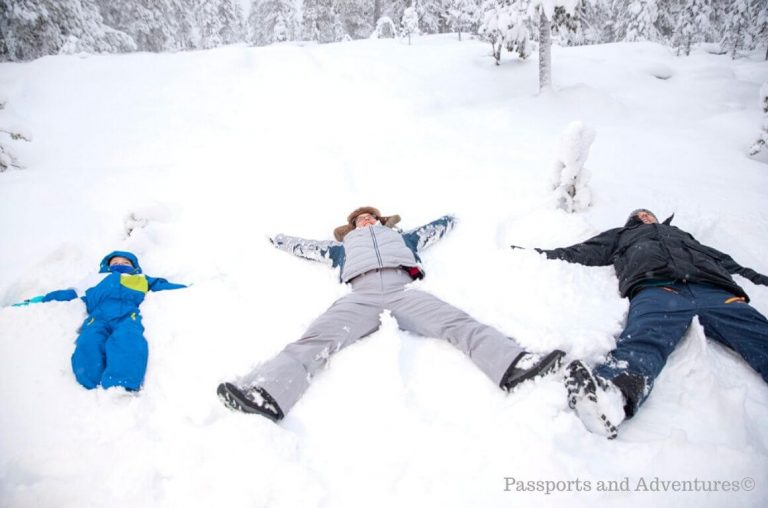 What to take to Lapland other than clothing
Now that we've spoken about the layering system and you have an idea of the different types of layers you will all need, here are some other things to take to Lapland you might want to put into your luggage.
Hand Warmers
Some hand warmers are a good idea for keeping small hands warm outside. These are not necessarily a must but it's always handy to have them with you rather than not and wishing you did.
Buy your hand warmers HERE on Amazon.
Mittens
Mittens are a better option than gloves as they are larger and allow warm air to circulate around your fingers.
Browse the range of kids mittens HERE on Amazon and the adult range HERE.
Touch-screen gloves
If you are a big phone user like me, or your camera has a touch-screen such as the GoPro Hero 8, you can get thin gloves with touch pads on the fingers which are designed for touch screens. These can act as your first layer of gloves under your ski gloves or mittens.
Find touch-screen gloves HERE on Amazon.
Lip balm, moisturiser and hand cream
Lip balm, face moisturiser and hand cream should be added to your packing list. The cold, crisp air is actually drying so at the very least bring lip balm for everyone and use it little and often. Make sure your hand cream and moisturiser are not water-based as they can freeze and accelerate frostbite. Use them after you've been outdoors rather than before.
Portable power bank
Don't forget an extra battery for your camera and a power bank for your phone. Your phone and camera will work in the cold temperatures, but their battery life might be reduced, so remember an extra battery/power bank for them. To extend their battery life, remember to keep them in an inside pocket closer to your body.
We love the Anker range of portable power banks, available HERE on Amazon.
Memory cards
Make sure you've got an extra memory card and lots of space on your phone BEFORE you go as you'll no doubt be taking hundreds of photos during your trip.
For micro SD memory cards, click HERE or for other types of memory cards for cameras, click HERE.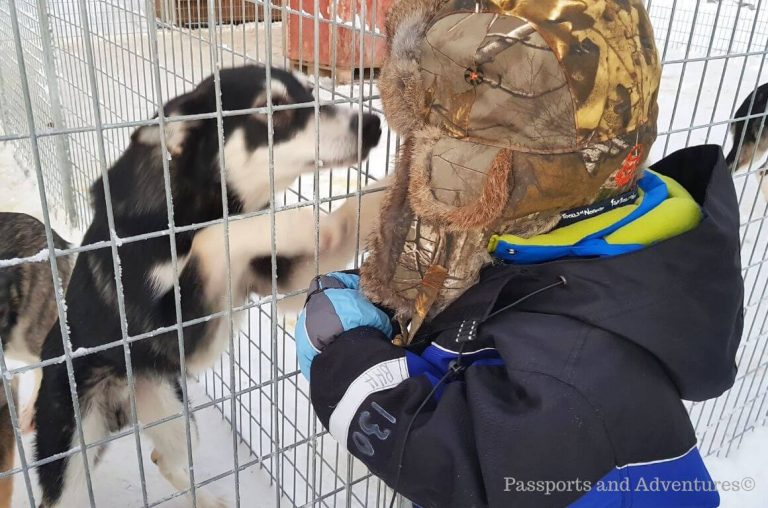 Where to buy your Lapland clothing
This is the one area where costs can add up if you're not careful when visiting Lapland on a budget rather than with the tour operators. Tour operators supply outer wear such as ski suits and gloves, and in some cases boots, so by diy-ing it, you need to supply these yourself.
I have heard that there are some Lapland clothing hire options in the various Lapland towns. This allows you to hire appropriate winter clothing at some of the safari offices in Lapland as mentioned on the Visit Rovaniemi website and in other areas of Lapland. However, during busy months such as late November to early January, you might find yourself stuck if all their sets are already hired out. So, it's best to bring your own.
I bought the first lot of our Lapland clothing in the Go Outdoors sale in February, a whole nine months before our trip. Yes, we had our visit planned since the start of that year. It made sense to avail of the end-of-season sale and nab some bargains, especially as we were starting from scratch. Tiny Trolls of Norway is where I got some good mid layers for our, again availing of their outlet sale during the summer. And, I ordered the last of our bits from Mountain Warehouse who were having a sale towards the end of the summer, with another 20% during the weekend in which I placed my order.
If you plan far enough in advance you can avail of sales like we did. Also, if you are based in the UK and Ireland, keep an eye in Aldi and Lidl in October and November as they often bring out their own ski wear range which is very affordable and more than adequate as my sister-in-law has found out in previous years.
Other places to check are Decathlon, Sports Direct, Blacks (where I picked up some of our base layers in their summer sale) and also Amazon. As mentioned I got some great mid layers for our son from Tiny Trolls of Norway too.
My best advice is to shop around. While I am a big advocate of buying the best you can afford, why not avail of any sales you come across. You don't NEED to buy all your clothing for Lapland in one place. Just make sure you make a list and don't forget anything! And if you can borrow any from friends or family, do it. It will save you even more money which can be spent on excursions and experiences in Lapland itself.
Best places to buy clothing for Lapland:
Mountain Warehouse
Go Outdoors
Decathlon
Sports Direct
Blacks
Amazon
Tiny Trolls of Norway
Lidl and Aldi (during their ski-wear season)
Alpine Trek

Our packing list for Lapland
This is by no means an exhaustive list but details our winter clothing that we brought with us to Finland.
Base Layers: We each had three sets of either merino wool or thermal base layers, both top and bottom. For our son I took an extra set.
Mid Layers: Each of us had 3 mid layer bottoms comprising fleece lined trousers, fleece leggings or fleece bottoms. We also had at least 3 fleece tops. For our son I brought 6 mid layer tops in total to layer him up and ensure he stayed warm and toasty. We also brought some long-sleeved synthetic tops to double up the mid layer.
Outer Layers: Each of us had a winter or ski jacket that is both wind- and waterproof. We also had ski trousers or salopettes for bottoms. For our son we brought both a set of salopettes/jacket and also an all-in-one Mountain Warehouse snow suit. We each had four pairs of merino wool or thermal socks under which we wore thinner synthetic socks. For our hands, we had two sets of thin gloves to go under ski gloves or mittens. For our son, I had an extra pair of mittens. We also had 2 hats each, a snood or neck warmer and a scarf. On our feet we wore snow boots or waterproof, winter boots in the case of my husband.
Aside from that, for our time in Helsinki, we brought one pair of other trousers and some warm long-sleeved tops and jumpers. We paired these with our thermal base layers and stuck to synthetic socks with our thermal socks and boots on our feet. I also wore by ski salopettes, as did our son, for our day-trip to Tallinn. And they were needed.
Summary
The most important thing to remember is to use the layering system and not to forget the hats, gloves, scarves and boots and especially the proper winter outdoor layer. The cold temperatures in Lapland are not to be messed with, so these items are essential to ensure a good trip with happy, smiling faces all around, especially where children are concerned. If you are looking for Lapland clothing advice get in touch with the Visit Rovaniemi team who can advise you on appropriate clothing. You can also find more advice on planning a trip to Lapland in the PLAN section of the Visit Rovaniemi website.
In a previous version of this post I promised to update on how our clothing worked out for us. We used the layering system well and there was only one evening, when the temperatures in Rovaniemi dipped to -17C, when we felt cold. Other than that evening, we were warm and comfortable for our time in Finland. We also did not use as many base layers, mid layers and socks as we brought with us, we over-packed in fact. Because you are rarely taking off your outer layers, other than indoors for short periods of time, we did not use all the layers we packed. So, bring less than you think you need.
If you'd like to know the most affordable, cheapest way to visit Santa in Lapland, then read my post about how we booked a 10-day trip to include 4 nights in Lapland, the overnight Santa Express train, 3 nights in Helsinki, flights and accommodation for less than a 1-night tour operator holiday.
Have you been to Lapland and if so, is there anything I am missing that I need to add to my list?
Cath x
Passports and Adventures is a participant in the Amazon Services LLC Associates Program, an affiliate advertising program designed to provide a means for sites to earn advertising fees by advertising and linking to amazon.com, amazon.co.uk, amazon.ca. Amazon and the Amazon logo are trademarks of Amazon.com, Inc. or its affiliates. To learn more about affiliate links, read my Disclosure Policy here.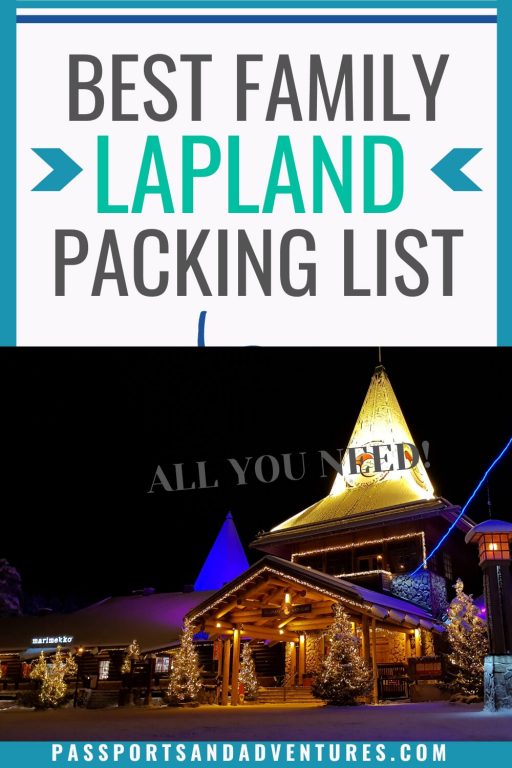 Related Posts