With its natural beauty, abundance of wildlife and something surprising around every corner, Yellowstone National Park is a destination we, as a family, highly recommend. After booking our trip, next on my mind was what to pack for visiting Yellowstone. In this post I'm sharing with you our Yellowstone packing list to help you prepare for your own visit in summer. I've even put together a free printable to help you get ready for your own visit to Yellowstone.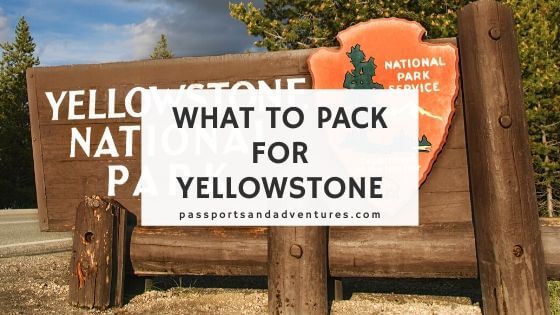 Yellowstone Packing List for Summer
When we visited Yellowstone, we went at the end of summer in August. We knew the park had the chance to be busy, but we also knew it was the best time to visit Yellowstone in terms of the weather.
Having watched the TV documentary about the park, we knew winter was a no-go time for us as we'd be visiting with our son. With temperatures dropping to as low as -40C, summer was our only option. But summers can be hot in the park. When it came to packing for Yellowstone in August, I had to do some research on average temperatures.
I wanted to know what to pack for Yellowstone in August to ensure we were comfortable for the long drives ahead of us. We also needed to be comfortable for walking around the main sites. My main question, likely to be yours too, was whether I needed to pack summer gear only or if there were other things to pack in case of some bad weather.
Research told me to pack for summer but to be prepared for a change in temperatures, particularly at night. I'm going to help you decide what to pack for Yellowstone National Park in summer, between my research and what we experienced ourselves when we visited.
Sorting your clothes and packing for Yellowstone need not be a chore. Below I'm going to give you a guide to the clothing you need to remember, additional items you might want to include, and also a guide to what to pack for a trip to Yellowstone by car, particularly those not staying within Yellowstone and who will be travelling to and from the park each day. I've even put together a handy printable checklist to help you prepare.
If you are starting to plan your trip to Yellowstone, check out my full guide to visiting Yellowstone with kids for help on planning your trip, getting to Yellowstone, and hints and tips for where to stay, what to do and tips for inside the park.
Packing for Yellowstone for a Family
When it comes to what clothes to pack for Yellowstone in August, layers is the word that springs to mind. While most days are warm and sunny, with temperatures around 25C, things can change rapidly, especially towards the end of the month when we visited.
We were driving through the Lamar Valley one afternoon at the end of August and saw sleet falling. It wasn't much but the cowboys we met at the Old West Dinner Cookout later that afternoon told us they would expect the first snowfall the next week (the first week of September).
While we spent most of our time in t-shirts and shorts, we were glad of the extra fleece jumper and raincoats in the car in the evenings before we left the park.
You will also need proper footwear, especially if you plan on hiking any trails. We didn't hike any trails and kept to the boardwalks around the different sites. That said, we all had comfortable hiking shoes or sandals and our son wore closed-toe sandals throughout our time in the park.
Now, let's get into the nitty gritty of what you need for a trip to Yellowstone National Park as a family.
Clothing for Yellowstone for Families
Rain Jacket – As mentioned, the weather can change suddenly in Yellowstone, so a good rain jacket will be handy to keep with you, either in your backpack when walking trails, or in the car. Ideally bring a lightweight one which rolls back into a small pouch to save space. My husband and I have a Gortex lightweight rain jacket which travels with us everywhere.
Browse the range of Gortex rain jackets for adults on Amazon by clicking here. And the kids range of rain jackets here.
Lightweight Fleece Jacket – In case the temperatures in Yellowstone drop over the course of the day, or if like us you are in the park early, a fleece will be a welcome addition to your wardrobe.
Check out a range of adult fleece jackets HERE on Amazon.
And for kids, check out the range on Amazon HERE.
Zip Off Hiking Pants – To have the best of both worlds in terms of shorts and pants, why not invest in a pair of zip off hiking pants. If the weather is warm, convert them to shorts and should the weather turn cold, simply zip the bottom half back on. These are the perfect option if you are hiking any Yellowstone trails. They will also save you precious packing space in your luggage.
Check out a range for men HERE, and a range for women HERE.
For kids you can just bring lightweight shorts and trousers and have a pair in your car or backpack for quick changes.
T-shirts – You will need at least one comfortable t-shirt per day per person in the park. If you are planning on going hiking early in the morning, I would suggest you bring one or two long-sleeved t-shirts as well as your normal, run-of-the-mill ones. Pack whatever you have at home or get some cheap ones from a local shop/store.
Sun hats – Yes, with temperatures well into the 20′ Centrigrade or 70-80's Fahrenheit, a sun hat will be needed by the whole family to prevent scalps being burned. For kids, try bring one with an elastic chin strap to keep it from blowing off their heads and into geysers and springs (we saw a hat at the edge of Grand Prismatic Spring one morning). Check these ones out for kids and for adults.
Sunglasses – You will encounter sunny days in Yellowstone during summer and if you are leaving the park late in the evening, you might be faced with low-lying sun. So, when you are making your list for what to pack for a trip to Yellowstone in August (or June, or July), make sure to remember sunglasses, especially if you are likely to be driving.
Other clothes to remember would be good quality wool socks for those of you going hiking and swimwear for anyone planning on swimming at the Boiling River.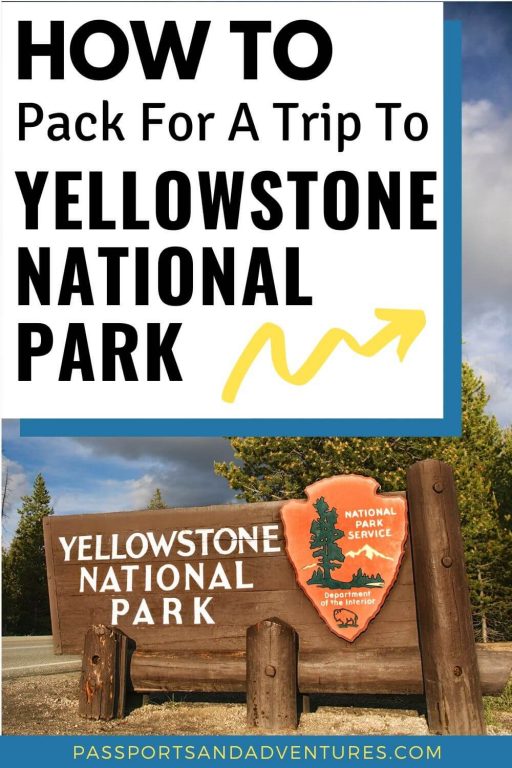 The Best Footwear for Summer in Yellowstone
There are three main types of footwear I would suggest you consider putting on your Yellowstone packing list. What you choose to bring with you will depend on the type of activities you are planning to do while in the park. They are:
Hiking boots or shoes – If you are going hiking, then a pair of good-quality hiking boots or hiking shoes are a must. While board walks around springs and geysers are pretty flat, hiking trails away from them are not. Just make sure they are a pair you have used before as you don't want to embark on a hike in a new pair and end up with a multitude of blisters.
If your children are also going hiking, then ensure they are in hiking boots for added ankle support.
Sandals – For gentle walks on the board walks a pair of trainers or sandals will suffice and may be more comfortable if the weather is warm. Go for lightweight but supportive sandals. I have a pair of Teva sandals like these which are very supportive and comfortable.
My husband has a pair of these ones.
Our son wears Geox closed-toe sandals and has done for several years now. They are very supportive and protect his toes while allowing his feet to breath. And believe me, they breath. We also tend to go for ones which can be washed as he does like to kick sand and dirt.
Water shoes – For anyone planning on swimming at the Boiling River, a pair of water shoes would be advisable over other footwear such as flip flops. They will protect your feet from the rocky riverbed and more importantly, will stay on your feet. Think the water shoes for beaches and rock pools and you're on the right track.
Other Essential Things to Pack for Yellowstone
When you are preparing your packing list for Yellowstone, there are a few other things to remember besides appropriate clothing and shoes. These, in my eyes, are things you shouldn't forget to pack and if you do, you'll be wishing you hadn't forgotten.
One of the most important things to pack for a trip to Yellowstone in summer is sunscreen. Make sure to bring the highest factor with you and apply liberally before you set off for the day. Also ensure to reapply it regularly, and especially if you have been swimming.
Mosquito/insect repellent is also advisable, particularly for anyone who is prone to being bitten by the little buggers. They love my husband, so we always travel with some bug repellent just in case. We use the Avon Skin So Soft as the oils it contains are natural repellents. If it's good enough for the military, it's good enough for us.
Hand sanitiser and toilet roll are also advisable. While there are toilets across Yellowstone National Park, many are long-drops. While we did find toilet roll in most, many did not have soap or hand sanitiser and those that had sanitiser had run out by late afternoon. Bring your own to be safe.
Camera gear – First and foremost, you will be taking a lot of pictures. I mean a stupid amount. So, you will need to have your camera gear sorted before you leave home. I took both my trusty Canon G7X Mark ii and also my Canon 5D Mark ii with a telephoto lens. However, the lens I wanted to bring didn't arrive in time, so I purchased one in duty free at the airport and it was huge disappointment. So ensure your camera gear is ready well ahead of time.
Make sure you have a spare charged battery for your camera with you every day and plenty of memory cards too.
Power bank for your phone – While cell phone coverage is pretty sparse in the park, you may be opting to take your pictures on your phone. Ensure you have a portable power bank to charge your phone if your battery is running low.
Binoculars – We didn't bring any binoculars with us and purchased a pair of children's ones in the gift shop at Old Faithful. However, they weren't great so I would advise bringing a pair with you.
Kids will enjoy checking for bison and elk in the distance, so consider bringing a pair of kid's binoculars with you as well. Just double check their magnification before purchasing. We ended up buying our son a pair in Cabelas in Montana but after our Yellowstone visit.
Quick dry towel – this is important mostly if you are planning on going swimming. That said it could double up as a picnic blanket for anyone travelling to Yellowstone that doesn't live in the States or is not bringing their own car. We recommend something like this that folds up into a carry bag.
Backpack or day bag – This is a must for carrying all your bits and pieces with you in the park and even more so for those of you electing to go hiking. Rain jackets, water bottles and snacks need to be carried somehow. Just make sure it is one that comes with a rain cover, just in case. Something like this would be ideal.
First aid kit – Make sure to bring a basic travel First Aid Kit with you for those just-in-case moments, especially when travelling with kids. You never know when you might need it.
What to Pack in Your Car for Your Days in Yellowstone
When we were visiting Yellowstone, we had a hire car and were driving from our AirBnB which was approximately 30 minutes from the west gate. On our first day in the park we went unprepared, mainly as we hadn't planned to be in the park. That said, we quickly discovered things we should have with us on subsequent days.
Reusable water bottle – This was something we didn't have with us but wished we had brought. We had a case of water bottles in the boot of our car but were left wishing we had a more environmentally friendly option. Should we visit Yellowstone or any of the other National Parks, we will be bring our reusable water bottles with us and refilling as we go.
Cooler bags, food bags and reusable cutlery – After a tasteless and over-priced meal in the park during our first day, we elected to bring a picnic with us in the car. This meant we had plenty of snacks for our son and a decent lunch which we could stop and eat anywhere. It also meant we kept food costs down. Sandwich bags were great for storing sandwiches or fruit and for taking our rubbish with us. Reusable silicone bags will do the job just fine. Just remember to bring a cooler bag with you.
Remember your bamboo cutlery too.
Something else to consider if you are planning on hiking in Yellowstone is Bear Spray and/or Bear Bells for safety. You can hire Bear Sprays in the equipment rental stores/shops around the park. For more information on bear safety in Yellowstone, check out this page on the National Parks Service website.
In Summary
I hope you have found this packing list for Yellowstone in August useful to help you plan what you are going to bring. While this post has been written from the perspective of visiting in August, this packing list will cover you for visiting Yellowstone in June and July.
I have tried to include as many things as I can think of or remember, but if you have visited Yellowstone and can see a glaring omission, please do let me know so I can update the post for other readers.
Now download your FREE Yellowstone Packing List printable to help you get ready for your summer vacation in this amazing National Park. Click here to download it! And don't forget to pin it for later!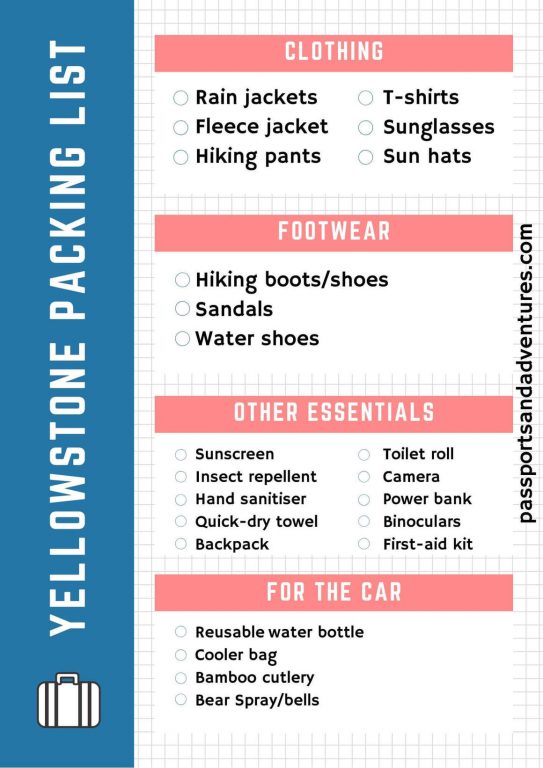 Cath x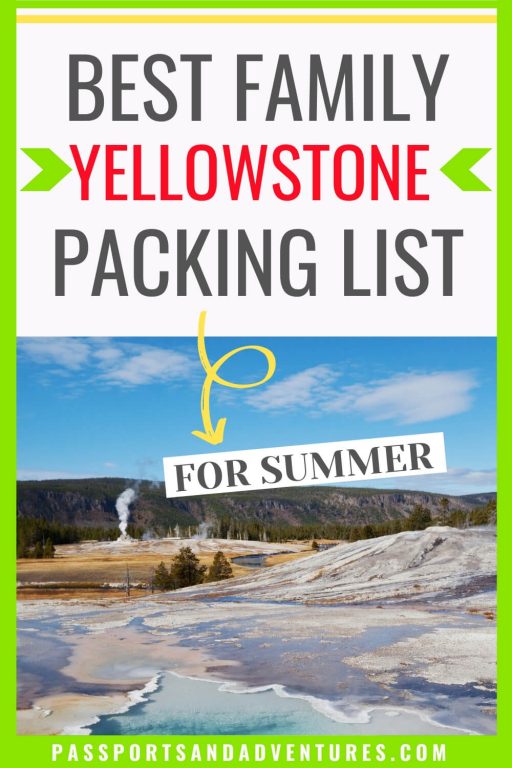 Passports and Adventures is a participant in the Amazon Services LLC Associates Program, an affiliate advertising program designed to provide a means for sites to earn advertising fees by advertising and linking to amazon.com, amazon.co.uk, amazon.ca. Amazon and the Amazon logo are trademarks of Amazon.com, Inc. or its affiliates. To learn more about affiliate links, read my Disclosure Policy here.
Related Posts