In this post you will find out exactly what we put on our Lapland bucket list for our trip to see Santa in his hometown on Rovaniemi. We had some help from the tourist board, Visit Rovaniemi, to create our ultimate Lapland bucket list. Find out what was on it by reading more!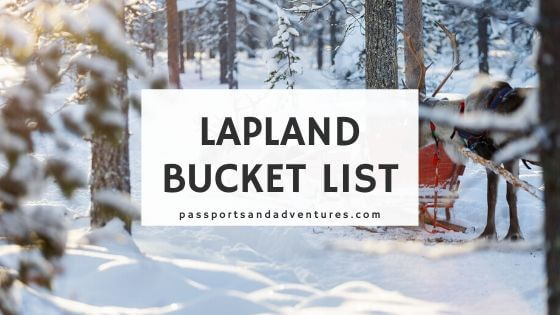 *Post originally published in December 2018. Updated in February 2020.
I couldn't believe we were nearing our trip to Lapland to see Santa in his hometown. From having booked it all in February 2018, to finally packing and getting ready to hop on that plane, the previous ten months had flown past. And our time in Rovaniemi was made all the more special with the help of the Visit Rovaniemi tourist board who helped us create an amazing Lapland Bucket list for our winter visit to northern Finland. Here's what was in store for us during our week in Finnish Lapland.
As you know by now, we decided to try and visit Lapland on a budget. And, with help from my amazing sister-in-law, that's exactly what we were doing. Instead of paying around £1700 for an overnight trip to Finnish Lapland from the UK (not including the flights and hotel to get back to the UK), we bagged ourselves a 10-day trip-of-a-lifetime for less money.
For those who didn't catch the first post, we were flying from the Algarve to Helsinki via Lisbon. Then, after a day in the city to get some rest, we were taking the Santa Express train to Rovaniemi, the Official Hometown of Santa Claus. We had four nights and almost five days in this magical place before we headed back to Helsinki on the Santa Claus Express. We had 3 days and 3 nights in Helsinki, during which time we would be taking the ferry to Tallinn for a day in between exploring the city with the help of My Helsinki.
But, with so much on offer in the winter wonderland of Rovaniemi, we asked Visit Rovaniemi for some help and they came up trumps. We were collaborating with them during our time in the city and they laid on some amazing winter activities for us, as well as allowing us to experience some of the best things to do in Rovaniemi with kids. Aside from the experiences we were collaborating on, they gave us some advice for additional things we planned during our visit, all of which became an amazing Lapland bucket list.
7 Amazing experiences to put on your Lapland Bucket List
When you hear the words "Lapland bucket list", what springs to mind? Snow, winder wonderlands with huskies and reindeer? In your mind, what does Lapland look like, and from there, what do you think NEEDS to be on a bucket list for Lapland to ensure you get the best Lapland experiences.
As mentioned, with the help of Visit Rovaniemi, we put together an amazing bucket list full of unbelievable Lapland experiences to ensure our trip was a truly unforgettable one. Let's take a look at the list.
Visit Santa Claus
There were two opportunities for us to visit Santa Claus. The first would be during our time at Santa Claus Village, located just 8km from the city centre.Visit Rovaniemi arranged a private meeting with the big man himself and we were really looking forward to seeing our son's face when he was greeted by Father Christmas in his hometown.
The second opportunity we would have was when we spent a day at Santa Park, also courtesy of Visit Rovaniemi. SantaPark is the underground cavern home of Santa Claus and is an indoor Christmas theme park under the Arctic Circle. Not only would we see Santa again (he has to split his time between the two locations of course), our son would also get the chance to enrol in Elf School, enjoy the Elf Show on the main stage, decorate cookies in Mrs Gingerbread's Kitchen and take the magical train through an enchanted wood. And as if that wasn't awesome enough, we would also be able to visit the Post Office, the Ice Bar and the Ice Gallery. And we'd get to step across the Arctic Circle, something my husband and I haven't done since our pre-kids trip to Tromso in Norway.
So, we had two opportunities to meet Santa during our trip.
Read about our visit to Santa Park and also what we thought of the Santa Claus Village in Rovaniemi.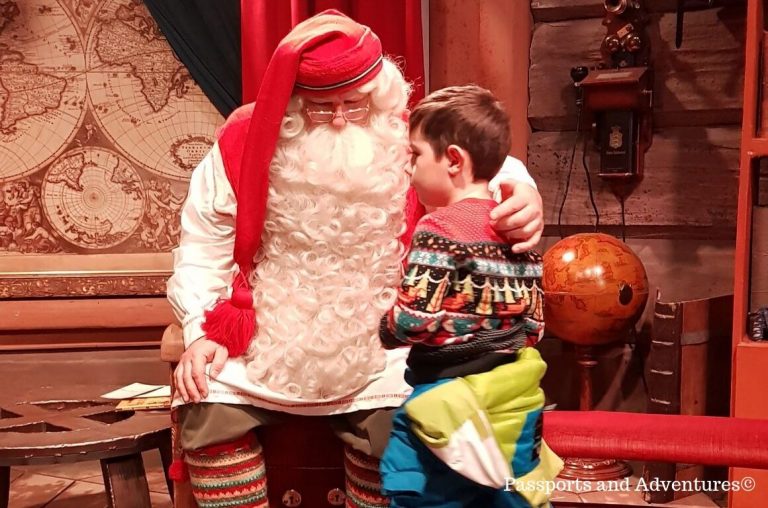 Meet Santa's reindeer for a sleigh ride
In Santa Claus Village, there is the opportunity to not only meet Santa's reindeer, you can also take short or longer reindeer sleigh rides. And Visit Rovaniemi organised one for us. So, before our special meeting with Santa Claus himself, we were going to say hello to his reindeer first, get a few pictures and enjoy a sleigh ride with them. You can book longer rides, safaris and even northern lights excursions from the office at Santa Claus Village.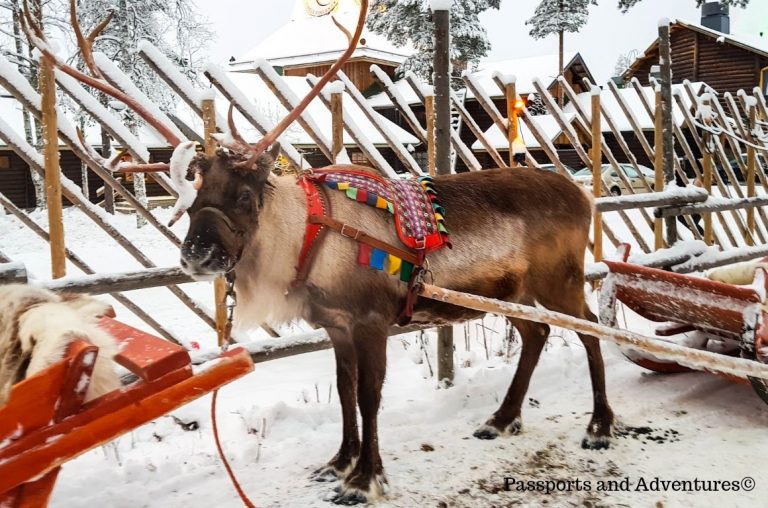 Have some family winter fun at Snowman World
We were going to be getting up-close-and-personal with some snowmen at Snowman World, a winter wonderland playground with Snowmen, ice-skating and lots more for family winter fun. There is also an Ice Bar and Ice Restaurant which we could visit which have beautiful ice and snow sculptures. We also had an opportunity to partake in snowtubing and sleighing. Unfortunately, due to the late arrival of the snow in 2018, we couldn't enjoy some ice-skating (something I've only ever done once).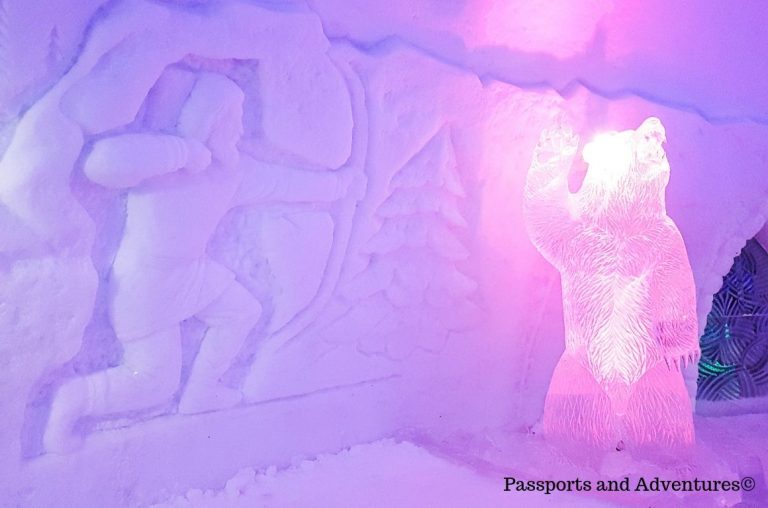 Learn about the indigenous people, history and culture of Lapland with the Culture Pass
Visit Rovaniemi were kind enough to arrange a Rovaniemi Culture Pass which is valid for 7 days and gives entry into three of the museums in the city; Arktikum, Pilke and Korundi. At Arktikum we learned about the indigenous people of Lapland, as well as the history of Lapland and Arctic research. At Korundi House of Culture we learned about northern contemporary art while we also had an opportunity to familiarise ourselves with the many meanings of northern forests at Science Centre Pilke. With the pass being valid for 7 days, it gave us the flexibility to visit the museums around our other winter activities.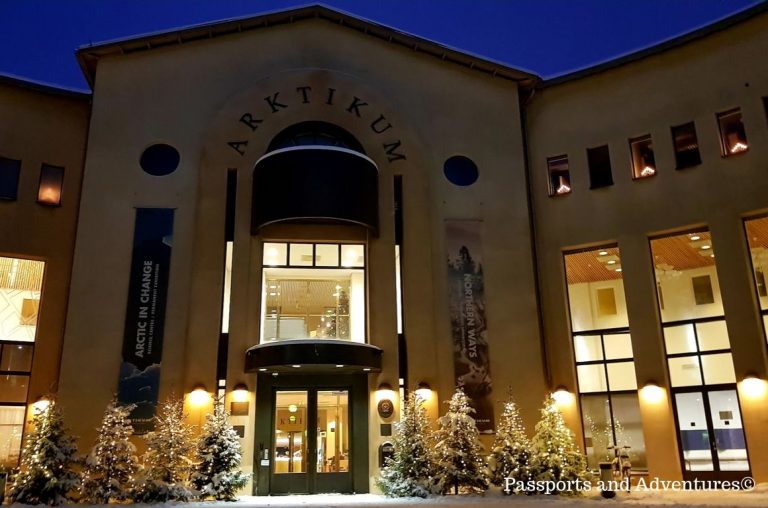 Cross the Arctic Circle
As mentioned already, there is the opportunity to pass across the Arctic Circle or 66° North. The Arctic Circle runs directly through Santa's Village, Lapland and is clearly marked, as you can see in the picture below. You can even get a certificate of crossing the circle to prove you've done it. And, SantaPark is also the only known place in the world where you can cross the Arctic Circle underground. So, we planned to do it both overland and underground and get the certificates to prove it!

Husky Safari
One thing I really wanted us to do while in Rovaniemi in Finnish Lapland was a husky safari ride. Visit Rovaniemi recommended a local company called Bearhill Husky and I got in touch with them to see which of their safaris would be suitable for a family with a four-year-old. We were booked onto a Happy Trail Morning Husky Safari.
During this two-hour experience we got a safety briefing and information talk, demonstration and, after getting suitably kitted out, we enjoyed a 30-40 minute safari where we got the chance to drive the dogs ourselves. After returning to the kennels we got the chance to meet the dogs and warm up with berry juice and cookies. To say I was excited about this would be an understatement. And I was so happy Visit Rovaniemi recommended Bearhill Husky for us. I'd been following them avidly on Instagram and always enjoyed their live updates.
Read about our family adventure on a Bearhill Husky Safari and see what we thought and the hair-raising moment at the start!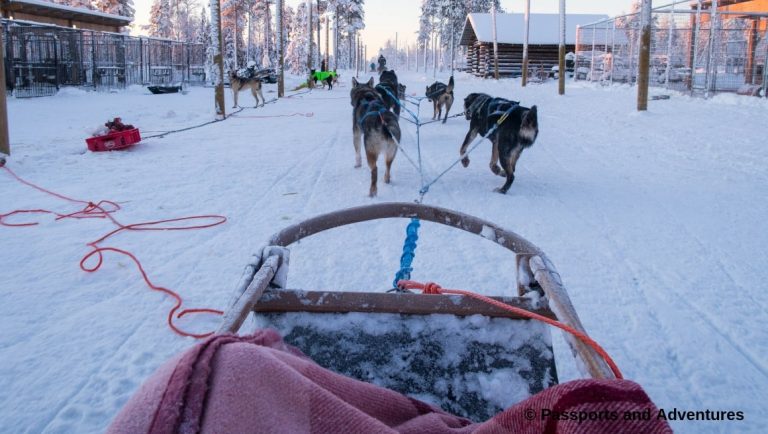 Family Winter Photo Shoot
This Lapland experience was one we organised ourselves. I managed to find a local photographer who does family lifestyle shoots and we booked Kaisa Siren for a two-hour photo shoot. Kaisa took us to the nearby Ounasvaara Forest where we had some fun before relocating to a husky kennels where we enjoyed some shoots with the dogs. We did hope there would be some snow in the forest for us to enjoy, as the snow was late to arrive in Rovaniemi in winter 2018, but we weren't disappointed. Even if it hadn't we would have enjoyed ourselves.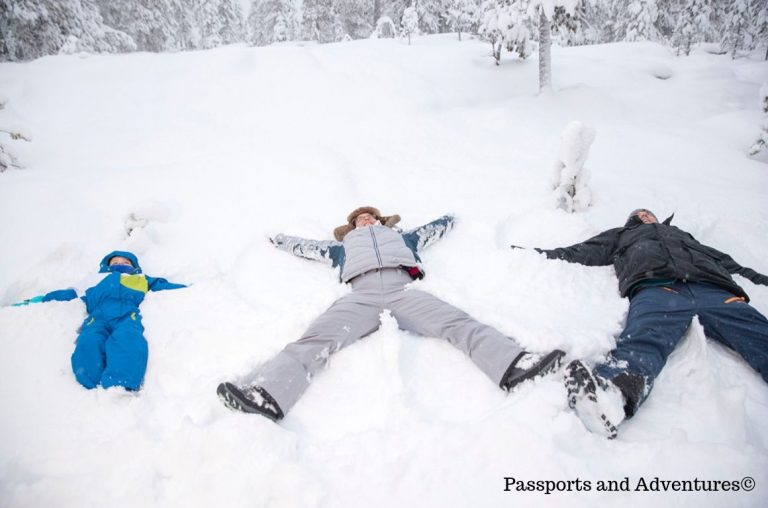 Summary
These were our top 7 Lapland bucket list experiences we really wanted to fit in during our time at the Arctic Circle and I truly believeed our December visit to Finnish Lapland is going to be amazing. And it was!
We would have loved to have also seen the Northern Lights again. My husband and I enjoyed a two-hour display by them during our trip to Tromso and we'd love to see them again. We knew, however, that our son would never stay awake for a full Northern Lights hunting tour.
There was the possibility to view them, if they were strong enough, from the city, not too far from Arktikum. However this was one of the Rovaniemi experiences we didn't achieve during our time in Lapland, mainly due to the cloud cover. Maybe next time.
Had we had more time I would have added a snowmobile safari and a stay in either the Ice Hotel or a glass igloo but there is always a return trip to ensure we don't miss out on these experiences. But I think our Lapland bucket list was pretty amazing as it stands.
Our son did enjoy a short snowmobile ride in the Santa Claus Village and either way, we feel like we did experience Lapland in an amazing way.
What would you love to do if you were visiting Lapland? Let me know in the comments.
And don't forget, if you are visiting Lapland in December or the other winter months, you'll need to wrap up really warm. Here's my post about what to pack for Lapland with kids to help you ensure you're ready for the cold arctic temperatures. And for other travel tips for Lapland, check out this post with 30+ practical tips for Lapland. And be sure to check out the Visit Rovaniemi website where you will find so much more information about where to stay, what to do and all the fun activities you can do in Rovaniemi with kids.
Cath x
*We were collaborating with Visit Rovaniemi on this trip. They organised our activities and excursions apart from our husky safari with Bearhill Husky and our family photo shoot with Kaisa.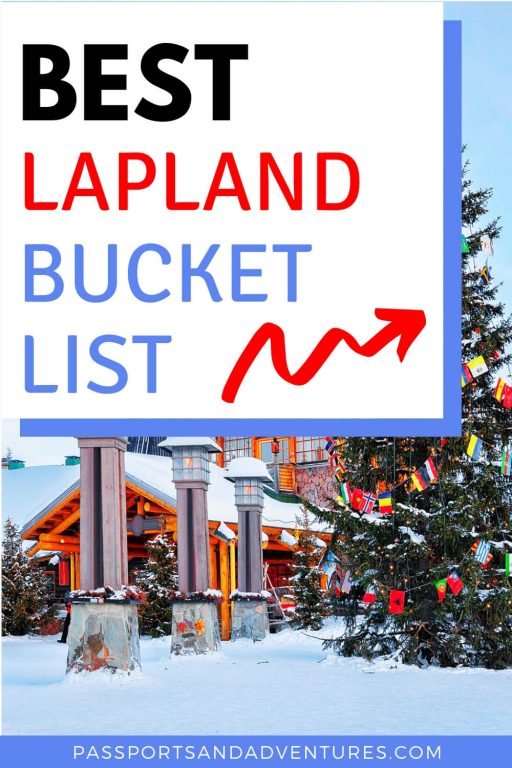 Related Posts